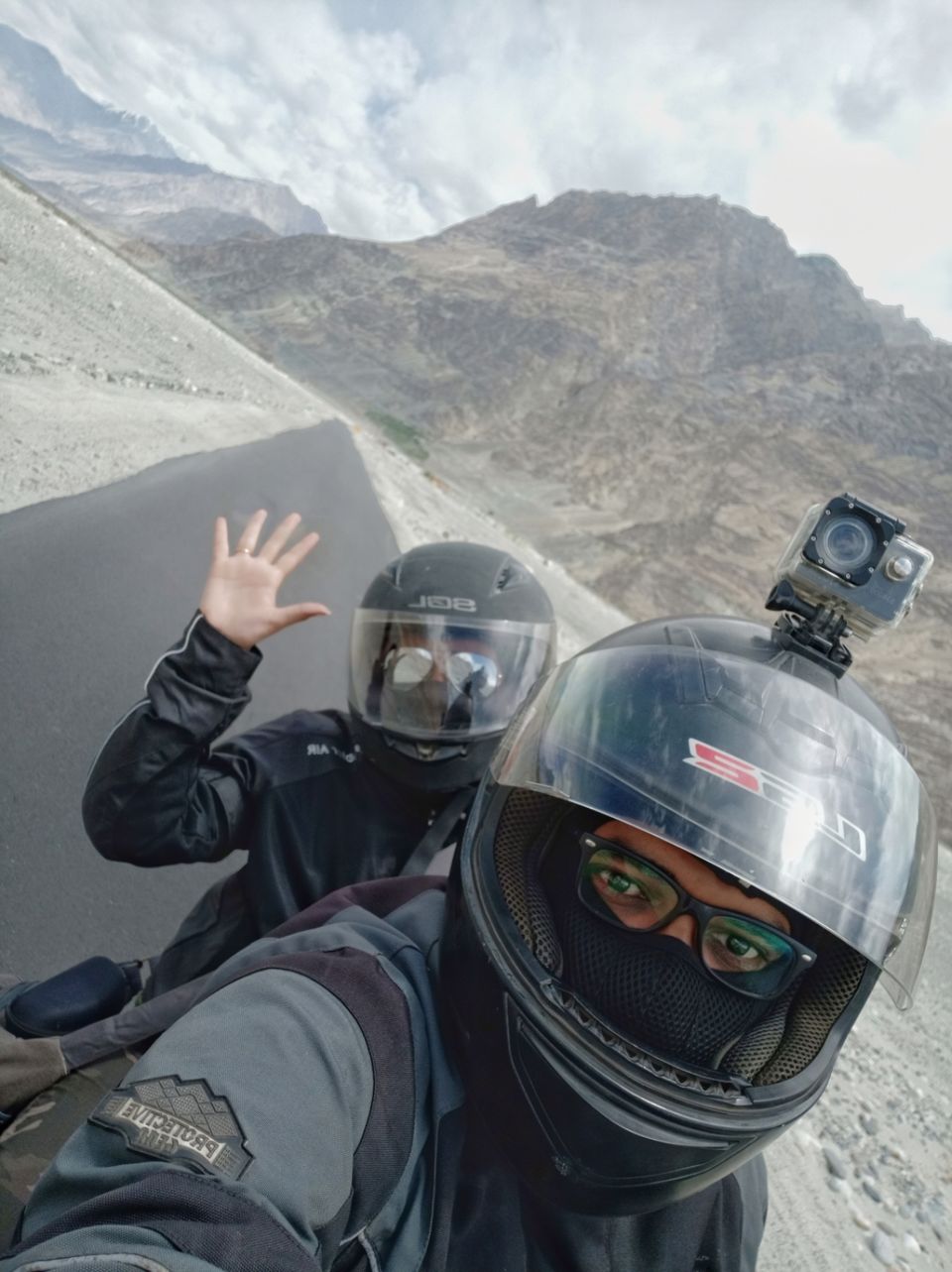 Have you ever experienced thrill, danger, amazement, beautiful nature, to summarize all these things in one phrase 'hell and heaven' in a single journey; we (me and my partner) had. We witnessed deserts, snow as well as rain; rode on death defying roads, had few falls from bike, but finished the journey with full of adventurous memories. You can witness all these things when you are on bike ride to Ladakh.
I have been there on bike ride two years ago with four of my friends, but this time I planned this ride to experience the thrill of solo ride with my one and only companion, my pillion rider, that is my wife. There are other reasons too behind our couple ride, like no other couples were ready for this adventure, I don't like group rides, and many more. So, I started planning for this to be memorable journey 3-4 months in advance. Planning included making bike and ourselves ready for tough journey (weather as well as health). Bike preparation included through check up and servicing of bike and purchasing spare accessories. We prepared ourselves with regular exercises to boost body as well as mental stamina. We were ready months in advance with all the plans.
Plan was to first parcel bike to Jammu from Mumbai before we reach Jammu. If bike require any servicing we can do it in the evening. Next day travel to Srinagar, spend a day for sightseeing. After that two day travel to Leh via Kargil. Later explore areas of Ladakh and return to Chandigarh via Manali route. And start return journey from Chandigarh to Mumbai in train.
Mumbai - Jammu (by train)
Journey started 2 days before our actual departure from Mumbai, our Thunderbird started its journey on 13th June to reach in advance (we parceled bike in train, agent at Bandra terminus took 4200 rupees, actual railway fee is much less). So on actual departure day from Mumbai we were carrying many bags having our luggage and riding accessories. Train was at 8 am so we had to leave our home at 5:30 am from Dombivali to reach Bandra terminus so that we get enough time to reach our train coaches in time, so we reached.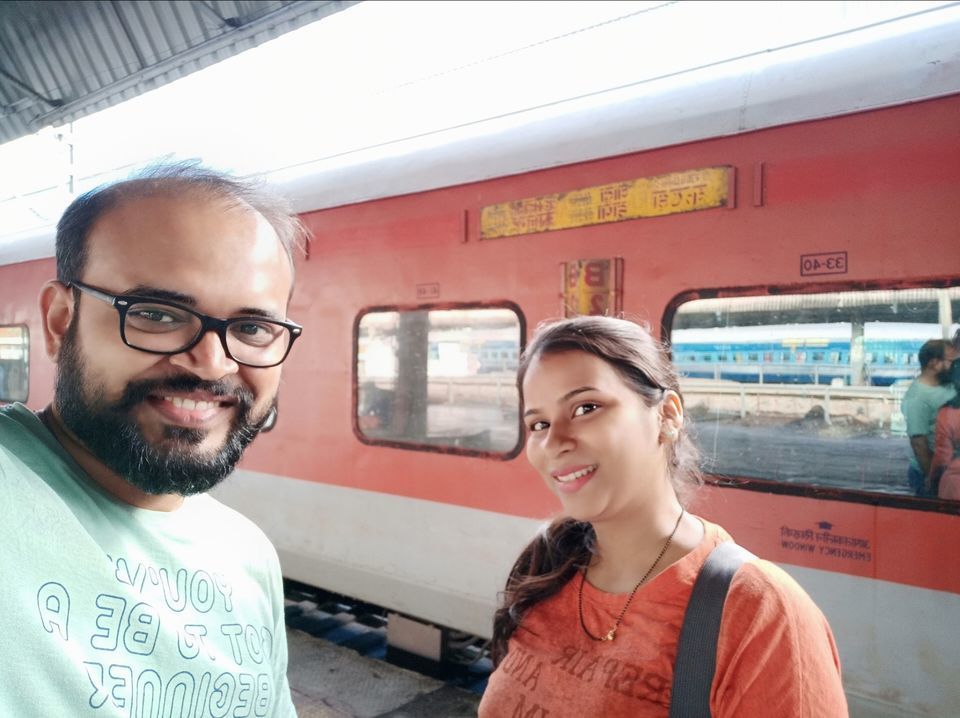 Next 31 hrs before reaching Jammu were very tiresome, the boring activities we did...eating, watching movies and sleeping.
Reached Jammu:
After reaching Jammu in the afternoon we approached parcel counter to receive our bike; to our surprise they received bike on the same day, which should have reached there 2 days ago. After receiving bike, searched for nearest petrol pump to get petrol and then filling petrol in bike and dumping luggage in autorikshaw we headed to our hotel in Jammu. Rohit, whose contact we got from friend suggested us this hotel. Rohit also gave contact of a friend named Qasim for hotel booking in Srinagar. Before reaching Jammu we just talked over phone, but after reaching Jammu we were surprised to know about Rohit and Qasim, they were the same guys who helped me in Jammu and Srinagar during my last ride to Ladakh. We are really thankful to both of them.
After this boring train journey the only thing we were interested in doing in Jammu was dinner, so searched online for some good restaurants and zeroed down on Khana Khazana. Had good food and their famous pastries to finish our day, and spent the night in excitement of starting ride early in the morning.
Jammu - Srinagar:
Plan of the day was to reach Srinagar (approx 270 kms) as early as possible without any major stopovers. So, after loading luggage on the bike (which was a herculean task because of amount of luggage we were carrying) we started at 6:30 am from the hotel in Jammu on the way towards Srinagar.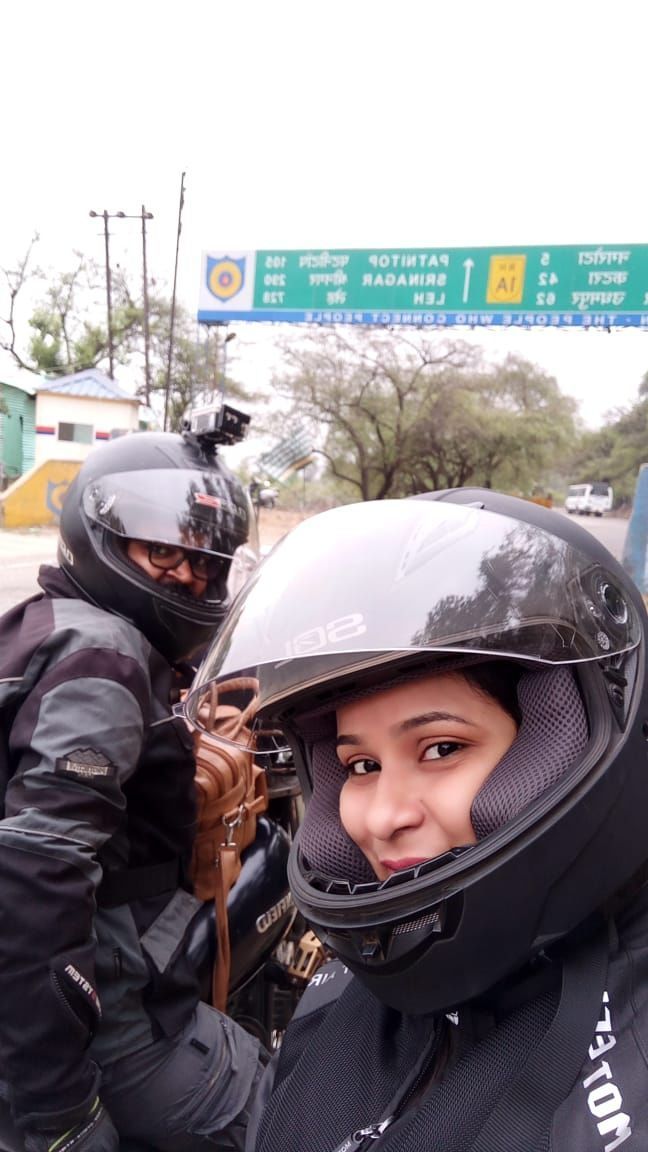 Road leaving Jammu is at its best conditions, smooth road with scenic hills on sideways. Not going far we felt hungry and had breakfast on maggi and parathas in one of the sideways dhaba. Thereafter our happiness of riding on this road not lasted long because road conditions worsened very quickly due to potholes and road construction activities on hilly roads. Due to these construction activities this road becomes muddy at some places during rains, we were lucky to not found muddy sections. Construction activities for building tunnels on this highway worsens travelling on this road. Chenani-Nashri tunnel (9.2 kms) became operational a year back is one of the best engineering marvel, which reduces travel time by more than two hours avoiding much difficult old highway through Patnitop. Banihal-Qazigund Tunnel (8.5 kms) which may be operational in 2019 will replace existing Jawahar tunnel and further improve travel experience. Only god will know when these construction works will end.
After crossing Jawahar tunnel we entered kashmir valley; took a stopover at Titanic View Point to enjoy first view of scenic kashmir valley. It was difficult to find a decent place for having lunch on this highway, so we just had local snacks (malpua) for lunch on one of the tea stalls. Once we crossed Anantnag and approaching towards Srinagar, road became more and more smooth and pleasure to ride on this road filled us with fresh energy, and within no time we reached Srinagar.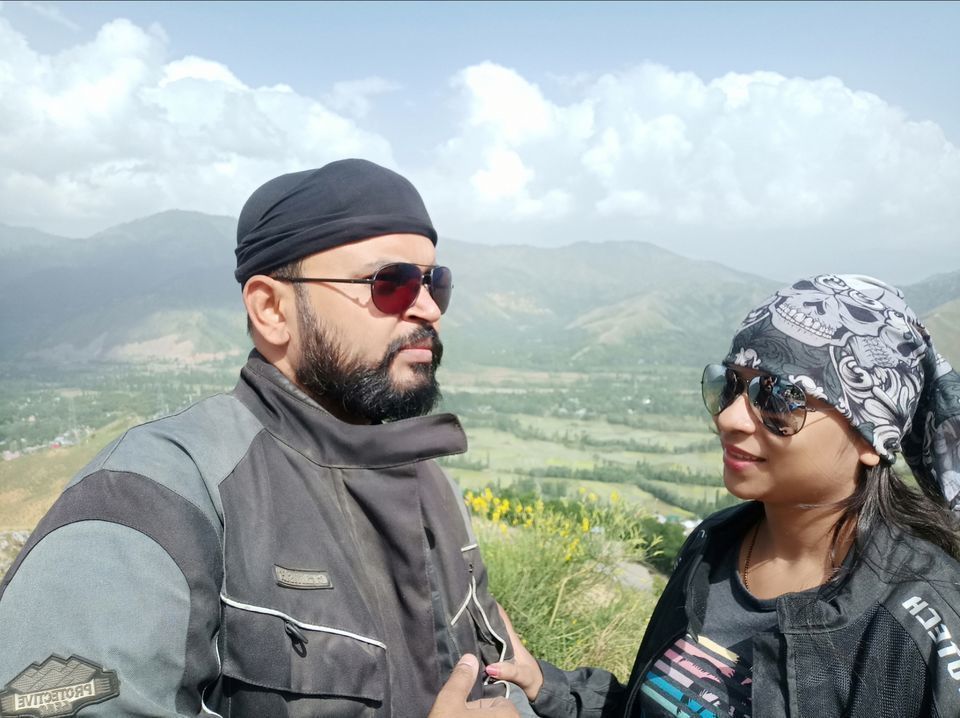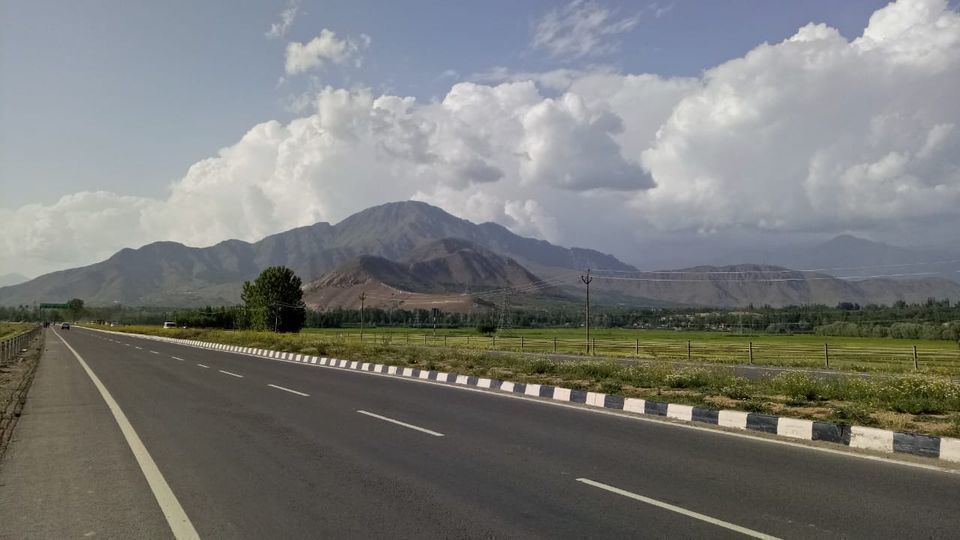 For our stay in Srinagar Qasim suggested us hotel in Harwan. We had to take road surrounding Dal lake to reach our hotel. But as we were approaching Dal lake, traffic was growing on each corner wherever we can see and traffic was at complete standstill on Dal lake road. We were not sure why such rush everywhere, on asking to some locals we were surprised to know it is because of post Eid celebrations. Everyone on that crowded street was happy and in festive mood, we forgot our tiredness along with them.
It took us around two and half hours to reach our hotel, Harwan Resort. Qasim was waiting at hotel to receive us. After unloading luggage from bike we moved to our rooms and were really surprised after looking at room. The room was designed with beautiful kashmiri architecture and the price of room was also very low, only 1500 rupees. Tiredness after travelling on this rough road restricted us to our rooms for further evening activities; thereafter had dinner cooked by local hotel cook and a pleasant night sleep in the hotel.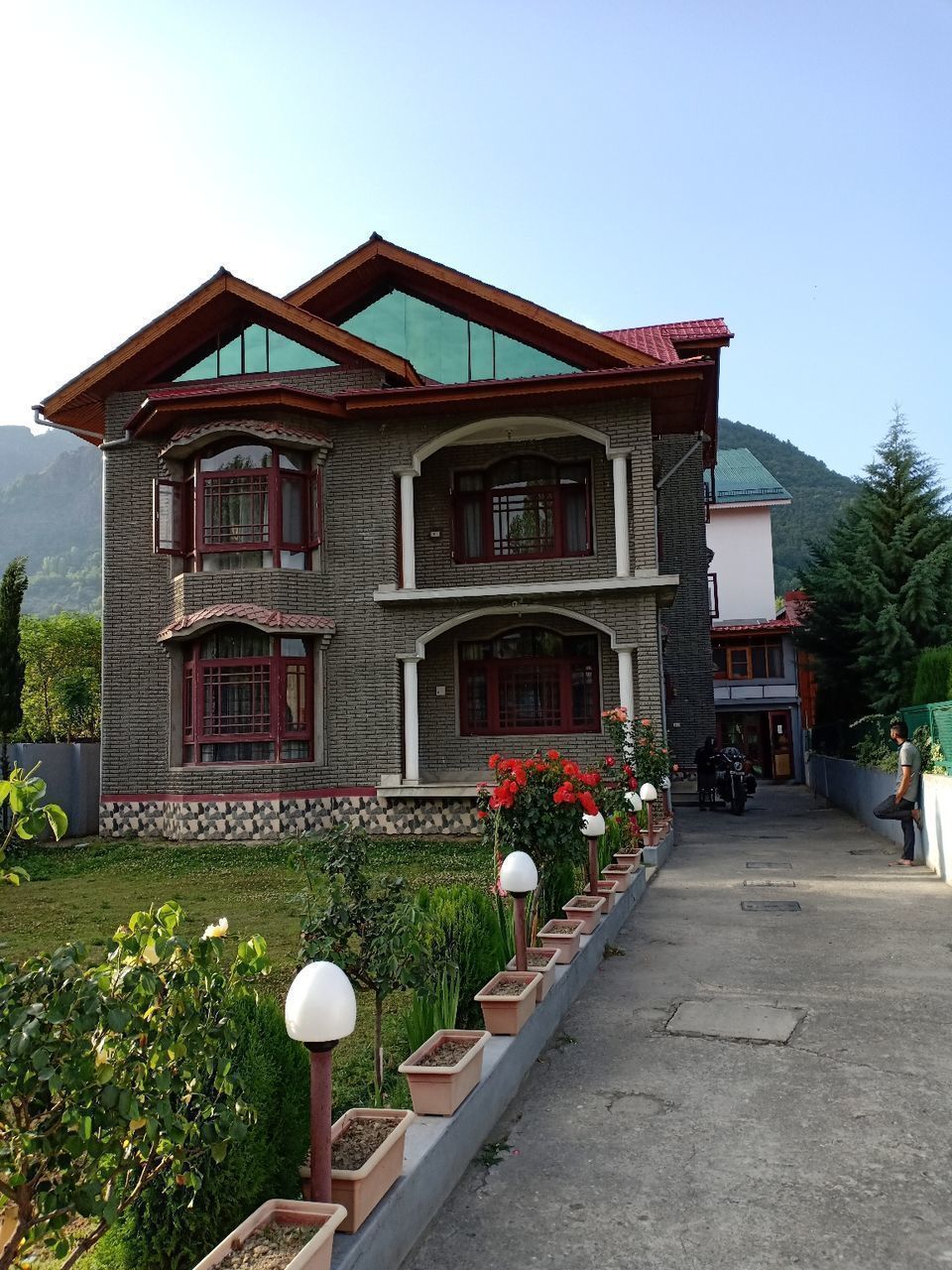 Srinagar sightseeing:
This day we dedicated to visit beautiful gardens of Srinagar and Dal lake. Before leaving for sightseeing took bike to a mechanic for some minor repairs and wheel balancing; mechanic was delaying bike delivery and after waiting till 2 pm bike was not ready. Finally we decided not to waste the entire day and leave bike at mechanic shop. And we left for sightseeing in local transport.
First stop on our itinerary was definitely the most famous in Kashmir valley, the Dal lake. We hired a boat and our sailor cum guide took us to different places in Dal lake including restaurants and shops. We did shopping of kashmiri shawls and dry fruits (we were concerned about carrying things which we will buy since we had no place on bike, but they have courier facility which resolved our concern). We also enjoyed photography in traditional kashmiri dress, which one can experience when roaming in Dal lake.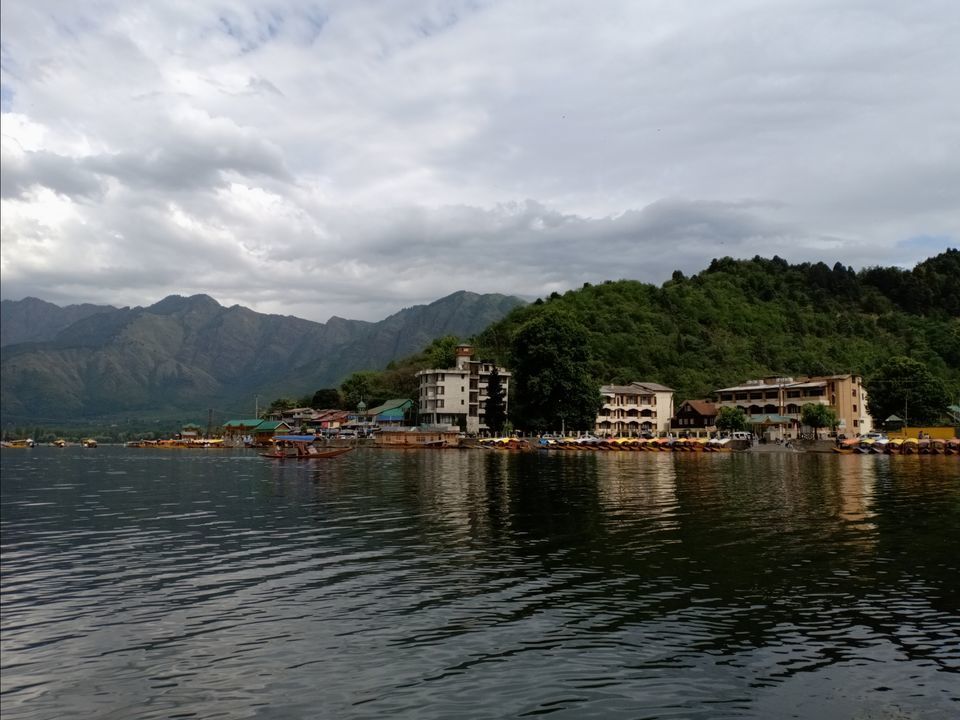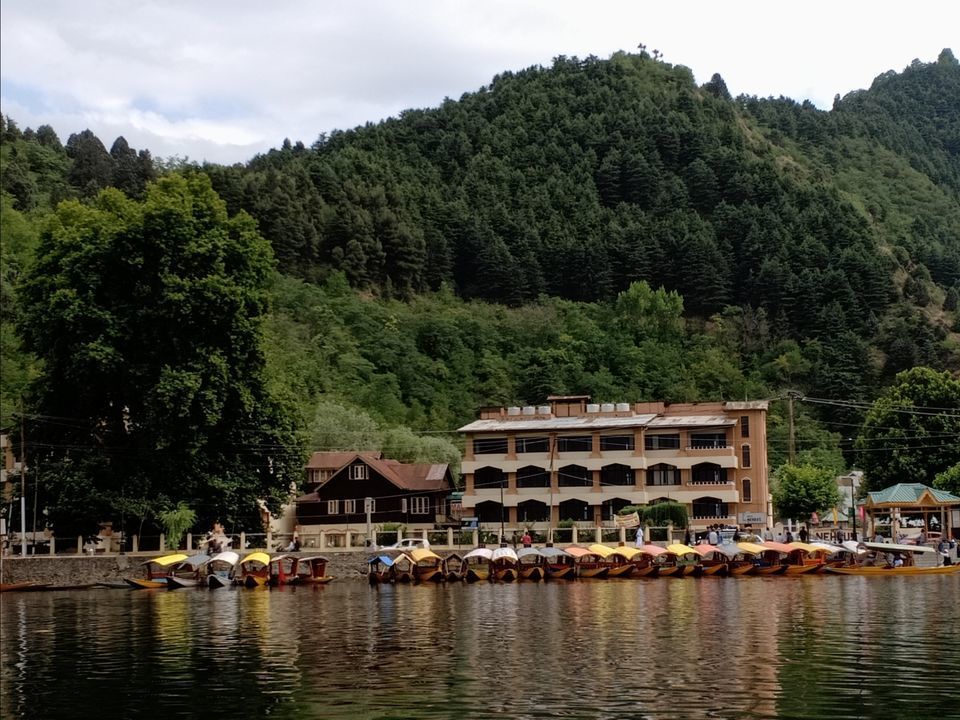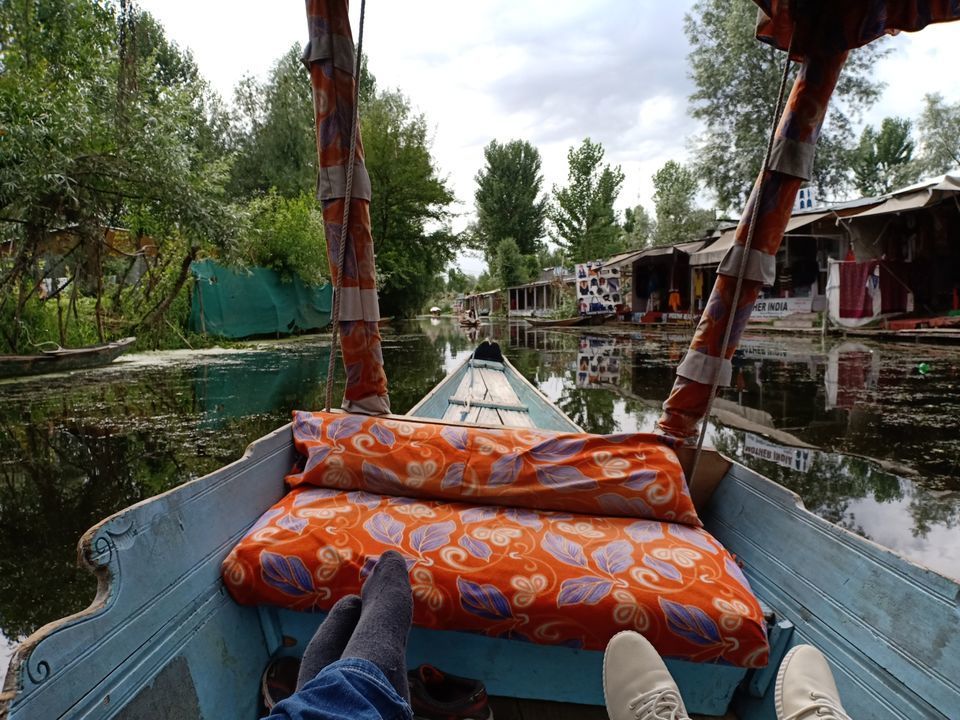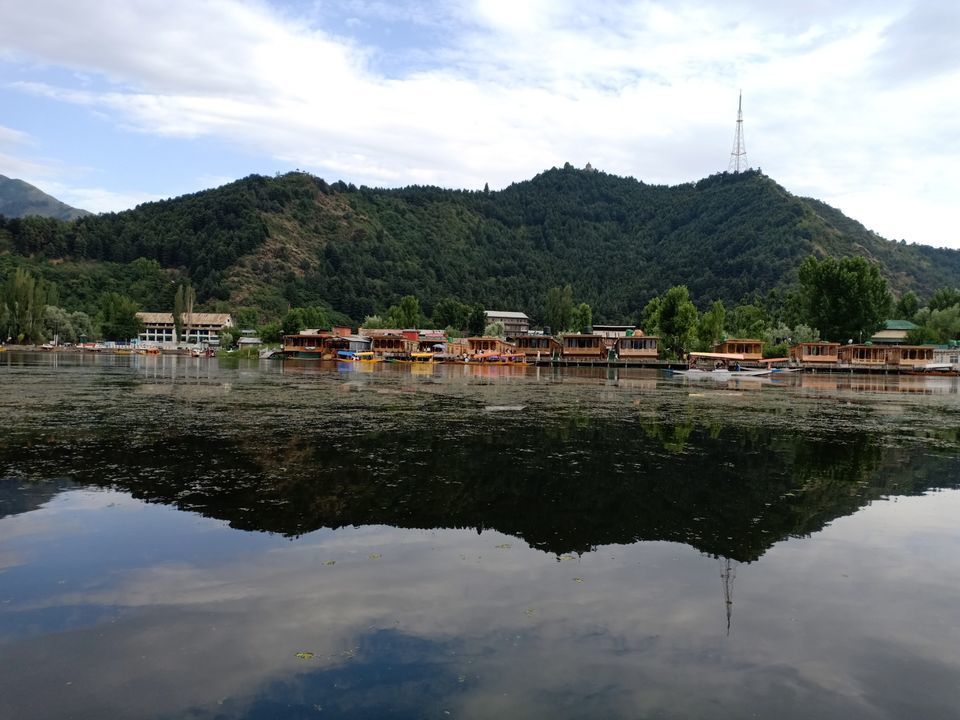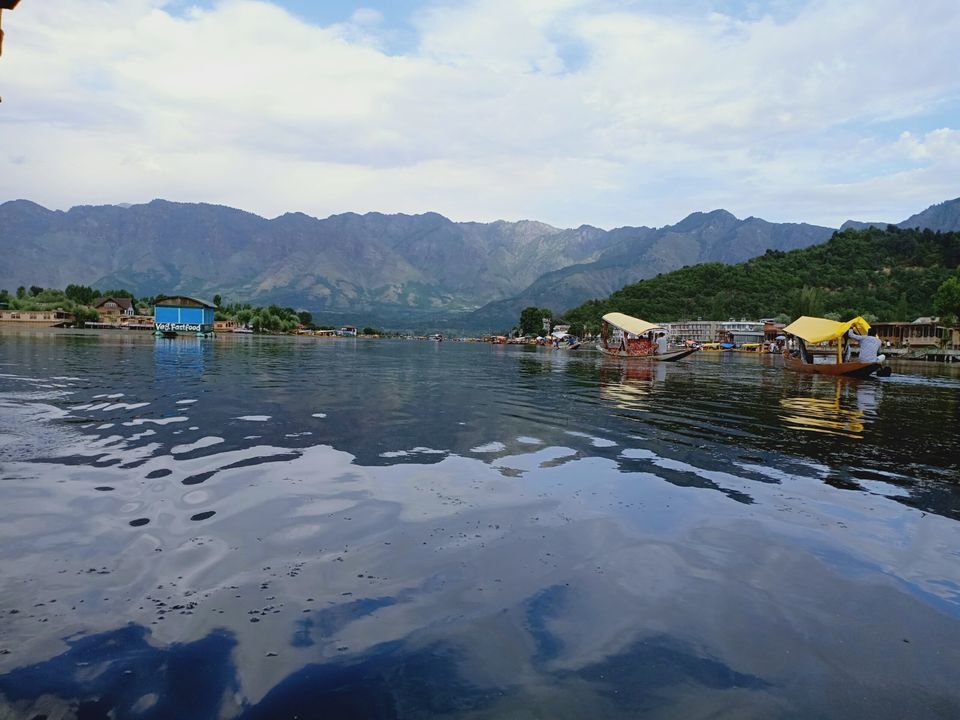 Time only permitted us to visit only one garden that day and we selected Shalimar garden which was near to our hotel. Garden was good but not extraordinary as we were expecting; one more thing that was most disappointing was absence of toilet facility in the garden and nearby areas. Also we had to search for good restaurant around, but with great disappointment we had to return to our hotel for dinner at the end of day.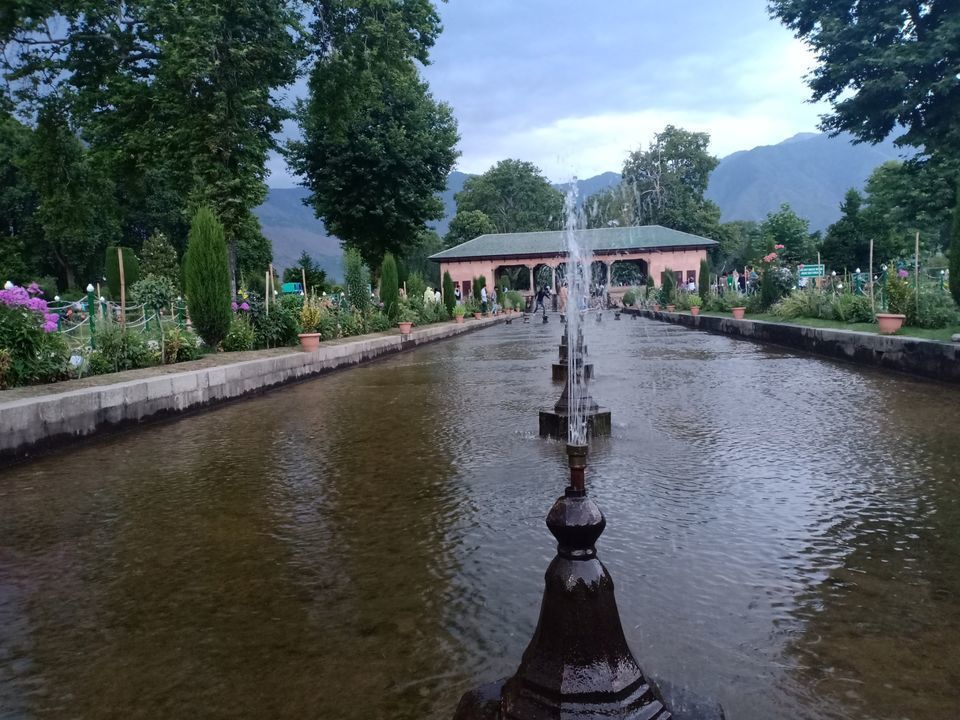 Srinagar - Sonamarg - Zojila pass - Dras - Kargil
This is the day when we started our actual journey to Ladakh region. So we started our regular activities of loading luggage on bike early in the morning. The main attractions of this day were crossing Zojila pass (Zoji La, technical name) and visiting Dras war memorial. So we loaded maps on our mobile and started the journey.
Road was passing through beautiful valleys and along the river. After an hour of our journey we stopped at roadside dhaba to have morning tea; this dhaba was situated on bank of Sind river, the overall atmosphere gave us refreshed feelings. From there within an hour we reached Sonamarg. This is the last decent place on this route where one can find good restaurants, so we stopped for breakfast to make our tummy full with hot parathas and tea in the chilling atmosphere of Sonamarg.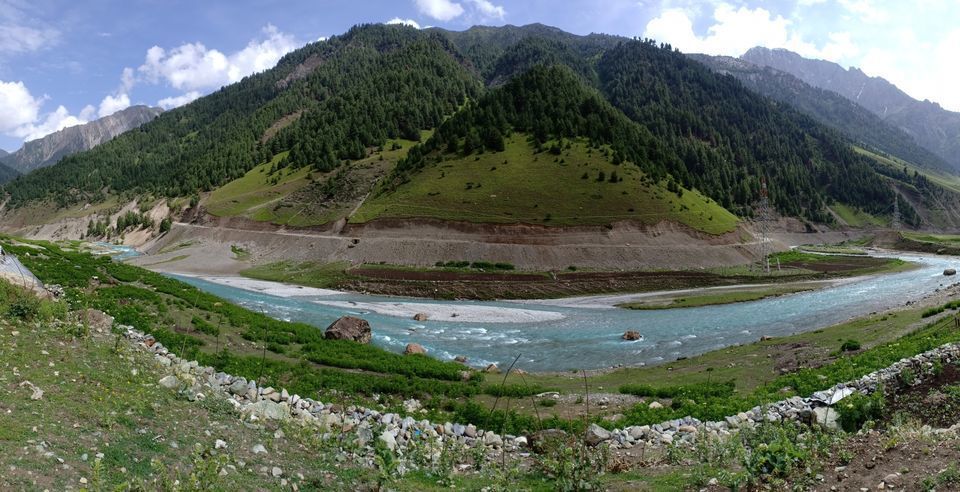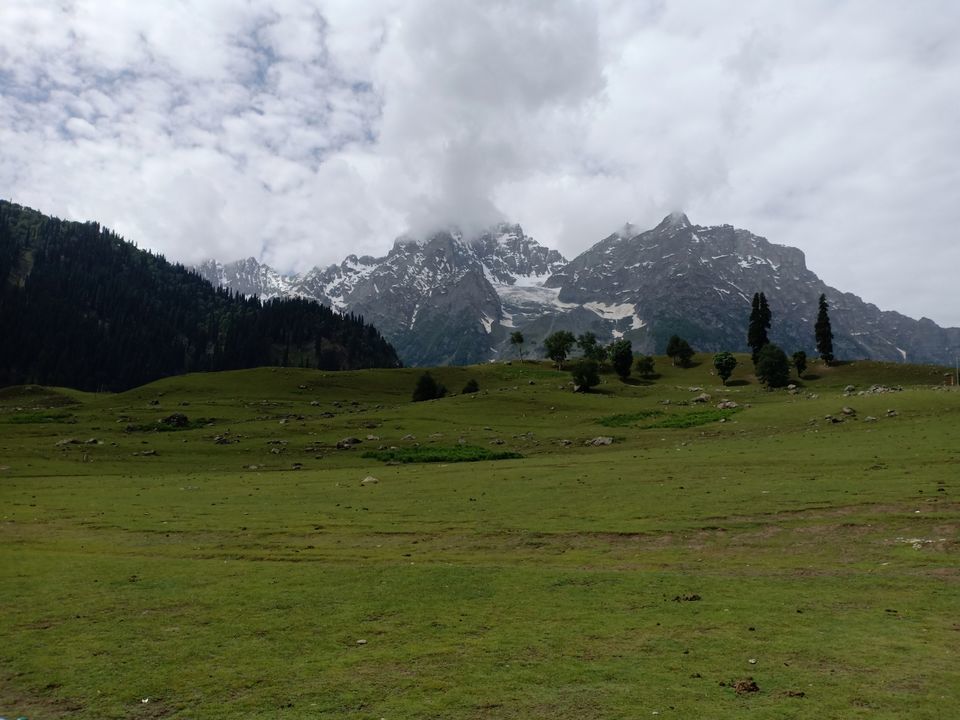 Challenge awaits once you cross Sonamarg and enters the Zojila pass. It was not too long after we crossed Sonamarg and we entered this challenge. Road, barely single lane was in its worst condition, rocky and muddy at some places due to melting ice. To make these riding conditions worse we found convoy of trucks in our way. These conditions were limiting us to drive in first and second gear only with average speed of 15-20 kms/hr and that too at an altitude of 11500 feet. At these conditions we were feeling high altitude sickness; our bike's performance was also affected at such height due to incomplete burning of fuel. Soon we crossed Zojila pass and stopped to take some rest and to get better. Once we crossed Zojila pass, road ahead till Dras was combination of good and bad.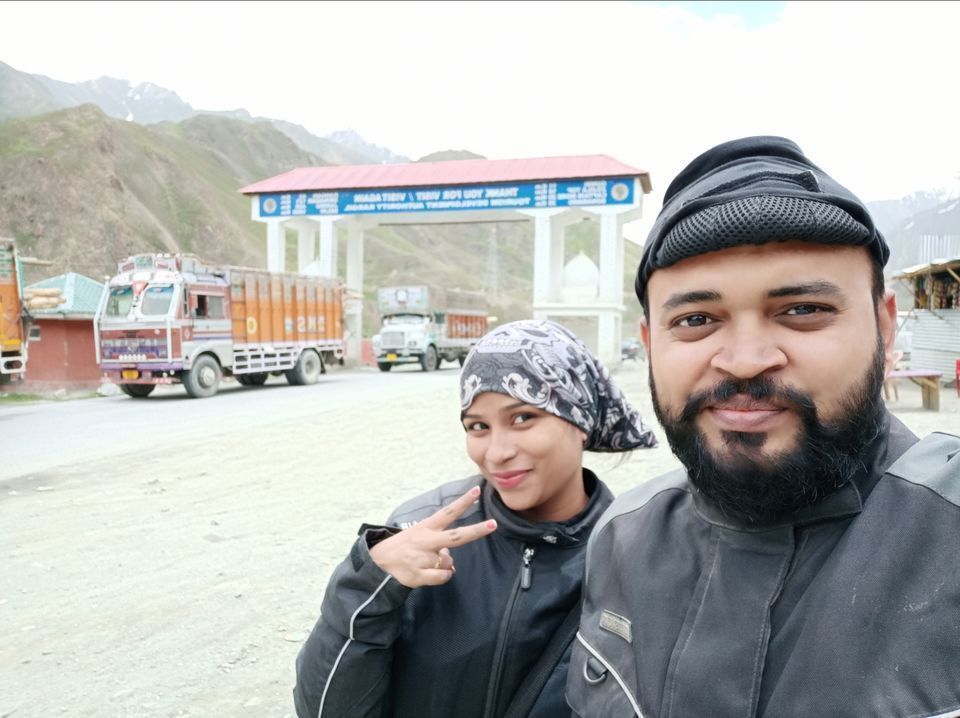 By 3:00 pm we reached Dras war memorial. Spent around an hour at this place which show the glory of Indian army during Kargil war. It also displays weapons recovered from Pakistan. This place make you feel proud about our country and our brave soldiers. This place has a shop where one can buy souvenirs and have some snacks, but unfortunately not available to us at that time.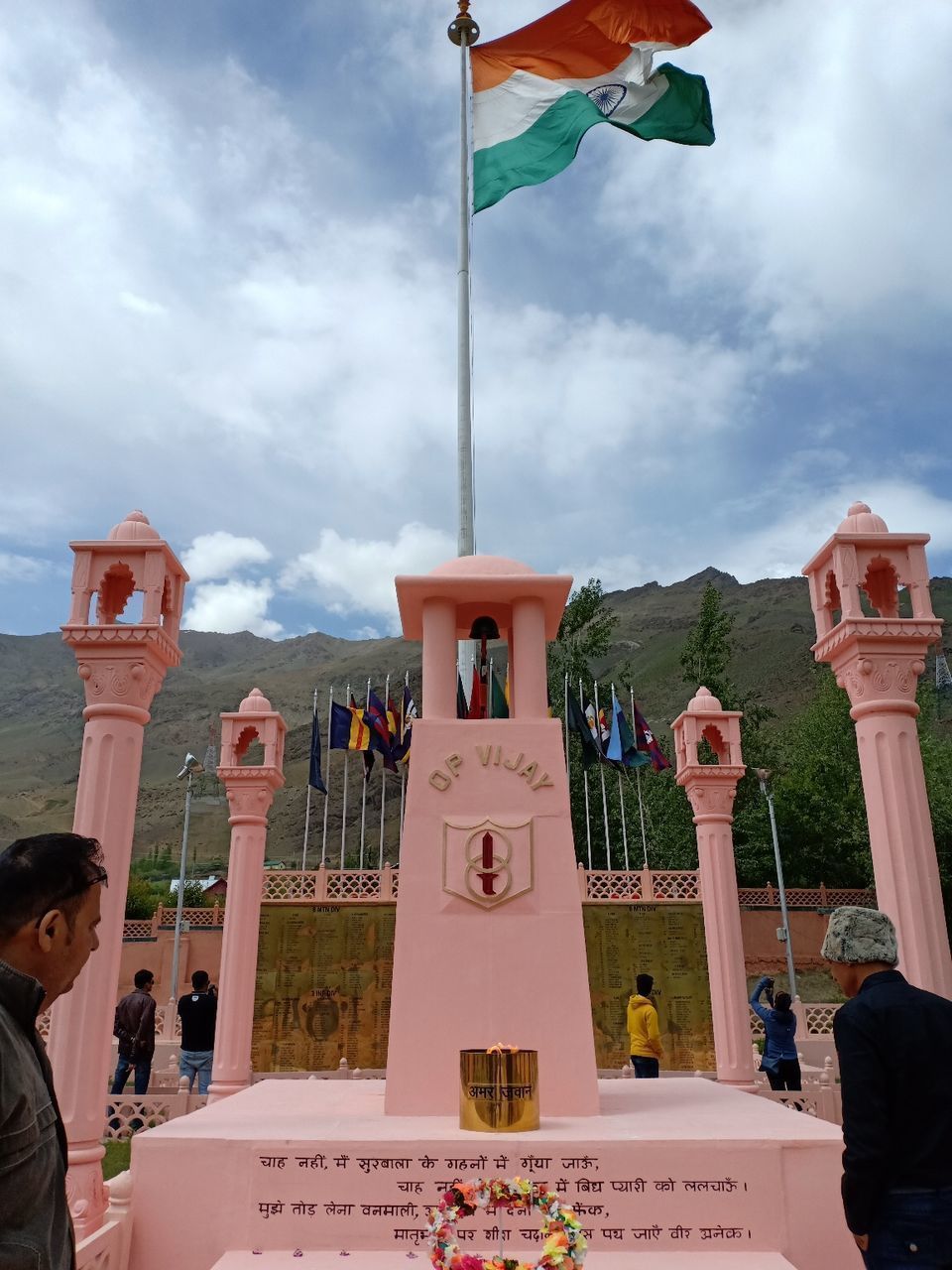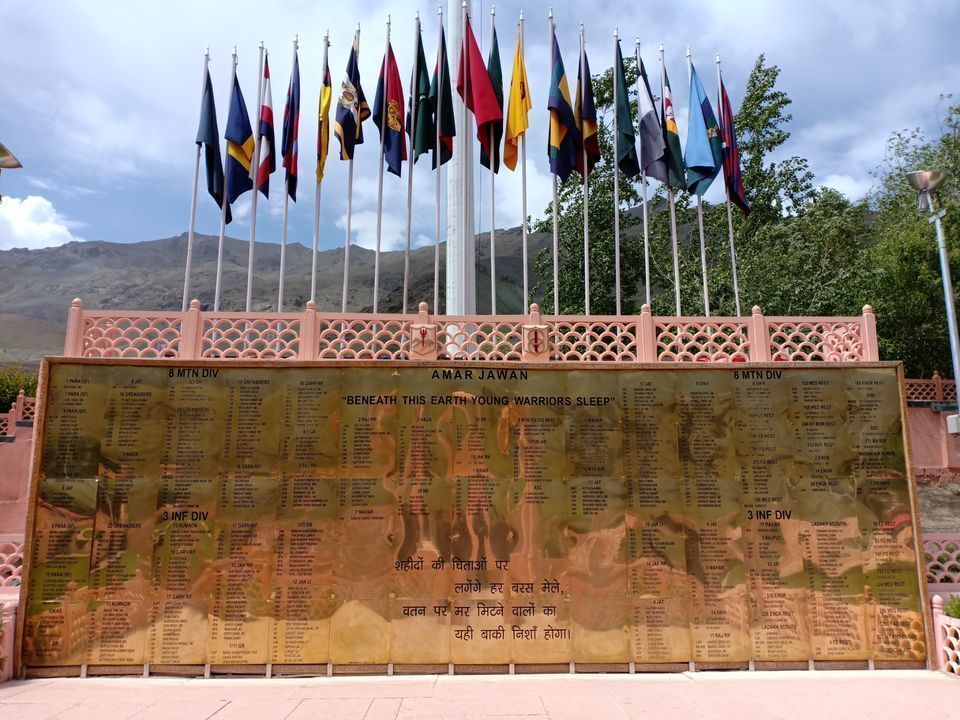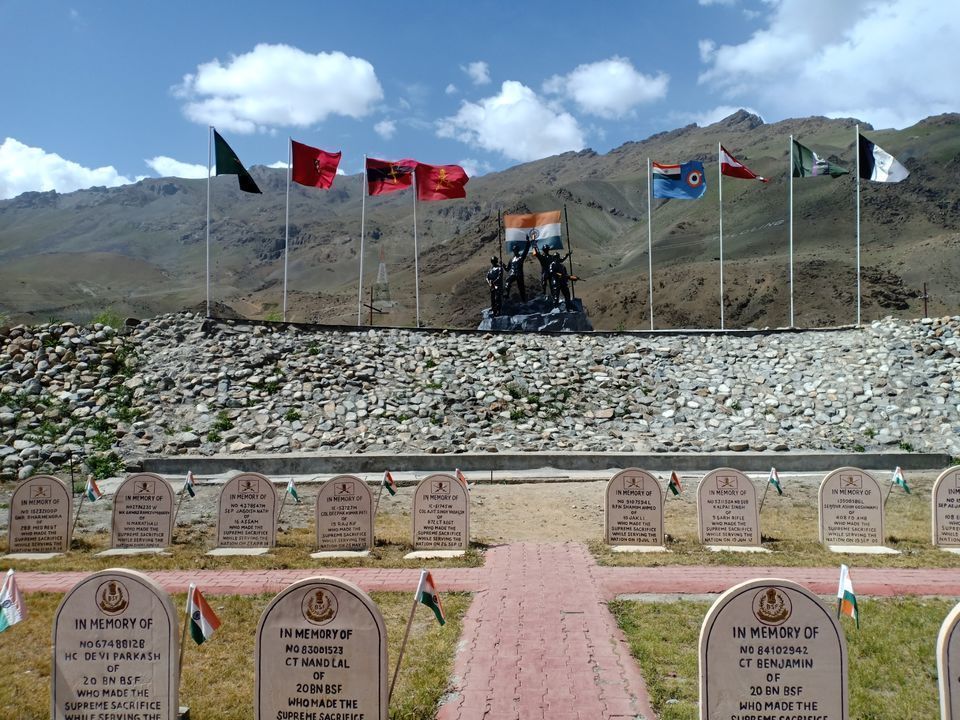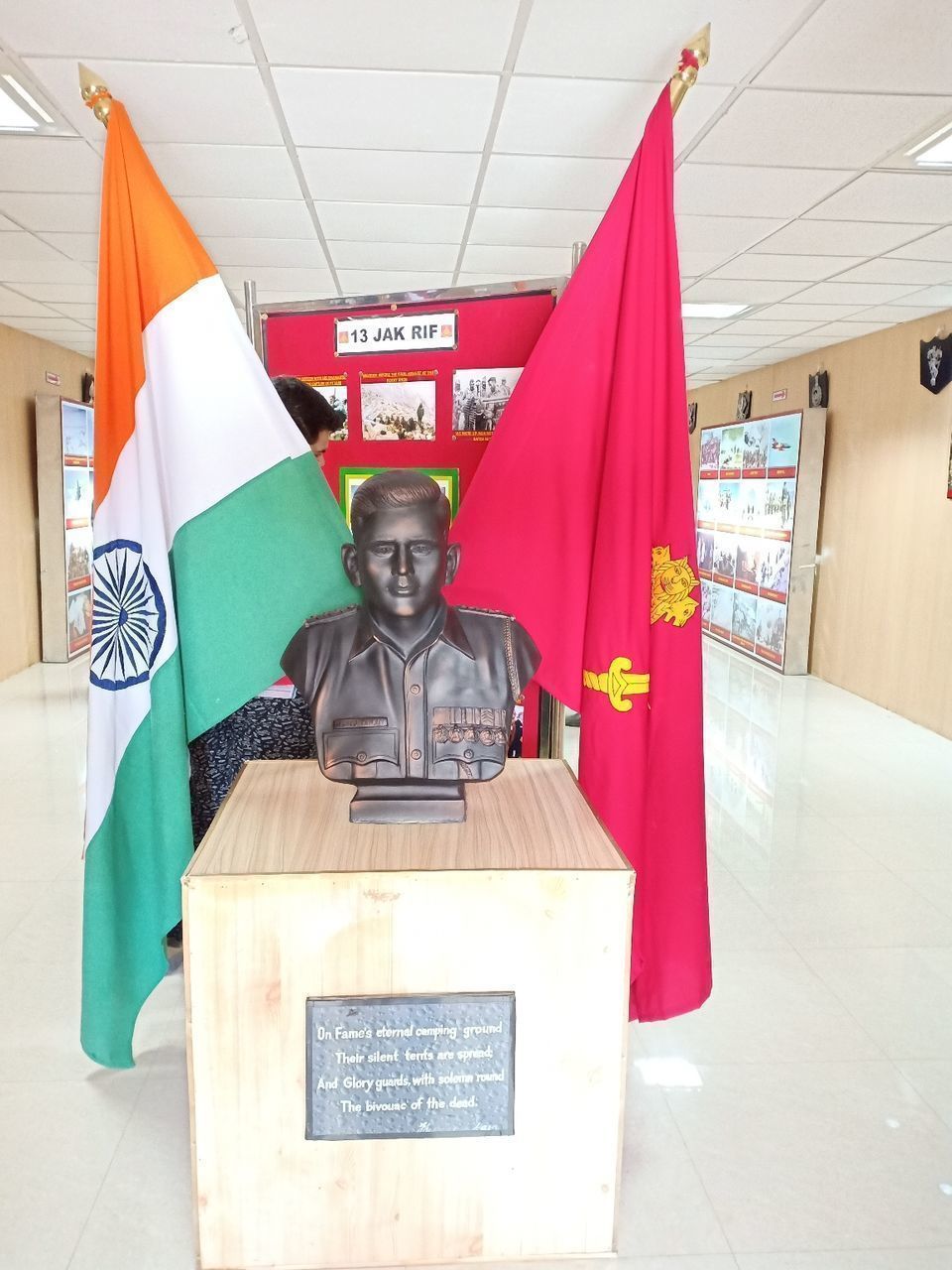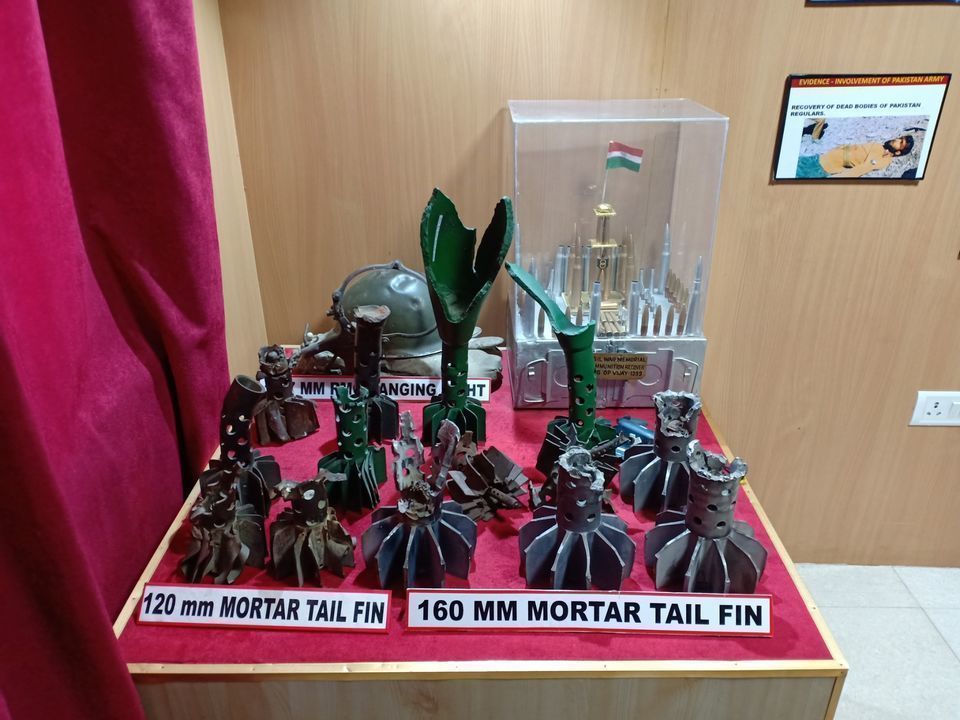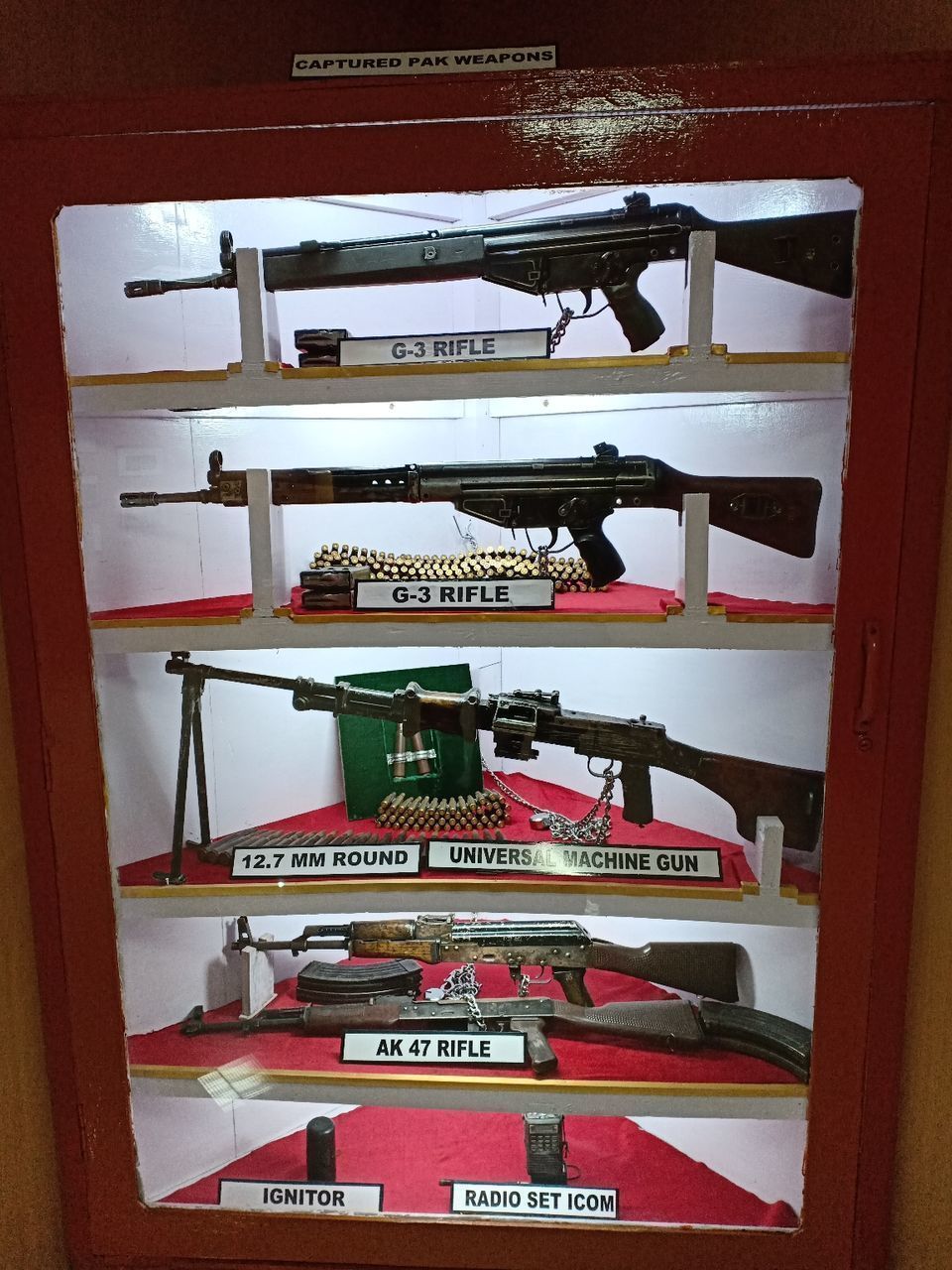 We left this place and headed towards Kargil. Found a decent restaurants on the way, stopped to have lunch but decided to only have pakoras. We reached Kargil before 6:00 pm and started looking for hotel suggested by Qasim. We crossed Kargil city market but our hotel was still not in sight. Finally after asking 2 to 3 locals we found our hotel at the other end of city. We were amazed after reaching the location, hotel was situated on the side of river and hill with price of only rupees 1500. Enjoyed the location and had dinner in hotel to finish the day.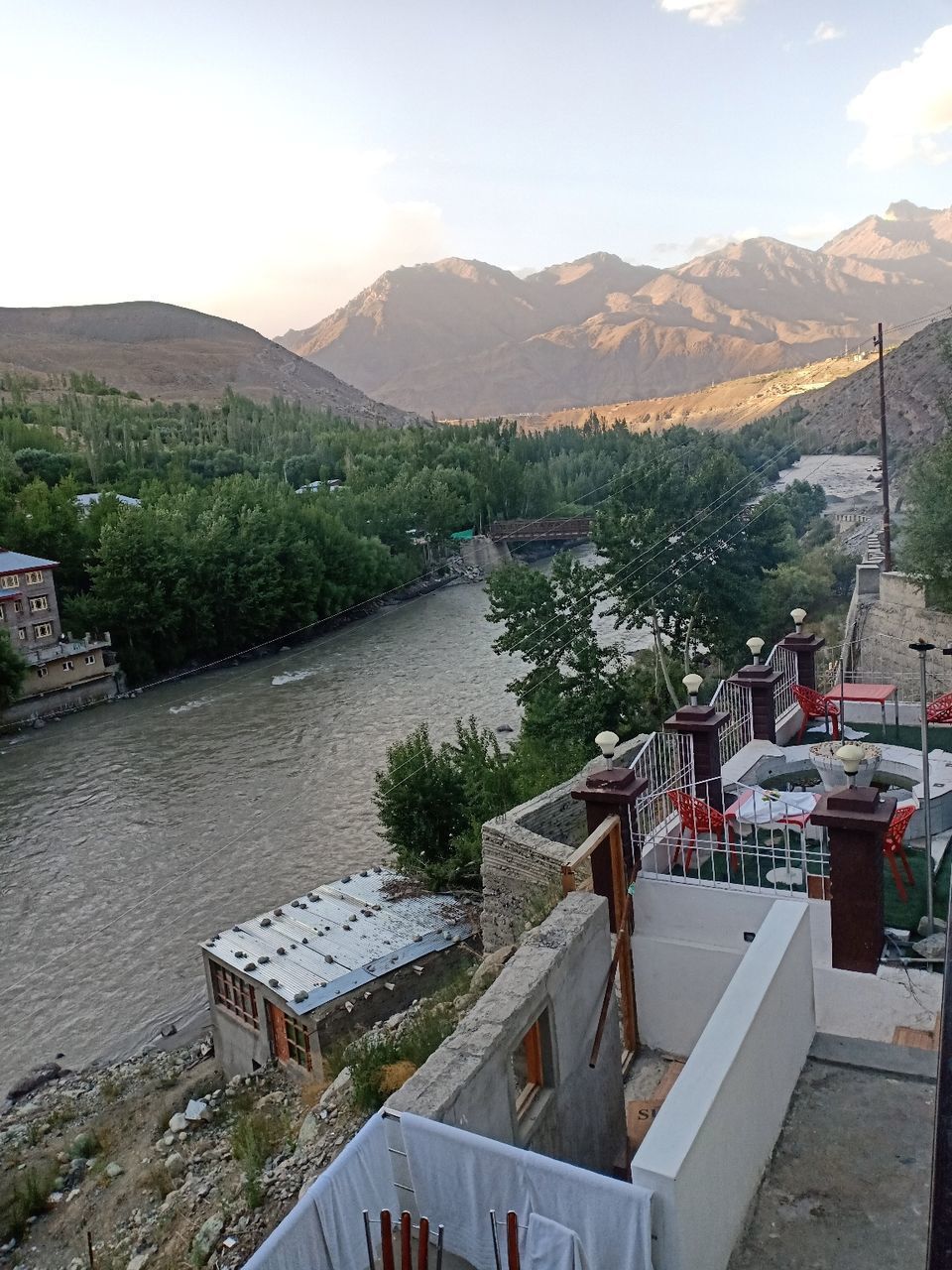 Kargil - Mulbekh - Lamayuru - Leh:
Day started with the refreshed atmosphere of Kargil hills. There are two routes to travel to Leh from Kargil, one via Batalik and the other via Mulbekh. Earlier on my ride in 2016 I took Batalik route, this root is more isolated but has its own beauty; but this time we choose route via Mulbekh, because travelling via Batalik route now requires permit and it may take half of our day. We left early on our journey towards Leh (220 kms) so that we can visit all the places on this route. Road from Kargil to Leh is ideal for cruising in Ladakh region. It was in best shape with very few small bad patches.
After covering around 40 kms of distance we were feeling hungry and decided to have breakfast at the first place. We saw some bikers stopped at a restaurant and decided to have our breakfast there. While we were waiting for our breakfast to arrive, we saw many tourists vehicles were stopping near the restaurant but all the people were going to opposite side of road inside a small place which was looking like a temple. After finishing our breakfast we decided to have a look inside this temple, and to our surprise it was famous Mulbekh monastery. It has long 9 meter statue of Buddha inside the monastery, which was not visible from road due to large tree and buddhist flags around the temple.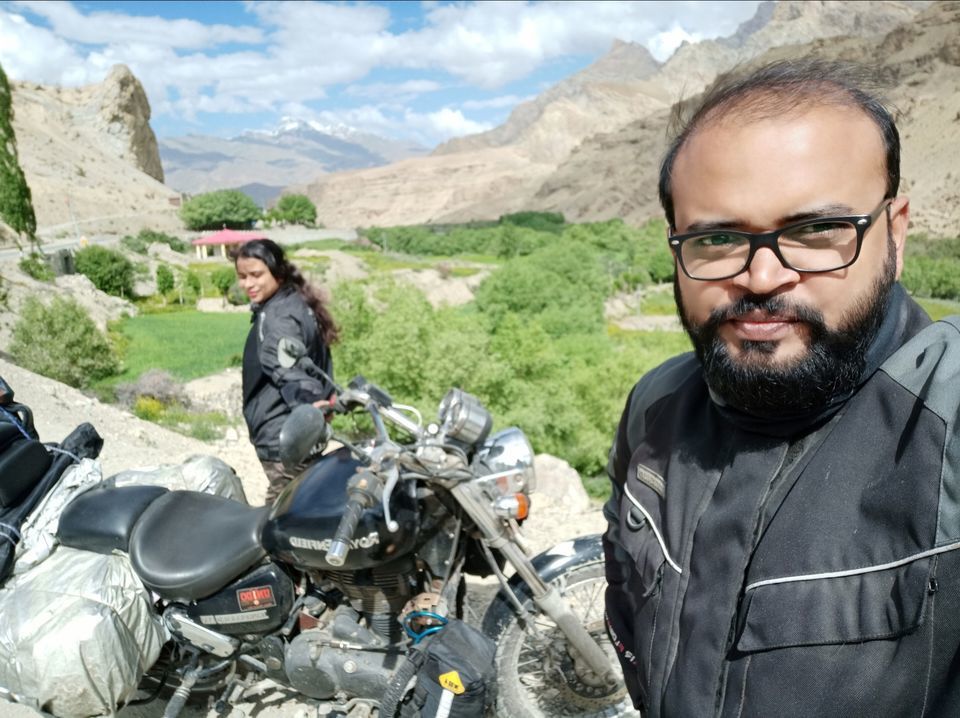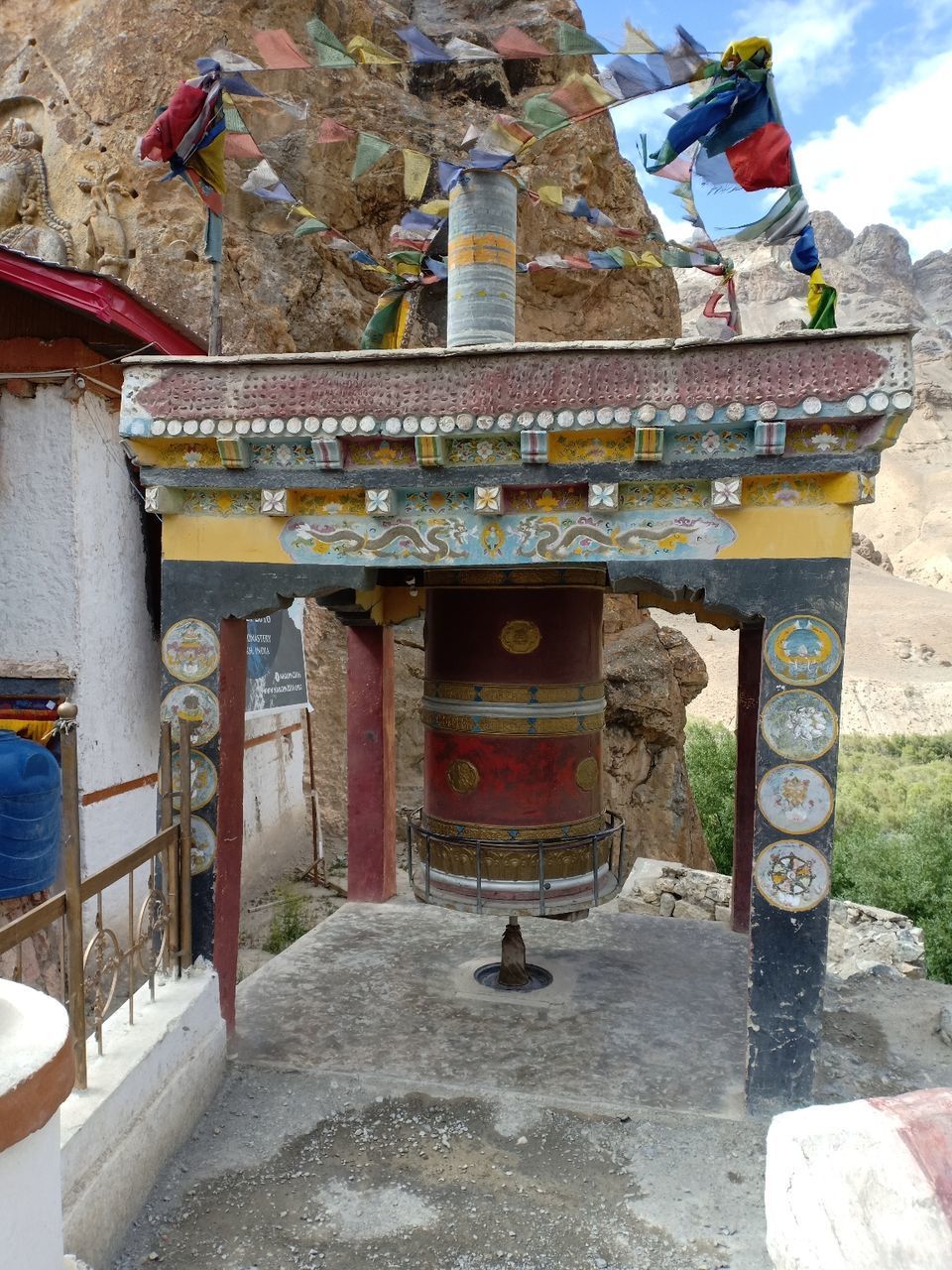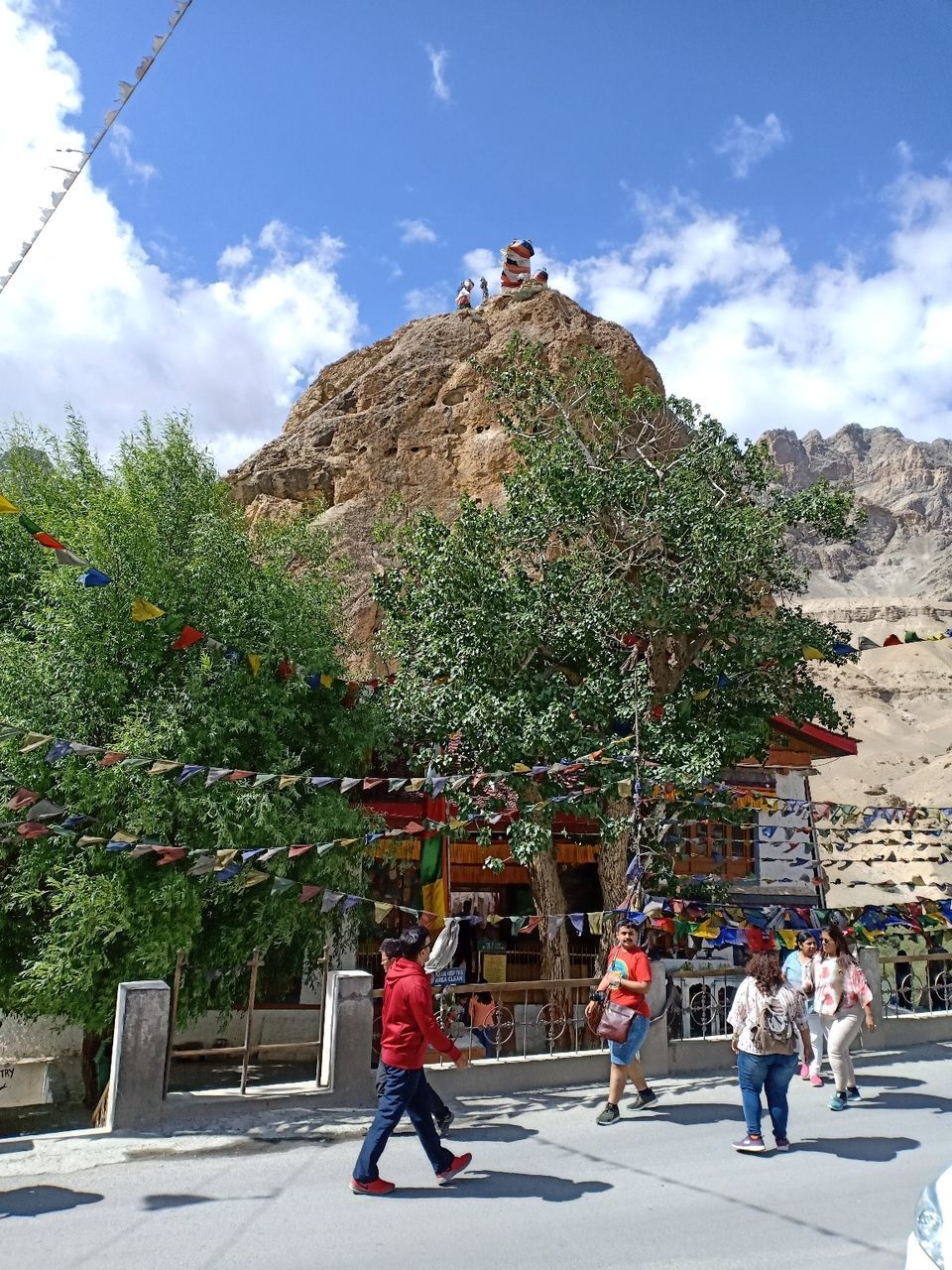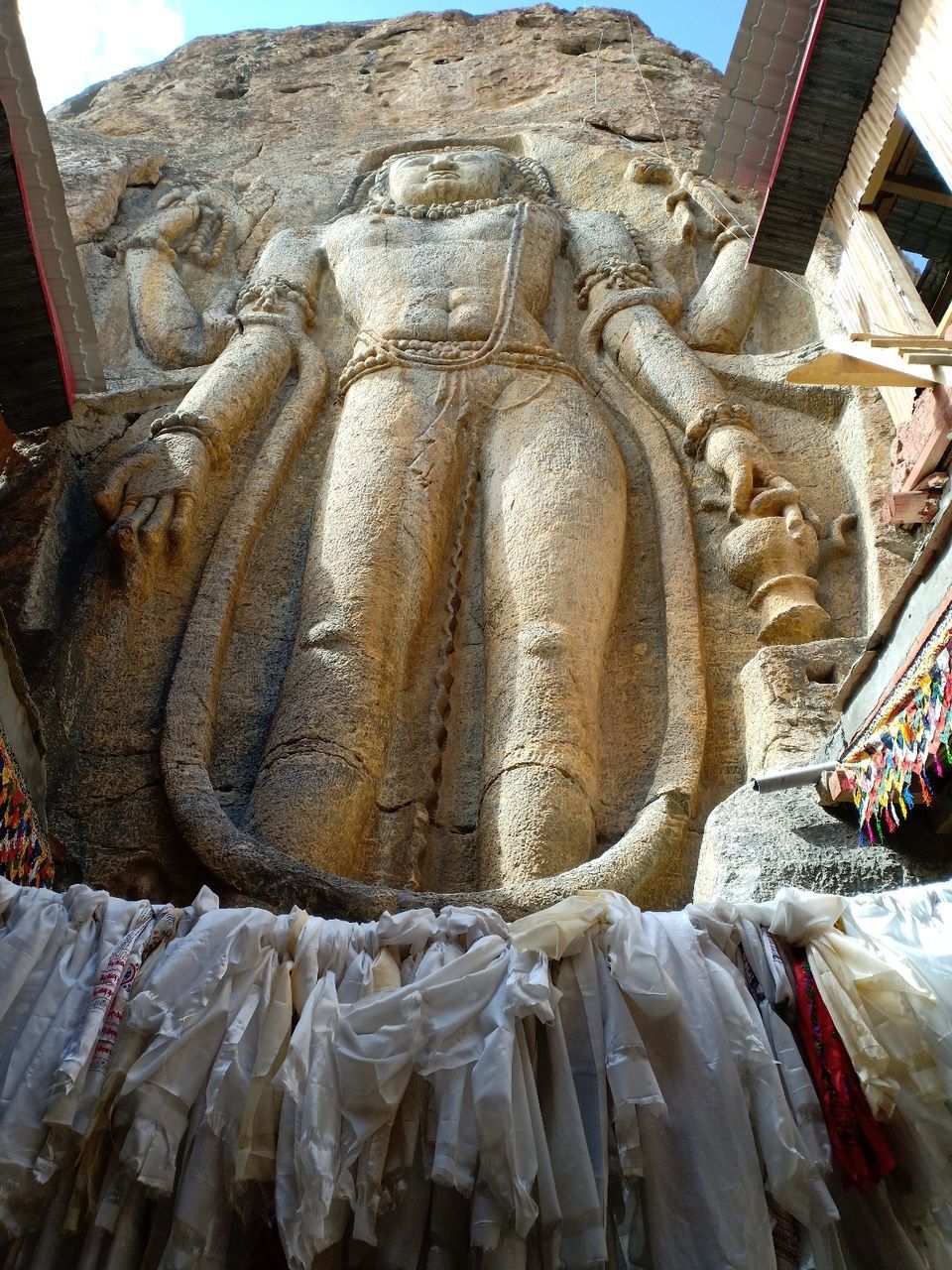 On the way towards Leh we found many good photographic places, and we tried to have some fun at these places. Smooth roads and scenic beauty together made those moments really memorable.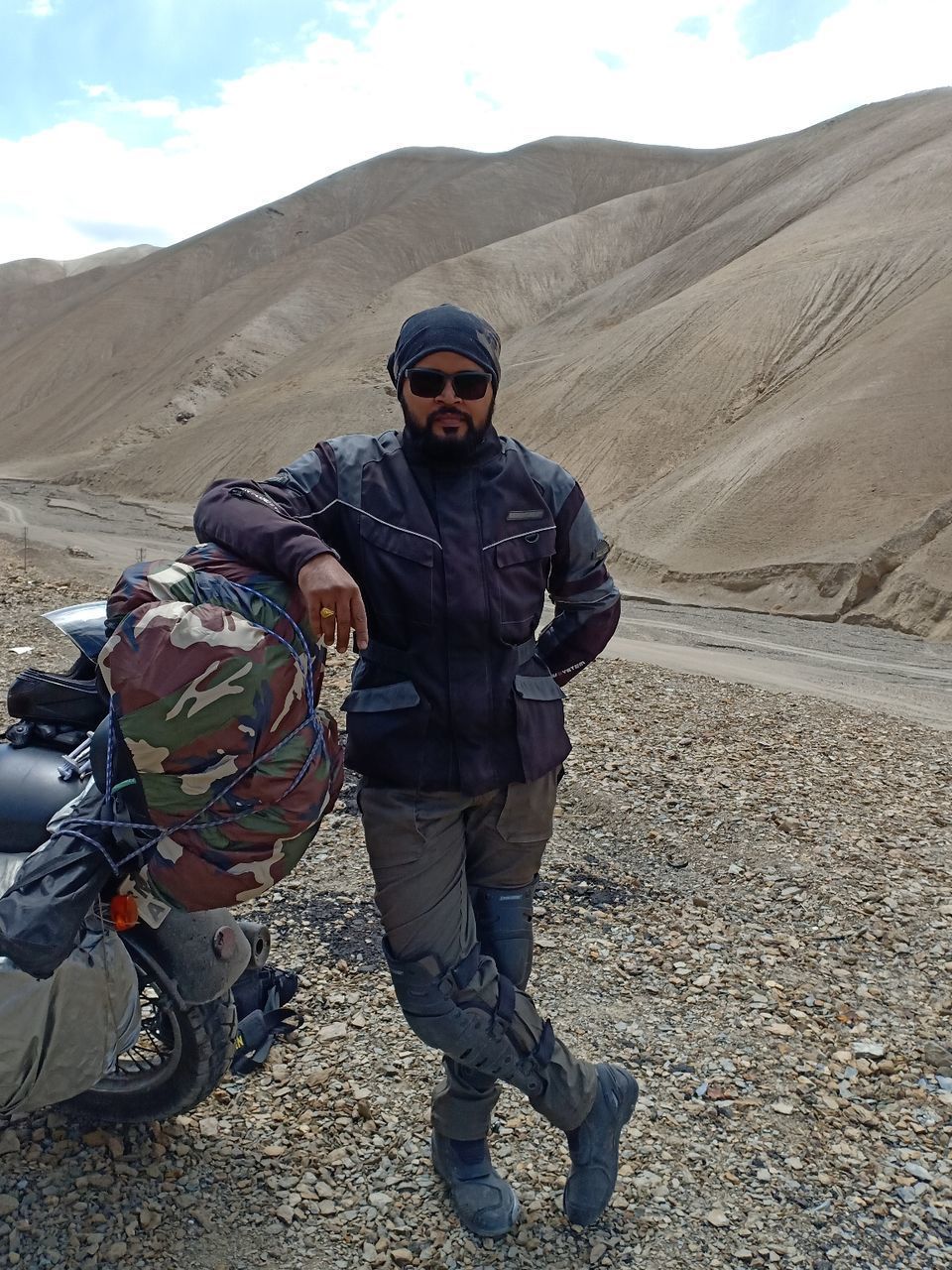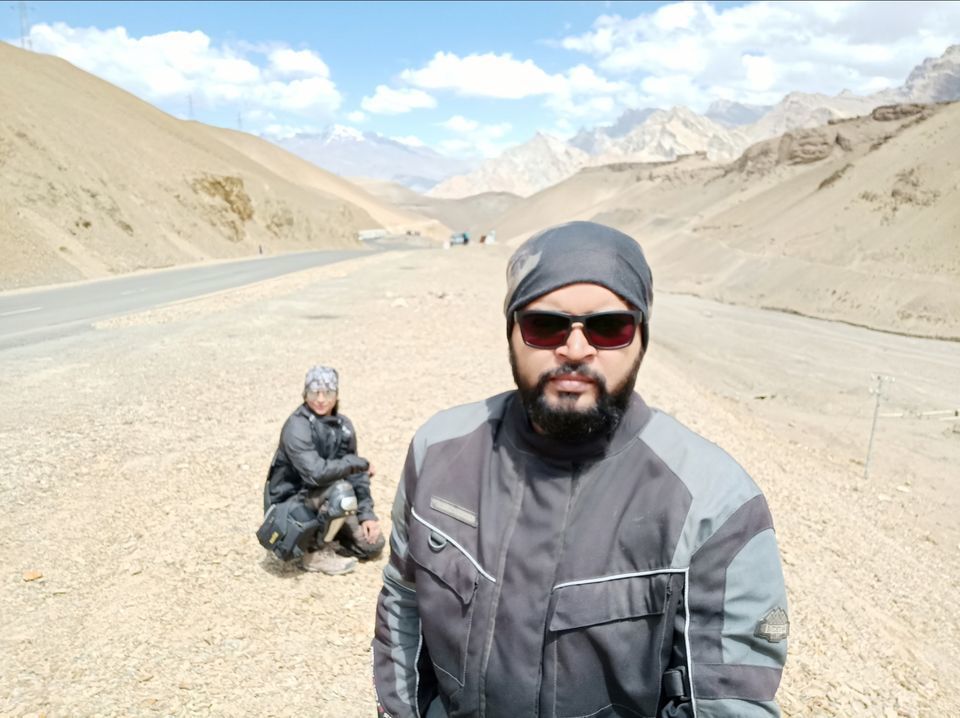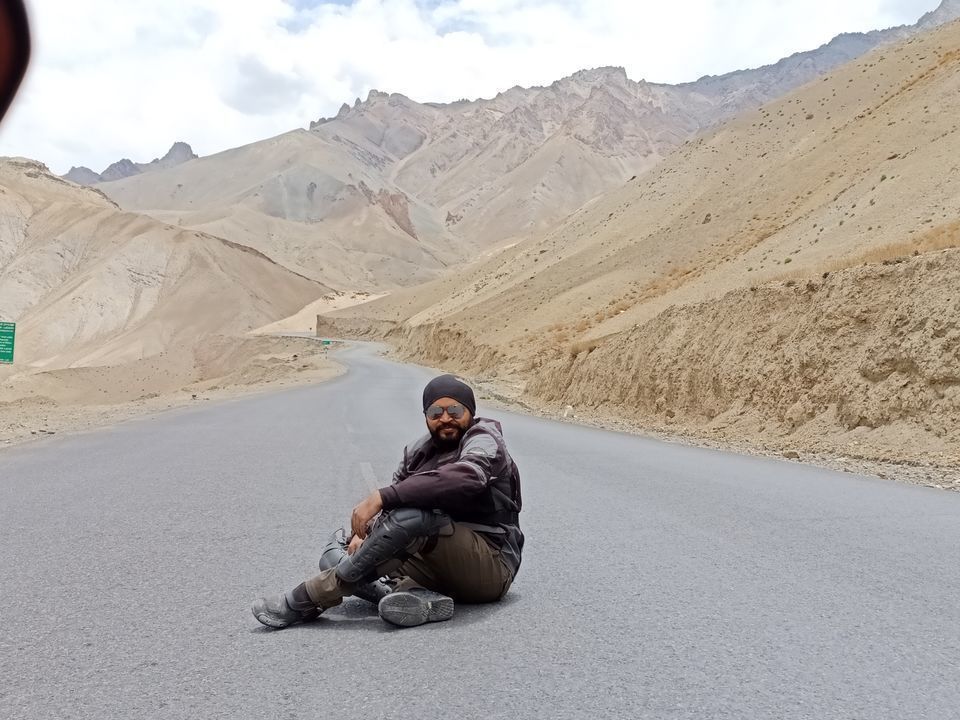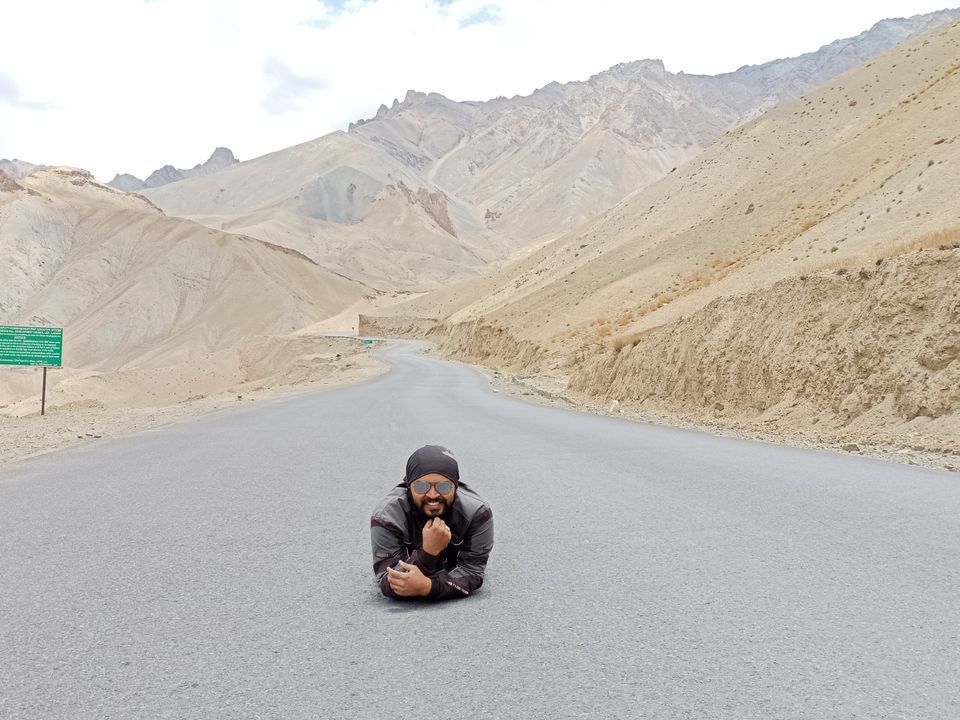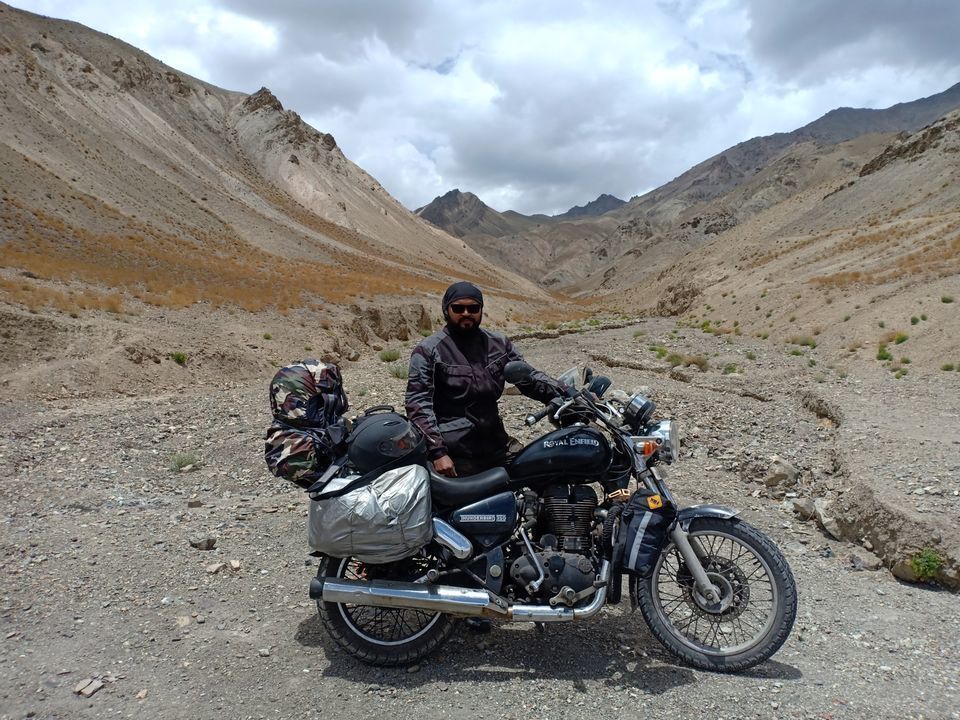 Covering further 65 kms from Mulbekh we reached Lamayuru monastery. It is one of the largest and oldest Gompa in Ladakh region. We were late to reach there as they just closed the gates of main room, and we lost our chance to see this place from inside; but we enjoyed this place from outside. We saw some old monks as well as few child monks with pink chicks. We tried to lure child monks with chocolates to click photos with them, but they shied and ran away.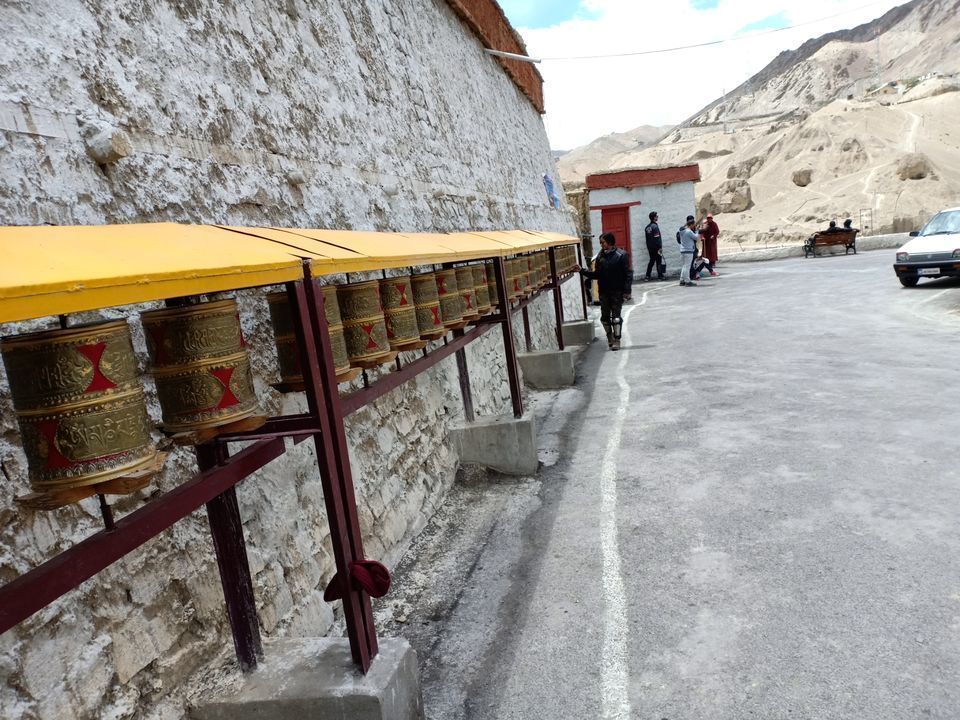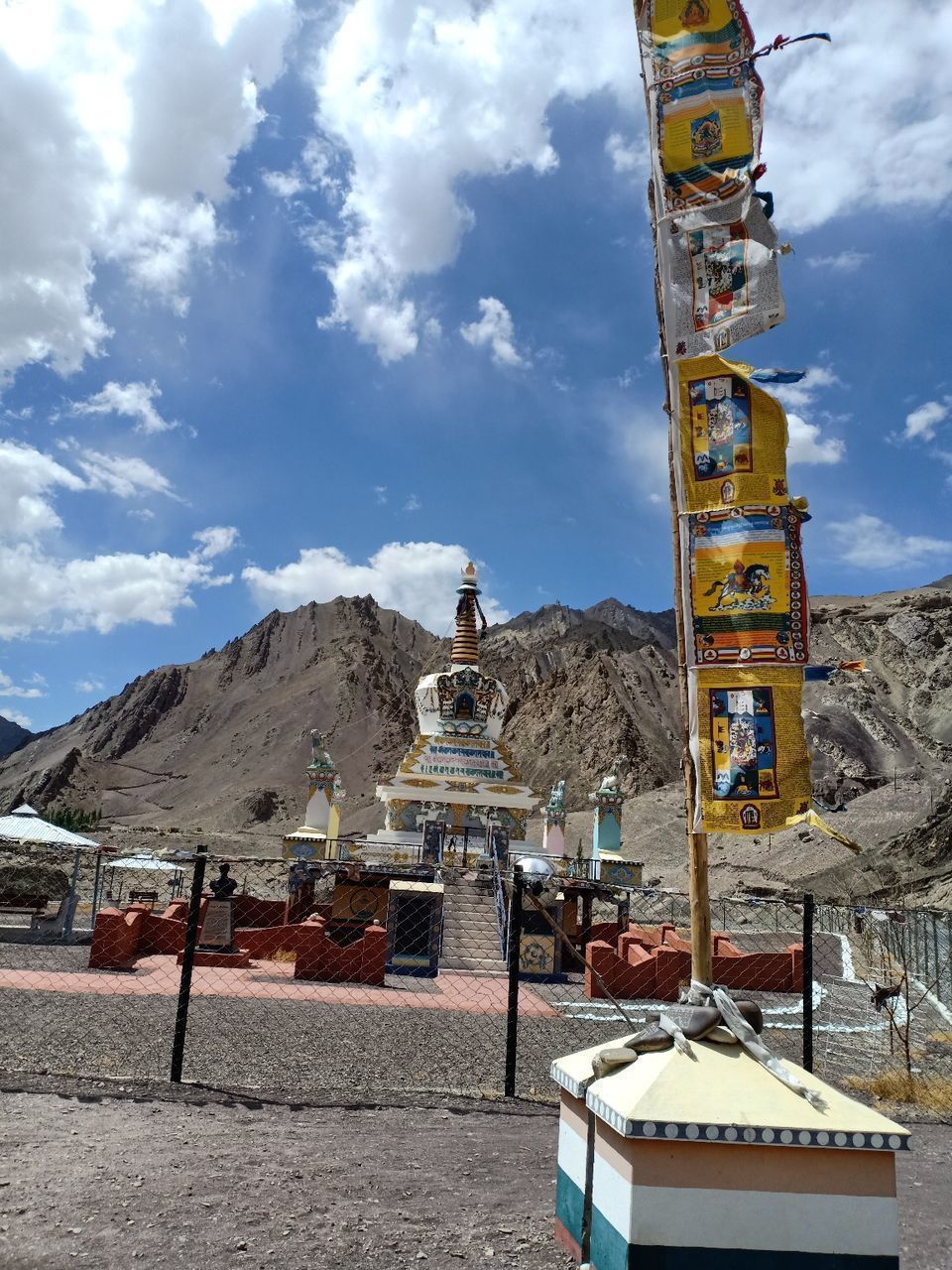 We left this place and stopped in the nearby village to have lunch. Thereafter places to see on our itinerary were Sangam point (confluence of Indus and Zanskar river), Magnetic hill and Gurudwara Pathar Sahib.
As the road was so smooth, in the craziness to ride we missed a signboard of right turn to Sangam point and reached Magnetic hill, which we came to know after asking tea stall person about the direction to Sangam point. We were so tired till we reached this point that we decide not to go back and skip it, instead enjoy here and the spots ahead. My wife was already having headache due to high altitude sickness. Magnetic hills as the name says show magnetic phenomena (vehicles move in the opposite direction of slope), which is nothing but illusion created by surrounding hills.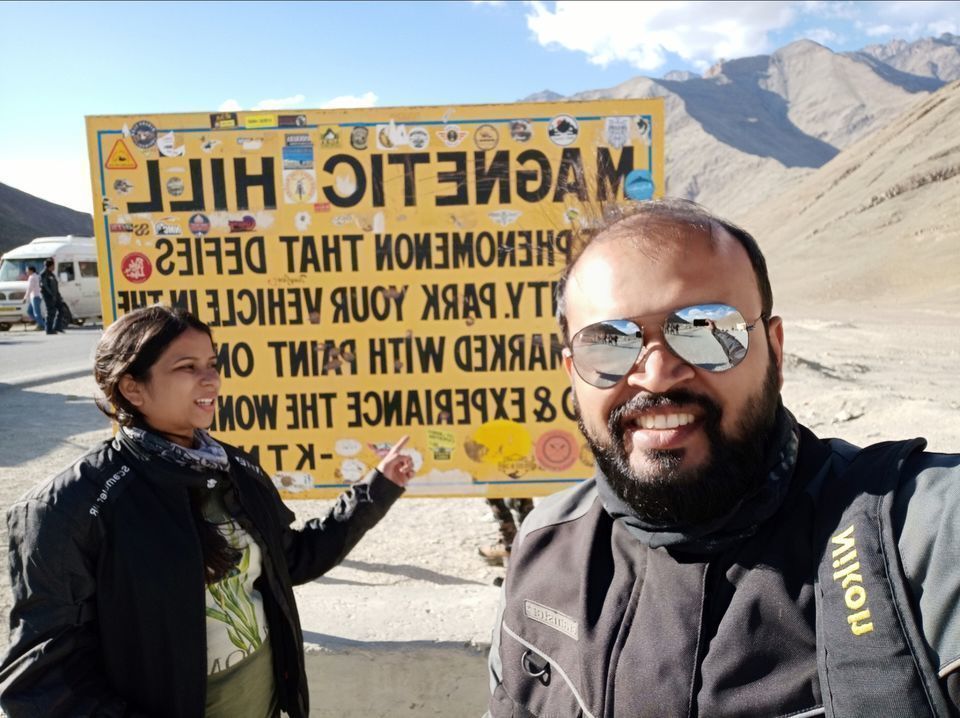 Further few kms ahead we stopped at Gurudwara Pathar Sahib. This beautiful gurudwara built in respect of Guru Nanak Dev's visit to Ladakh region. Gurudwara has a big stone which has imprints of body of Guru Nanak Dev and footprint of demon (based on story of Guru Nanak Dev and a demon). This gurudwara is maintained by army. We enjoyed tea and toast they were serving in their langar.
After leaving this place we reached Leh in short time. We called Nawang, our contact in Leh (Rohit suggested his name for hotel booking) for hotel address. Again this was the same person who booked a hotel for us two years ago, and the same hotel, so without any guidance we reached at hotel, Buddha guest house; it is a small guest house with 8 rooms maintained by very cooperative and helpful owner who live in the adjacent house. They don't serve food hence after getting refreshed and resting for some time we got out for dinner in the market area. Came back to guest house after dinner to have good night sleep.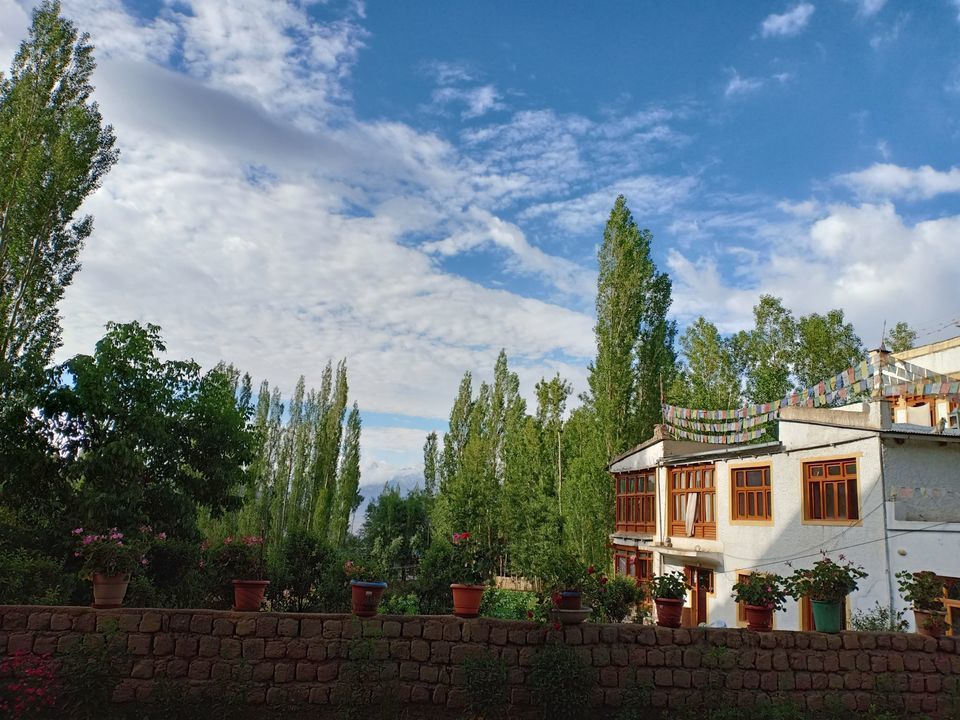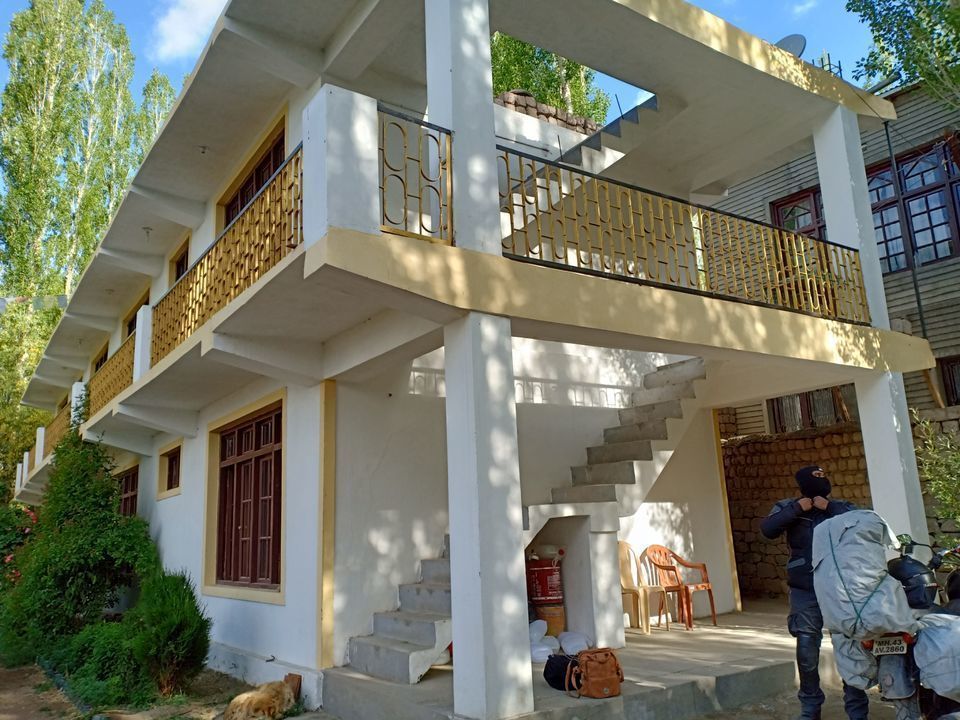 This is first part of our Kashmir and Ladakh journey. Journey till this place was little comfortable. Danger and adventure was awaiting us in our journey further ahead. Second part is coming soon.