Road trip is an amazing way to explore a place. The freedom of travelling at your own pace, having no restrictions of time and no pressure of missing the bus/train or the flight lets you enjoy every single moment of your journey!

Gujarat road trip from Mumbai turned out to be one such wonderful experience. Covering a total distance of 3000 km in 8 days, we visited –
Gandhinagar
Rani ki Vav (Patan)
Bhuj
Rann of Kutch
Dwarka
Gir
Diu
The most special part of this road trip was the Magical Island of Diu. Situated at the southern tip of Gujarat, this small photogenic Island deserves great admiration as it truly lives to its description – Ilha de calma (Isle of Calm). The charm of this calm and serene little Island left us spellbound for the rest of our stay as we got to slowly discover the history of Diu. Every single place we visited exhibited scenic beauty much beyond our expectations and made us fall in love with this less explored and lesser known place of Gujarat over and over again!
How to Reach Diu
Diu is a small town in Diu district in the union territory of Daman and Diu and was under the Portuguese regime till 1961. The island is located to the South of Gujarat but is often confused with Daman & Diu located to the North of Mumbai near Nashik.
Travel time from Mumbai to Diu by road is 14 hours, therefore it is advisable to split the journey and visit other places on the way, for overnight stays instead. Alternatively, you can take a flight to Diu.
Diu – As we witnessed
We reached Diu little after noon, checked into the Hotel and quickly strolled through the streets as all the places get closed early. Our sea side resort turned out to be another gem as we got to spend our evening walking on the seashore enjoying the breeze and sound of waves. We sat there gazing the dark sky when suddenly it struck us that the moon is missing. It was quiet surprising as it was the full moon week. After numerous theories and debates around the moon rise timings and cloudy sky, the moon thought of making a grand entrance. And you bet grand it was. A full red shinning moon suddenly popped up from nowhere, so bright that not just us, but the Russian couple sitting beside also wondered if it was indeed the sun.
The view was spectacular and you could sit for hours just gazing at the moon and it's reflection on the waves. Red moon, cool breeze, gushing waves and beautifully illuminated letters "DIU" on some hill top far away made it a perfect view, and to share that moment with your love alongside, one couldn't have asked for more.
After a good night's sleep and a filling breakfast we started our touring around town. We had it all planned so as to be in the right place at the right time!
Gangeshwar Temple
This is a small temple of 5 shiv-lingams which are believed to be built by the Pandavas at the end of a small cliff. You need to walk down few steps to reach the idols which are of different sizes. The specialty of this temple is that, as the tides rise, the shiv-lingams get submerged and the caves become inaccessible. We therefore timed our visit perfectly as per the tide timings to get a glimpse of the water entering the cave.
INS Khukri Memorial
Indian Naval Ship Khukri was a frigate which fought and sank 40 nautical miles off the coast of Diu in the 1971 India-Pakistan war. The captain decided not to abandon his ship and went down with her. 18 officers and 176 sailors were lost in the sinking.
It's one of the most touching stories which describes the love and valor with which the soldiers serve their country. Names of all the brave hearts are engraved on the black stone at the memorial which was built in the honour of soldiers who lost their lives fighting for the nation. The memorial consists of a scale model of Khukri encased in a glass house, placed atop a hillock facing the sea.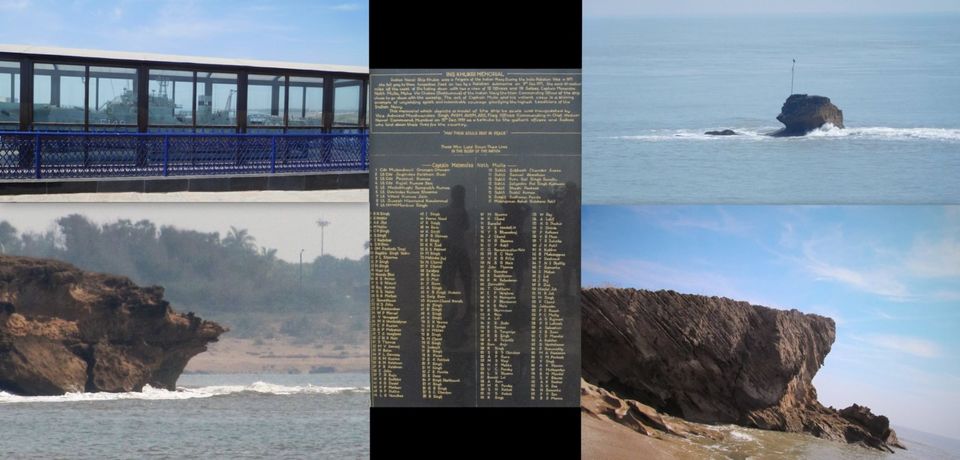 Naida Caves
This place was the reason why Diu was in our Gujarat itinerary. We knew that it is incredibly beautiful looking at its pictures but what we didn't know was that these are man-made! History suggests that the Portuguese hacked off building materials which resulted in the formation of these caves.
Naida caves are a photographer's paradise. The yellow-orange rock walls shine brighter as the sun rays peek in from various openings making it look like a giant canvas displaying the master strokes of light and shadows.
As you enter, you feel lost as the group of caves is a maze in itself. Had we taken a tour all by ourselves, we probably would have ended up following the arrows marked on the walls while mistaking the caves for nature's art, clicked innumerable pictures and left in an awe like all other visitors.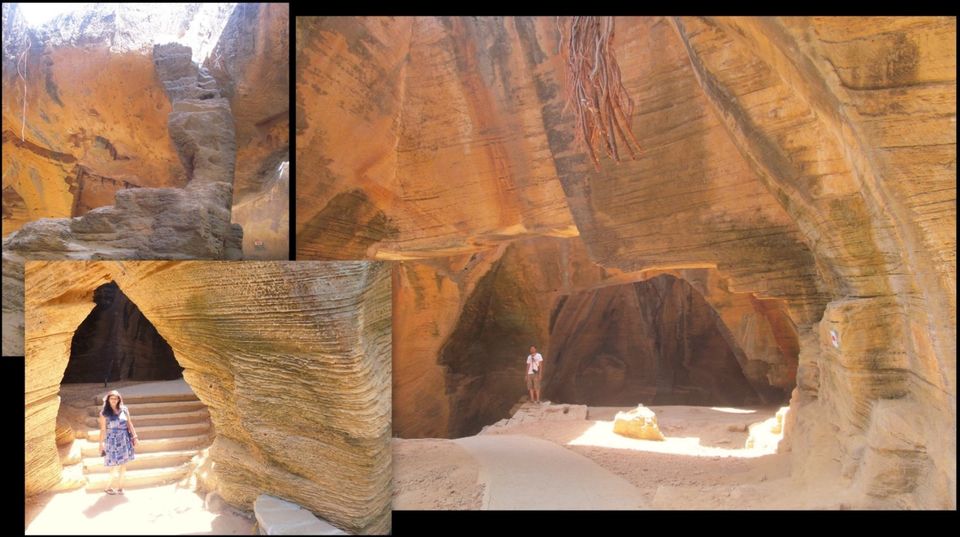 Luckily, we got a professional guide who gave us a grand tour. He explained us the design, history and architecture behind the caves and how these were used by the Portuguese soldiers as a hideout. Our guide gave us an option to be in the shoes of the Portuguese soldiers and walk their trails. Without a second thought we accepted the challenge and found ourselves walking through the banyan roots, climbing and jumping rocks, sometimes getting ourselves out of narrow openings and scaring the other visitors. It gave us a feeling of being in some foreign land venturing like nomads, mesmerized by the magnificence of huge network of tunnels and steps hidden behind banyan roots!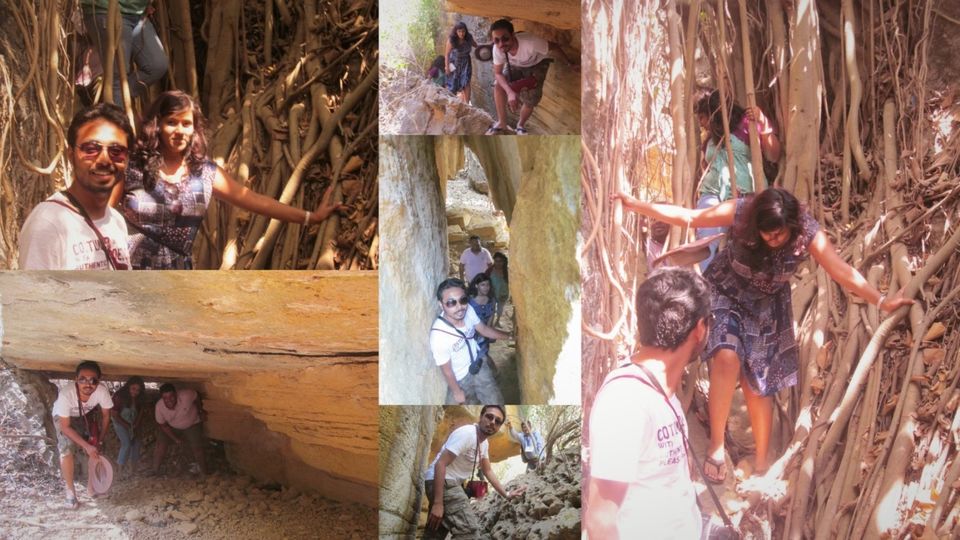 It is hard to believe that a huge structure like this is man-made, so thoughtfully carved as an escape route for soldiers and yet so beautiful!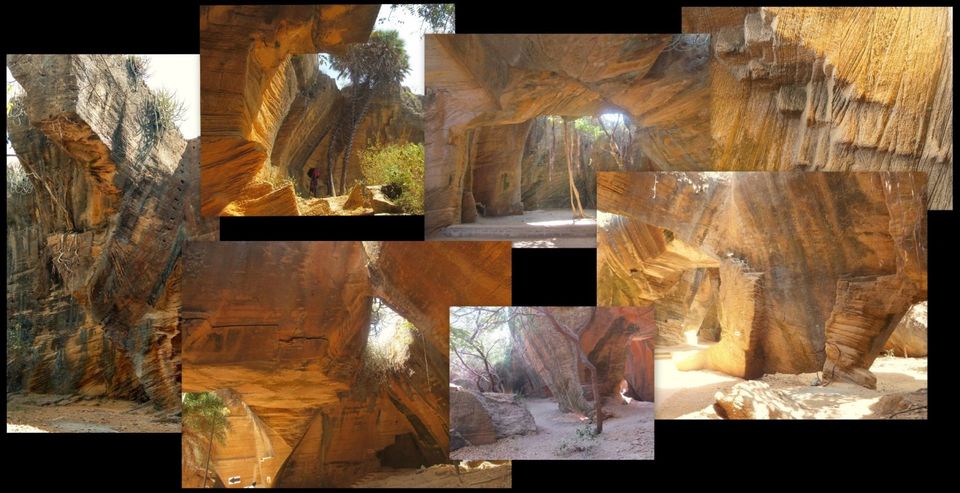 Hidden Cliff – Exploring The Unexplored
In search of some more excitement we started towards the cliff which we had seen in the morning but ignored since we couldn't figure out the road. Determined, we tried to find the place against all odds and found a small road going in that direction. Soon, it started getting narrower and turned into a rocky track. It very much reminder us of the Gir night ride where we had gone through worse. In anticipation of finding the cliff, we went off road and all we had ahead of us was barren land. We continued going ahead but with serious doubts whether we should be going on. Suddenly, we had to stop…there was no more land! Our car was right at the edge of the cliff. Mission accomplished!!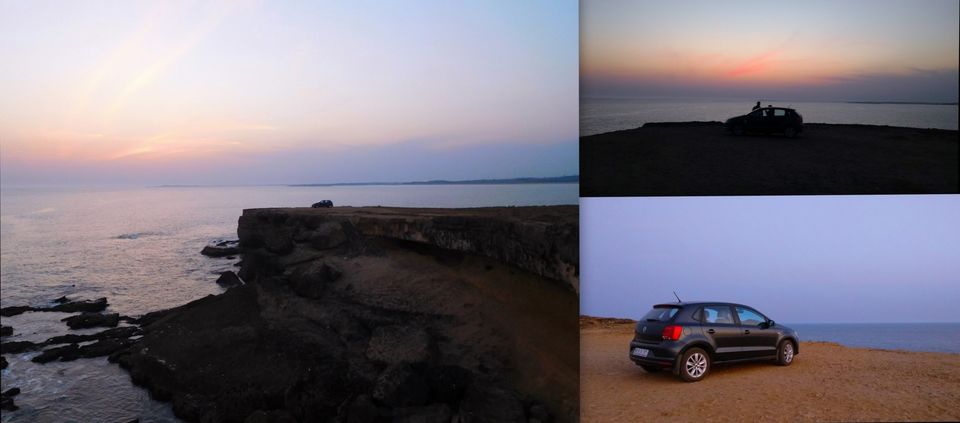 A breathtaking view from the edge, waves dashing at the bottom and sun setting right in front of us! A newly found place showing Diu city to our left, Nagoa beach to right and endless sea at the front made us feel on top of the world. Another round of innumerable pictures were taken just so that we capture everything we had witnessed to show to our friends and family back home.

Despite many efforts to find out the name of this place, we failed. We call it the "Hidden Cliff" and you can find it on the way between Nagao beach and Gomatimata beach towards the left , before Vanakbara beach and is reachable on a vehicle.

Diu Fort
Known as 'Praca de Diu' in Portuguese, Diu fort cum Castle was constructed by the Portuguese in the 16th Century, and was used and controlled by them until it was taken over by Indian military in 1961. It's a pretty huge fort with couple of bastions inside it.You can find collection of cannons, iron shells over the fort area. There is a huge light house at one end of the fort. One can also see Panikotha fort which is built in the sea off the coast.
Skirting the sea along three sides, Diu fort provides an amazing view to the visitors while being an impressive display of advancement of military defense of Portuguese in itself!
Other Attractions In Diu
Gomatimata beach
Hoka Trees
Ghoghla beach
Vanakbara beach
Thomas Church (Diu Museum)
Festa De Diu – Asia's longest beach festival (Dec – Feb)
Nagoa beach
Paul's Church
Jalandhar beach
Diu is truly a paradise and there are still plenty of unexplored places. With those ecstatic moments captured and memories in etched our hearts we came back to Mumbai promising our return.
Road trip from Mumbai to Gujarat was indeed a one of a kind experience. One must give it a try to feel the true charm of the place as it gives a chance to feel every bit of the adventure and joy involved in a journey. 3000+ kms – covering 8 different major cities in 8 days it was indeed gutsy trip which will always inspire us to recreate such ventures.
This blog was originally published on 'Euphoric Journeys'