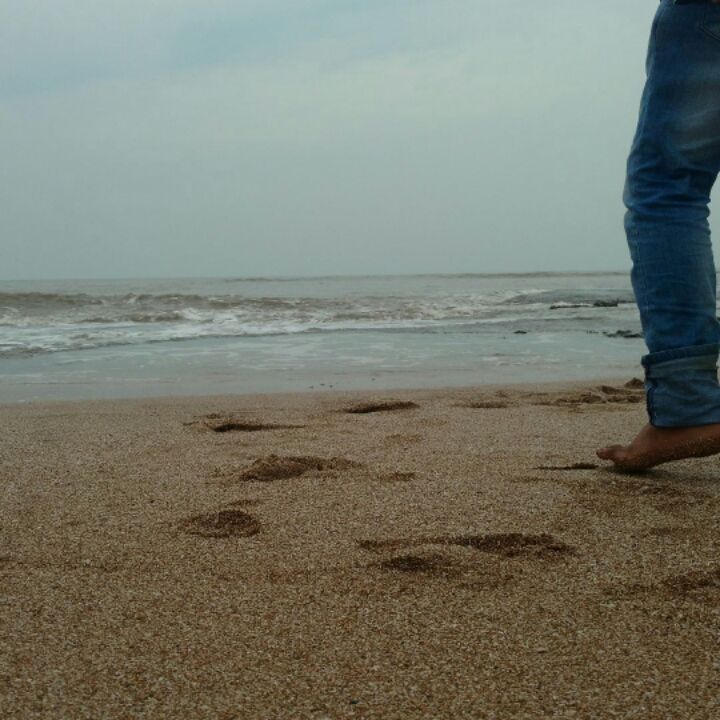 It's like after 1 year we have planned something! And this time it is Diu. Me and my two brothers are almost ready for the fun coming on our way !  Diu is the union territory ! Actually it is diu and daman, the two cities divided by the sea. We took the bus from Ahmadabad at 10:00pm and in morning the smell of sea woke up at 7:30am ! The roads to the diu is like hell, always prefer a car ! We were so tired that we first book hotel. Alishan hotel is the name ! The front view was the sea and it was awesome ! We get fresh and book two activa. It was the best thing, we got our own vehicle for whole day in just 400/-per activa. We were also out of cloths, actually the cloths of beach ! So we headed towards the market. There was very small market and we couldn't find good cloths ! After almost 2 hours of wasting time we got unsatisfied cloths ! Then we tick out the places to visit in diu !
Places to visit :-
1) nagoa beach
2) Ganeshwar temple
3) museum
4) fort
5) jalandhar beach
6) naida caves
7) sea shell museum
#Nagoa beach :- nagoa beach is 9 km away from our hotel. It is the popular beach of diu. The beach is full of bars and restaurants. Diu is not a dry city like other cities in Gujarat, so many Gujaratis went there for alcohol and thats why there are so many bars ! We went in monsoon, the sun is hidden behind the clouds all the day and wind of sea is just refreshing. There is boating and other stuff is also in nagoa beach. It was crowded more than any other place. We spent some time at beach and then we went back.
#gangeswar temple :- there is a temple of lord Shiva in diu. There are 5 shivlings from small to big. It is also the great attraction of diu because the shivlings are situated right near the sea.  The waves of sea touches the shivlings every 3-4 minutes. In diu, wherever u go, u will find peace and fresh air.
#museum :- Portuguese once lived in diu. before many years, after so many operation Indian army get control over diu and Portuguese left the place. But the culture of Portugal is still found in the diu. St. Thomas church is one of the Portuguese architecture. It is now converted into the museum. A museum of  things which are made of wood. We missed the prayer there but still u can find ur inner peace there.
#fort :- coverd by sea, the fort is very great place to visit in diu. We visited there in afternoon but I recommend u to visit there at night. I bet the lights of fort will take the fort to another level. There is also a light house in the fort. Vintage weapons of war is the good attraction. There are so many places to visit in diu but I find out that, if u sit anywhere silently u will feel great.
#jalandhar beach :- the place which I like the most in diu is jalandhar beach. I went there twice in two days. There was no one. Yes, there were only three person and that three person were us. The sound of waves of sea and the air will take u to the different universe. At evening, there came the fishermen. In half hour, they caught 7-8 fishes. But they were rude. So we couldn't manage to try it. There is also an open auditorium at jalandhar beach. I m surprised about that, people visit nagoa more than jalandhar. Wondering, whether because of bars or something else !
#naida caves :- on the way to jalandhar beach, naida caves come in between. The caves were beautiful. Actually the words which can describe that caves, I don't know. The architecture of caves is just outstanding. Outside the caves we drunk the coconut water and get back our energy. The places were very less crowded or can be said no crowded.
#sea shell museum :- I once read about it on Tripoto. So I decided to visit there. On first day, we however miss that place. It is on the way to nagoa beach. On second day we were not traveling 8-9 km for that museum. But then suddenly we Decided to visit it. And that was the best thing happen to us in whole day. Actually it was a museum of different species of sea shell and fishes. There were so many things to see in two rooms that, we spend there hours with joy. The owner is also a great personality. I couldn't remember the exact name but he was a gujrati. And he has a great sense of humour too. He told us that, he collected all the species in his 60 years of life. Actually he is the retired navy officer. He also told us that, there is only one single museum in whole world for the shells of sea. Photos in the museum is not allowed, but as we convinced him, he gave us the permission. If we miss that museum, our trip will not b accomplished.
Diu got the special place in my heart. I wish I can spend more days there. We miss some places to visit there but still as I said, if u visit at least one place with peace, u will find the meaning ! Do visit diu, it has everything and also less expensive than other places.
This is my first article on internet.... Tried my best and plz ignore my grammar !!😁