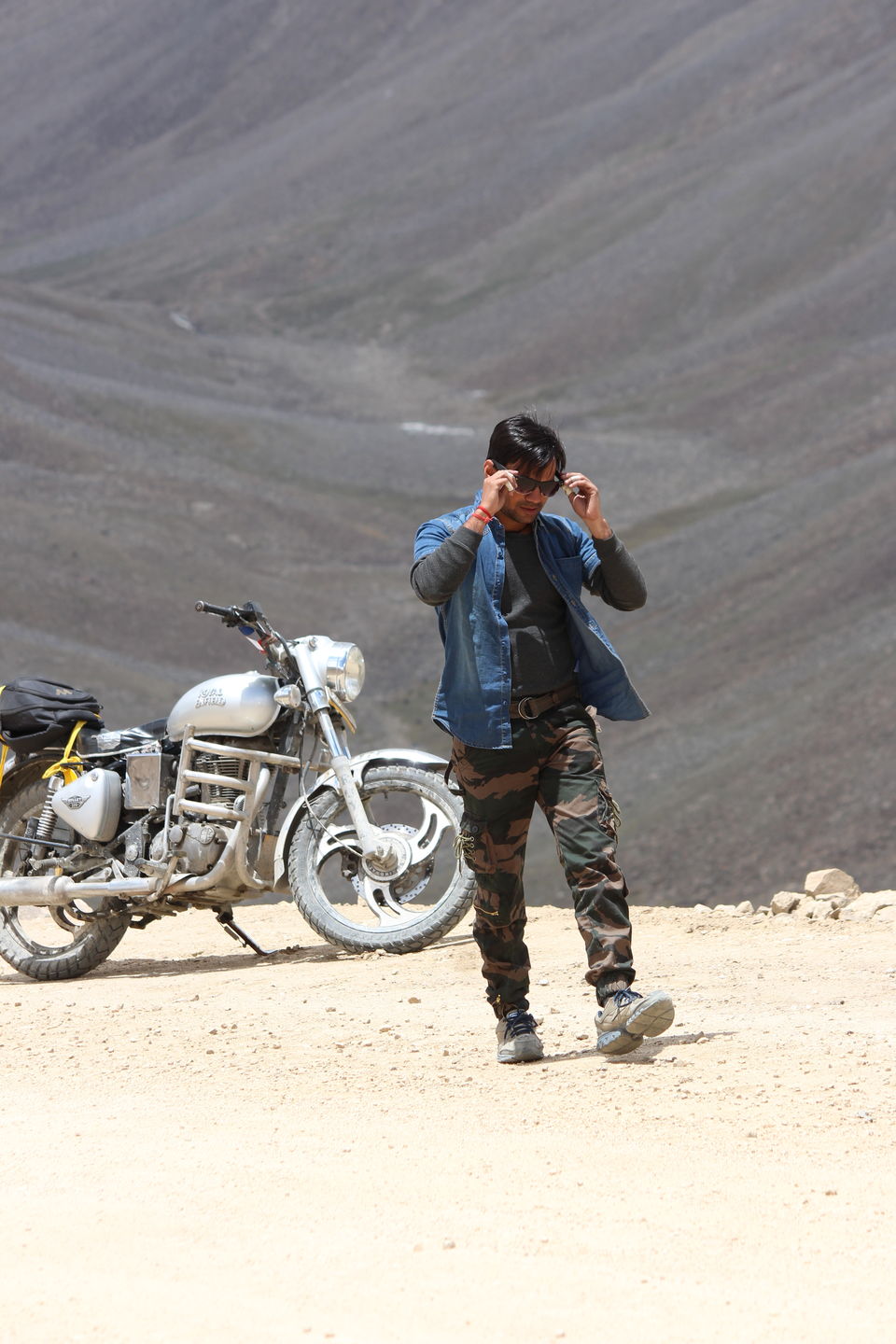 It was around 06:00 am. 20 June 2018
We took the help of one of the local who came to meet the owner lady of the hotel to decide which route should we go first. He asked to go Nubra valley first via khardungla pass.
In such cool weather, bikes took some time to start in the morning. We refilled all our vehicles to its limit and took extra fuel also.
Around 7:00 am, we moved towards Nubra valley via world's highest all weather motorable road.
South Pullu … !
It was around 10:00 am. We reached south pullu. There is check post, where you need to put your vehicle's entry into register before moving ahead. Due to thin road of khardungla, bikers took lesser time to reach south pullu. Me, Prashant and Dhirender was on bikes. We have been stopped for checking of vehicle's paper. If you are travelling here, make sure you have every original paper of your vehicle.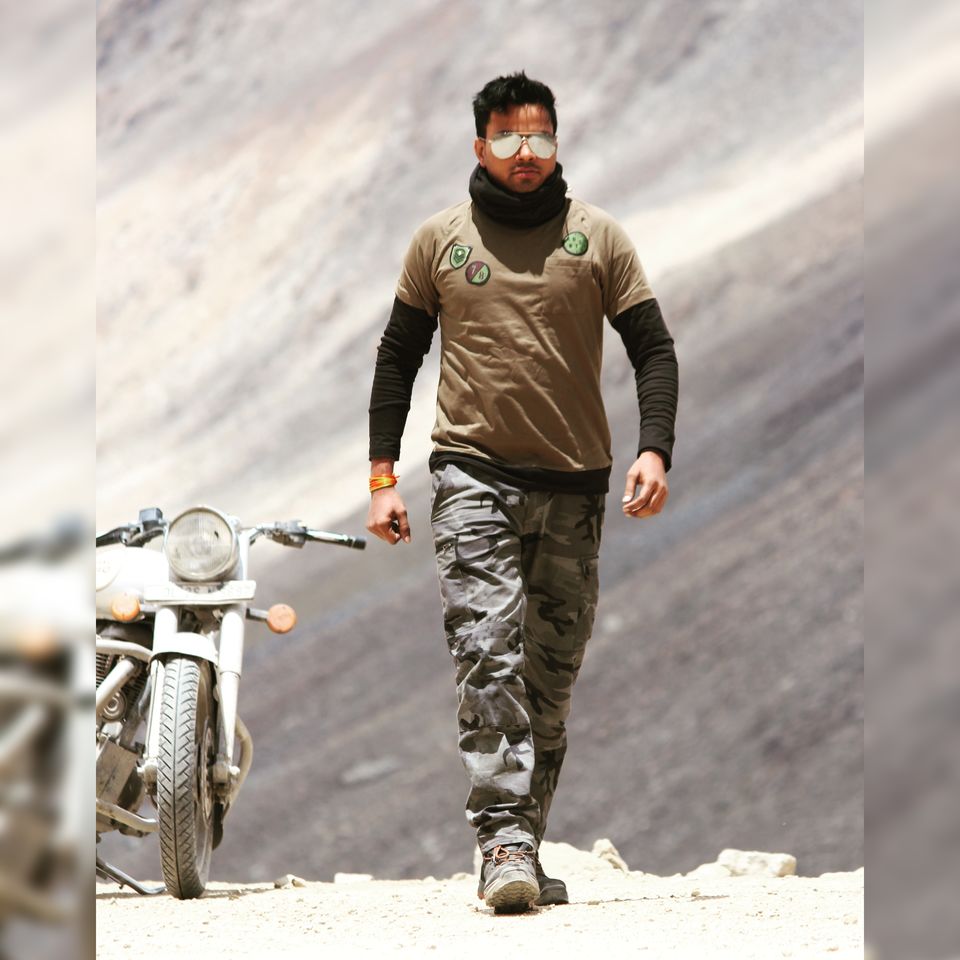 We have been stopped and asked to leave back to ladakh city and hire rented bikes for further travel. According to the people who all are verifying all the vehicles told that our driving license name and the owner of vehicle name is not matching so they won't allow to go ahead.
Actual reason:
It was started from 2016. Union of locals has raised their voices to the authority of ladakh and expressed their concern of source of income. People of ladakh majorly earns from tourists. Leh is favourite place for visitor for only 4 months. In that 4 months, people generally comes from plane area. There are only two route to go leh. One from Srinagar and other is from manali. 50-60% of the visitors come from Srinagar with rented vehicles. Rest of the people come from manali.
Local businessman, decided not to head-on with the Srinagar people because they have also same situation like ladakh in terms of major source of income. So, they targeted people who all come from manali with rented vehicle. Majority of people with rented bike are being targeted. We have seen in front of our eyes, people were forced to go back from south pullu to ladakh and asked to take rented bikes. This was the only condition they are telling to people who has visited from manali with rented bikes.
Since we have 3 bikes. One was rented but we said, this bike belong to our friend and we took it from him for leh trip. Prashant bike's was legally in the name of his family member. Third bike, apache 160cc bike which belongs to Dhirender, his bike was also in the name of one of his family member. We had the very high intense of argument with the people of check post at south pullu. In return of their frustration, and keeping in the mind about the people of ladakh he said, this is our own rule. Do whatever you want to do but you all won't be allowed to pass from this check post.
This chit-chat has become more intense after hearing all these. we are a democratic country. The whole world look our nation as world's biggest democratic country of the world. We all are well educated and we can sense what is wrong and correct. The conversation with the people of check post looks absolutely ridiculous to us. Even if we know why these locals are talking to us like this. At his intense situation we saw our car has passed the check post from south pullu. We asked to halt the car after some distance of check post and come back to check post for discussion.
There was huge chaos, since other visitor starts coming in huge groups. Some were foreigners some people with the number plate of himachal. They all have been sent back to ladakh and asked to rent the local bikes and go ahead from south pullu.
Since, me, Prashant and Dhirender had the bad and intense conversation with the people of check post at south pullu. We called Vishal and other group members to talk with the locals. Vishal took the initiative to talk with the locals. He also had some intense conversation with the locals.
Locals were not listening to us and the other visitors. They called their President of union. Vishal had some magic conversation with the locals and the president. At that time, I also joined the conversation with cool mind. Voila!! Here we made the deal!...
President, locals and other official people allowed us to cross the check post. We took the president's mobile number in case someone again asked to go back after South pullu. In case of any issue, we could make a call to president to save our bikes and time of conversation.
We happily moved ahead for the thrill. As we know, Roads from south pullu towards khardungla is one of the most dangerous roads of the world. We were not looking at the beautiful view of mountains for more than 3secs.
One wrong move could lead you to go to heaven. The valleys of roads were so deep, one could get vomit immediately if person looks at the valley for longer time.
Bikers had only 3secs to look at the great valley, mountain view and the cloud. Views of this place is so awesome that we couldn't get bored even if we look at them again and again. Views are beyond explaining in words, videos or anything. This can only be felt.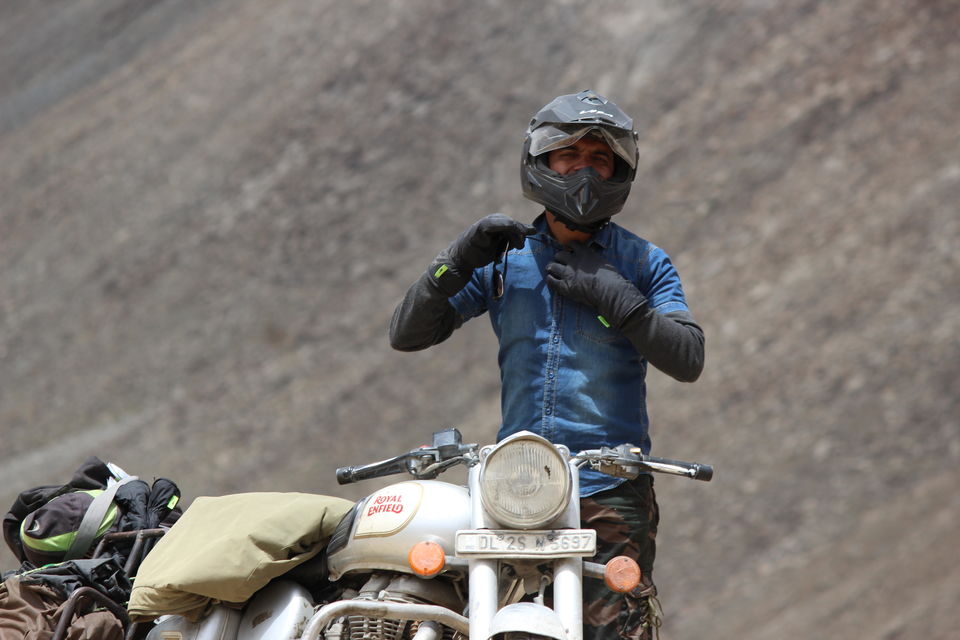 As we are moving to the world's highest motorable road, it is being said that oxygen level at this place become 40% lesser and air become thinner. Its being said that, 90% of the people gets headache who passed through khardungla pass. Some people have died in the traffic due to lack of oxygen and dehydration. So, keep drinking water at some time to avoid the worst situation. Since, road conditions are not good, even if the rescue team has to come. It will take time to reach near your location.
Bikers had advantage. As bike can take lesser space to move ahead on the road. But be careful at the edges. One slip could reach you to the heaven. Hahaha… !
People who travels with car on this road has one disadvantage, they could immediately get altitude mountain sickness AMS. This road needs an experience driver. As, vehicle in front of your vehicle could get back at any point of time because of acute angle of slope of the road and traffic. A top model car could save you from the minus temperature this is the only advantage that car offers and bike won't.
It is not recommended to stay at khardungla pass more than 20 minutes. As bikers, me, Dhirender and Prashant has managed to reach before car. We thought to wait for car's group to come at the top and click some pictures together.
It three of us were clicking picture among together. It has been 30 minutes passed away but they didn't arrive at the top. After 5-7 mins they arrived, me and Prashant immediately get into car as Vishal, Bharat, Khush and Atul came out of the car. To save ourself from windy and cold weather. We thought we get 5mins rest in the car.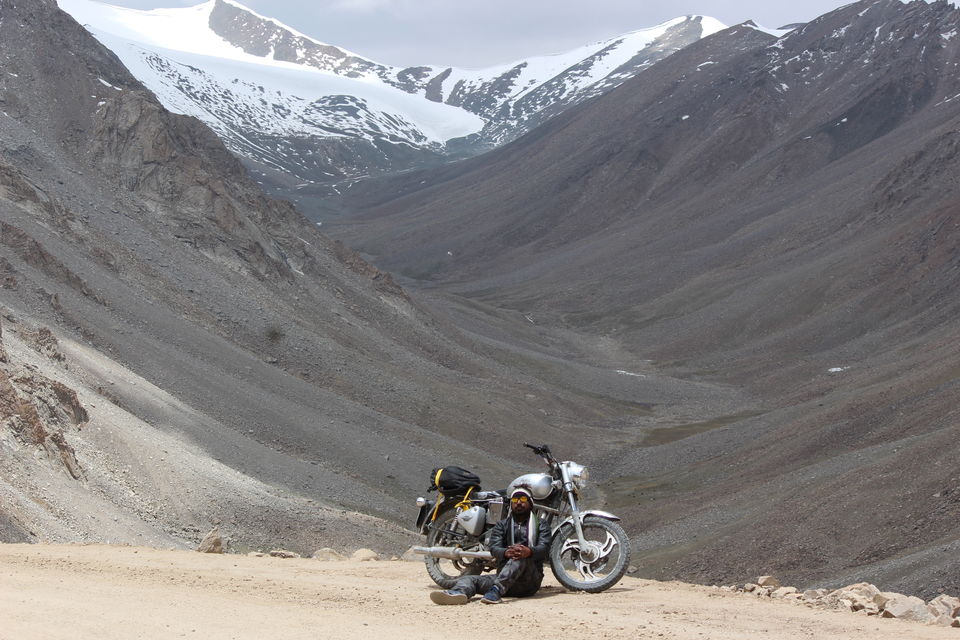 Sweet mistake…!!
As everybody was in hurry since car's group was running out of oxygen cylinder, they all were feeling headache due to low oxygen level. Prashant forgets his bike key on the seat of the car.
Me and Prashant came out of the car when this happened. We got busy in clicking pictures. Immediately after clicking pictures our car's group has moved ahead.
It took 10 minutes to realize Prashant about misplacing his bike keys. We looked at all the places of khardungla top whichever place we walked through. But we didn't find any luck. We have checked all places but not the car. So, I immediately asked guys, may be Prashant forgets his keys in car. Dhirender, took the initiative and took his bike to catch our car's group at the speed of light. Haha!
He came back with the double speed of light to khardungla top. He said, he found the keys in the car. His whole transition to catch car's group and come back to us, felt like speed of light because, me and Prashant both were feeling headache.
We immediately started off to downhill. Downhill from khardungla pass is much dangerous than uphill. We saw one side of the road was covered with the wall of snow. It was all good sunny day so, at this time snow melts a lot. Roads gets muddy all around and make visitors to move slowly.
During downhill, we also saw border roads organization was building the roads at the run time. I mean, they have stopped the both side traffic and rolling over the road. It took around 15minutes to build run time road.
As we are moving downhill we three of us start feeling okay. we were keep moving and keep moving towards the destination. This whole journey has very beautiful mountains view that no other route will offer to you. This now looks more sensible to me after visiting this route.
Our next meetup was at Diskit monastery. Which comes under Nubra valley.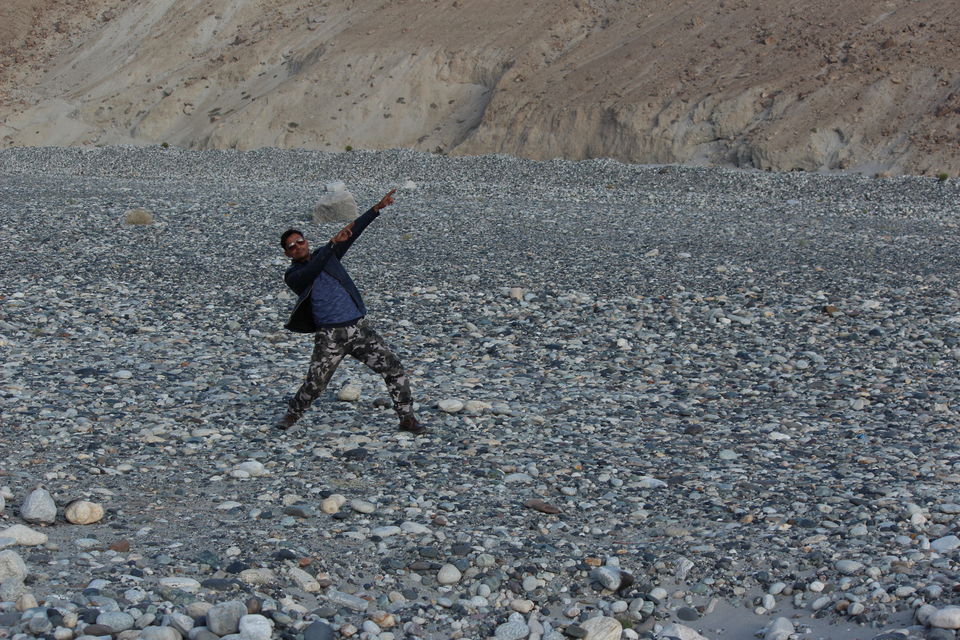 This is the place which was on our bucket list to cover. We reached Diskit monastery at around 7pm in the evening.
Car's group has reached before the bikers. So, they did the booking for the guest house near Diskit monastery. we have been told that the whole Nubra valley region faces electricity cut-off after 11pm every day due to security concern. Since, it was all border area.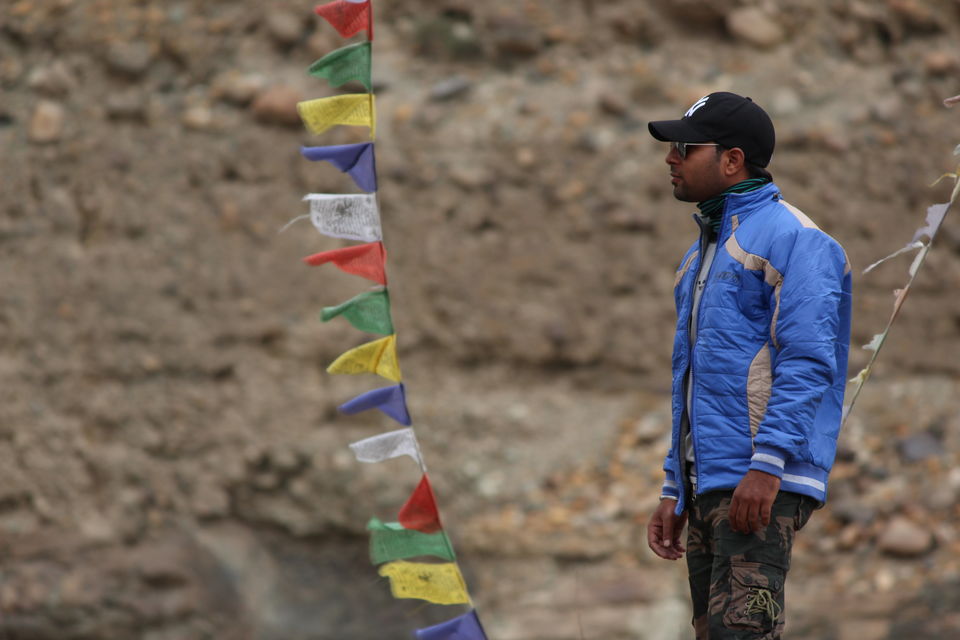 Indian army doesn't allow any electricity in the border area to make it difficult for enemy to target the people of this area and protect the Indian border areas. We didn't find this information while researching about leh-ladakh and it's around places.
Before dinner time we had the conversation with our family members using telephone facility. This is important to know that in Nubra valley, we found no mobile network here. BSNL's postpaid sim is only allowed mobile network in this area. Even if you have postpaid sim of other mobile network. It won't work here. After dinner we immediately went for bed.