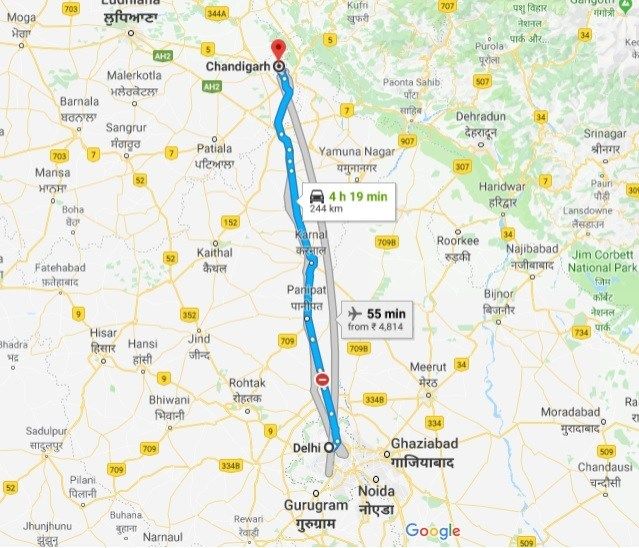 The road from Delhi to Chandigarh is one of the most popular routes in this part of the country. Whether it is to spend a weekend, or simply do a day trip, this trail is popular for its amazing roads, the drastically changing landscape from the metro skyline of Delhi and Gurgaon, to the expansive fields of Punjab and Haryana, and most importantly, the delightful dhabas (roadside eateries) en route. Because, let's admit it, no trip is complete without a good grub on-the-go.

The quickest route is to go through NH 44, taking nearly 5 hours before you reach your destination. This means you have plenty of time to stop, take a break at some of these famous eateries and restaurants and turn your simple drive into a flavorful one! Gorging on food and driving may not be the best of ideas, which is why it is highly advisable to book an authentic taxi from Delhi to Chandigarh.
Garam Dharam Dhaba, Murthal, Haryana
The first prominent eatery on NH 44, after you cross Delhi city limits, this traditional Punjabi Dhaba went working this year. Dedicated to legendary movie star Dharmendra, the place has a retro-vintage Bollywood theme and rustic seating. It definitely calls for a tour.
Mannat, Murthal, Haryana
What started as a small highway diner, became a chain of eateries along the GT Road. Mannat serves traditional Punjabi and Mughlai fare in a timeless fashion. And they are open 24X7, 365 days.
Haveli, Murthal, Haryana
If you spot a gigantic structure with colorful displays on its exterior, then you have reached this famous restaurant on NH 44. The grand setting in the village-style ambiance, a gorgeously adorned truck, and a stone elephant to welcome you, Haveli is not just a place to dine but an experience to savor. From an outdoor food court with snacks, beverages, and munchies, to a proper sit-down, indoor restaurant, Haveli makes for a great food stop for families and large groups.
Pooran Singh Da Dhaba, Ambala Cantt, Ambala
A famous local eatery of Ambala, this dhaba is known for its non-vegetarian fare. Although it cannot beat others with a fancy look but can promise you a hearty meal. Do try their Keema Kaleji, Chicken or Mutton curry with their special 'crisp' tandoori roti. Stop by for a sumptuous lunch, since they close at 4 pm.
Amrik Sukhdev Dhaba, Sonipat, Haryana
You cannot miss this sparkling and swanky restaurants on the Haryana highway. One of the oldest dhabas of this region turned into a modern-day eatery, this place is great for families and group travelers. The all-night eatery has a huge spread of multi-cuisine buffet, a-la-carte menu, an in-house bakery and confectionary, beverage counter, and multiple kiosks serving snacks.
Gulshan Dhaba, Sonipat, Haryana
This contemporary version of the classic roadside dhaba, this restaurant curates the most authentic north Indian food and is quite famous among Punjab/Chandigarh/Himanchi bound travelers. They are known for their signature thalis (meal platters), the generously buttered and stuffed paratha with an extra dollop of homemade butter and served with dal and raita.
Sethi Dhaba, Zirakpur, Chandigarh
Easily identifiable by the huge poster of Punjabi singer Gurdaas Mann, this Punjabi dhaba on the Zirakpur highway near Chandigarh, is popular for its rustic ambiance. Purely vegetarian, they have a simple but delectable menu of home-style recipes and is a great place for all kinds of travelers. Don't forget to try their Makke Ki Roti and dal makhani, their popular dishes.
For those who love to blaze the trails of highways and expressways, a road trip brings a very different experience. The wind in the hair, the changing landscape, and the different flavors of each city, town, and village along NH44, make your drive from Delhi to Chandigarh into a memorable experience. Make use of a highly rated car rental service from Delhi and make your journey even more comfortable.
This blog was originally published on Savory Tales.