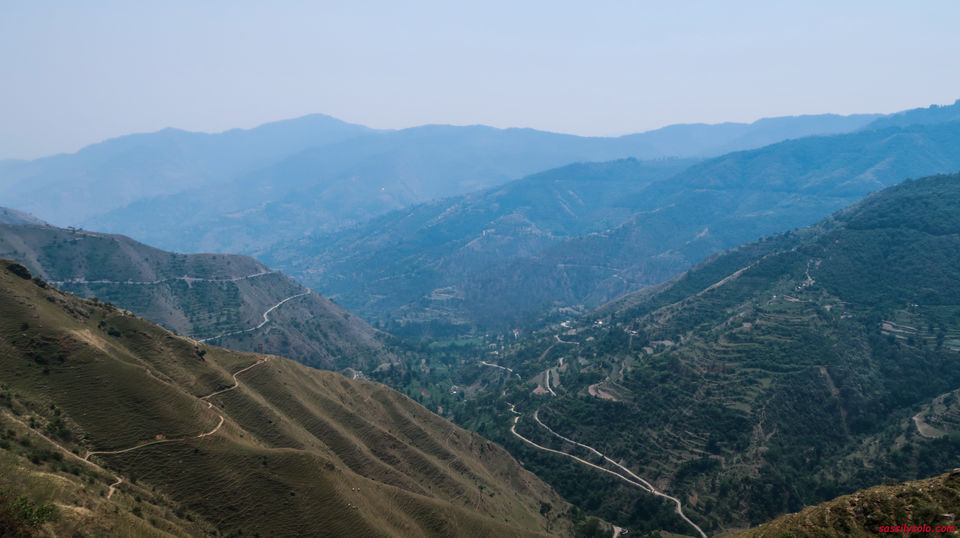 However, the state is home to other little-known places, perfect for weekend escapades.
Chakrata is a small army cantonment area in the state of Uttarakhand and a favored tourist destination.
However, admittedly, I could gather only a little information about the place as to where to stay, how to reach etc. etc. This, sort of, gave a push to the curiosity inside my head brewing for over a year now. Unfortunately, there are only some specific places where you are allowed to click pictures, citing security reasons.
Tiger Falls, one of the main tourist attractions in Chakrata is located at a distance of about 20 km (12 mi) from the centre and the entire route has breathtaking views of the valley......
..... and an insight into the wildlife.
It can be reached after a hike downhill which is beautifully well-maintained.
Tiger Falls is one of the highest waterfalls in India and forms a natural pool, the waters in which rise way above the normal level during monsoons.
I returned to Chakrata late in the evening and slid deep into my sleep before leaving for another destination next morning.
While people usually travel directly from Chakrata to trek to the Moila top, I think Lokhandi should be a definite stopover.
There is only one hotel to put up at and four to five families living in the vicinity.
I set a little early for my journey to the Moila top and Budher caves, both nearly adjacent to each other.
After passing a broken road through the Kanasar range, I reached the Forest Rest House, Budher, about three kms (2 mi) inside the forest.
It was now time to begin the steep trek of another three kms leading to the meadows surrounding the Moila top.
After trekking for about an hour and convincing myself almost thrice to return, I saw the beautiful meadows surrounding Moila top making me change my decision.
I nearly passed out once during the trek as I couldn't gauge the steepness of the path and understand the necessity to stay hydrated. Amateur trekkers!
I was however thrilled at the sight I beheld before me and was awestruck with a childish joy.
I trekked down in about an hour, trying not to lose the trail and making it back in time well before the sunset.
Wrap-up....
There are few places to stay in Chakrata (main market/centre). I could find only about 7-8 hotels, out of which 3-4 were worth staying at in terms of cleanliness and reasonableness of the tariff. Tiger Falls is accessible through a steep downward trek through the Chakrata's main market area; however is not advisable for amateur trekkers or without a local. There are power outages for an hour or two every day, that sometime last longer. So be prepared with your power banks. The best part about the place is the weather, friendly and helpful people and good food. Lokhandi is a small village with just one hotel and no market in the vicinity. The hotel owner pretty much arranges everything and it wasn't a problem. There are no ATMs in the Lokhandi but several in Chakrata. I found few travellers while trekking through the Kansar range towards Moila top. There is, however, no danger of wild animals except herds of beautiful sheep I found en route. Both the places are safe for solo female travellers. Before booking an accommodation through any online media, make sure to confirm the distance of the accommodation from Chakrata. There are taxi services from Chakrata to Tiger Falls and other tourist places. I, however, went with a local guide from Chakrata. Foreign Nationals are not permitted to visit Chakrata, it being an army's cantonment. A link to my review of the hotels I stayed at in Chakrata and Lokhandi. I could finish the entire trip in ₹ 5700/- (USD 85). Travelled during the last week of May for four days. The weather remains pleasant, even cold at times. Paradise for bikers.
Check out more here.