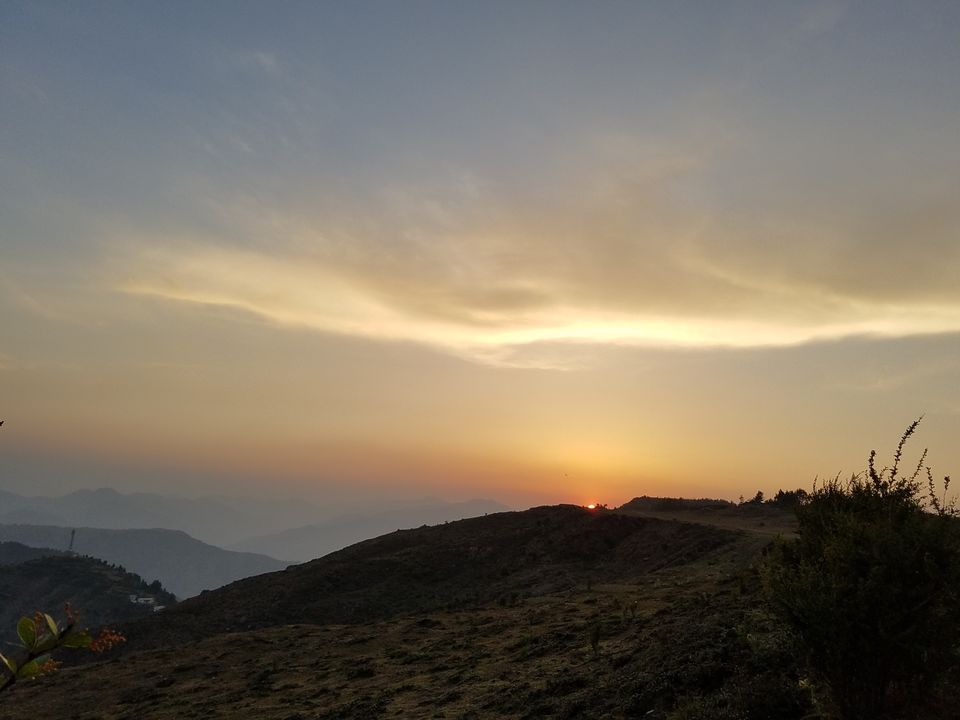 I started with a 11 seated Tempo Traveller, booked beforehand, from Noida and picked up my family members from Modinagar and Meerut and headed towards Dehradun via Roorkee. We were 7 adults onboard along with 4 kiddies.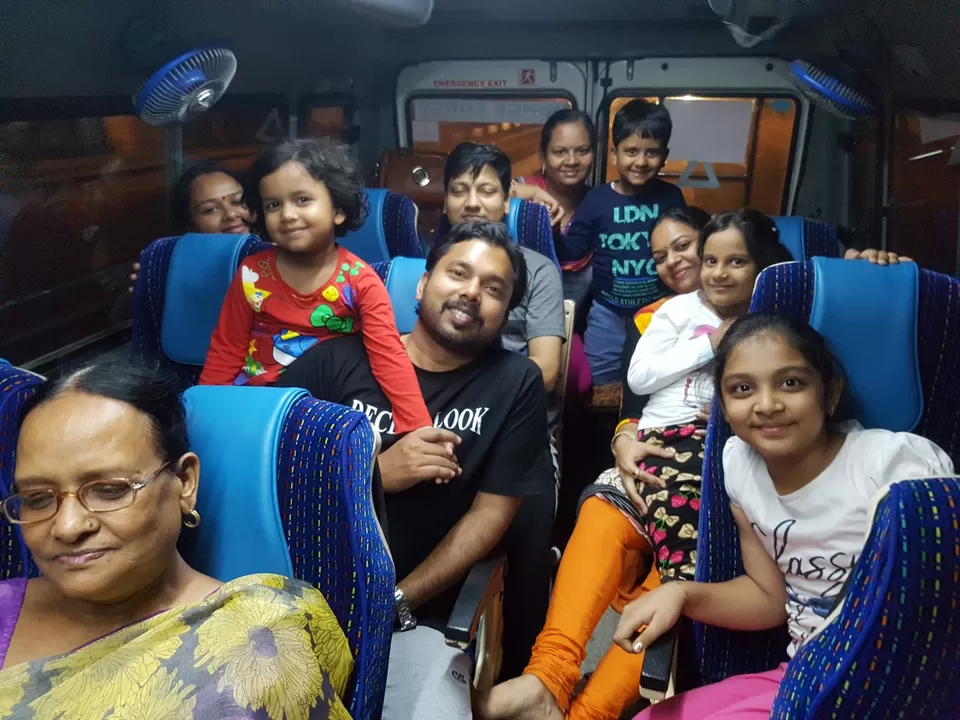 Summers were about to begin and so were the summer vacations. That called for a family trip with kids to beat the heat of the north (and south as well). It feels great to plan a trip with your family, unlike friends (which have high risk of cancellation due to end moment urgencies). We planned a weekend outing for the first week of May. Chakrata, being an offbeat, peaceful and a beautiful place to explore, came out to be the best option with respect to its distance from Delhi.
Waking up on the beats of "Ham jo chalne lage, chalne lage hai ye raaste..." and passing through the refreshing "raaste" around the Forest Research Institute, Dehradun filled everyone with joy and literally refreshed us. After some talks and rest, we stopped near a Chai Thela for having some snacks and tea, and ofcourse to feel the fresh air outside. From Dehradun, one can reach Chakrata by taking the route via Vikasnagar. Be sure of filling your fuel tanks to the brim as there is NO petrol pump in Chakrata and nearby.
There are hardly any hotel in Chakrata, but many camping options are available. I opted to pre book Blue Canvas Resort camps, as we were large in numbers and cleanliness, hospitality, location, peace and privacy were the priorities. Blue Canvas Resort is around 10 km before the main streets of Chakrata, so are the top attractions ahead.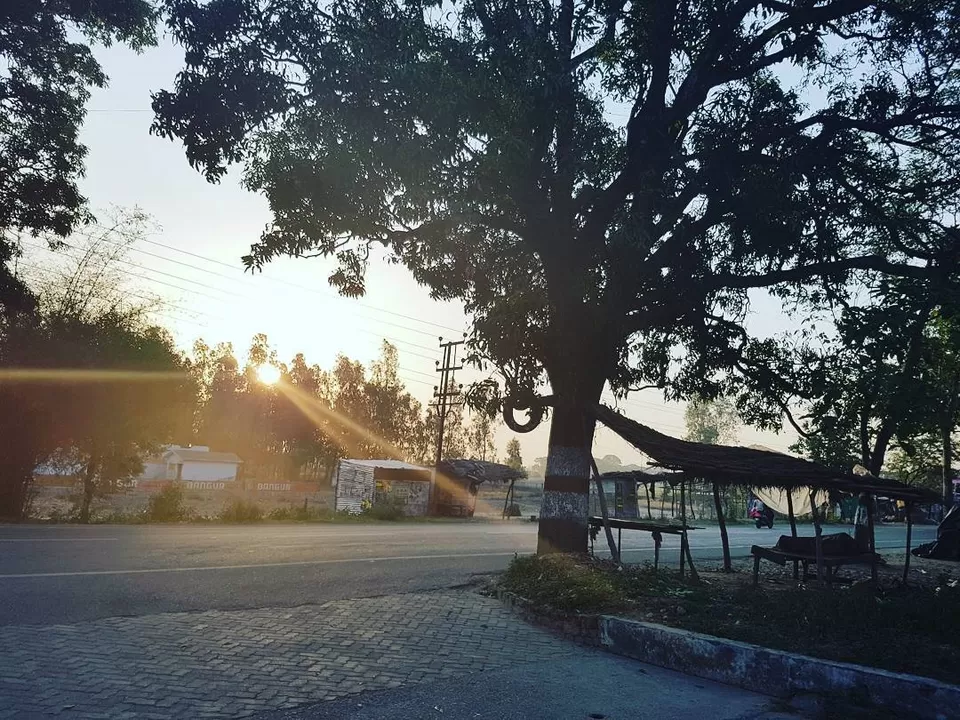 We reached the camps at around 7.30 am in the morning and were hosted by Mr. Vikram, who is the caretaker of the Blue Canvas Resort.
We were provided with 3 big camps with double beds and attached washrooms.
Without wasting much time in freshing up, we were at the breakfast table arranged by the resort. Our package included breakfast, packed lunch during sightseeing and dinner plus a guide. We left straight for The Tiger Fall after having the delicious breakfast.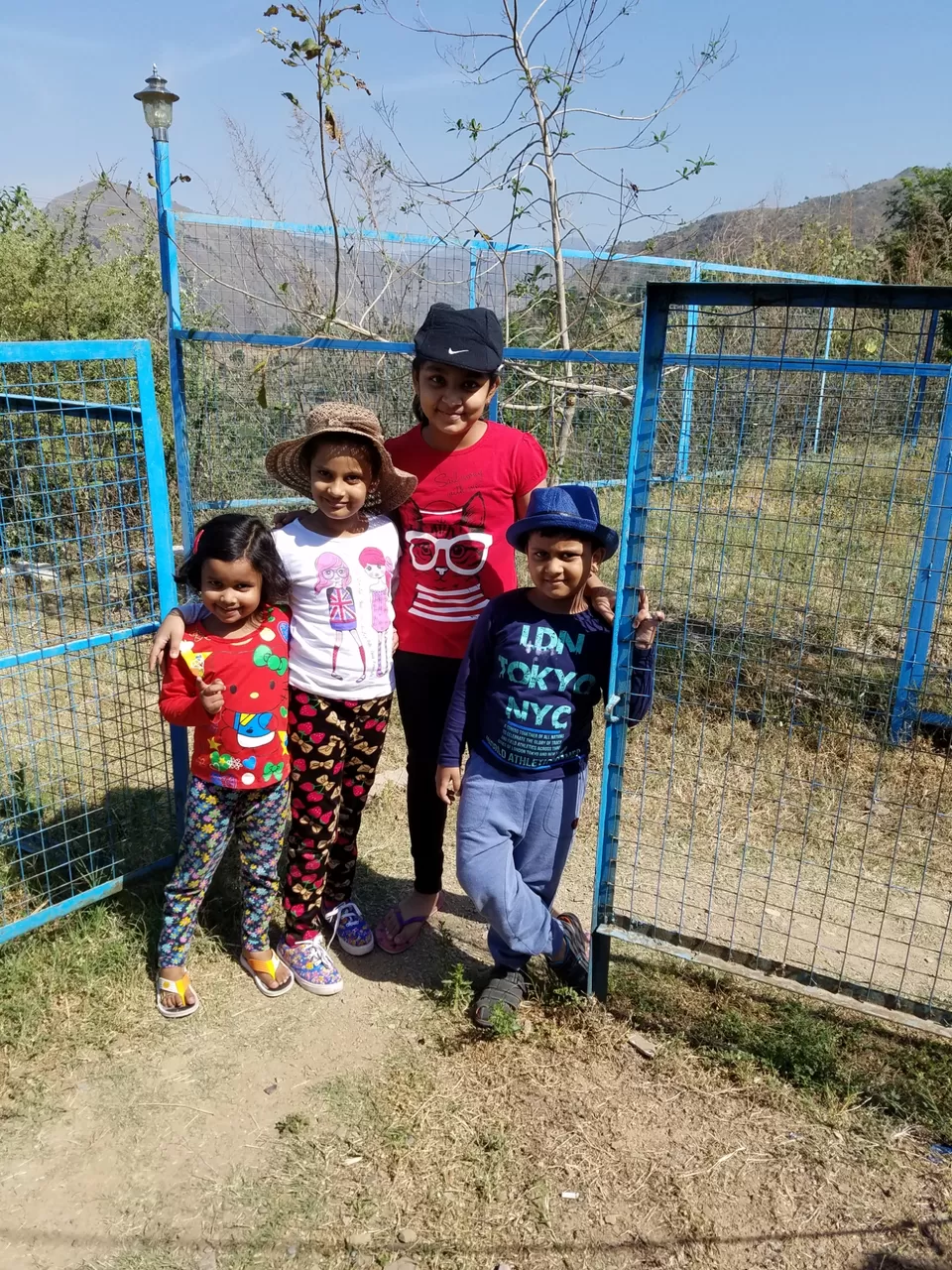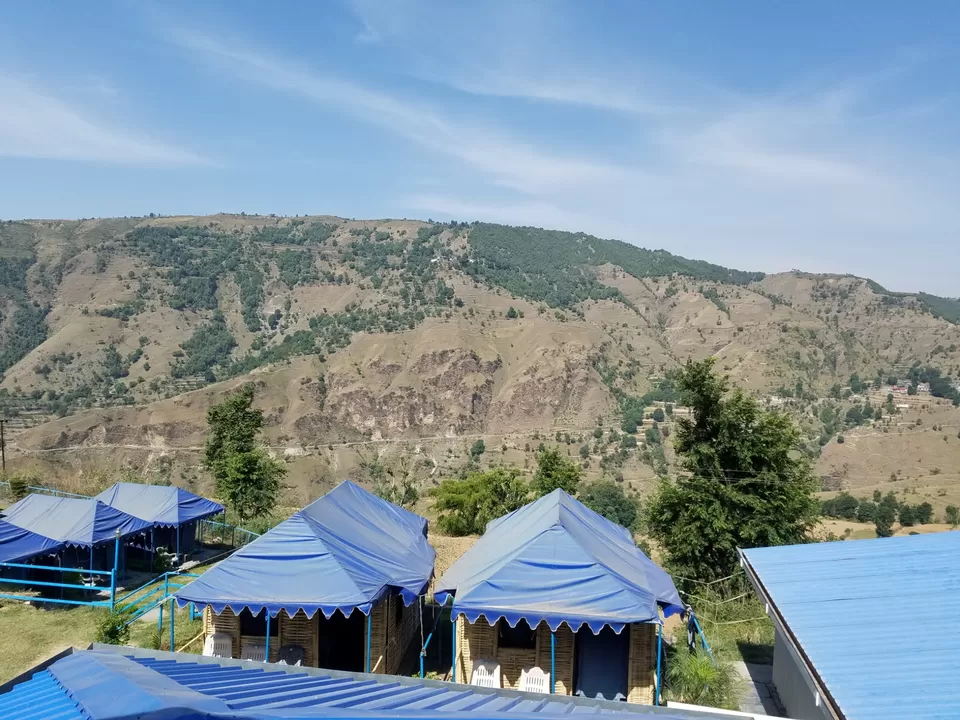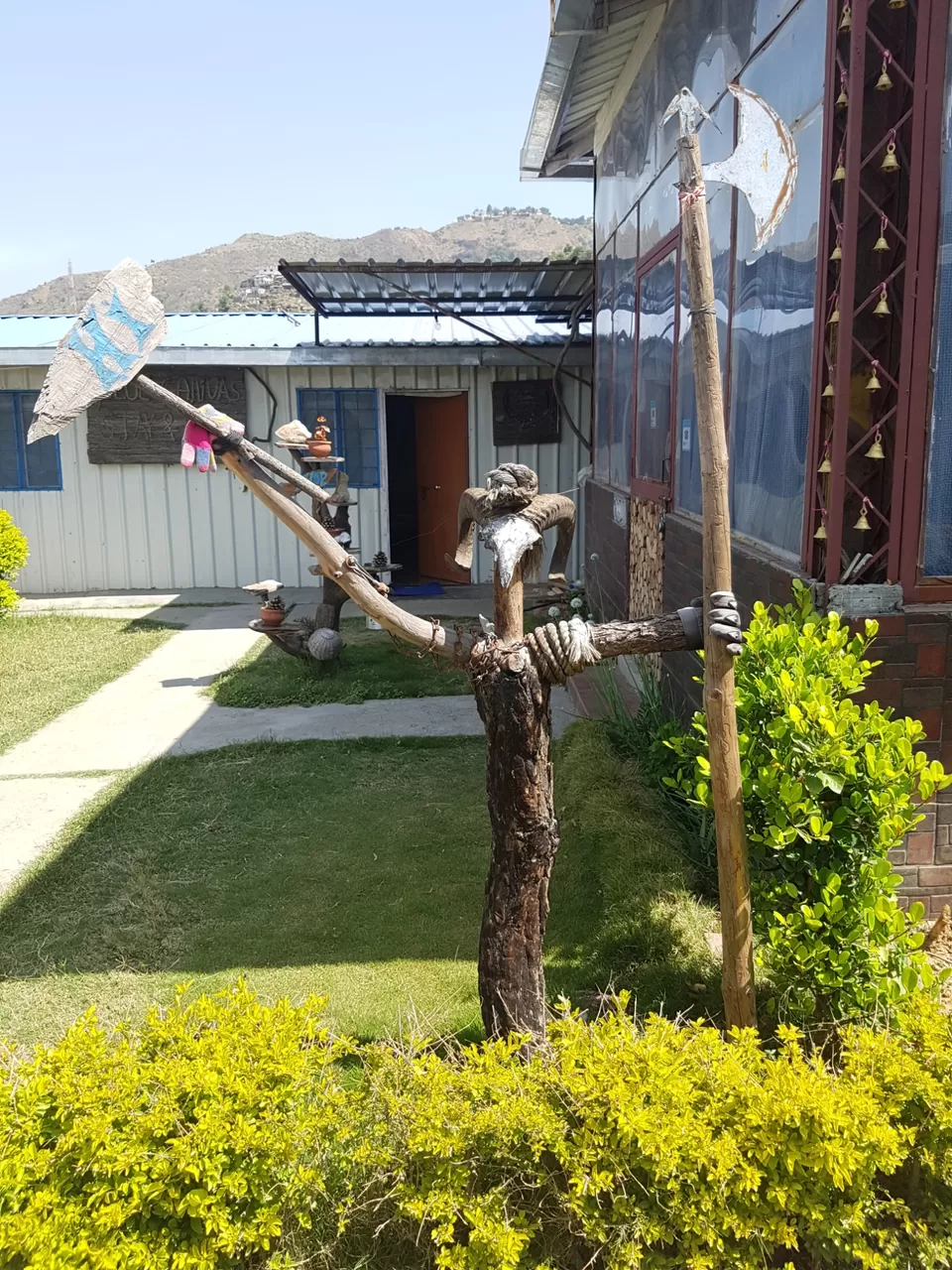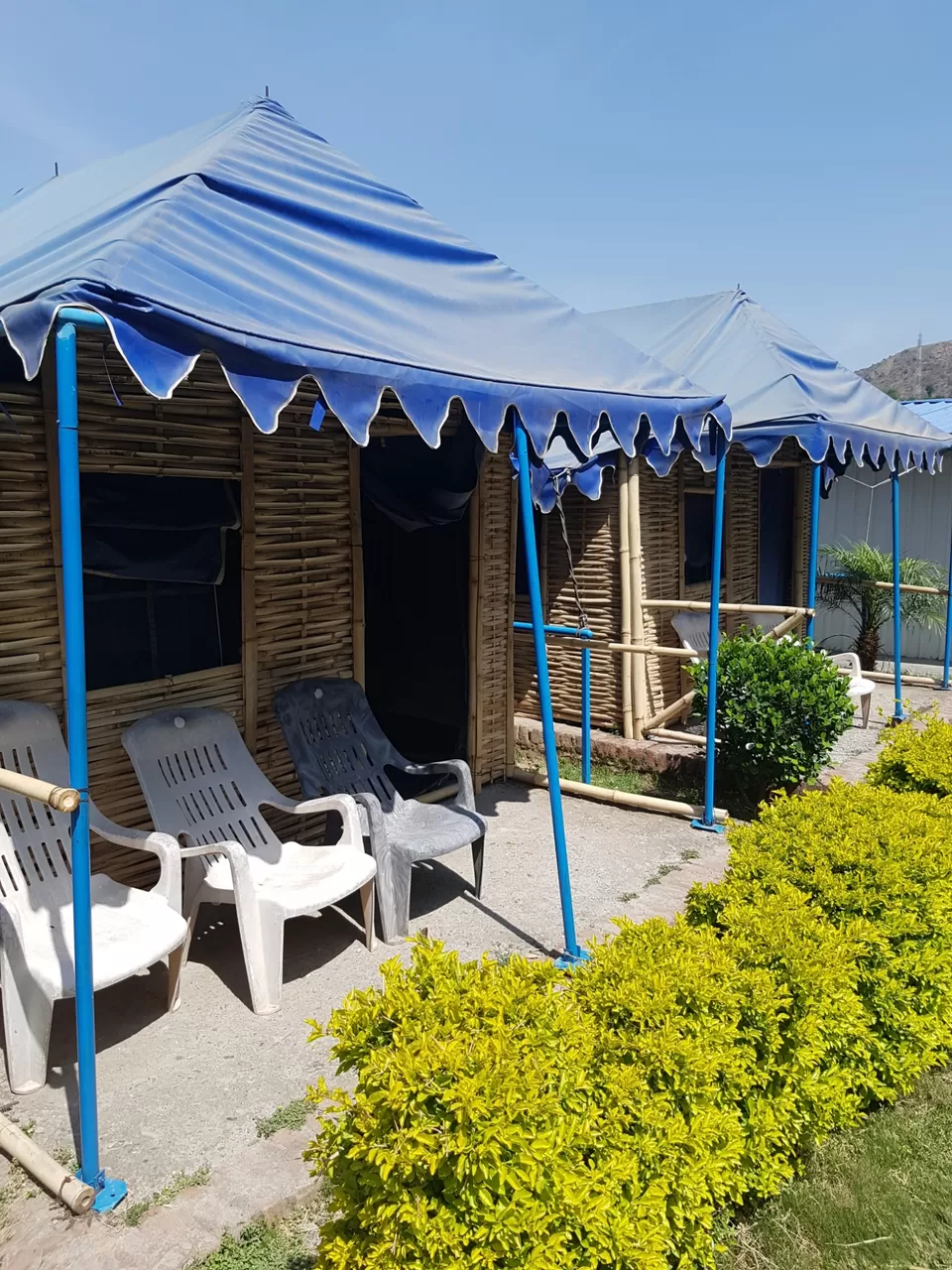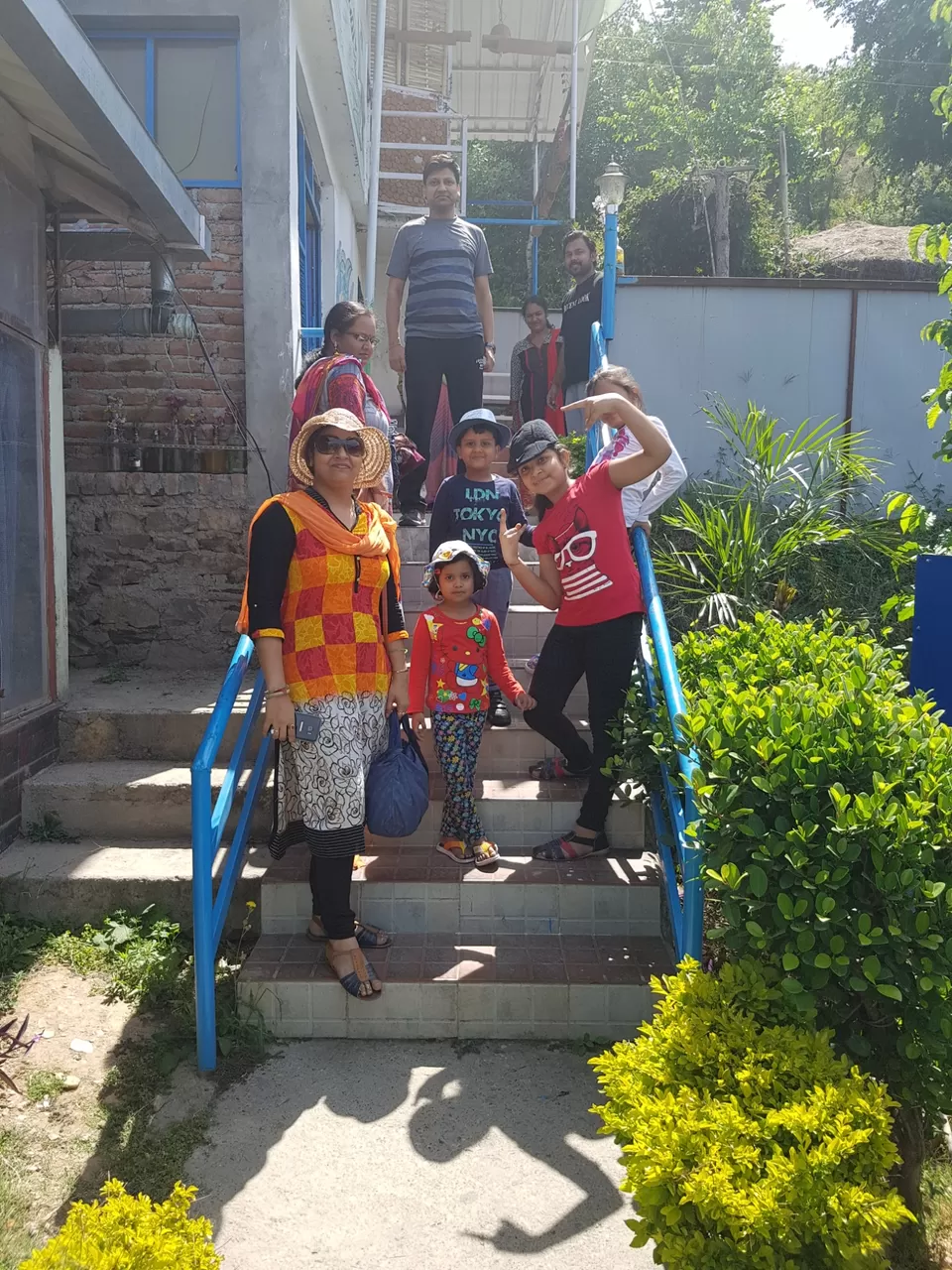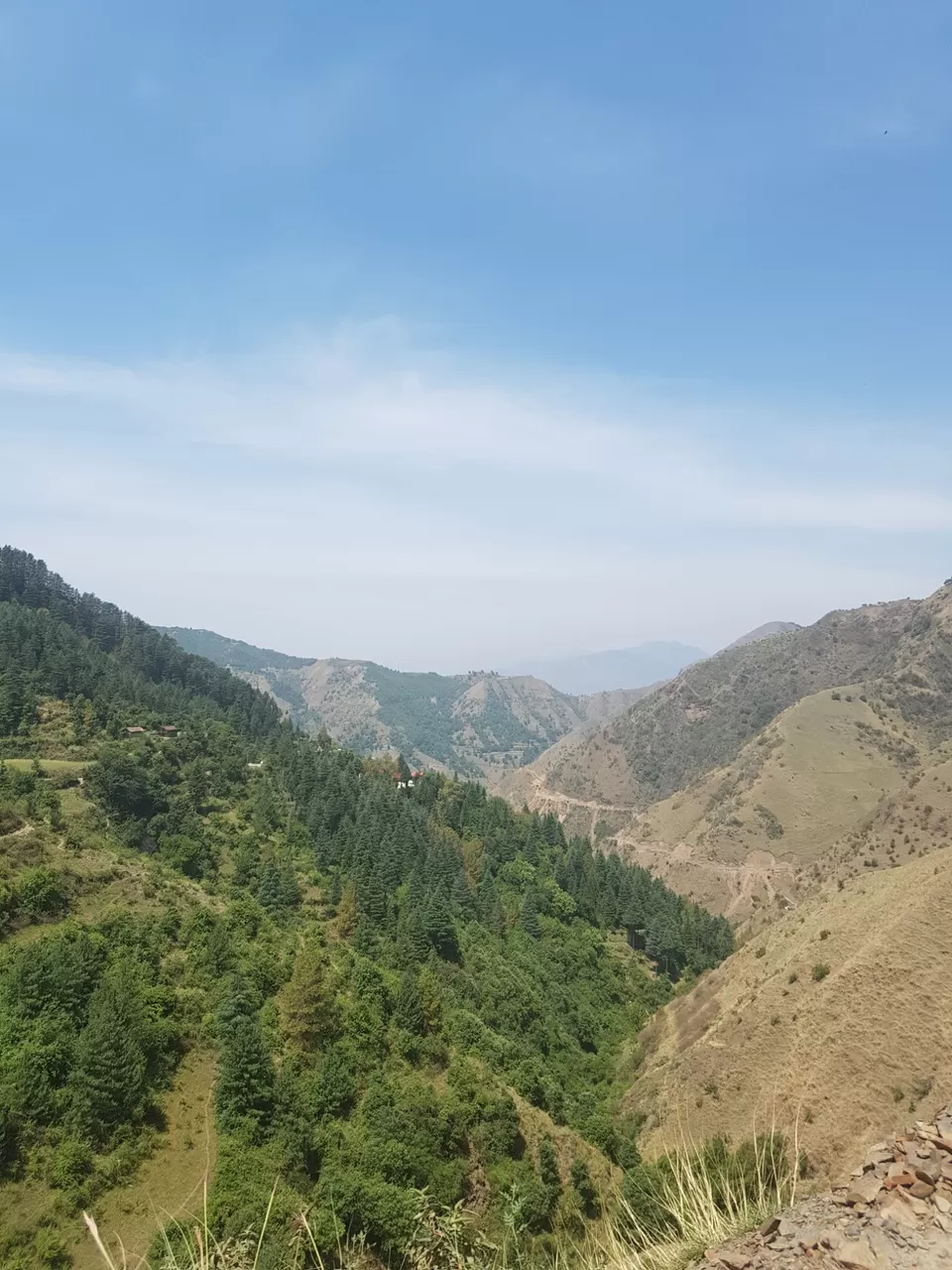 Tiger Fall is around 31 km from Blue Canvas Resort and around 20 km from Chakrata Cantt. From the parking point, one has to trek down around 1 km to visit this roaring beauty. We started at around 9.30 am from the resort and reached by 11.30 am. The road is comfortable but narrow and curvy. All the 3 kids suffered vomiting during this journey and we had to take minor halts along the way. After a half-an-trek along the farms, trees, shacks and meadows we reached the waterfall in afternoon. Tiger Fall is one of the highest direct waterfall in India at around 300 ft. However, the place is less popular, and you will hardly found some shops nearby. As we visited during April end-May, the locals told us that the water from above was limited because of harvesting season so the Tiger Fall can only be seen in its full charm during monsoon season (July-August). The water falls down and collect in a big pond like structure where people can enjoy bathing, but only when the water is limited. We got a plus point here. We quickly got ready to jump into the pond and enjoyed bathing. Kids enjoyed swimming in the pool. It was such a refreshing and enjoyable activity. Travellers can also perform rappeling and other adventure activities near the waterfall area. However, we were unable to find any ongoing activity anywhere. There are some changing rooms available near the waterfall both for men and women. After taking this refreshing bath we all dressed up and gathered for the lunch near the fall. There is a tuck shop near the fall that provides the as usual epic mountain food, The Maggi Noodles, lol. As I said, the guide from our resort accompanied us to the waterfall along with the homemade packed lunch for all of us, yummy Rajma with boiled rice and Maggi. The day was half spent and we headed back to our car parking point after packing our tummies and bags, and at around 3 PM we left this 'offbeat' less-crowded beauty towards the main Chakrata market area.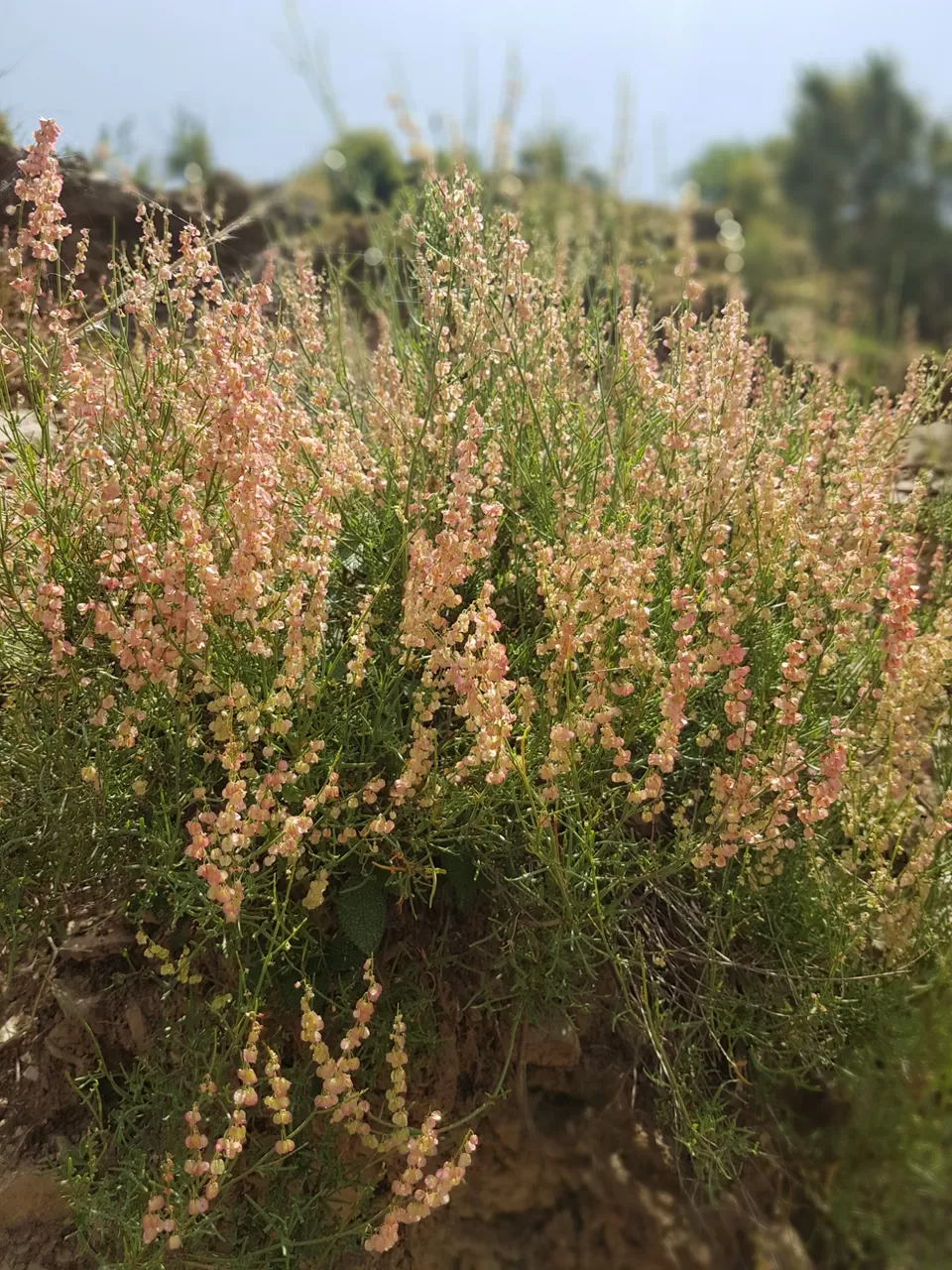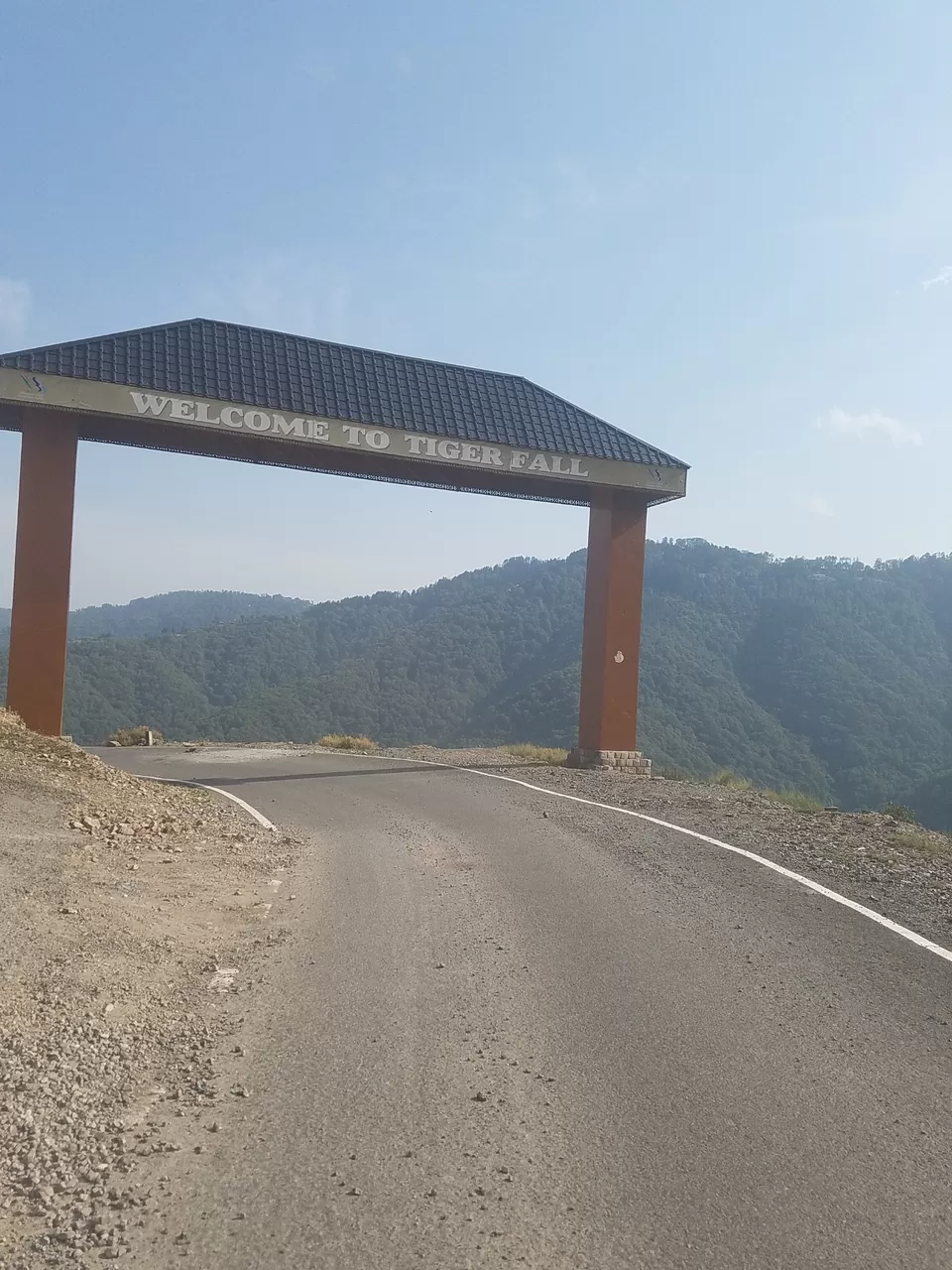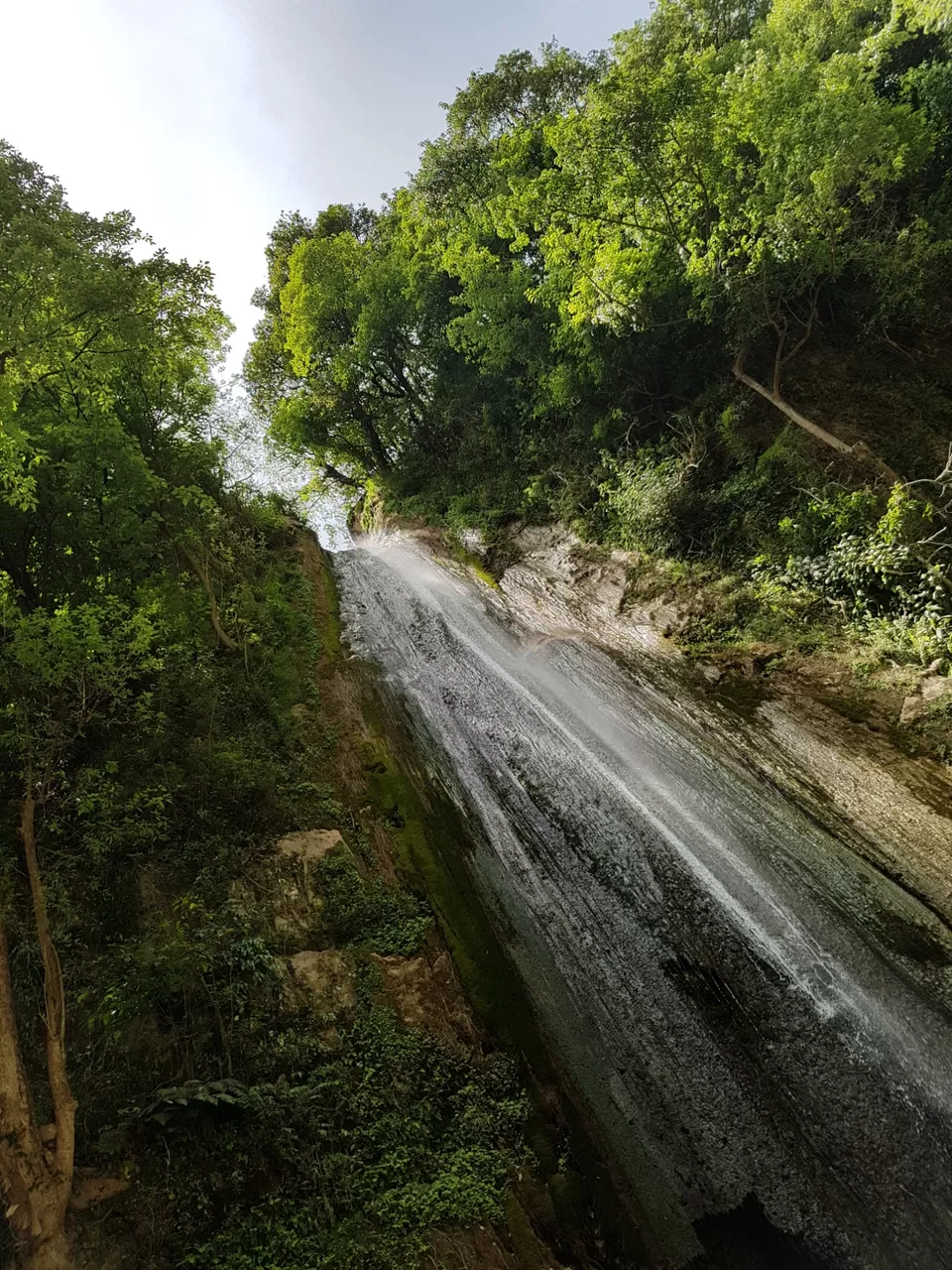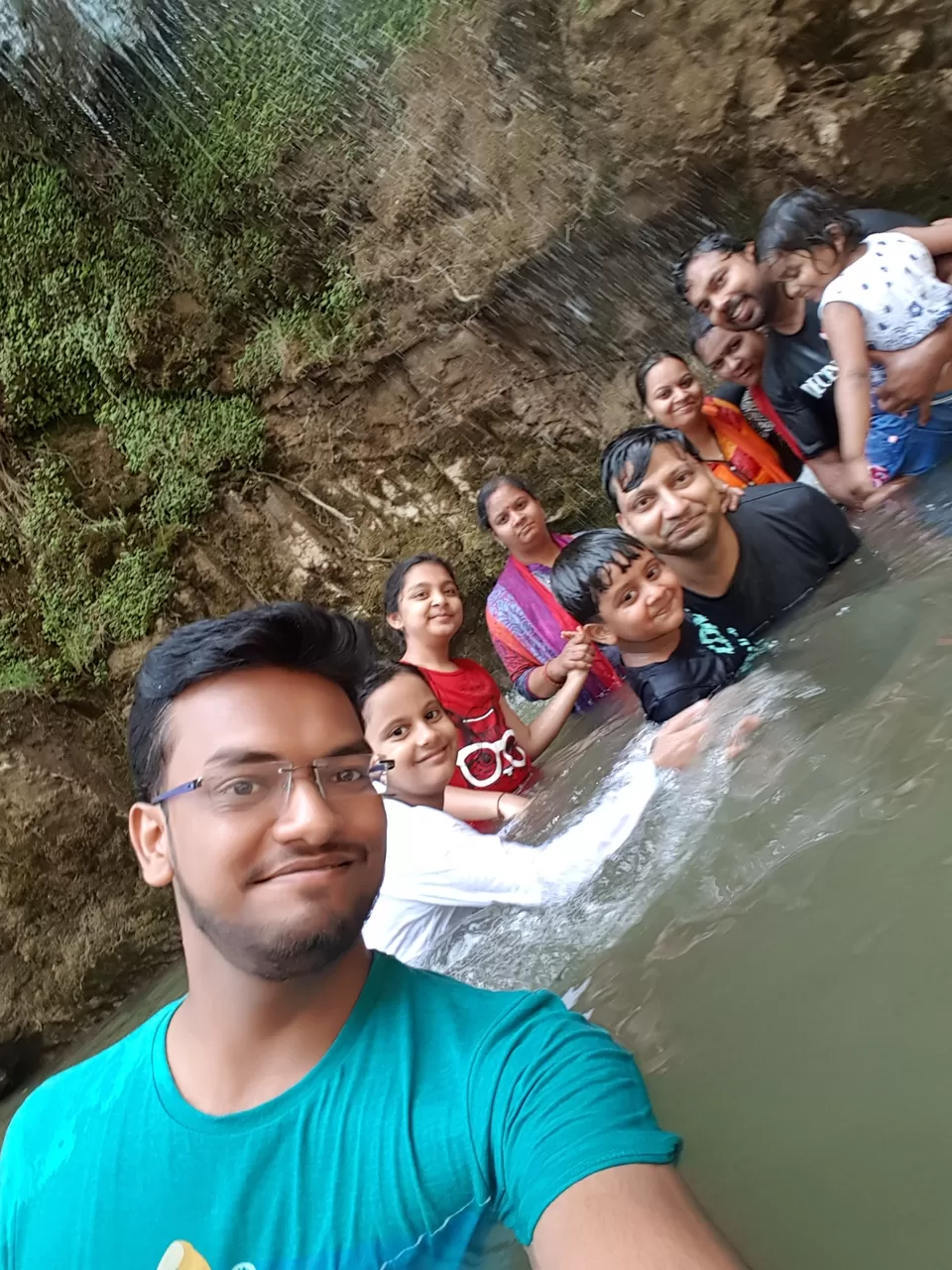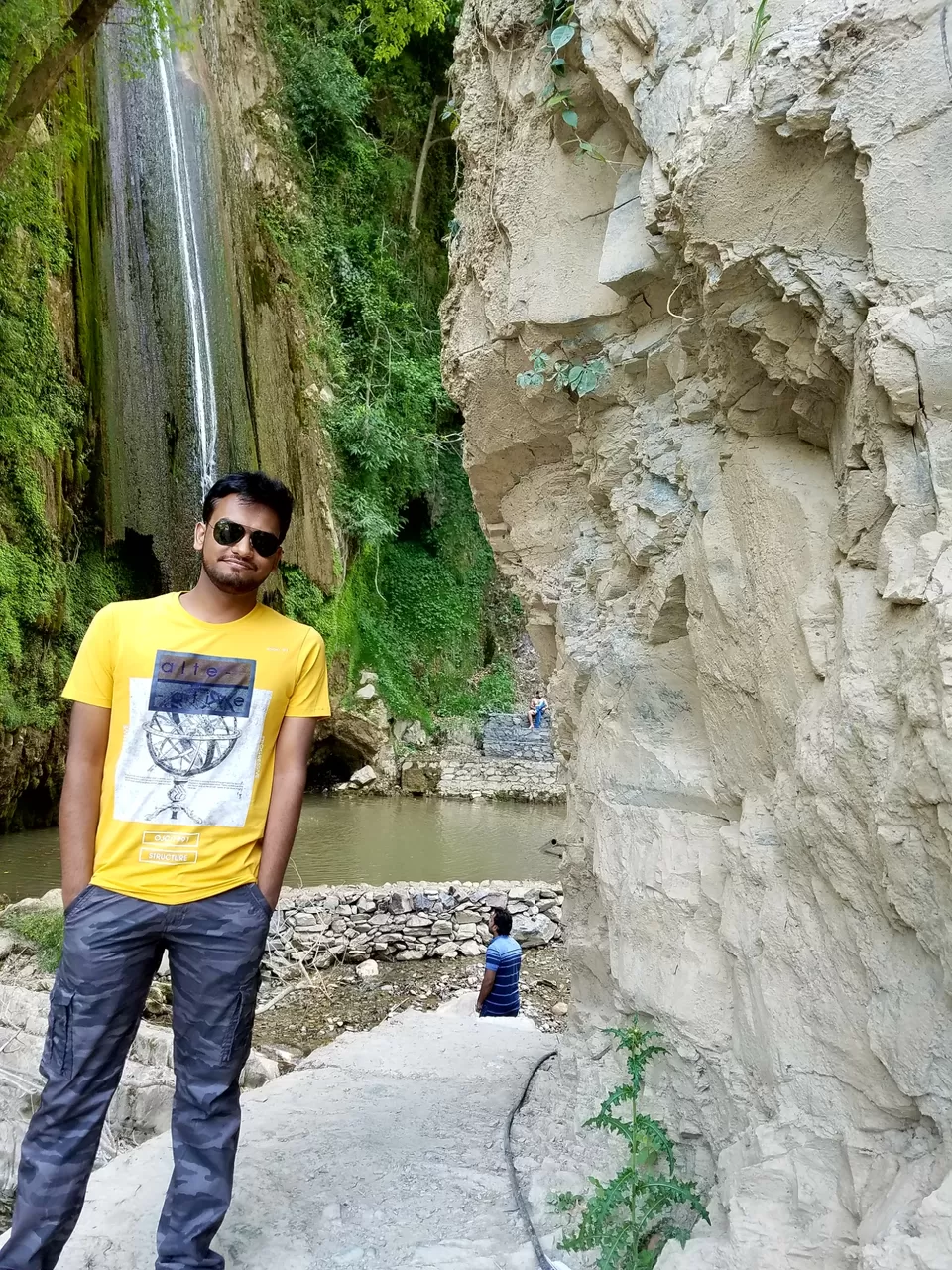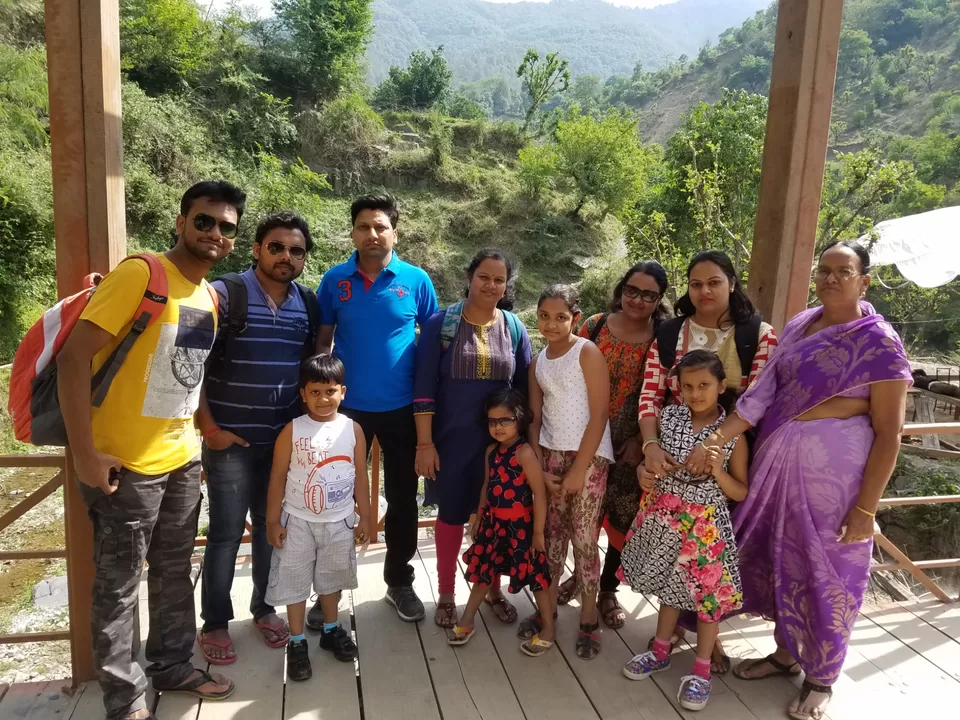 Earlier on the internet, when I was planning for 'things-to-do' and 'places-to-visit' in Chakrata, the top two places were The Tiger Fall and Chilmiri sunset viewpoint. We were waiting for the evening to tick mark the other item in our checklist. It was around 4.30 PM when we reached the market hardly to find anything to buy. We bought some fruits and decended towards Chinta Haran Mahadev Temple.
Chinta Haran Mahadev is a temple committed to Lord Shiva which is arranged 3 kms from town Chakrata. The temple is home to a tall Shivling and it for the most part takes a 10 minute firm walk tough to achieve the temple. This temple is encompassed with pine and rhodenderon trees. After darshan, we started walking back towards the market cwntre where our traveller was parked. Suddenly, some unattended guests tried to please us. Rain clouds covered the entire sky all of a sudden and it started raining heavily. We quickly went under the shades near the road. There is a covered, seated area in the market centre. Hailstorms fall off for some seconds and everyone was enjoying the moment. The kids were filled with joy watching the hailstorm for the first time in their life. I was very glad that the trip was giving us pleasure in every single moment. But a corner of my mind was afraid of missing one of the best sunsets of my life and it was wishing that the weather gets clear. We had a hot tea and some snacks from the shop opposite to the tourist shades.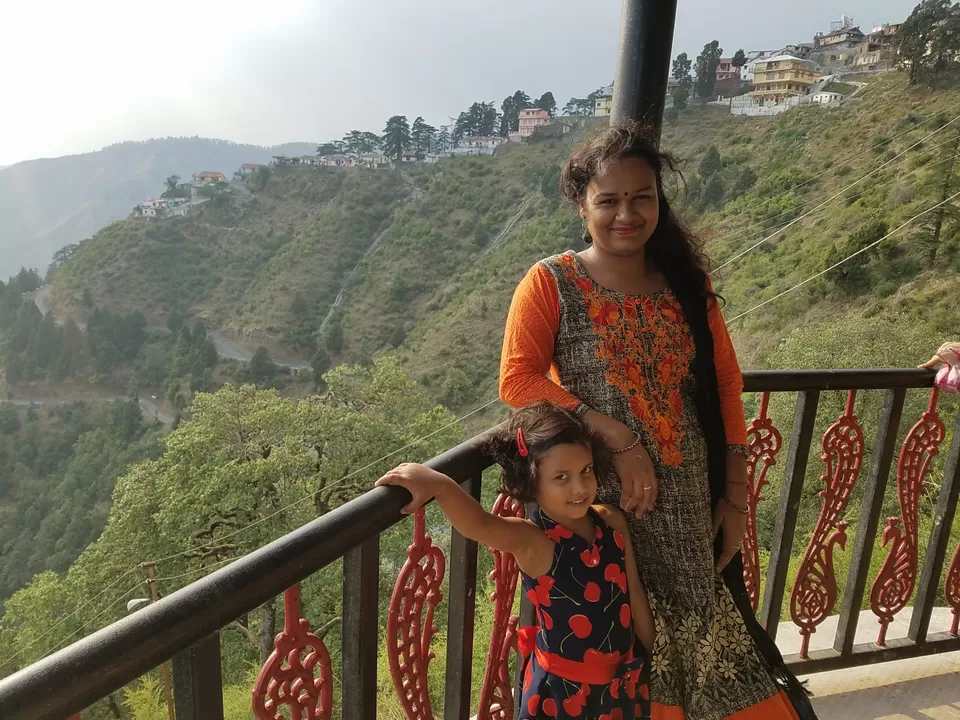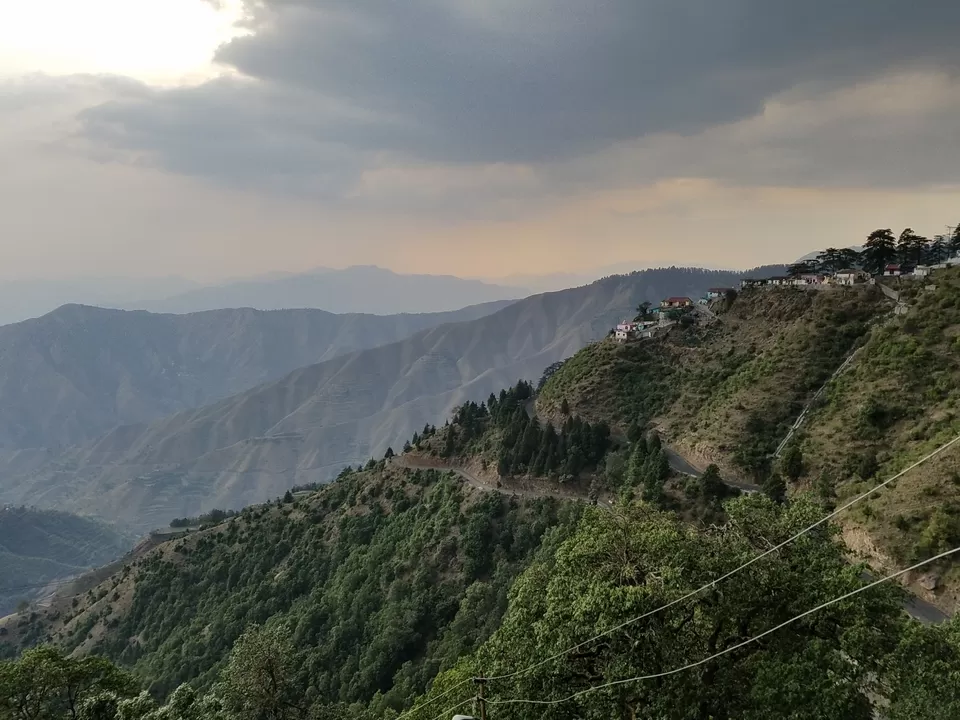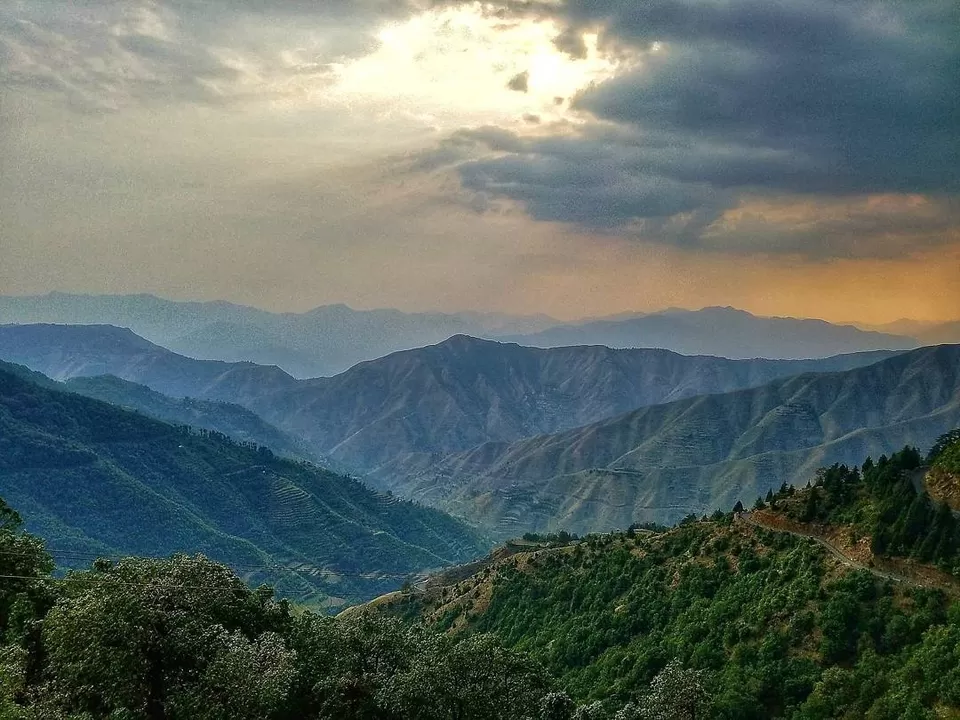 At around 5.15 pm , that wish got fullfilled and I was asking everyone to quickly get into the cab and we headed towards Chilmiri Sunset Point.
Chimiri neck viewpoint is the highest point in the area and is around 3 km from Chakrata. There is a large open ground at the hill top and a rich 360 degree panoramic view was waiting to mesmerize us. In winters, all of the area gets covered in snow. We reached the point at around 5.40 pm, to witness the beautiful sunset. The sky was changing its colours at every moment and so were the surroundings. Shining himalayan peaks were visible at some far away distances. All we were doing was to live those precious moments of peace and solace. And also capturing those memories in some frames.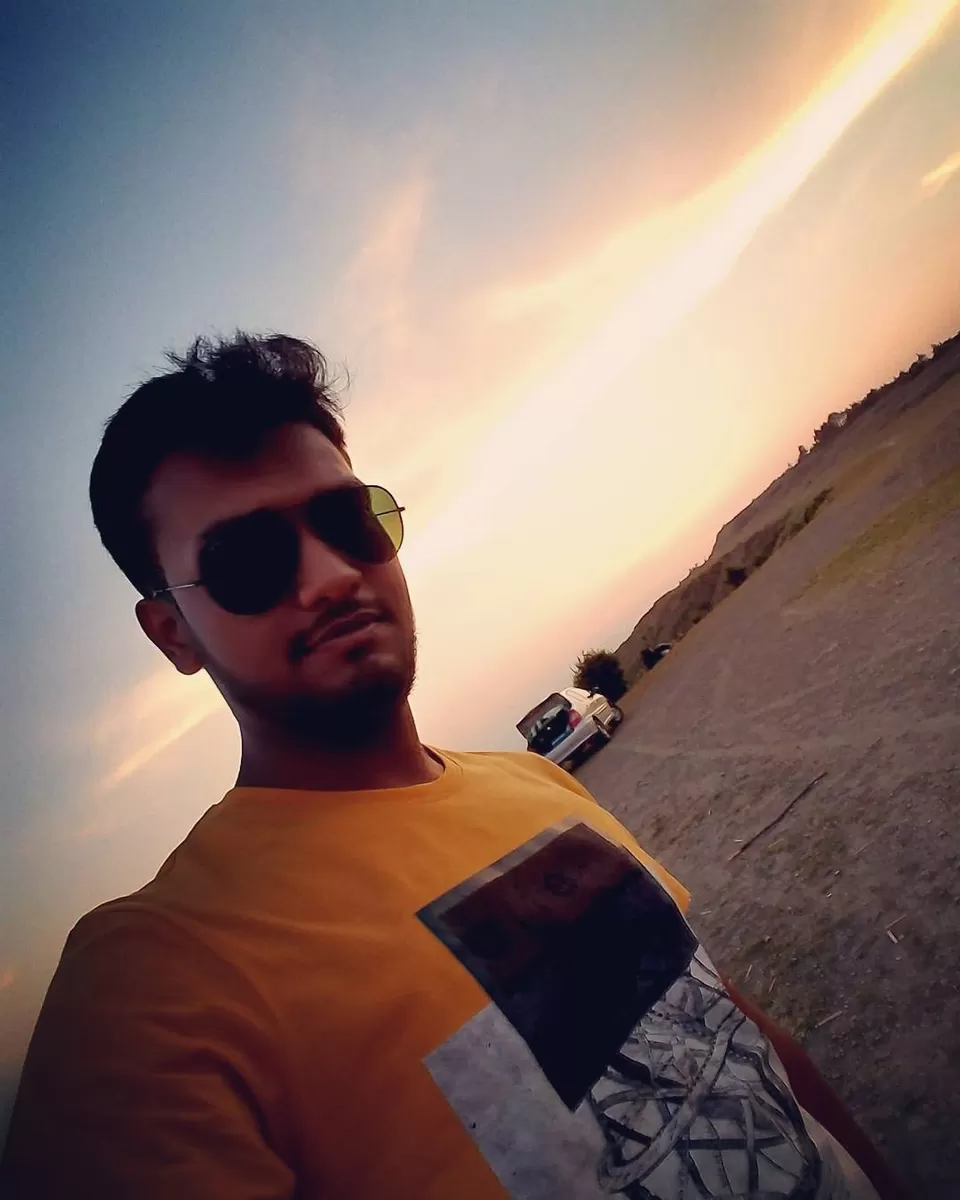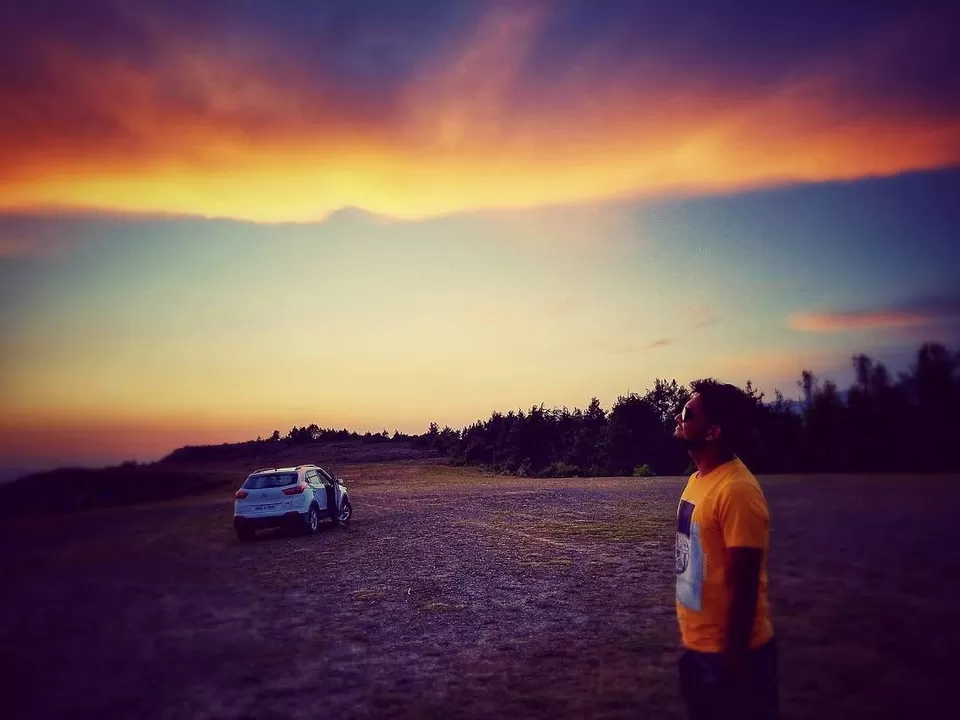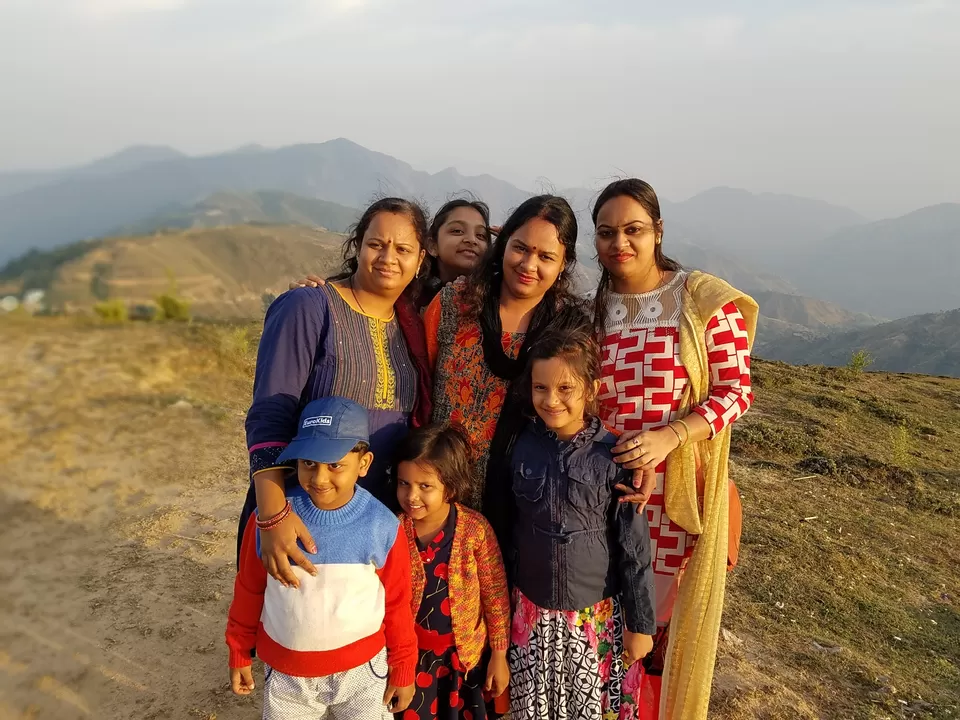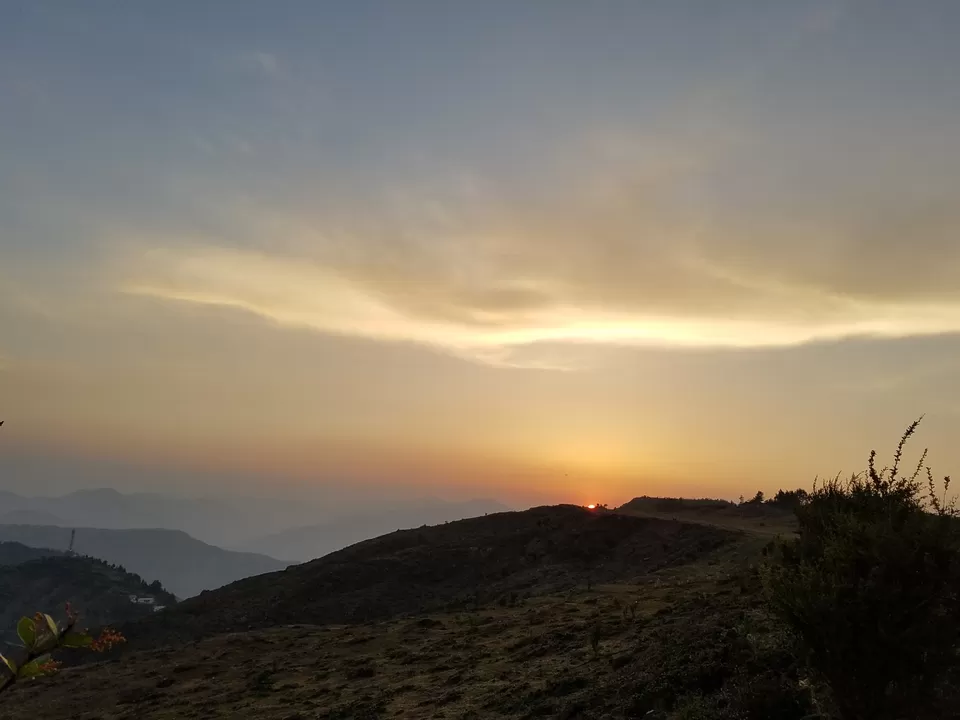 At around 6.30pm, it started getting dark and we grabbed our seats back to reach the tents. We asked the guide if they could arrange a campfire and music near our tents to which he happily agreed. With some light music and campfire, we had our dinner near our camps beneath the million stars and we enjoyed some sizziling dance performances by the gang of kids. We were off to our beds to sleep at around 11 pm after all the adventures of this one single day.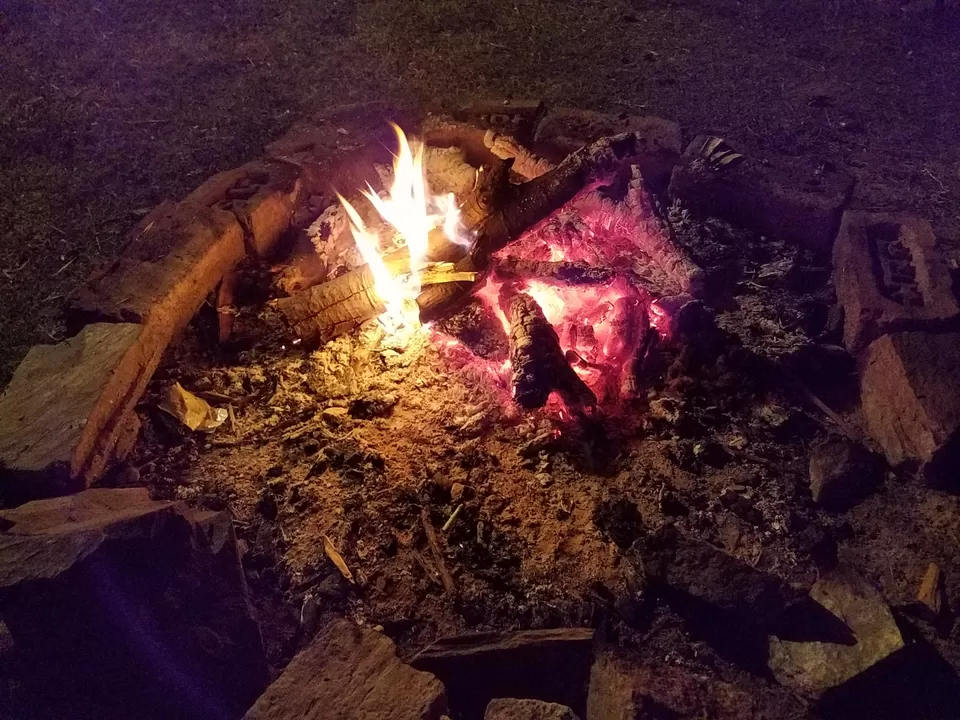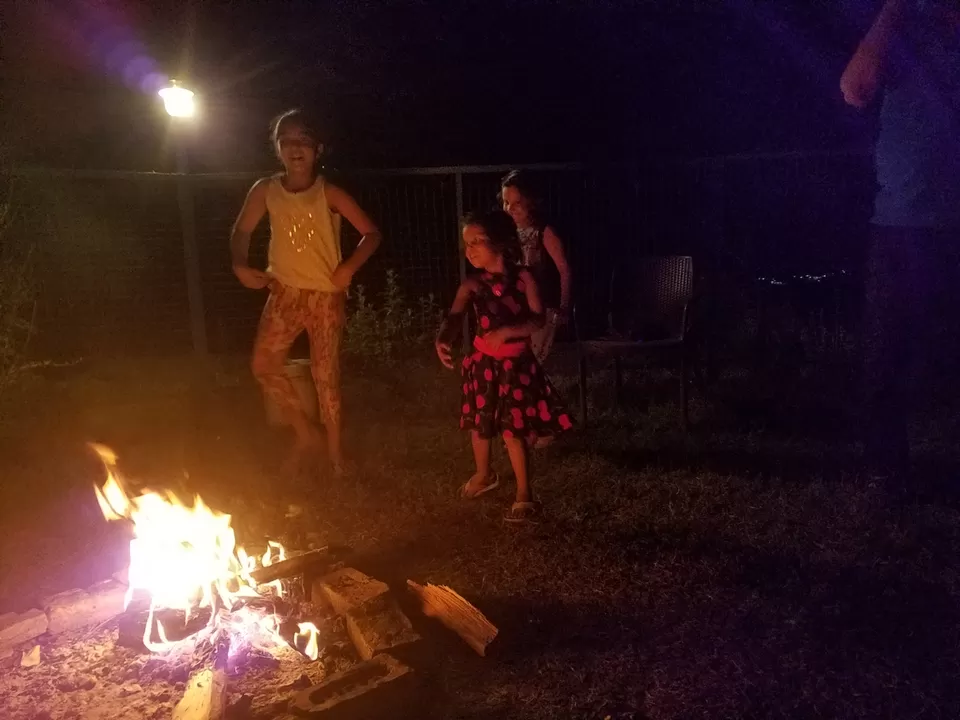 We woke up at around 6 am with the chirping of birds around our tents. The Blue Canvas had areas to play Badminton and Pool. We spent some time in playing games and also witnessed a beautiful sunrise too. At around 9 am, we geared up at the breakfast table and soon after that we left for trekking Budher meadows. The guides came along with our lunch.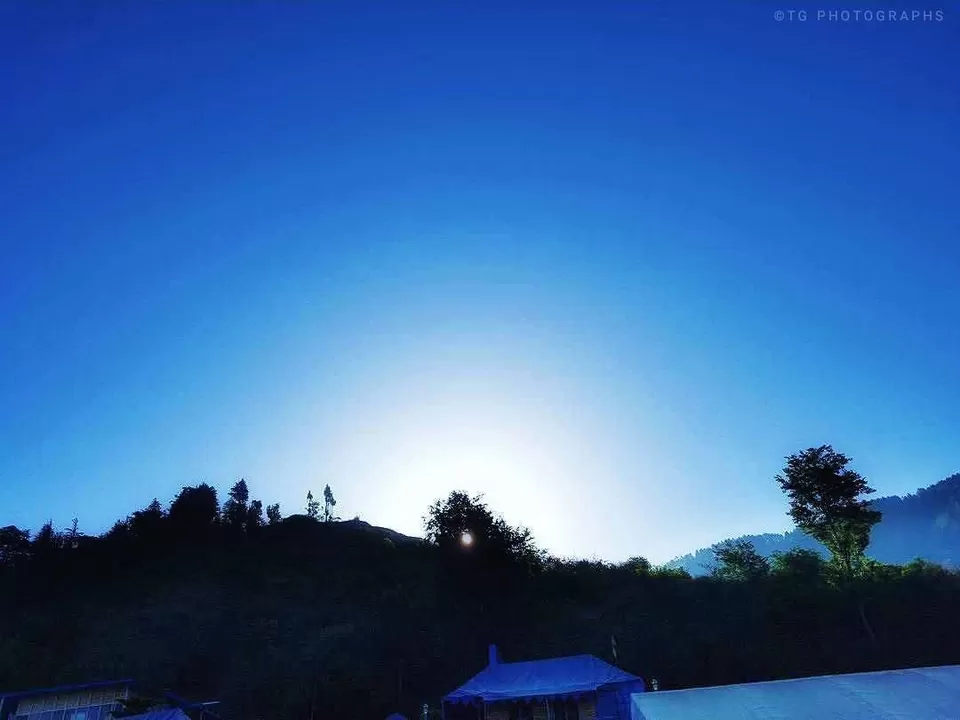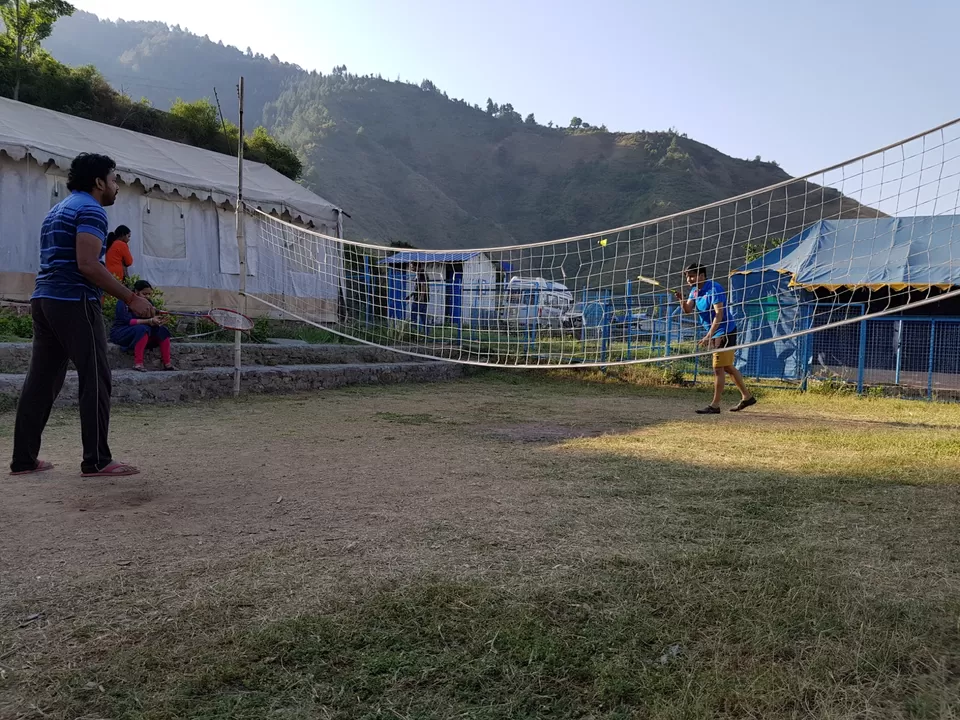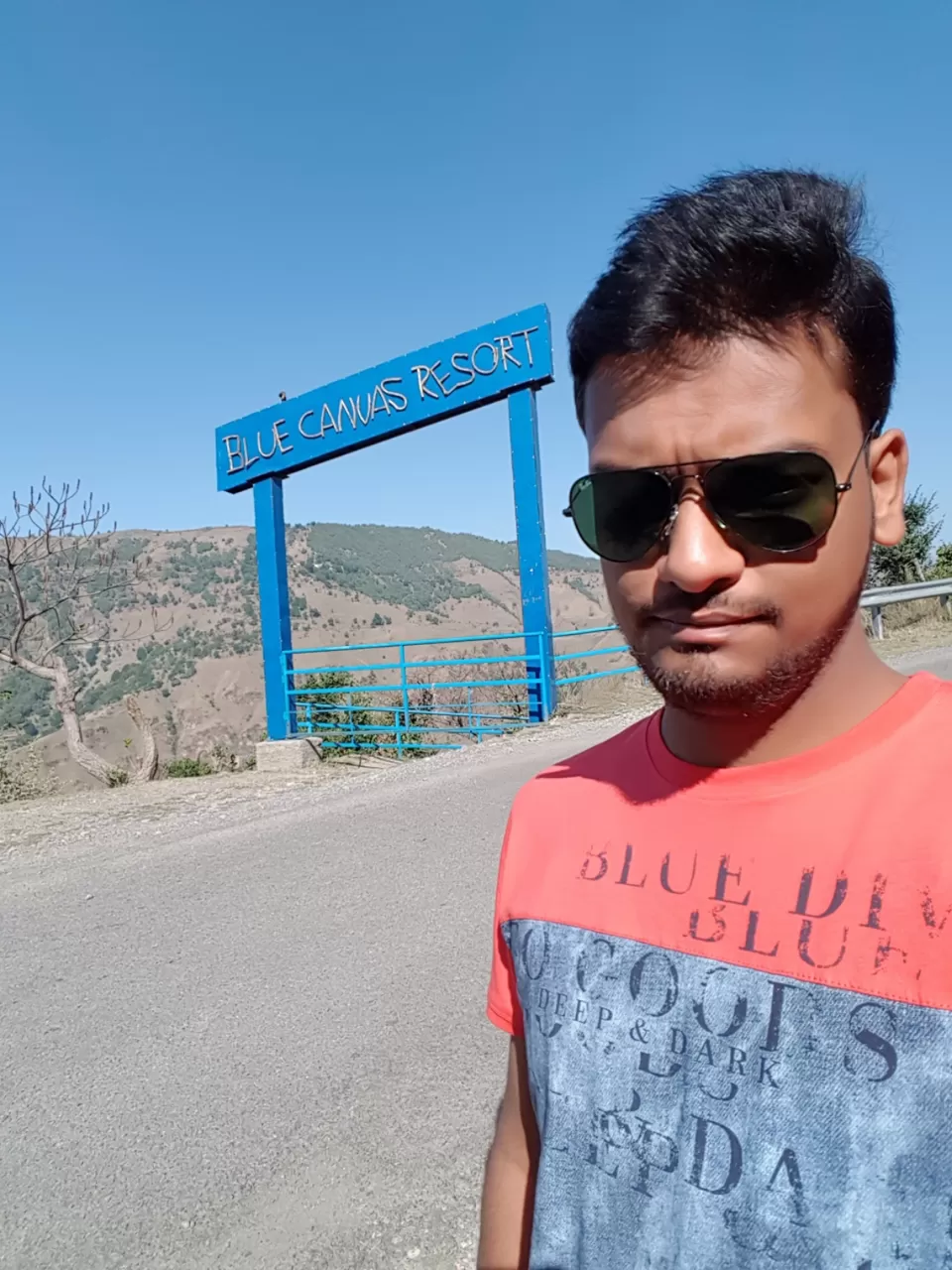 It was around an hour and a half long journey to the forest department's lodge. The road to this point were narrow and curvy. One should drive here with utmost presence of mind.
There are efficient space for camping in the forest area near the lodges. The trek to Budher meadow and caves starts at this point. Its a 2km trek, easy going but my mother was not comfortable, so she stayed back at the lodge.
We all crossed through the dense forest cover with pine and deodar trees, the trek is steep somewhere but simple most of the time. In an hour and a half, we got a panoramic view of the budher meadow, with white sheeps running here and there, jumping and grazing, guided by the shepherds. The kids were filled with joy watching the cute white lambs. Up the hill, its a long stretch of meadow which gets completely covered in snow during the winters. There is a small pond where cows, goats and sheeps were drinking water. We settled near the pond to take some sunshine and eat. The guide followed us with our lunch and we had Biryani with raita. It refreshed my memories from childhood, as how we spent our winter vacations on our roof, taking sunbath and eating lunch. There is a limestone cave nearby, so the area is also popularly known for the budher Caves. It is restricted to enter deep into the cave. We also went around 40-50 meter into the cave. A beautiful view of surrounding mountains is visible at the hill top, a very small hut is at the top.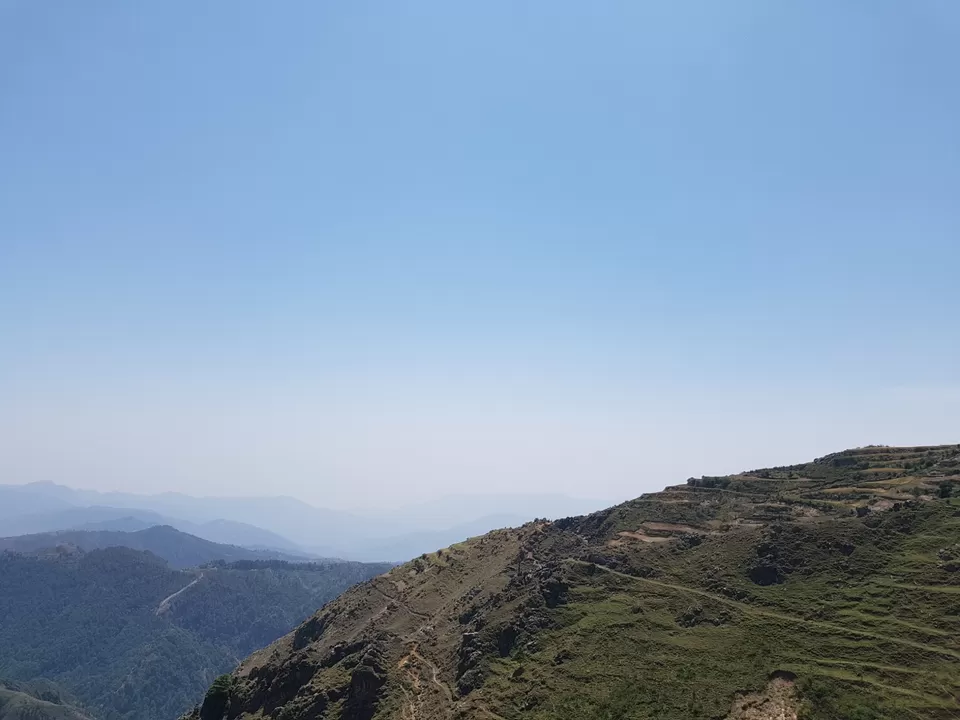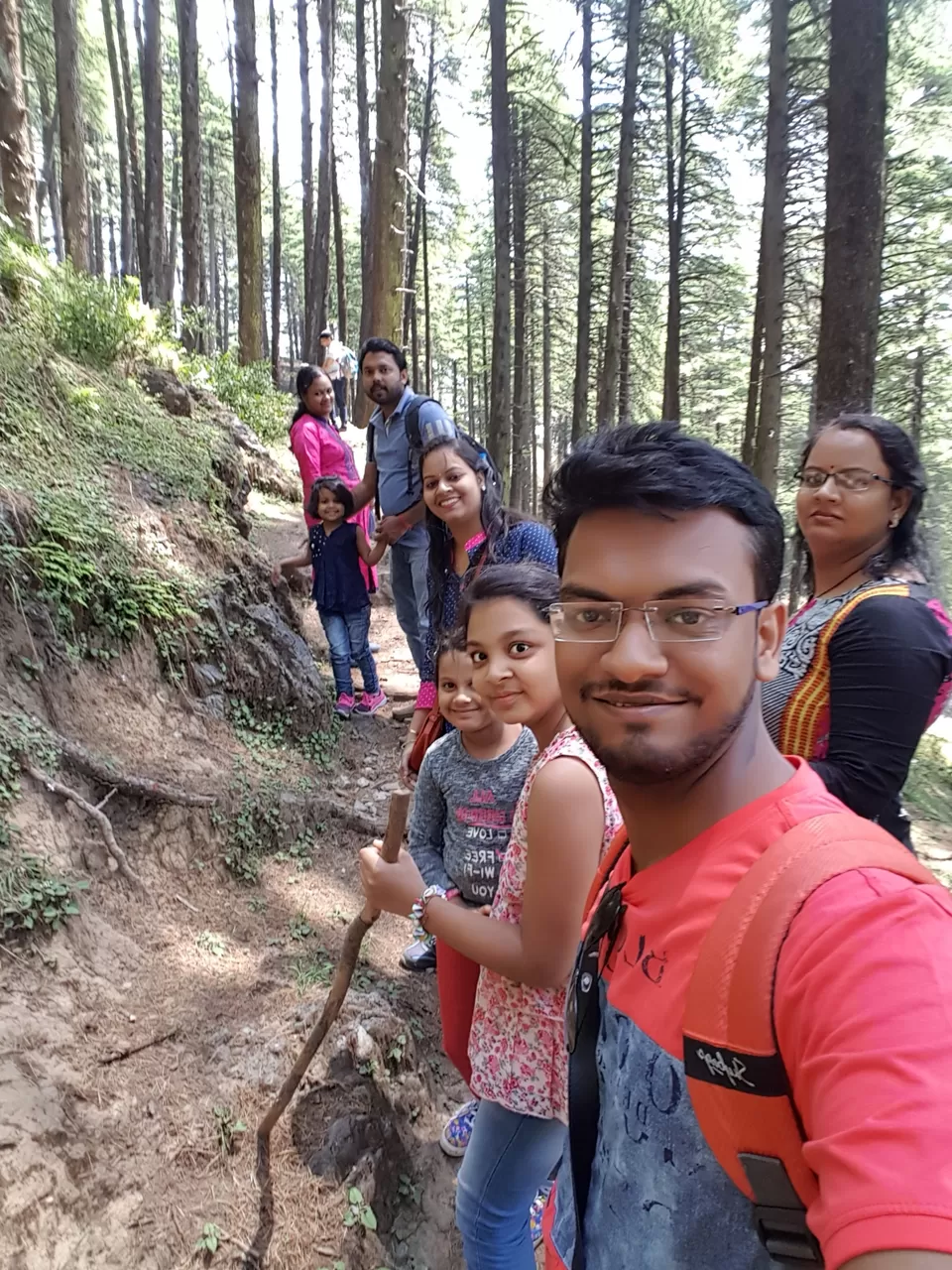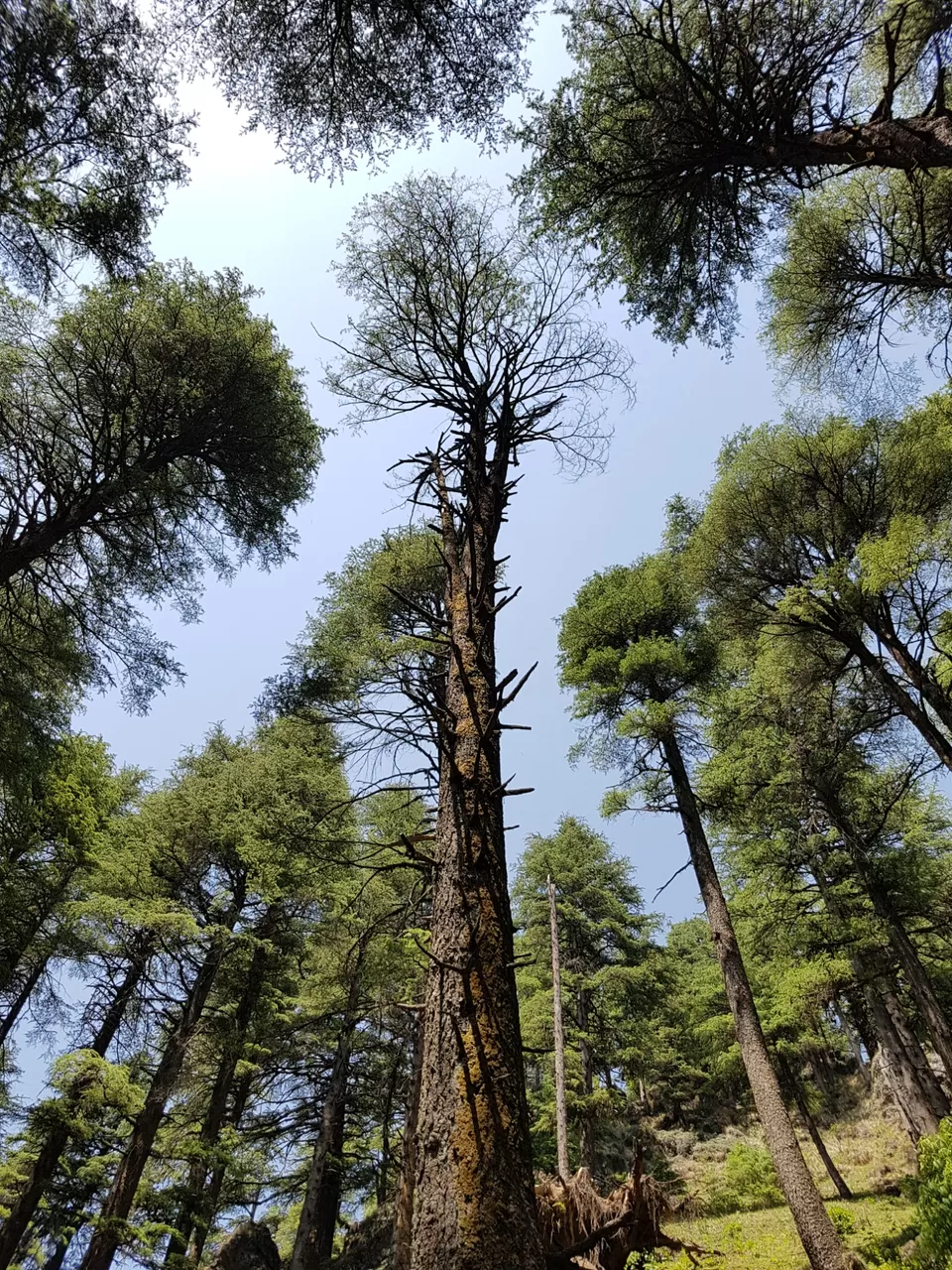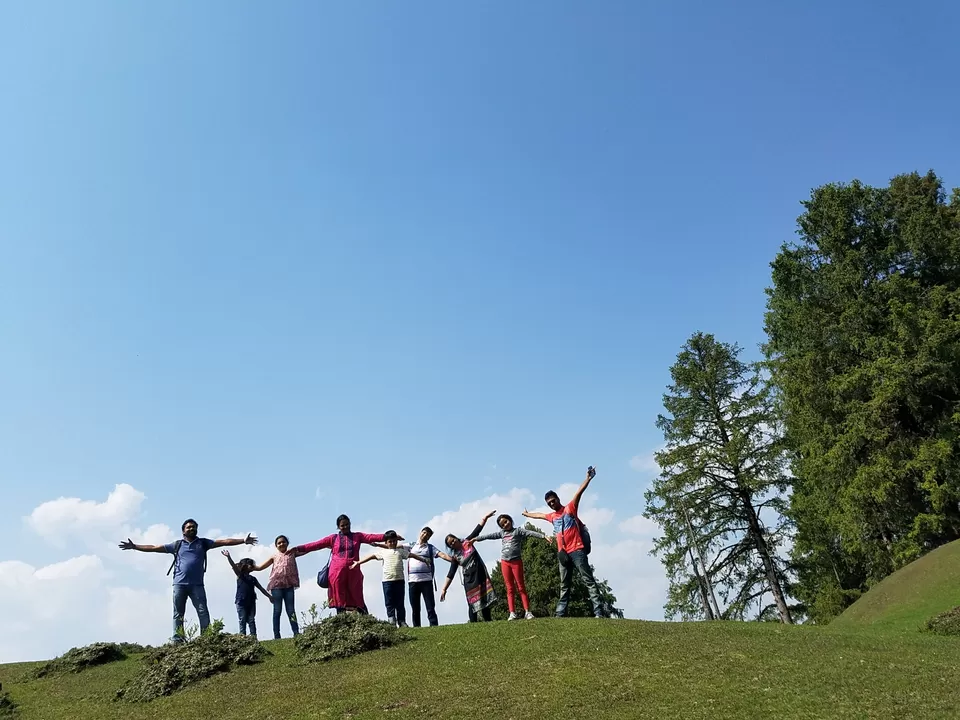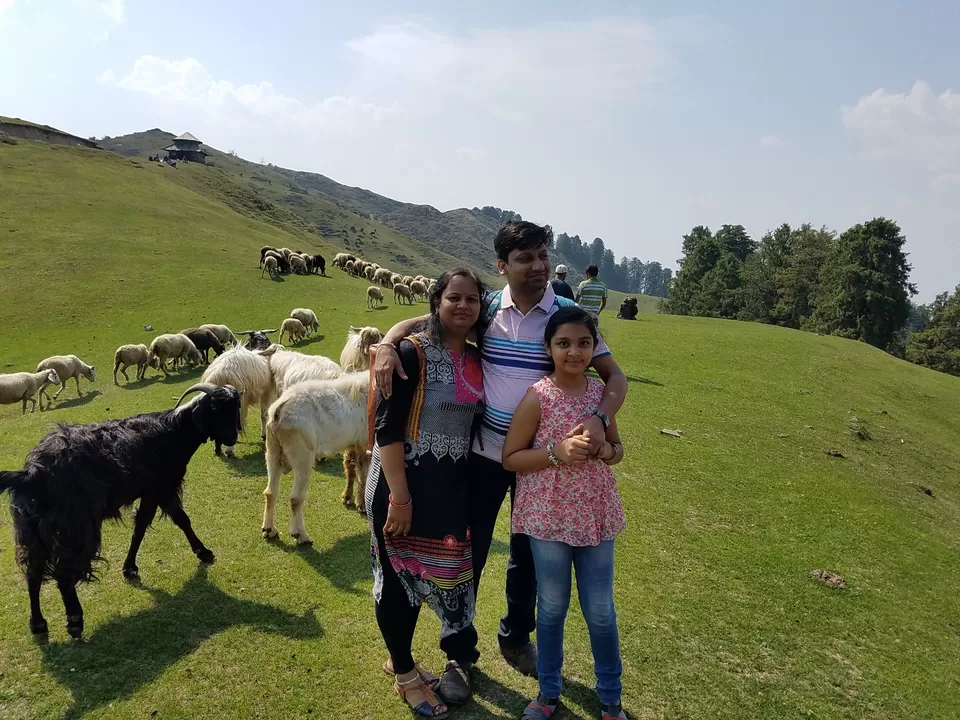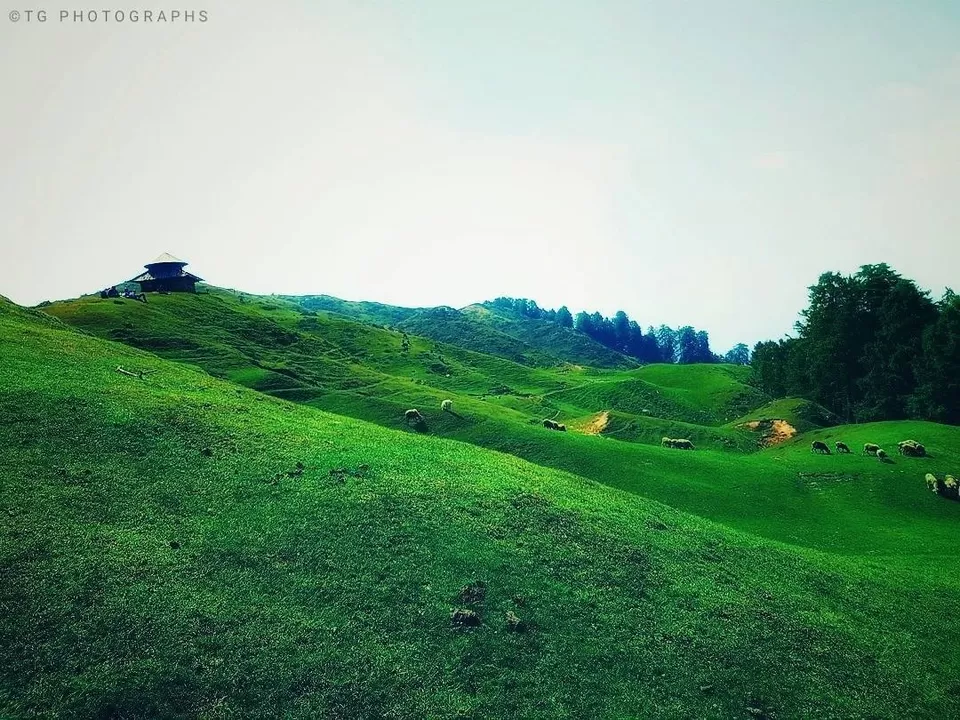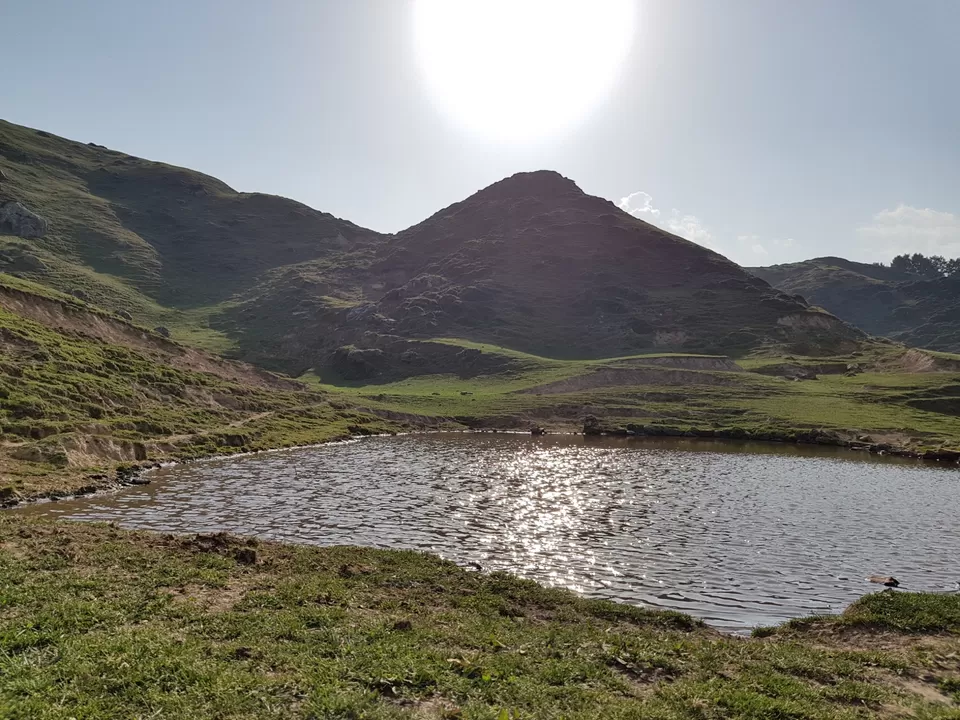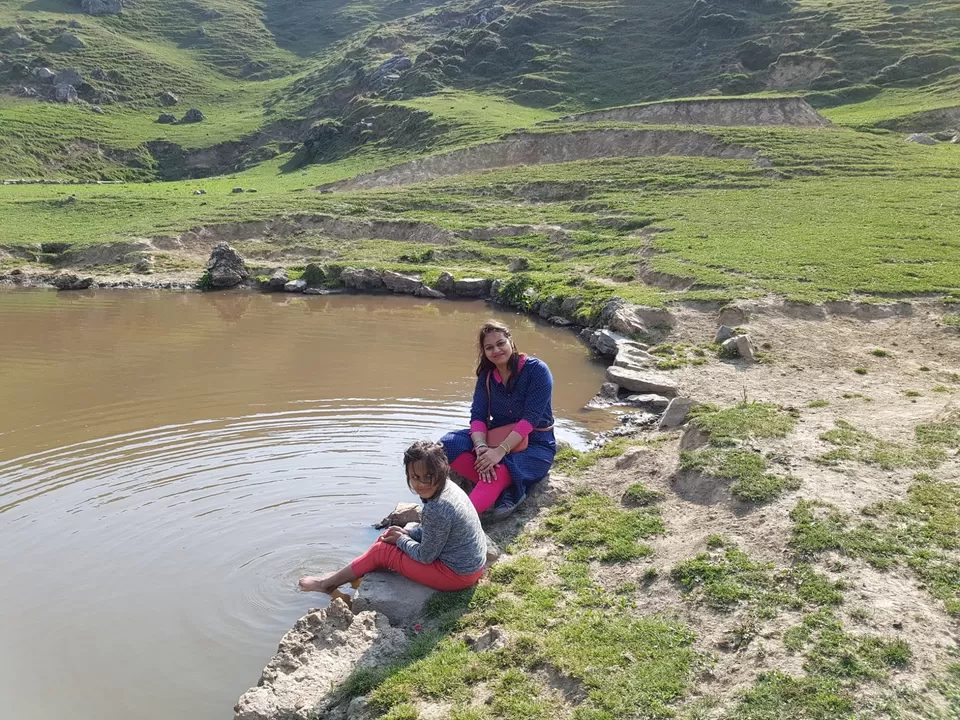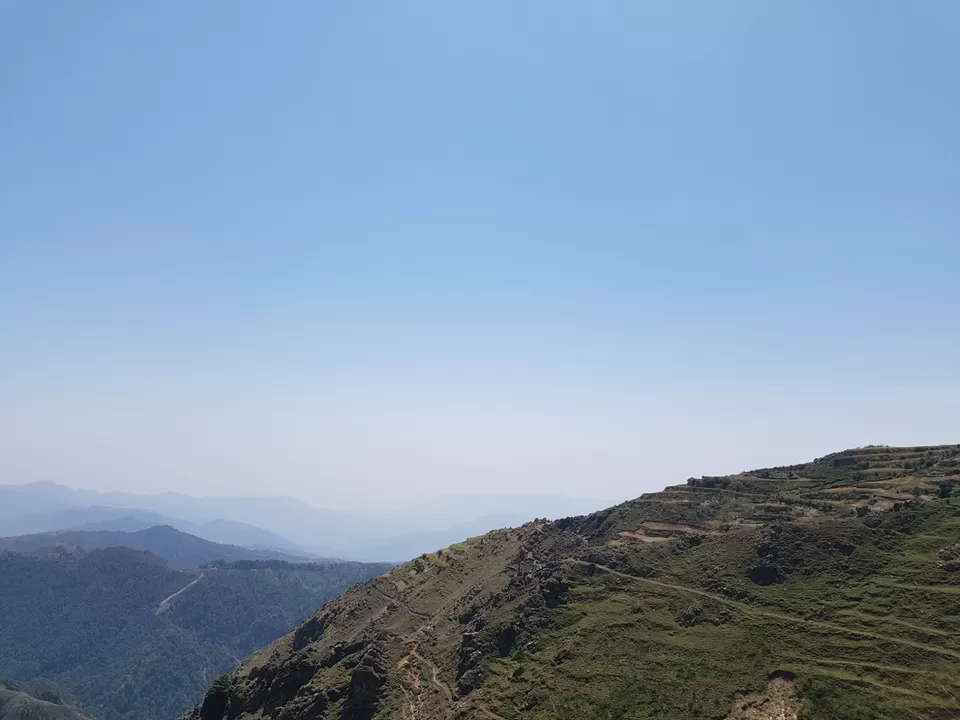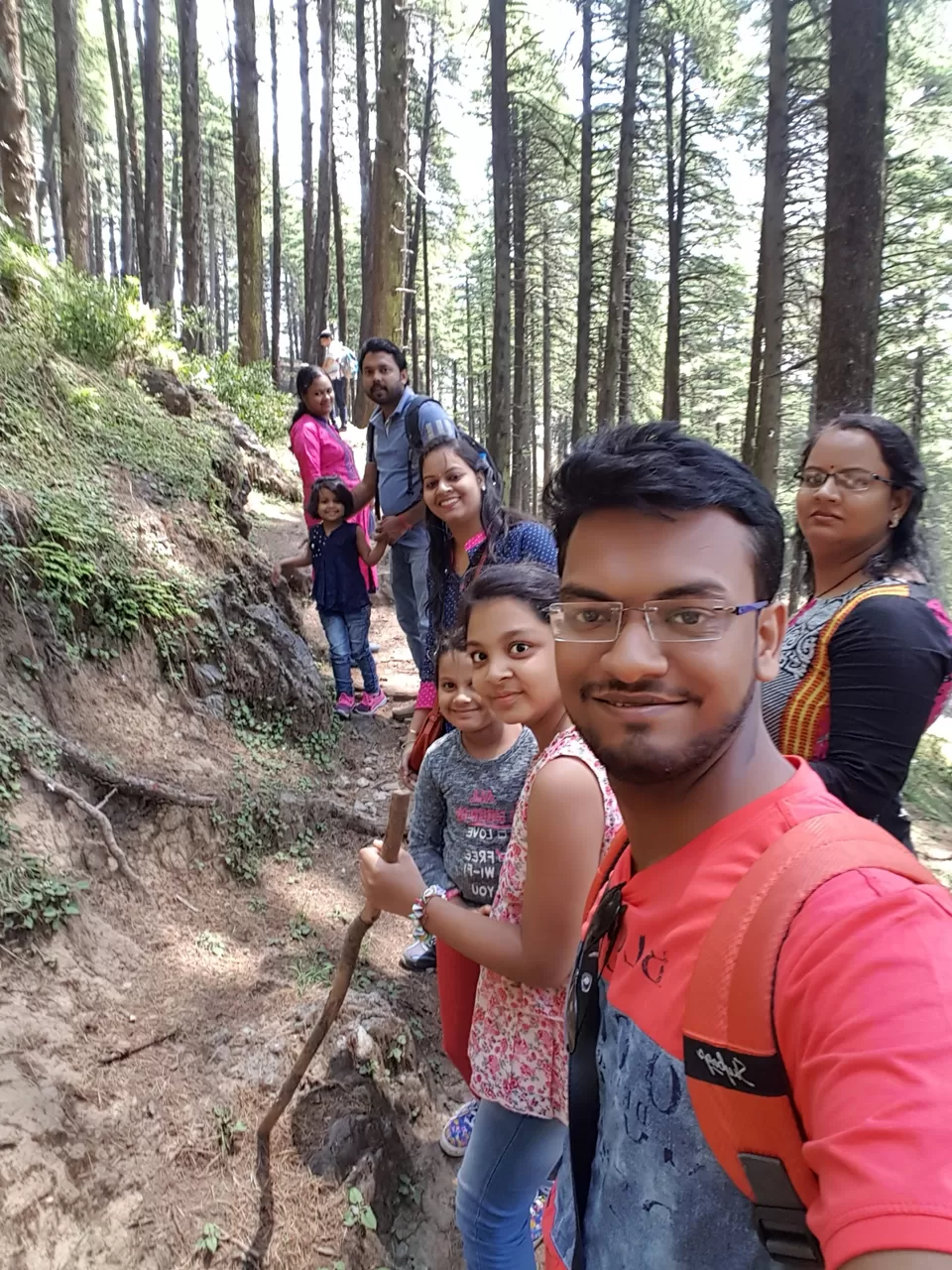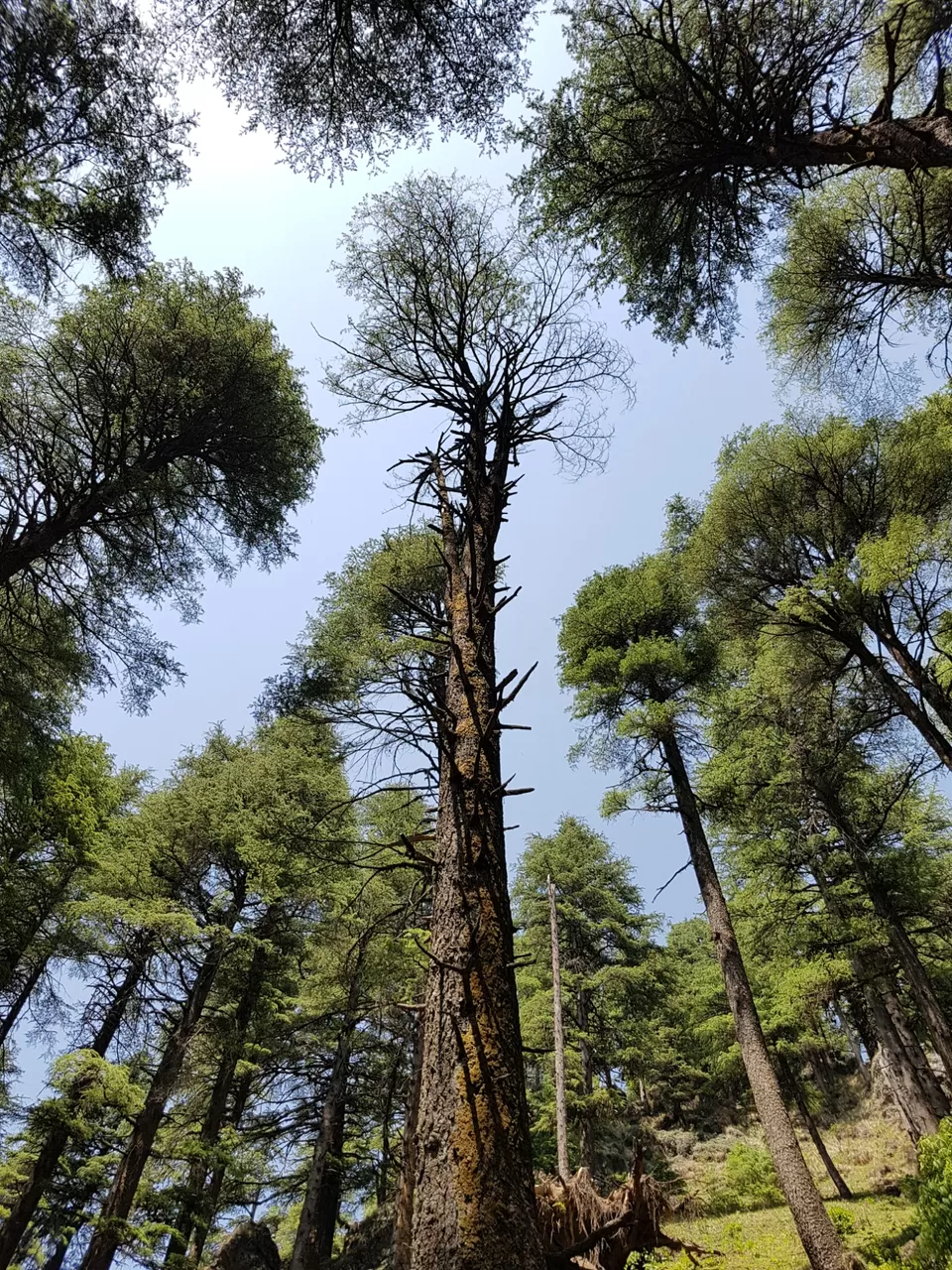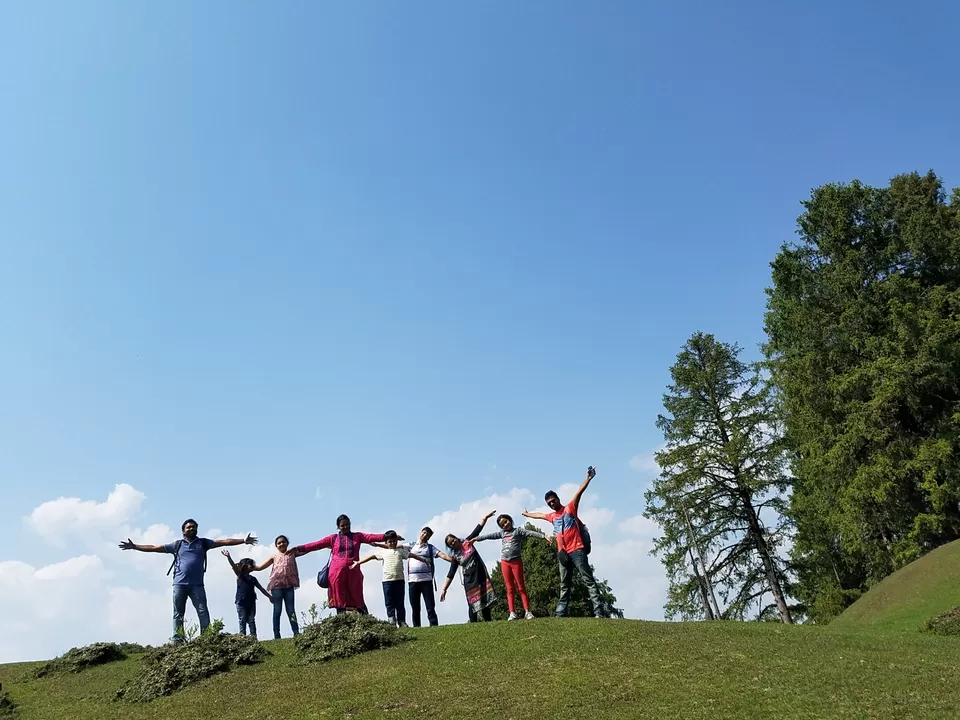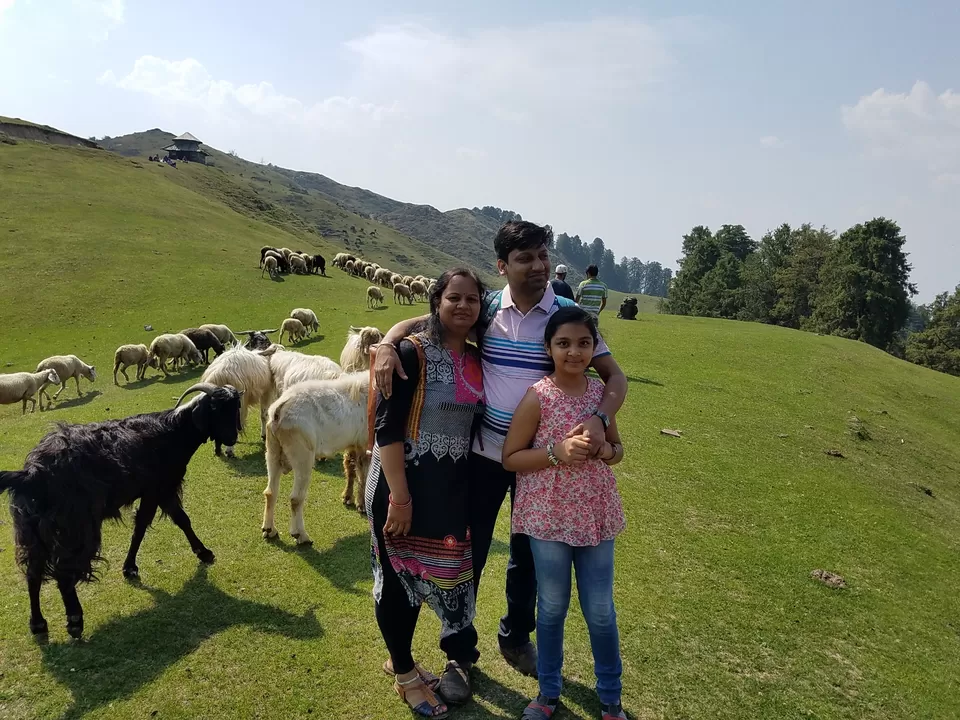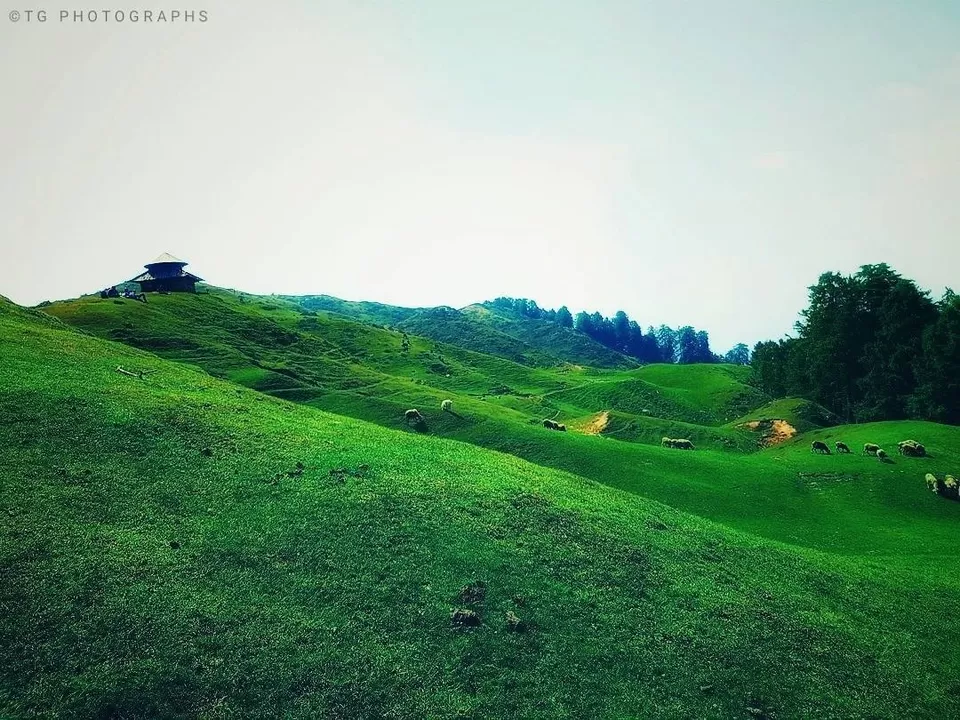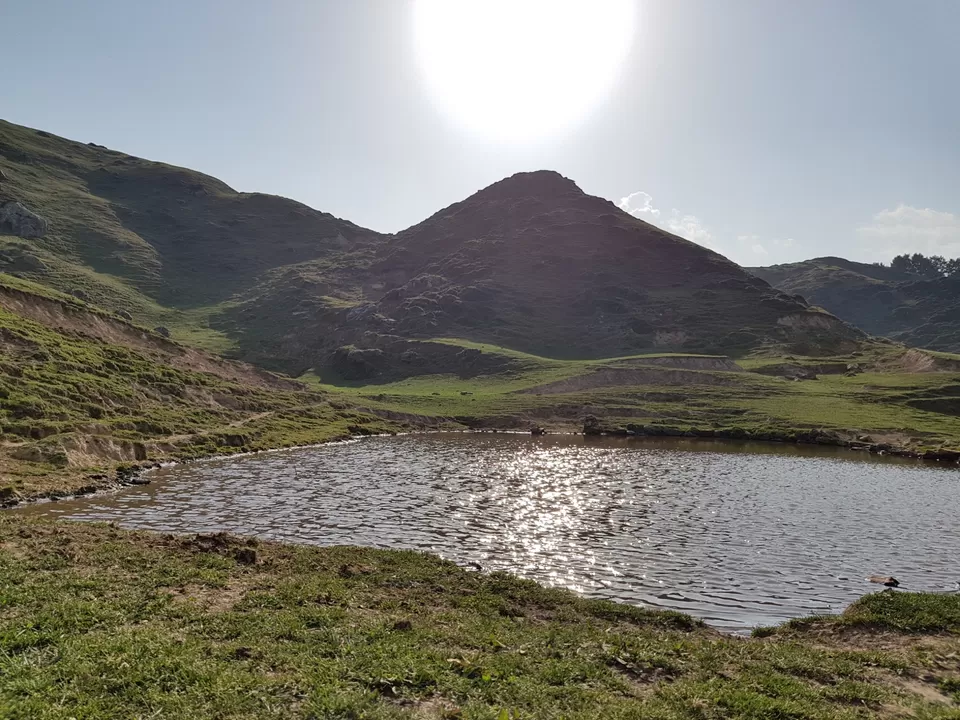 After taking enough of sunshine, we trekked back to the forest department's lodge where we had our vehicle parked. My mother was also feeling relaxed after spending time amidst the beautiful surroundings and fresh air. We went back to the Blue Canvas Resort and after having a cup of tra and snacks in the evening, we left this exceptionally awesome place taking some of the finest memories of our lives.
After taking enough of sunshine, we trekked back to the forest department's lodge where we had our vehicle parked. My mother was also feeling relaxed after spending time amidst the beautiful surroundings and fresh air. We went back to the Blue Canvas Resort and after having a cup of tra and snacks in the evening, we left this exceptionally awesome place taking some of the finest memories of our lives.