It was the month of September when I signed off from my ship which was in Turkey then. As always I was very happy to be flying back home after 6 months of work. But this time, my excitement level was higher than ever because I had decided to get myself a Royal Enfield Motorcycle. No doubt the RE looks great, the sound of its thump is breathtaking, and the style it carries can make anyone go crazy for it. As I had already decided the model and color, I booked it 3 months before I was planned to sign off. I got the bike on 10-10-2016. After few weeks I decided to go on a road trip that too solo. I had to face a bit of resistance from my parents as they were concerned for my safety on the road. I somehow convinced them that I will be taking breaks often and will ride with all the safety gear on me. The preparation: "By failing to prepare, you're preparing to fail" this is an apt saying and hence I decided to prepare myself for the trip. I started looking on the internet for all that you need on a road trip. I also started looking for "How to fix small issues on bike like- Clutch Cable, Accelerator Cable, Oiling the chain, checking engine Oil level, etc." Mr Yash Agarwal, Director of RE Chittorgarh helped me by allowing me to accompany the mechanic Salim Bhai on first service of my bike where I asked him for small issues that could pop up and how do I resolve them if required. That was quite helpful. Things that I bought are as under: 1)Saddle Bag with rain covers by RoadGods 2)Tarpaulin and ropes 3)Riding Gloves 4)Shades 5)Jacket 6)Travel pouch 7)Some imp spares The route: I had planned my route, I was going to do Chittorgarh-Indore-Shirdi-Mumbai-Pune-Dhule-Indore-Chittorgarh. The total journey was around 2100 Kms. As I discussed with my friends, few of them laughed at me and said- "What do you think of yourself, you're some biker or what? " However, few of them said- "Wow! I wish I could come with you, Never back down, go for it !" So it was a mixed reaction from people. But what I have always believed in is- Follow your heart, no matter what the world has to tell you.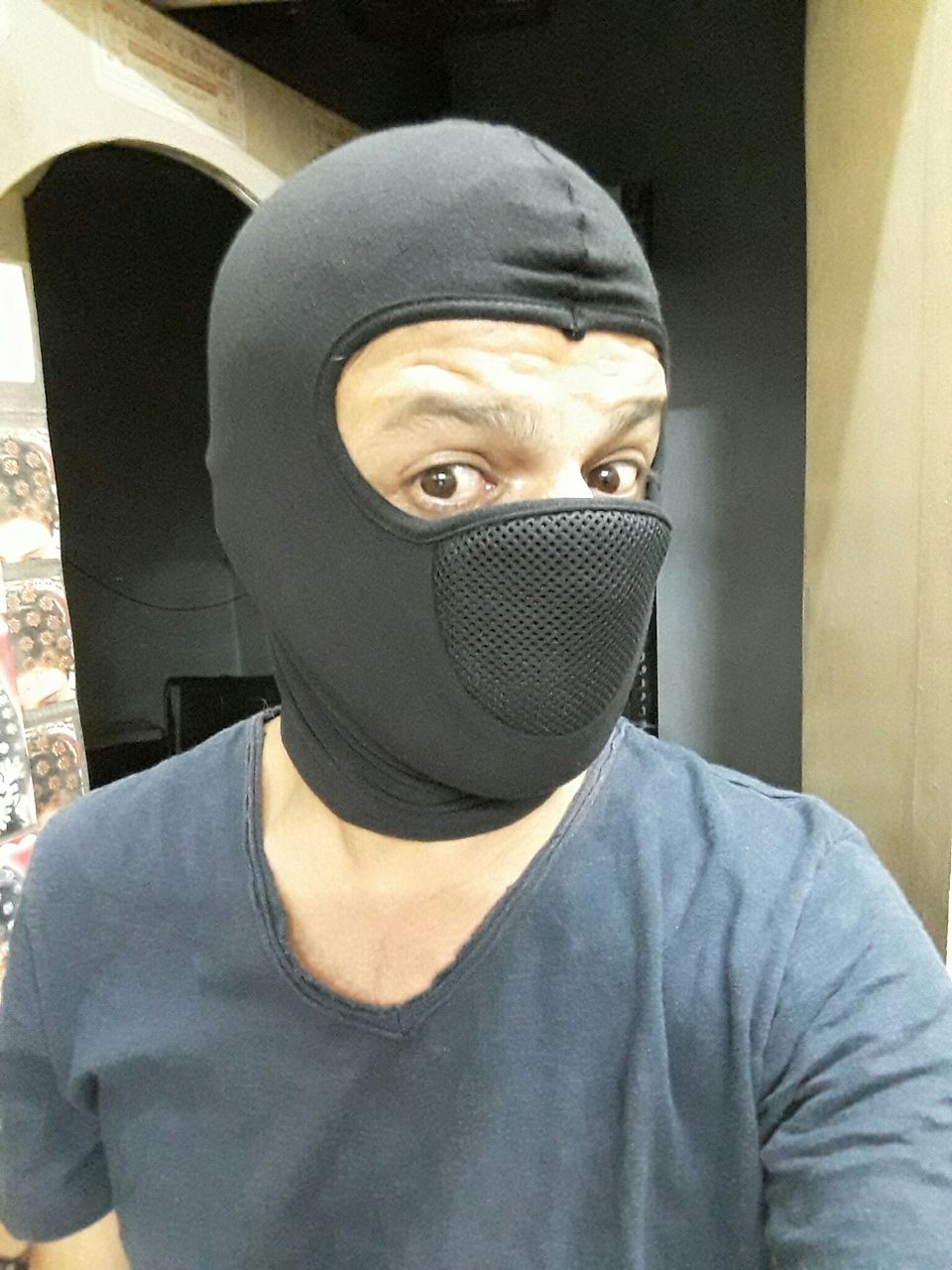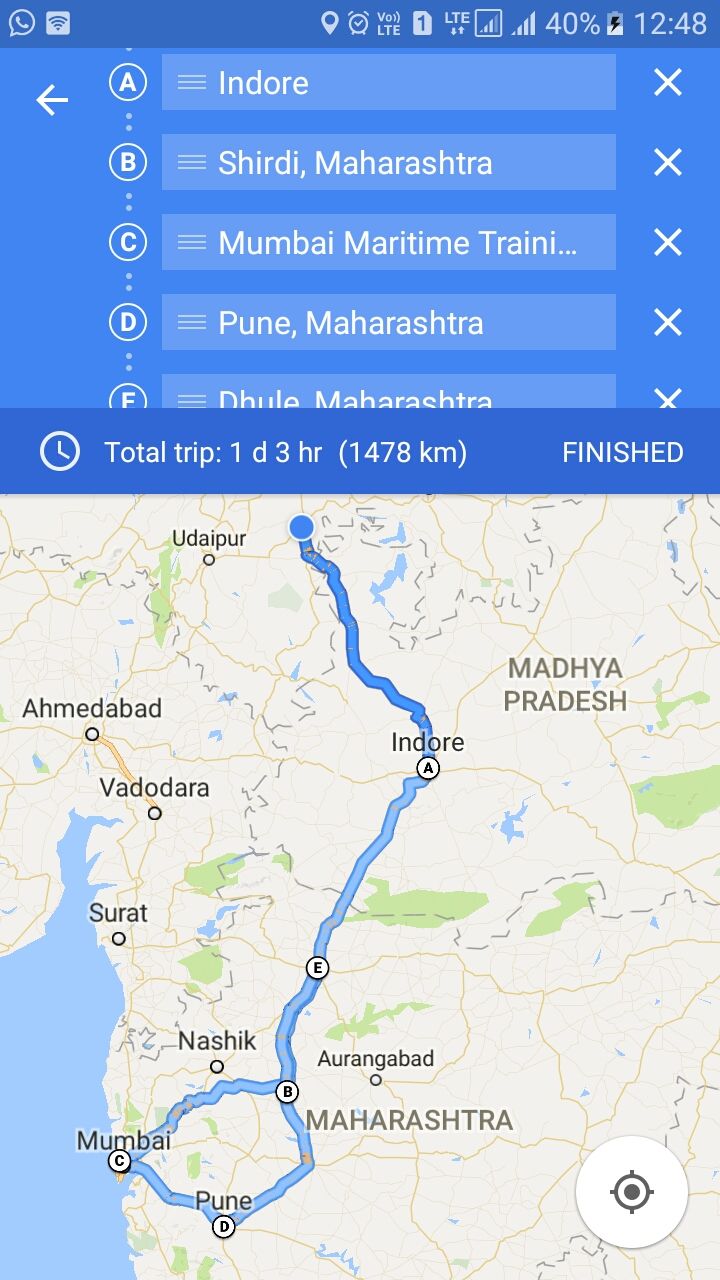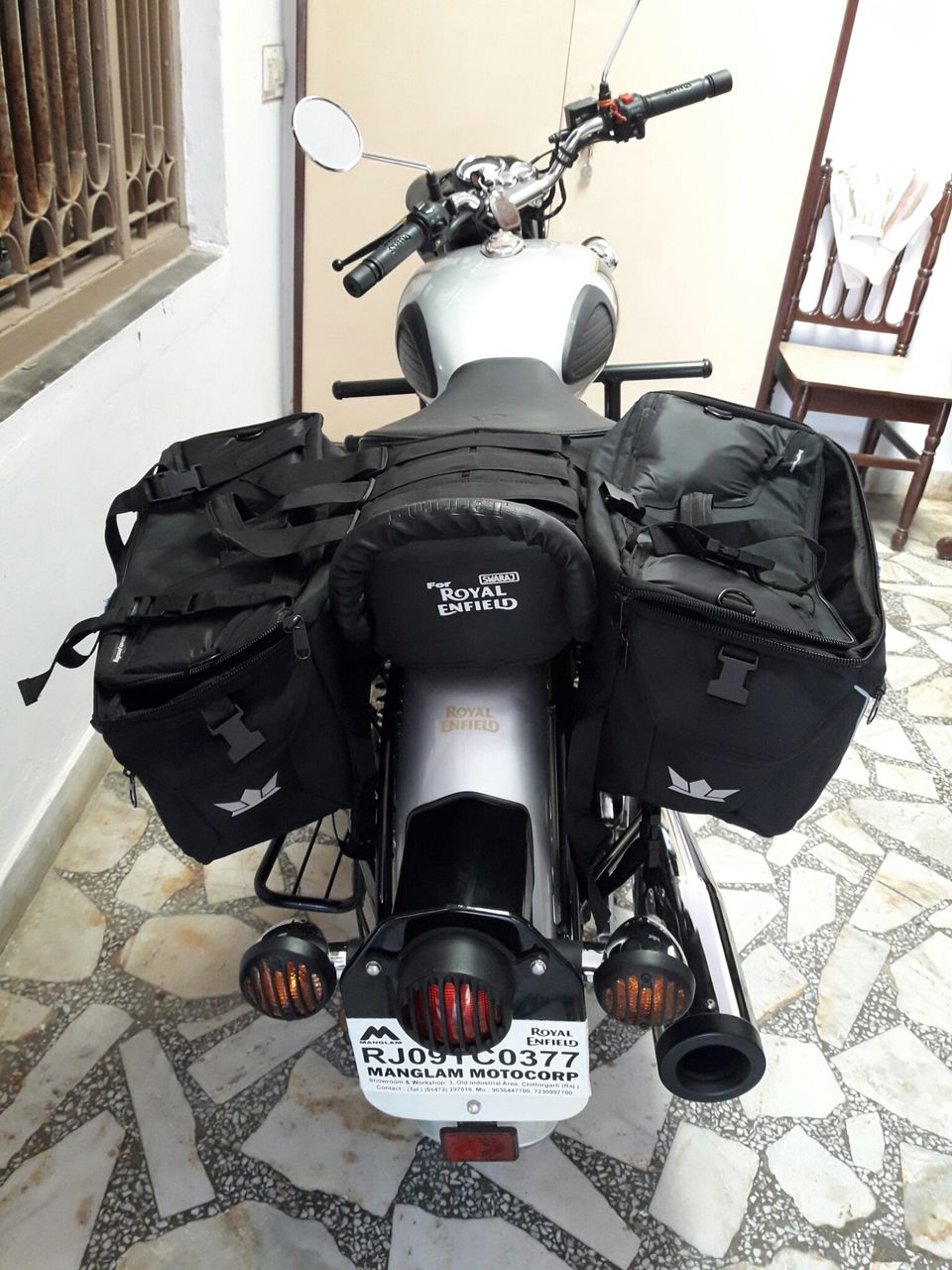 It was 1st Nov 2016. My bike was all decked up ready to go. I was surprised to see how much stuff could be carried in a saddle bag. It was a 50 Ltr capacity bag and it must have weighed around 35 Kgs after being loaded. The tyre pressure was checked and fuel tank was made full on the previous night. So I started my ride from Chittorgarh to Indore. I left Chittorgarh at 7.15 AM and took the NH 31. The road is an excellent one and 80 % of it is a four lane which is fun to ride on. I maintained speed of about 80-100 Kmph. However I stopped by quite often to see places around, it took me around 6 hours to cover 325 Kms and reach Indore. Few images I'm putting to give you a better picture. After the ride, I was a bit tired and went to a friend's place in Indore, took a nap till evening, and then I went out to visit the local food joints in Indore. Indore is a city of food lovers. You can find so much of love for food on the streets, in malls, in restaurants, in fact there is a market called 56 Dukaan which is food and only food ! I had a fun evening with my friends with a bit of partying and eating at a Dhaba. I had a very good sleep but I knew I had to wake up early in the morning for my ride to Shirdi.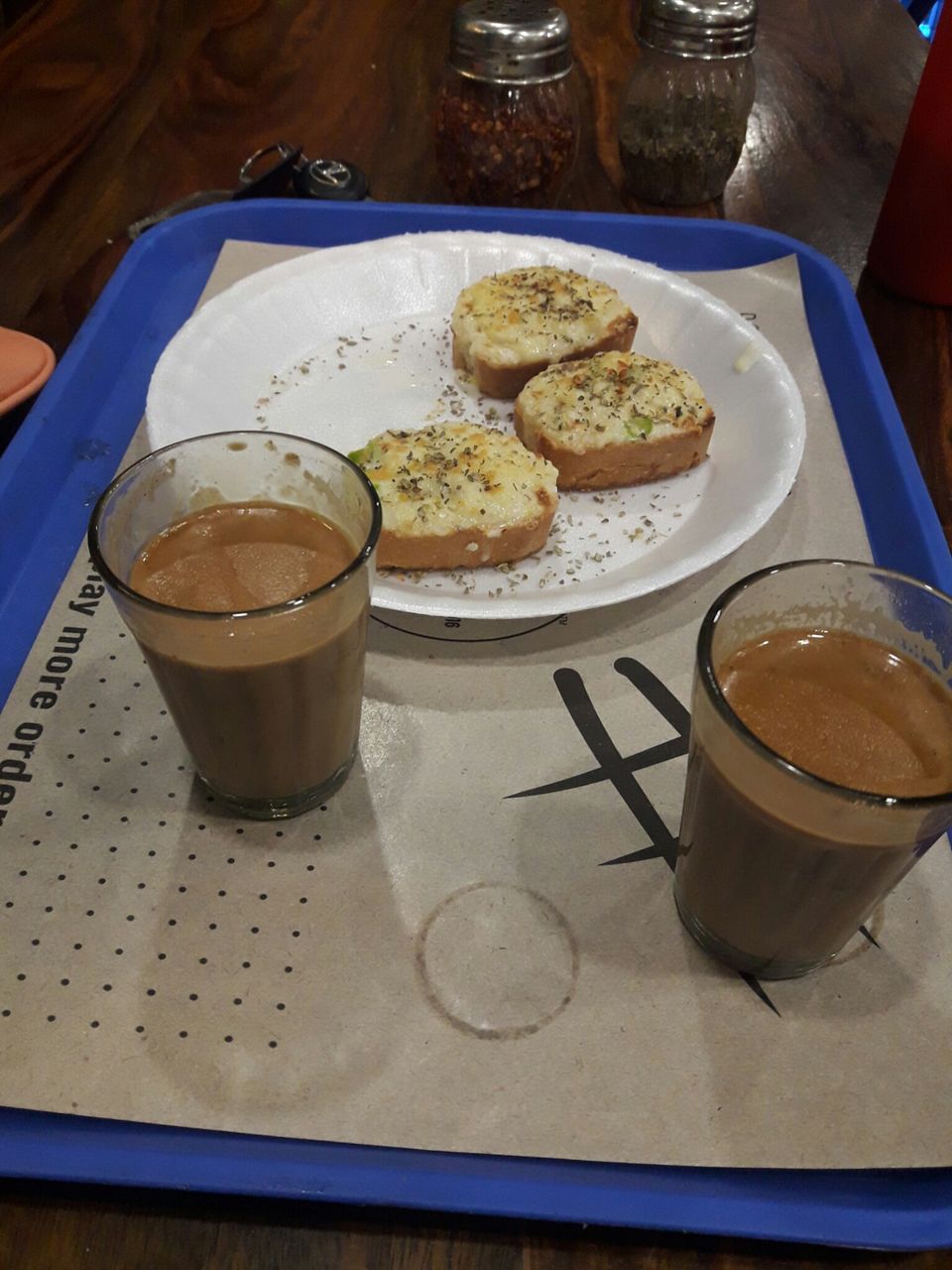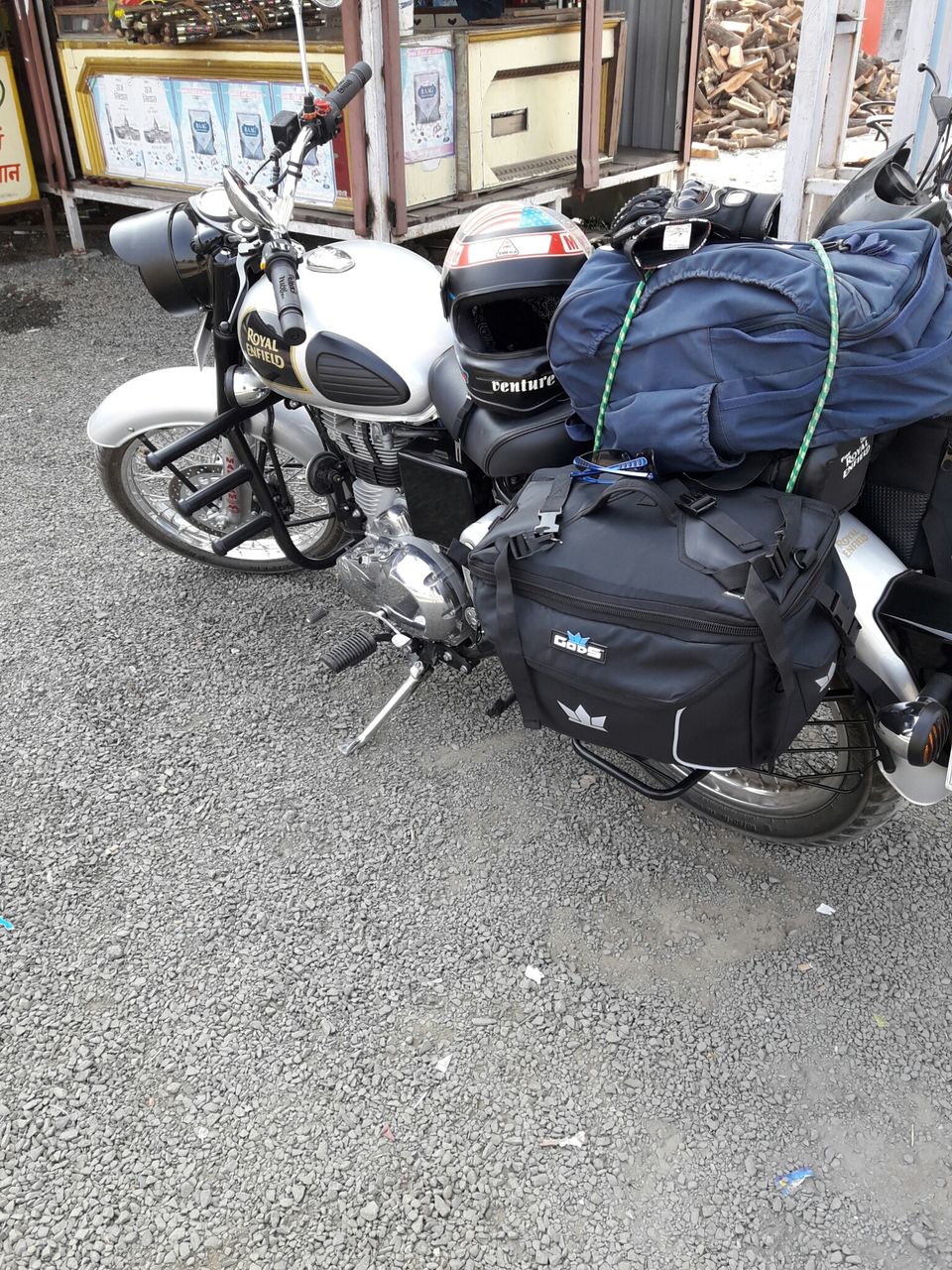 I woke up at 6 AM, took some light break-fast and left for Shirdi at 7.15 AM. I had discussed the roads with friends and hence I was aware that I have to take the Mhow-Pithampur route. Mhow (Military Headquarters of War) is a beautiful small town to ride through, you ll see many small tanks placed on squares with the details of wars they were won in. As I crossed Mhow, the route is mostly Ghats and is very beautiful. Here are some pictures to give you a better idea. I rode through Manpur, Dhamnod, Dhule, Malegaon, Manmad and finally reached Shirdi. It was about 410 Kms of ride on day 2. By the time I reaced, it was already dark and I want to tell you all, night riding isn't comfortable because of the high beam cars, trucks and buses coming from the opposite lane. I checked into a hotel and freshened up. Very excited to visit the Sai Baba temple, I went to see if darshan is still on. There was a long queue for darshan and then someone approached me for VIP darshan. I said no because paying for quick darshan and not standing and waiting in the queue, is not my thing. Well, after sometime, I could go inside the temple, it was amazing. I was awestruck with the positivity I felt in there. It was my birth month and I couldn't be more happy to be at a place where I am blessed like that. I thanked almighty for all the love he has showered on me and people around me, then prayed for well being of all my friends and family and left for the hotel.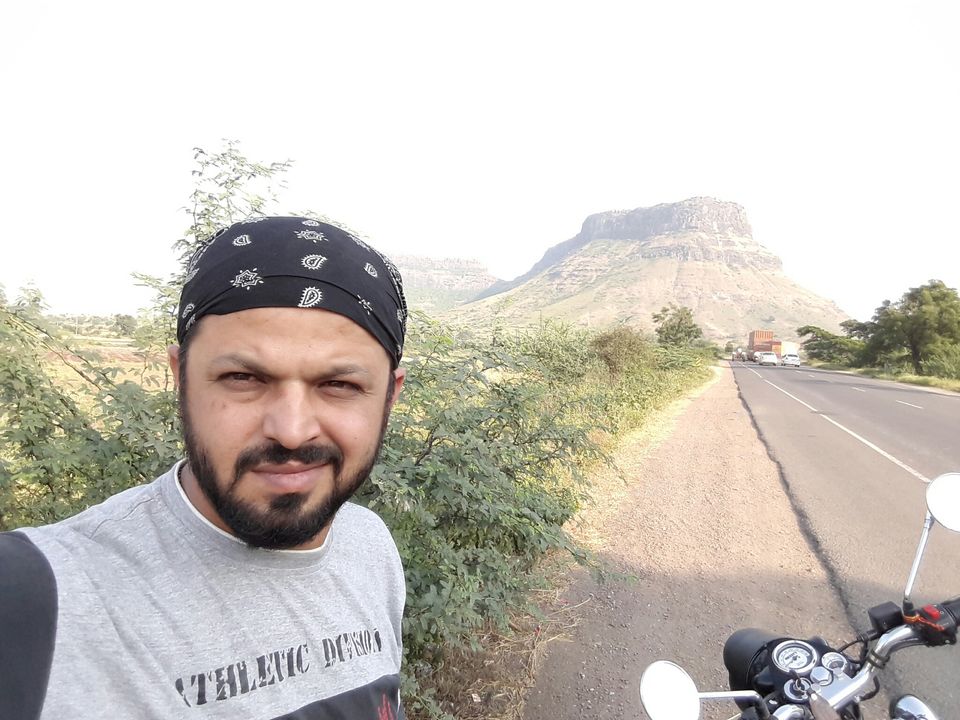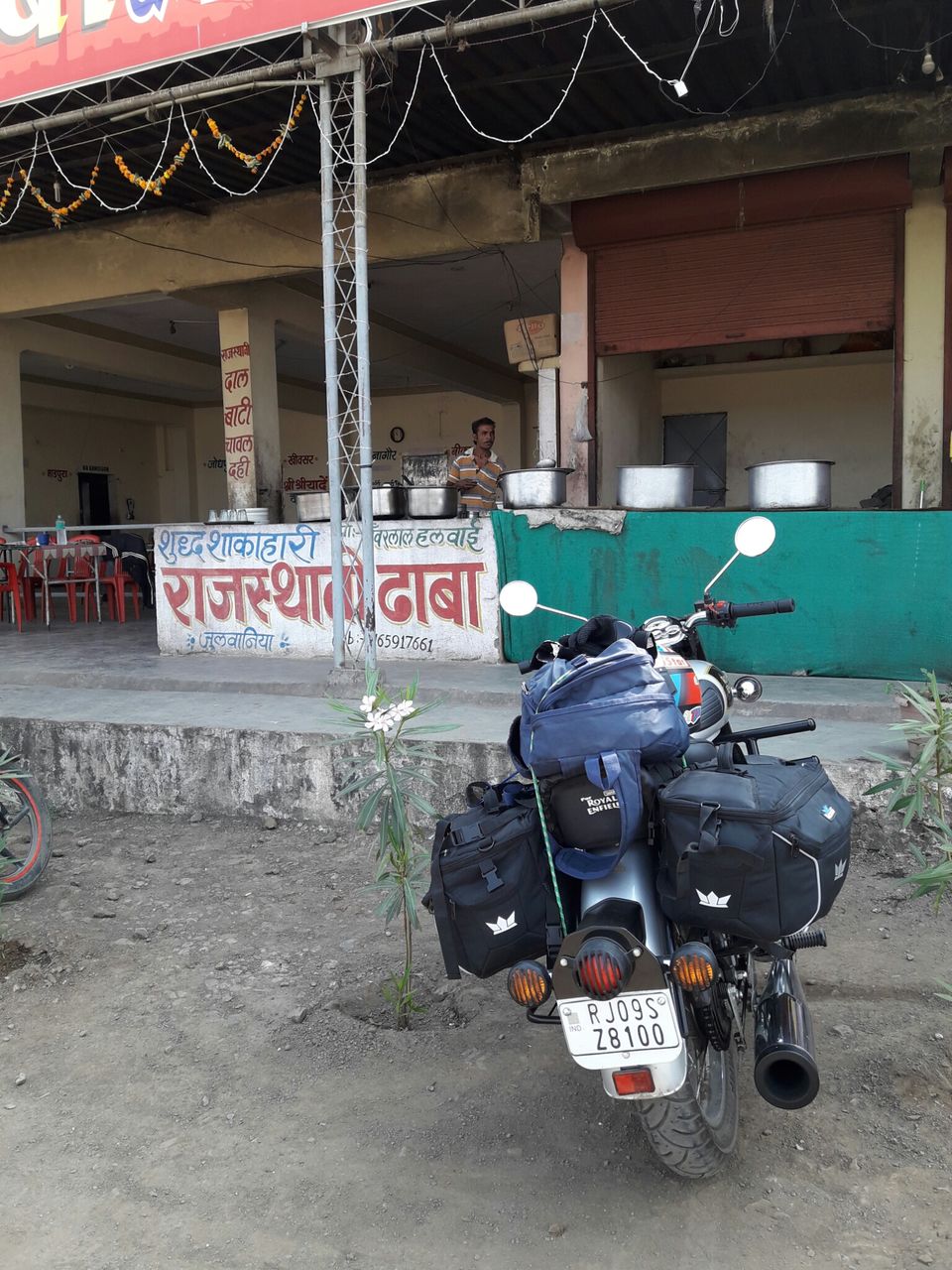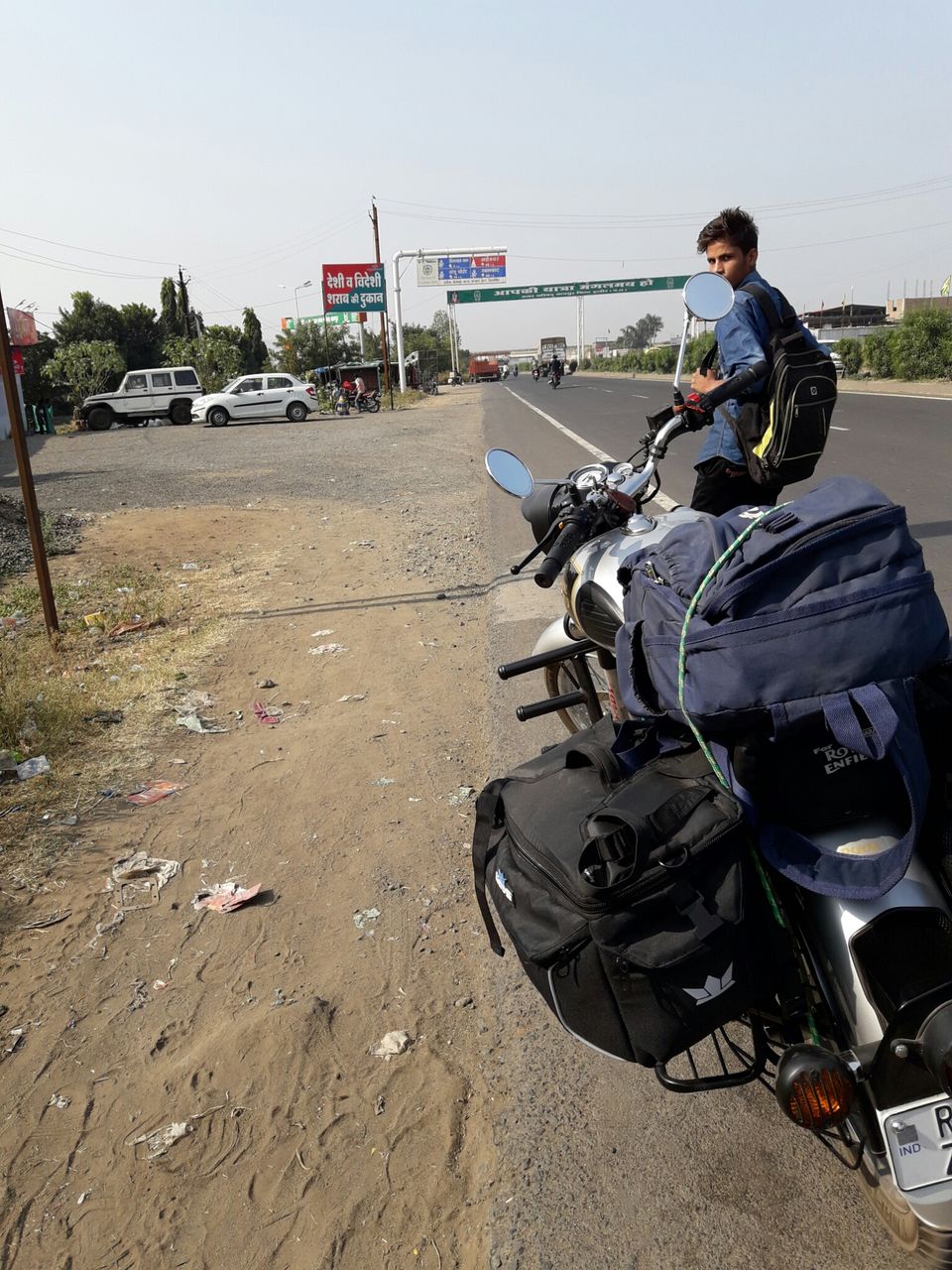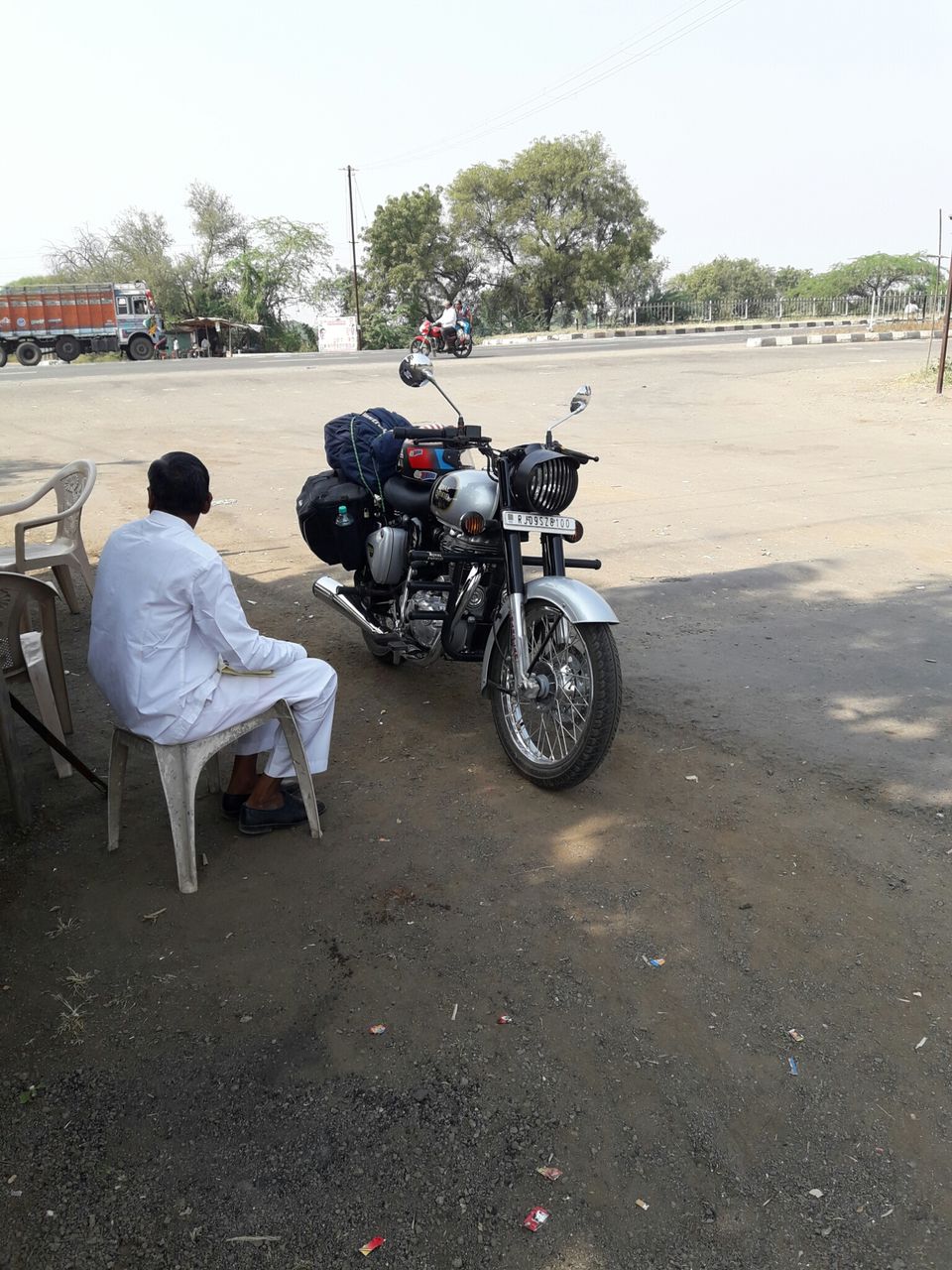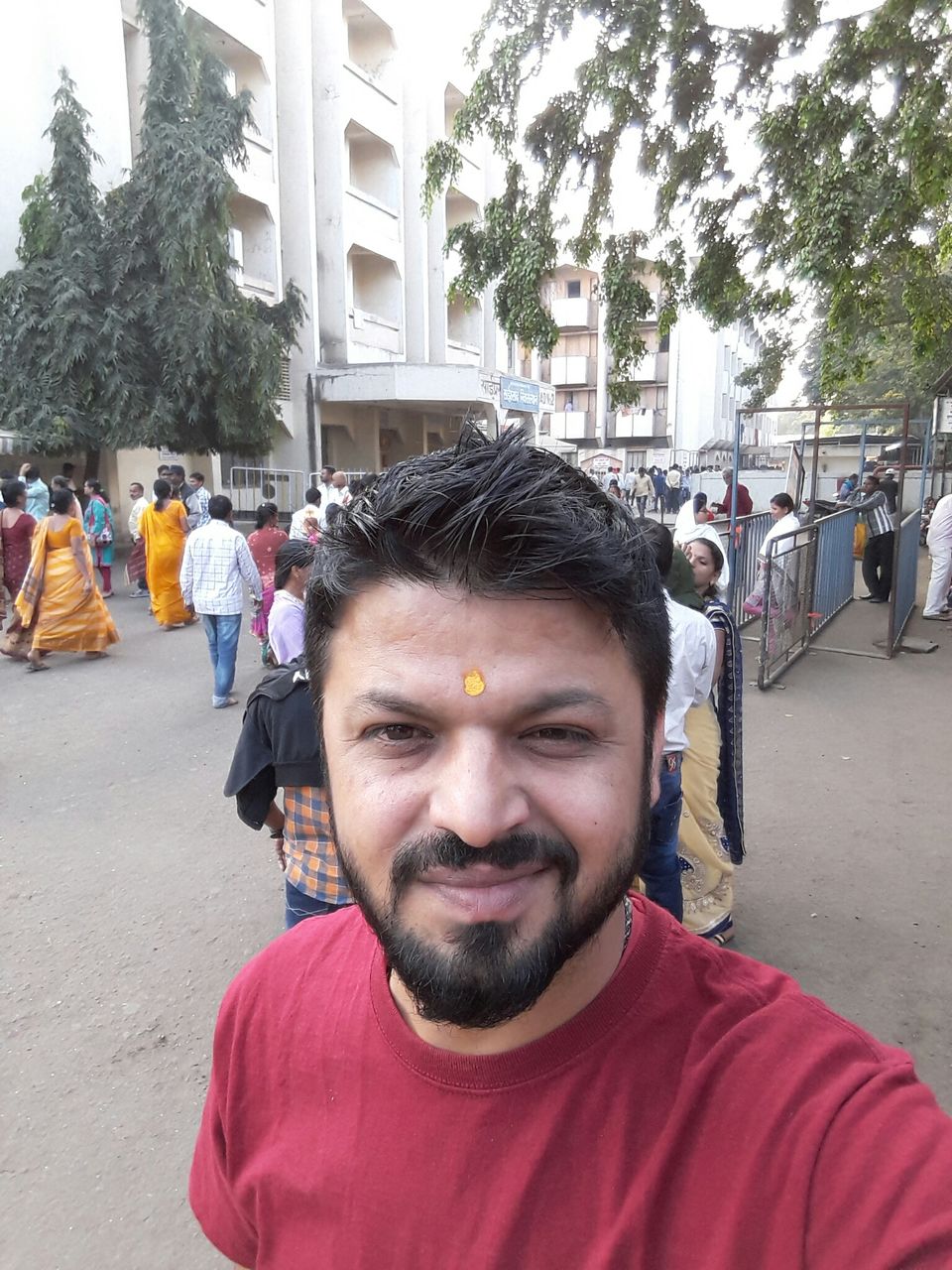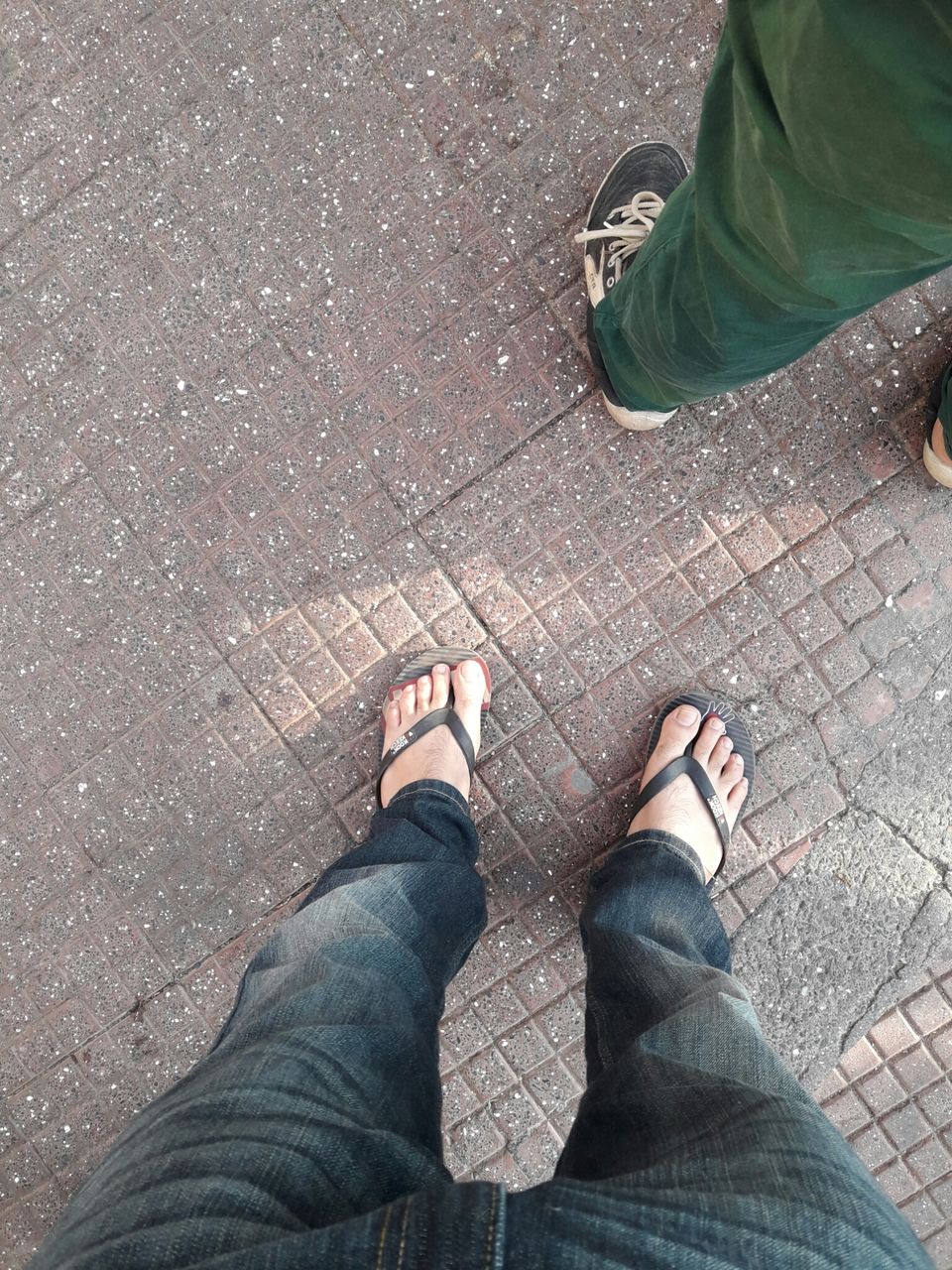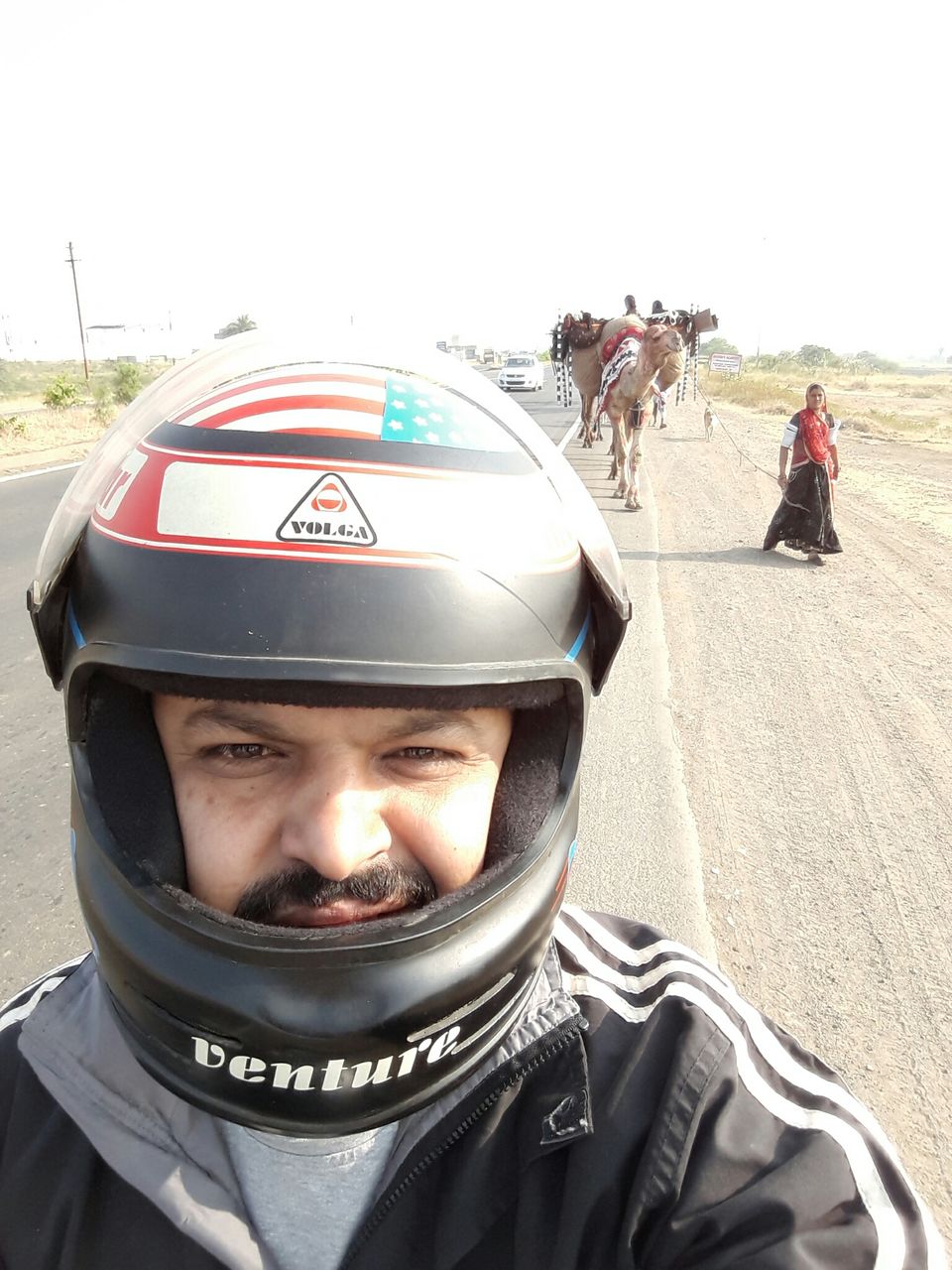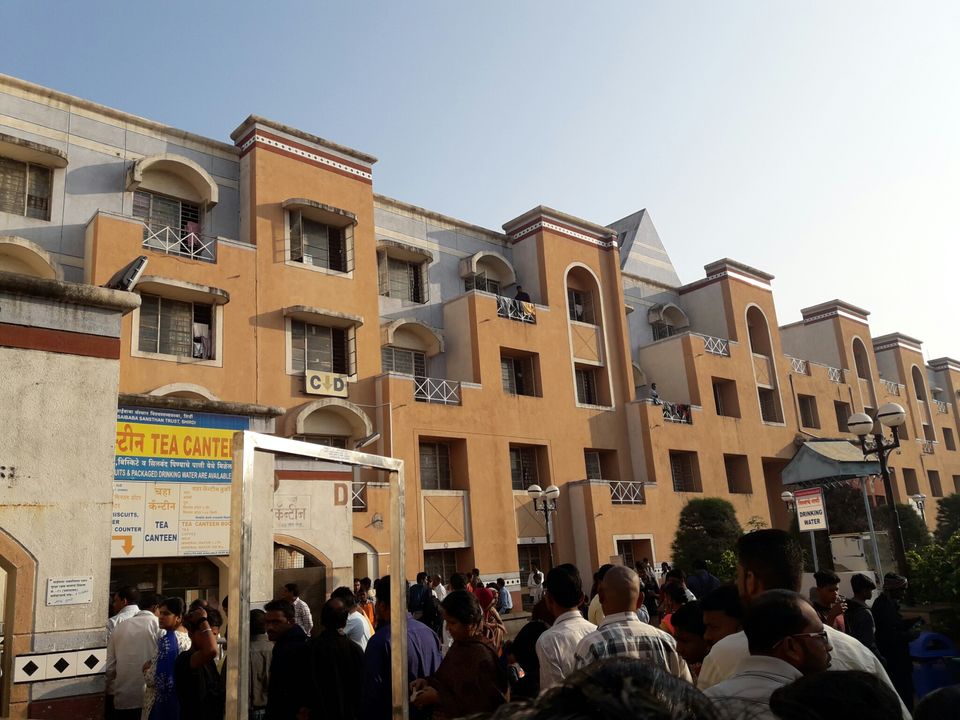 I woke up at 8 AM and left the hotel at 9.15 AM. Before leaving, I checked the engine oil level, air pressure in both the tires. The engine oil level was absolutely up to the mark. I checked the clutch cable and accelerator cable for any issues. But to my surprise the clutch cable had some issues and the movement was very rigid, I did some fixing myself (thanks to the 1 day spent in a garage learning some basic stuff) and the accelerator cable was good to be used. I proceeded towards Mumbai. As I left, I could see Darna river board, it was a beautiful one. I stopped by to click some pictures. Meanwhile there were 4 riders who were also riding to Mumbai. We met and helped click pictures of each other. Riding solo has one disadvantage; you cannot take good shots of yourself, only a few selfies here and there. The boys I met suggested me to visit Igatpuri on the way, I felt good and turned my bike on that route. It was a quite long way in woods and hills. I felt happy to know there are other bikers with me. I had fun but then eventually I had to be on my own as the other riders decided to stay back. I proceeded towards Mumbai to be surprised with Kasara ghats on the way, beautiful ones. Finally I reached my destination at around 4 PM and checked into a guest house. This ride wasn't much tiring as it was merely 250 kms of run. I told a friend of mine that I am in Mumbai and we decided to catch up. I rode to Juhu beach in the evening, visited bandstand and Bandra Fort. It was a lovely evening next to the Bandra Worli sea link. The fort exists in form of Old walls and ragged steps but that's how forts should be right! The sound of waves energizes the sleeping soul and soothes the spirit. They also have sea side cafes and small kiosks to buy water or ice cream or any snacks you want to gulp in. After it went dark, we left for Juhu where we had some Sangria and food in a very nice restaurant which had refreshing colorful interiors and an al fresco dining area. All in all, the evening was gratifying.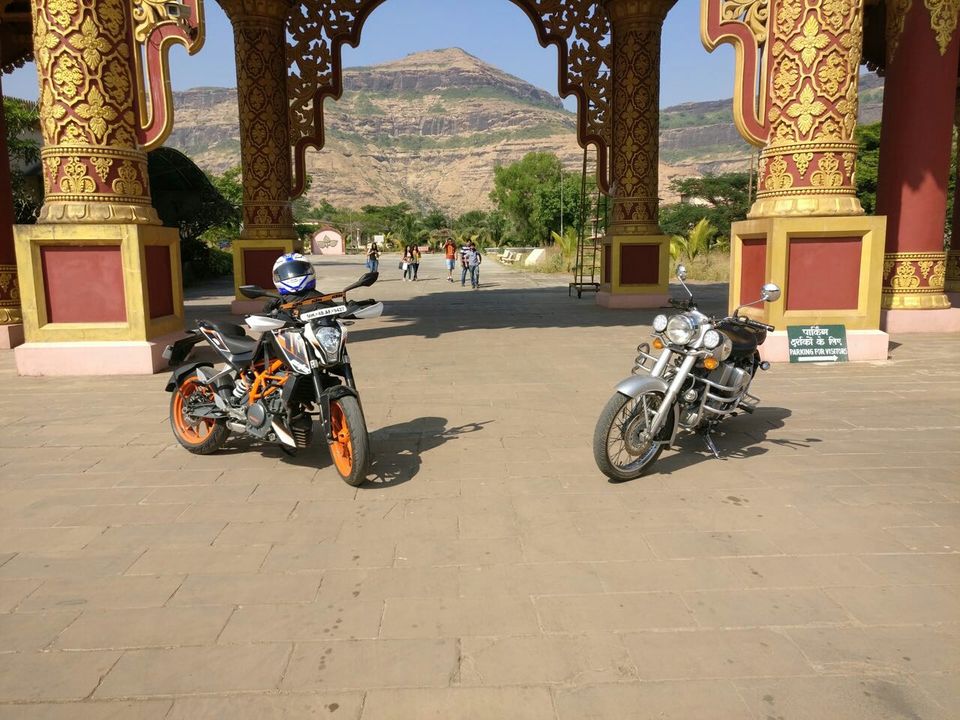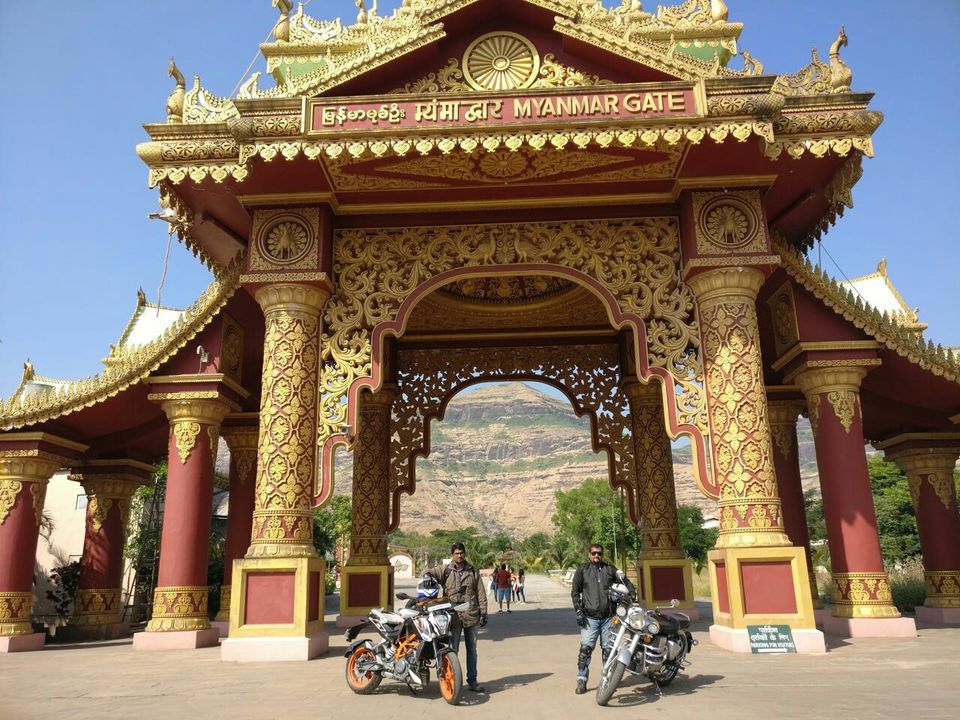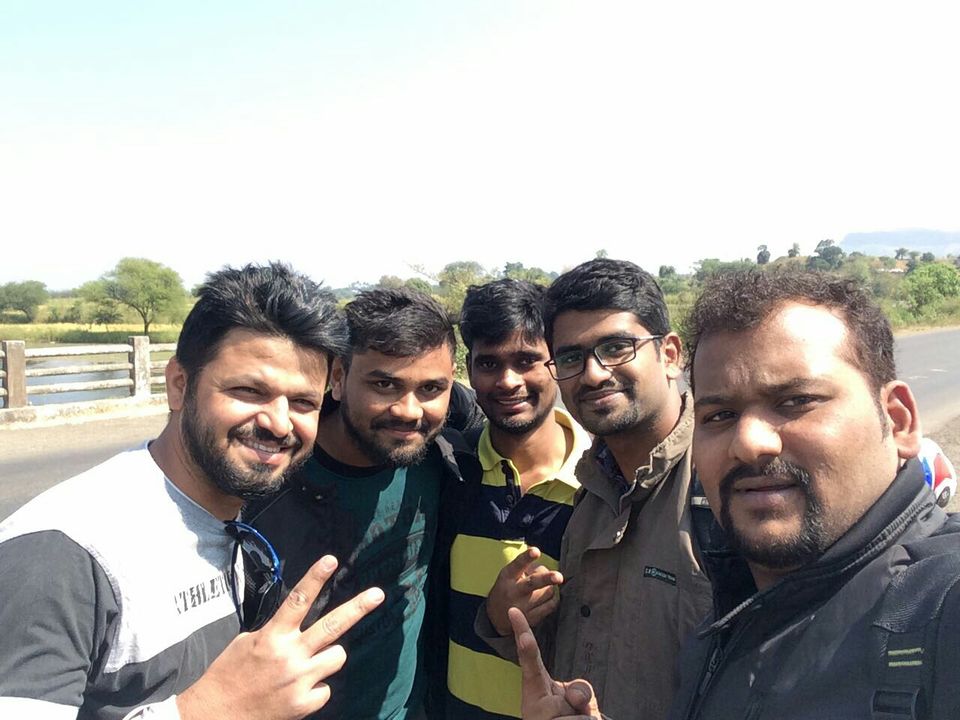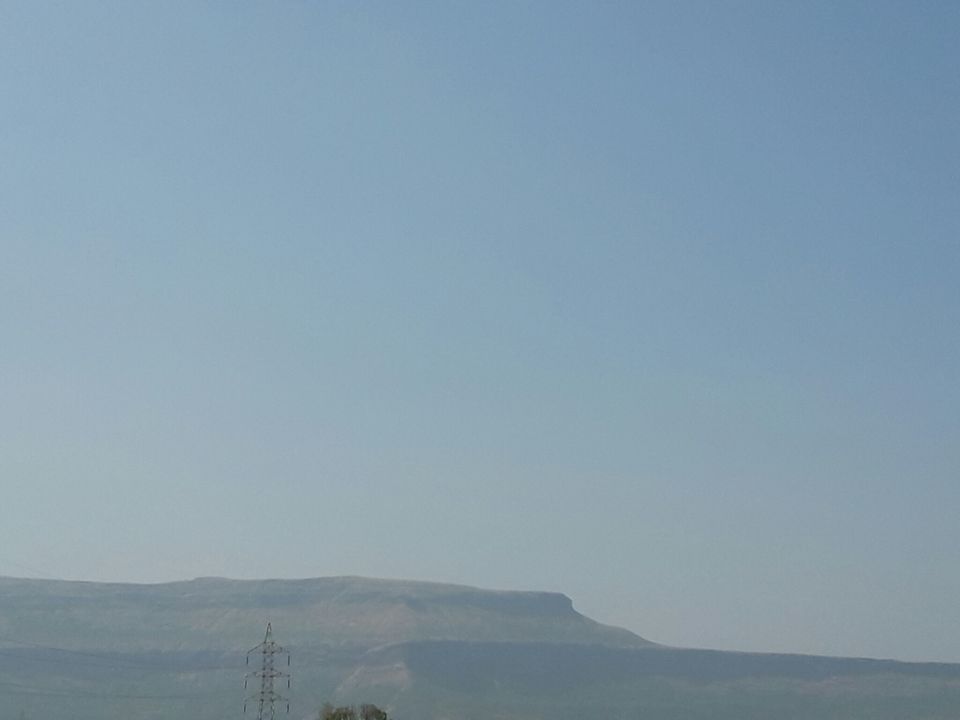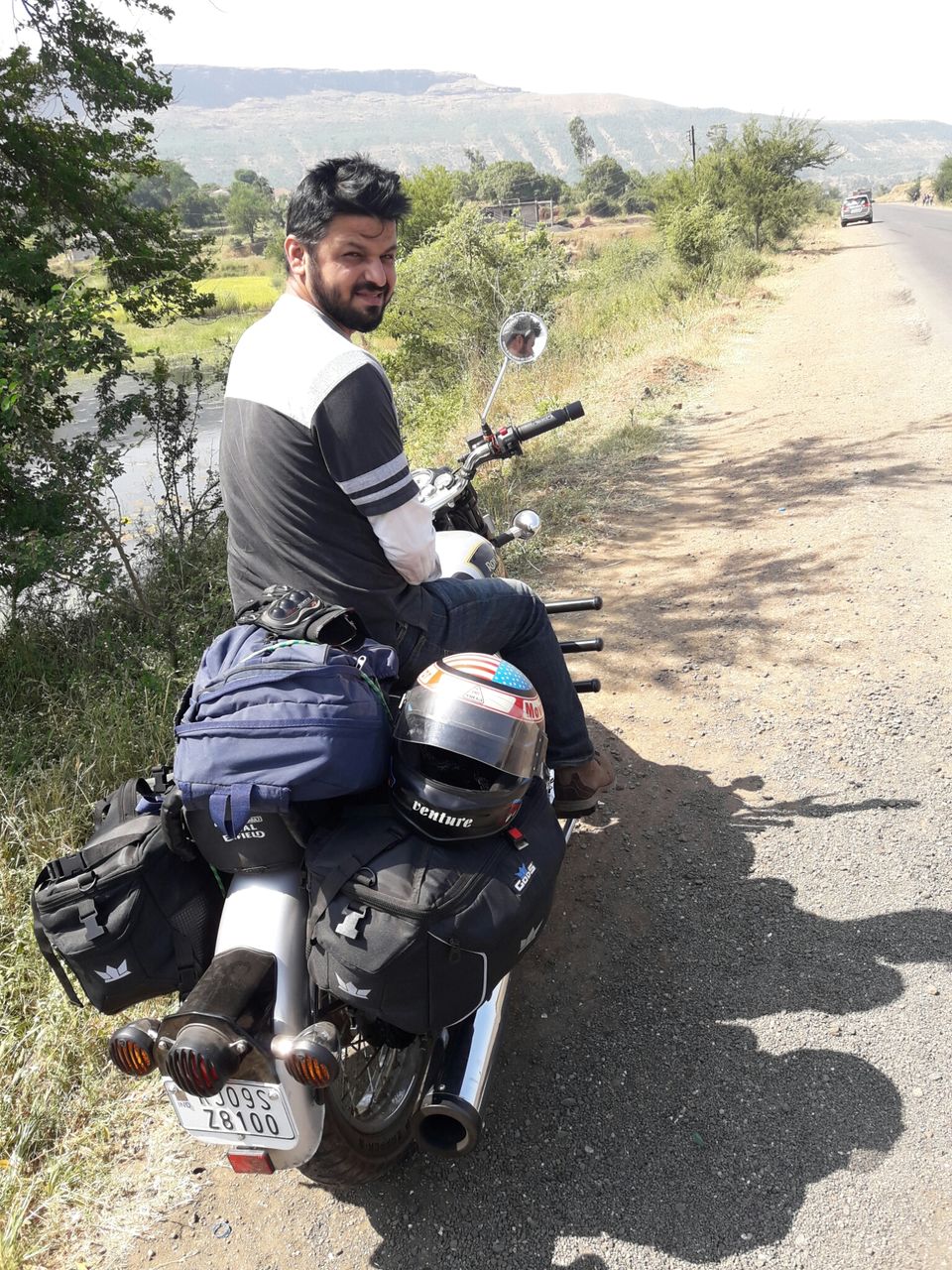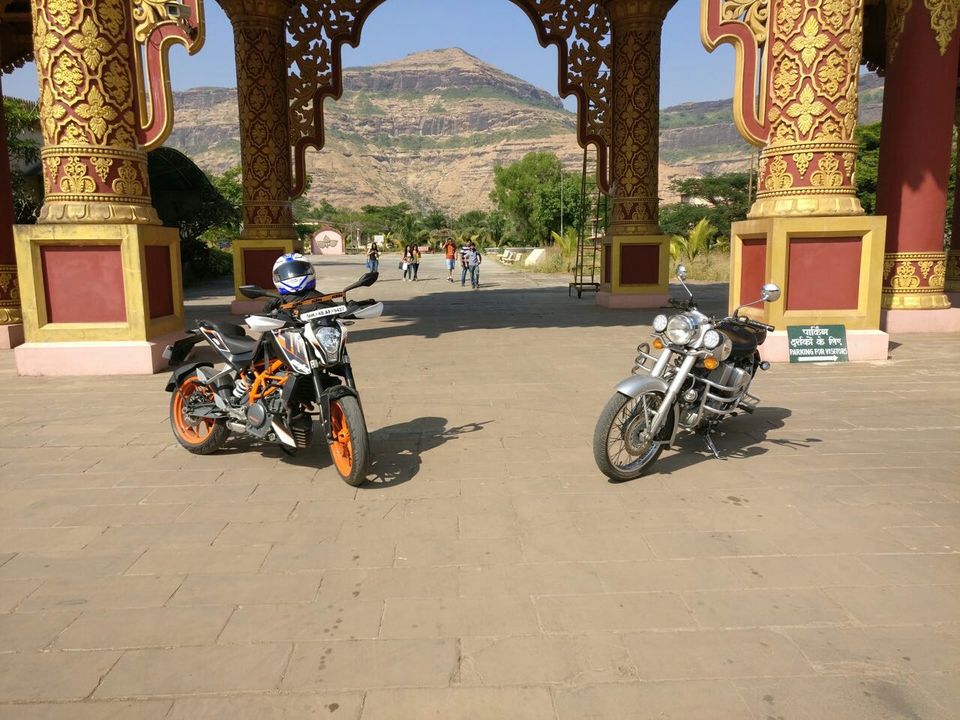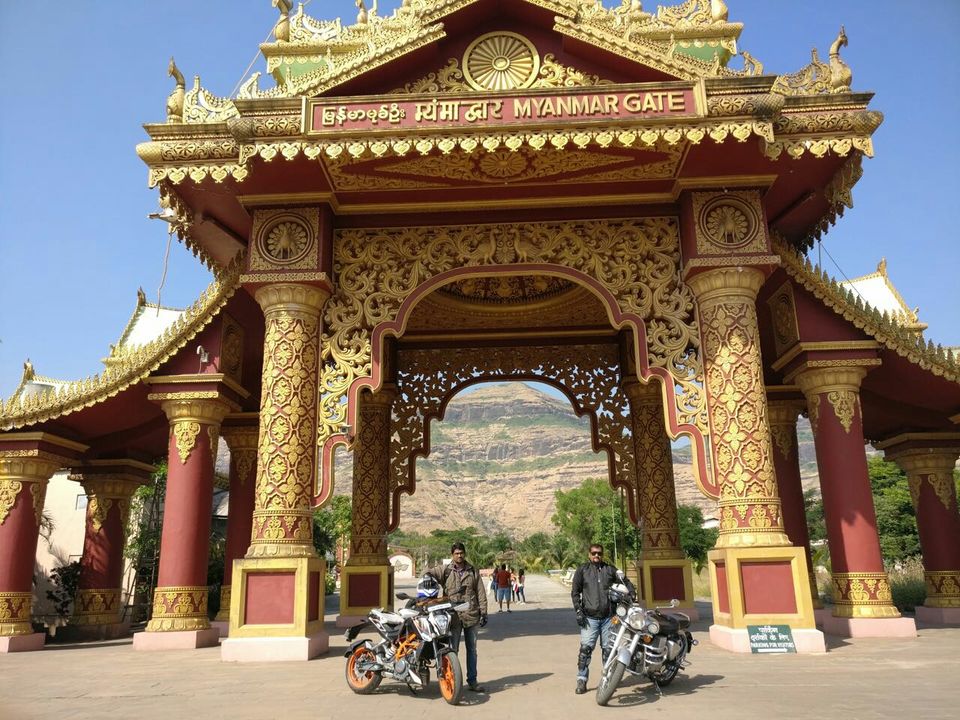 Being a Merchant Navy official, I had some work to be done in the morning which kept me engaged till late afternoon and I could only leave for Pune at 4 PM. With all my efforts and energy I could only come out of Mumbai (Navi Mumbai) at around 6 PM, thanks to the traffic there. However, the stress went down as I entered the ghats of Khandala and Lonavala. It was less crowded and I felt like meditating sitting on top of that hill. In fact just being there was a sort of meditation. Everyone seemed to be happy. I sat there for a while, looking at the lights of all vehicles coming up the hill. Played some music on my phone, I believe music is the medicine for soul. It was lucky ali on my playlist, made the evening more beautiful. This one was the most peaceful experience I had in my tour till now. I didn't want to go to hustle bustle of the normal city, but it was dark and I knew I need to ride almost 100 kms more. Got up, sat on, gave her a kick start and left for Pune. At around 9 PM I had reached. Few of my friends live there where I found shelter for the night. Took shower, changed and came out to be surprised. There was a campfire and barbeque ready haha! Weather was way colder than Mumbai and I needed to wear a jacket. As we started to get together we were few but by midnight we were more than 20 friends at the place, it was like a house party going on. I was meeting all of them after a year and I totally loved it. Looking at the clock, I had it in my mind that I won't be able to leave early the next day.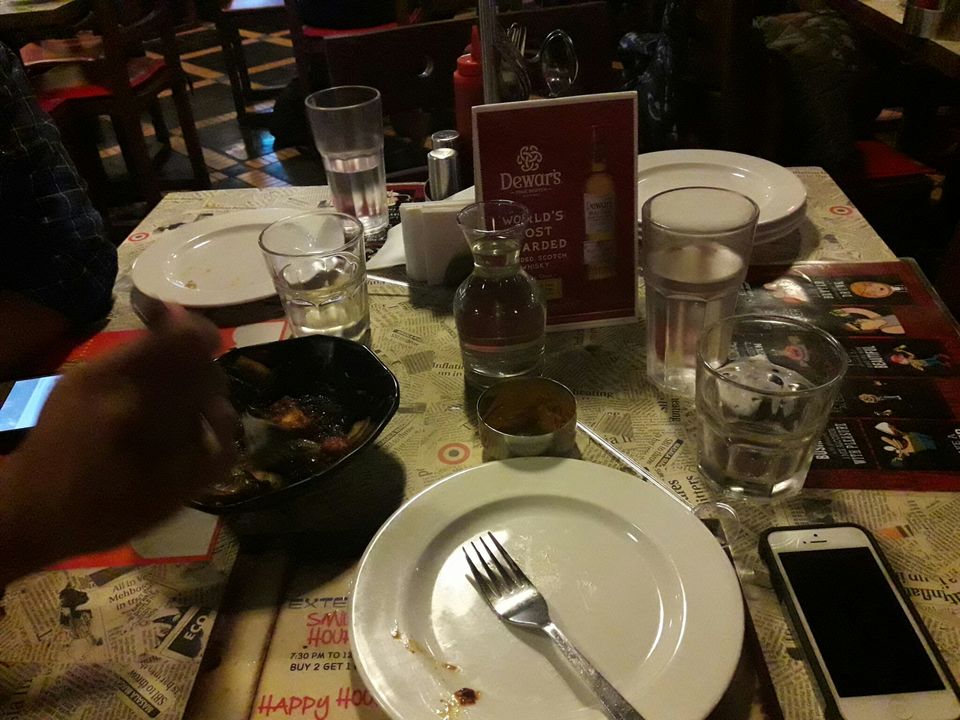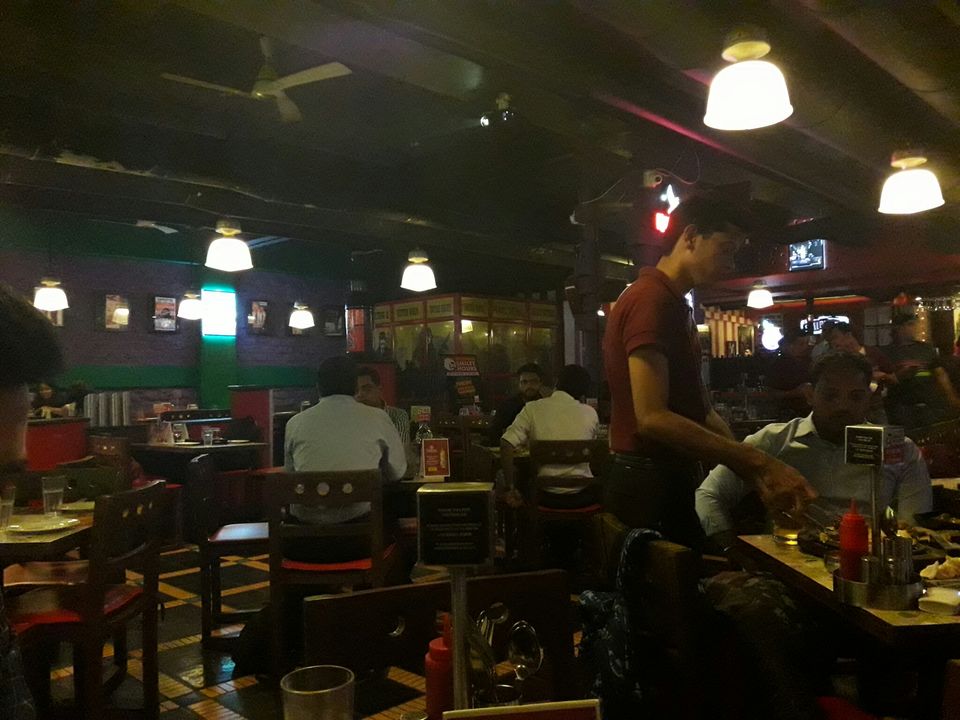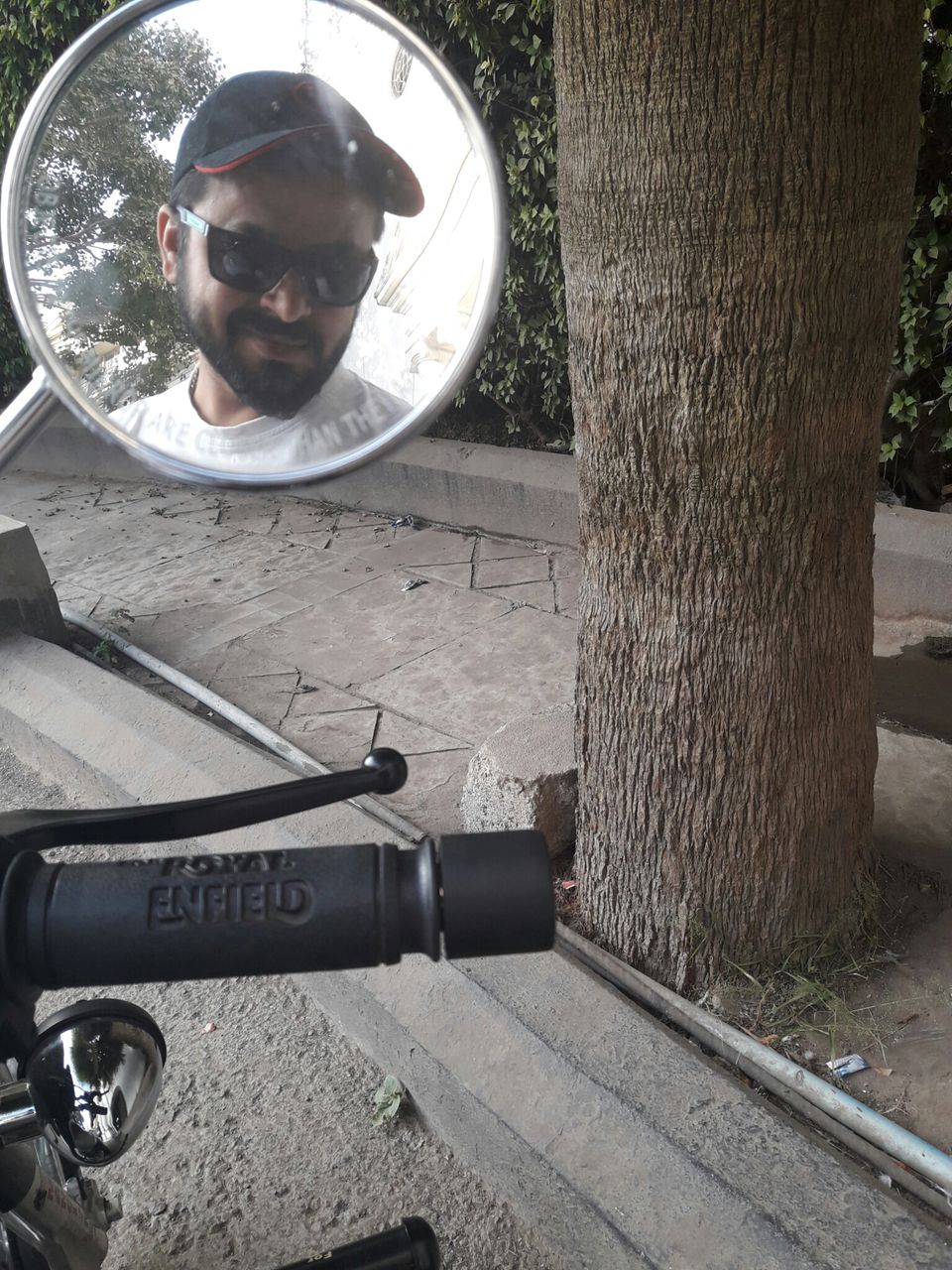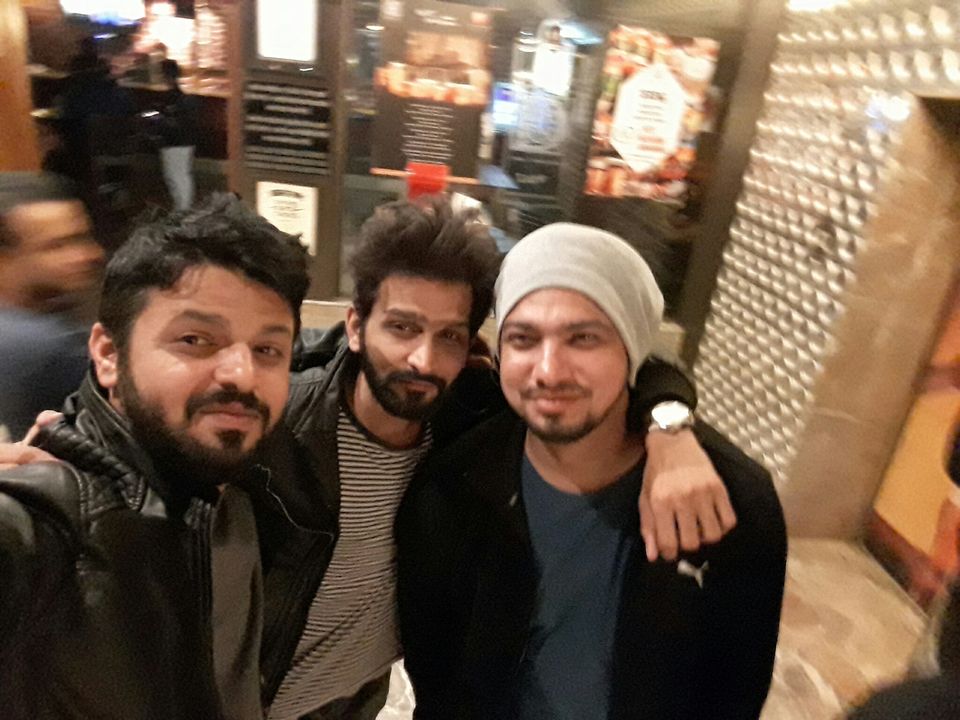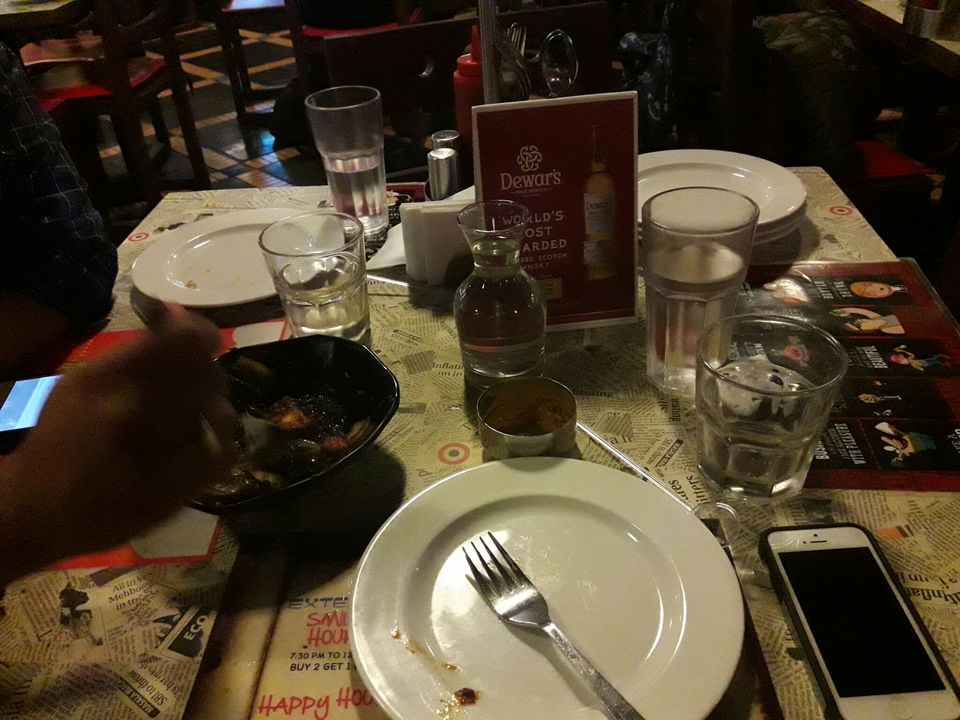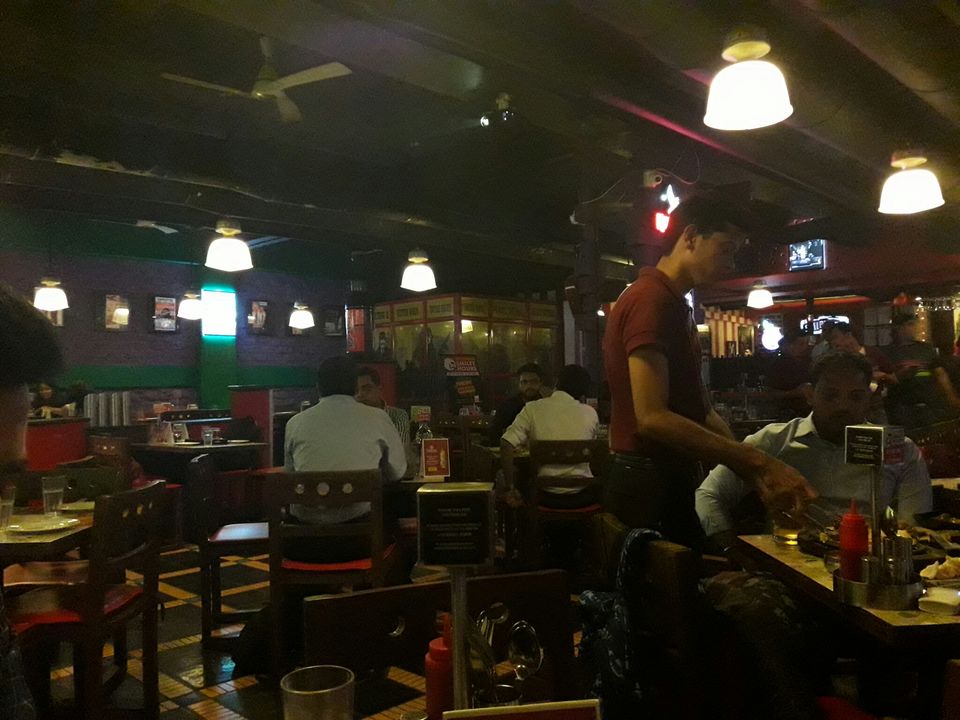 Had a nice sleep and woke up at 10 AM. Left for Dhule at about 11.15 AM, I had planned a stay in Dhule for the reason that I did not want to ride 600+ kms to Indore at a stretch. I reached at around 8 PM; it was 35o kms run. Looking for a place to stay in Dhule, I found a Gurudwara which in situated on the highway itself and they have rooms for travelers. I couldn't be happier as the place was clean, peaceful and relaxing. After I checked into the room, I took shower and went to visit the Gurudwara. The person there offered if I was hungry and wanted to have langar (food). I said yes for sure and then had simple and tasty food. Came back to room, as I felt some throat infection, I took a medicine which I was carrying in my kit. Needed to rest, I directly went on to bed and had one of the best sleeps I ve had in long time.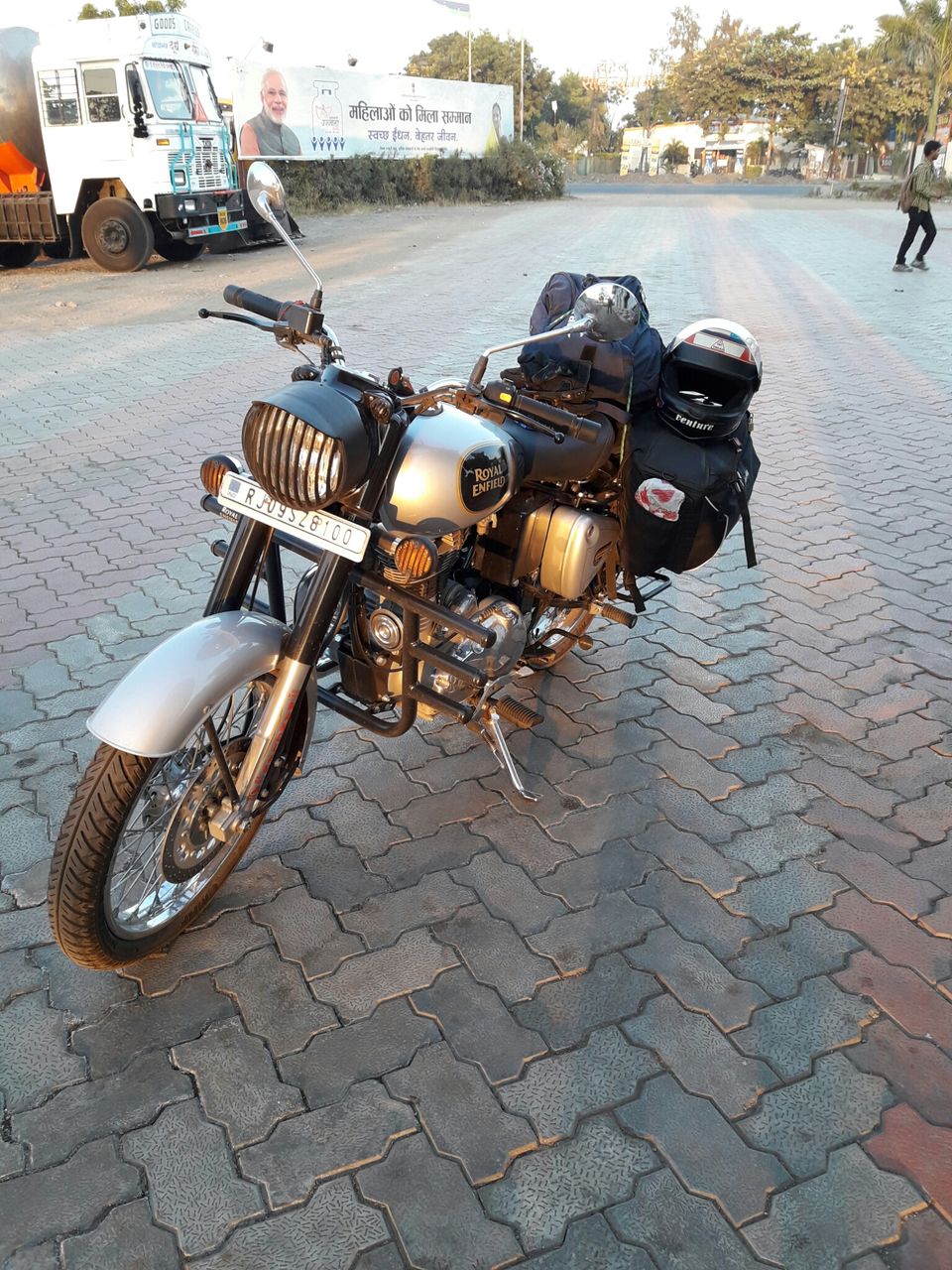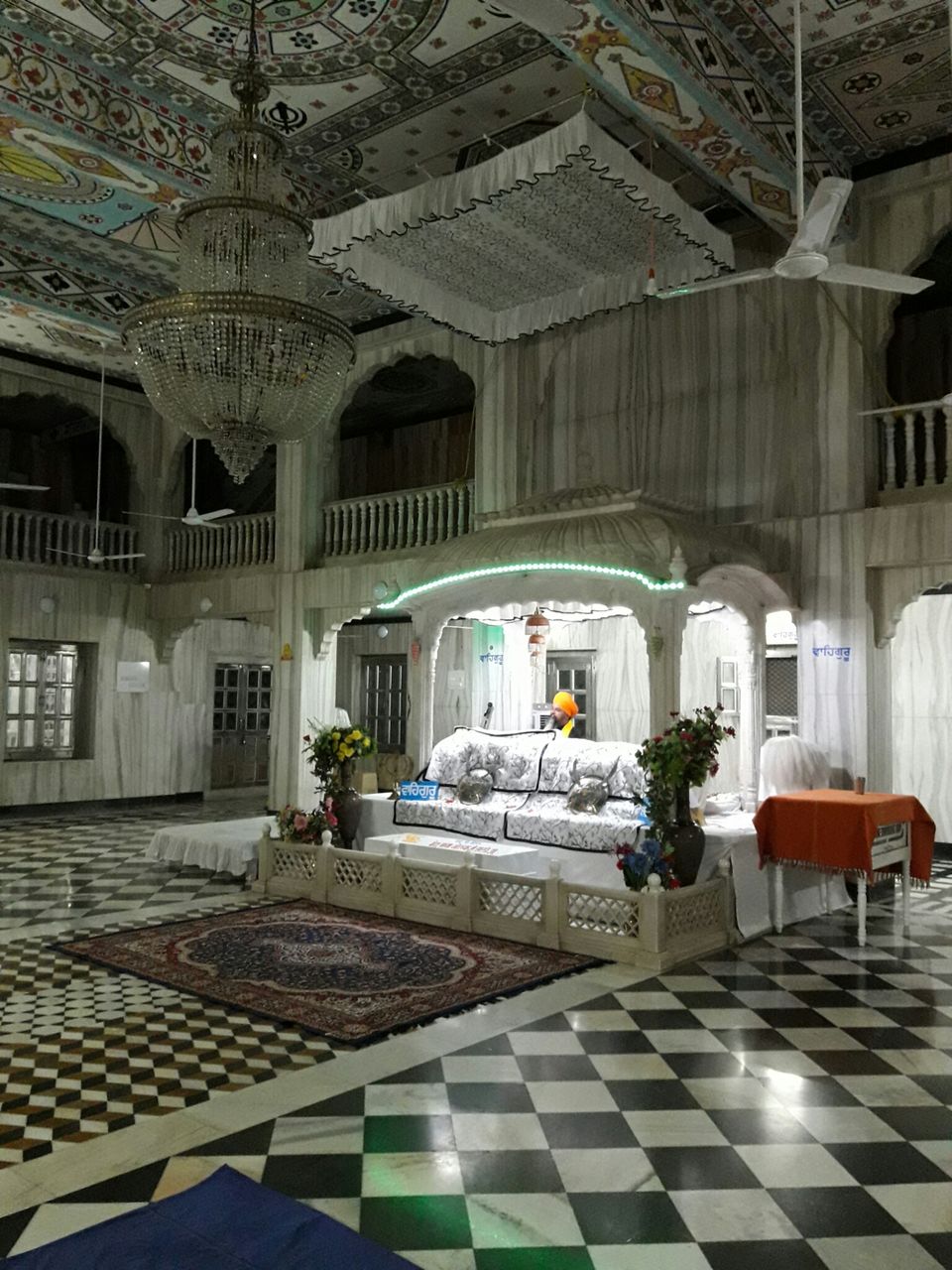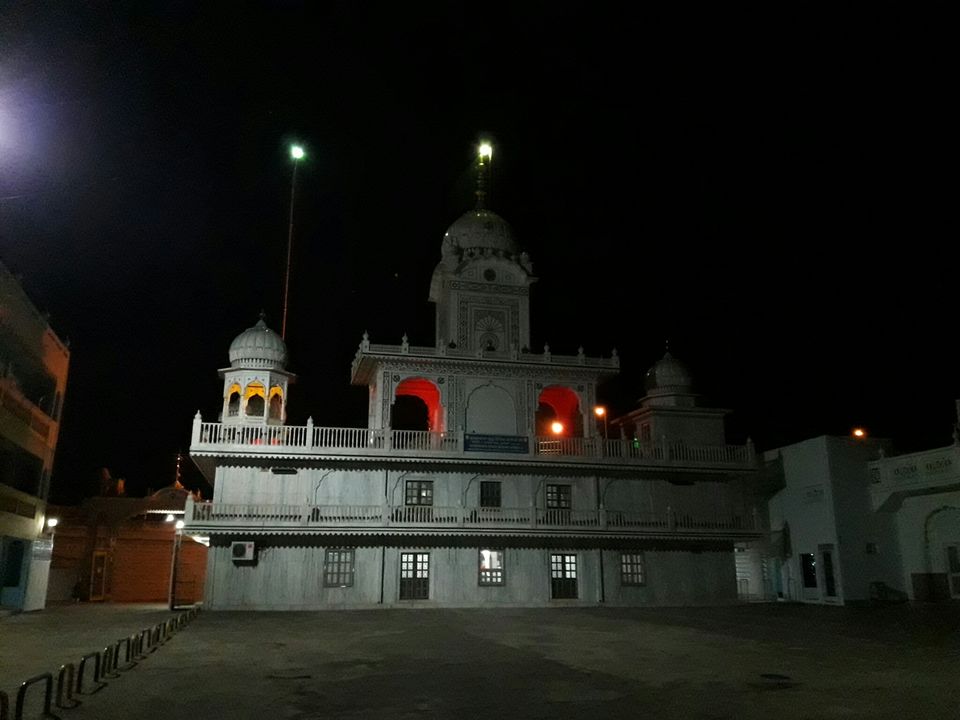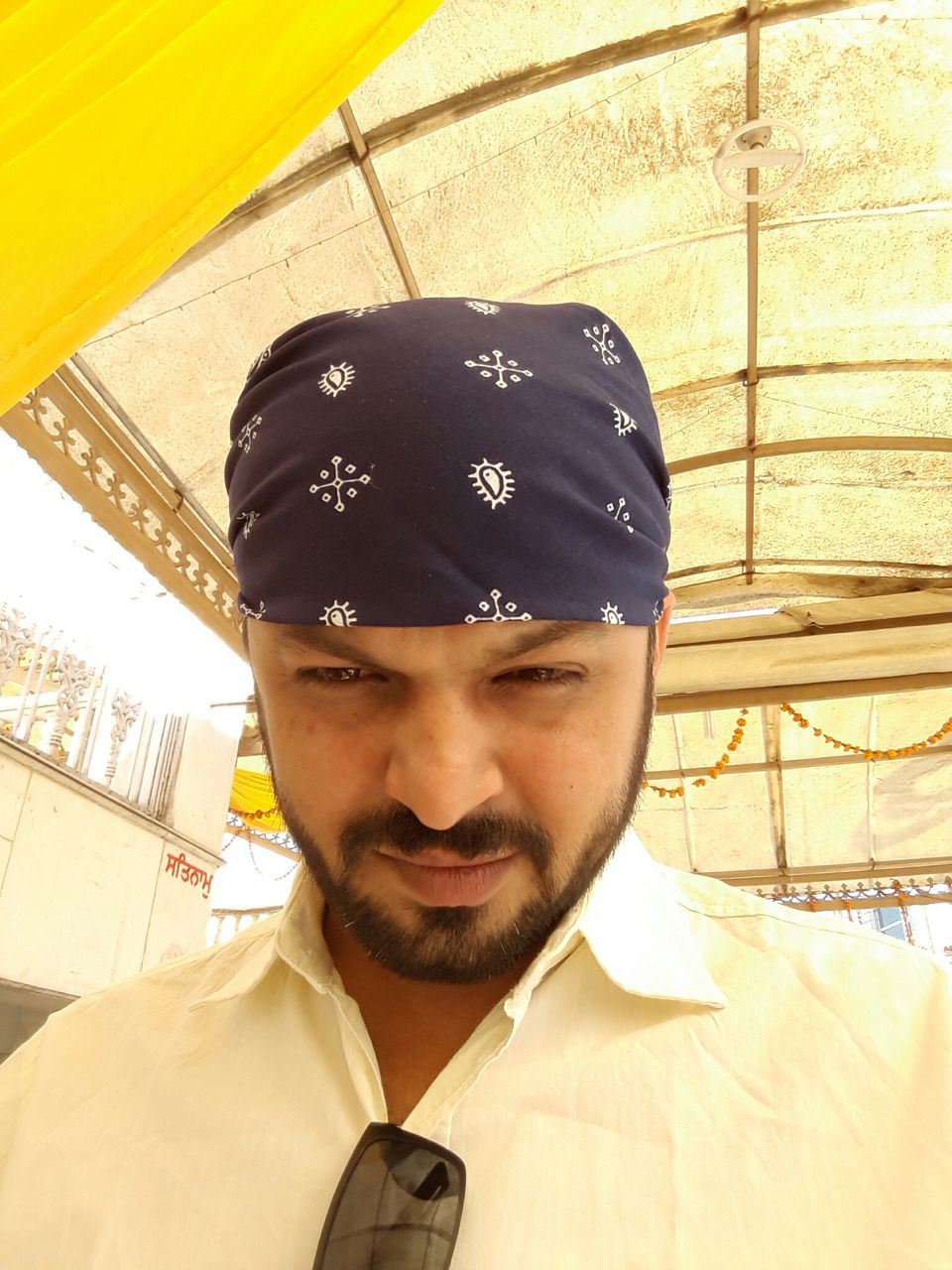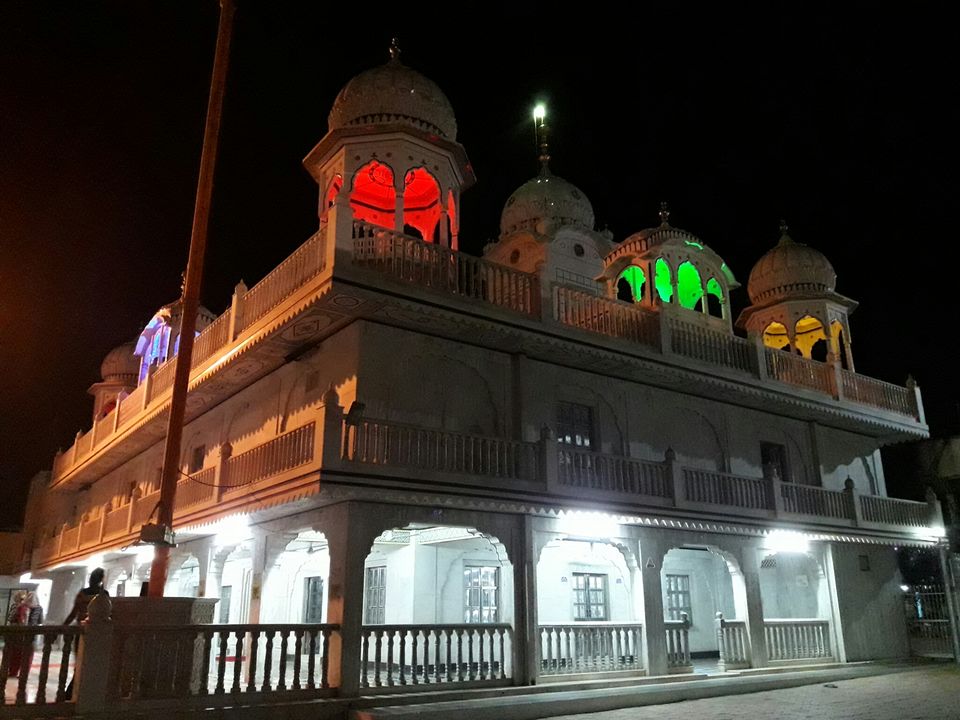 Returned to Indore, stayed with friends and the next day I came back to my home, Chittorgarh. Well, this road trip was a good one where I spent time with myself, which I believe all of us should do sometime. This helped me to re think on many aspects of my life. I am thankful to my RE bike which ran flawlessly and gave me immense pleasure of riding in all terrains. This ride of 2100 kms will always be cherished in my heart
Cheers !