As the name might raise a brow than suggest, yes this all started with me escaping my Joining day at a Digital Marketing Company in Indore. I was appointed as the Social Media Content Developer, provided a good salary and a pretty HR Manager. The Monday, when I woke up I felt like I don't want to do this. My mom had already prepared the tiffin and my dad had got the 110cc engine all fueled up before 10 in the morning, afterall it was my first Job. I wore a fresh pair of trousers, got my camera in the backpack, tucked in a crisp shirt, bid them bye and hit the road headed towards Mumbai, as the milestone with open arms declared. I didn't know my next stop, neither did I know how to while away 8 hours on a little scooter and a never ending highway. Suddenly, it hit me. I had always wanted to take this little city commute to roads unaccustomed, but I was held back by an absence of partner. 'Today will be the difference.' I thought. I had a few places in mind, Ujjain, Maheshwar, Kajligarh... but Ujjain was on a different route, Maheshwar was around 98 Kilometres single way (and I wanted to shoot the evening aarti there) and Kajligarh is too close, and thus, I was again rendered option-less. I continued straight at a swift 70 kmph, and my beaming white city-commute was doing just fine. TVS Jupiter 's weight is a bonus considering it's comparatively wide wheelbase and wider aerodynamics. Don't we hate it when the vehicle almost feels in the air after a certain speed? Like Alto does at 120, but my Jupiter was doing a pretty handsome job at the throttle and maintaining the connect with the road. The 130mm drum brakes do a decent job at a controllable speed, me being a very light rider (I am 56 Kilos) the front brake throws off a little.
The board ahead provided an assortment of directions - Mumbai, Mhow Cantt, Choral Dam, Patal Pani and Delhi. I took the one, apparently being most traveled by and as of today that made all the difference! I knew the road to Mhow Cantt further goes to Choral Dam. The highway then bifurcated into a narrow busy road to the left and a seamlessly wider road the right - proudly headed Mumbai. I turned left. It was almost an hour that I had been riding since; My eyes felt dizzy and shoulder ached a little ( scooter things) so I decided to go a little without the Helmet. As soon as I opened the Helmet, the honks and engine roars beside that were just about audible now blared straight into my ears. The breeze, though was not as merciless as the people, it changed from warm to cool depending whether I was passing a tree or a building shade or riding under the naked sky and that fluctuation has a smell of it's own, especially in such hassled winter mornings. Though not all over but I can proudly claim to have road tripped in almost 12 Indian States and my vote for the best surely goes to Madhya Pradesh Tourism; riding is a sheer delight here, with roads as wide as your sights can hold, as smooth as your tires can crib for, and the milestones? well, as informative as it can get. Green isn't just a color here, people live with it all around. Mhow cantt is some 7 km's from the diversion I mentioned before, the entry to the cantonment reminded me of my Class 8th - I was in Jhansi then, studying at Army Public School, Babina Cantt, the base honored to have given some of the best Kargil Warriors and this Mhow Cantt is nowhere far with the first premise declaring itself the "Kargil Dwar". The 2.5 Kilometer ride through the cantonment was a refreshment, the sun was now properly ruining the fog, the Cadets in their uniforms, cycling, walking, parading. The sound coming from the Army Firing Range was more patronizing that horrifying. The Indian Tricolor flying high, the total premise beamed of Bottle Greens, Blacks, Camouflages and some bright autumn yellows, the vivacious Satpuras outlining the view from afar, misted in tranquilizing blue. In times when Patriotism is asked for or forced unto, riding through this place was comforting. I stopped near a pavement to ask the way ahead, the man was a cadet as I could figure out from his name plate; 6 months in Army School and 2 years in NCC has taught me to look first at the right side of the chest and then into the eye, as our Drill Master used to yell, 'Know a man's designation before his name.' The cadet in the most kindest of approaches drew me a map on a little note-pad paper, I couldn't help but salute him, say a thank you and leave.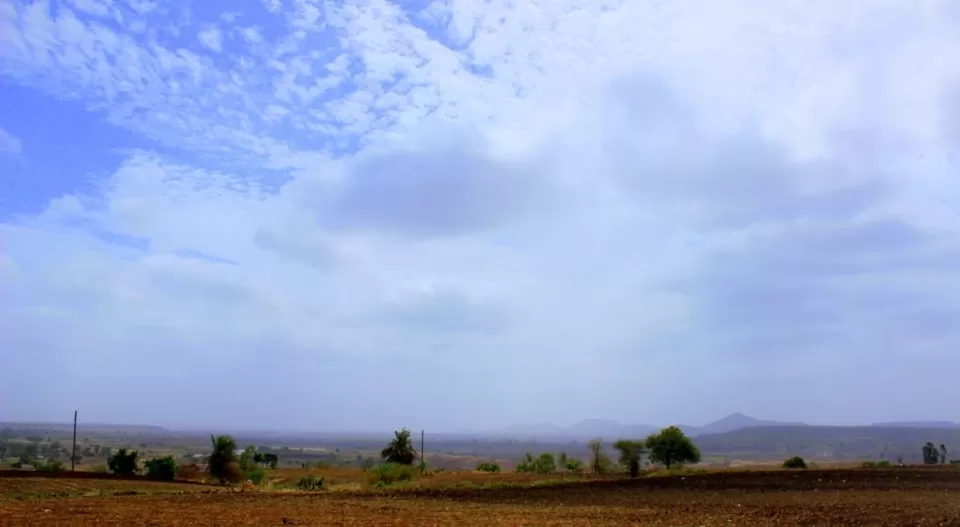 Passing by heard of cattle, many a times stopped by some too, I rode on to conquer the next 35 Kilometres. With the Satpuras to my right, and open fields of greens merging with blues on my left, I almost forgot how the day started until the right shoulder began to ache and the engine started to gnrrr. I thought it would be the best time for a tea halt. By the way, let me tell you Teas are best here, not those 'Pani-milakar banaya hua' but real and ample milk tea with big samosas is a must have on the roads. After a 20 minute halt that helped my shoulder ease the cramps and the engine cool down, I mounted again. The road from here would be a surprise for a guy riding on a day of detours.
Trust me, traveling solo has it's perks, you ride your way, halt for yourself and stop for none. Though riding across the interim of Madhya Pradesh, with a camera along with can be a little worrying provided the kind of news being reported everyday. I have been here for 3 years, initially I set off with distrust, talk to none and return home with an empty ride filled of cow 'moos' and unattended bird 'chirps' but hey! keep the news at bay, give into your instincts rather; and going by that way I never felt any worry, instead I must say the people here are very helpful. Yes, they try to show that you're an idiot to have done that and you must listen to them and do this but that's okay, after-all if you ever visit my house I'm going to treat you the same way.
The ordeal for my handsome city-commute was due, the road turning left from Gawli Palasia claiming Choral Dam to be a mere 3 Kilometres is what took an eternity as caused much of the aches in my body, A Gravelled Path! The size of Jupiter's tires is 12 inches which is normal for it's segment but as a savior the 150mm ground clearance is a splendid feature on such roads. The suspension is pure beauty for a variomatic, absorbing every thud and bounce; the body being a little free jumps effortlessly, thus lifting the ass up a bit helps in case of unnoticed bumps and to do that the leg-room is a grace.
Don't you feel like questioning me now? All this for what?
So here, I would leave it on the photographs to speak.
I spent an entire hour here, had my lunch and was occasionally stared at by passers by; I am in formals, remember?
With this, I add some 150 odd kilometres to my odo and complete a total of 5000 Km's on the Jupiter.
I return home with absolutely zero thoughts, with plans to do the next ride sooner. Maheshwar or Ujjain it's going to be.
I need some more information about the engine to take it on longer rides, I'm going this Wednesday for a routine check to TVS Motors, because this handsome kid needs more than it's made for.
Posted in Tagged Travel, Indore getaways, Indore travel destinations, Madhya Pradesh Roadtrips, madhya Pradesh Tourism, Places to visit in Madhya Pradesh, TVS Jupiter Uncategorized
This blog was originally published on 'SOHAM BISWAS'