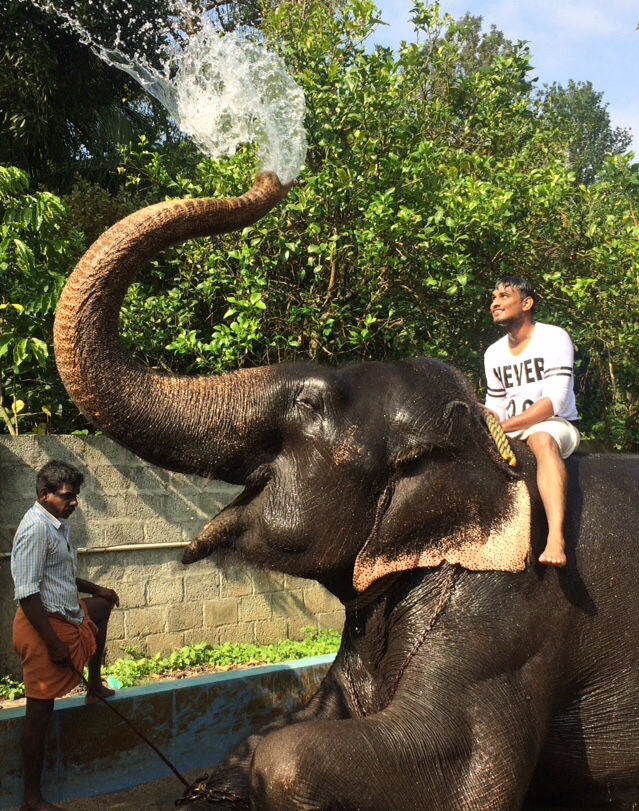 If you love chai or If you are planning to visit tea fields of India then Kerala should be in your bucket list. If you want to feel blessed with heart of nature, peoples love and traditions then you should backpack to gods own place. Kerala is a place not only filled with beauty of nature also with full of adventures like trekking, bamboo rafting, boating, zip line and paragliding so i planned for a solo trip to kerala. This post will be helpful for both India as well as International. If you have any doubts feel free to post a question in comment box or write me a direct email.
How to Reach?
Kerala state is sandwiched between Arabian Sea and Western Ghats. Kerala could be reached conveniently by air, rail and round. Here is how to reach Kerala by air, road, rail and sea.
By Air:
Reaching Kerala by air from across the globe is easy. There are three international airports located in Kerala:
1. Whereas Thiruvananthapuram International Airport is located in the southern part of Kerala,
2. Kochi International Airport is located in the central part of Kerala.
3. Up North, Calicut International Airport is also connected to both India as well as international cities via flights
By Road
Kerala is easily accessible by road from any part of the country through National Highways 17, 47 and 49. Directly connected by road with Karnataka and Tamil Nadu, the state of Kerala has a network between its important cities by a number of state highways and other metallic roads.
By Rail
Most of the places in and out of Kerala are interconnected by 200 Railway Stations. Direct trains to Kerala can be availed from Delhi, Mumbai, Chennai, Bangalore, Kolkata and other major Indian cities.
By Sea
From Kochi, there are regular ships venturing towards the Lakshadweep Islands. Within the state, the backwaters of Kerala are not only a popular means of transportation, but tourist attractions as well. Presently, these internal water navigation systems are the single most popular travel product of Kerala with its public ferry services, speed-boats and houseboats or 'ketuvallams'.
Adventures in Kerala
In this post am going to share few places that you should visit when you are planning for a solo trip. This will not cover up all places and if you are looking for short weekend plan then this will be the best. There are numerous trekking and adventure places in Kerala blessed with natural beauty.
Jeep Safari in interiors of Kerala
Jeep safari is one of the best opportunity for animal lovers to spot the animal in middle of forest. In Jeep safaris you can explore the rugged terrain, hilly terrain or any other off beaten track in Kerala . In kumily there will be lot of jeep safari and tour packages. Jeep safari tours help you in discovering those places of India that are difficult to reach by any other mode of transportation.
Elephant Safari and Elephant Bath
Elephant is a favorite animal for everyone then Elephant ride should be in your bucket list. Elephants Riding on the back of a mighty elephant is a treat for everyone. If you are visiting India, you ought to enjoy elephants at least once during your vacation. Elephants are not just a part of zoos and national parks, anymore. With tourism developing in bounds and leaps, you can enjoy your vacation with elephants in a lot more ways beyond your imagination.
Place: Thekkady
Contact Person: 8547632720
Exploring Jungle on a Bamboo Raft:
Exploring Jungle on a Bamboo Raft into deep forest with the sight of a wild elephant taking mud bath and swimming across using his trunk as a snorkel, or Nilgiri wood pigeons picking leaves with their beaks from a lake's surface surrounded by misty mountains, sprawling spice plantations, and rich biodiversity is must have experience in your life.
Place: Thekady
Contact Person: 8547632720
Zip line and Paragliding:
Mud boots adventure camp has the longest zipline across the pattumalay tea estate. It is the beautiful place loved by all, especially by the peace lovers. It has a various and wide range of plantations of tea, coffee, and cardamom. But we did over a tea and coffee plantation which was longest and also highest.
Contact Person: 09544201249
Bike Ride to Vagamon:
Every guys love to do long ride alone in misty hill station . This is one of the incredible experience you should have atleast once in your life.
Route: Kumily->Vandiperiyar->Pambanar->Kuttikanam->Elapara->Vagamon
The tea estates went downhill and were there on both sides of the road the entire way to route to Vagamon. Enroute to vagamon will be definitely eye treat with complete view of tea estates, waterfalls and mist.