Tigers, elephants, snakes, bison and birds. That's what mostly roams the grounds of the Periyar National Park. With almost 1.000 square kilometers in size, it is an obligated visit in the Western Gaths when looking for an adventure away from tar roads.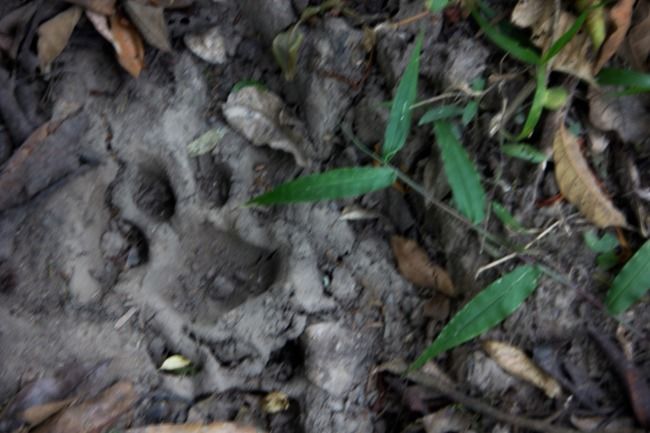 Tiger footprints
Arriving in Kumily, 4 kilometers away from Periyar, tours operator will offer several full day and half a day tours. They range from a 3 hours walk or 1 ½ boat tours, to full day walking or combined rafting safaris. We decided to take the full day walking safari, as along with the bamboo rafting it was the only full day one, and sadly, the bamboo one was already fully booked for several days ahead.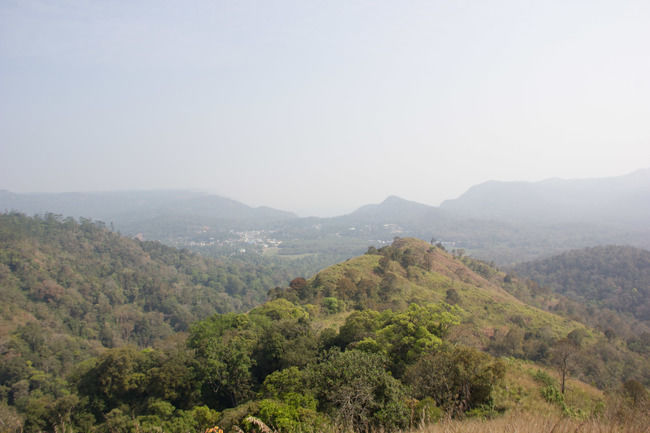 Kumily from the park
Our tour operator picked us up at 7:45 AM from our guesthouse us to buy the park entrance tickets (not included in the safari) and from there to the park offices where we met our gunman and 2 guides. There we were handled a form of leg protection for the bugs and the leeches, a bag with our breakfast, meal, an apple, a 1 little bottler of water and a small juice box.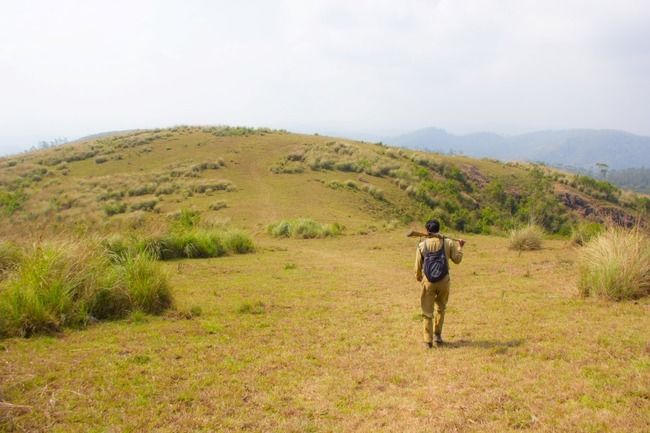 Our gunman and guide
Soon we went walking off road and through fairly thick forest. At every turn our main guide, Rajid the gunman, talked with our 2 other younger guides sending them on different paths to check for wild animals and dangers-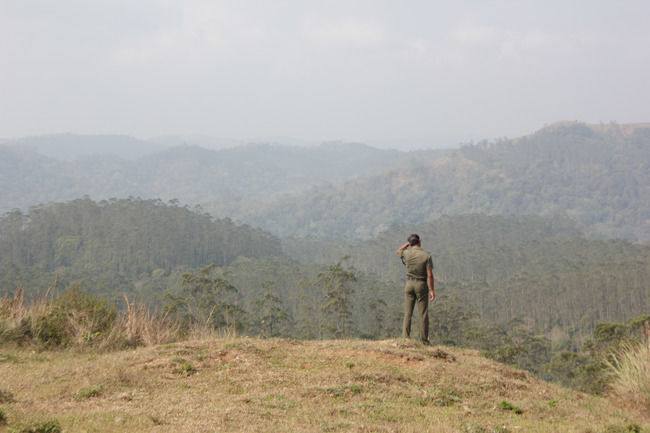 Looking out for animal activity
Through the experience we walked very steep hills, jumped through streams, navigated inside 2 meter tall grass and sat atop beautiful hills overlooking the park and the city. Often Rajid pointed out the trail of elephants and tigers through the park. We encountered paws steps in the mud, claw marks on the trees and cortex peeled of by scratching elephants, as well as disgustingly poop trails.
Parts of the walk were strenuous and sometimes a break was require to catch our breath. But in overall we all kept on pretty well.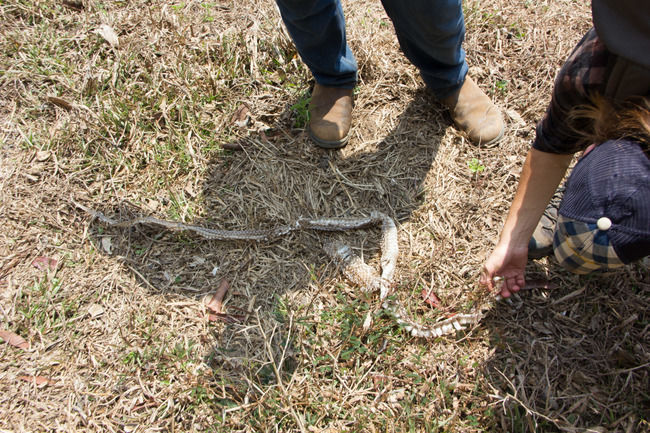 Cobra skin next to a burrow
In his 8 years of service at the park Rajid has had 23 encounters with tigers and 2 with black bears, not to mention hundreds of elephants and bison. He carries his gun not to haunt but to dissuade and protect: if a threat appears he shoots at the air to scare away the animal, then at the ground. If that is not enough to dissuade the animal he will shoot to its legs as a last resort, and then he will inform to the park so they can send a team of vets to look after the animal.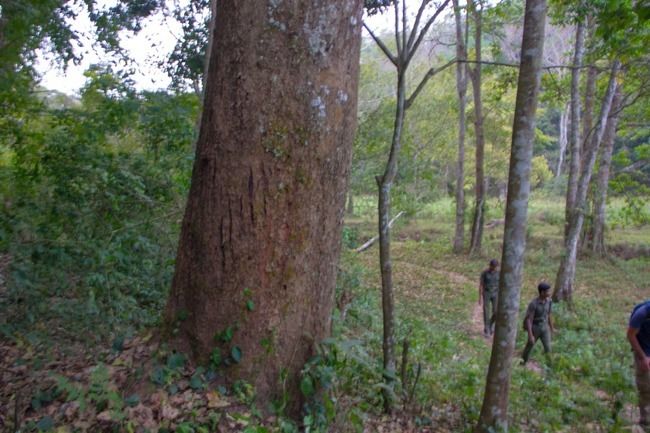 Territory marks done by a tiger not long ago
First it was a lone elephant, a male, by the side of the lagoon. Too far out of from us. Then as the hopes were starting to decay we saw a beautiful family of 5 elephants. 3 females, a male and a tiny baby elephant. We sat there for half an hour enjoying the privilege of seeing wild animals in their habitats, untouched by humans.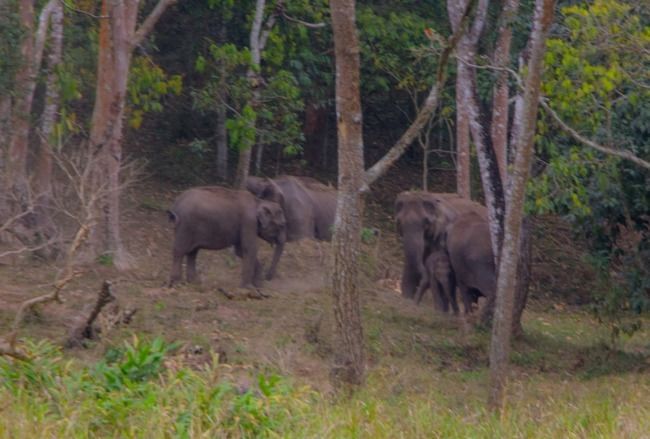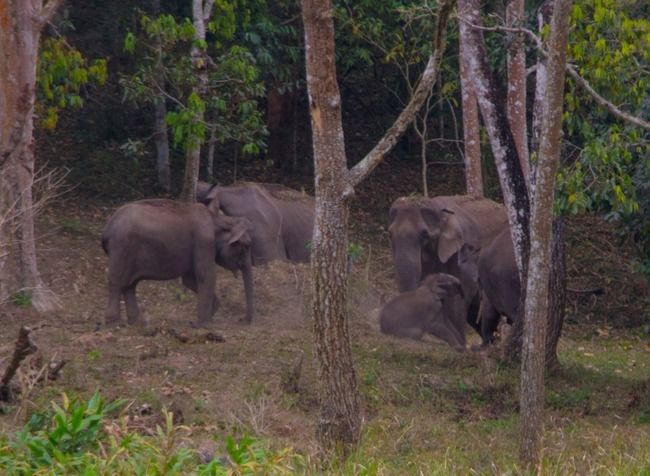 The 5 of them
Tired but happy we made our way back out of the park, hoping we could see such things more often.
Ps. After the safari you can relax with a typical Kerala Kathakali performance in Kumily. Enquiry the tour operator for rates and times. We took the 7 pm one.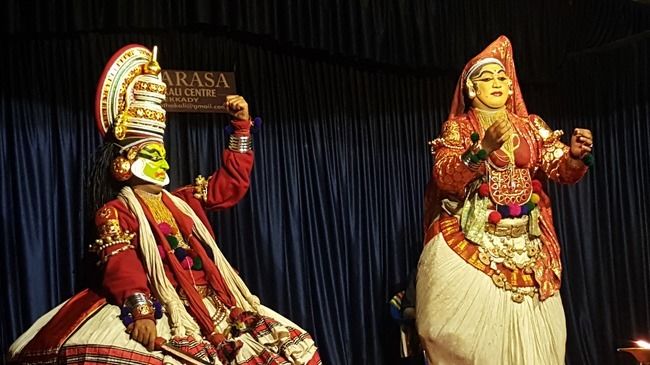 Kathakali show
According to runtastic our trekking was a bit over 14 kilometers on 7 hours so make sure to have comfortable shoes, long thin pants and plenty of sun screen.
Bus ticket between Munaar and Kumily: ₹ 40 (with big backpack charge)
Bus ticket between Kumily and Kodaikanal:
Kumily – Batlagundu : ₹58 + ₹29 (bag ticket). Batlagundu – Kodaikanal: ₹40 Around 6 hours
Room: ₹ 500 Per day (February 2016)
Safari: ₹ 1.500 Per person.
Park Entrances: ₹ 450 per person (compulsory)
Average meal: ₹ 150
Katakali ticket: ₹ 200
An animal reserve with beautiful wildlife and responsible tourism.
The basecamp for visiting Periyar National Park