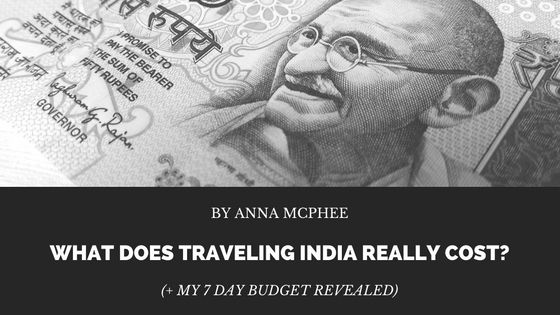 India is a vibrant land full of every imaginable contrast. Palaces next to slums, sizzling spices half-masking open sewers. A nation where the rich and the poor live side by side and every experience of life is it's own peculiar contrast.
The cost of traveling this marvelous country is a contrast too, with some claiming you can live on mere dollars a day, others insisting it is not the cheap country it used to be. So I'd like to open up my notebook and share with you how I've spent my time and money over a week-long time period, and take a look at what a realistic budget for traveling 'on a shoestring' in India might look like.
It's not where you travel, It's how you travel
Having been on the road for coming up two years now, I travel differently perhaps from somebody who is just on holiday. I like to live the local experience and stick to the budget options whenever possible. This leaves me money later for spending on the things I really want to be doing. However, I do not completely deprive myself and do like to splash out on the occasional nice meal or improved accommodation. If you're out to travel luxuriously, or do plenty of sightseeing, your budget will be higher. Likewise, if you're happy to survive purely on thali plates and samosas and skimp on the air-con, your budget will be less.
Where does my money go in India?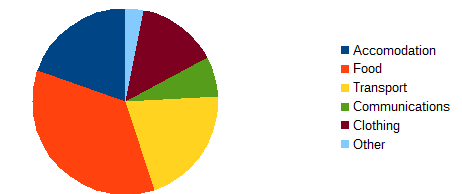 I spend most of my money on food & transportation. Some of this has been due to upgrading the odd train to AC3 (air conditioned cabin), which costs up to 3x the amount of local sleeper class. Food prices vary dramatically too, and I've been guilty during this particular week of splurging on occasional desserts and more expensive restaurants than normal.
What were my actual costs involved?
During this week I spent the following:
Accommodation: ₹1399 ( $28.50NZD /£16.10GBP )
Food: ₹ 2530 ( $51.97NZD / £29.13GBP )
Transport: ₹ 1483 ( $30.25NZD / £17GBP )
Communications: ₹ 500* ( $10.20NZD / £5.75GBP )
Clothing etc: ₹ 1000 ( $20.40NZD / £11.51GBP )
Other: ₹ 230 ( $4.70NZD /£2.65GBP)
Total spend for one week? ₹7142 ( $145.65 /£82.25GBP )
NZD and Pounds are based on currency conversion at the time of writing, so may be different at the time of reading! * This was a particularly expensive week for communications as I had to purchase and load a new sim card for use in India. Generally, data is around ₹355 for 2GB.
Accomodation Prices in India
Accomodation wise I've tried to stick to places around the ₹ 200-₹300 mark, but that is not always possible. The cheapest night I've had here cost just ₹50, and the most expensive set me back ₹600. You can easily pick up a slimy hostel bunk or rooftop matress for the ₹50-₹100, a basic double room with fan for ₹200-₹400.
₹500 a night will get you something rather nice in most cities (gorgeously-so in Jaisalmer, but you'll be stretched to find anything this price in Mumbai).
Different cities have different price tags, so be flexible. For the budget traveler, I would aim for ₹250 – ₹500 a night, depending on the city, for something acceptable, and often quite lovely.
Food Prices in India
It's easy to come by cheap and tasty food in India. My cheapest meal was from a backstreet style food stand in Old Delhi, where I devoured a thali plate of lentils, curry, rice and chapatis for just ₹40. The most expensive dinner was a night out eating Tandoori for ₹335 – which is still not exactly breaking the bank!
You can easily get a tasty curry or local thali plate anywhere you go for under ₹200, and eating Indian style breakfasts will only set you back a dollar or two. Even nicer restaurants won't usually break ₹500 per person, so it's easy and economical to eat well here – as long as you eat Indian food.
On the streets you can pick up tasty sweets, samosas and pakoras for just loose change (think ₹20-₹40 or so), and delicious Lassis from local lassi-stops are generally ₹30-₹40 (although inside a cafe or restaurant they can range ₹50-₹90) Prices go up (and often quality of food down) when you try and find Western cuisine. However, Chinese, Tibetan and Nepalese food can often be found to be cheap and tasty here as well, thanks to the close borders.
Generally speaking, I try to keep my breakfast around ₹150, my main meal of the day at under ₹200, then a few snacks as well.
Ideal India Budget
To make a little more sense of it all, my daily average spend is ₹1020 ($20.80NZD/ £11.75GBP) for everything, with ₹361 of that going toward food and ₹200 of it toward accommodation.
If you're really trying to cut costs, or make a point (as I am in this post), you can get by on just ₹1000 a day. However, if you want to see the sights and travel cities more than once a week, with the odd luxury meal out and occasional nicer accommodation, I'd budget ₹2000 a day, or ₹14000 a week for your trip to India
Cutting costs even further
Considering that just over 20% of my budget is spent on transport, it's fair to say that staying put in one place could dramatically drop the budget. In fact, on this trajectory, without paying for any trains and just relaxing in one spot for two weeks would bring my daily average spend down to just ₹808, well within my ideal budget.
I also enjoy using sites such as Workaway to exchange my skills for free accomodation. It's not just a cheap way to stay, but also an excellent way to get to know the local culture and area better.
Traveling in train sleeper cabin rather than AC3 or AC2 is another way to reduce costs significantly, as sleeper class is generally 1/3 of the price. In fact, choosing non-ac options for both accomodation and transport can dramatically reduce the price.
Eating more street food, and dining at local restaurants can significantly reduce the overall food costs, with cheap street food easily costing less than ₹ 100, compared to the ₹ 300-₹ 400 that can easily be spent on a basic meal at a nicer restaurant.
Interested in how others live and travel in India ?
Some other inspirational travel bloggers have written about their budgets for traveling India, take a look:
Wandering Earl gives a fantastic and detailed breakdown of the average costs in India in his post "How much it costs to travel in India"
Anna (A different one, not me!) is based in Goa and writes at GlobalGallivanting. Check out her artice "The average daily budget for backpacking in India"
Rachel of Hippie in Heels writes 'Your backpacking india budget: 20 USD a day"
This blog was originally published on 'The Freelancer Explorer'