As a part time traveler i always juggle between taking leaves for travel and working 9 - 5. To balance it i realize that i have to utilize weekend to feel my wander soul. Yes it is possible if you plan in well advance. I always check my calendar three months in advance and plan my weekend trips. If any long weekend is coming i would definitely take one or two days extra leave and plan for long trips. some trips were prompt where we will plan just one/two days before the weekend. But my point here is its possible to do both work and travel, it totally depends on how you manage it.
Here is how i traveled four states of India in One month.
First Weekend
First weekend of April i spent at Malpe Beach, Udupi. located at 66 kms from Mangalore and 6 km from Udupi.
Malpe Beach in Karnataka is one of the unexplored beaches in India. We booked our stay at most prestige location in front of the beach. Reached there by afternoon, had our packed lunch, and we are off to explore. Sunset at St. Mary's Island is the most popular attraction in Udupi, it was an amazing experience. that place is serenity. evening we just did beach hopping.
Next day we got up early to visit man made beach, which was totally different experience. we checked out from hotel and head to explore delta beach where river meets Ocean. The road parallel to ocean and untouched beauty of Udupi was amazing. Afternoon we went to Krishna temple and explored local food in Udupi. Udupi is famous for its varieties of dishes and as a food lover how can i miss that. Neer dosa is my all time famous dish from udupi.
What an amazing road trip experience it was. To be frank two days were not enough for us, we will plan again to visit this place soon.
Second Weekend
A visit to world's largest bust sculpture. This was unplanned just two days before we have decided to go somewhere and Saturday early morning we were on our way to Isha foundation ashram. Stupendous place surrounded with mountains and greenery, you can see the vast Statue of AdiYogi Shiva from any corner from that place. Apart from the statue there are few other things you have to experience here. Surya kund, Chandra Kund, Dhyanlinga for meditation and free yoga classes for the interested people. we reached there in the afternoon and it was really hot there.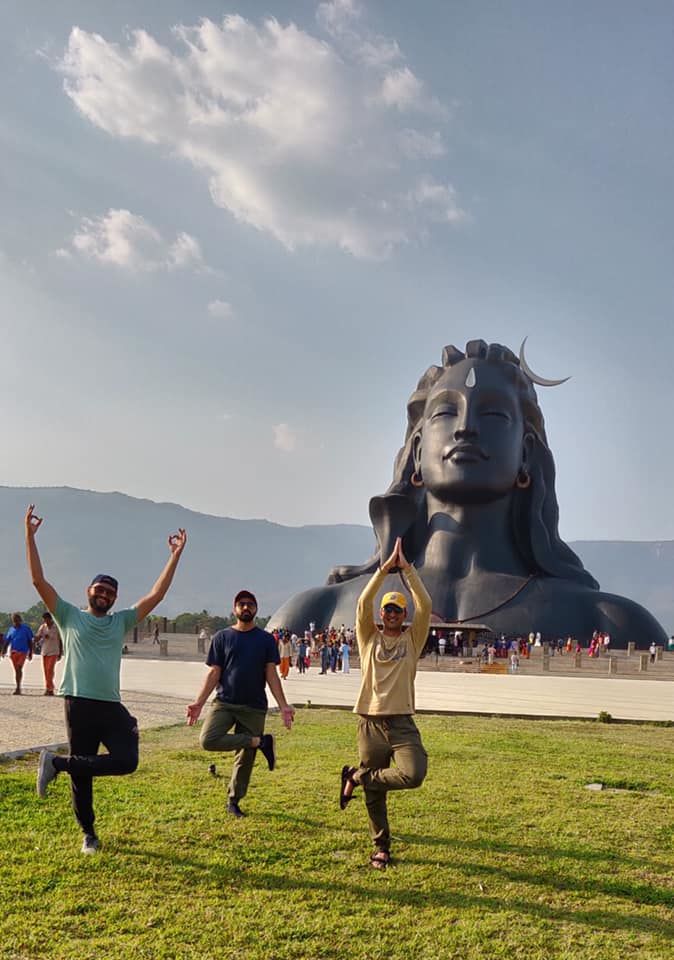 we have to start heading back to Bangalore by the evening as there is no hotel near by for the stay. you can stay in Coimbatore but we preferred to come back to Bangalore.
Third Weekend
April 18 to 21, i was in Mumbai. This was a pre-planned trip. Cousin's marriage and i got a chance to go back to mumbai after 6 years how can i miss that ? Luckily it was a long weekend because of good Friday and i applied for planned leave on 18th but have to cancel it later as it was Election date in Karnataka so it was compulsory holiday. How lucky i am, ain't I ?
Though i went there for cousin's wedding but how can i not explore my favorite places in Mumbai during free time. I covered Gateway of India, Marine drive, Sea link and few favorite cafes during my free time mostly in the evening or late night because everyone knows Mumbai never sleeps :). Sunday evening i had a flight to catch for Bangalore.
Last Weekend at Home Sweet Home
This was not planned but an unusual trip. this was for our Nation. it was election day in Gujarat and i just can not miss that.
I firmly believe "To make democracy work, we must be a nation of participants, not simply observers. The only way to change is Vote !"
I Just came from Bangalore to Ahmedabad on 23rd April morning to cast my vote. whole week i did work from there and spent time with family and explored famous food in ahmedabad. Spent Sunday at Kensville golf club with school friends. Back to hustle on Monday evening after working from home on Monday.