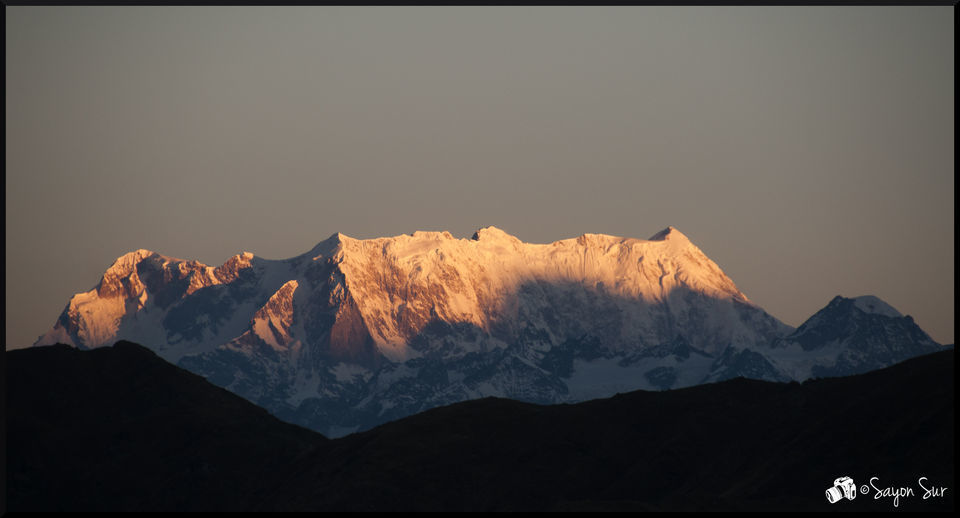 Sometimes you feel the need to write. It's not due to the fear of forgetting rather to cherish the memories.
"Journey to Junar Gali" might seem to be a misnomer if you know the place. Still read on to find out why the name made the cut.
It was pending for 2017. My long walk in the mountains. It is something I cherish and plan to do every year now being at Kolkata. This time I found a companion in a much younger colleague with similar enthusiasm and interest.
The plan was chalked out and the journey started on 5th of October with a train journey from Kolkata to Delhi via Duranto. Next day morning we reached Delhi and with another overnight journey by Ranikhet Express we reached Kathgodam, the gateway to Kumaon. I remember this small mystic station from 2003. The look has changed succumbing to modernization although the excitement was similar even after a 2-hour delay (courtesy railways).
The gap between Dushera and Diwali surprisingly resulted in a very small group for the trek. Initially with a headcount of 11 it ended up with 8 persons only. Again, the only couple choose to drive by themselves. The rest 6 ended in a single Sumo with Pappu Mishra (our driver).
I was the senior most (it still sounds odd!!) and the group gelled immediately. The last seat rotation with nausea helped in its own way.
After a quick breakfast, just after 30 minutes the journey continued for long 10 hours to Lohajung.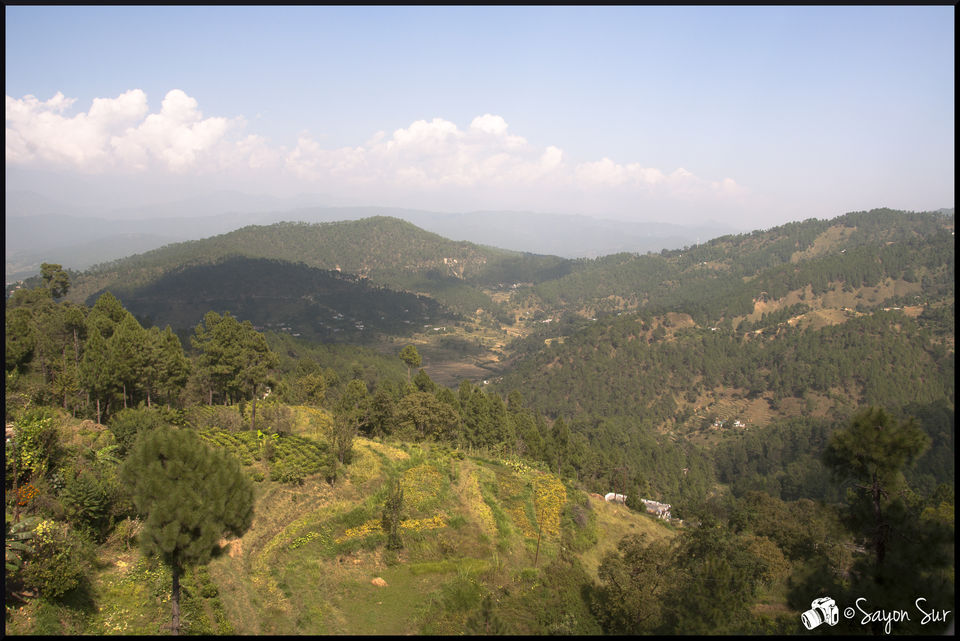 Mishraji was an excellent driver and a lovely human being to talk along in the long journey. He obliged to our photo stop requests adequately and selphis/snapchattis group managed to overcome the spine shaking journey.
We got rooms after certain dilemma (due to full house) but it was enough to have stationary bed after two days of train and car.
Our Trek leader briefed us about the itinerary and we were ready to start.
The Trek Begins:
Day1:
I woke up at 5.30AM with the chirping of the birds. Well the first morning didn't disappoint as Nandaghunti smiled at me with the first sunlight. I never know that we will be almost at the base of the same peak 6 days later.
The first day walk was to a small village named Dinda. It is a moderate 7Km walk. It was bright and sunny and everyone was getting in the zone mentally. After breakfast we offloaded bigger bags, took up the day packs and started the journey.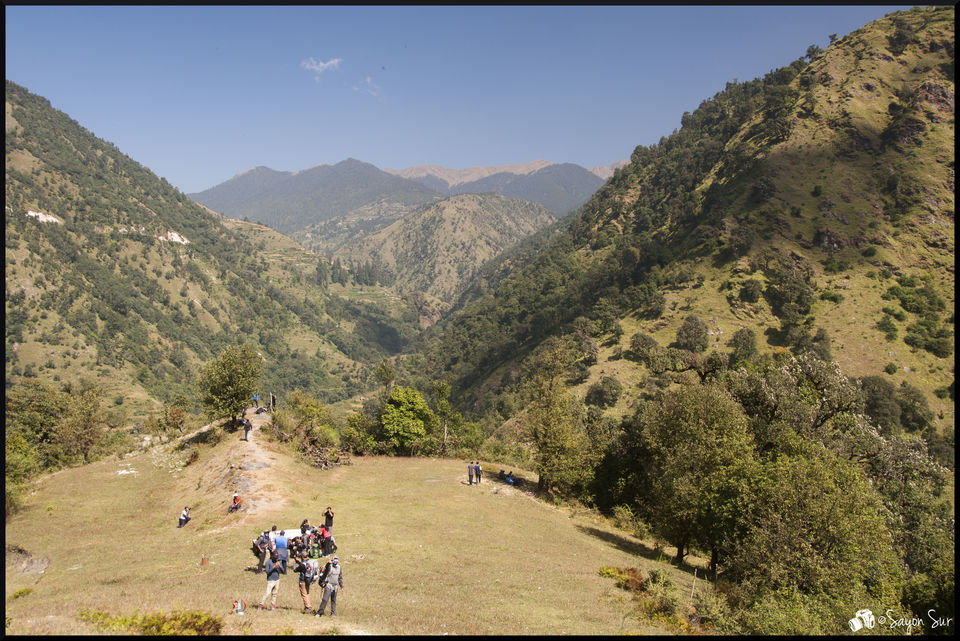 The journey was initially through a road and slowly we moved into the forest. Temperature was still pretty high and it was a tiresome effort. We walked past some lovely streams and crossed many mountains. After crossing the bridge over NeelGanga it was ascent. That last ascent seemed infinite. Probably it was the first day and our unaccustomed body resulted this. A lovely homestay welcomed us at Didna. We were exhausted.
Next day was the journey through the bugiyals (grassland). Everyone had a sound night's sleep after a long day.
Day 2:
The green day. Today we had about 1000m elevation with a gradual walk of 11 Km. The day started early and we had packed lunch for this day. As we started walking various different groups joined in.
We started walking through the jungle with amazing greenery around. There were plenty photo opportunity and fun with people struggling and yet determined to make it work. Lot of banter went around as a group of determined individuals keep walking. Our trek leader kept telling us "baby steps".
Once we reached the end of treelines (around 11000 ft) the change was drastic. Suddenly there was endless meadows in front of us. We reached Ali bugiyal. Destination was still a long way.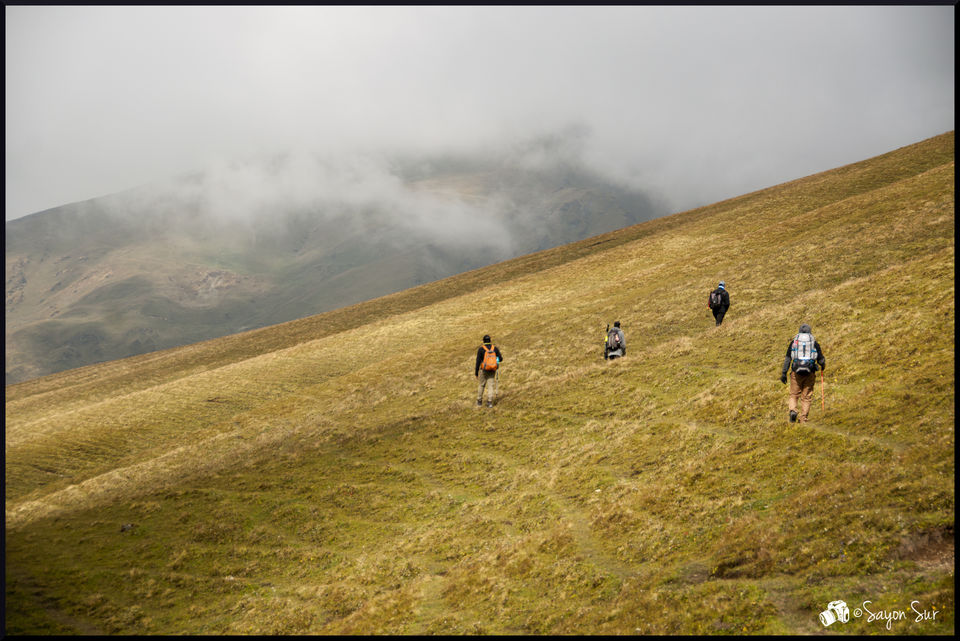 We finished our packed lunch (not that great) and bought heavenly Maggi (the owner should be covered in food network) to douse our hunger. After that we walked. It was cat and mouse between cloud, sunrays and greenery as we crossed the bugiyals.
Our campsite was in a secluded corner. Since we were not allowed to sleep, we talked and roamed around. Post a quick acclimatization walk and lovely dinner we switched of our headlamps for the day.
PS: our beautiful toilet tent became our new friend. Photos, to be revealed.
Day 3:
The easiest day. It's a simple ridge walk along the mountains. The highest point was Ghora Lotani. Most of the path we had Bedni bugiyal on our left. It is photogenic and our proposed stop after Summit. Chaukhamba was beaming as we walk.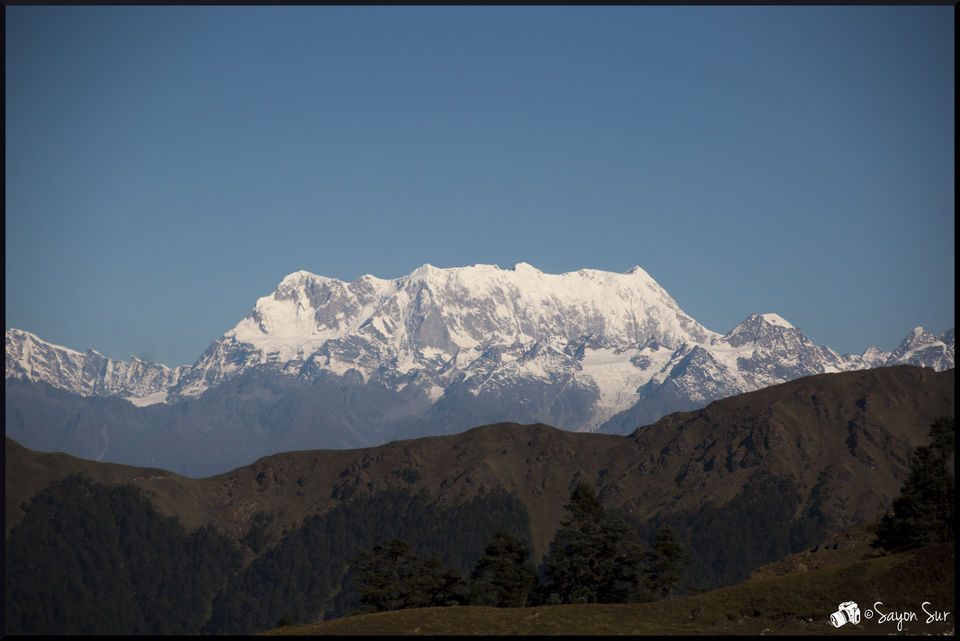 Although it was a nice gradual ascent it was extremely windy. I really missed my balaclava which I couldn't locate while packing. The scarf I was carrying somehow saved me.
After ghora lotani it was 1 km downhill to our site. Again, our campsite was completely secluded at Pathar Nachuni. For some reason, I was really tired today and maybe worried if I can really make it to the top. I didn't know the next day will bring a welcome change.
The acclimatization walk felt tough today. Although the news of mobile network to connect with our family was motivation enough. Also reaching the shopping mall of the route we observed a beautiful sunset and had a lovely tea scaring each other about the tough climb on the next day. From there one can actually see the Kalua Vinayak top. Unfortunately, that signifies a continuous elevation.
At night, most of us had a little low oximeter reading, courtesy the cold hands. Going to the restroom was a challenge at night at subzero temp. I had to get up around one and to my surprise the outer layer of tent was frozen like a hardwood board. Somehow, I went out and the grass was slippery. Only thought I had was what's next in Bhagubasa.
Day 4:
After the regular 6-7-8 schedule, we started from Pathar Nachuni. Pushkar ji was narrating the stories as we walk. We filled our water bottle at the shopping mall site and the actual climb started then.
In just 2 km distance we had an elevation of around 600mtrs. As we start the walk we reached the famed site of pathar story. There are three holes in the ground where the nachaunis(dancers) went in due to the wrath of Lord Shiva. The place indeed gave us some photo options.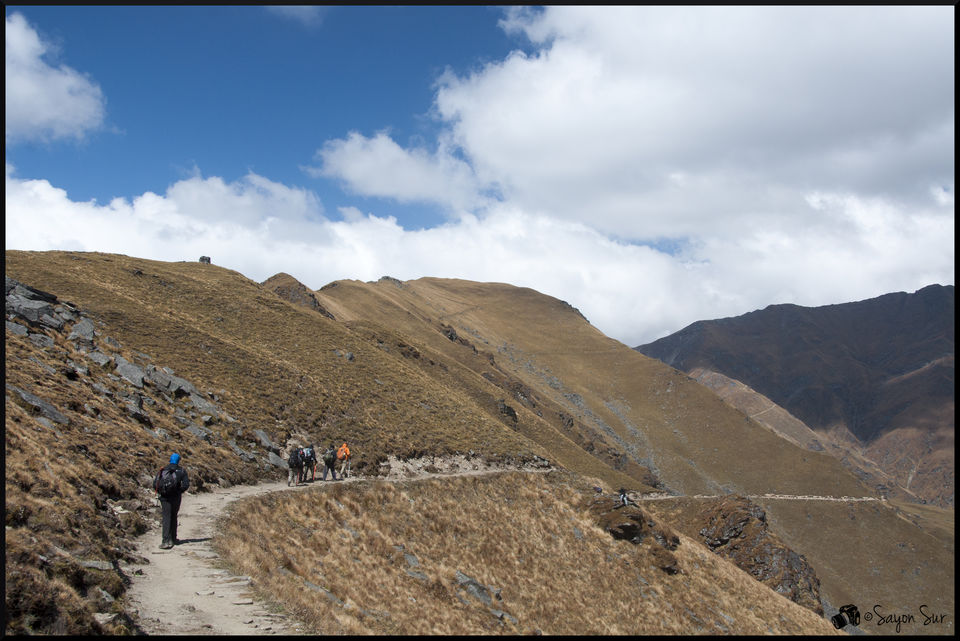 The climb indeed required baby steps. We took small steps and just keep walking sipping water as we go. Keeping hydration level was must is it can prevent AMS and the sole criterion for summit next day. We saw few people really struggling to walk. The route was full of big boulders even though it's a marked trail. The last hairpins were grueling as you can see the top although it seemed so far.
Reaching Kalua Vinayak at 14200ft was an achievement in itself. The small ganesh temple with the complete Himalayan range at back was mesmerizing. That moment was a revelation for me. Somehow in an instant all the doubts about summit went out of Window. The surreal setting somehow injected extreme joy and insight. I was sure we are going to make it.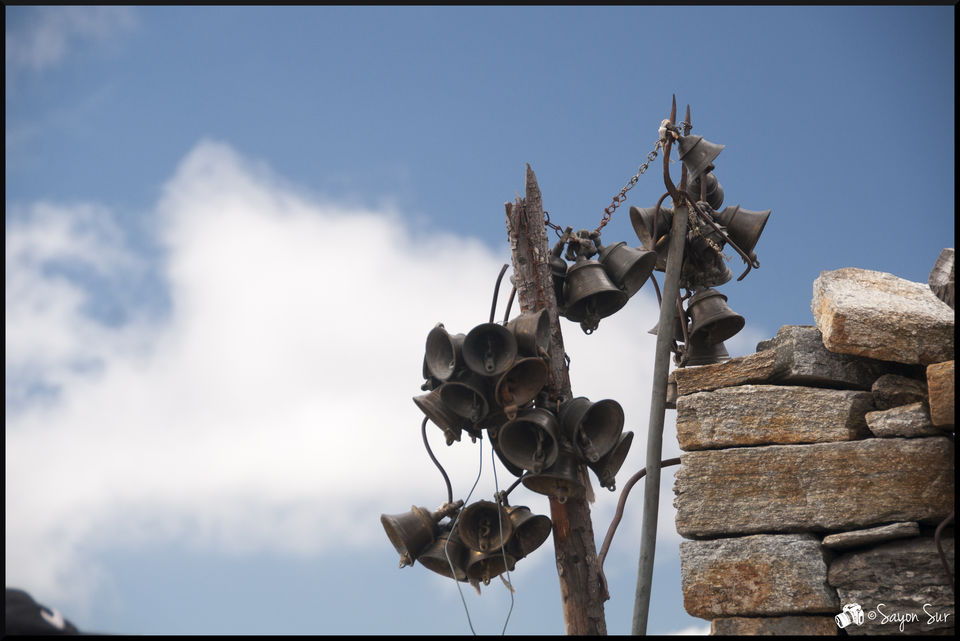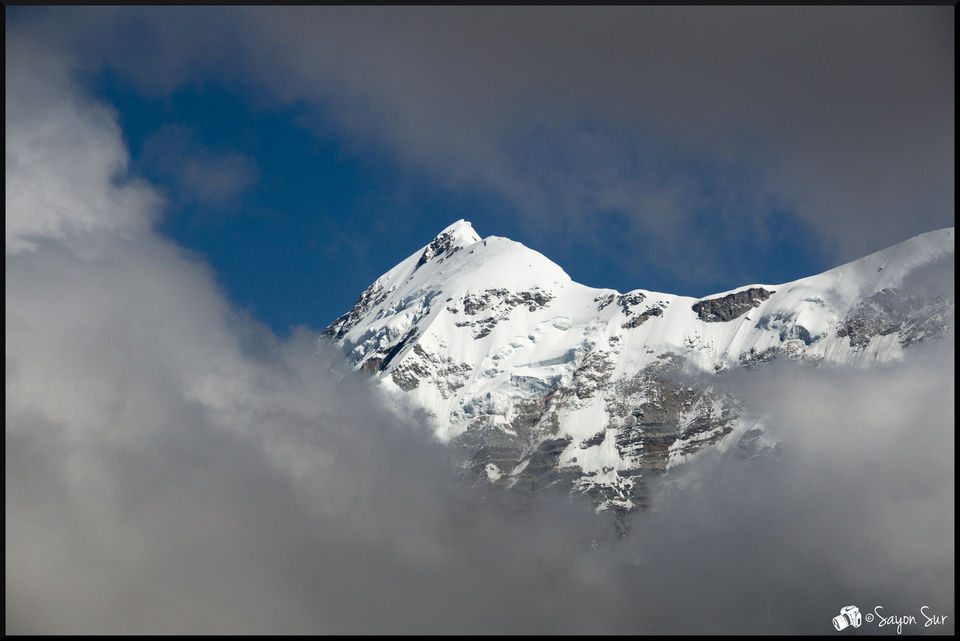 Bhagubasa was our campsite for the day. It's another kilometer from Kalua Vinayak. Our campsite was even ahead another 0.5 km just beside the water source. Less work for the team managing the food.
Oxymeter reading went through for all of us. Few people had minimal symptoms of high altitude although all were cleared for the summit.
Although it's one of the best starlit night I have seen in India, I had to stay indoors. It was not worth taking photos jeopardizing the summit.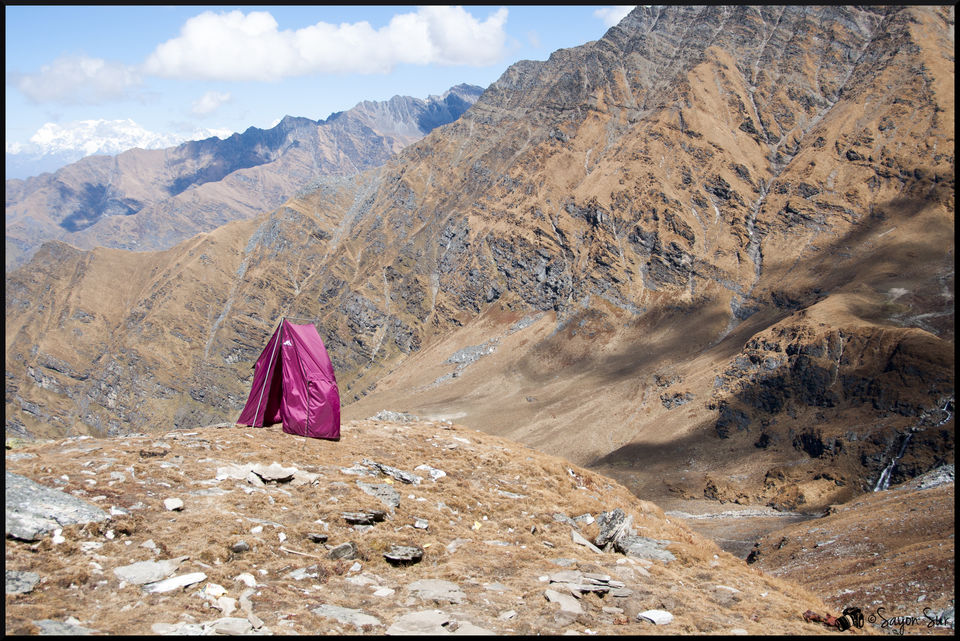 Day 5:
Summit day was very different. The timing was 1-2-3. i.e. by 3 AM at night we had to start. We woke up shivering in the cold wind, layered with warm clothes and headlamps on. We filled our bottles/hydrapacks with water. I series of glowworm seems to walk in the dark night. All the groups from various agencies had started with their headlamps /torchlights switched on.
We finally started around 3.40 AM. The starry night was worth watching although every step was tough as we keep climbing. After few switchbacks, we had a stair. Each step was probably 2 feet. We took a break after that. It was not allowed to take long breaks as it body needs to stay warm. So, we walked like a disciplined group of ants adhering to our trek leads and helping each other along the way. Hydrapack was really useful as I need not take out my bottle out every time in the subzero temperature.
After midway, we can see the top and we pushed on. As the daylight emerges amazing colors unfold across the mountains. Around 7AM I finally reached.
It was an amazing sense of accomplishment and disappointment. Mystical Roopkund was supposed to be there. To our surprise there was not a single drop of water, just some frozen ice in the center. Lot of disappoint was humming in the air as we decided to go for the last stretch, to Junar Gali peak. You can see it towering above. With the early morning light coming out I had no doubt in summit any more.
Junar Gali was amazing. The 30 minutes I spend there was inspiration enough to go back to Himalayan hikes again. We can see Trishul and NanadaGhunti at arm's length. If you walk down another 100 meters one can touch the base of Trishul. It was a magnum opus indeed watching the royal peaks up-close. The fumes from the snows as the sunlight touches the peaks. Same Trishul we saw from Dinda and same Trishul everyone looks at Kumaon.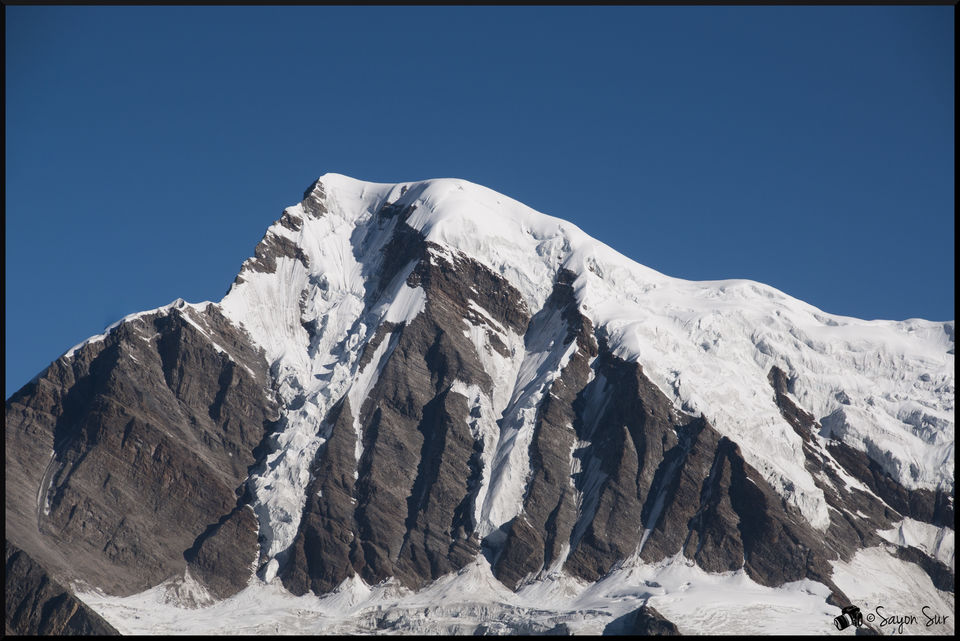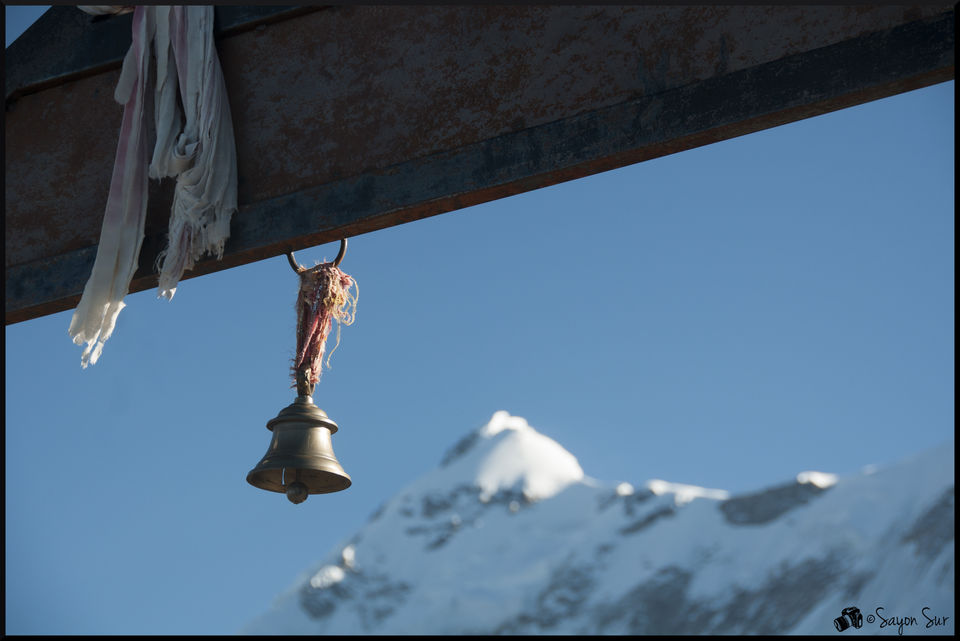 For it was indeed the journey to Junar Gali which was imprinted on my mind. I cherished every moment of the journey and the landscapes we traversed.
After taking quite a few photos we started the journey back. Everyone was content but the journey was even more treacherous. The gravel filled trail seemed completely different than the one we climbed couple hours back. With measured steps, we slowly went down. Around 10.30 I reached Bhagubasa.
Although summit was over it was not end of day. We needed to start again post lunch and we decided to skip Pathar and reach Bedni instead. It will provide us an opportunity to stay in another new campsite and probably the most beautiful one.
The journey was long and we reached almost at 6 PM. On the way got some excellent shots along with sunset over bedni bugiyal.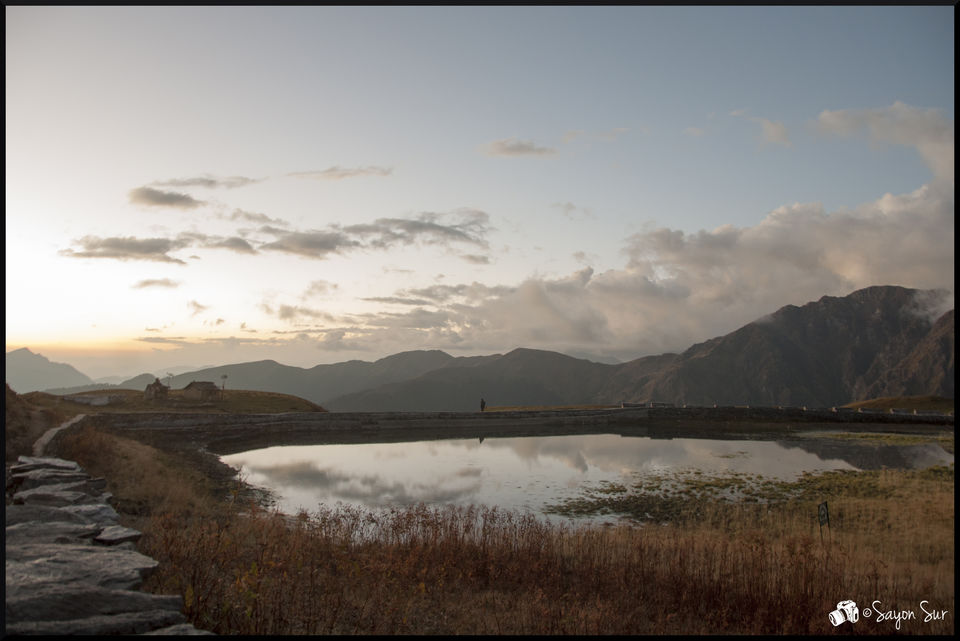 Bedni was marketplace. With 10 odd camping groups putting tent there all the solace was gone. With no hard timings next day, we had a nice good night's sleep after dinner.
Day 6:
Our return journey to Dinda was through Wan making a full circle. The route was full off rhododendrons and a continuous downward to NeelGanga. It was really strenuous on your knees, although we did stake quite a few shortcuts.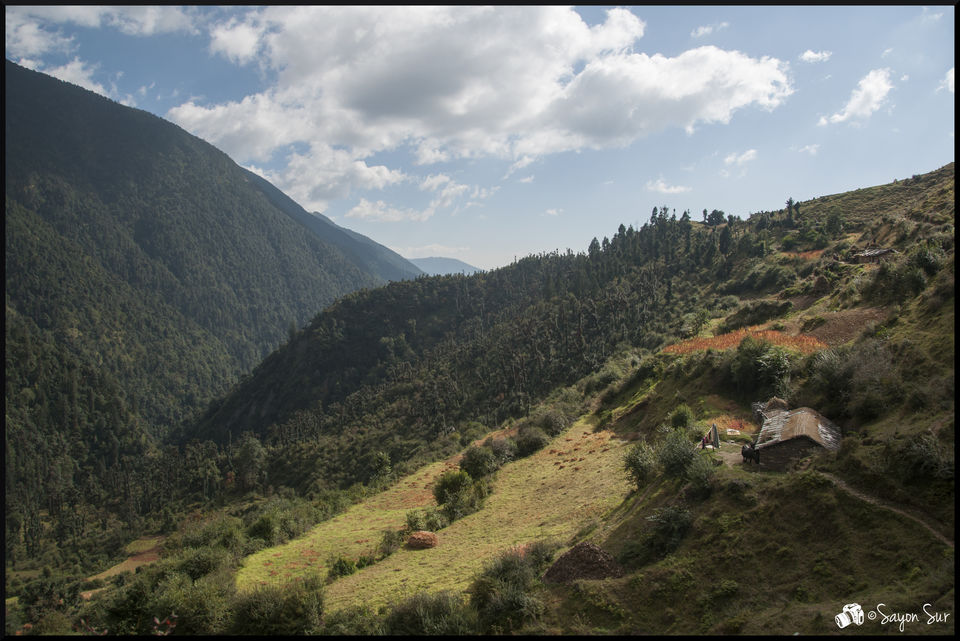 We spend almost 30 minutes at the Neel Ganga crossing collecting pebbles and taking photos. Next was the climb to Wan, definitely the last one for the trip. From Wan a Sumo dropped us to Lohajang.
This was Roopkund trek, a commonplace hike now commercialized tremendously. Although for me this journey was new and enchanting which I can never forget, to me it's the journey to Junar Gali.