It was just about three weeks since our last trek however it felt as if couple of months had passed away. Highlands certainly not fall shy of detaching you from your materialistic and monotonous urban life and making you realize the fascinating and delicate beauty of the Mother Nature. Hence we decided to go for a relatively moderate trek to Top station in Munnar, Kerala from Kurangani Hills in Tamilnadu organized by a promising start up called 'Travel My Routes' owned by Harsha. Initially the plan was to go Kukkal Caves trek in Palani hills, but due to some local constraints we opted out from the plan just two days before. I believe it was almost 3 months before I and Vasu thought of doing Kukkal trek but was getting postponed due to various reasons since that time, hope next time the plan end up without fail.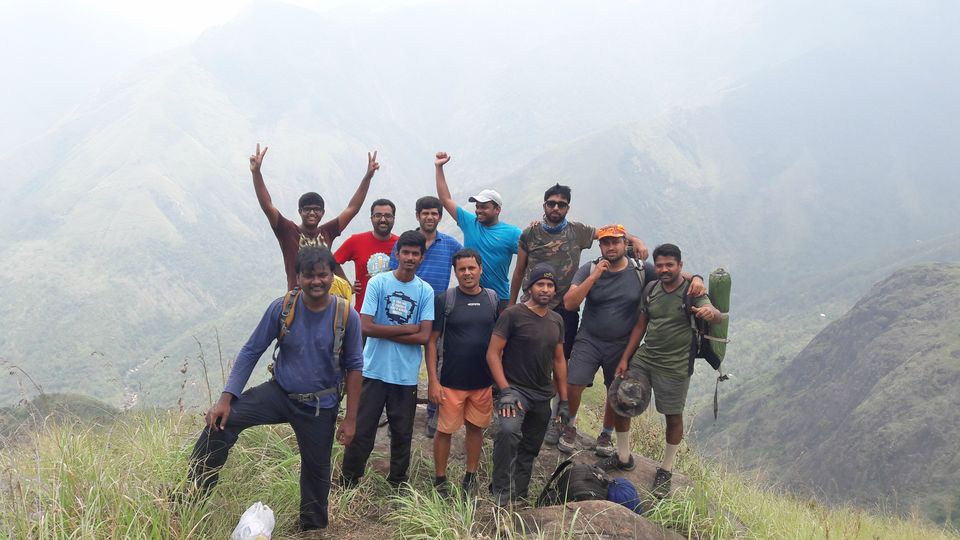 We started off from the Electronic city Bangalore in a tempo traveler hired by the group. It was the weekend and I was happy to see a crowd, 11 in total including our organizer Harsha M Aithal. The team consists of Vasu, Sudhee, Deekshith, Adithya, Dinesh, Shanti, Swamy, Ranjan, Sridhar, Organizer Harsha and Myself. We got quite a bit delayed to reach Kurangani village; from where one need start to trek to Top Station and Kolukkumalai tea Estate after having refreshing breakfast at Theni town.Just started the trail.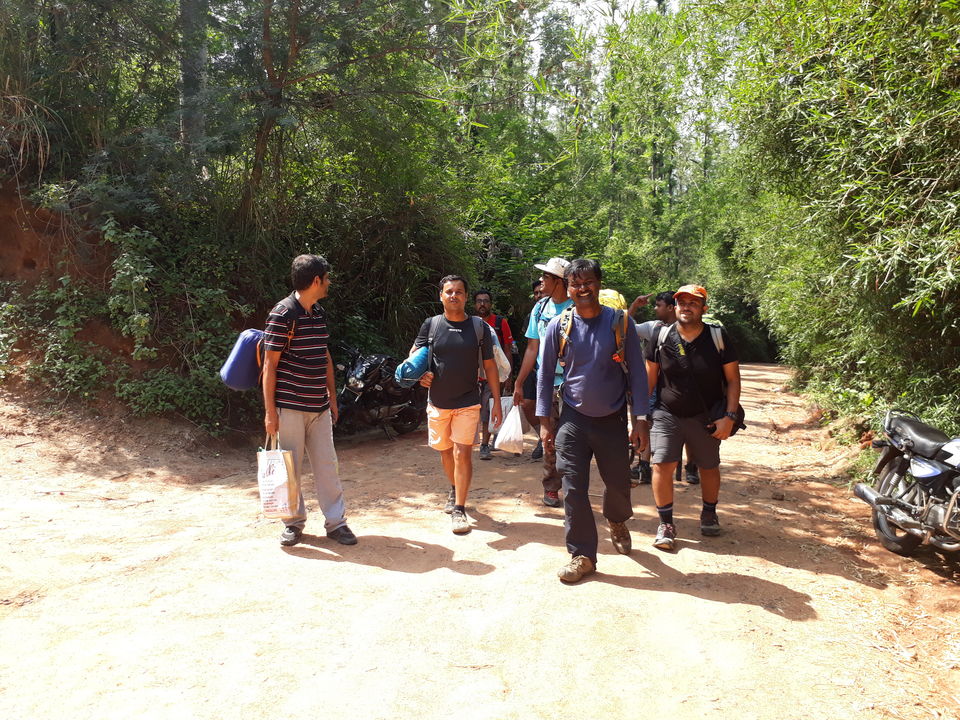 Kurangani
--------------------------
I would like to take privilege about describing the beautiful hills known as "Kurangani". Kurangani is a small Village/hamlet in Bodinayakanur Taluk in Theni District. It comes under Kottagudi Panchayath. It is located 16 KM towards west from District headquarters Theni, 542 KM from State capital Chennai. Kurangani is surrounded by Theni Taluk towards East, Chinnamanur Taluk towards South, Uthamapalayam Taluk towards South, Periyakulam Taluk towards East. Theni Allinagaram, Uthamapalayam, Periyakulam, Usilampatti are the nearby Cities to Kurangani. Kerala prominent tourist towns Munnar, Thekkady, Suryanelli, Bodimettu, Kumily and Devikulam accessible from Kurangani.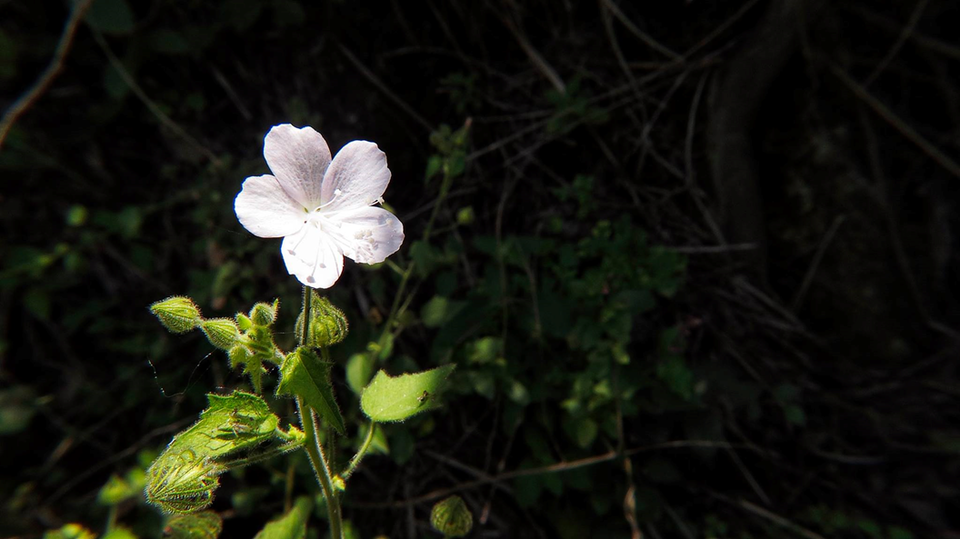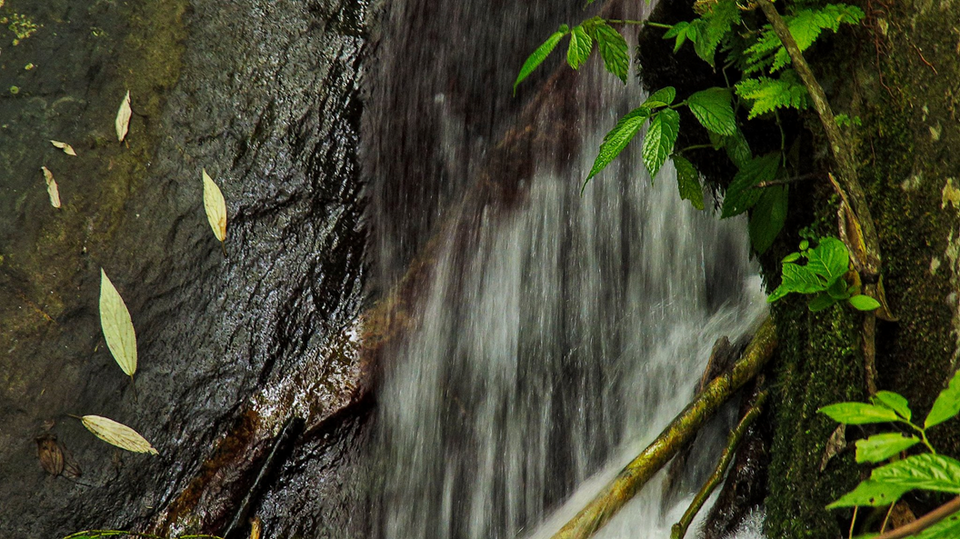 You will be charmed to have a look at the incredible highland scenery. The region is a heaven for wildlife, especially avifauna and pollinators endemic to the Western Ghats. Retentions will be impressed forever like the grand misty peaks that surround us near the Top Station. Nature lovers within the state also frequently visit Kurangani Hills. Films Alagar Samiyin Kuthurai, Myna, Varuthapadatha Valibar Sangam and Kumki were shot on the Hills. The best months to explore the Hills during Monsoon and winter. Kurangani is a very placid and serene settlement covered by mountains, lovely trees and water streams filled with the harmony of signing birds.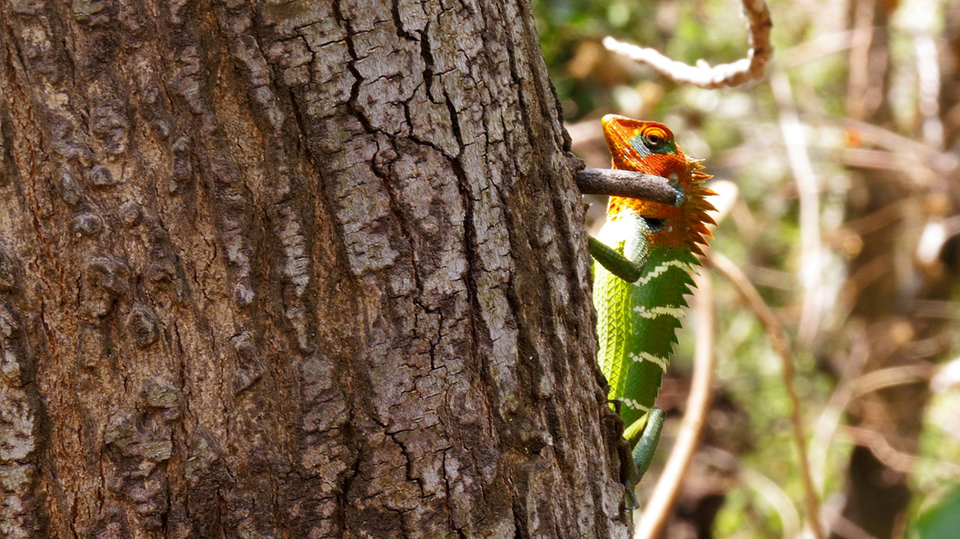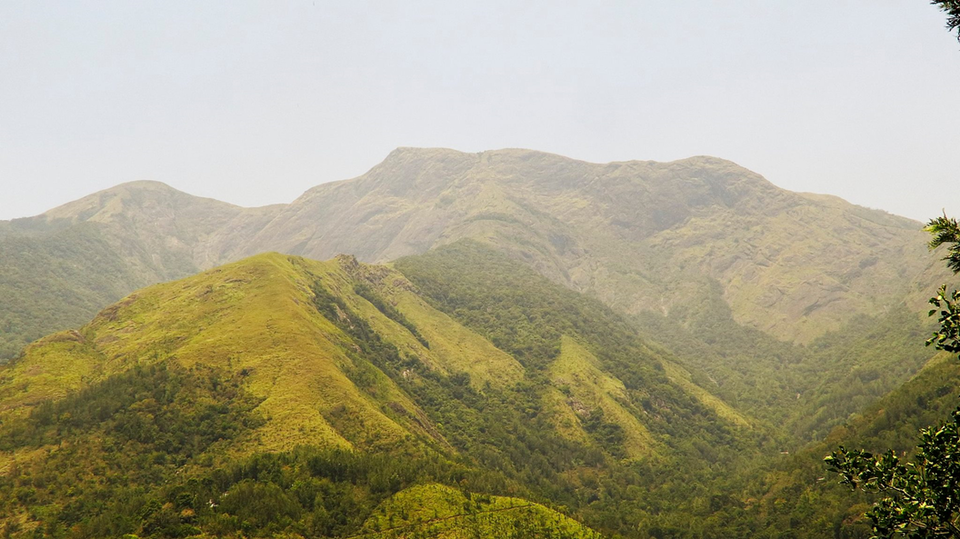 Top Station
------------------
Top Station offers a panoramic view of the mjestic Western Ghats and the valley of Kolukkumalai and Kurangani in Theni district. Top station point is the last tourist spot of Munnar towards Tamilnadu border. At top station you will be able to see a beautiful view of Kurangani Hills and world highest organic tea estate (Kolukkumalai). It's a splendid view of nature you get, something we feel the best of cameras can't capture the beauty that lies for man to see. Green mountains, and valleys and clouds, just beautiful point to stop by and see the beautiful scene. It is part of Theni District in the state of Tamil Nadu. At 1911m ASL, top station is covered by the characteristic shola-grassland forests. These scenic grasslands provide important services to mankind, by serving as a water-catchment area for Bodi and Theni in Tamilnadu and as a carbon sink for our greenhouse gas emissions.
Top station was a historic shipment point for the transportation of tea leaves via a rope way carriage constructed in 1924. This rope way spread over 3 stations: Top Station; Central Station and Bottom Station (Kurangani); from where on tea chests were transported to Bodi, to the nearest railway station. Top Station derived its name from its being the upper terminus of the Kottagudi Aerial Ropeway built in 1902. Tea chests arriving at Top Station from the Kundalai Valley were transported by a ropeway from Top Station 5 km downhill to the south to Kottagudi, Tamil Nadu. The tea was then shipped 15 km by cart to Bodinayakkanur, then by rail to other places in India and ship to England. Remains of the ropeway station at Top Station are still visible. Elevation at top of Bodi ropeway was 1,911 meters (6,270 ft.).
Notable facts and History about Top Station.
--------------------------------------------------------------
· Thrilling panorama of hills and meadows extending up to 'Kambam Valley'.
· Short cut trekking path leads to Madurai, Kodaikanal and Thekkady.
· Kolukkumalai – World highest organic tea estate at 8500 ft. above sea level can be availed from the view point.
· The Age-Old railway mono-gauge, hydel electricity generation and 18th century rope way can be seen.
· Feel 'n' Sensitize an ecologically virgin climate.
Trekking Paths
-------------------------
Trekking trails are available from Kurangani to Top Station (11 Kms) via Central Station and Muthuvakkudi. Trekkers can find an opportunity to discover Mother Nature's enchanting beauty. Soaring mountain peaks enroute Top Station is an essence of the Forces of Nature. Kurangani region is a sea of ridges and mountain peaks separated by valleys filled with virgin forests of silver oak and eucalyptus and various plantations like tea, coffee and cardamom. There is a mountain rivulet that passes between Kurangani Mountains in the east and Kolukkumalai in the west. Kurangani Hills has multiple trekking trails to the famous destination such as Kolukkumalai, Meesapulimala, and Top Station and Rhodo Valley.Meadows seen from view point.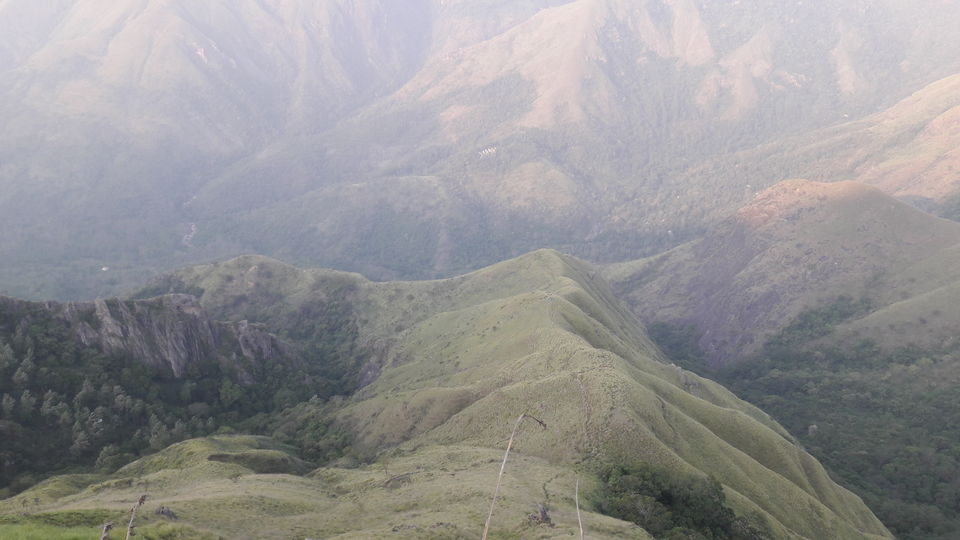 Harsha and Dinesh managed with arranging local guides and care takers during the trail, there we met Manoj and Vetri (School going students). By 10:30 all together started trekking from Kurangani with packed lunch brought from Theni, tents, grocery for dinner and next day's breakfast with backpacks. The trail started through the coffee plantation to the mud jeep road. Two ways to reach top station
Following the mud road until Muthuvakkudi village before central station.
To take short route through the forest covers and ridges till central station. (Dinesh told me as he knows).
The forest department camp can be found on the road and the temporary permit can be obtained at a fee. Our plan was to take the mud road and reach Muthuvakkudi village. The trails started with ascend which exhausted the sumptuous breakfast. We could see was the unending layers of hills, a beautiful waterfalls surrounded by thick vegetation and the mesmerizing sky just after half an hour walk. In 2 hours we reached the village and had our first break there. Trek trail path is wide mud road almost all over till Muthuvakkudi (Deekshith didn't feel it was a trek until this point as he told me :D).
By 2 pm we had packed lunch, after a short halt near a big banyan tree at Muthuvakkudi village we started again. As soon as we cross this village there were steep ascends, everyone was getting tired in no time under hot sun. I realized that till the end of the trek would be like this and was prepared internally. The heavy grocery hand bag and light weight backpack matter of concern for me. After a point I could see the top of the peak, gained some momentum and moved ahead of few and reached central station.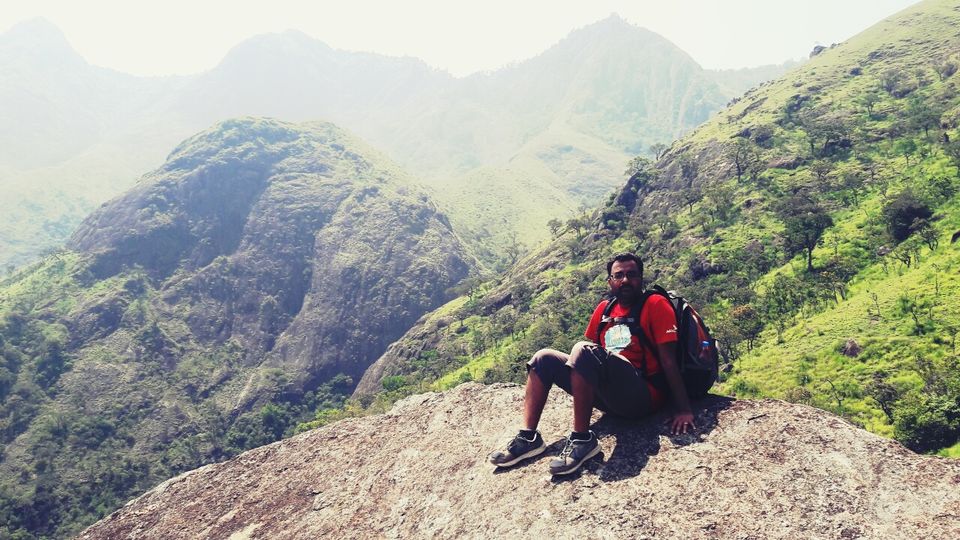 Dinesh and Shanti (They both aware of this trail, visited earlier) intended to reach straight to camping point by avoiding the central village. But things went other way, while they both were taking the rest under a tree we all moved well ahead of them and were on the way to Central village. We didn't get a chance to pay attention to them when they try to shout to stop us.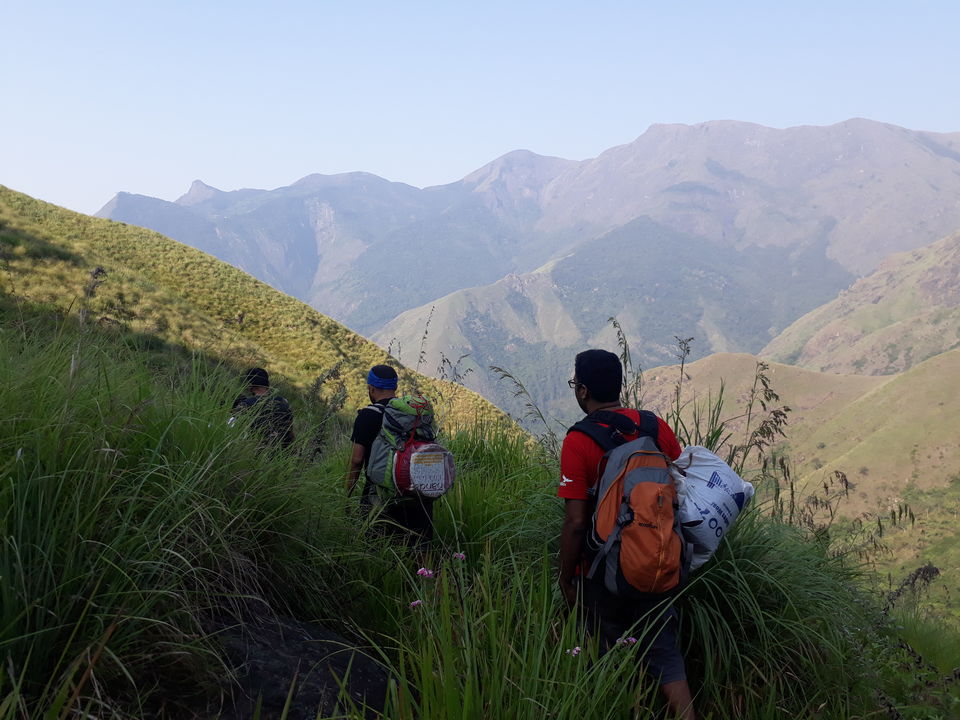 After walking for good 2 hours, we reached to 'Central Village' which comes right mid-way on the trek. We found a small shop serving lemon water. Each one of us drank full to our thirst and relaxed before embarking on second half of our journey. Despite it's being slightly hot, we ascended through the hills on our way up. Crossing plains and forests and walking for another 6 KMs, we reached to Top station Munnar. You can even find many local people taking this path to reach Kurangani from Top station and vice versa. It was crowded like most of other tourist places.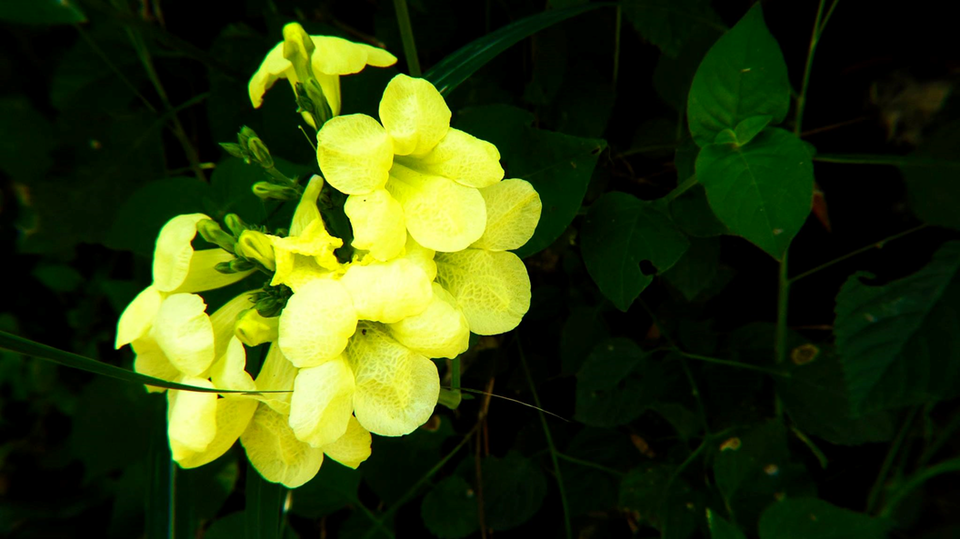 We had our local delicacies of Tea and snacks at Top Station, and waited for Dinesh and Shanti to join us. After a long wait they came and joined us. By the time they met us it was dark all around. Our campsite was right in middle in the forest with beautiful views. With the plan of trekking down to Campsite with the help of Dinesh and Shanti which is 1km down to the top station view point. Later we all realized that descending down is not a good idea at that time as it is going to be dark and thought availability of water sources to cook and pitch the tent. Almost everyone exhausted after 11 kms ascending, decided to stay back at top station. Instead preparing our dinner we opted to fill our tummies near by a hotel.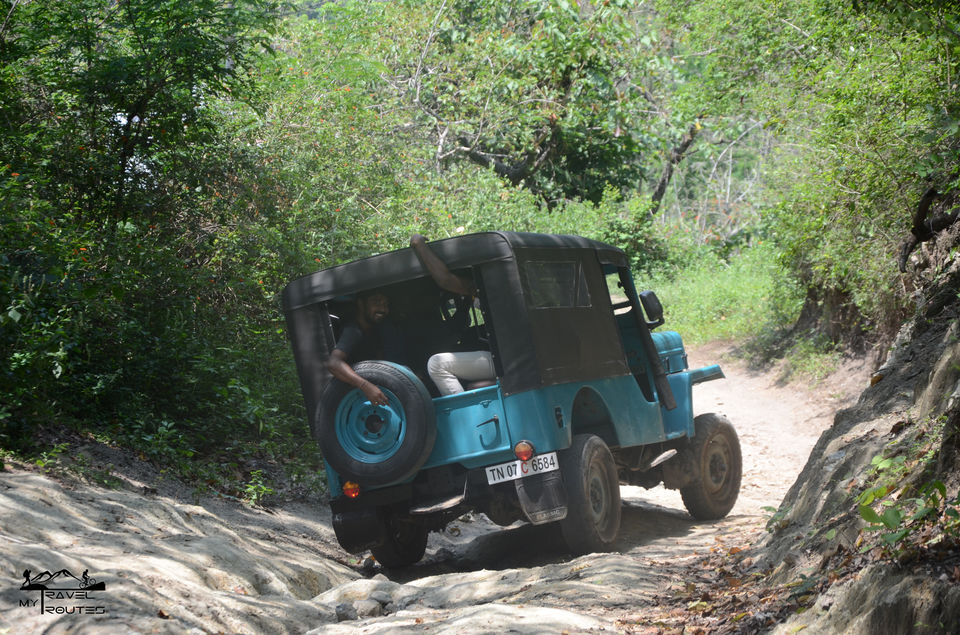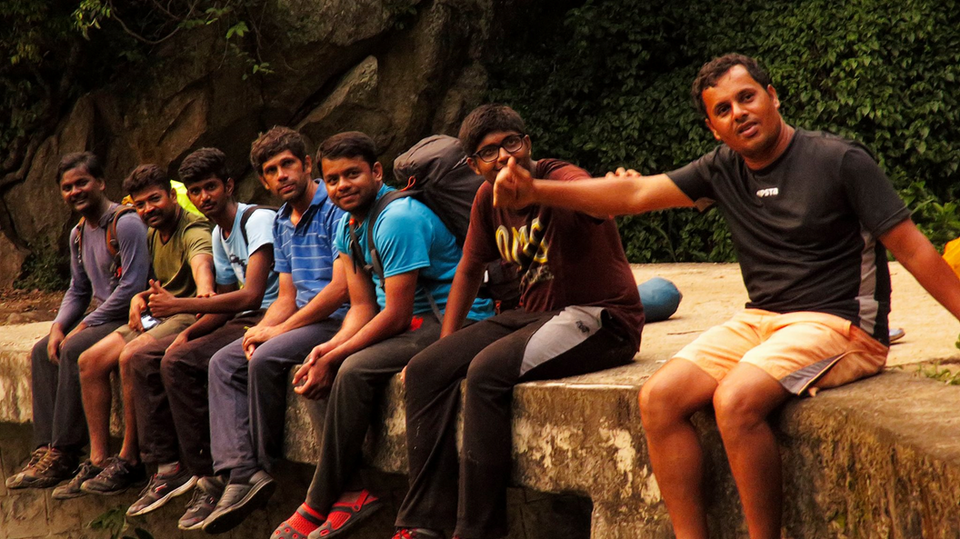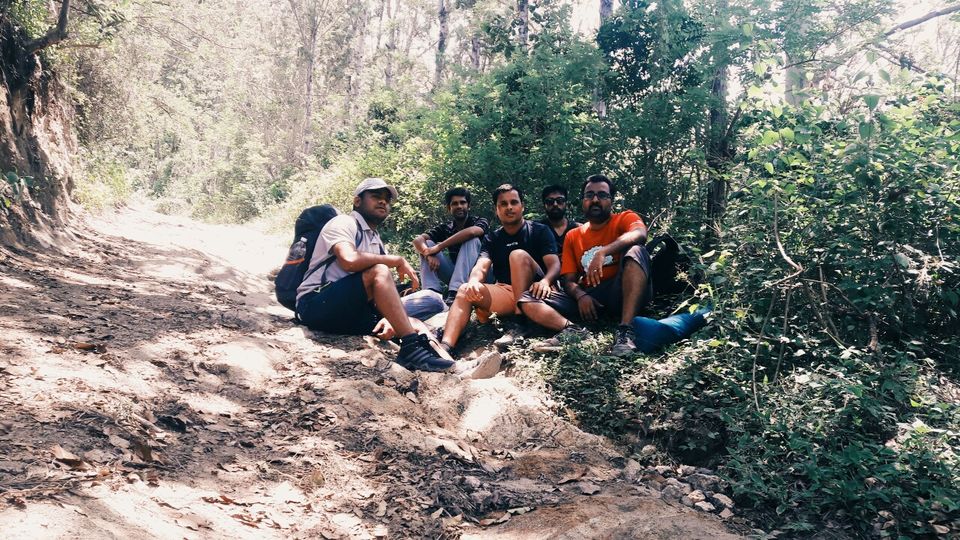 We pitched campsite near the view point in the dark night using our torch and tents. In no time everyone went to deep sleep. The night temperature dipped as low as 10 to 15 c degrees, I believe it's not up to the Munnar standards (May be because of peak summer), making us feel the pain of little cold. We got up early in the morning started the trail below to the Top Station (Same path leads to Camp site which we missed yesterday) hosts a beautiful waterfall, which brings in chill waters from the valley above.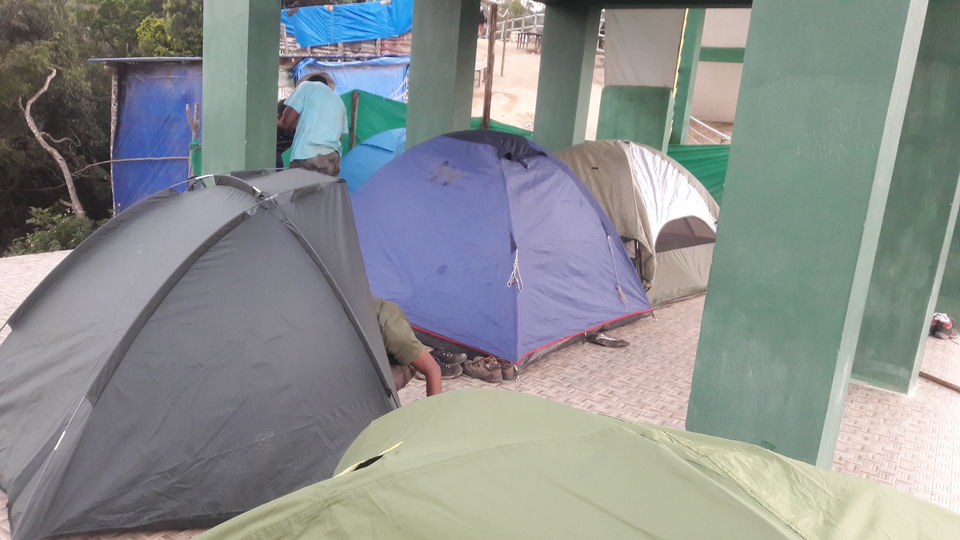 At some points we had to kneel down not to get sweeped off our feet. The waters were freezing cold and the standing under the waterfall is nothing but a 'glittering feel'. Vasu and I followed (climbed) the stream to the top of this waterfall, there rests another beautiful waterfall that drops from a greater height, with much more good looks and completed the morning rituals near downstream.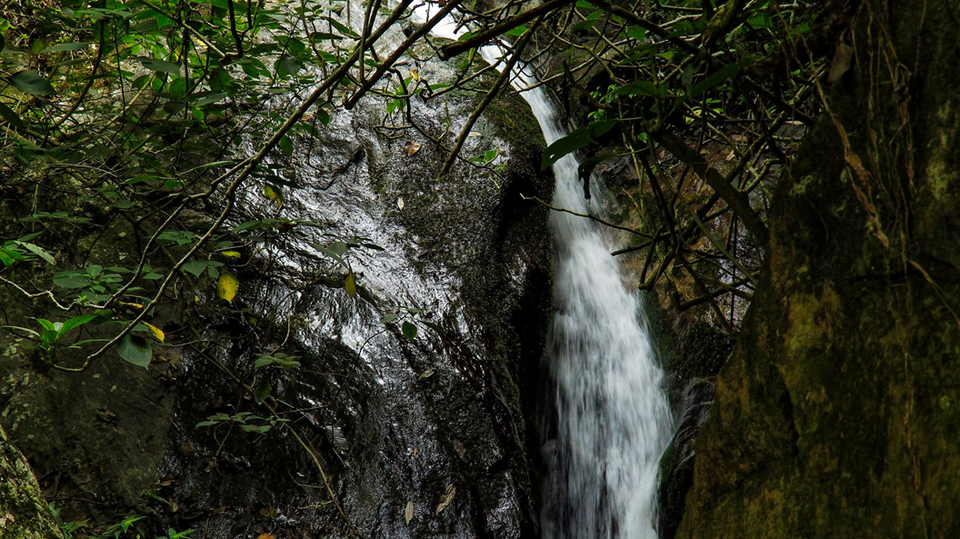 Meanwhile Vasu, Shanti and Dinesh prepared Upma and sweet poha for breakfast near old house close to the waterfall, Upma and Poha seemed like delight, was so delicious and yummy, all of us enjoyed it including guides Manoj and Vetri. I would like to say many thanks to Shanti Prasad for arranging lemon grass Kolukkumalai special tea at jungle, it was really pleasing.
After breakfast, we left from there and trekked back towards Kurangani on our way back. From there, we followed the altogether different trail for initial 3 km till taking regular trek path just before Muthuvakkudi village. This turned out to be another gem as we walked through open grasslands and 360 degrees gorgeous views of the peaks around us.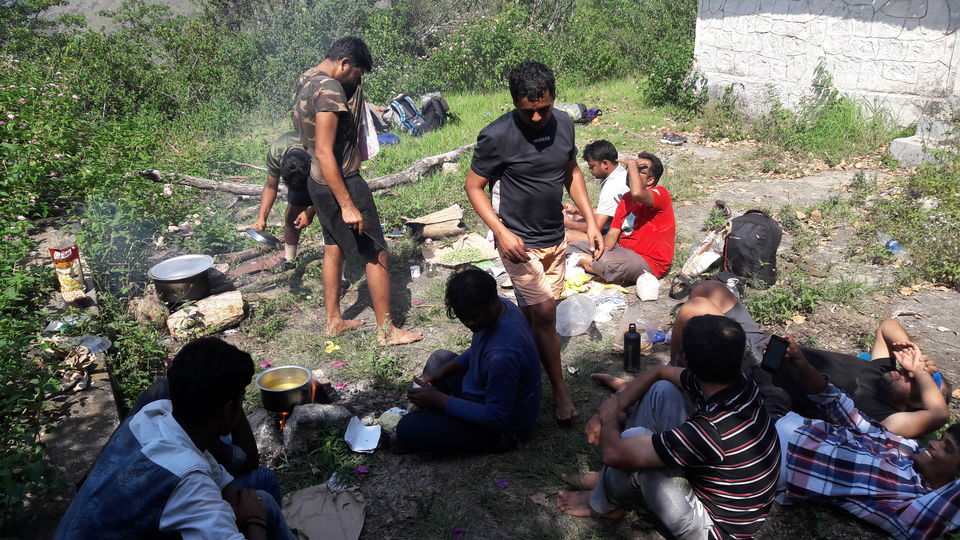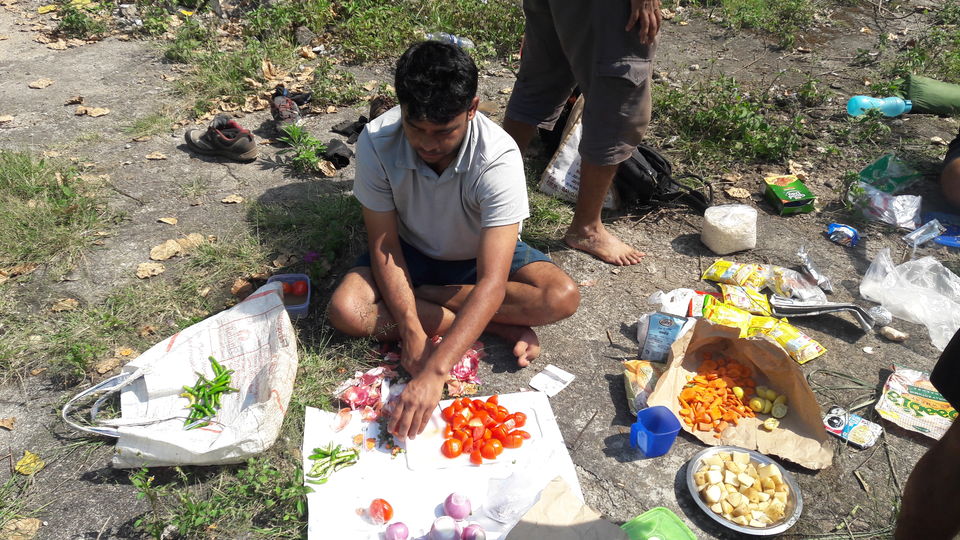 The hills are regarded as intermittent fluctuating climate, low-hanging clouds, frigid atmosphere and strong winds. As expected we experienced heavy rain showers when we were about to reach Muthuvakkudi then rain has stopped for some time. So everyone started cooking near the Banyan tree but nature had other thoughts it again started pouring cats and dogs. After a long wait it stopped, again Vasu and Shanti managed to cook hot Bisbile Bath.
In wet weather Bisbilebath made us sumptuous and bid good bye to Village and weather conditions promising that we will meet again somewhere. Vegetation, water streams and lemon grassland can make you to stay there for a long time. This place has nothing much but worth visiting to see the beauty one can only find in Himalayan range.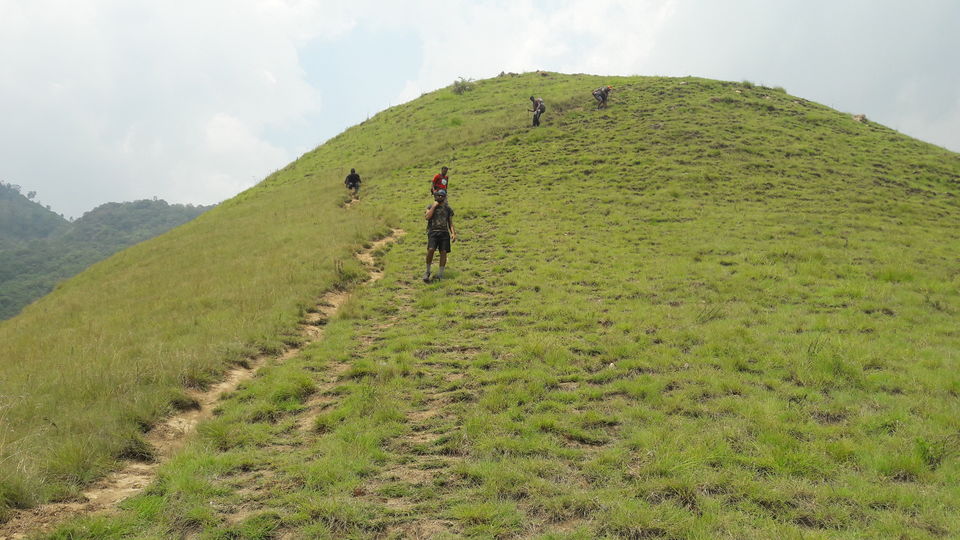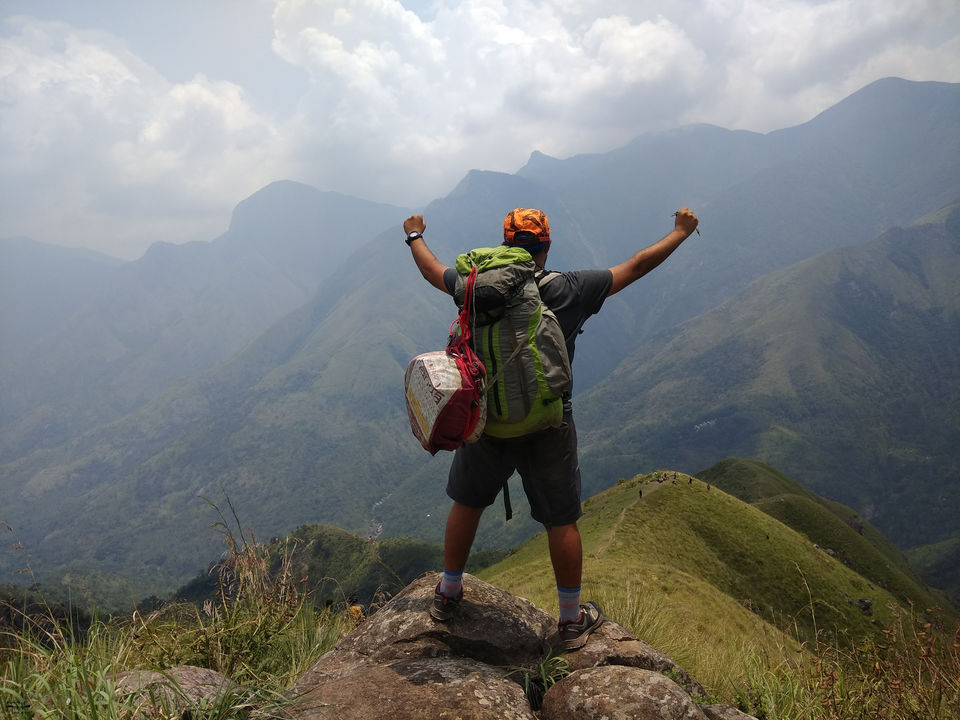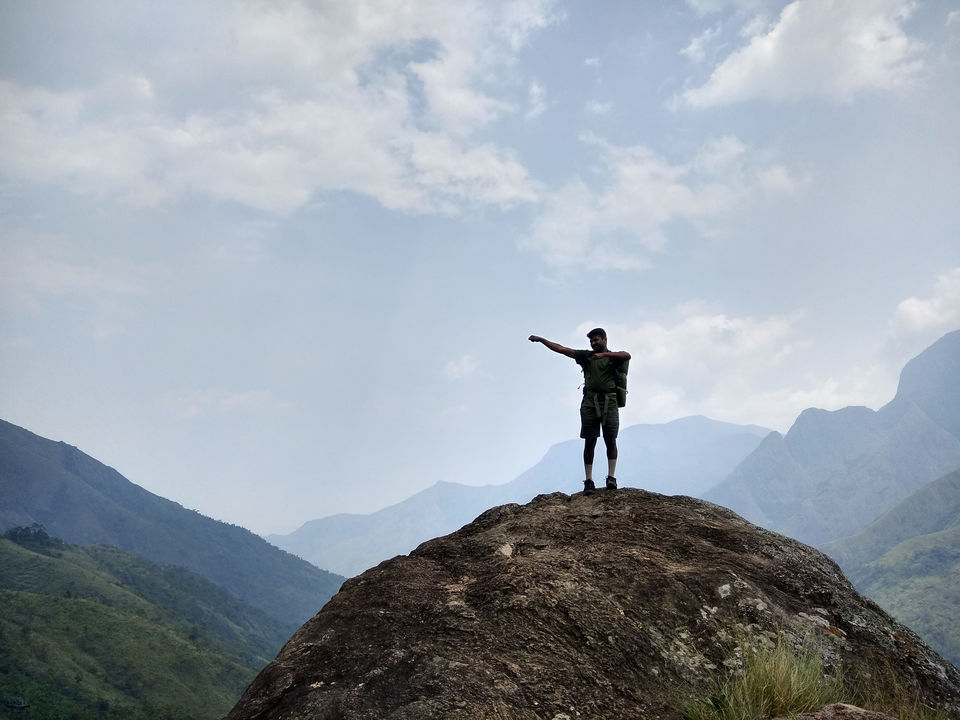 We did not take much breaks on the way to Kurangani and were completely drained. After trekking for almost 1+ hours, we reached to Kurangani village. By that time we reach there it was 7'o clock in the evening, took leave from Guides and beautiful Kurangani.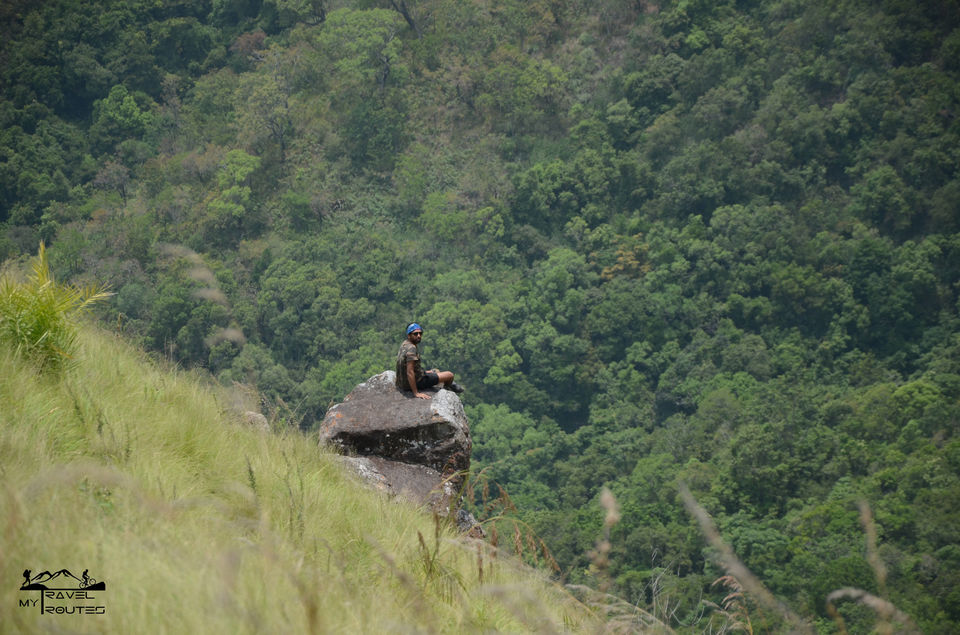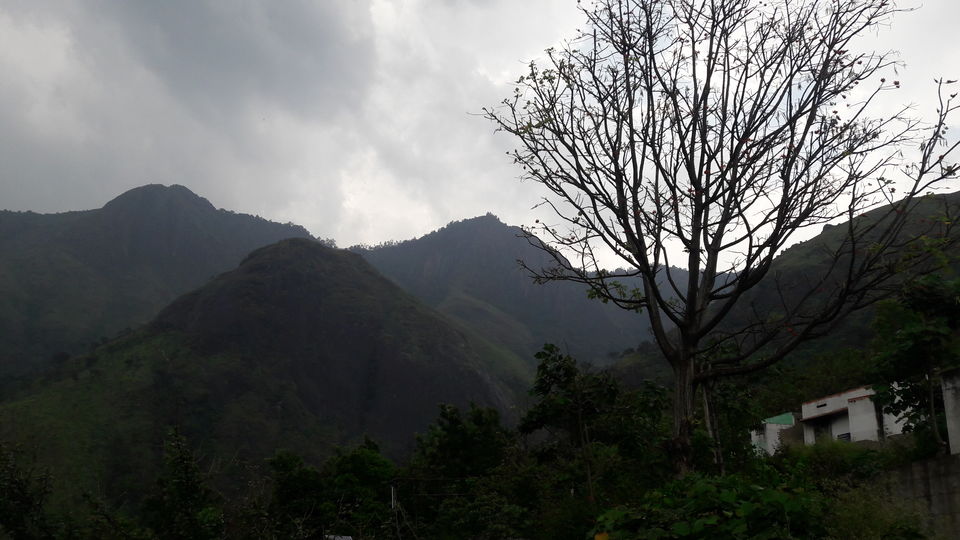 I enjoyed my Top Station Munnar trek, delighted the trail and company of tremendous passionate fellow trekkers, Thanks to each and every one Sudhee, Dinesh, Ranjan, Adithya, Vasu, Deekshith, Swamy, Sridhar sir.
Special mention to the Harsha for making possible such a wonderful expedition.
Image Courtesy : Ranjan Sethi, Travel My Routes and Deekshith