It was my wife's first birthday after marriage and I gifted her this road trip. Its best to make your wife feel really special and close to your heart by planning a surprise trip to such a scenic place.
Believe me - Nothing could be more romantic than this.
Best part is, it's untouched by the herd of people and does not boast of a torrid city life. In its serene demeanor, it impresses with its beauty studded with lakes, snow-capped mountains, green patches of land, bright blue skies and unimaginable terrains. If Kashmir is the Paradise on Earth then Ladakh is no less in terms of sheer scenic beauty.
Our itinerary was -
Day1 - Delhi to Manali
We took a volvo bus from Delhi to Manali. It starts at 7:00 pm and will drop you in manali in the next morning.
Day 2 - Stay at manali, to get acclimatized to the altitude. We spend our whole day doing nothing except window shopping.
Day3- Started from Manali (prefer to start in the early morning in order to avoid traffic jam), we had our booking in Jispa. But the spectacular beauty of the road let us to go further and we took our halt at Sarchu. Sarchu is a major halt point with tented accommodation in the Himalayas on the Leh-Manali Highway, (got booking on the spot) and cost is around 2000 per tent, rest depends on you how well you negotiate. All tents offer delicious vegetarian food.
The best part of the tents was thick tents surrounded by acres of nothing but raw nature, snow capped mountains, freezing cold and bonfire. Such things that you may not easily enjoy in all destinations, but it was different and above all it is safe.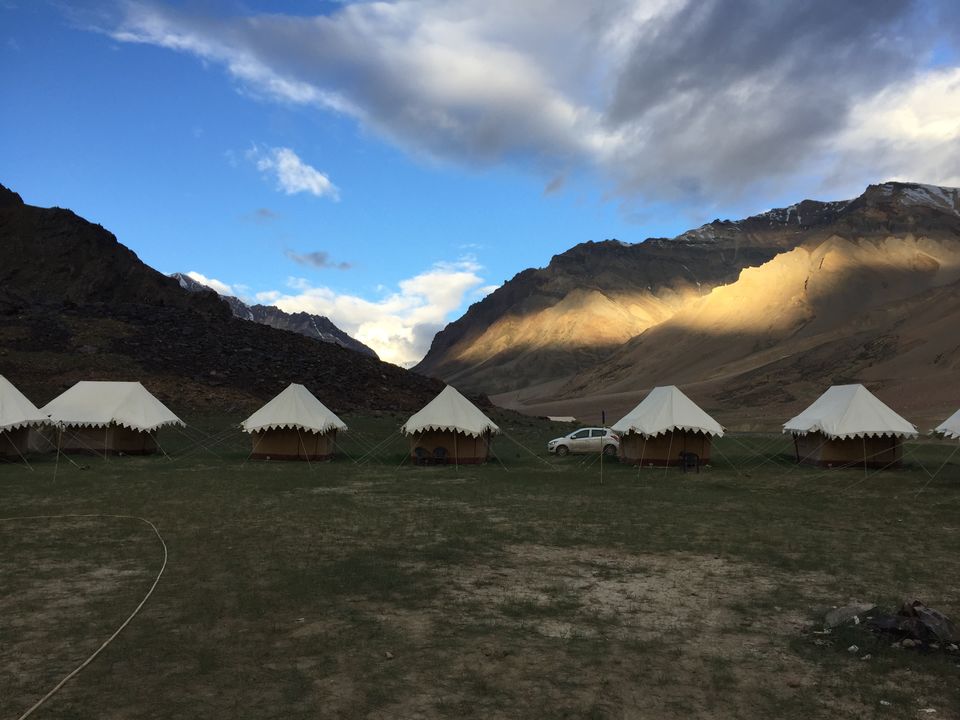 Day4- Started for Leh from Sarchu. There are many scenic views on the road, it's like after every 2 kms something different is coming up.
There is a stretch of Gata loops, I have read its story from this blog http://vargiskhan.com/log/ghost-gata-loops/ Even our driver threw a water bottle at this point. Initially I felt bad with a thought why is he spoiling the beauty of the nature but later on, he explained me about the horror story.
We took a short halt at Pang, which is a useful halt on Manali Leh highway. Basic tented accommodation and food available in the many tea houses on the river bed.
a funny incident in pang - an aunty was operating a small tea house, I offered my help to her as she was alone while preparing orders. She allowed me to cook maggi for a few passengers in her kitchen. After completion of orders, she was so happy that she offered me a job of 9k per month along with stay.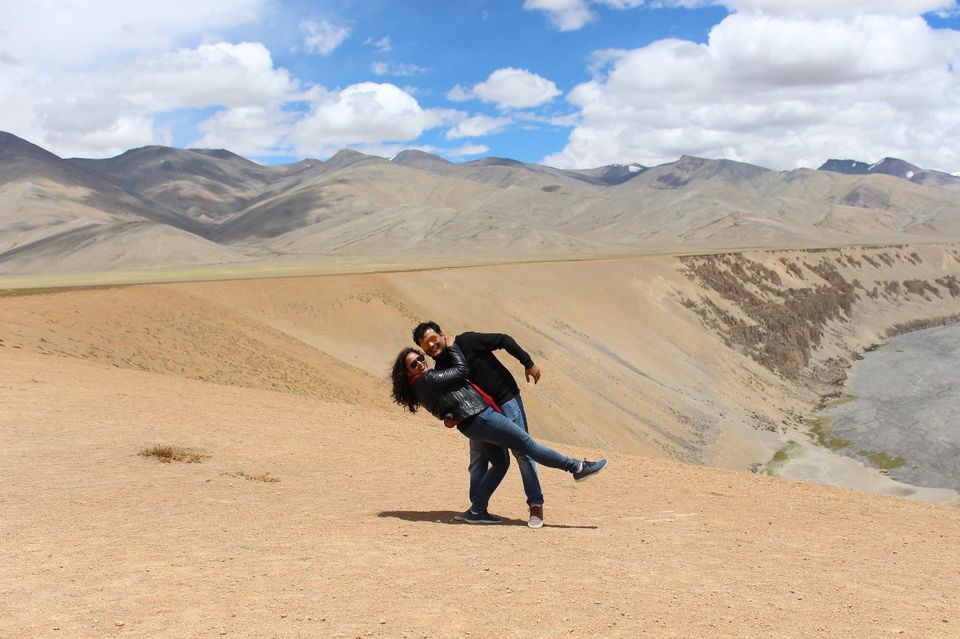 Day 5- After reaching Leh, we hired a bike for 1 day for 1200 pennies. On that day, we did Local sight seeing trip in which we had covered Gurudwara patthar sahib, magnetic hill, monasteries, shanti stupa.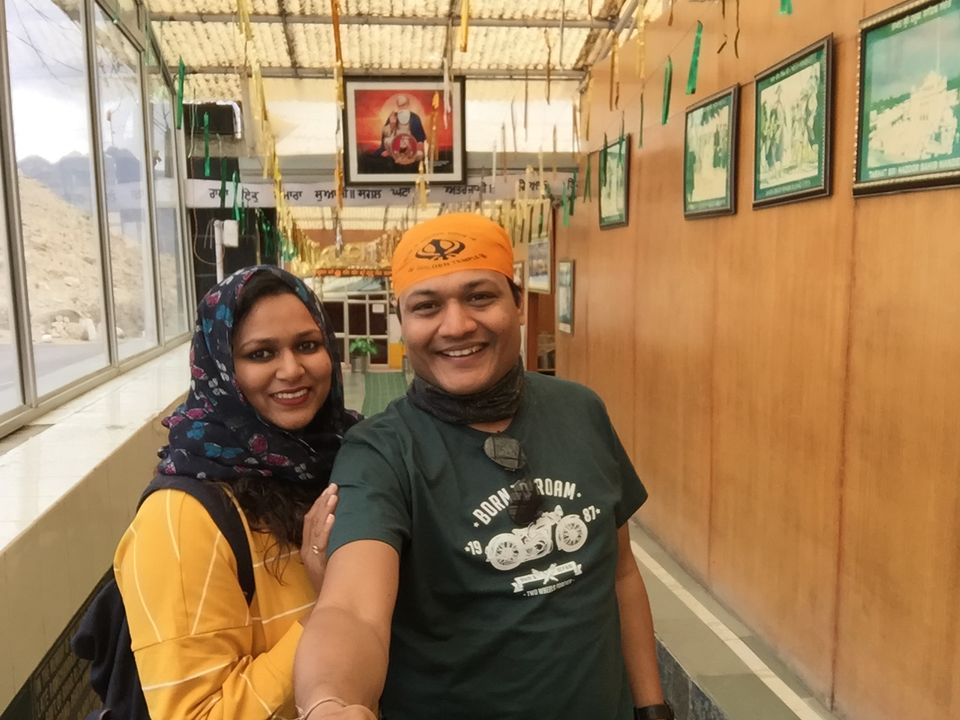 Day6- Nubra valley.
We started from Leh in the morning around 9:00 am. Our first halt was at khardungla, it was snowing at that moment. The essence of the fresh snow with such exotic views was different. Above all, there is a cafe which is operated by Army at this point (try their hot chocolate or momos).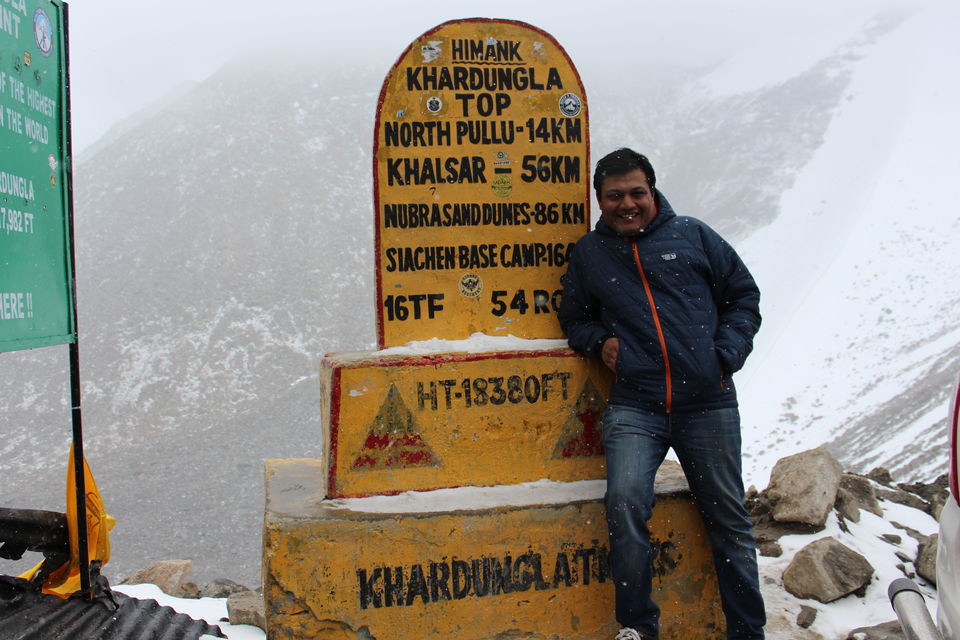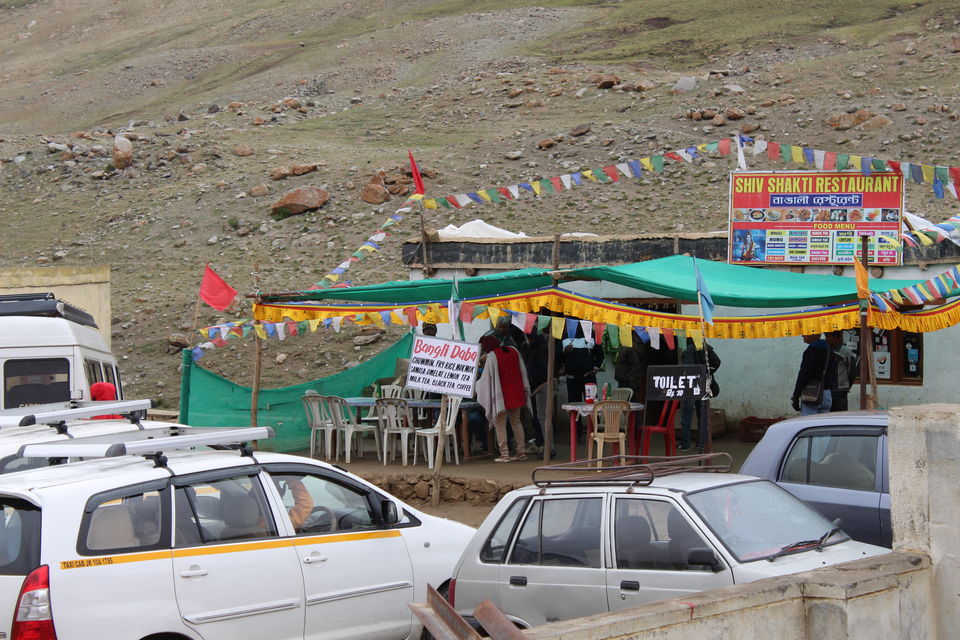 Nubra valley of the Ladakh region is one of the most beautiful part of Ladakh. To be more precise, it looked like a perfect painting having mountain, river, huts, desert, trees everything inside one hypnotizing view.
Nubra valley has multiple villages, we had our booking in Hunder. Here most of the cottages are luxury ones. Ours was Apple cottage and it was amazing as they offer swiss camps.
Day7- Nubra valley to Pangong lake.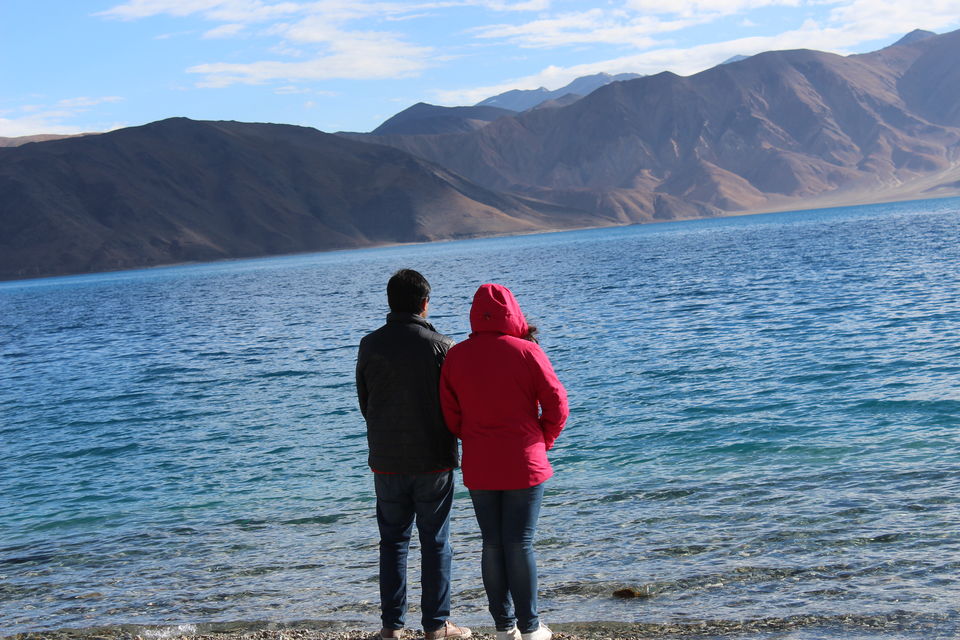 Many people takes the route from Nubra to Leh and Leh to Pangong. But I think its better to take route directly from Nubra to Pangong.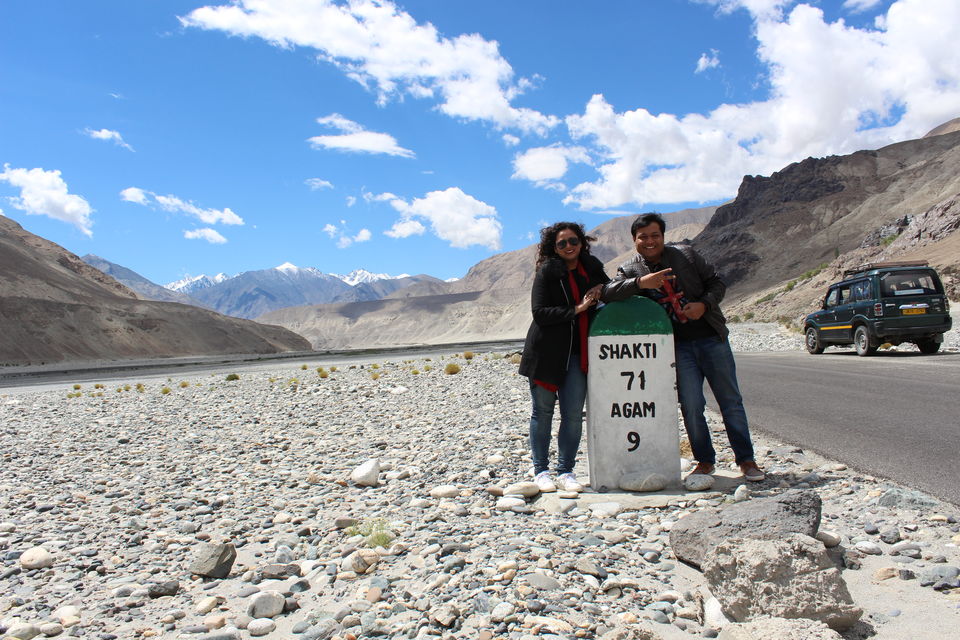 Many people says Pangong changes its color 4 times in a day. We failed to acknowledge this point.
Apart from 3 idiots, I could recall Shahrukh's song Satrangi Re had this lake in the backdrop.
Day8 (birthday)- Back to Leh from Pangong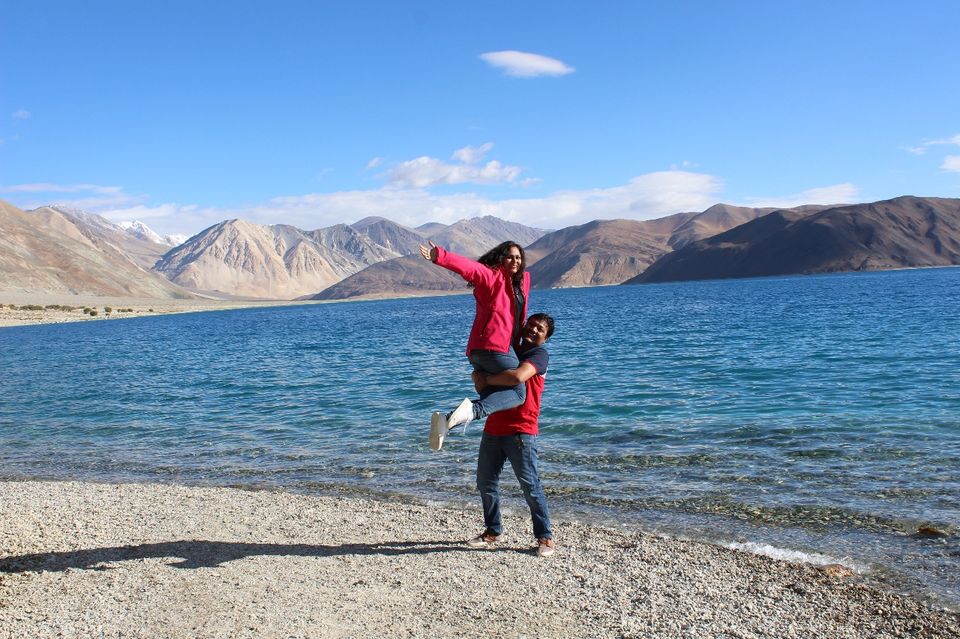 It was her birthday and we celebrated it under the stars; it was cold, breezy with the soothing sound of waves in the backdrop. I felt the lake, stars, nature everyone was giving her the best birthday gift.
I kept a few gifts with me which I gave it to her and she was awestruck.
After reaching back Leh, we did some shopping from the market. Bought some T-shirts, being a delhite it always feels good to bargain.
Day9- Flight to Delhi
Do's and Dont's
Try avoiding consumption of alcohol, have diamox everyday, keep a thermos handy to have hot water whenever required, ready to eat or bhujia is always good to have.
Many people asked us to keep a foldable tent for the usage of females, but it was of no use.
When in Ladakh, try the Momos, Thukpa, Sku and Pava the local bread and maintain cleanliness.
Trips are always fun and the best gifts to your adorable ones. Nevertheless, it helps in making never ending memories.
Disclaimer - All pics are unaltered ones