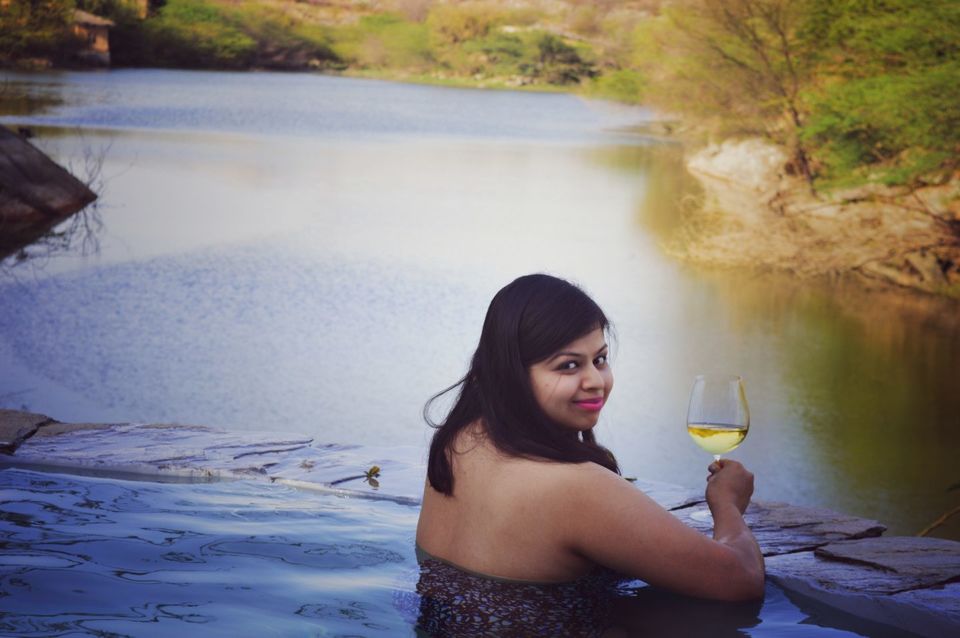 Weekend getaways has become a tradition for many of us now. Whenever there is a long weekend coming up, we tend to look up to various websites to search for that ideal place to unwind and escape from the city's hustle bustle. One such place is Lakshman Sagar in Pali district of Rajasthan, once a 19th century hunting lodge now transformed into a eco-friendly luxury resort built in a 32 acres of wildlife protected land on the banks of a lake.
When to go - The best time to visit this property is from October - February. The resort closes from April - September for maintenance and also due to the rising heat in the badlands.
How to reach - It's easily accessible by roads from Delhi/NCR, Jaipur, Jodhpur and Pushkar. The roads are mostly straight and in a good condition for driving. It's approximately 500 kms from Delhi (8-9 hours drive). You can take a stop in Jaipur and stay overnight to relax and then begin the journey again the next day early morning.
Here, sharing our photo gallery of Lakshman Sagar showcasing the magnificence of this place and the reasons why it's an unusual weekend getaway and a hallmark of luxury.
Sustainable & slow living
The moment we entered Lakshman Sagar, we were amazed by it's surroundings. The resort is perfectly situated amidst the badlands of Rajasthan in a close proximity to nature and wildlife. It is truly Rajasthan's hidden gem. We were glad to see how nature and culture is well protected at this place creating an eco-friendly environment. Upon arrival we were taken on a tour of the property which ended up to be a beautiful nature walk. Away from the chaos of the stressful and busy lives, this place is perfect for rediscovering simple pleasures.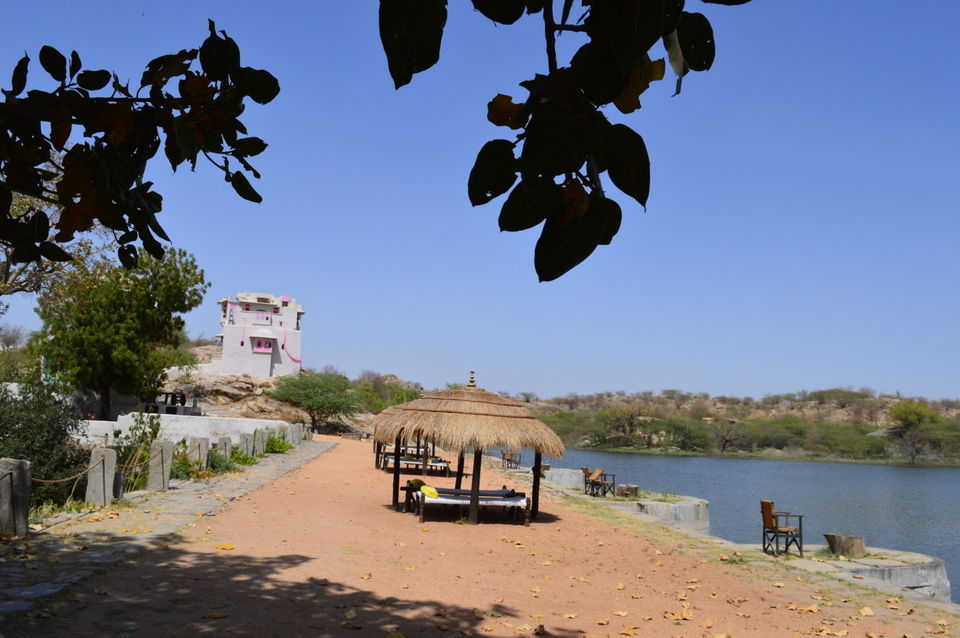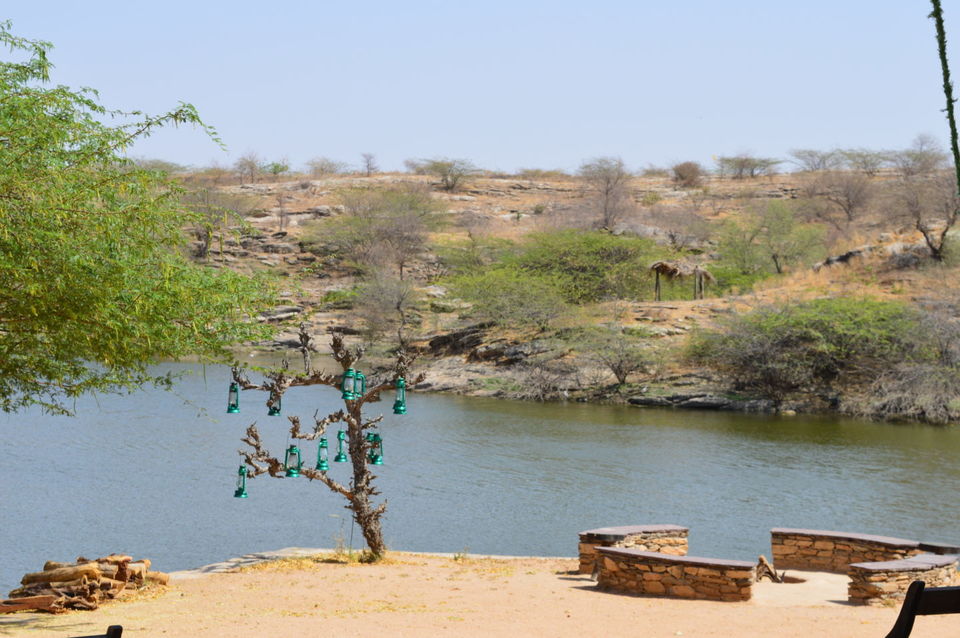 Cottages : Depicting rich culture & luxury
We were awestruck as soon as we entered our room (cottage). Never imagined this level of luxury with a hue of royalty. The room decor is purely a reflection of Rajasthani culture with a modern luxury. Each cottage is uniquely designed and comes with an outdoor private plunge pool overlooking the lake creating a visual bliss and a quaint living area filled with bright colorful interiors. All the interiors inside the cottage are so whimsical and sourced from the nearby villages.
From brass vessels like lotas (pots) for drinking water which is good for stomach, Rajasthani puppets, bangles and traditional cooking pots adorning the walls, fireplace resembling a weaverbird's nest to perfume bottles holding liquid soap and rock-cut washbasin, everything depicts a rich culture bought to you into modern luxury lifestyle.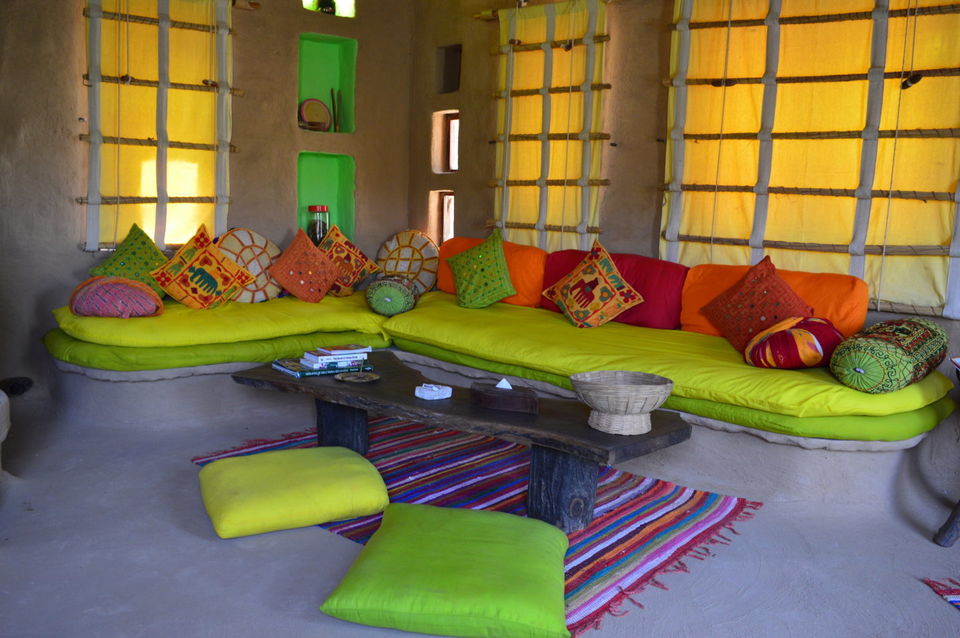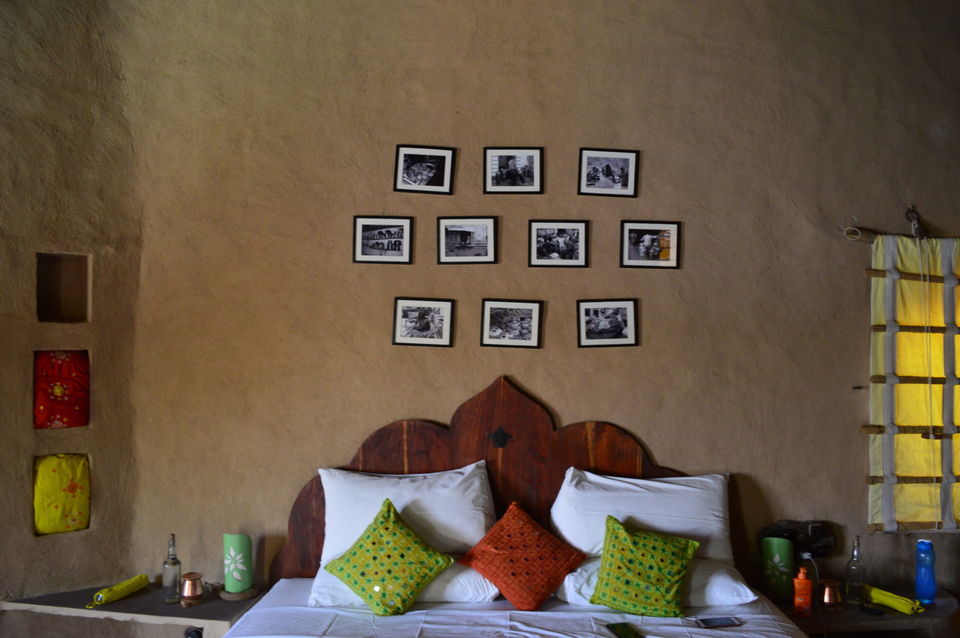 Private pool : Peace and relaxation
As soon as we saw the pool, we wanted to take a dip. With no wifi and television inside the cottages, this pool was a pure pleasure. All the cottages are hidden from each other to enjoy a quiet and private time. We relaxed in the pool all time of the day, drinking wine and enjoying wonderful panoramas. We even saw flocks of peacock flying over the lake. Whataaa delight! You can even read a book with a glass of sherbet (available in the room with different flavours) on the charpoys/khatiyas (instead of beach beds). How cool is that.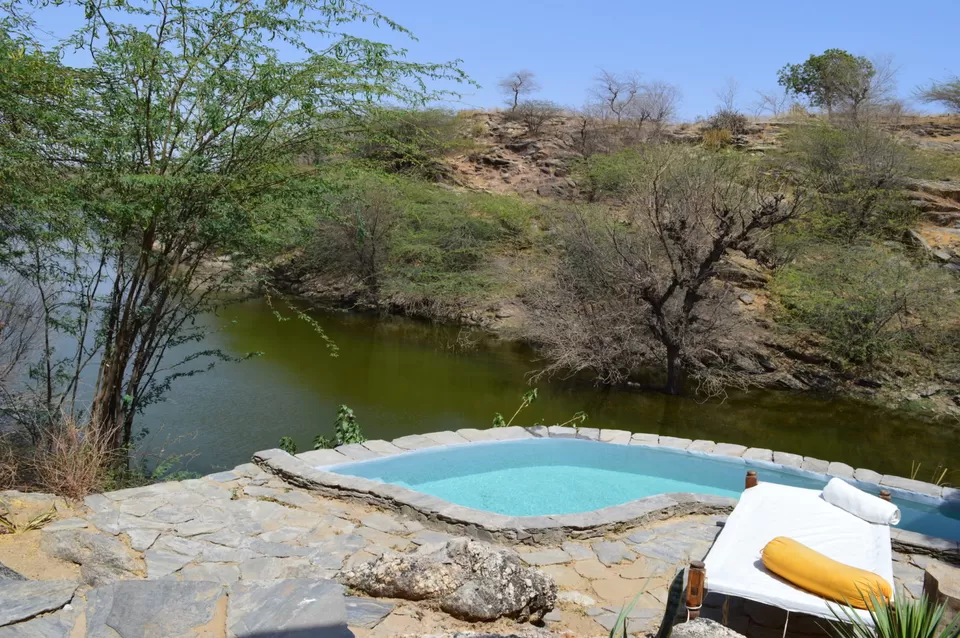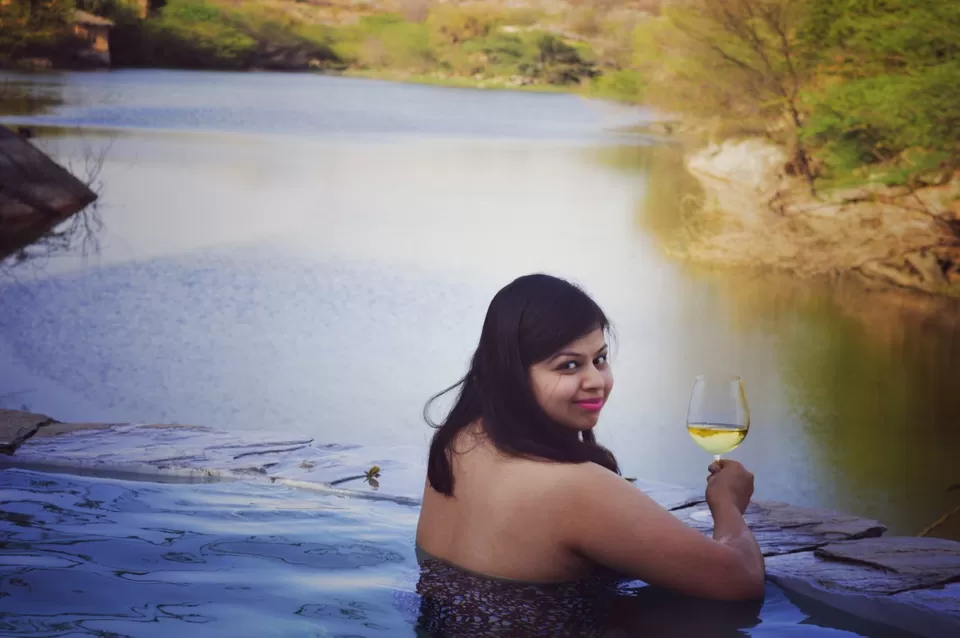 Rajasthani food : Slow food concept
The property has two main buildings which were originally named as 'Zenana', ladies quarters and 'Mardana' as men quarters. Today these two areas serve as the restaurants where everyone come together and relish on the local and authentic Rajasthani cuisine. All the ingredients are grown organically in the nearby farms. The Mardana area is perfect dining place as it faces the beautiful serene lake and we were lucky to enjoy our dinner here on a full moon light. It was so peaceful with a gentle touch of the cool breeze and soothing Rajasthani folk songs playing live. The food was prepared with all affection taking care of everyone's preferences. It was delicious and felt like home. The food was served hot on our table while we were enjoying the picturesque full moon night. A perfect way to relish your meals without any hustle.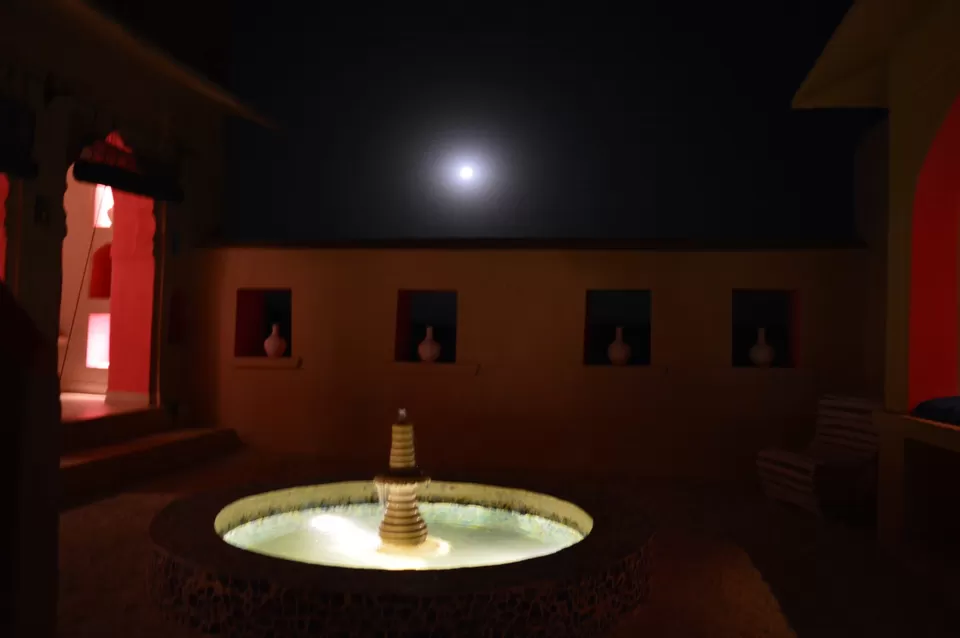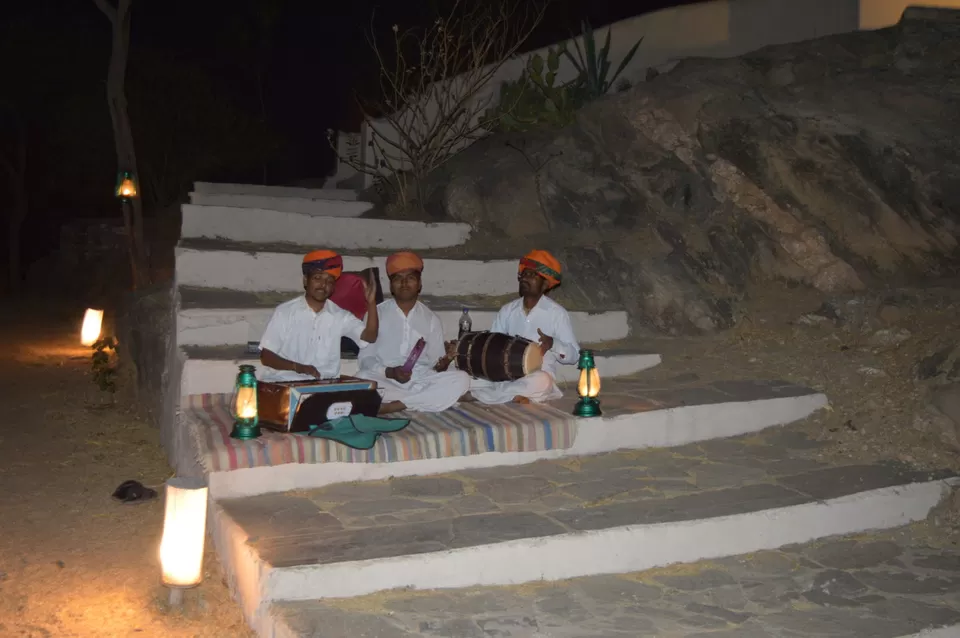 Sunrise above the fields
Watching the sunrise on the terrace of the Zenana was one of the most pleasing experiences. The Zenana area is in itself a showcase of historical elegance with bright pink curtains flowing through small jharokhas (windows) overlooking the lake and the fields on one side and the wonderful 'rock-cut' pool on the other side of the Zenana. Imagine the spectacular views of sunrise through this beautiful place with a cup of hot coffee.
We woke up early in the morning to see the sunrise and luckily we were the only one when we reached the Zenana. We had the entire terrace to us and therefore, were able to photograph every phase of rising sun.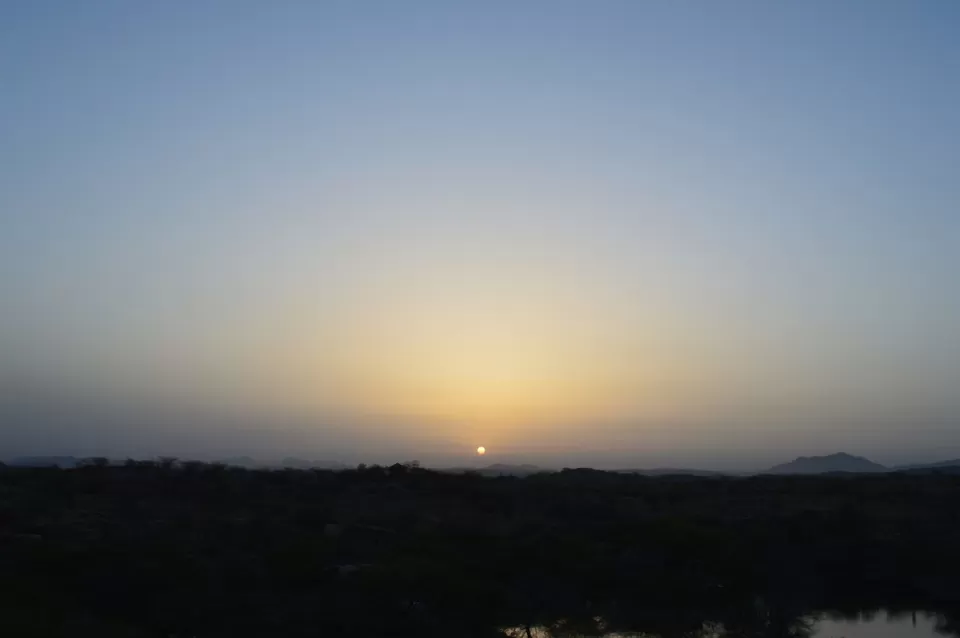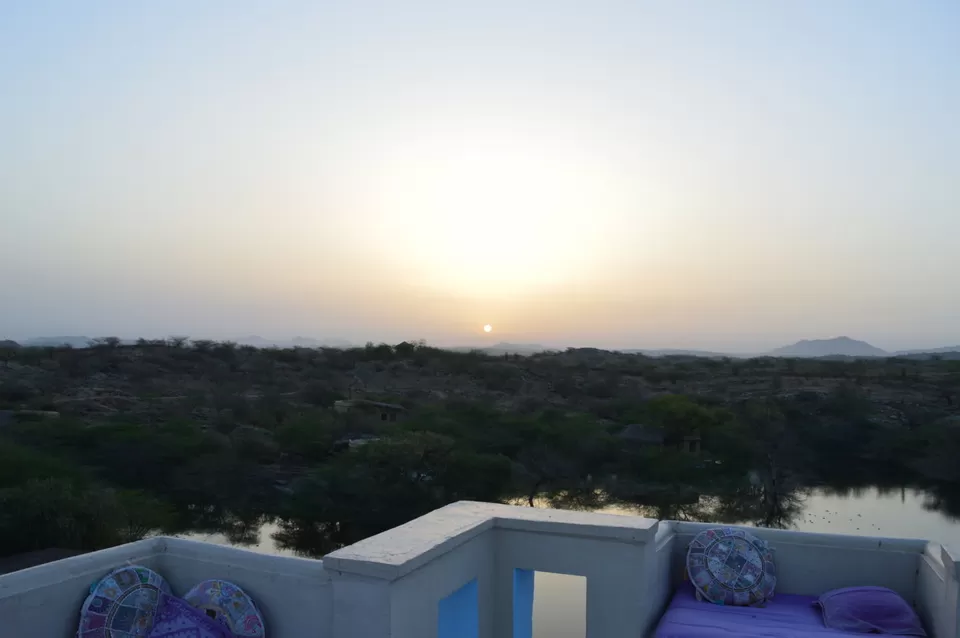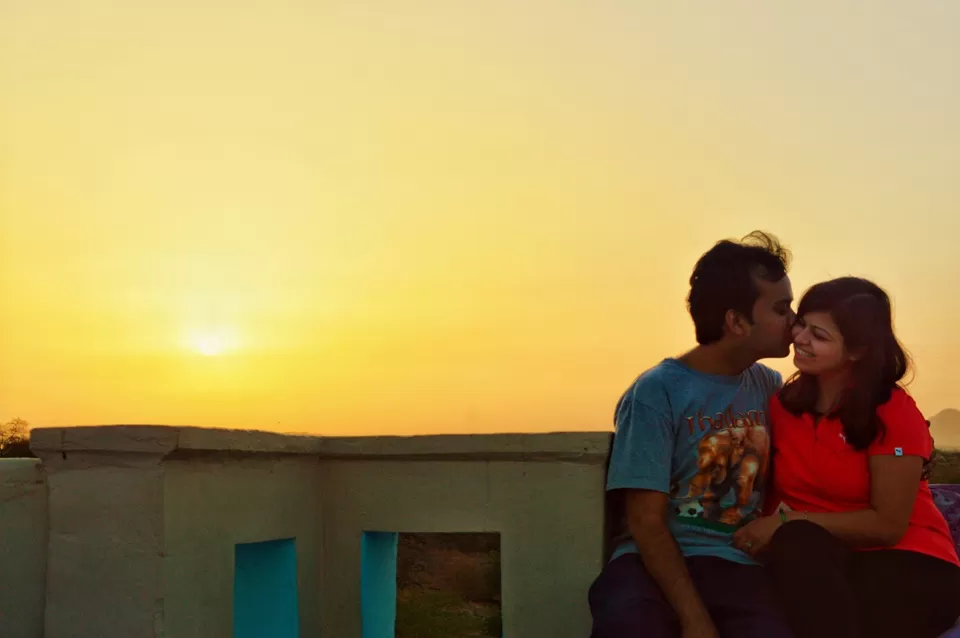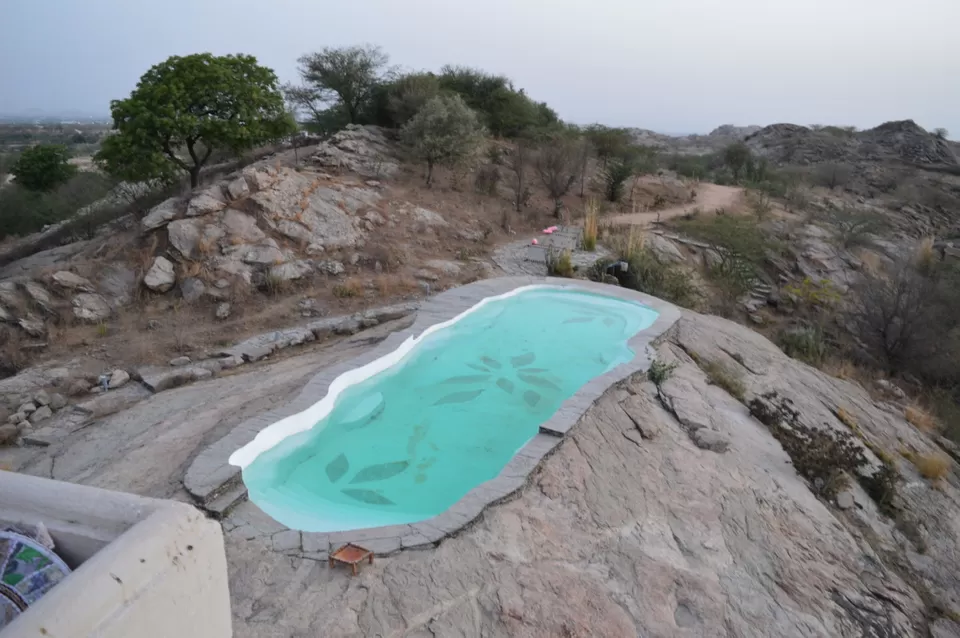 Experiences to remember
Lakshman Sagar offers unique activities exhibiting the local villages life. You can go on a nature walk exploring the flora and fauna around, jeep safari into neighbouring villages and taking up first hand at pottery, enjoy field breakfast with the farmer's family relishing bajra rotis and buttermilk churned traditional way. You can also do horse riding, kayaking in the lake or just sit by the lake and catch some fishes. In the evening you can enjoy star gazing from the terrace and admire the clear sky which is tough to find in our busy cities.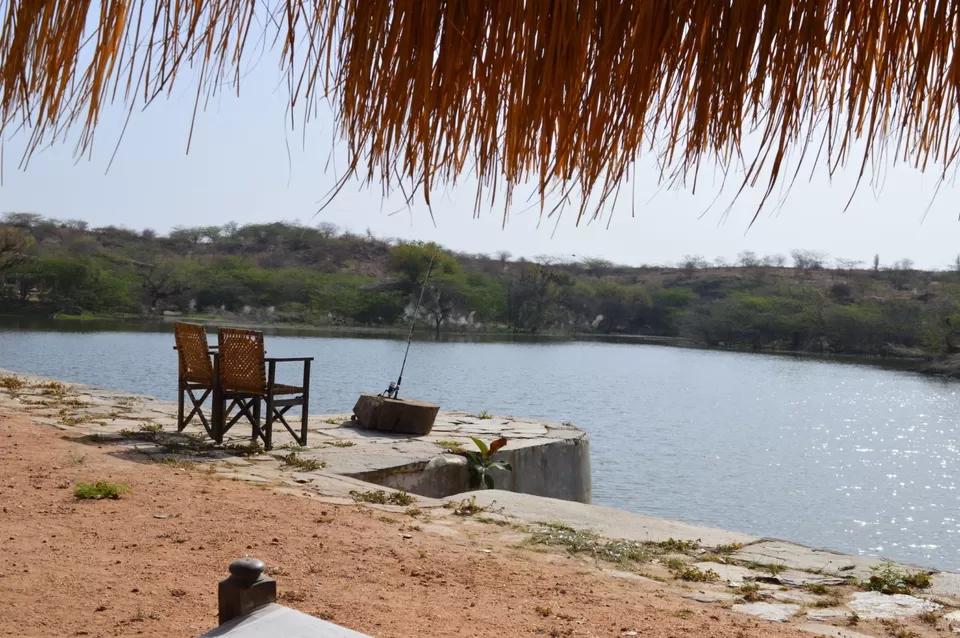 I hope this article is helpful to you guys in planning your next weekend getaway. Please let me know your views in the below comments section. Also, if you need any more information or need help in booking then you can email us.