Landour is a quick weekend gateway near NCR. Very scenic and serene place.
Plan was to start around 04:00 AM from Faridabad but started around 05:30 AM on 26th Jan'17 ... First stop was at Haldiram after Meerut Toll. Filled ourselves with yummy breakfast. Had a good 1 1/2 hour break there. Started onward journey and took left cut before Roorke... it was a two lane road with out divider but mostly good with less traffic and this road takes you through lush green fields of UP. Greenery all around was so refreshing. Tracing the mildly cold breeze we reached Dehradun. While crossing Dehradun we saw extremely beautiful red strawberries... Had to try these beauties.. And they were superb.. sweet with a bit of tangy taste... Advait (My Son 2yrs 7 months old) and Darsh (Friends son... almost 5 yrs old) loved these red beauties.
Journey after Dehradun was very slow moving due to pool of cars with DL, HR 29 number heading to Mussorie. Many of these were driving ...with no hill driving sense. Terrible.....
Just before Mussorie there is a left cut for Landour.... very narrow and steep climb. At few turns it was very nervous moments but Vivek (my husband -- crazy driver sailed it through) Finally we reached Ivy bank guest house/cottage. They have very well built 1 duplex cottage for 4 adults, 2 duplex rooms for 2, and 4-5 deluxe rooms which are little away from these though in the same compound but are cheapest ;-). We tried to negotiate for duplex cottage but hard luck.
Ivy Bank is a nice cozy home stay.. would definitely recommend it to any one visiting Landour. It was pretty cold and packed weather almost getting dark. We walked to Char Dukan ... it is approx 1 KM away hill side to Ivy... And as name suggests this area litterally has 4 dukan which are there since early 19's. They serve very maggi, omlette, waffles, tea/coffee, honey lemon ginger tea, and Momo's. Because of superbly misty weather we thoroughly enjoyed momo's, maggi and waffle :)
Apart from these 4 Dukan this area has Ivy Cafe... nice and cozy sit out place. We spend almost 2 hours there chit chatting with owner, good food. Char Dukan has 1 lane towards Lal Tibba which offers good view of mountains and dehradune valley and another lane is towards Sister Bazaar which has some good ....stay options.
Around 9 we started journey back to call it a day... night was also eventful.. as it rained almost all night, no power, and anticipation to see snow fall could not let us sleep peacefully ;-)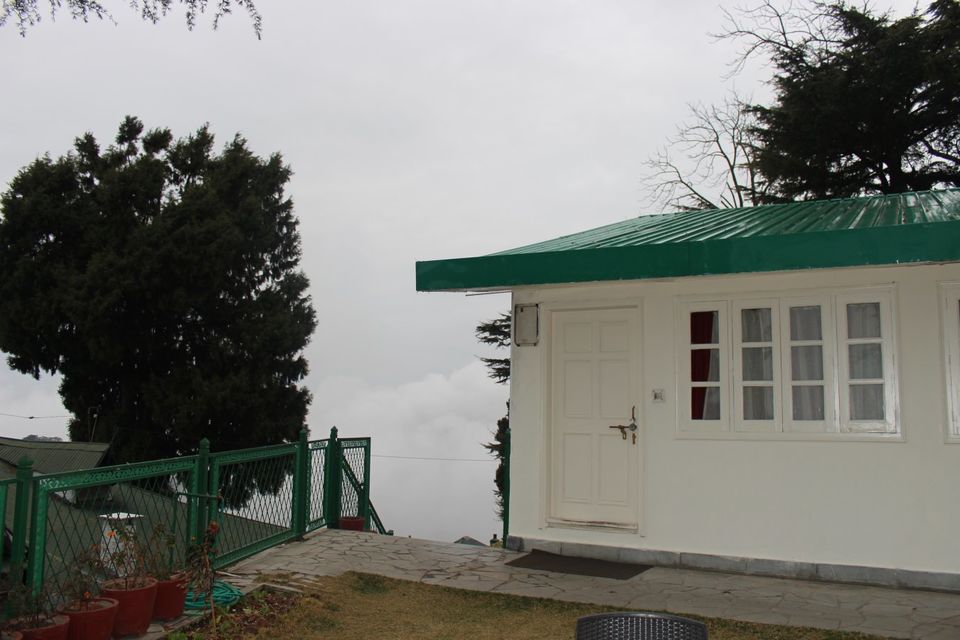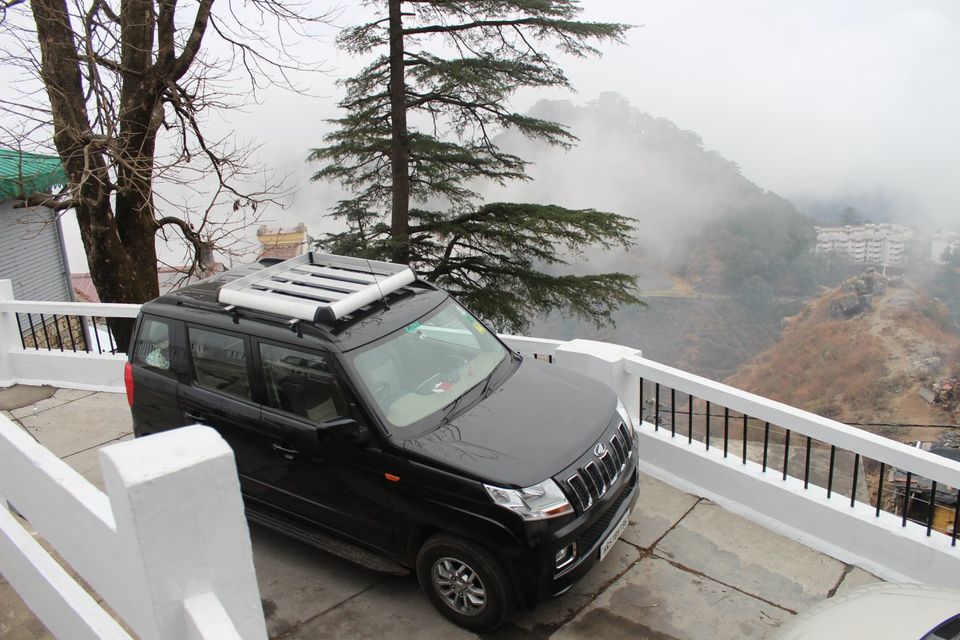 Day 2 :
On this day all woke lazily to find pristine green beauty. Very light snow flakes were falling which were finding it difficult to sustain on the ground. Ivy Bank has 2 dogs 1 Labrador and another one Pug... Advait is extremely fond of dogs... his main intention was to have fun with these and he enjoyed a lot... Called Dhanaulti to check there is any snow.. and voila it snowed previous night there. After heavy breakfast we headed towards Dhanaulti to play with fresh white snow... Dhanulti was all full of tourists. Entire town was painted white... such a soothing sight it was. Advait and Darsh played with snow for good amount of time... :)
We reached Surkanda Devi temple but did not dare to climb all the way up due to black ice formed on the way. Also no one had energy to lift kids all the way. Took a U turn to enjoy vistas and snow en-route. Stopped at couple of places before starting return journey to Landour.
It was almost 6-06:30 when we reached Landour... thought of having a quick tour to Sister's bazaar and found a very nice bakery cum coffee shop. Tasted almost all the varieties of delectable cookies, cakes and Muffins.
Dinner tonight was at room only... so started chit chatting, dinner, music on bluetooth speaker. With good memories time just flies and it was almost 02:00 AM ... fnally decided to sleep. Next day was return journey to home.. not much to be done.