The Andaman Islands are an exciting piece of teritory, mostly unexplored by travellers.

Middle Andaman must hide number of exciting places in its unaccesible interior. Turtle nesting beaches and mangrove walkways are the main draw of this large island and these highlights are easily reachable via Andaman Trunk Road (ATR). Middle Andaman is also a good starting point for a day or longer trip to Long Island.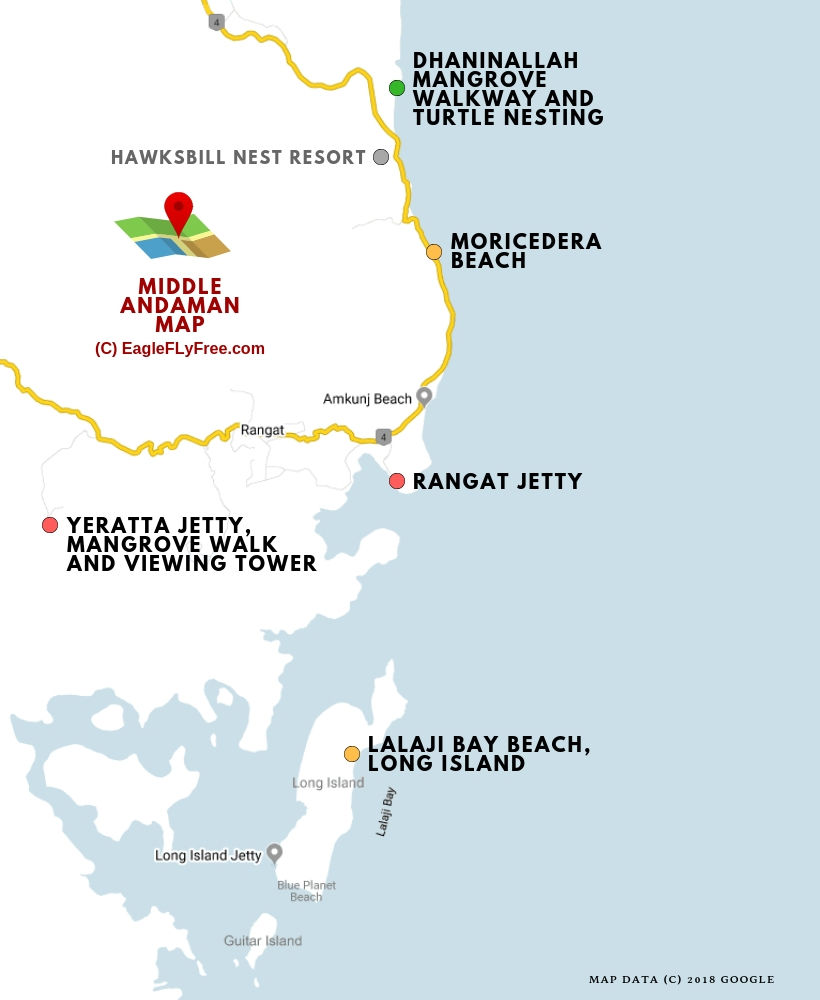 Getting to Middle Andaman
Island is well connected with Port Blair by both the read and the sea route. There are 4-5 buses daily, running the length of the ATR. These depart from Port Blair from very early morning till the mid day only.
Andaman boat schedules are constantly changing, however as a rule of thumb, there is a Port Blair to Rangat boat at least every second day. As you can see from the picture below, ships are quite rusty here.
Rangat jetty vs. Yeratta jetty
If you plan to arrive by ship, take a note, there are two jetties near Rangat. If you arrive by ship from Port Blair, you will disembark at Rangat jetty. If you arrive from Long Island by local ship, you will disembark at Yeratta Jetty. Bus will meet the arriving ship in both jetties.
Getting around Middle Andaman
Dhani Nallah Mangrove walkway
This 700 meters long walkway through thick coastal mangroves is a real gem of Andaman archipelago and it is the reason to stop for 2 hour if you have no time and to stay for 2 days if you can. Nearby is Hawksbill nest resort is some 2 km away from Dhani Nallah entrance.
Dhani Nallah beach is also a turtle nesting site, thus staying overnight and observing nesting turtles is something to recomment here. Nesting season runs from late December to March and it takes minimum 45 days for babies to hatch.
Be respectful while observing a turtle nesting.
Use NO light! Flashing your mobile light to the sea will most likely scare the turtles away. Do not touch animals and do not obstruct turtle's journey back to the sea and do respect the forest department rangers instructions. They are there to protect the nature, not to guide you.
Middle Andaman Accommodation and food
Honestly, there is not much of it. While a few unremarkable places in Rangat can offer you a sleep, most people stay 34km north from rangar in Hawksbill Nest Resort.
Follow us along the 700 meters long walkway in this video