Trip : Chennai - Madikeri - Bylekuppe - Chennai
Trip Dates : August 15, 16, 17 2014
Trip Mates : Karthik and family, Selva and family, Santhaseelan, Karthikeyan, Viswa, Dhana
A trip with friends and family, first time. We started from Chennai around 6 PM on a Tempo Traveller. To reach Poonamalle and get a Karnataka permit on the long weekend evening, the time was close to 8:30 ! Uffff ! We had dinner to the Motel Highway at Ponnamalle and started to drive towards Madikeri via the Vellore-Krishnagiri-Hosur-NICE Road-Mysore ByPass-Mandya-Hunsur-Bylekuppe-Kushal Nagar-Madikeri route. The roads are excellent apart from the link road between Srirangapatna and Mysore ByPass - which is around 20 kms.
Day-1 There were few stops in between for tea and the driver was also not really driving as like the road. We closed in on the Mysore bypass road by 7 AM and took the road to Madikeri from Srirangapatna around 8 AM. We had some idlis, dosas, vada, kara bath, chow-chow bath at Hotel Aditi, Kushal Nagar, some 50 kms before Madikeri. We had booked Hotel Highton - a budget hotel at Madikeri through MakeMyTrip. There were very few reviews in TripAdvisor, however, all were good. We checked-in around 10:30 AM and the rooms were spacious, clean and neat. Very good for a budget hotel.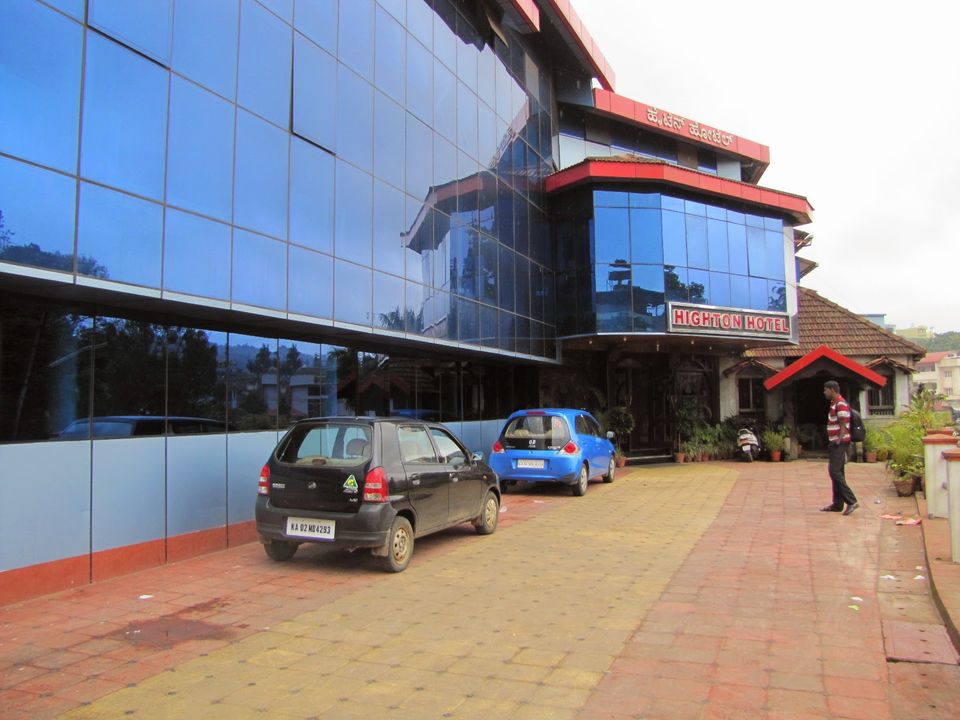 After quick refresh, we started our day towards Abbey falls (Abbi falls). Abbey falls is a 5-10 minute walk from the road (parking area). Provided the monsoon was rich this year, the falls was very much flowing on its full capacity and the fine breeze made it a treat to watch. Looks like people are allowed to take bath when the water is less, however, this period of the year, one cannot even go near the water falls. There is a hanging bridge, on which one can get excellent view and treat to photographers !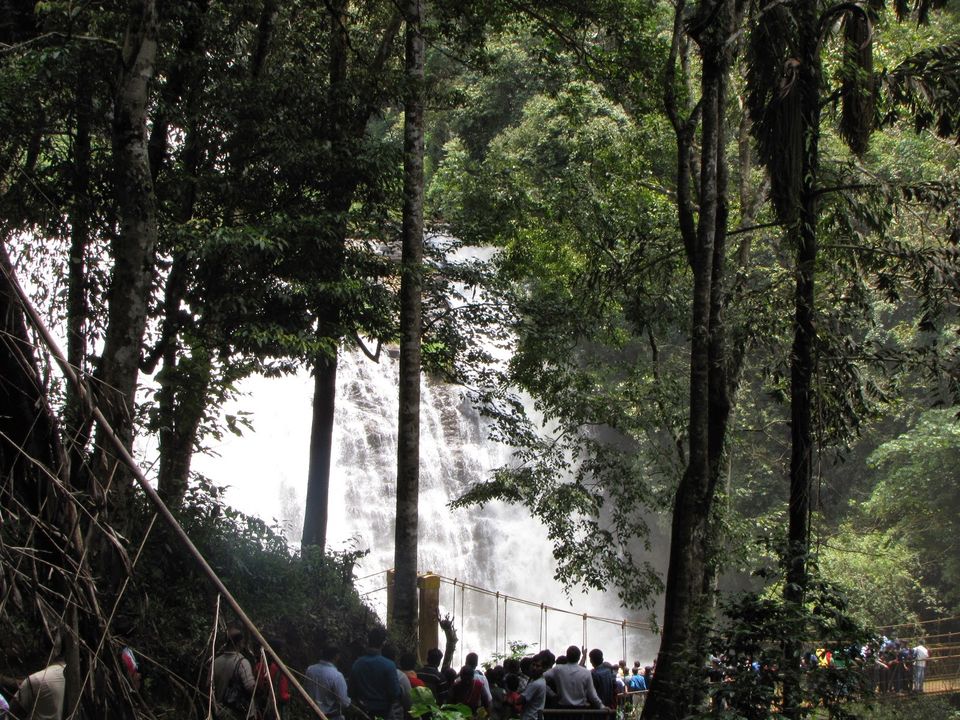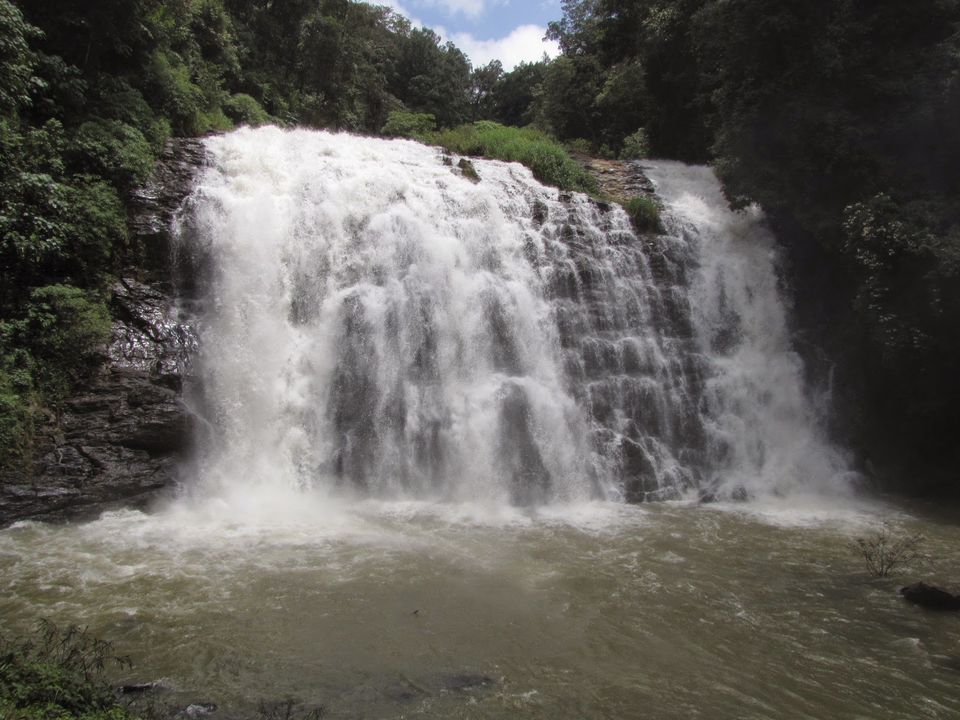 After spending close to 30 minutes, we moved on to next stop. Our driver recommended a view point, which is one of the best (Mandalpatti). However, he did not name it. This was on our Day-2 list but though the one referred by driver was different and skipped. Mandalpatti is #1 place in Madikeri and the parking area is 3 kms ahead of Abbi falls. Please read through for more information on Mandalpatti later in the blog.... :)
Next, we went to Madikeri Fort, in the heart of the town. This is an ancient fort and a small one, and not many people visited. The weather was a slight drizzle. With this, the view of the moist and green fort was very good to walk around and a quick time killer for travellers. I would suggest people to make a short visit and walk around the Fort for a good view of the nearby valleys.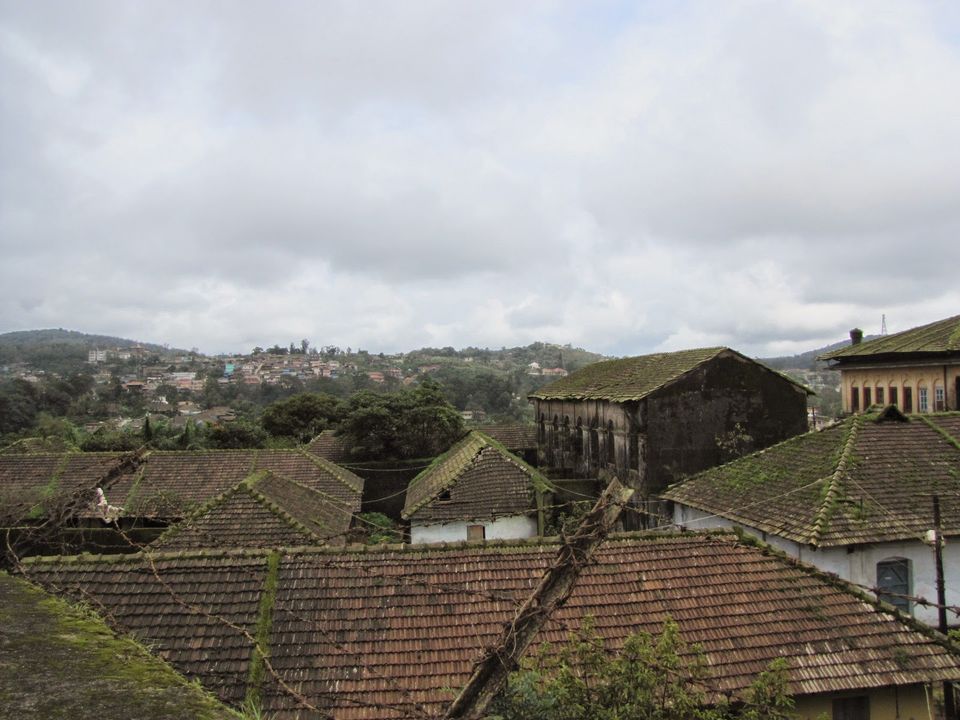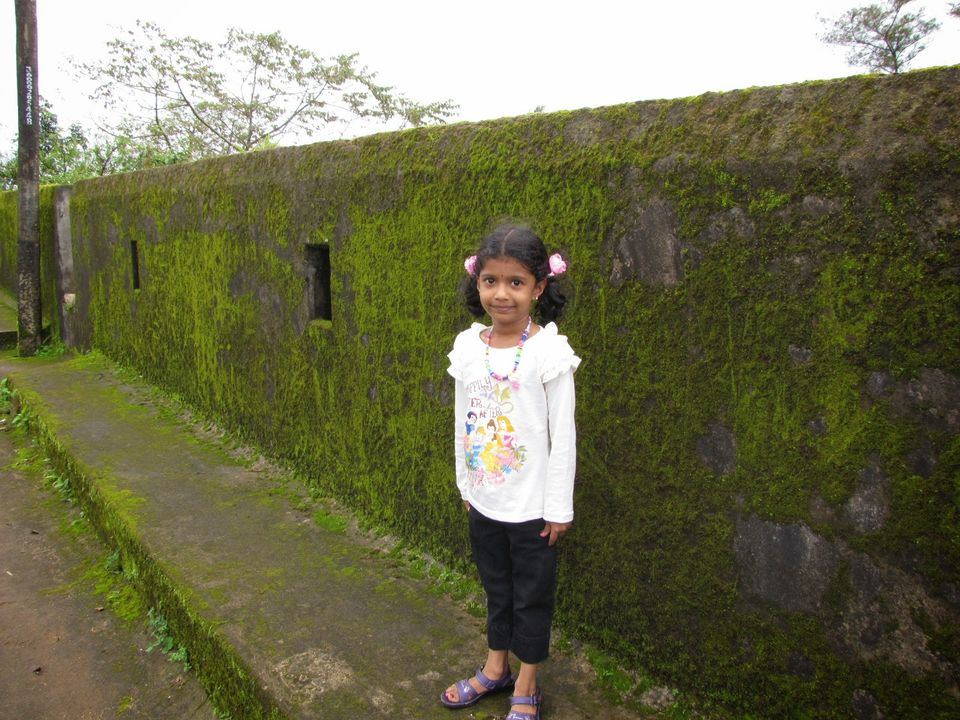 After having a delayed decent lunch @ Hotel Amanthrana (Pure Veg.), around 3:30 PM , we went to Raja's seat. Raja's seat is a cool view point of the valley from Madikeri. This would be an amazing view provided the clouds are clear. It was raining when we went, however, enjoyed the views. With children, it was little difficult to enjoy the moment in rain, but one can always prefer to spent more than 1 hour in the evenings. There is an entrance fees for Raja's seat. Around 5:30 we returned back to the hotel rooms, very tired after the overnight journey in Tempo Traveller and limited sight seeing. We want to have a better day next day, and decided to rest early.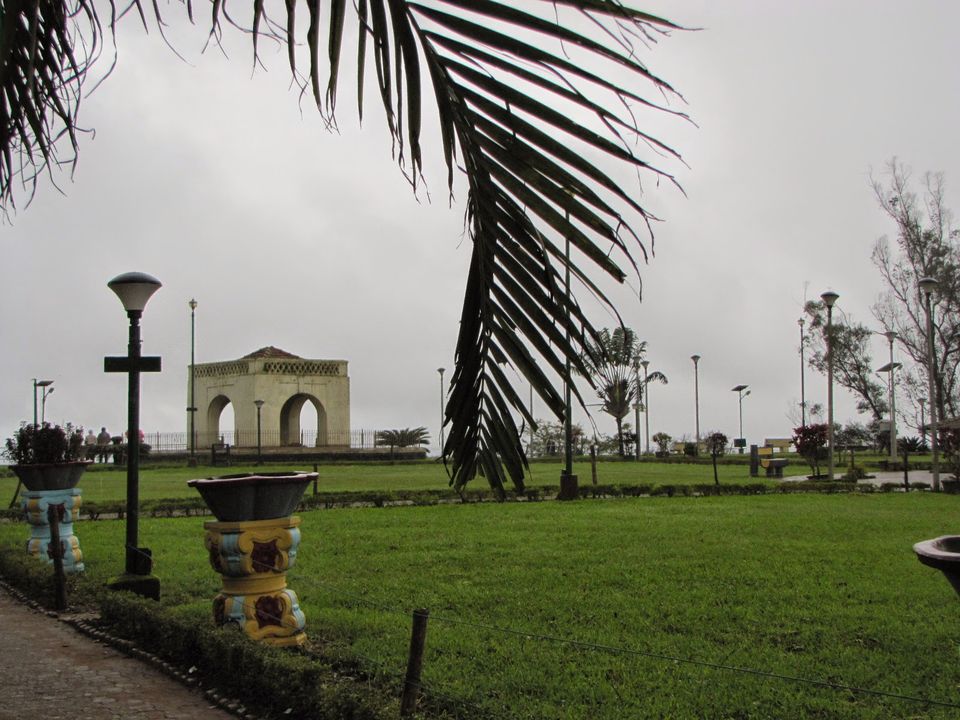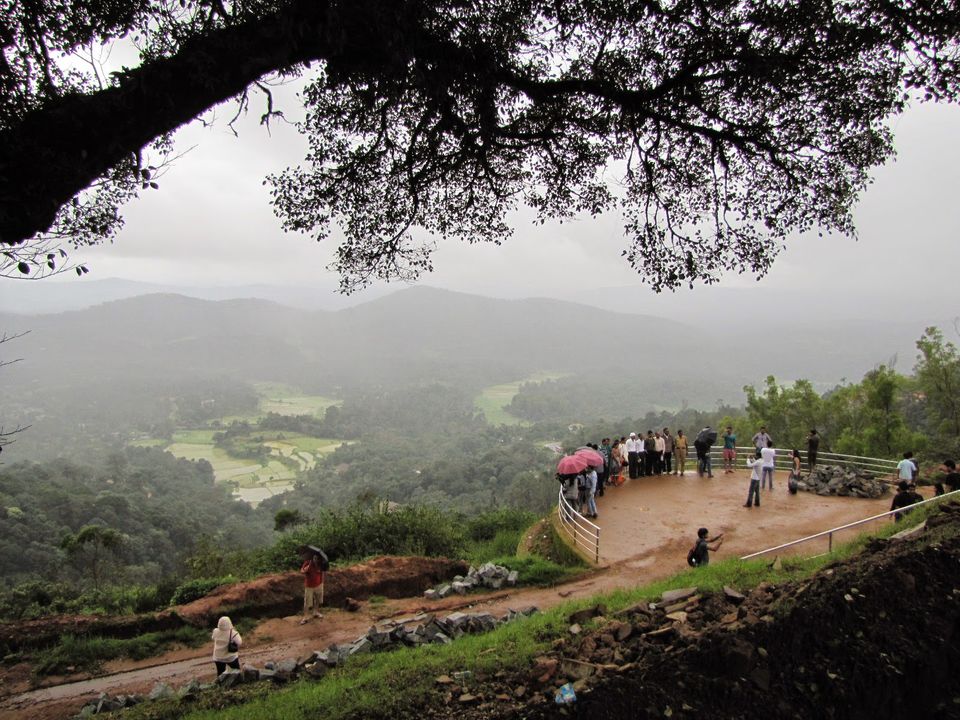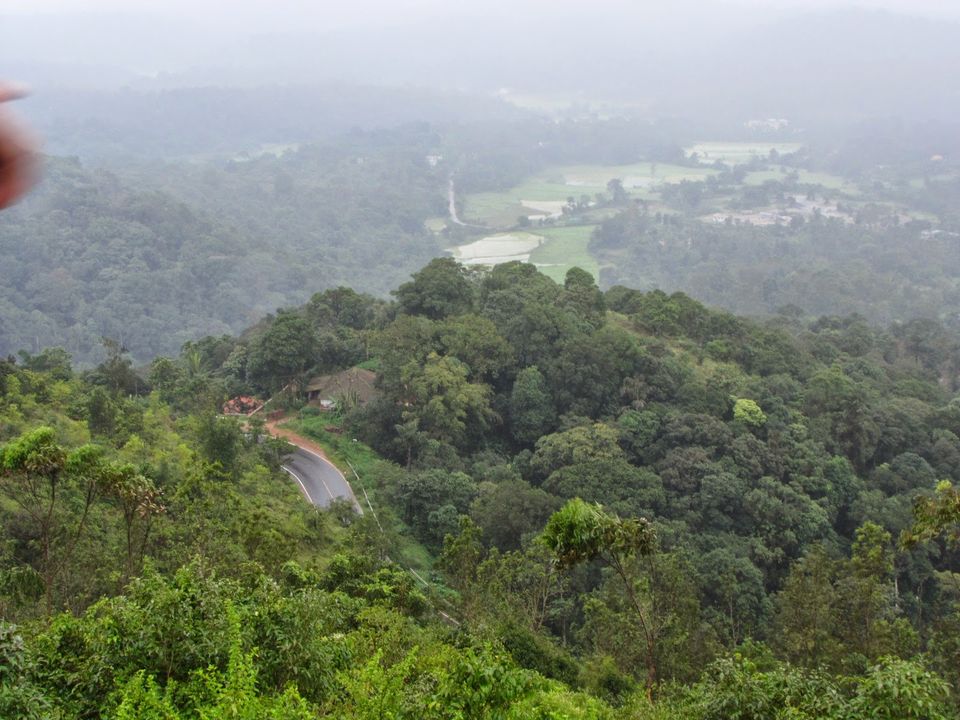 We had dinner at Hotel Poornima. Try to avoid the hotel as the service was poor and did not know how to handle when there is a crowd.
Day-2
The plan was to cover Bhagamandala - TalaCauvery and Mandalpatti. Bhagamandala is located about 33 km from Madikeri. Talacauvery is 44 kms from Madikeri. Bhagamandala is on the way to TalaCauvery.
We visited Omkareshwar temple - around 1 km by walk from the hotel we stayed. A small and old temple and quite popular locally. We made a quick visit to the temple and then for the breakfast. We had breakfast at Hotel Amanthrana. The breakfast was quite horrible. We went there since the lunch was ok on previous day.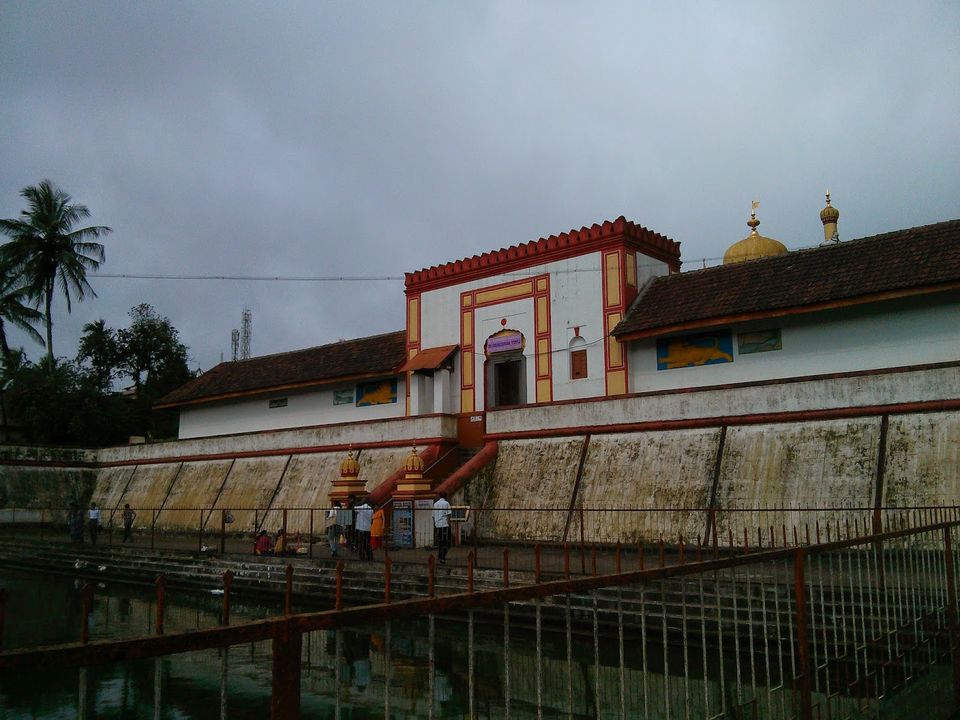 We first went to Bhagamandala. This is a place were 3 rivers are merging at a height of 3-4 feet of depth. Many people were bathing in the chill waters; however, we were underprepared for the bath. One can spend upto 30 minutes here and then there is a temple closer to the place. From there, it is a scenic drive towards TalaCauvery. One has to walk for a km from the parking lot for larger vehicles. Cars are allowed to go closer to the entrance of TalaCauvery. There is a small temple for the source of Cauvery.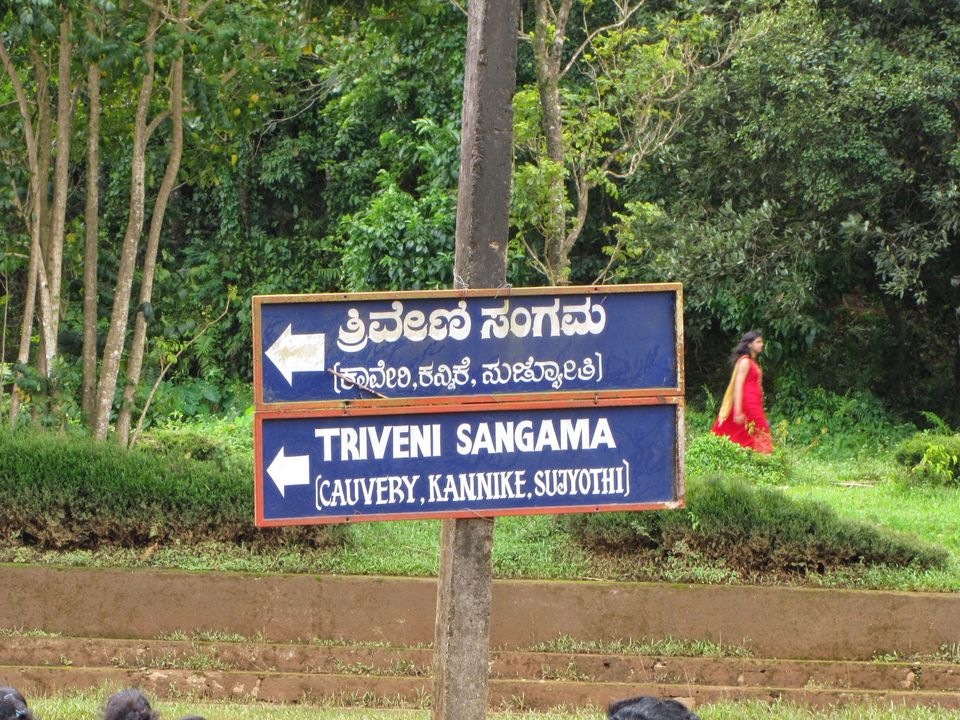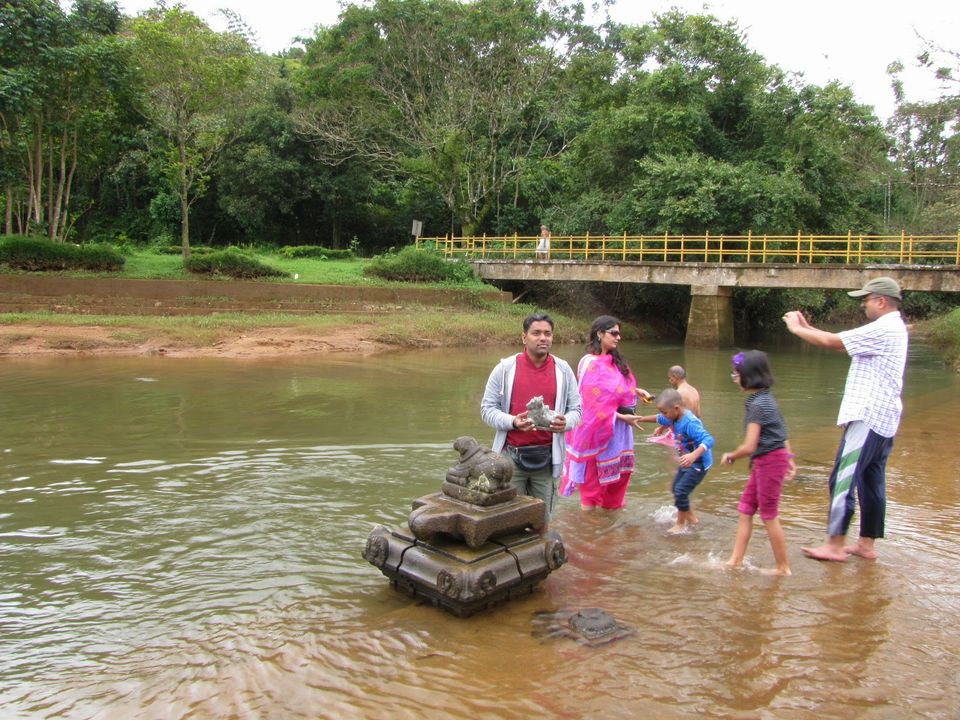 The place is very scenic amidst hills and valleys and a must visit place. One can climb around 150 steps to the hill of Bramagiri adjacent to the temple. Almost everyone apart from elders, walk the Bramagiri hill and get a great view of the mountains and valleys. One can spent around 2 hours there. The view is spellbound, green, amazing and peaceful. Photographs just keep flashing all around.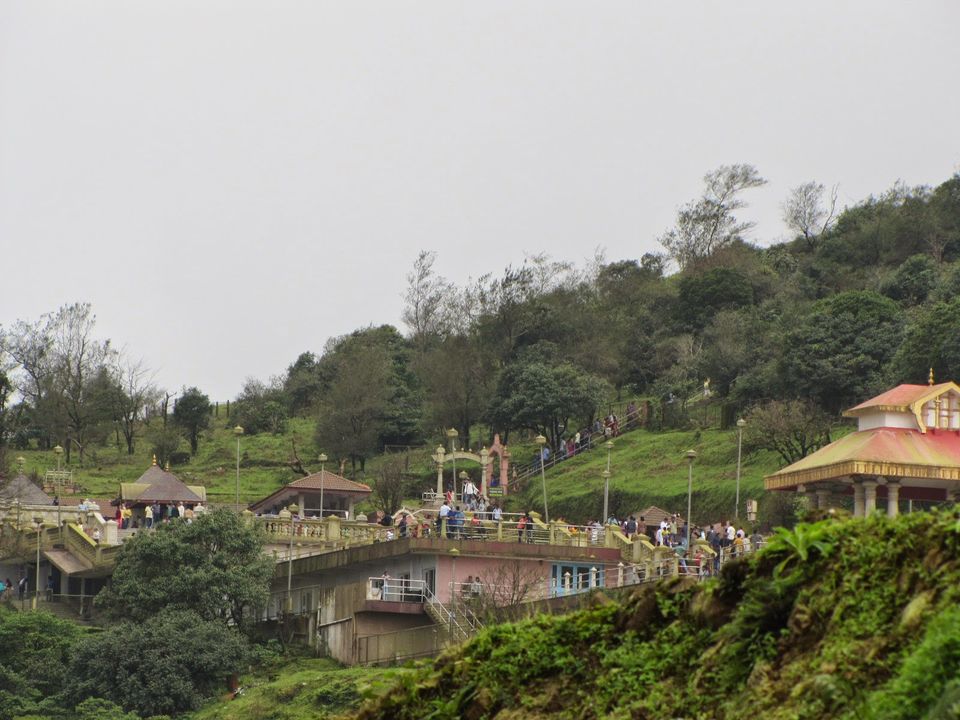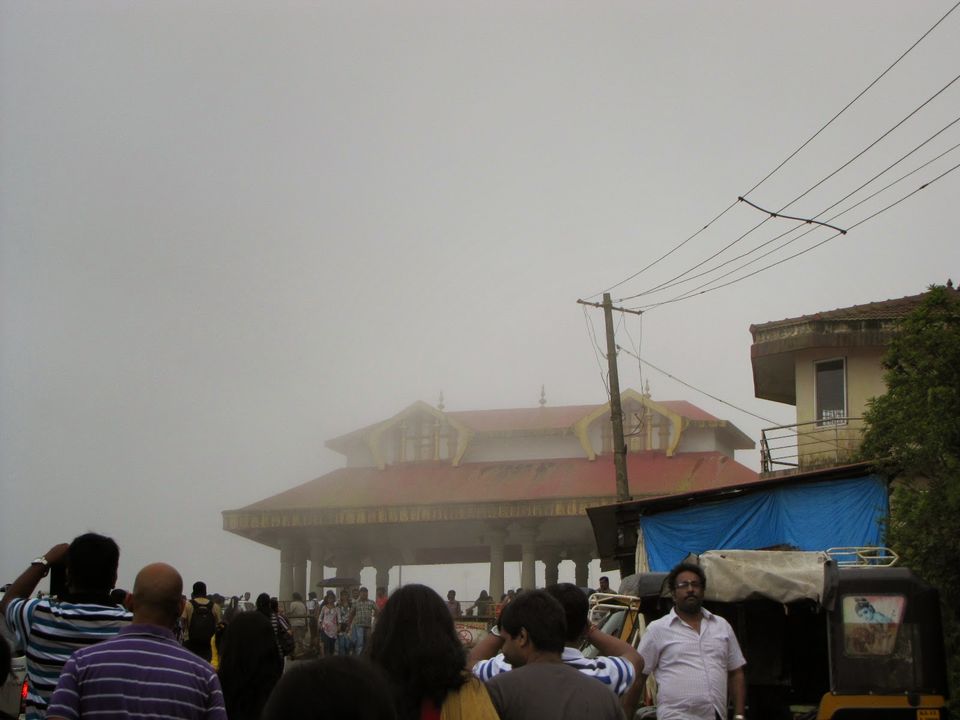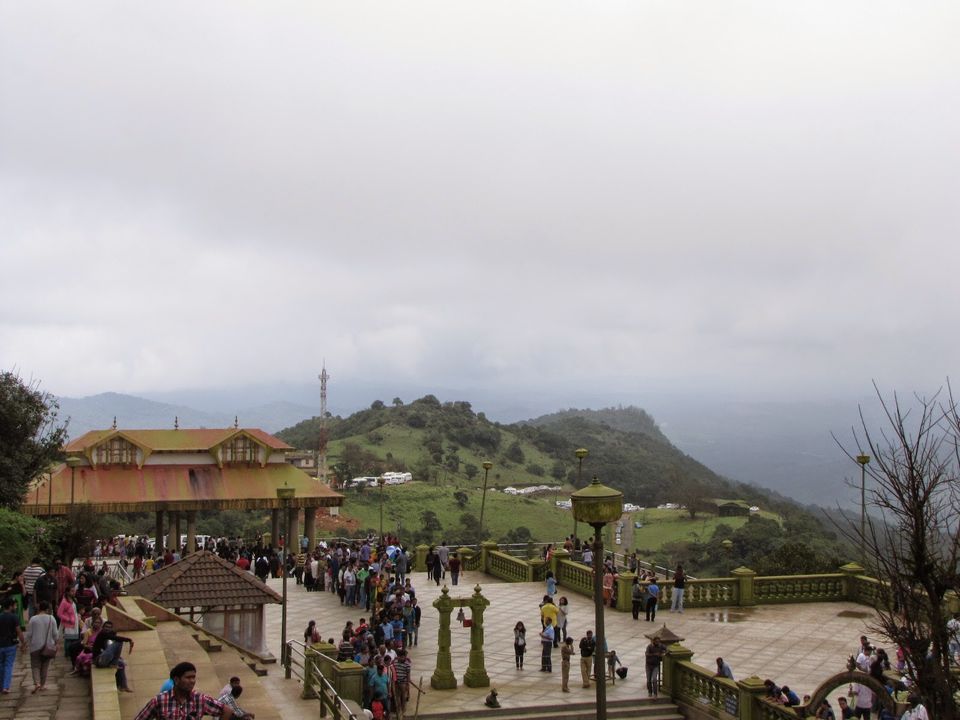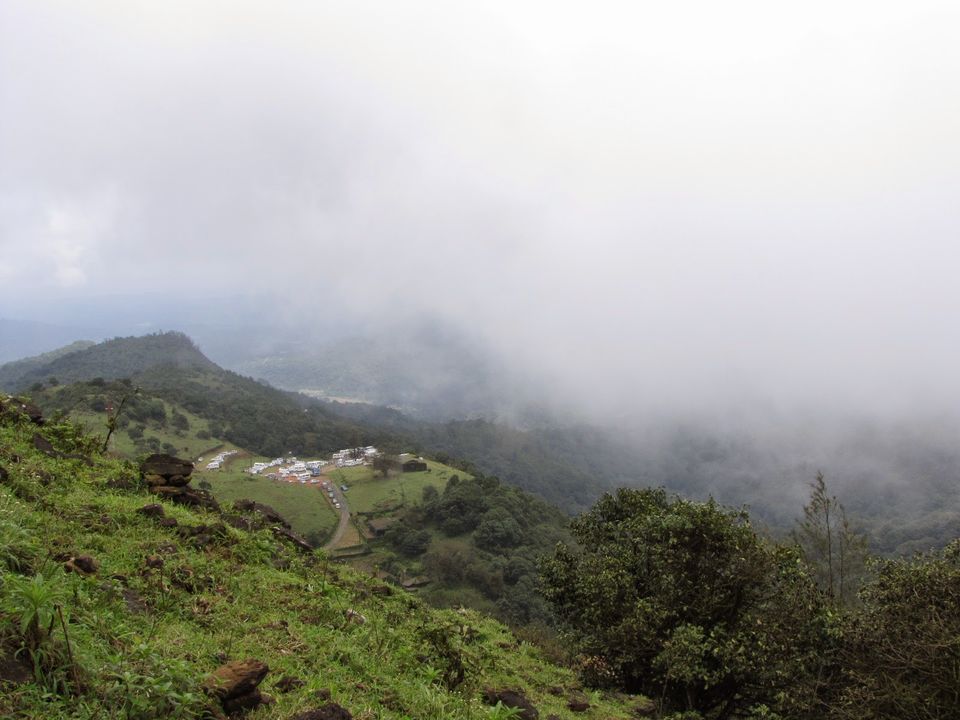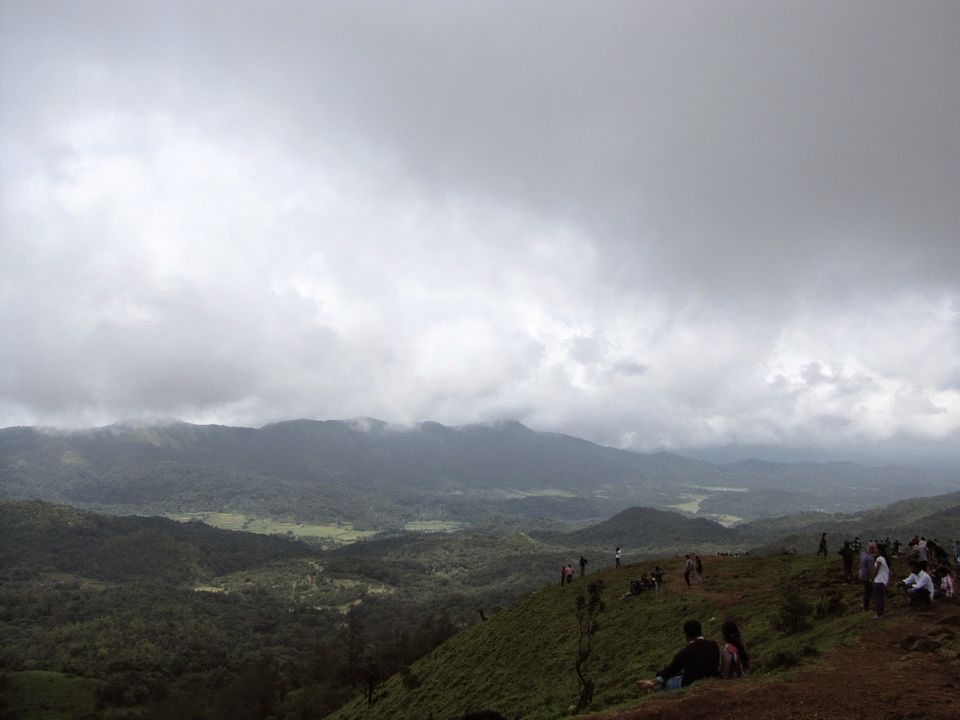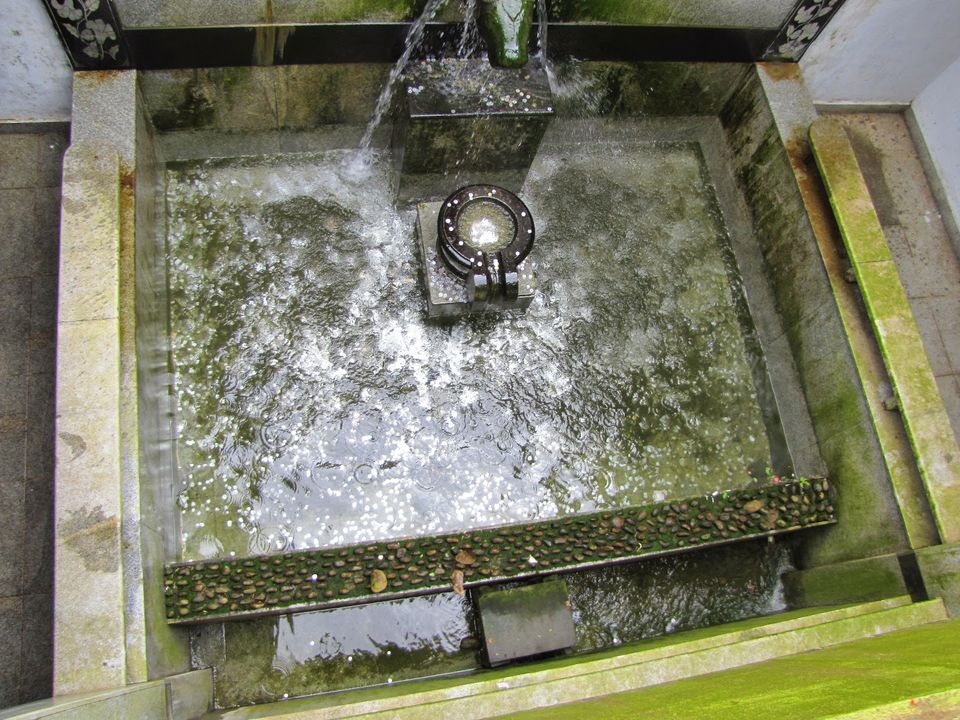 We came down and had some tour-lunch - biscuits, vada, bajjis, Maggie and done for lunch. There are a bunch of shops all around Talacauvery. Next we drove towards Mandalpatti. Since we were not aware that we missed previous day, we need to cross back Madikeri to reach the other side towards Abbi falls. Mandalpatti is around 19 kms from the parking lot. We need to take 4x4 jeep from this point. They asked for Rs.2000 and bargaining really did not help big. We negotiated for Rs.1800. First 12 kms is normal road but quite steep/sloppy for big vehicles to commute. Then, the roadless journey starts. Even the 4x4 jeep was slipping here and there and the driver was yelling us to hold tight. The road had a visibility of 3m only because of heavy fog and rain. There were limitless valleys on both sides and any small mistake, none would know where once would end up !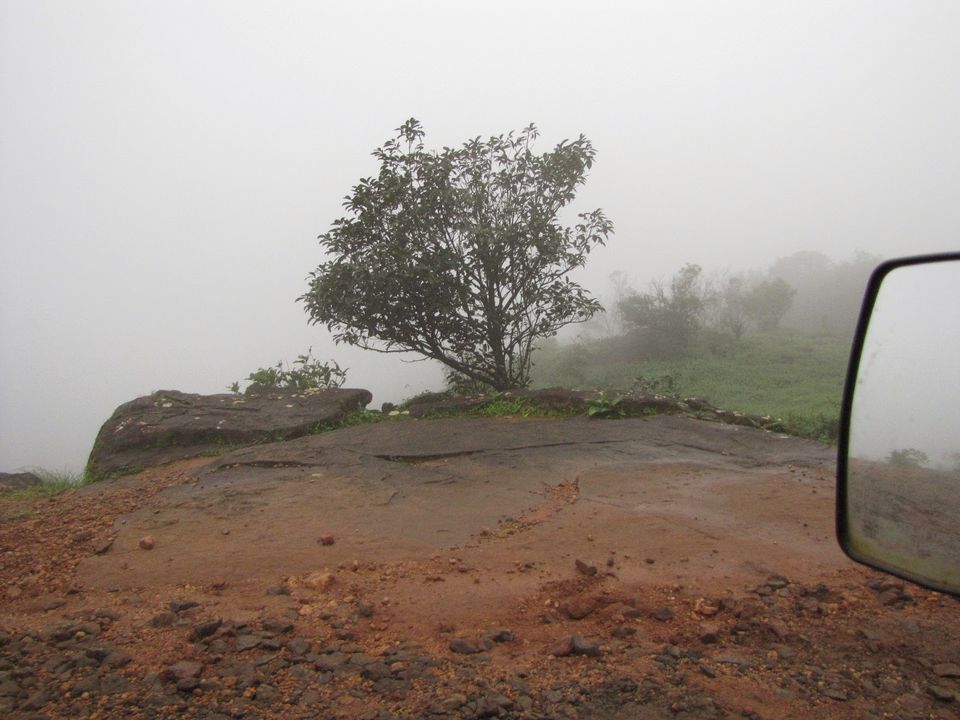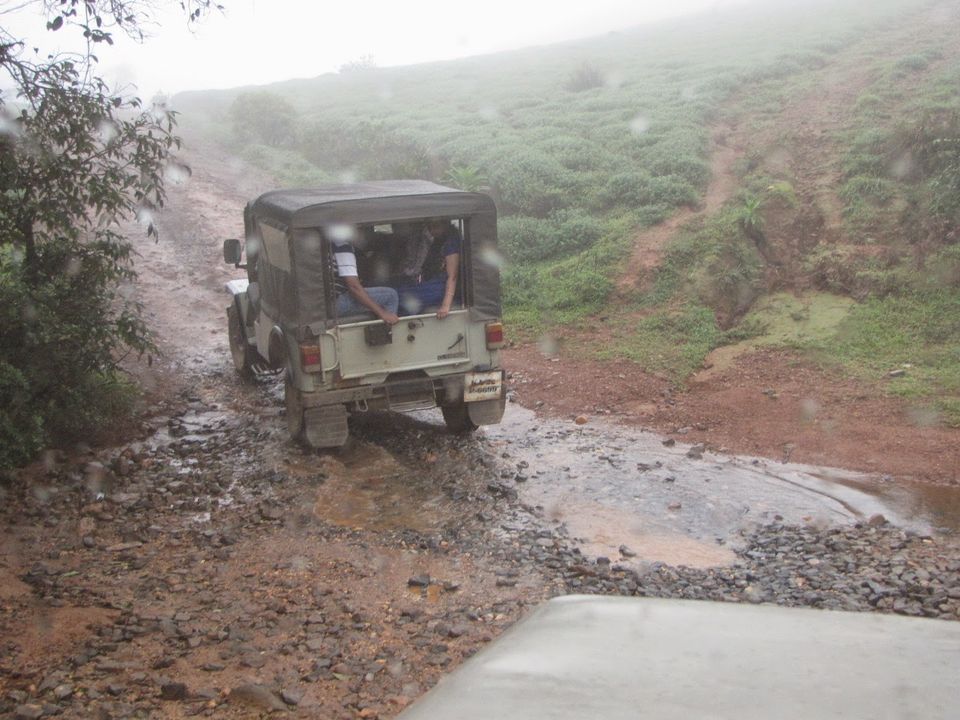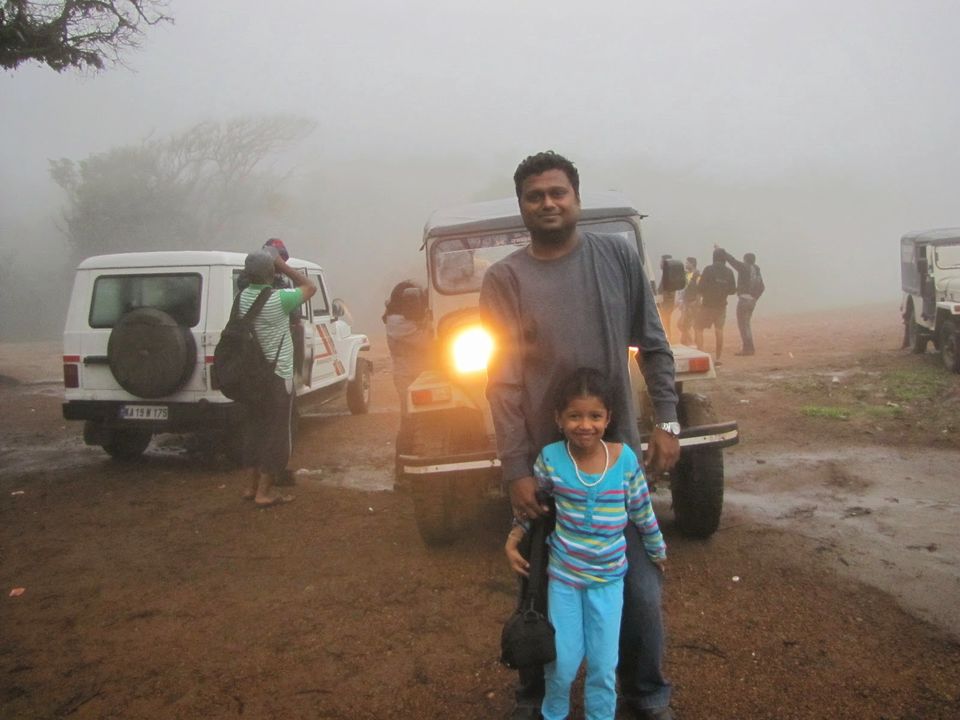 Reached Mandalpatti with amazing views, fog and rain ! WOW ! The drive was worth it and now we knew why this place is #1 in Madikeri !!! Yeah, a must visit place. This falls inline with our earlier expeditions of Nelliampathy and Babubudan Giri (Chikmagalur/Mullayangiri). The visibility was so low and the wild wind made it really a great experience. We all were drenched heavily coz of the heavy fog and moisture. People are allowed to climb the small hill for a great experience only until 6 PM. One would definitely need 2 hours time there and please ensure you be there by 4 PM to have maximum experience.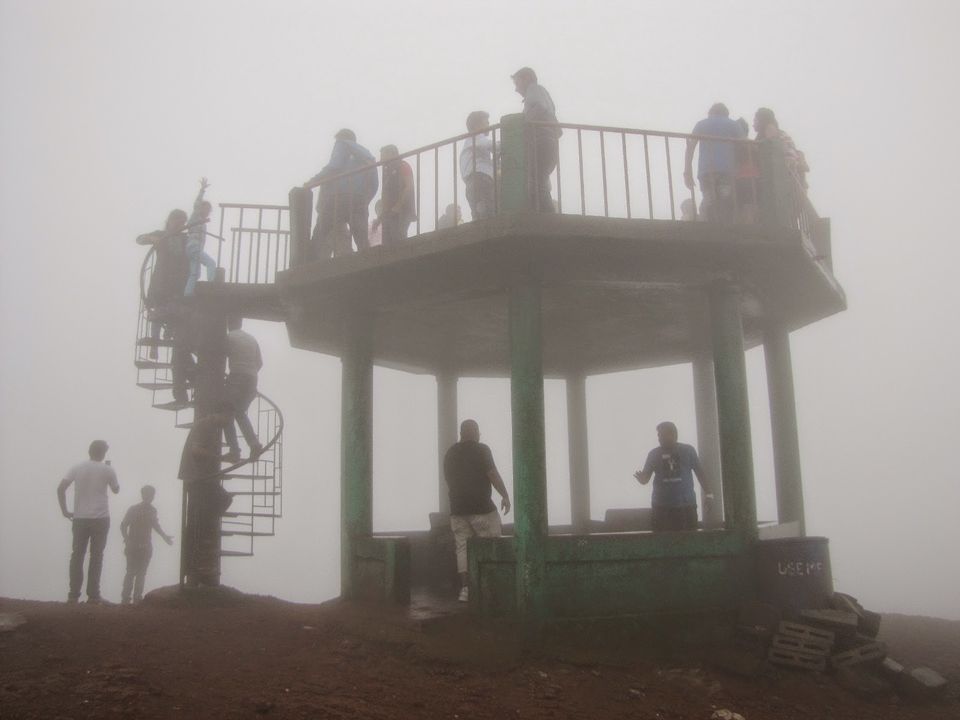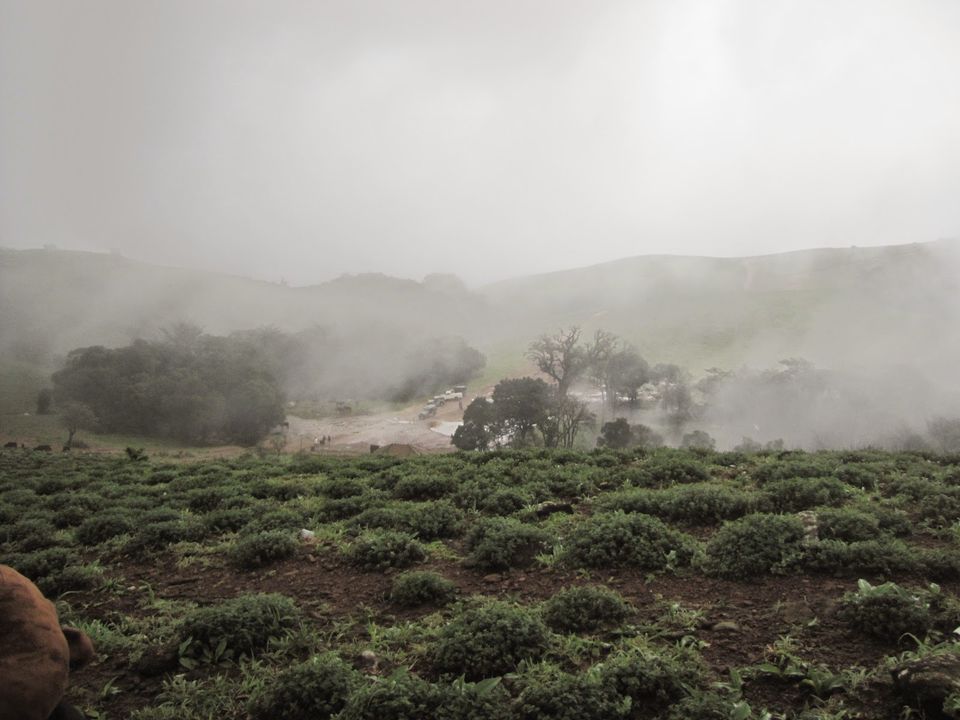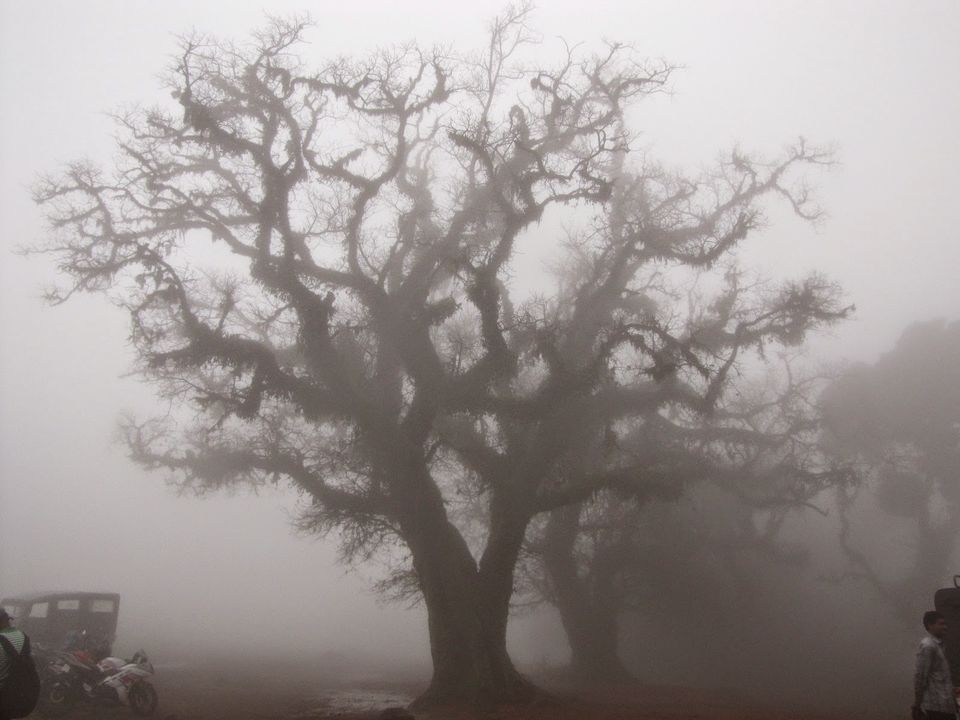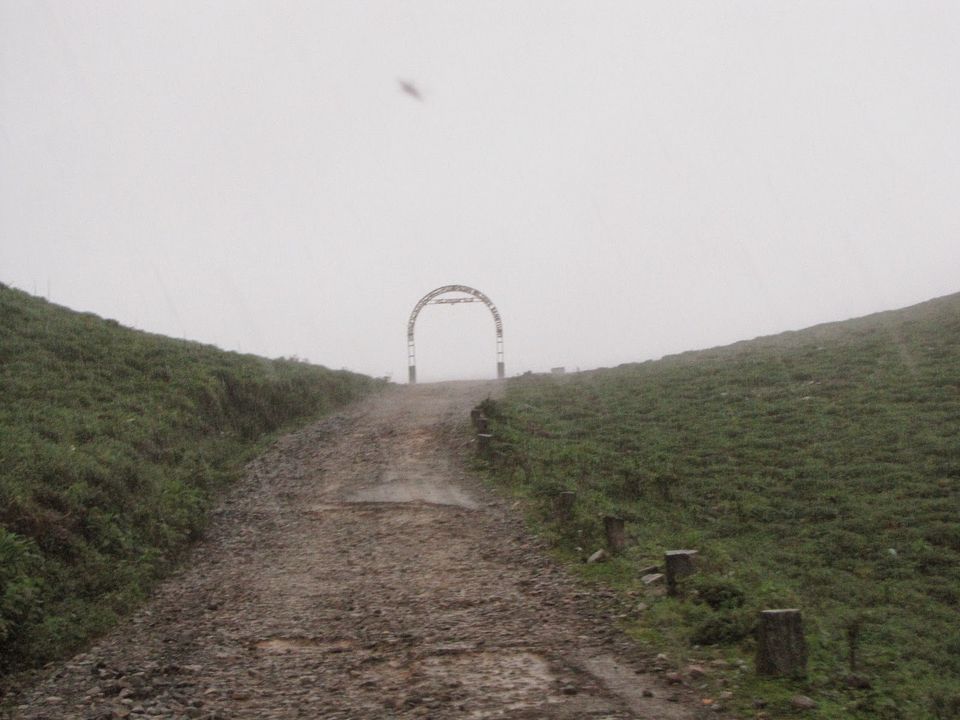 We all enjoyed a lot in Mandalpatti and had a great time. The fog was even denser when we returned and turned out to a big rain shortly. We just escaped the hard rain ! A very tired day again and returned back to Madikeri around 7 PM. We decided to pic-up a different hotel now for a better appetite ! This time, it was Hotel Neel Sagar (Pure Veg). This hotel ended up to be much better compared to other hotels we had in the last 2 days. Enjoyed some decent food and returned to hotel to get ready to start by 6:30 AM.
Day-3
We decided to start early by 6:30 AM and check-out. We planned to see Cauvery Nisagardhama and Bylekuppe on the way to Chennai. Our aim was to reach back Chennai by 11 PM to avoid another day of expenses for the Tempo Traveller. We perfectly started as per our plan.
Unfortunately, we got to know that Nisagardhama shall be open by 9 AM only :(. We then had breakfast at Hotel Adhiti @ Kushal Nagar (the same place where we had when we were bound to Madikeri). The food was good. We heard that there is a dam - Hirangi dam near by - around 9 kms from Kushal nagar and we went there to kill some time. The dam is closed for visitors but allowed to see and photograph from outside. We spent close to 45 minutes there at a small walk of 200m from the dam, where the overdraft water was running as a stream. When we were returning back, we saw Nisagardhama to be open but preferred to visit Bylekuppe - a Buddhist golden temple so we can return to Chennai on time as planned.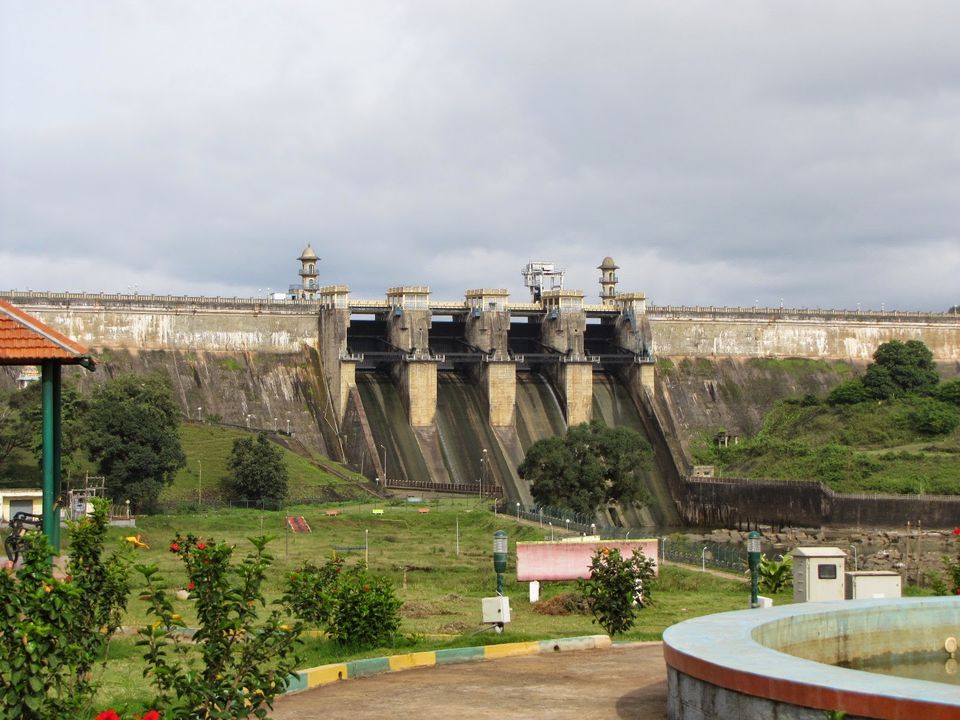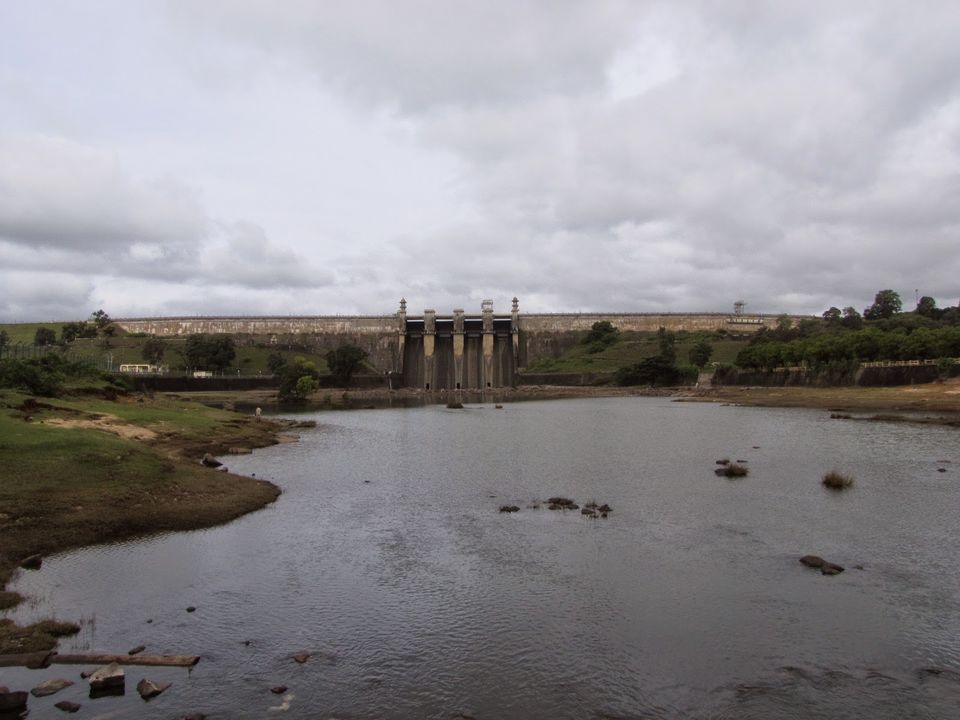 Bylekuppe is a monastery - Tibetian settlement - 7 kms from the highway. The prayers were on when we went and spent close to more than an hour. We took some good photographs and leisured our time at the monastery to listen to their prayers and temple. It was a different experience all together and a definitely visit when one passes by to Madikeri.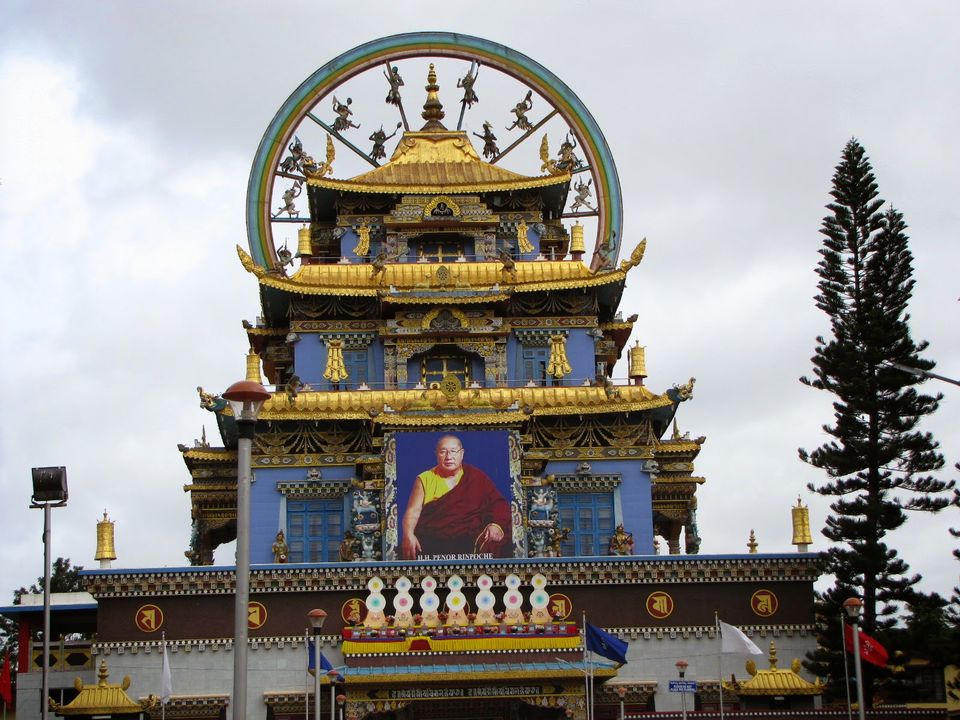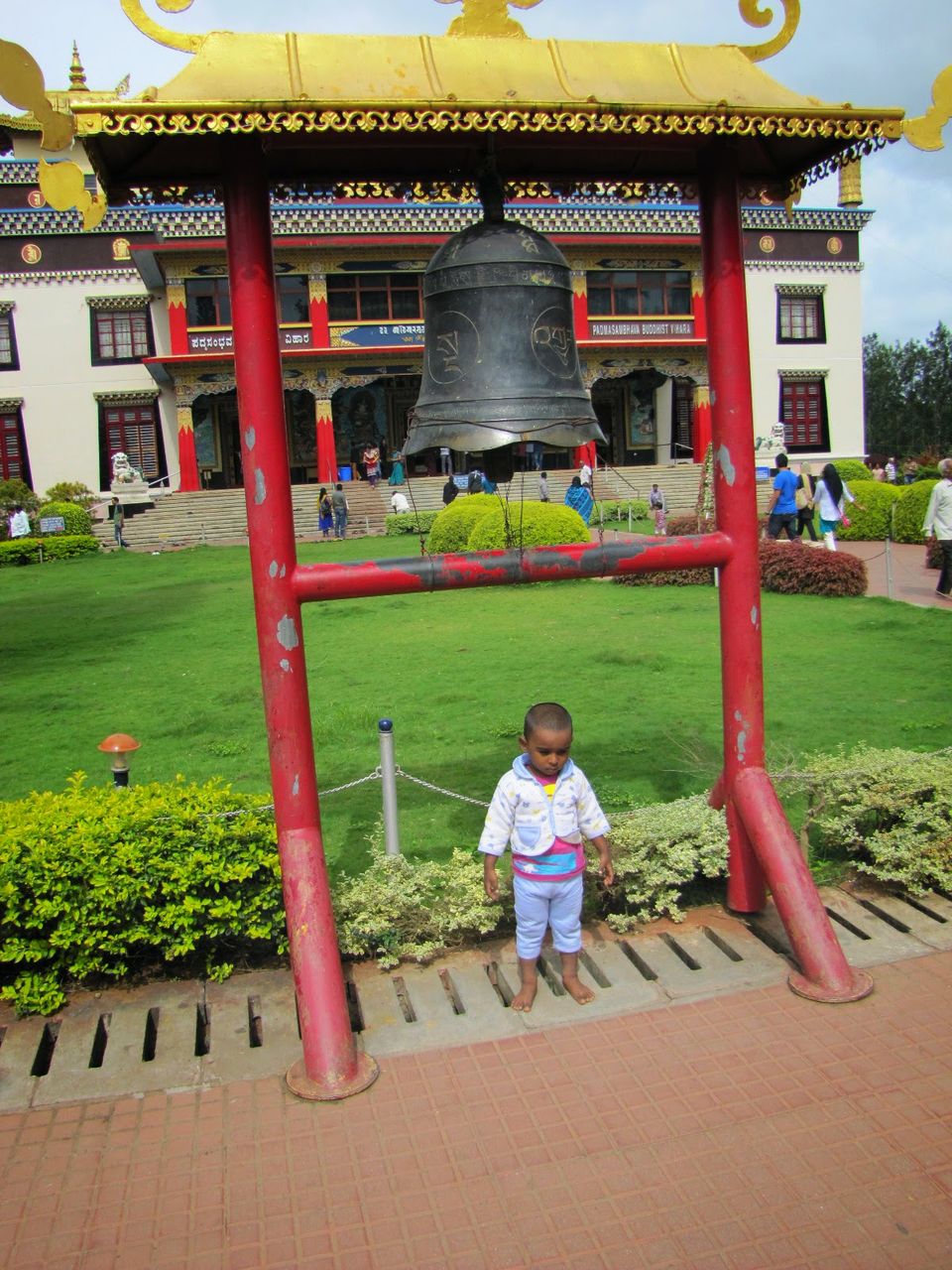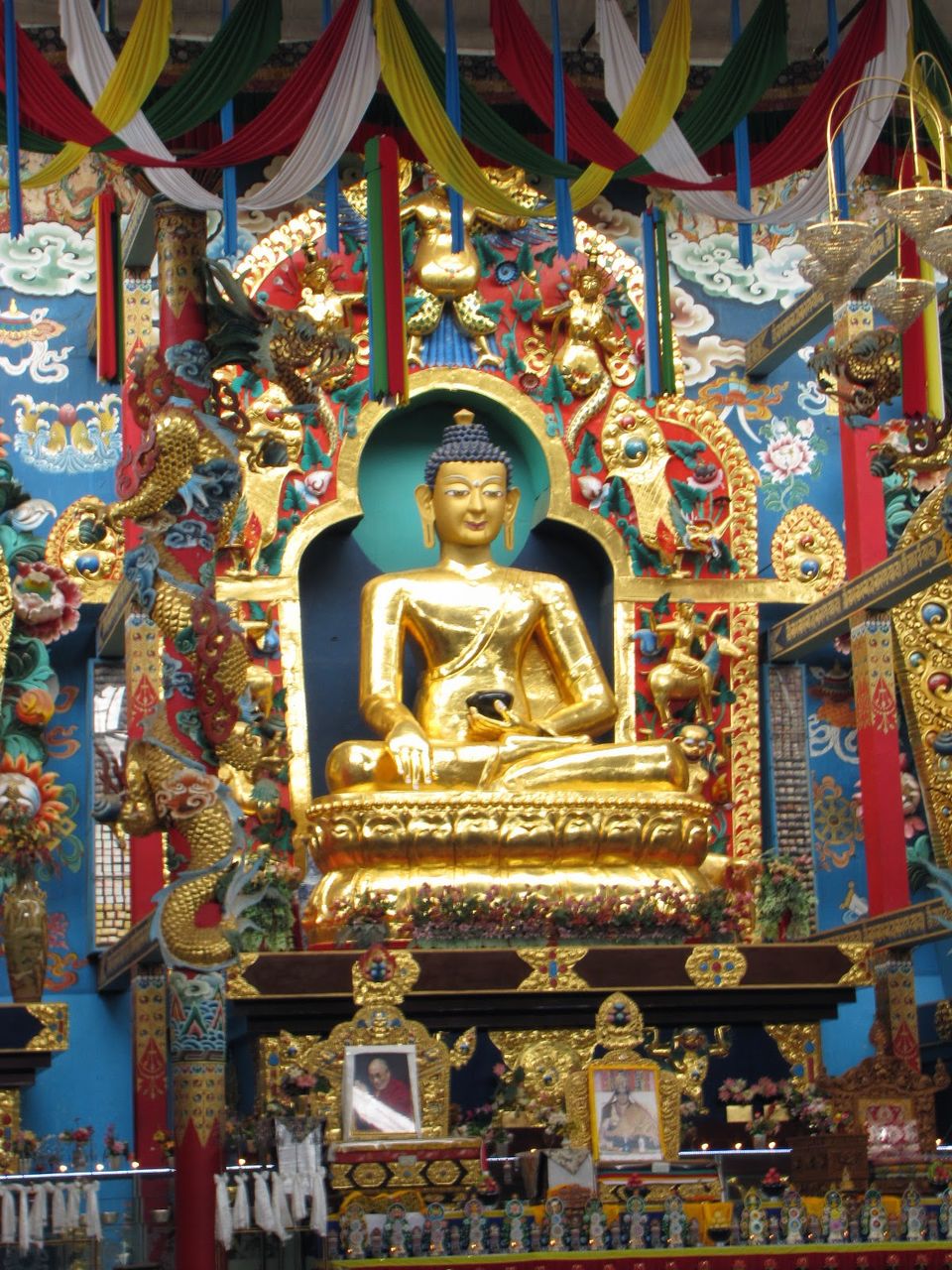 Around 11:45, we started back to Chennai; stopped at a Hotel after Mandya for lunch and near Vellore (Hotel Anandas) for dinner and reached back Chennai around 11:30.
Excellent trip and a long wait and thirst to visit Madikeri was quenched with uttermost satisfaction !
Must visit in Madikeri :: Mandalpatti, Talacauvery and Bramagiri walk, Abbey falls. Must visit on the way : Bylekuppe Time Killers : Raja Seat and Madikeri Fort.