It all started with a thought of travelling solo without the comfort of a company. After countless arguments, bickering, convincing and with a promise to update my whereabouts regularly at home, I finally set out on a solo expedition to Madurai – Rameswaram Dhanushkodi - Kanyakumari - Kochi. My trip was nothing less than a roller coaster ride, but the learning I gathered is invaluable.
While I was planning, the main intent of my travel was to see the spectacular Neelakurinji bloom which comes around once in 12 years at Munnar and Kodaikanal. Due to the devastating floods at Kerala, I had to change my itinerary. After re-considering all the options, I quickly switched to an alternative plan with no desire or intention to give up.
My Itinerary
Day 1 - Madurai
Day 2 - Rameswaram - Dhanushkodi & Kanyakumari
Day 3 - Kanyakumari & Kochi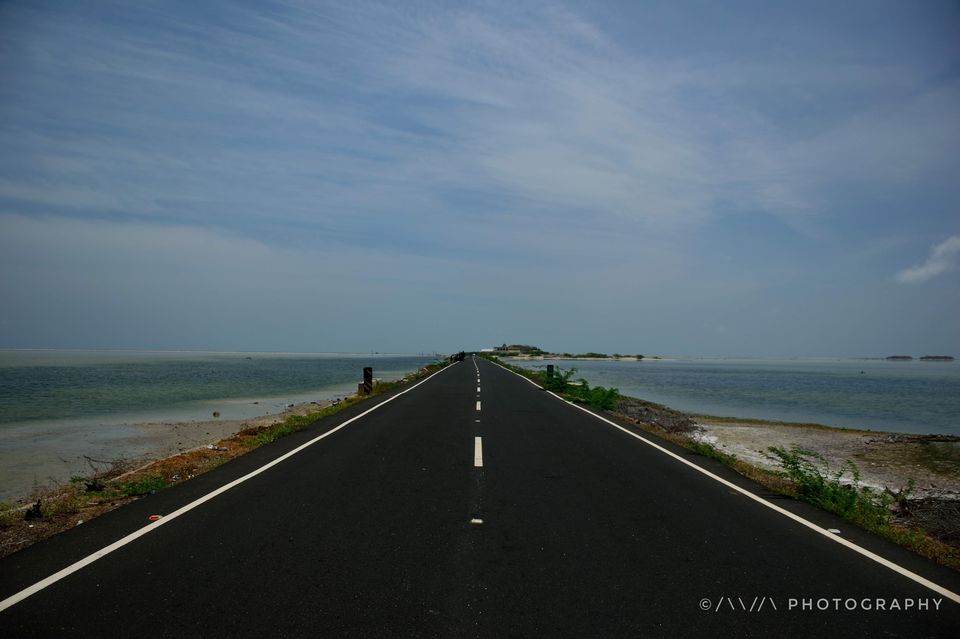 I booked a local cab service at Madurai for 3 days along with a driver. Needless to say, the service was impeccable. Their fleets of drivers are fluent in all languages, friendly and helpful. The owner of the cab service company was hospitable and it was because of him I had no fear of travelling solo. I can say, I am fortunate enough for having found a guide/friend during this trip. For all solo travelers seeking to book a cab, please reach out to Sky GPS services.
The day has finally arrived and with a twist in the tale, the first ever problem I faced was with missing my flight due to unavoidable situations. The moment I learnt that I couldn't make it, I was exasperated. Umpteen days of planning and excitement all in drain.
But without losing will and strength, I decided to take the next available flight without wasting time. Alas! It was a sigh of relief once I landed in Madurai. My joy knew no bounds.
To see:
Vaigai Dam - Located 70 kms away from the Madurai city this dam is of utter importance to the localities. The road was good enough to reach there in an hour and a half. The view was picturesque and as it was a weekday, there was hardly any crowd mustered around. The water level has risen and they have opened the gates after 7 years! It definitely was worth a visit.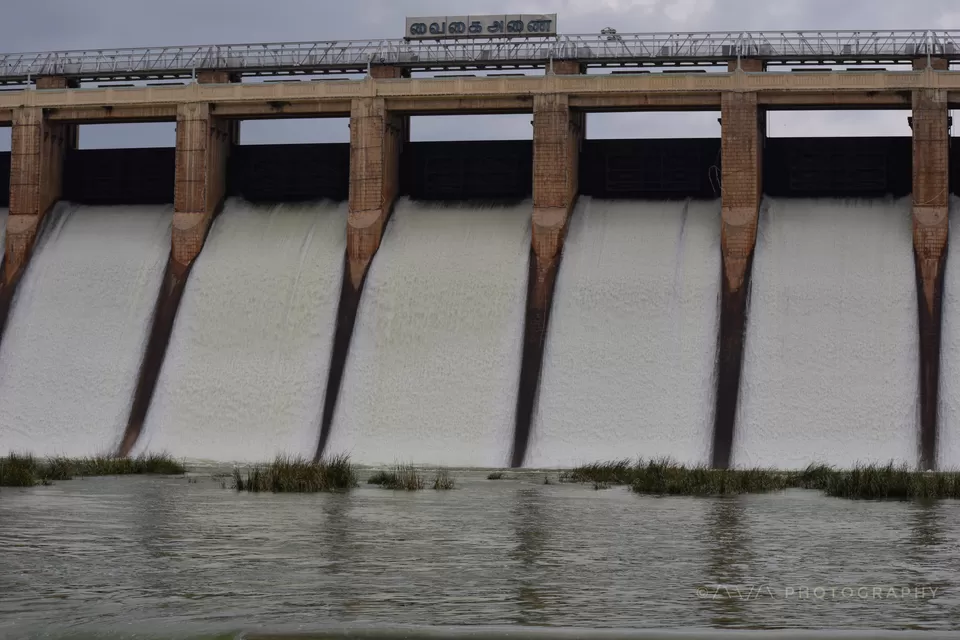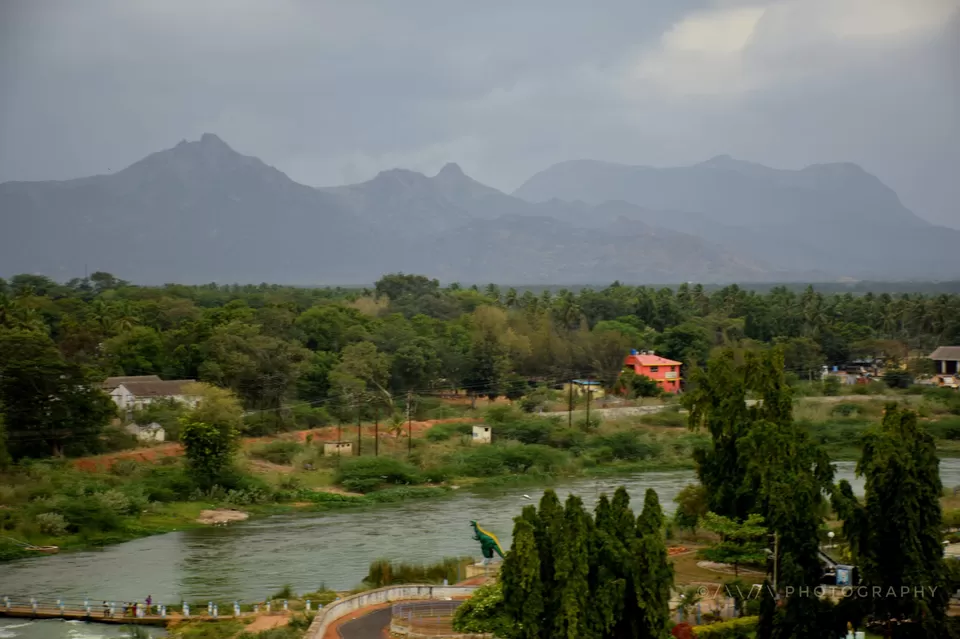 Meenakshi Amman temple - I headed straight to the temple after visiting the dam. It was pouring in heavily that night and lucky enough for me, I had a good darshan.
Since the town is small, all the places to visit, boarding and lodging in close vicinity.
To eat:
Interestingly, the origin of famous south Indian breakfast Idly was at Madurai. After scouting for best places to eat,I came up with a few options to savor my taste buds.
Vegetarian:-
1. Sabareesh Restaurant
2. Lakshmi Bhavan
Non vegetarian lovers:-
1. Palmgrove restaurant
2. Carnival Restaurant
To stay:
All the hotels at Madurai are in close vicinity to the temple. They are within walkable stretch and the localities are friendly enough to guide us the path. The last two times I visited Madurai, I stayed at the following hotels
1. Treebo Berry's boutique
2. Purple tree west Marret
Both the hotels are decent, affordable and clean. While I had an issue with Treebo with payment which wasted two hours of my time in argument, stay at Purple tree hotel was neat and accommodative with no issues whatsoever.
Day 2 was very special since it was my second visit to Dhanushkodi.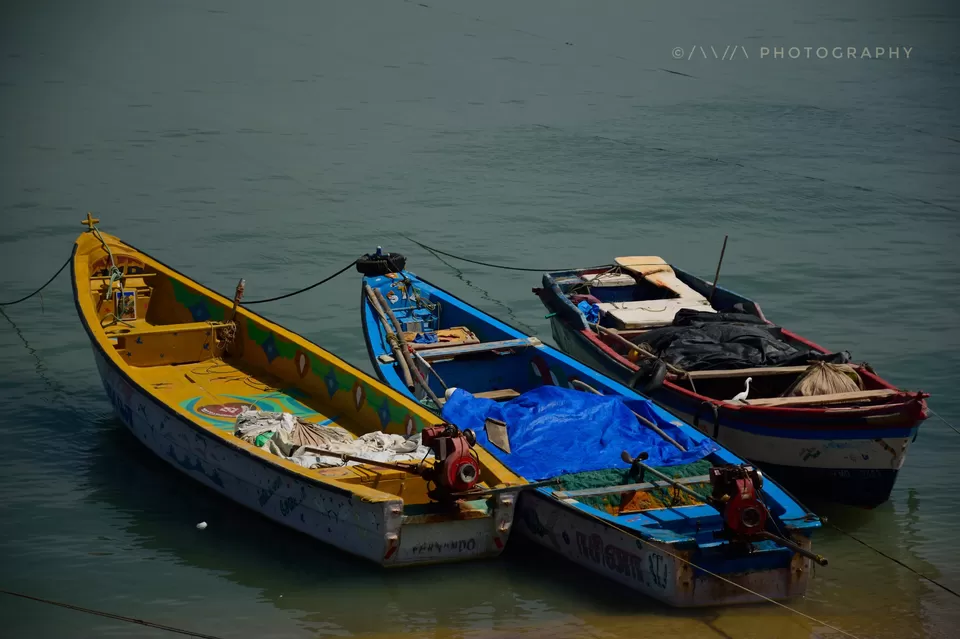 There is something magical around this place. It has to be the blueish green shade of the sea, the fresh air, the Sangam (meeting point of ocean and sea). It is much more than what I could describe. The last time I was there, I had a scintillating experience. I was there for a very short time, and hence vowed to return.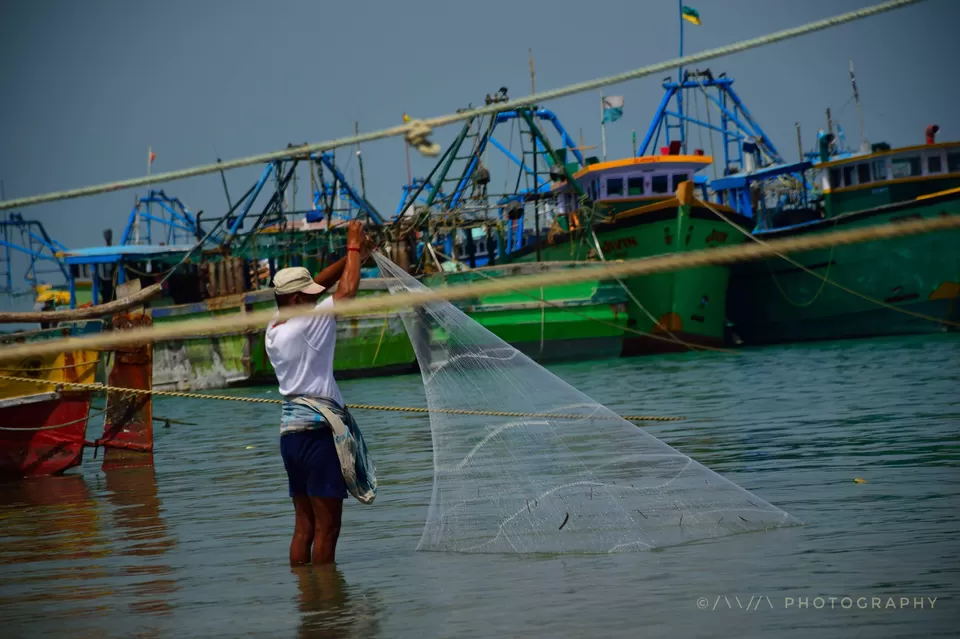 This time, I wanted to explore a route which i haven't before. I took the route under the Pamban Bridge through the village to experience the panoramic view of the bridge. The below pictures speaks for themselves.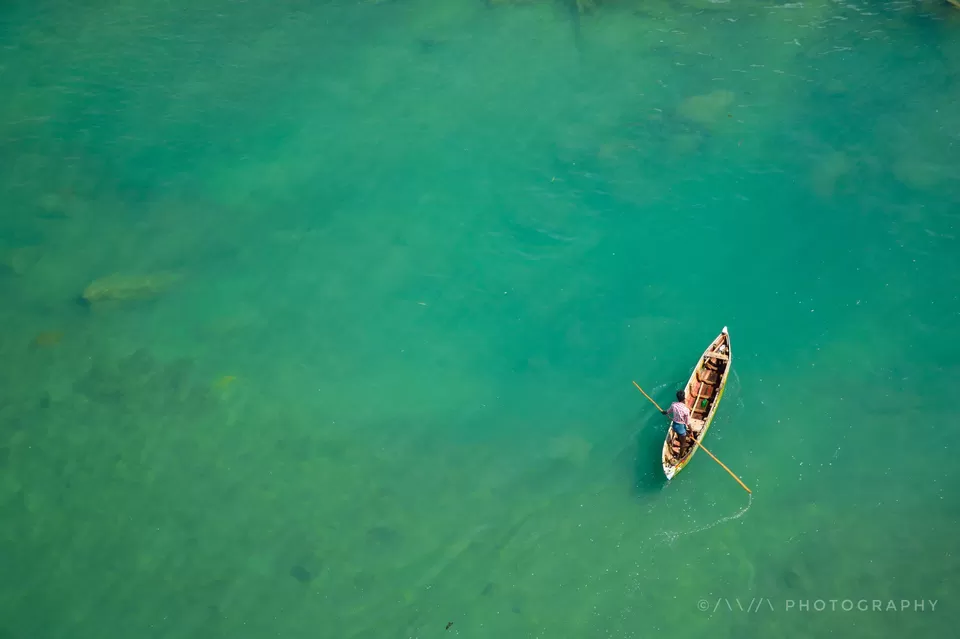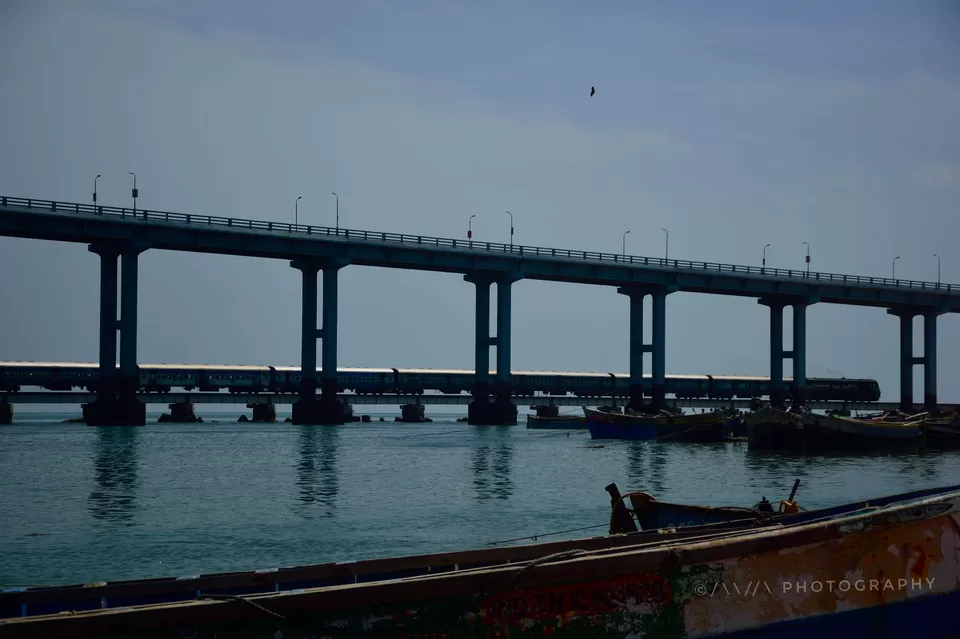 Dhanushkodi aka the ghost town is known for its abandoned church, railway station and school. Amidst all the destruction, the town still brings out peace and tranquility with its spectacular sighting. Bay of Bengal on one side and Indian Ocean on the other, one can actually notice the difference at the meeting point. Miraculously though, on one side of the road huge waves gushed to the shore with petrifying sounds and on the other side, the water of the sea was calm, serene and unruffled.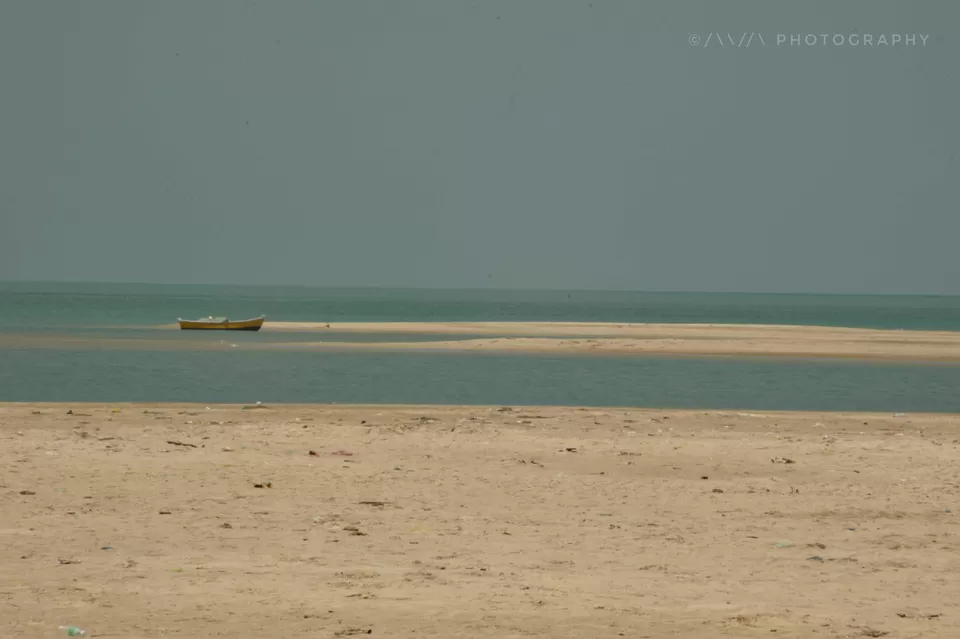 I lost track of time and by the time i realized it was early afternoon. I just couldn't leave the place. With heavy heart, I continued my ongoing journey towards Kanyakumari.
Unless required, I suggest one should head back to Madurai for a night stay due to safety reasons. Rameswaram is a good place to stay as well and it accommodates decent hotels at a budget price.
To eat:
30 kms from Rameswaram is a ring round to either go to Kanyakumari or back to Madurai. There are plenty of hotels one can stop by before heading to their next destination.
By the time I reached Kanyakumari, it was exactly time for sunset. It took me 5 hours to reach here from Rameswaram.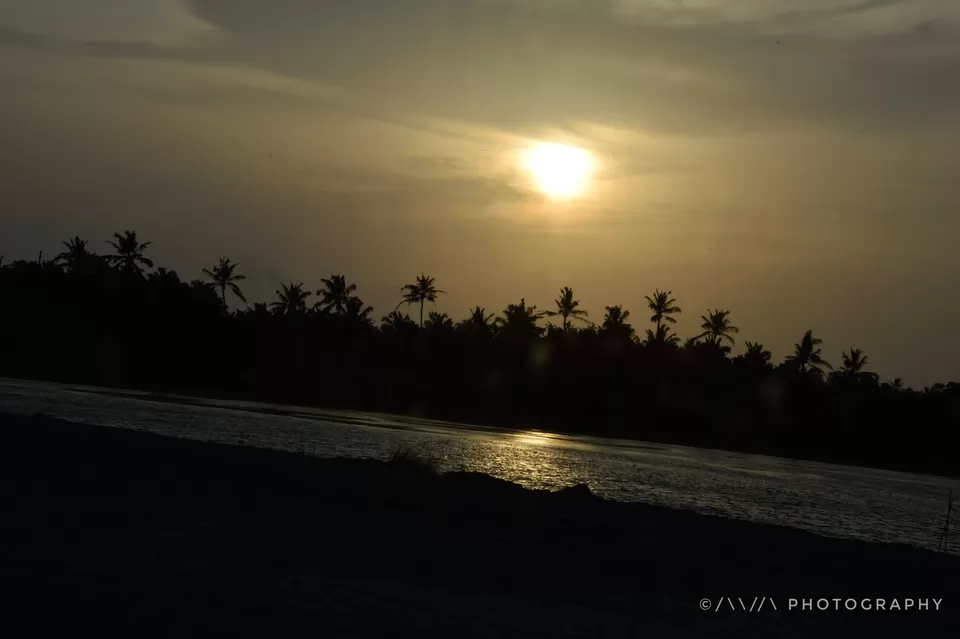 It was a narrow road for almost 3 hours until I took the highway of the Kashmir - Kanyakumari. I was amused with the fact that I was on the last road to the tip of Indian subcontinent!
To see:
I always have a thing for sunrises/sunsets at the beach. It makes the view even more gorgeous, doesn't it? I was fortunate enough to reach the sunset point on time, but the clouds were a damper to my experience. With a hope to see the sunrise, I headed to the hotel.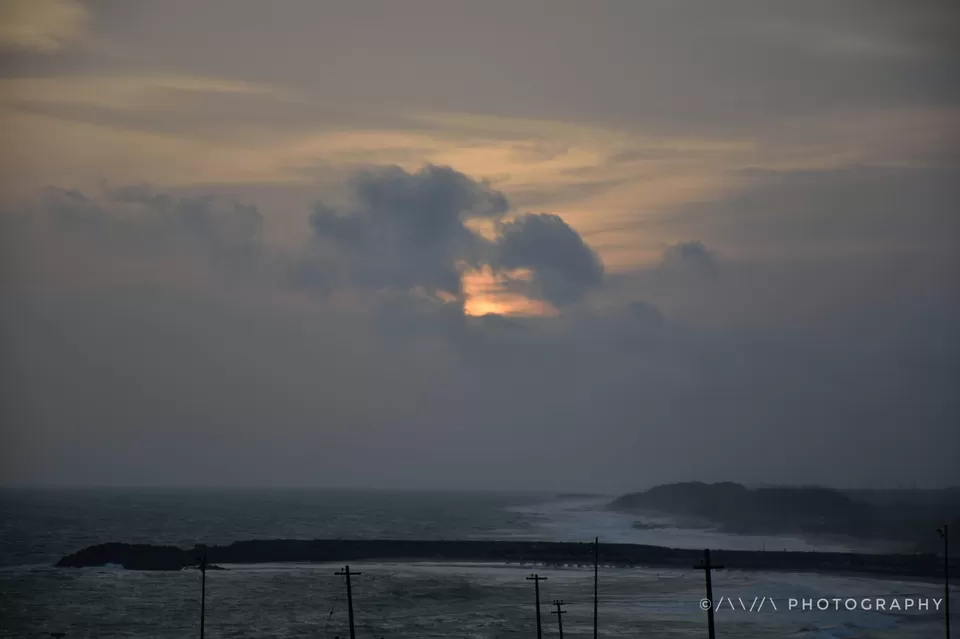 It was around 8 P.M when I decided to explore the streets of Kanyakumari on foot. One good advice here - Be surprised!
Looking at the tiny dark lanes, minuscule houses and cram-full of people,literally gave me goosebumps. I argued and debated within myself upon how they can possibly live their lives in such a way. On the flip side of it, I felt "Ignorance is bliss". I however understand that this is relative to an individual's perspective.
The next morning, I quickly got ready and headed to the sunrise point early at 5:30 A.M. based on the locals expertise, the sun rises between 6:00 - 6:15. I decided to leave early to capture a time lapse. Headed straight away to the pier for an uninterrupted view. Soon enough, there were several heads popped out at the location.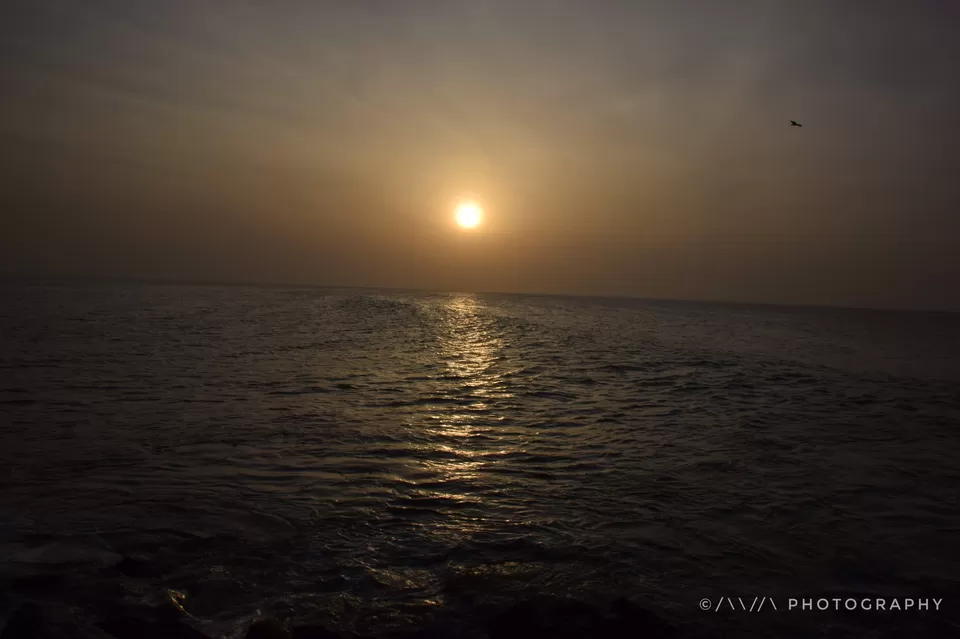 It was a delight to watch different age groups engrossed in various activities, like there were children playing at the beach building sand castles, couples snuggling unto each other, elders relishing their tea on a chilly morning.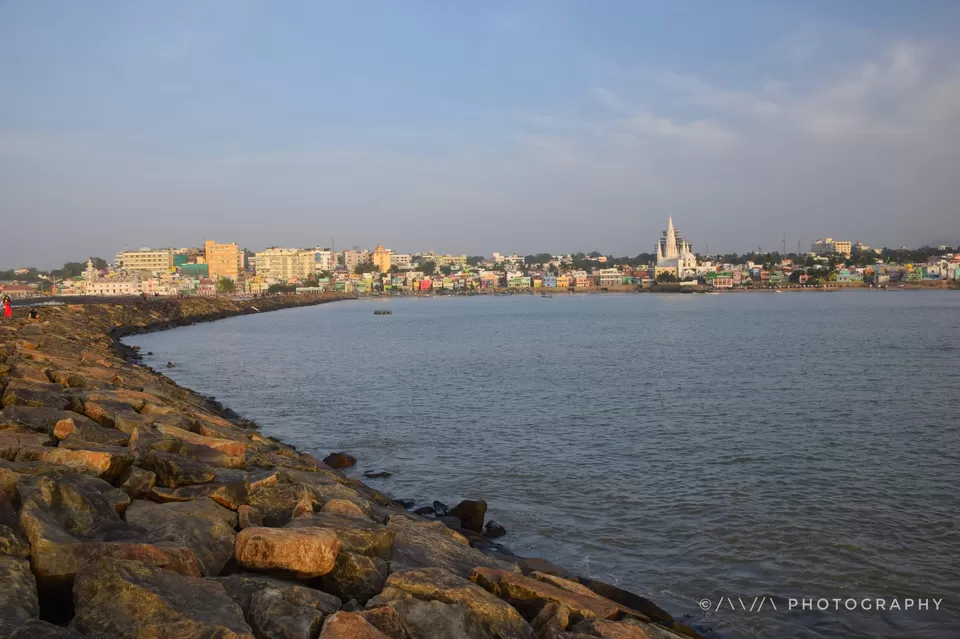 The beauty of a solo travel fits in perfectly at times like these. Solo travel gives one a chance to look around and appreciate the grandeur of the creation.
The sangam of Indian Ocean, Bay of Bengal and Arabian Sea is clearly perceptible. Look out for the pattern of the waves as they gush towards the shore in different directions. Ideal time to spend around is 45 minutes. Shop around for souvenirs like seashells and handloom silk sarees, which are famous in Kanyakumari.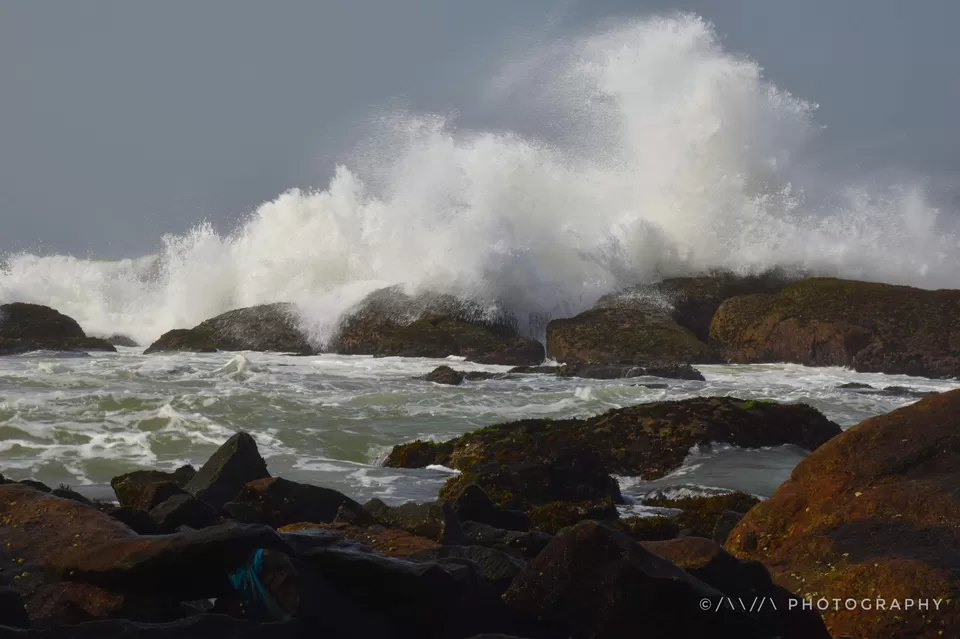 To stay:
Hotel temple citi in Kanyakumari is unarguably the best place to stay at. The rooms are tidy, spacious and the hotel is located at a walkable distance to the sunrise point and the trisea sangam. The hotel staff were courteous and accommodating. They even gifted me a souvenir before checking out. It was indeed a delightful stay!
To eat:
Saravana Bhavan
And a proper roadside tiffins after the sunrise for a lip smacking South Indian breakfast.
My next and the last stop for the trip was from Kanyakumari to Kochi. Though it was the last, I must say it was the best! The 8 hour journey was a surprise package! It's a must travel road with lush green trees, small streams of river, pure air which makes one feel fresh, coconut trees on either side of the road.
At one point of the journey, we come across the Tamil Nadu – Kerala border where we can find shops from Tamil Nadu on the left, Kerala on the right and we'd find ourselves on the middle of the road travelling towards the city.
The best experience of the whole trip was the Poovar backwaters! I felt so elated after the experience that I didn't feel like leaving the place.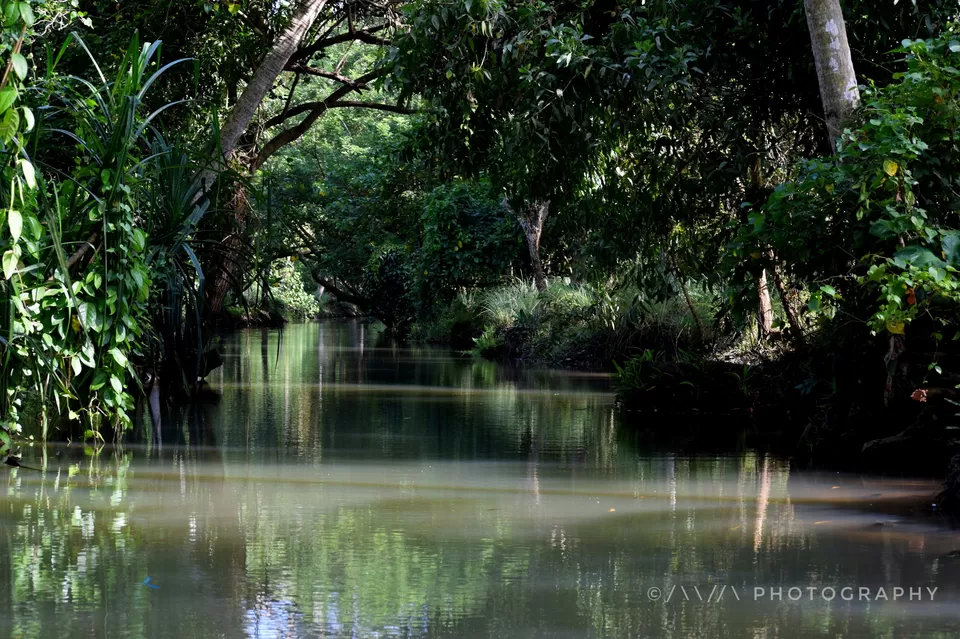 Poovar backwaters are considered to be one of the best backwaters experience. It is 30 km away from Trivandrum International Airport and easily accessible by road. What's so different? Well, we took the boat on the backwaters, went through the thick waters of Mangrove forest, small and tiny villages and stepped down on a beach which has sand with golden color and smooth texture.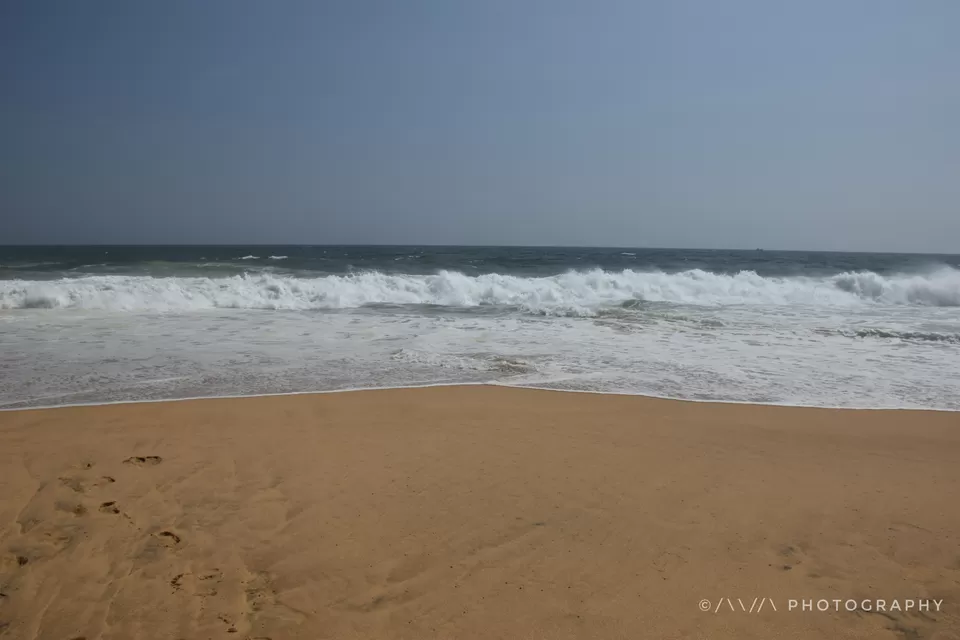 There were floating restaurants, cottages to make one's visit worthwhile. The flora and fauna of the place is mesmerizing. I had spotted three varieties of Kingfisher birds, each in different tantalizing colors, Red eagles, storks, water crows and many more.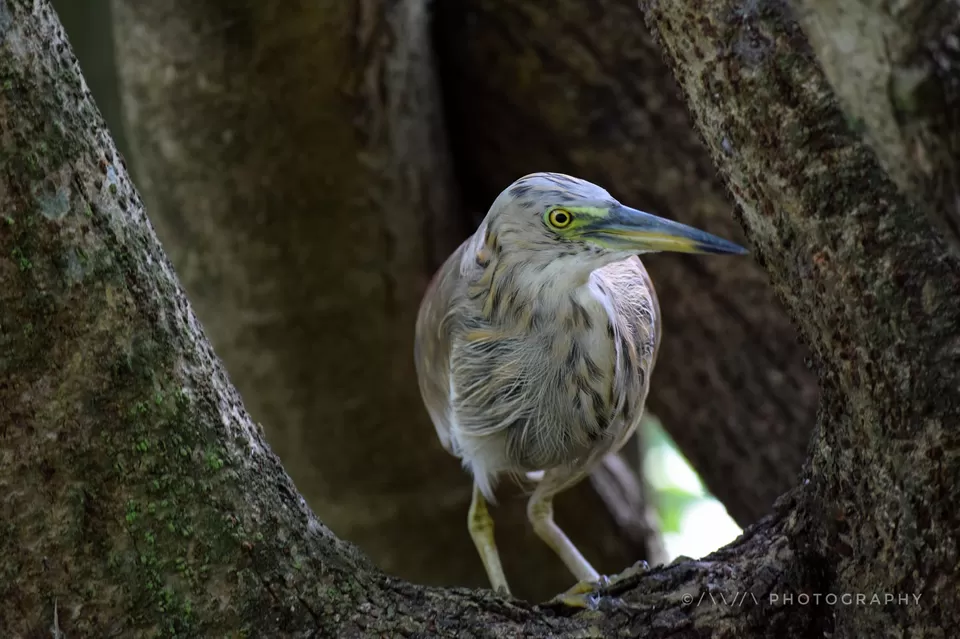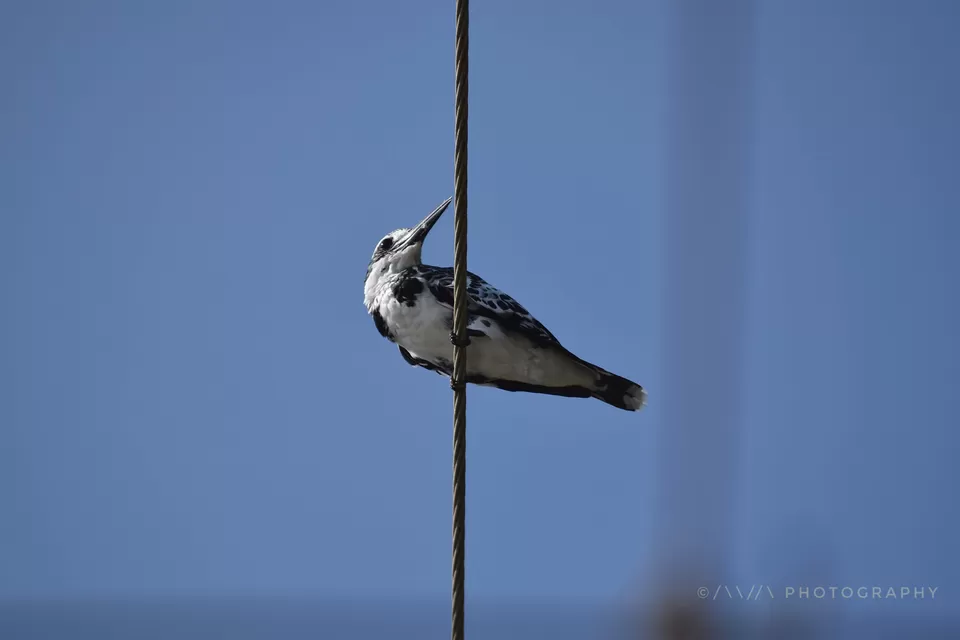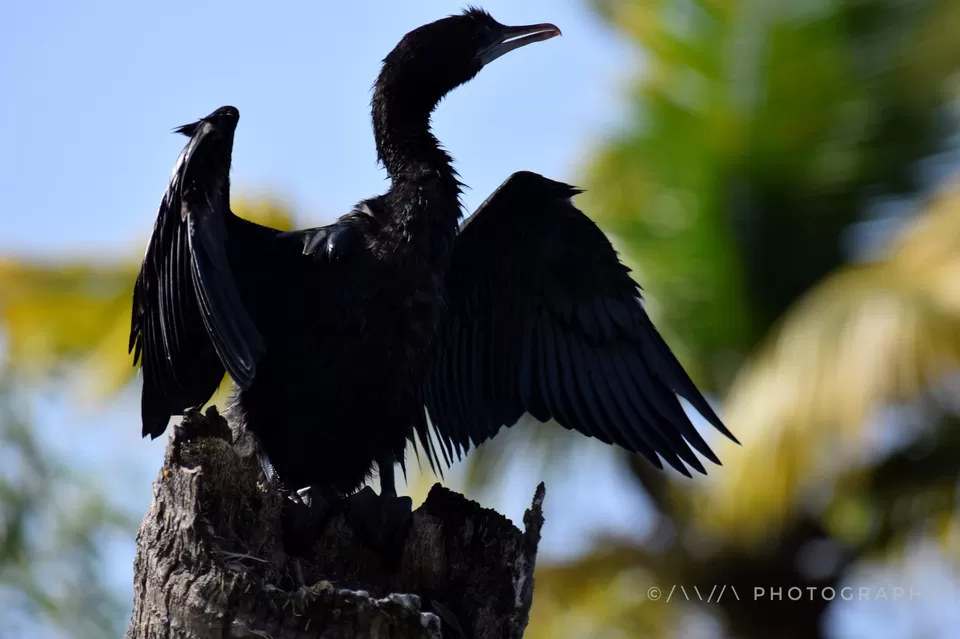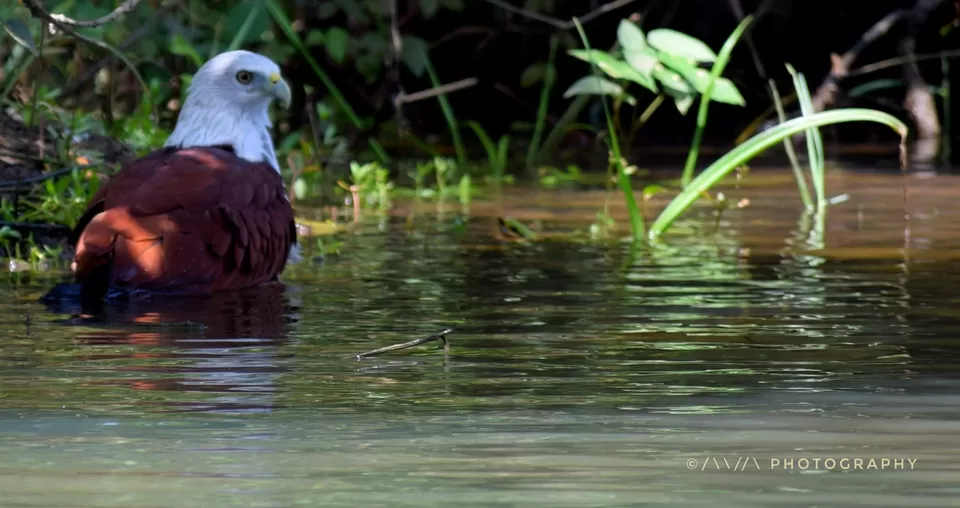 An enriching experience for bird watching would be in the mornings and evenings. It's truly a paradise!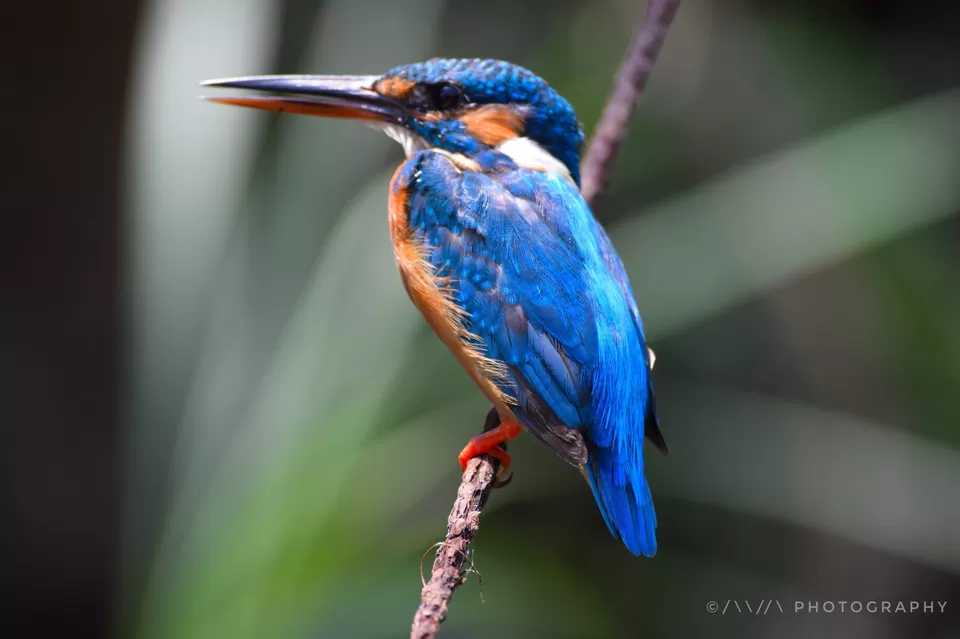 Heaven's the only name to it. Varkala beach is further 70 kms from Poovar islands. Varkala aka Papanashanam beach is situated in Kerala. It is believed that a dip into it will wash away our sins. The beauty of the sea from over the cliff was spectacular. There are two cliffs and viewpoints on either side of the beach. Get amazed as it was just going to get better!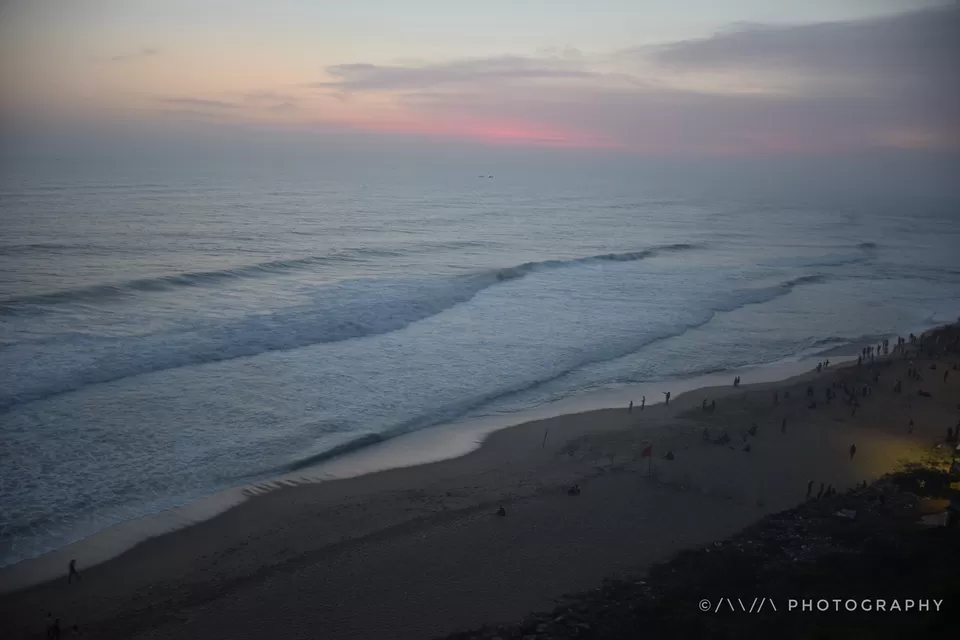 Resulting in constraints to cover other places, I called the day off.
Everyone who wants to travel solo should just do it. It's one hell of an experience with so much to learn and grow out of it. It teaches us to value time, people, relationships and most importantly the importance to remain happy and peaceful.