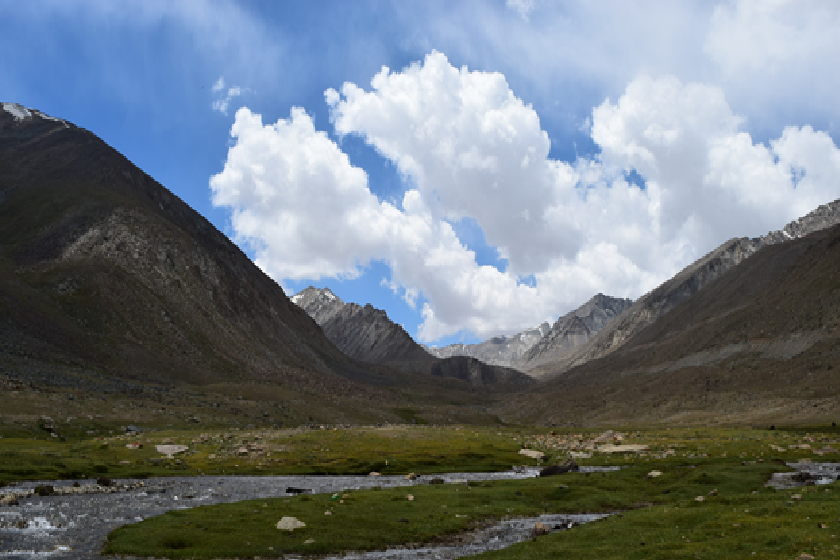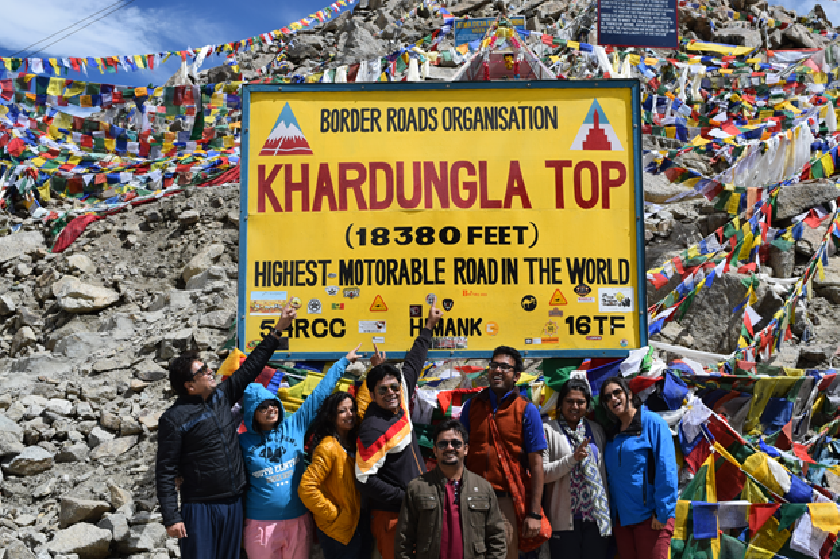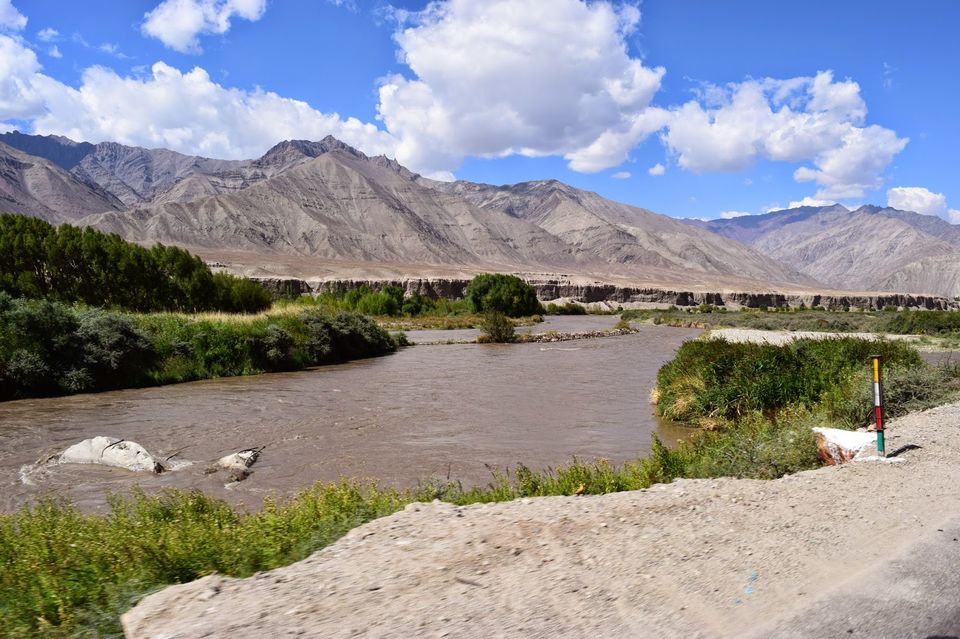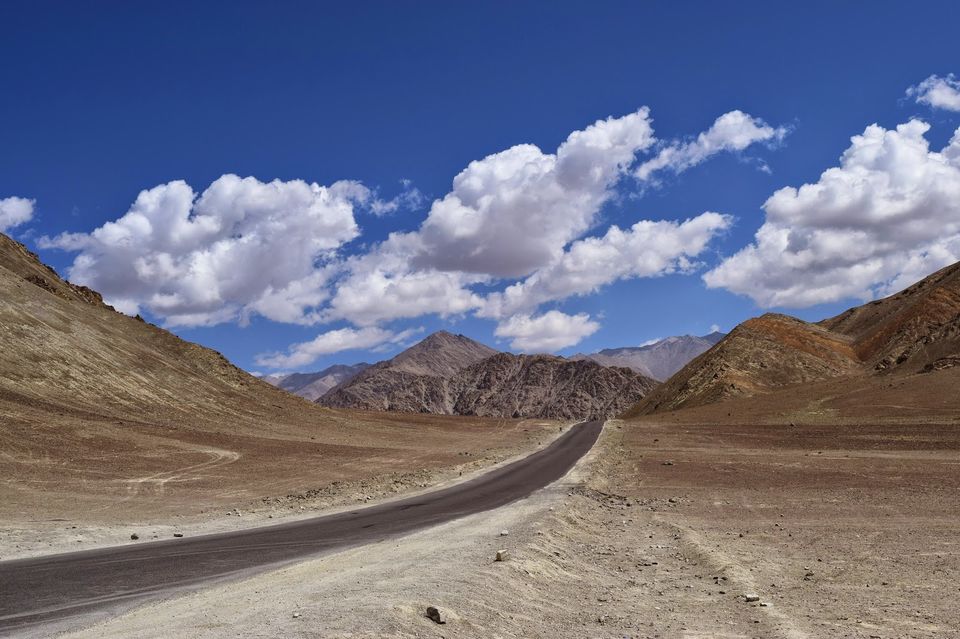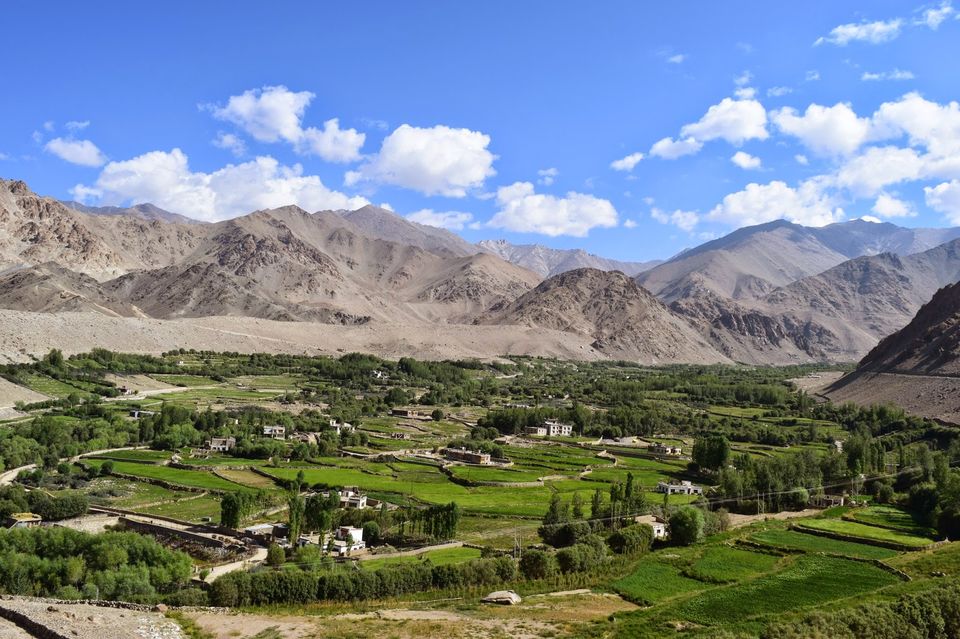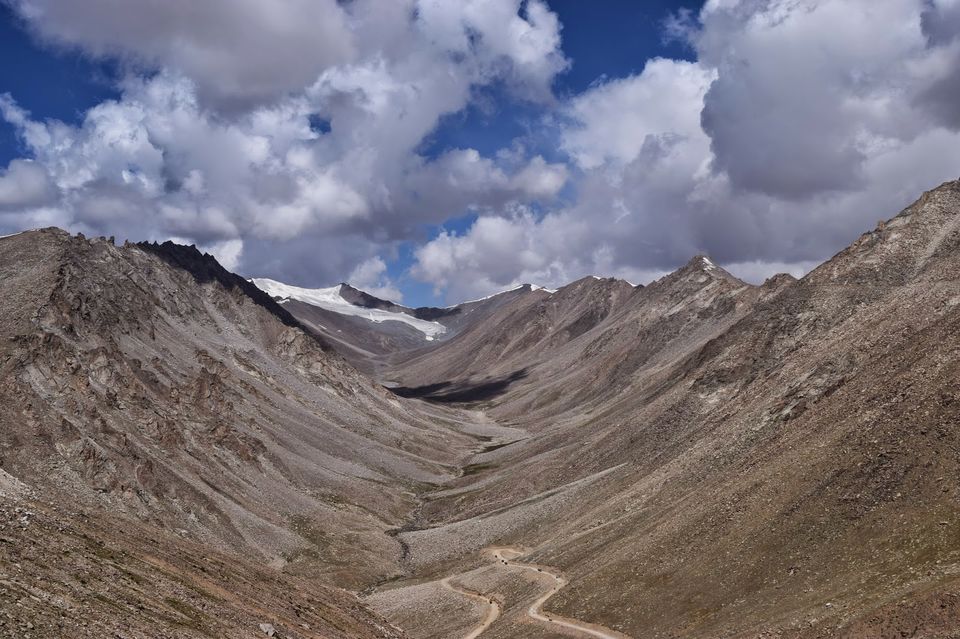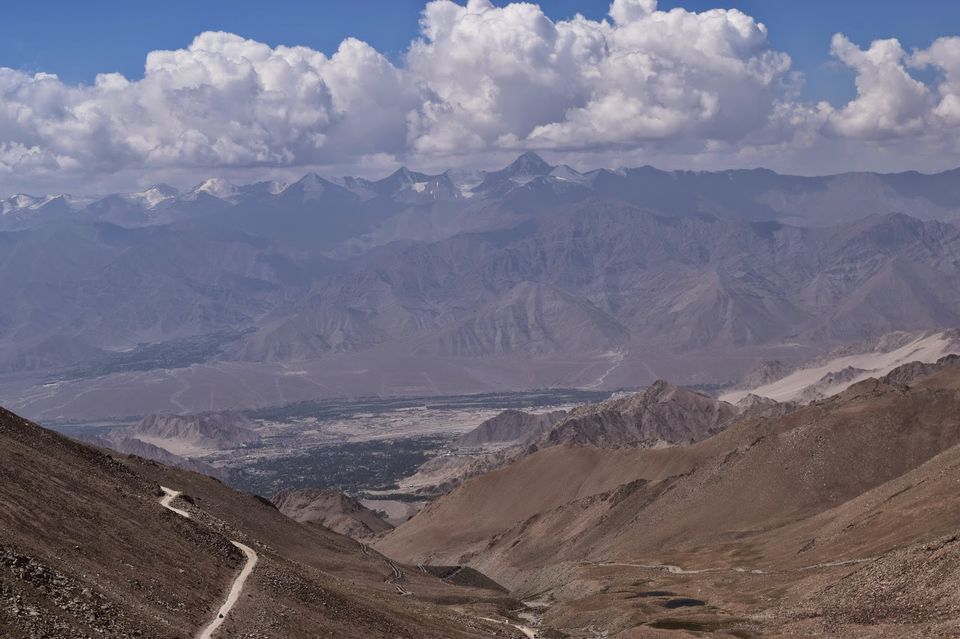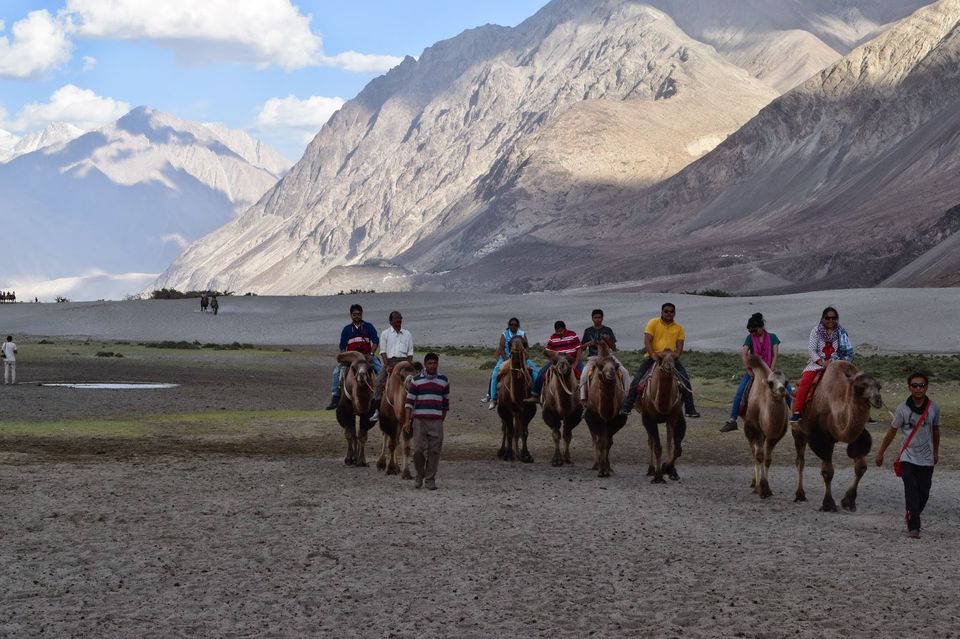 Barren mountains, soaring snow capped peaks, arid desserts and plunging valleys ….long drives, biting cold winds, high altitudes and some deep breathing….there's all this and so much more that we experienced during our first visit to this exquisite 'Land of High Passes'.
For us this trip to Ladakh will always remain a unforgettable one….the memories of which we will cherish for a lifetime. If we look back, Ladakh has been on our list of 'must visit' places for a long time. It all started with 2 of us (Amit and Zee), eager to make a trip to Ladakh this year. As ardent travelers who love adventure, who enjoy being in the lap of nature (particularly the hills and snow) and who enjoy exploring new places, we were eagerly looking forward to our trip this summer to Ladakh. The hills are mystical, magical and no matter when you visit them, they seem to have the power to lift your spirits up to unbelievable heights. They seem to rejuvenate you instantly and invite you to witness a new high, which is filled with a quest to explore and experience life and everything around, in newer ways than ever before.
We are a gang of 8 friends from college days, lucky to still be in touch and like most close-knit circles, we aspired to go on a holiday together someday. But when and where and whether that holiday together would ever materialize…. was uncertain. So yes, like every time, we bounced off our holiday plan to the gang and urged the group to come with us for the Ladakh trip this summer. At first all the usual apprehensions and doubts crept in from everyone…while some were excited..some others were apprehensive. Off course it wasn't a easy proposition either, given our demanding work schedules, financial priorities, multiple views on places to visit (lets go to Kashmir, no no Greece, or maybe Ladakh??), rigid bosses and apprehensions about high altitudes, motion sickness, timing etc.
We went through multiple discussions and deliberations and when we almost gave up and thought we'd have to go by ourselves (just the 2 of us), this time to our complete surprise from 2…we gradually got to 4 … and then to 6! 6 of us ready to go and 2 guys still on the fence contemplating. We now had the last 2 to convince and needless to say they were under tremendous pressure to make up their mind. …..Yes it wasn't easy, yes it needed a lot of convincing….for the last 2 guys in particular, there was probably no other choice… Eventually in the end….as luck would have it, all 8 of…yes yes all 8 of us… signed up to go together on 'the' holiday we always wished for.…Whoa!!
Owing to the generation we belong to, within seconds we had a Whatsapp group created which kept beeping away in excitement with exclamations every few minutes (Julley!!). What followed next were booking confirmations, whether updates, lists of must visit places, things we must do, eat etc. Some eager ones instantly took leave from work months in advance, while for some others we were collectively planning what excuses they would make to their difficult bosses; some of us starting planning the trip, some started exercising, while others were counting days and exclaiming from time to time in anticipation..
Days passed and finally we were all set .....One day to go… all bags packed, travel checklists ticked, airport transfers booked, camera's charged & the works. It now came down to counting hours to board the flight the next morning to one of our dream destination... Ladakh...here we come!
Our escapades in Leh, Khardung La and Nubra Valley...
Waiting anxiously to be up in the hills the next day, the gang had barely slept the previous night - bags, music, camera, sunglasses…check...check…check! At the airport, our beaming faces expressed our inner feeling of excitement and emancipation –'I am on a flight which will in minutes take me into a different world, far away from the hustle bustle of work and city life..yay!'. Contrary to our plan to catch some sleep during the flight, almost unexpectedly, glimpses of the exquisiteness of Ladakh started emerging from the flight itself. Gradually colossal snow clad mountains arose on either side and we were awestruck by the colorful terrain which appeared and stretched for miles ahead of us. The pilot was maneuvering the flight swiftly between the massive mountain ranges, often so close, we felt like our flying saucer was almost inches from scraping the shades of grey around us.
Once we landed in style, all got into the rhythm – shades pulled out, caps donned, jackets wrapped around and off course not to forget, sunscreen. Eagerness to come out of the flight and catch the first glimpse of Leh, was the craving within. Each one felt like "Maverick" (Of course from Top Gun :)) as they stepped down - a boastful smile, confident steps, chin up, looking ahead at the clear skies and barren landscape guarded by military forces. Within minutes we could feel the strong rays of the sun against our skin, lips turning dry, a chill in the air and cool winds gushing past our cheeks. We were thrilled to arrive and waited anxiously for the adventure to begin
The city of Leh welcomed us with open arms - Jullay! The first couple of days were spent exploring the city of Leh and acclimatizing, before expeditions to Khardung La, Nubra valley and Pangong Lake started. Initially there was some sort of discomfort (in the form of headaches, nausea and heavy breathing) which some of us underwent, nonetheless, we were all hopeful, longing to get past it and experience everything that comes our way. While these 2 days were relatively slow paced, it was so comforting being away from the crowded city life, buzzing doorbells and seemingly never ending to-do lists. The pleasure in doing simple things here such as waking up and sipping hot Ladakhi chai in a small garden in full bloom, under the clear blue sky, and the brightly shinning sun, was immense.
The monasteries, cafes and markets enabled us experience 'Ladakhi' culture. Visits to the much talked about Magnetic hill, the Sangam of the Indus and Zanskar rivers and the famous Sanchi Stupa revealed a very distinct aspect of the hills. Sanchi Stupa, with a huge Buddha statue, overlooked the entire land of high passes.
After dining at a few places, 'Gesmo' was declared a must visit cafe, where everything on the menu from the cappuccino and cinnamon rolls, to the burgers, parathas and the lemon marble cake were all finger licking good. The ginger lemon tea served there was a boon to many who faced a challenging time acclimatizing.
On Day 3, we started our journey to Khardung La, the highest motorable pass in the world (at approx.. 18,380 feet). Excited, anxious and eager to discover where the road ahead would take us.
The raw natural beauty around, kept changing in color, shape and form as we drove past them. It was like as if we were in a dream…. immaculate white clouds hanging from the clear blue sky, sporadically a stream of clear water flowing along patches of green on either side and the mountains standing tall. As we drove past the colossal mountains, each mountain seemed to stare back at us with a certain poise and grandeur as if they seemed to have a mind of their own. As we drove ahead, little did we realize, we were completely immersed in awe of admiration and our faces had a calm soothing smile as the cool mountain breeze kept sliding through our cheeks. The mountains seemed to welcome us with open arms and comfort us in every way. There was nothing there yet everything to experience, which seemed to have no end.
While initially the roads were impressive, as we picked up height, there were stretches of almost no road, just loose rock, gravel, sand and occasionally some snow melt. Our struggles (feeling of breathlessness and motion sickness) seemed trivial when we saw some bikers and even cyclists going up this tough excursion. It was like a mission to reach Khardung-La and the meandering drive through all the bends and narrow lanes kept us anxiously looking forward. Watching the cyclists and bikers along the way inspired us to reach our destination with no further complaints.
Whoa!! Finally we were at Khardung La… it was freezing up cold and the speed of the strong cold winds at that height added to the chill and excitement. The place was swarmed with people and each one had a sense of pride - that they were on the highest motorable road in the world!! Bunches of prayer flags sprung around the mountains, fluttered in the winds and added all the missing colours, enhancing the vibrancy of the destination. Thousands of small yellow, blue, red and green flags filled the air with sacred messages. It is believed that these flags bring benefit to all as they spread goodwill and compassion all around. We spent a few minutes, clicked a few pics and then commenced our drive down towards Nubra valley.
Along the way we stopped at the roadside shacks for some hot chai, and what followed was several bowls full of steaming maggi, omelets, butter toast and some more chai. Groups of bikers proudly sharing anecdotes of their journey so far, planning ahead and hoping for good weather along the way.
As we started the drive down from Khardung La, and in no time the landscape completely changed. Unlike in the past few hours where we were midst various shades of brown, white and grey, we were now driving through lush green valleys flanked with bright colored mountains which looked exquisite. One could occasionally spot some horses and cattle grazing away, a meandering stream of water flowing calmly along, ignorant of the beauty all around it and rows of army tents and trucks. The drive throughout was so beautiful that wherever you looked, the view was breathtaking, simply out of the world. The overall feeling within was surreal and we could barely believe our eyes as we kept our gaze fixed outside. 'Were we really driving across this land of raw natural beauty', is it for real? Or are we in a dream? The answer was evident.
As we approached our destination, the famous stretch where Farhan Akhtar had trained in Bhag Milkha Bhag appeared. A narrow straight concrete road which stretched for miles across, white sand sprinkled endlessly on either side, edged with massive grey and white peaks made the frame look picture perfect. Standing there with happy smiles on our faces and numerous thoughts darting through our mind, no one could believe their eyes.... it was truly inexplicable.
On arriving, we checked into our tents and rested for a couple of hours before stepping out again. At Nubra Valley we did the famous ride on the double humped camels in the sand dunes high up at a level of approx. 10,000 feet. A herd of camels sat together, chomping on their cud awaiting their turn to take the next set of people around the valley. A ride on the camels took us back in time and made one feel like kings and queens on a journey across the desert. The inviting sand dunes were a first for many of us and we then spent a fun time running around in the sand.
Everyone was stunned looking at the clouds sitting comfortably on the mountain peaks and sunshine penetrating partially through the clouds making that one half of the mountain side look golden, while the other half seemed unaltered in the shade, shades slowly changing from light to dark as time passed
Once the night dawned upon us, we returned and gathered around the bon-fire which was lit in between the tents. It was a fun relaxed evening gazing at the sky full of twinkling stars above us. We then called it a night.