As an explorer and traveler the curiosity to explore more is always on my mind, and what's better than to start exploring your surroundings? I have been part of this city called Panchkula from last 4-5 years but I never thought that this place held so many gems of places to explore and to learn from. So without further delay let's dig into it's hidden secrets starting from its name.
Here are the few places I explored recently which you never found on google and are worth being a part of your next travel list.
Old Architecture
Nahan kothi
A significant and only remnant representing the British architecture of 19th century AD in the modern city of Panchkula is popularly known as Nahan Kothi. This monument was built by Prince Surjan Singh and Bir Singh, the sons of Raja Fateh Singh (1857-63 AD), the ruler of Sirmour State. This region including Morni and other adjoining hilly areas of Haryana was then under the jurisdiction of Sirmour State, the capital of this state was Nahan (Himachal Pradesh), hence the name Nahan Kothi was given to this building. It was generally used by the rulers to keep watch on the activities of their territory. Sometimes it was also used for overnight stay during hunting expeditions. This monument had a garden and servant quarters in the beginning, the original architecture of this monument has been marred by the renovations and alterations at various times, even then, its original characteristics of architectural style are still intact.
The building was declared a protected monument by the Archaeological Survey of India (ASI) in 2007. The then Panchkula DC Rajinder Kataria decided to shift the consumer forum to the to the upcoming district courts complex,
Burj Fort
The structure seems like a watchtower. I read somewhere that this structure was used to watch enemies coming from far distances due to its presence in such a height where one can watch the entire city in an instant glance. Another story behind it is that it is having a tunnel that ends at Chandi Kotla village which is around 3 km away from Burj fort during Maharaja times when they ruled this area.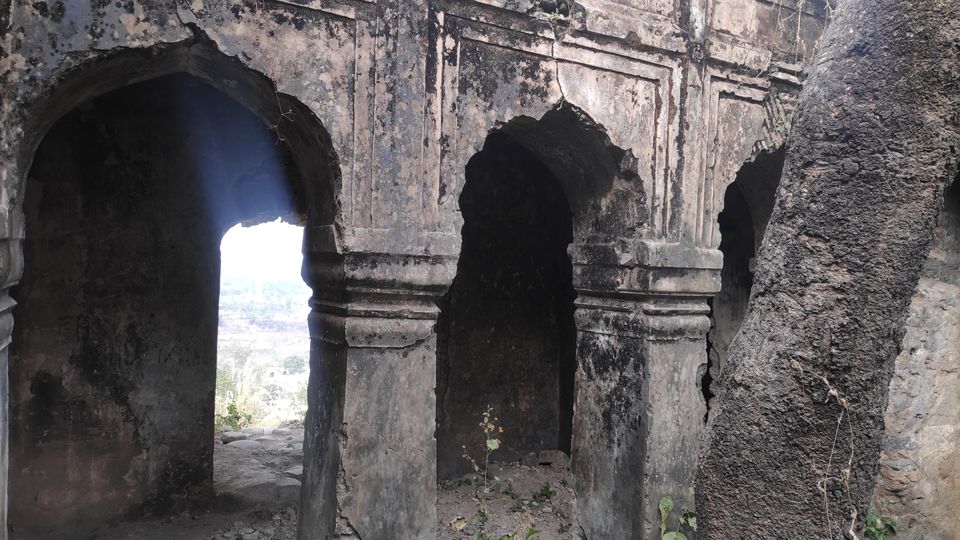 Nirjhar Vatika
Nirjhar Vatika near Chandigarh is often visited by people of all age groups as it is quite famous for its lush greens and serene environment. It also displays an artificial waterfall which is a center of attention for children. There is also a lake and a stone built bridge over it. As being a hub for activity, some food vendors can also be seen.
Children's Traffic Park
Taking an inspiration from "Catch them Young'' philosophy, the RSC focuses its main activities on teaching young children fundamentals of road safety. Youngsters are brought here with teachers to this park to engage them in an interactive learning on how traffic lights and various other aspects of traffic works. Today it is realized that internationalization of road rules and road discipline by the road users is a critical information one must possess before actually driving to maintain smoother and safer roads.
Bird sanctuary
Khol Hi-Raitan Wildlife Sanctuary
Panchkula houses Khol Hi-Raitan Wildlife Sanctuary. It is 0.5 km away from Panchkula on the Morni Road and its aerial distance from the Bir Shikargah Wildlife Sanctuary is only 3 km.
The Forests Department, Haryana of Government of Haryana officially notified this as a Wildlife Sanctuary on 10 December 2004. It is spread over an area of 4883 (2226.58 and 2656.38) hectares. In addition, there is a 1320 hectares eco sensitive zone around the sanctuary.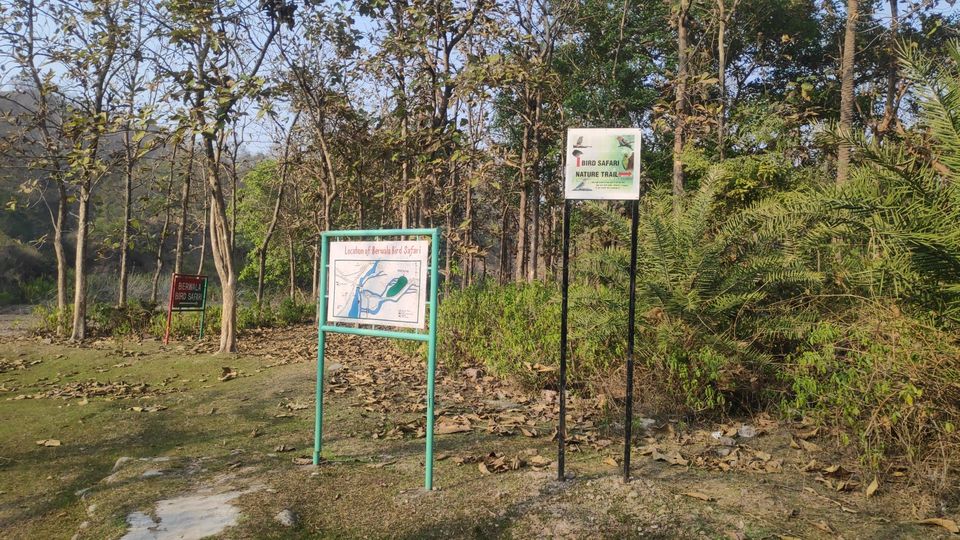 Burj Kotiya (Waterfall)
A natural waterfall which provides an escape from busy cityscape as it is just 30kms from Chandigarh (Sector 17). Even the route towards it from Chandigarh is lush green. It's cold water flowing in front of Ghaggar river finds its way to Himachal and it used to be much wider but now it has gone down due to climate changes, according to locals.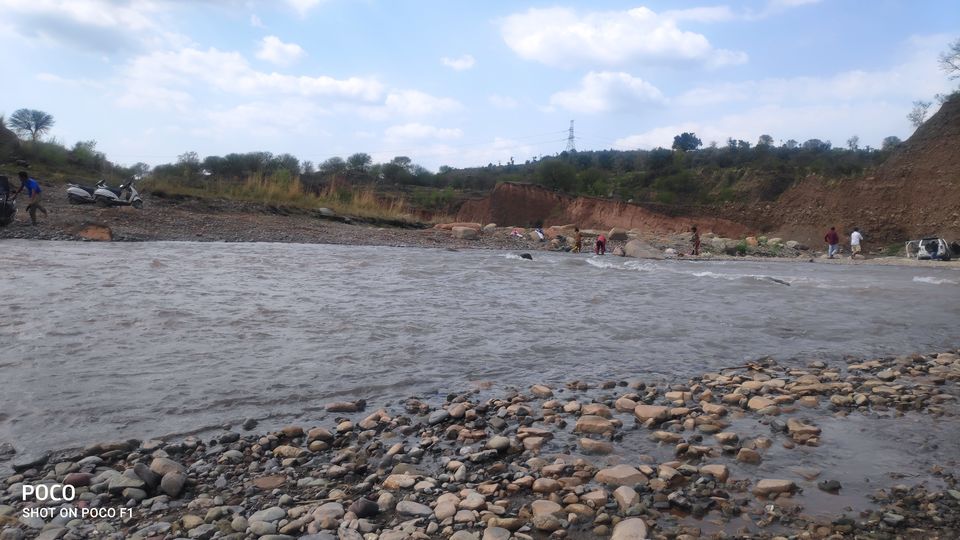 Yavanika Open Air Theater
Yavanika open theatre in Panchkula is a perfect destination to spend some time with your family and friends. This place holds multiple events throughout the year like dramas, dance performances and many more. Not only that this spot also is a great spot of morning and evening walks or working out as it offers a ring track. Additionally, there are some spots here worth capturing like extraordinary architectures and layouts, that is why you might find some tourists roaming here.
Bonsai garden
Inaugurated by the CM of Haryana, Ch. Bhajan Lala on November 20, 1994. It is a small and reserved spot allotted for Bonsai trees and also it is closed usually but few time slots are allotted for visits. One might find Bonsai trees here ranging anywhere from 2 to 50 years old. Also, there is a cactus garden nearby with a wide array of plants.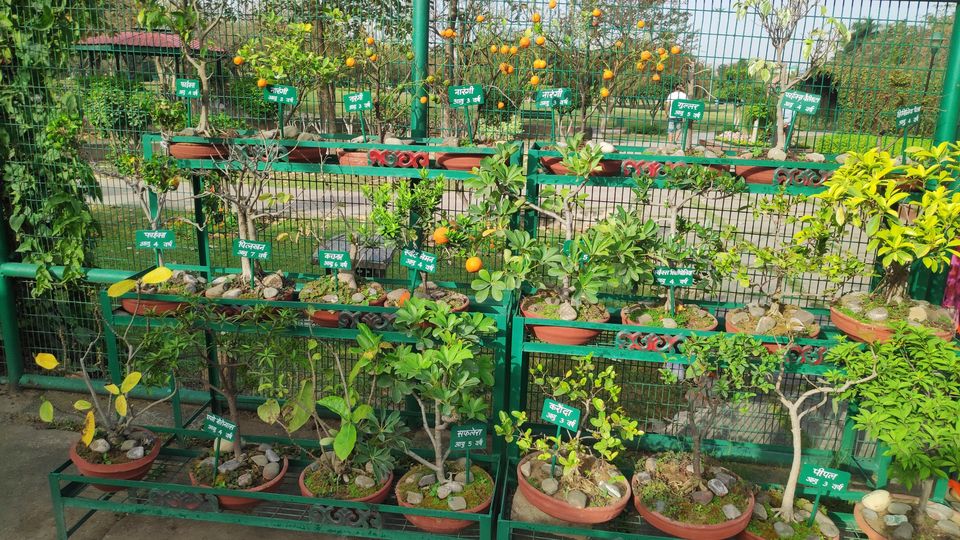 Brahmarshi Ashram, Hanuman Mandir
Brahmarshi Ashram, Hanuman Mandir is one of the few divine places which have a unique architecture on it's own, with calmness and has a towering statue of Lord Hanuman. With ayurvedic hospitals, Ashrams, yag shala, meditation make the aura of this place totally holistic and the green beautiful scenery around makes it a great place to worship and have a calm rest.
It is believed that this place has a connection with pandavas who spend their time while in their agyatvas and it's a self-sufficient temple providing education, medicine and milk from local gaushalas.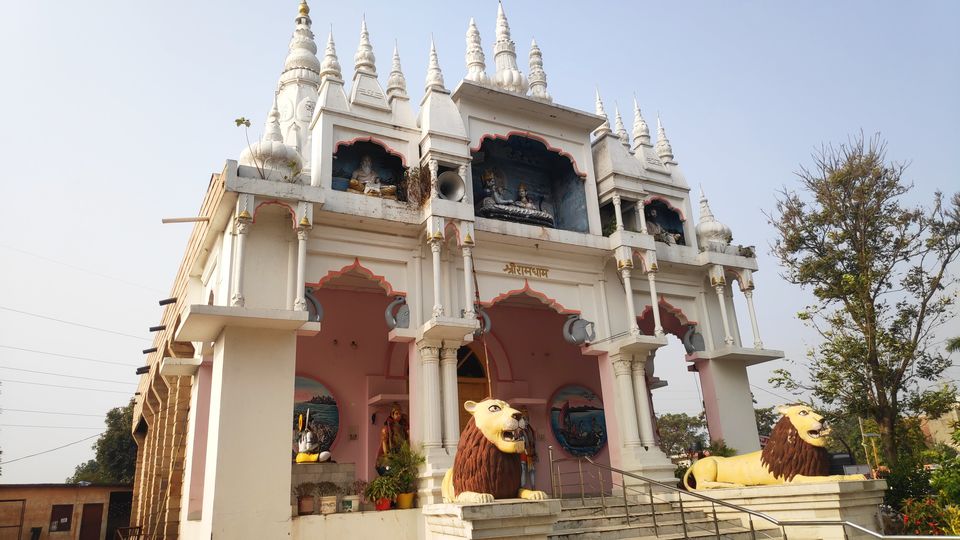 Raipur rani fort
Rani Raipur Fort is a historical legacy. According to historians there is a past aspect of this fort related to Guru Gobind Singh Ji (The tenth Guru of Sikhism).
Established in 1420. This fort is spread across 2 acres and is about 35 Kms from Chandigarh and 25 Kms from Panchkula. Its previous name was "Rao Ka Majra" and upon being pleased by the service of Raipur's Queen, locals saw the opportunity and named it as Rani Raipur Fort.
There's only one gate for the entry and the rest of the sides are shut. As you enter the fort, you can see a Gurdwara, where Sikhs recite the Gurbani.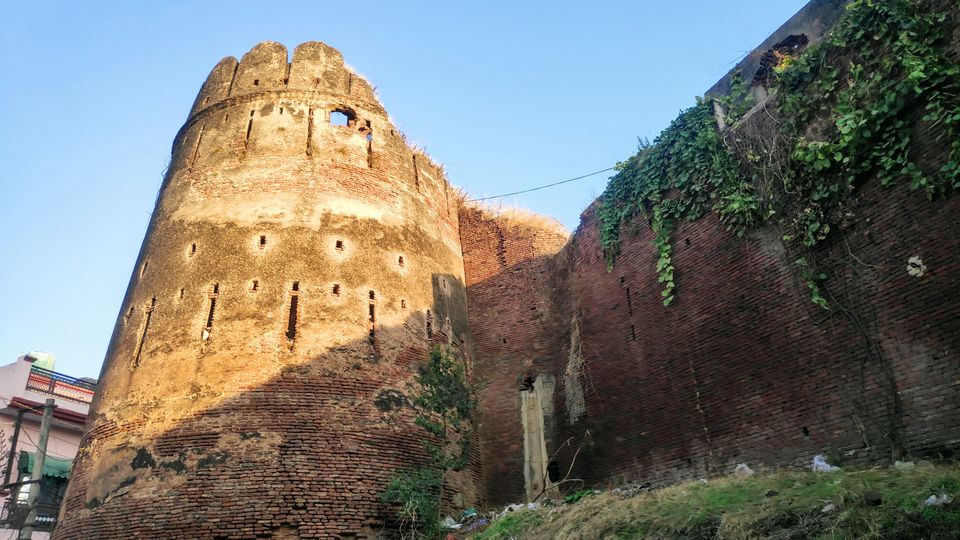 Future Projects
Maharishi Patanjali Dwar
Morni Hill's World Herbal Forest aims to develop a forest of medicinal plants that'll provide a boost to Ayurveda industry throughout India. Patanjali will collaborate with ministries which in turn will form a herbal corporation that'll look into functioning of this new World Herbal Forest.
Natural Waterfalls
War Memorials
Major Sandeep Sankhla Memorial Park Sector 2
Roundabout in Sector 2 of Panchkula is renamed after the Martyr Major Sandeep Sankhla by The Panchkula Municipal Corporation. Veterans celebrate Kargil Diwas at Shaheed Major Sandeep Sankhla Memorial and you can also observe a tank in the park.
25 Years of Panchkula Mark
Panchkula Mark celebrates the Silver jubilee of Panchkula city. Inaugurated on Haryana Day by the Chief Minister of Haryana Ch. Bansi Lal on November 1st, 1997. There are also some other milestones as well which show the development of Panchkula from initial declaration.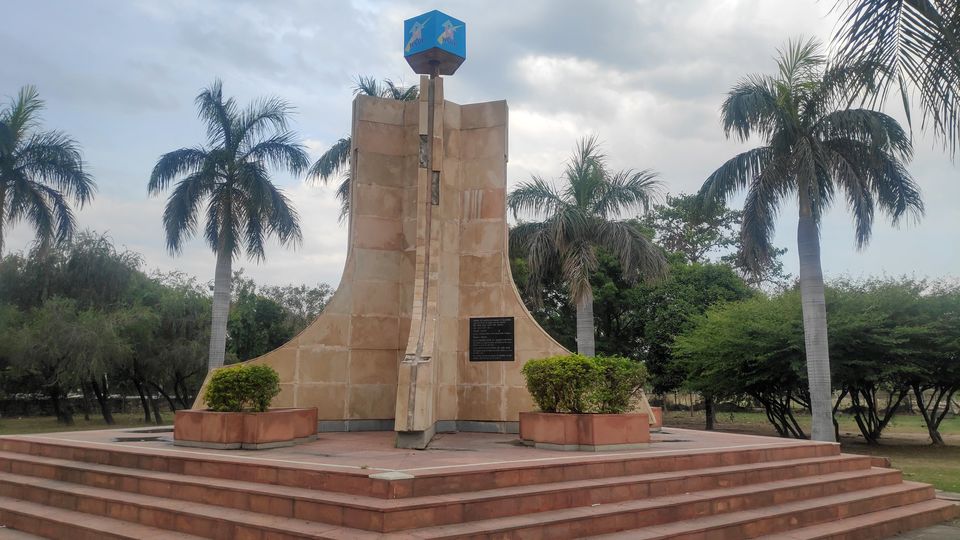 Temples & Gurudwaras
Gurudwara Sri Koohni Sahib
Guru Gobind Singh came to Shri Koohni Sahib from Narainpur in 1746 (Vikram Samvat) on the request of a Brahmin girl named Anpurna who worshiped Guru Sahib. Guru Gobind Singh meditated here for 17 pahar. While staying here, Anpurna served Guru Sahib and his accompanying sangat with food. Seeing this Guru Sahib blessed her that a temple on her name will be built here before the Gurudwara and whosoever will come here with true devotion, his wishes will come true
Jatayu Yatrika Temples
If you search on google you will there is building or dine in something, but my concentration is on group of small white temple, which are arranged in some specific manner, totally separate from each other but forming a cluster, I tried to ask locals about its significance but didn't get the desirable answers
Kailashpati Mahadev Mandir
Have you ever wanted to go on a small trek? This trek is not easy at all but difficult to climb at in a single go.
Which leads to the temple which is on the top of a hill. It's a half an hour inclined trek and as you reach to top you can have a clear view of the whole Panchkula and Chandigarh and those moments are worth capturing, a whole new skyline awaits for you. There is small temple at base and when if ask the priest he will tell you about the way which takes you that top of mountain
Shree Bhairav Jati Temple
It's a calm and peaceful Bhairav Hindu temple with a huge statue of God Bhairav with his Vahan(vehicle). It's on top of a mountain which enables us to see the landscape of Siswan Dam. The ambiance is really good. You get a view of Siswan Dam from behind the temple. Delicious free food (Langer) is also served for the visitors.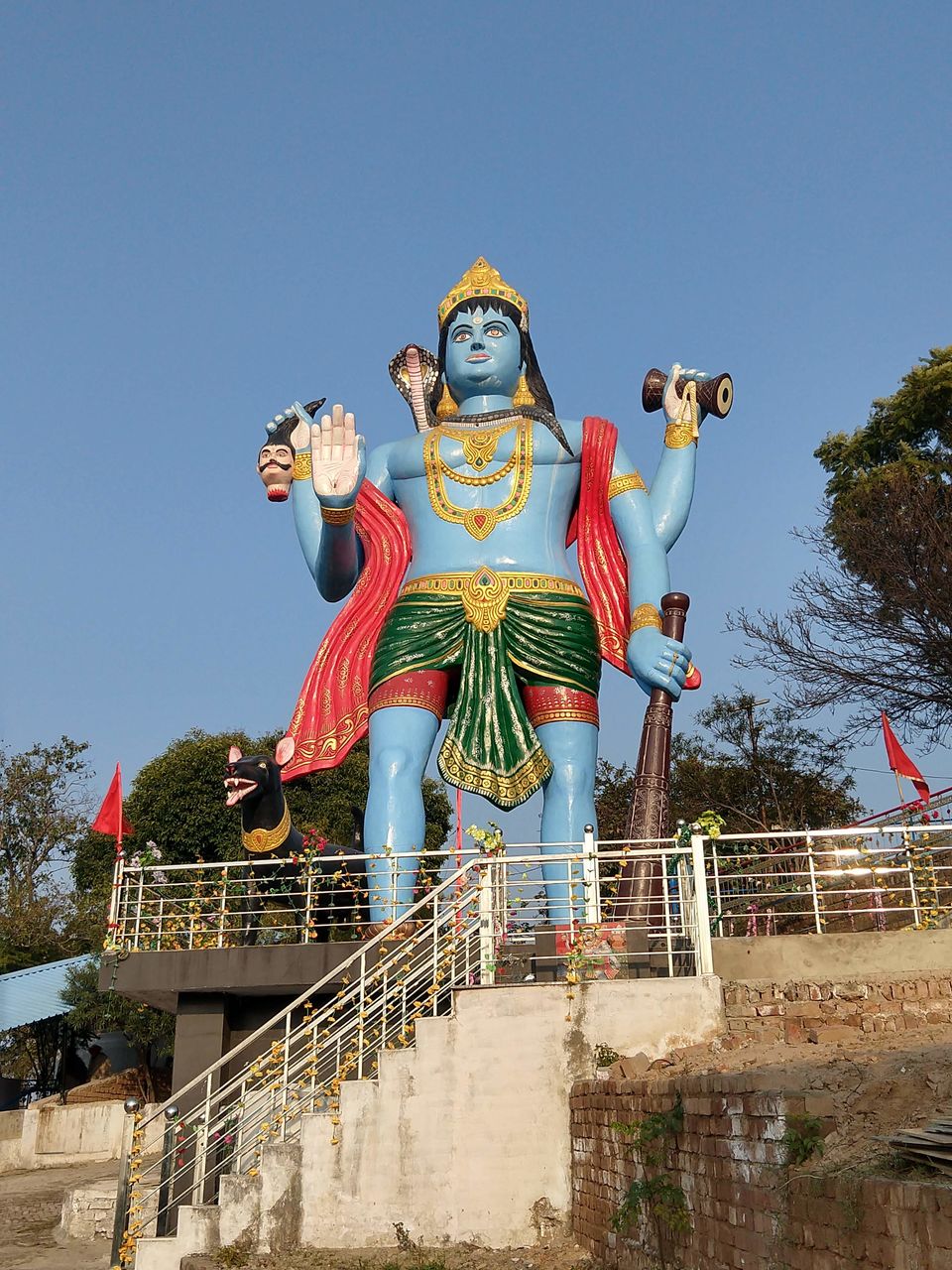 Some Quick facts
The name "Panchkula" came from it having 5 canals which literally translates to Panch and Kuls in Hindi. Although, all of those canals have been eroded away by Ghaggar river, hence no trace of them remains.
Panchkula is a well planned city in the Panchkula district, Haryana. The city is well designed with systematic layout wide roads adorned with beautiful trees and buildings that compliment the modern outlook of the planning.
• It is a satellite city of the Union Territory of Chandigarh.
• This area sits in the foothills of the famous Shivalik range.
• The district is also associated with Pandavas who enroute to Himalayas during their exile and stayed here for some time.
• Panchkula district was formed as the 17th district of Haryana state in India on 15 August 1995.
• The district has five towns, Pinjore, Kalka, Barwala, Morni and Ranipur Rani.