Most of the travel aficionados, once in their life must have added Sikkim in their bucket list for the beauty and experiences it holds. I being one of them, had also dreamt of exploring this place and every bit of it. So, I, along with my few friends finally decided to plan this most awaited trip in the month of April, keeping the weather in mind (and mostly everyone's schedule).
Those 8 days of Sikkim will always stay with me but what struck my soul is a small town in the west of Sikkm- 'PELLING', which deserved a special attention.
Surrounded by snow-capped Kanchenjunga range, this small town holds exceptional beauty in it, to satisfy every wanderer's soul. Situated almost around 115 kms from Gangtok, the capital of Sikkim, this town should be part of everyone's itinerary.
Almost after six hours drive and few waterfalls later, we reached the place post the sunset. People who have stayed in mountains can relate to, how dark it actually gets after 7 pm in such towns with limited street lights and lush greenery around. So we decided to directly go to our hotel, drop our luggage and then explore a nice place for dinner.
On our way to the hotel, I spotted a restaurant/hotel, completely made of wooden logs and lanterns hanging outside and surprisingly no one else saw that. So after 10 minutes of walking, and a few arguments later (Argument- to convince everyone else that this place exist and it was not hallucination) we reached Hotel Kabur for dinner and it was so far one of the best decisions. We were all awestruck by this place as soon as we entered. With colorful lanterns hanging and a candle on each table made it a perfect atmosphere for dinner. If you love playing guitar, this is the place for you. To give you that feel, they have even decorated a corner with guitars, books near to a fireplace (the best of combinations) and obviously great beer (local beer-HIT) with delicious food.
After spending good two hours here, we were forced to go back to our hotel, which we didn't want to after this experience. Out hotel manager, who actually was behaving like a hostel warden started haunting us with back to back calls post 8 pm (which was kind of good, as he was concerned about us, four girls roaming around on our own). So we finally had to leave this place behind and go to our hotel but we decided to come here again in the morning for breakfast. We reached our hotel and after chit chatting for a while, we called it a night.
The next day started off a little early for us as we had to cover a few nearby places that day and then leave for Darjeeling as well, so technically we had limited time in hand. I have this habit of looking out for a view as soon as I get up in the morning when I travel, and as soon as I went out in the balcony, I was mesmerized. Cold breeze, a beautiful sunrise and a tranquil street of Pelling surrounded by snow-capped mountain range was waiting for us. Throughout our trip, we were restless to have a glimpse of Kanchenjunga mountains from every part of Sikkim we visited, but like they say- what you seek is seeking you, and we saw not only the range but the first ray of sun falling on the mountain range and wishing us a wonderful morning in Pelling.
We quickly got ready and left for breakfast which was as delicious as dinner and soon we left for Rabdentse Ruins, which was the second capital of Sikkim. After a good walk into the woods, we reached the place where we could see only the ruins of the palace which existed decades ago. After a pleasant photography session, we left for another place.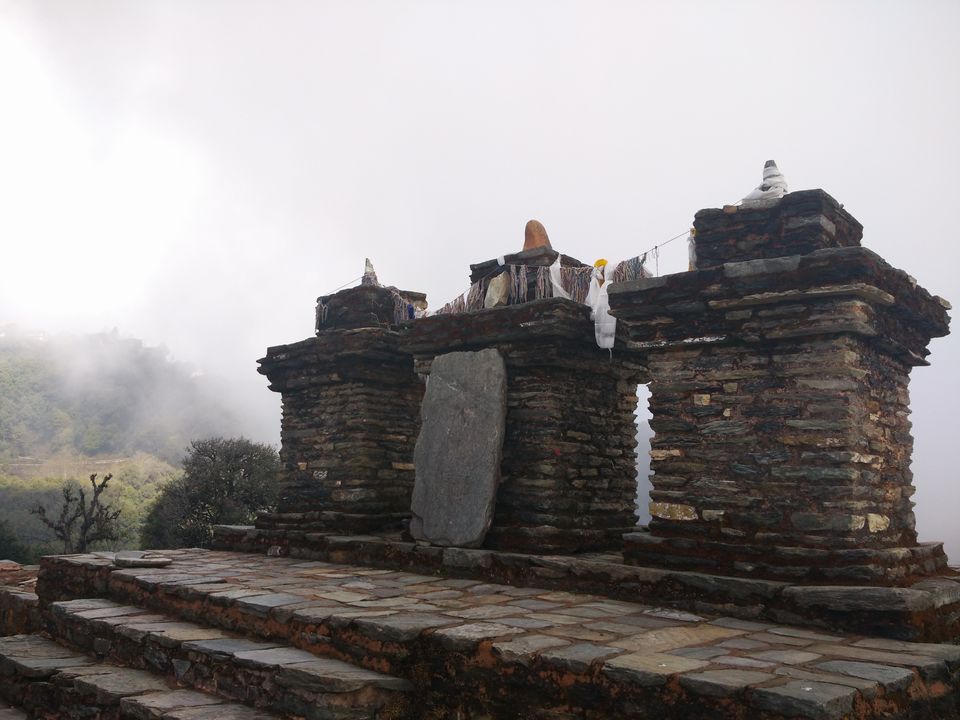 Now it was the time for the Gorge Bridge, which is second highest hanging bridge in Asia. We spent some time here and then left for our next destination, Darjeeling. It was finally the time to leave this beautiful place 'Pelling' behind but with a promise to give it a visit again in the future, which we will certainly do because it deserves that.