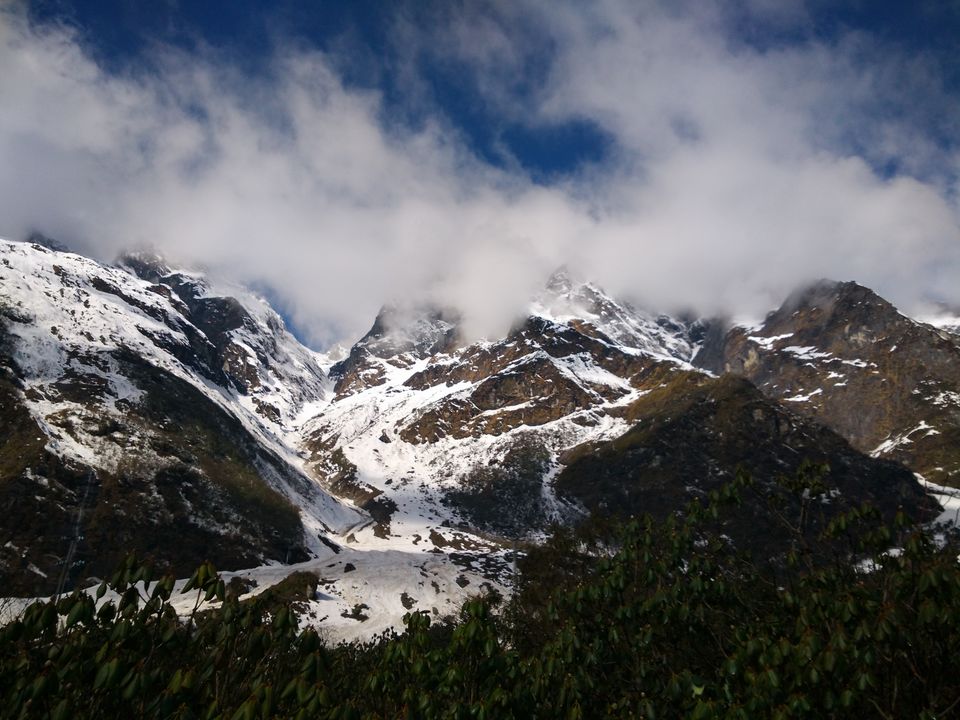 It is said that Sikkim is one of the safest places in the country and it doesn't take much to fall in love with it. Hassle-free and warm-hearted, it gives enough memories and experiences that can be cherished for lifelong. It possesses not just one quality but is a combination of mystical land, spectacular natural beauty, snow-capped Himalayas and lovely people.
We, a group of four girls planned to go on a week long trip and explore as much as we could during this time. After a month of planning and discussion, we decided to go for a travel agent, keeping comfort and safety in mind but it was not needed (realized it after reaching there). Bagdogra in West Bengal is the nearest airport to Gangtok, hence we decided to take this root.
Day 1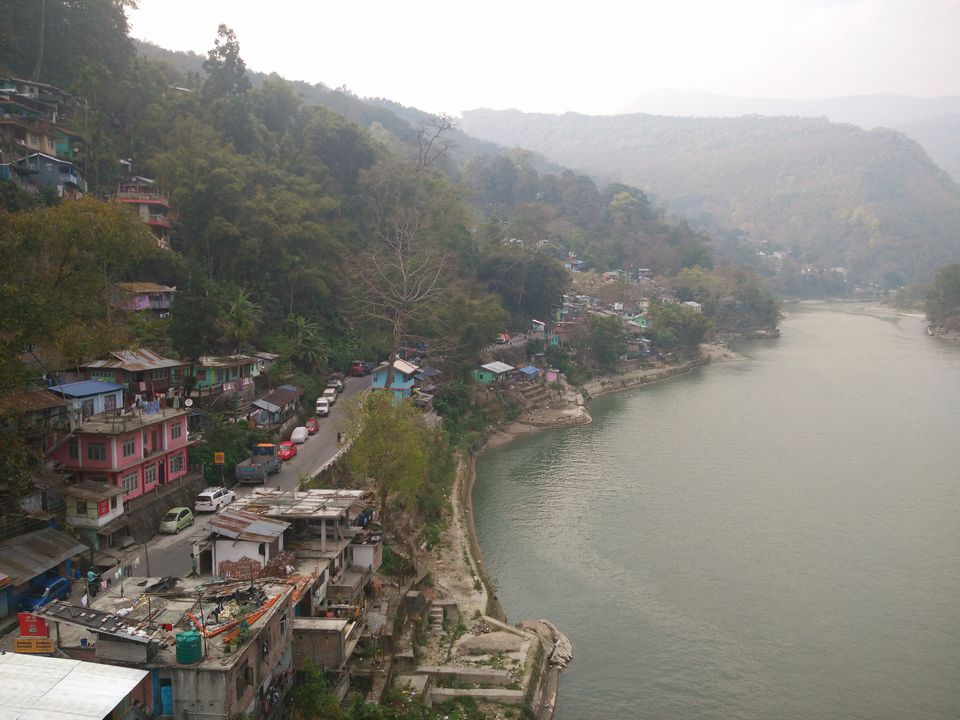 The first day of the trip was all about commute. Soon after reaching Bagdogra, we were picked by travel agent's driver who drove us to Gangtok, 6 hours drive from the airport. Lush green mountains, Teesta River flowing by the side made it a refreshing for us. After driving for almost 3 hours, we decided to halt for lunch in the territory of West Bengal. Now it was time to get into the mood as the most awaited trip had finally begun, so some of us expressed interest in buying some booze as it still was a long drive. But to our rescue, our driver suggested to buy it in the territory of Sikkim.
Eagerly waiting to cross the borders, a surprise was waiting for us too. Our driver pulled the car near a wine shop, and now the discussion was who will go to the shop. Sometimes, it becomes uncomforting for us girls to go and buy liquor and specially for one of my friends who maintains a safe distance, not only from the wine shop but from us as well when we go to buy one (Just FYI, she drinks). So finally I decided to go and to my surprise, I was welcomed by a girl in her teens sitting at the shop. Seeing her, I could not resist but to go back to the car and drag that friend of mine to the shop. She was equally surprised as I was when the girl asked us for what we wanted. Soon her mother joined her and explained us which all is local liquor and what can be tried. As weird as it looked, the local beer was called 'HIT' which made us a bit skeptical to go for it (keeping in mind its name resembled Cockroach Hit). Finally we settled down for a local bottle of wine and few bottles of beer and breezer, which cost us not more than 600 bucks.
(Tip: Do not buy beer/alcohol in West Bengal coz as soon as you will enter Sikkim's territory, the price of liquor drops like anything)
We reached our hotel at around 8 PM in Gangtok which was actually in the outskirts of the town. As it was already a long day for all of us, we decided to stay back and try the local wine, named Vasco (which no one liked by the way).
Day 2: Tsomgo Lake/Gangtok (East Sikkim)
As per our itinerary, it was time to visit Tsomgo Lake followed by Nathula Pas but as they say, sometimes it never goes as planned. Due to rain and landslide, Nathula Pas was closed so we had an access till Tsomgo Lake, so we decided to explore nearby places on that day apart from Tsomgo. The weather in Gangtok was mesmerizing, neither too cold not hot but as we started moving towards the lake, the temperature started falling and soon it was extreme cold with fresh snow all around.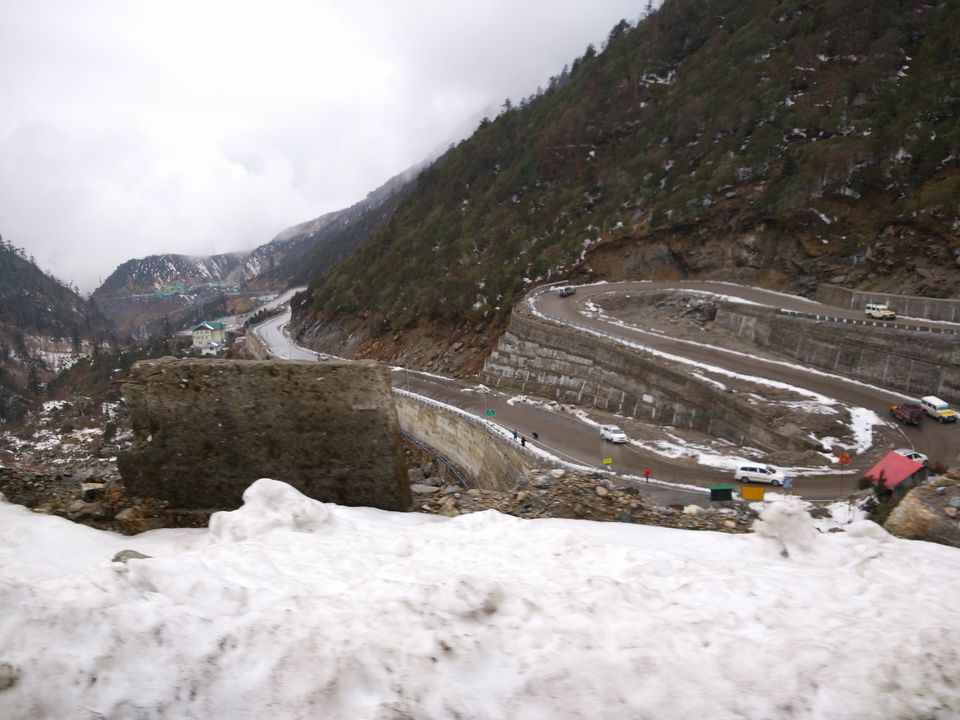 We reached the lake which was half frozen, surrounded by white landscape and a lot of visitors and Chhangu Baba Mandir. We spent close to one hour to explore and click pictures and soon left for Gangtok.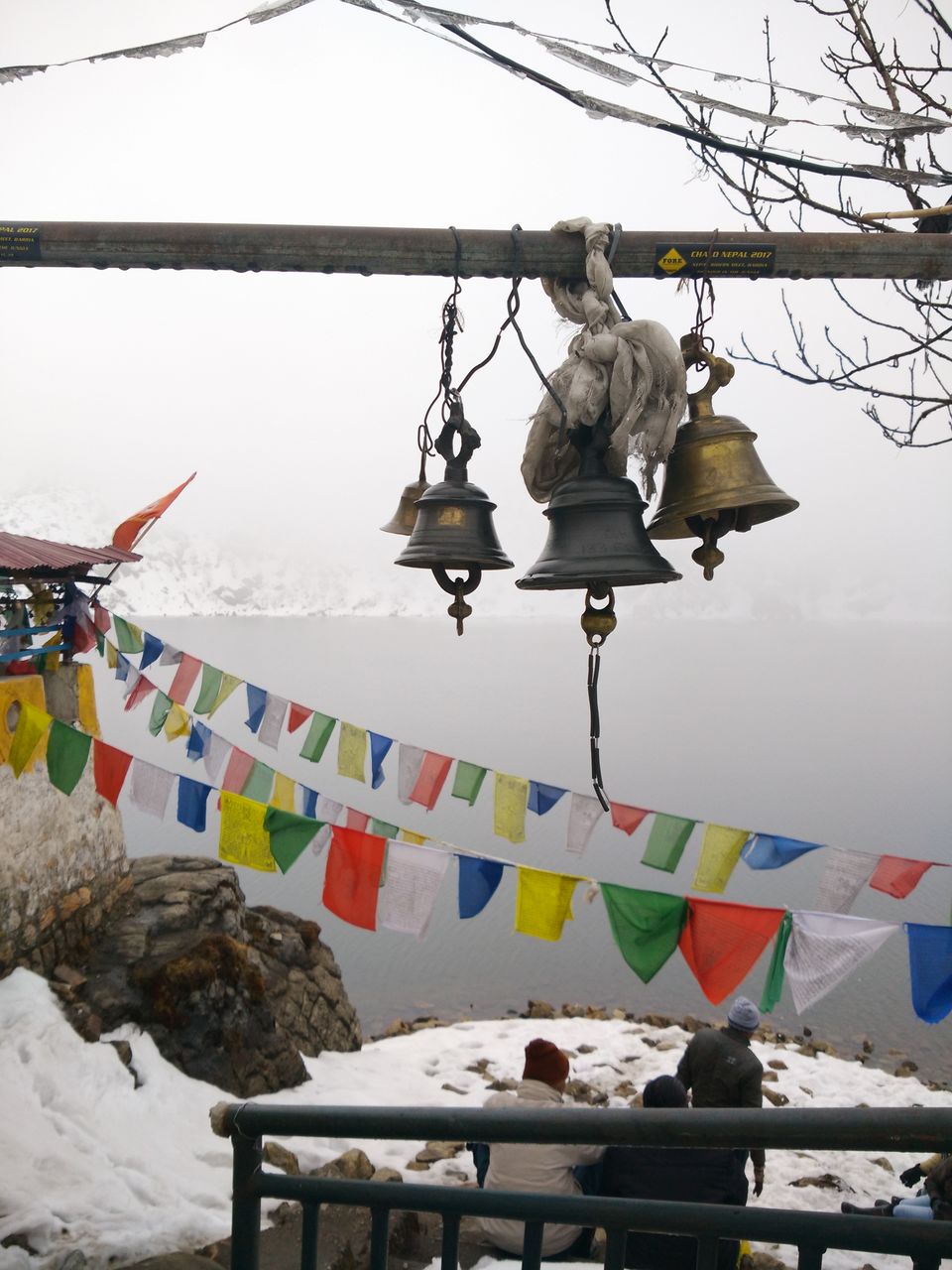 Now that our evening was free, we decided to go for some shopping in the famous MG Market of Gangtok. We explored every bit of the market, from gift shops to local food stalls to a Chinese restaurant on the same day and came back to our hotel with a lot of shopping.
Day 3: Lachung (North Sikkim)
The day started with a bit of local sightseeing and soon we left for Lachung, which was again almost 5 hours drive but the drive seems equal fun with lovely roads and greenery all around. This route was even more interesting because of the number of waterfalls, which crossed our way.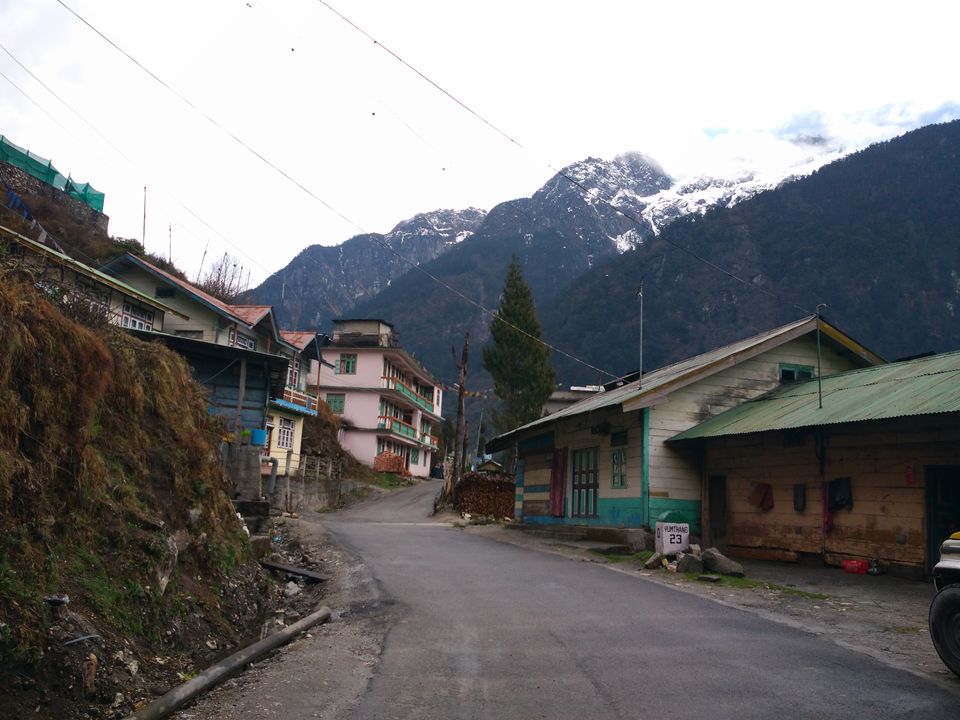 After few hours of drive, we decided to halt at a small shop to buy something to eat. Again to our surprise, the shop had a variety of liquor on display at such reasonable price, so instead of going for a cold drink, we decided to go for breezer (as it costs almost equal, an informed decision it was). So one thing we noticed was, every shop serves beer/breezer and sometimes whiskey as well, irrespective of its size and here in Sikkim, even women own liquor shops or serves at one.
After exploring few waterfalls on our way, we reached Lachung at around 7 pm which was quite late and there was another adventure of the day waiting for us. Being a small town, the place has limited hotels and home stays and which was arranged for us was one of the worst with stinky and totally unhygienic rooms. After n number of calls and fights, we finally managed to convince out travel agent to change our hotel. Even after convincing the agent, we were equally worried, what if we get the same kind of room again, as being a small town and we had least expectations from this place. To our surprise, this time we were given a much better room which could accommodate all four of us. Delicious north Indian food was cherry on the top (which we had after a while).
Day 4: North Sikkim- Yumthang Valley [And the north remembers ;)]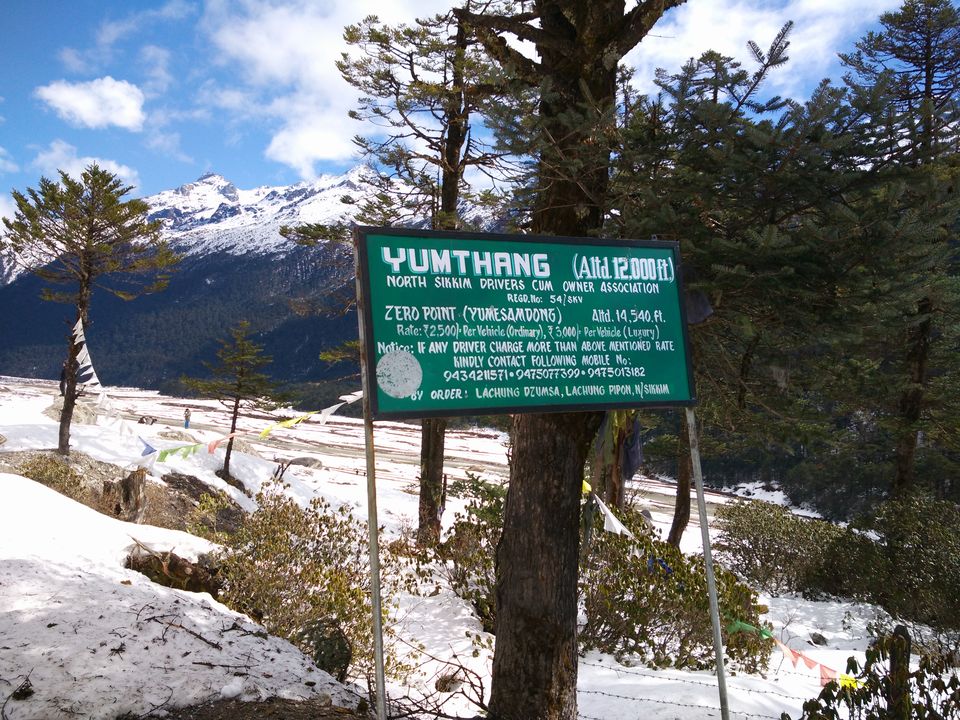 In the North of Sikkim, Yumthang Valley is a scenic place hardly 2 hours ahead of Lachung, so soon after breakfast, we left for the valley. Though the condition of road was not up to the mark due to regular rain and snow fall, but this was so far one of the loveliest drive. Deep blue sky, clouds floating around and sky touching mountains, which one of my friend described as 'Handsome Mountain' as she was awestruck by the view and how all these elements were complementing each other.
The valley is one of the most beautiful places on earth which carries every element of nature in it. From meadows to a beautiful river and snow-capped Himalayas surrounding this lovely valley, it never fails to captivate anyone.
We spent good amount of time roaming around, playing in snow and sitting beside the river and then left for Lachung again. After having our delicious lunch at the hotel, we left for Gangtok and reached there at night.
Day 5: Gangtok to Pelling (West Sikkim)
After east and north part of Sikkim, it was time to explore the west Sikkim. On our way, we visited a holy place Char Dham Namchi, which was spread across a huge land and true to its name. After entering the place, the first thing no one can miss is Lord Shiva's imposing statue and the whole area is built keeping the famous mythological stories of Lord Shiva in mind. Not only this, true to its name, replicas of char dhams have also been created inside the premise, which is yet another attraction in itself. After spending some quality time here, we resumed our drive to Pelling.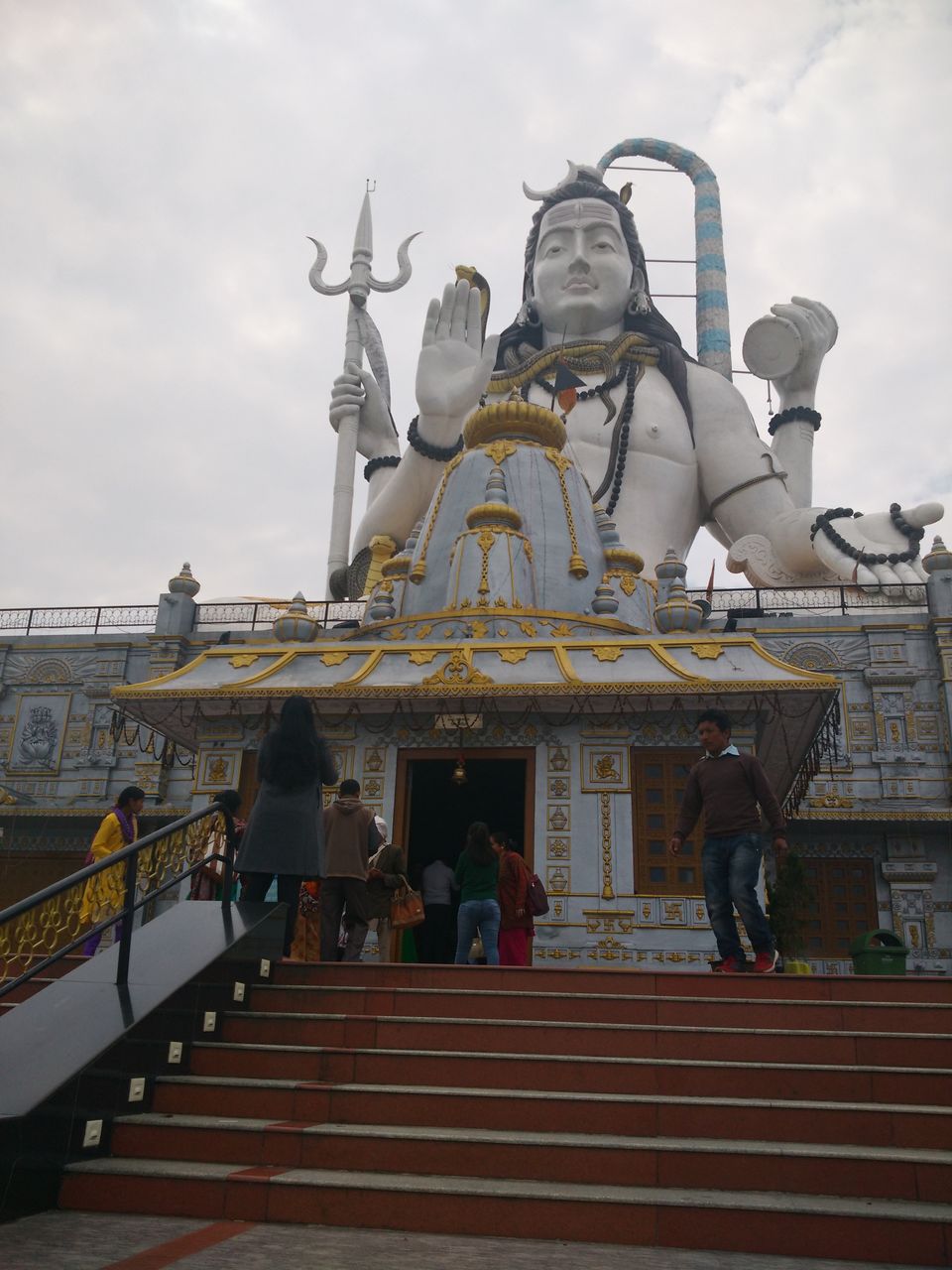 Pelling deserves a special mention for the kind of serenity it carries which left an impact on our hearts and minds. After reaching the place in the late evening, we decided to try some fresh, hot dimsums here (which we anyway were having from the past few days) and left to explore a place to have dinner.
Day 6: Pelling
Pelling gives you a clear view of Kanchenjunga range which we witnessed with the first rays of sun, the next morning. Here, the two important places we visited were Rabdentse Residency and Gorge Bridge, the second highest handing bridge in Asia.
(Details of this place is given in a separate article, published recently in my previous writeup)
One of the best parts of Sikkim is its cleanliness and the sense of responsibility among localities. All our drivers throughout the trip made sure we do not litter and keep the environment clean.
Day 7: Pelling to Darjeeling
After an unforgettable experience, it was time to bid adieu to the territories of Sikkim and enter a new one with new hopes and expectations. We left Pelling around 12 Noon and left for Darjeeling, West Bengal which was about 6 hours drive. We started our journey with heavy hearts as no one amongst us wanted to leave Pelling behind but you have to make space for new things by letting go the old ones. We were again on the roads, moving towards the next destination. To our surprise, the view was lovely till the time we were in the territory of Sikkim. Once we crossed Sikkim: West Bengal border, it was altogether a different scenario. It was not as green as we were expecting it to be, neither was it clean and most importantly that calmness in the air suddenly vanished.
After crossing few hamlet and tea gardens, we were in the territory of Darjeeling and unexpectedly, no one seemed excided. May be it was high expectations from the place, which fell flat or may be Bollywood movies, which portrayed Darjeeling in such beautiful light, or may be this was the effect of tourism.
Not thinking much about it now, we reached our hotel, and after freshen up, stepped out to explore 'The Mall', also known as Chawrasta and the Chowk Bazaar, which was connected to The Mall. After roaming around a bit, we decided to start with tea shopping, which we did from Golden Tips (the most popular shop where you can find any and every kind of tea flavor, all under one roof). One of my friends had heard of Glenary's bakery, so now it was time to explore it and indulge in some dessert.
Till the time we had reached Darjeeling, it was drizzling and was a major concern for us. The next day in our itinerary was dedicated to sightseeing, starting with Tiger Hill for sunrise for which we had to wake up at 3 am. Keeping weather in mind, our driver suggested us to drop the idea of going to Tiger Hill as it was going to be cloudy with least probability of sunrise.
We all were keen to go and hence had set the alarm for 3 am. After waking up, I checked the weather from the window and drizzling was still on. Having a brief discussion, we all decided to go for it and called the driver. We left from our hotel by 3:30 am as it was hardly 30 minutes drive and reached the Tiger Hill by 4 am. Weather being the main culprit, we were not expecting many people there but as soon as we reached the point, it seemed like a small fare with people gathered in large numbers, localities selling coffee, tea, woollen shawls, caps, selfie sticks and what not.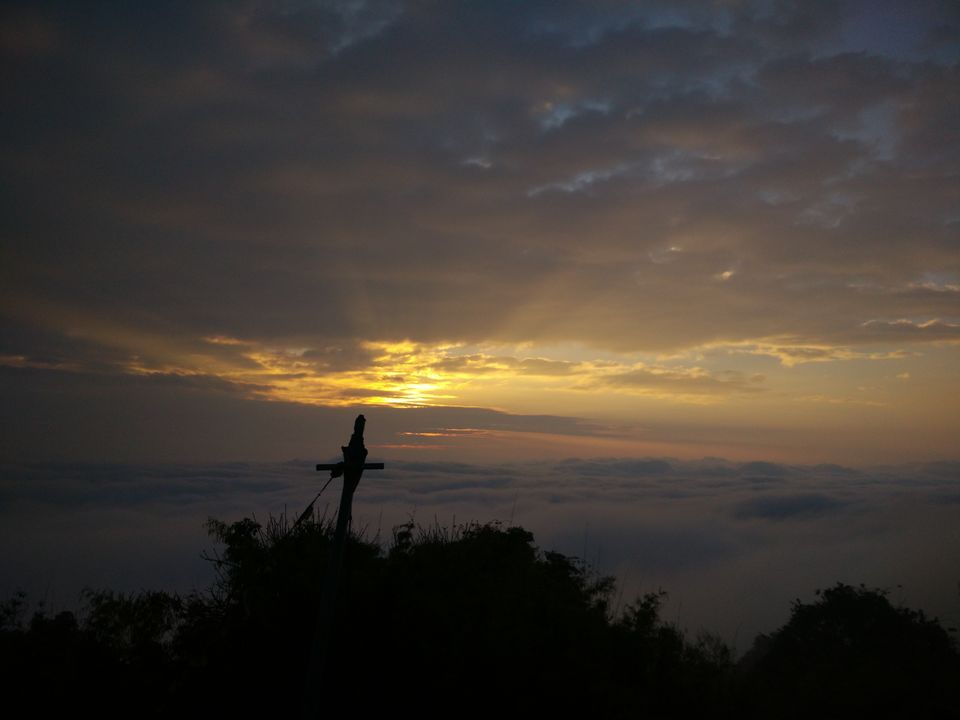 It was freezing cold as we all stuck together and had few cups of tea and coffee to kill the time. We were still hopeful that we will get to see what we wanted so frantically, that one glimpse of the sun. After spending an hour standing there, we realized not us but everyone was restless. With the breaking dawn and every passing moment, we were being more hopeful and soon we saw a compelling view which cannot be described in words but only felt. A few rays peeping from the dense clouds made it that sight which you would want to capture not only in your cameras but deep down in your memory as well. After seeing the sunrise, we again left for our hotel and reached back by 7 pm and decided to catch up on our sleep.
We had called for the cab at 10, so we got ready by that time and again left to see a tea garden, which was a big disappointment by the way with limited and not so green garden. After spending hardly half an hour there, we left for Peace Padoda and after a leisurely stroll in the premise, we asked our driver to drop us to railway station for the toy train ride. We all were excited for this ride except one so she decided to give it a miss and instead take rest in the hotel.
In sometime, the train was there, at the platform; all excited we boarded it and settled down on our seats. That excitement remained for few minutes and after that it was just a regular ride. The tourist toy train route covers Batasia Loop and goes till Ghoom Station and back. Batasia Loop turned out to be a picturesque location whereas Ghoom, a small yet lovely station looked like a dummy of a railway station.
After reaching back, we shared our experience with the friend who skipped it and few moments of break later, we again left for the market to have dinner.
Day 9: Back to our roots, Bagdogra to Delhi
Darjeeling to Bagdogra was close to 4 hours drive and our flight was at 2 Pm, so we decided to leave early and have breakfast on our way. It was raining since morning but it made the surroundings fresh and green. What we could not see in Darjeeling, we experienced it on our way to Bagdogra. The tea plantation, some women collecting leaves and lovely road condition were making it for a perfect drive.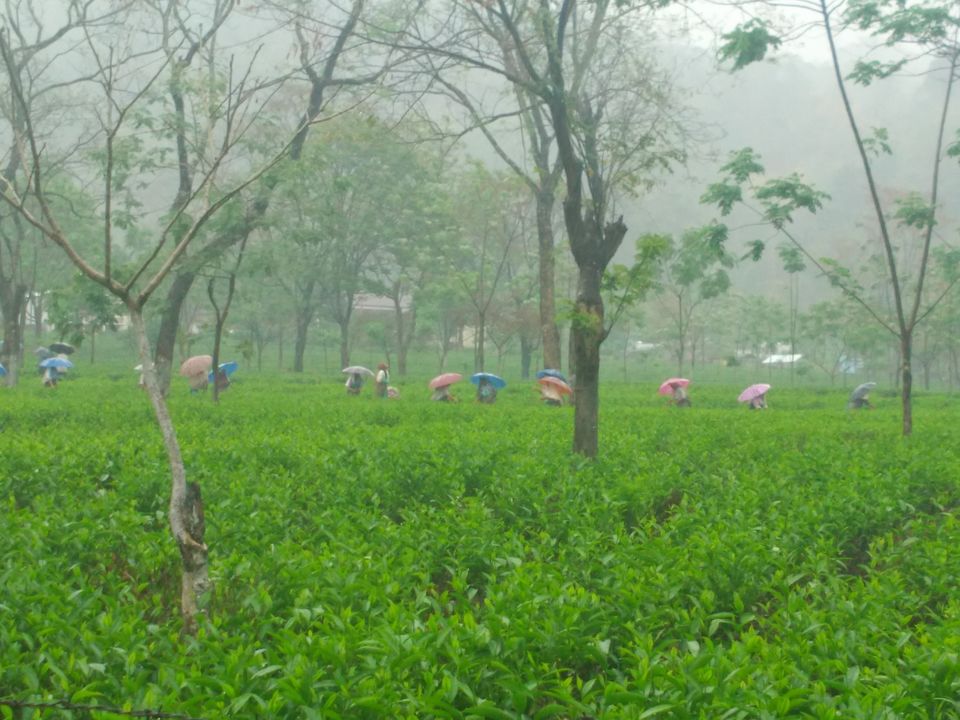 This one of its kind experience deserved more time of ours as eight days seemed too short to explore the state completely. We did come back with a regret of not able to see Gurudongmar Lake and Nathula Pass, the silk route, but there is always a next time I guess. So not regretting further, concluding the whole experience on a good note and with the hope that someday the mountains will call me again.