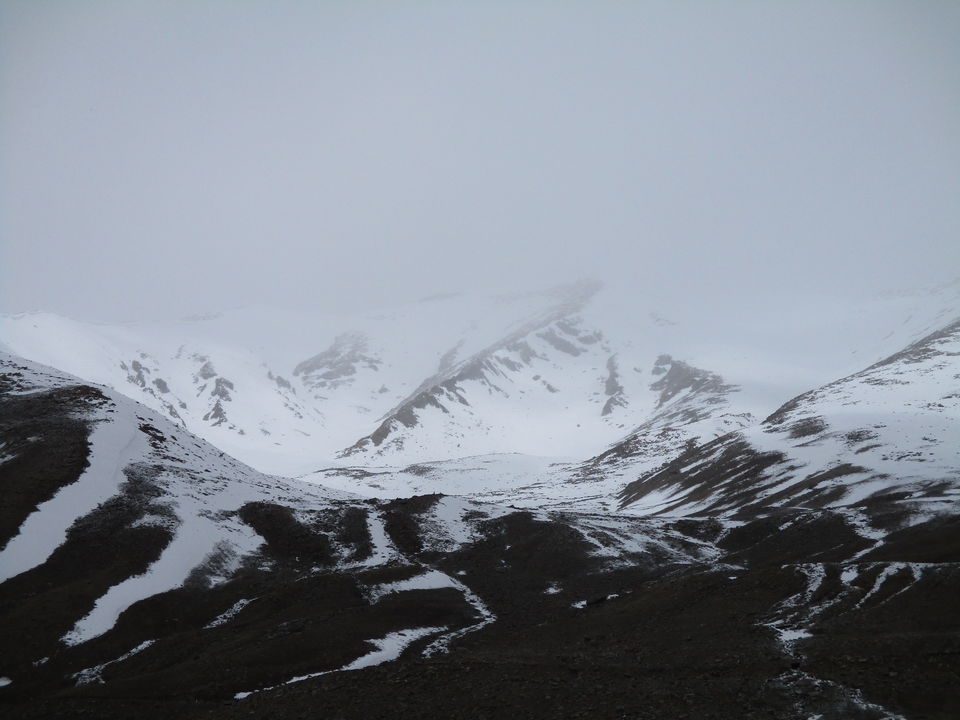 A place in India where you wish to visit at least once in your lifetime and get compelled to revisit :) Trust me its true ! The kind of beauty which each and every place in Leh offers is beyond comparison . If you are an ardent fan of biking then this place should be on top of your list .
You can reach this mighty land either by road or by air . Options to reach by road is limited to few months ,typically between May end to August . You can opt for bike /own car /cab /HPTDC bus . If you want to go on self drive make sure to carry heavy woolen clothes ,snow resistant jackets , rain coats , petrol , tools to repair your bike/car etc.
Routes :
1. Manali to Leh : This 474km long highway operates usually from June 1st week to October . It's not recommended to go for bike ride after September as weather becomes drastically cold . Roads and facilities are not so good but if you are a daredevil go for this route. HPTDC bus runs between Manali to Leh till September start .It takes approx 2 days to reach Leh (including an overnight halt)
2. Srinagar to Leh : This 434km long highway - NH 1 operates usually from mid May to November mid . Roads and facilities are better as compared to Manali - Leh route . It takes approx 2 days to reach Leh (including an overnight halt) .
Cannot drive this long but want to experience ride on those hilly terrains ? Worry not , you still have an option to unlock the door of your happiness . Rent out a bike in Leh and expedite your desire !
Reaching the city by air takes approx 1.5 hrs from Delhi . I preferred this and began the tour to one of the most awaited destination of my life along with my travel partners . Plane was flying high and high and so was I . Nature started unfolding its beauty with increasing proximity to the moon-land . Panoramic view of sparkling snow laden Himalayan ranges made me speechless . Do not miss the chance to have a glance !

Finally I landed on the abode of miraculous beauty . Chilling breeze , rocky mountains & snow covered peaks . A perfect wow moment ! Since Leh is at very high altitude you need to take special care of your health . Do not panic if you are not aware of dos & don'ts . You can find instructions within the airport to guide tourists but its better to do homework before coming :)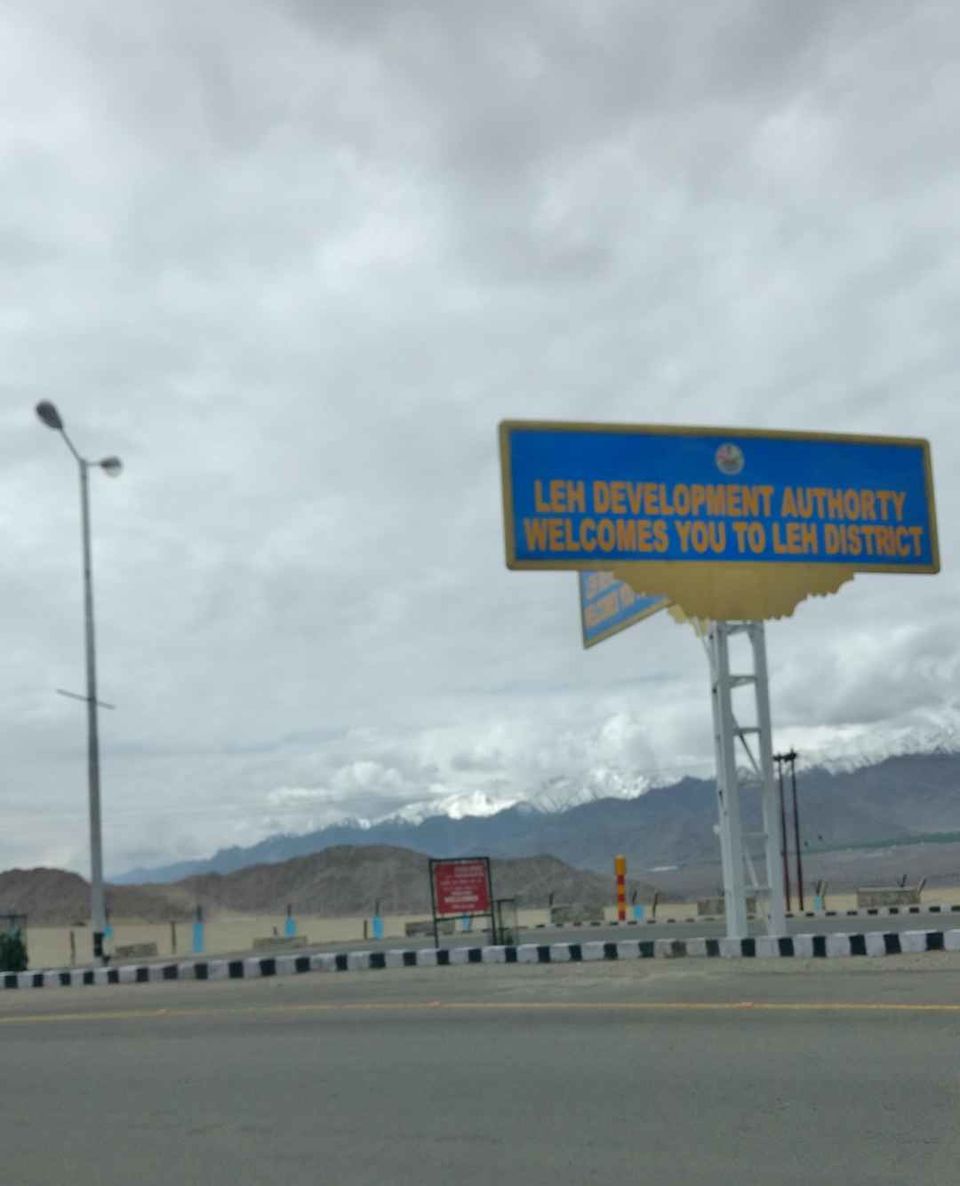 From airport we went to the hotel, checked in and took rest entire day to get acclimatized to the high altitude .Make sure you do not exert yourself for at least first 24 hrs. However you can go to some nearby places if you are feeling well else take rest.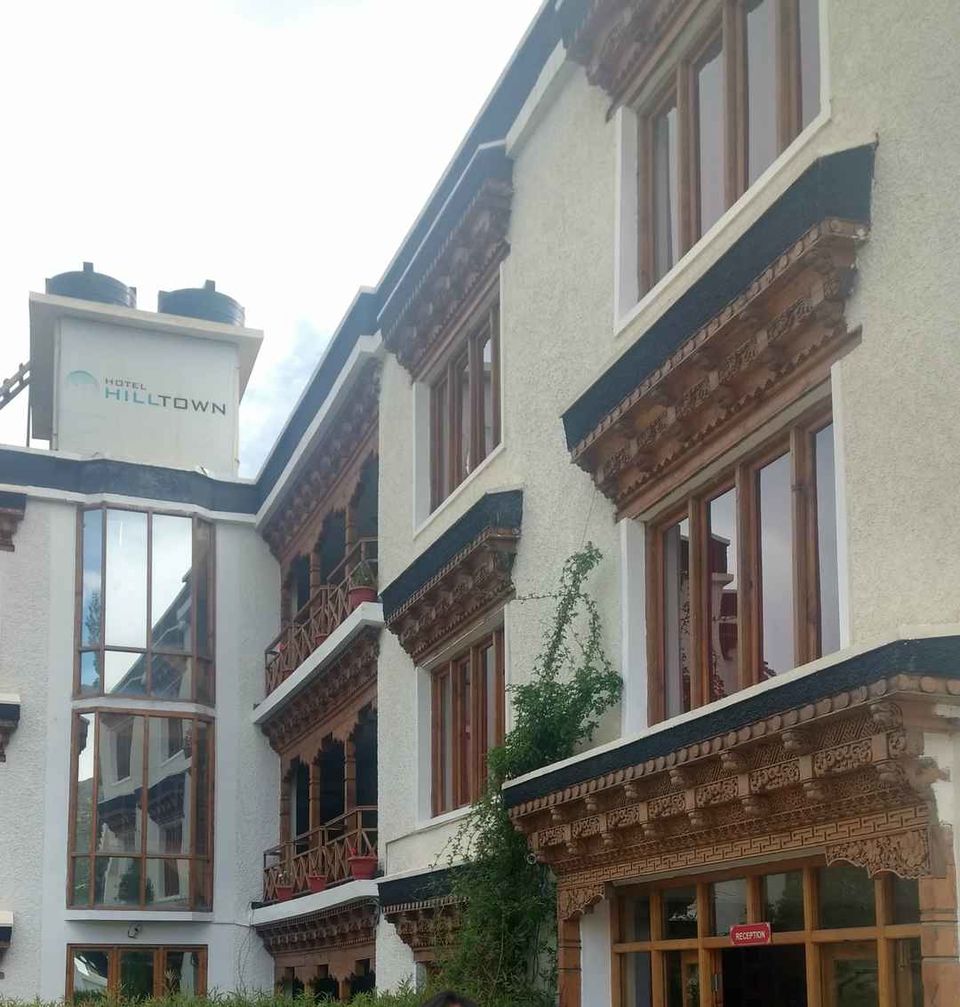 In the evening we planned to visit Shanti Stupa as it was not far from the hotel. This is a monastery built by both Japanese and Ladakhi Buddhists. Being on a hill top it offered mesmerizing view of Himalayan ranges. Sunlight on the mountain peaks served as a crown and refined its beauty further. I had never ever seen such a view in my life. It was blissful. That was "THE MOMENT" when i fell in love with this place.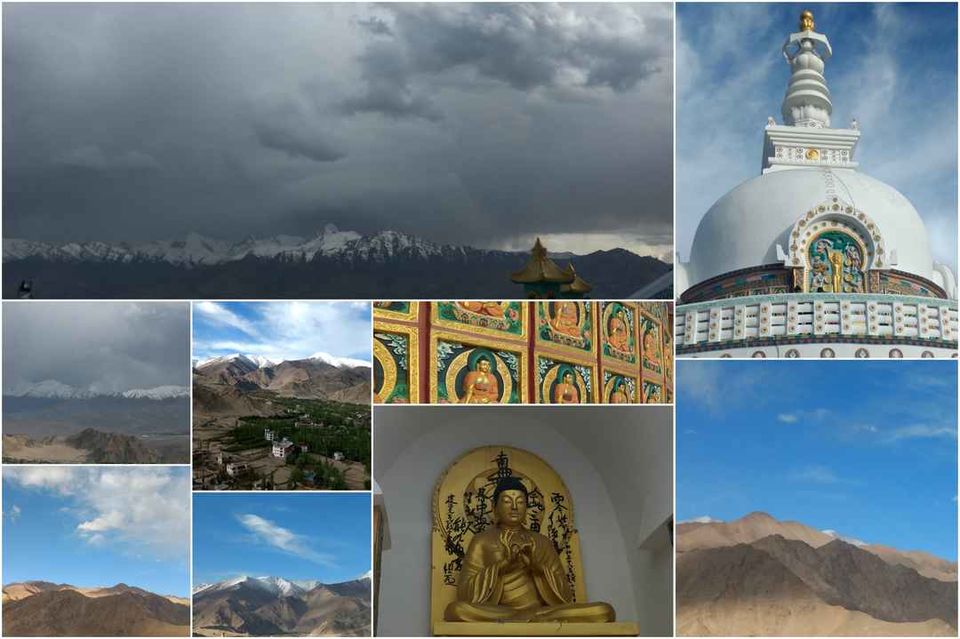 Then we headed towards Leh palace. This palace was built in 17th century and is nine story high. It was not at all maintained and was pretty dark inside. Still I managed to reach the top floor and trust me it was worth taking the pain. You can see the entire Leh city from here.
Sun had already set by this time and mercury was dipping further. Since my hotel was close to market area, we decided to have a walk over there. There were numerous shops selling pashmina woolens, handmade gloves, cap , tibetan handicraft items, statues of Budha, traditional ladakhi jewellery etc. It was a mini version of mall road of shimla/manali. Overall a lively market.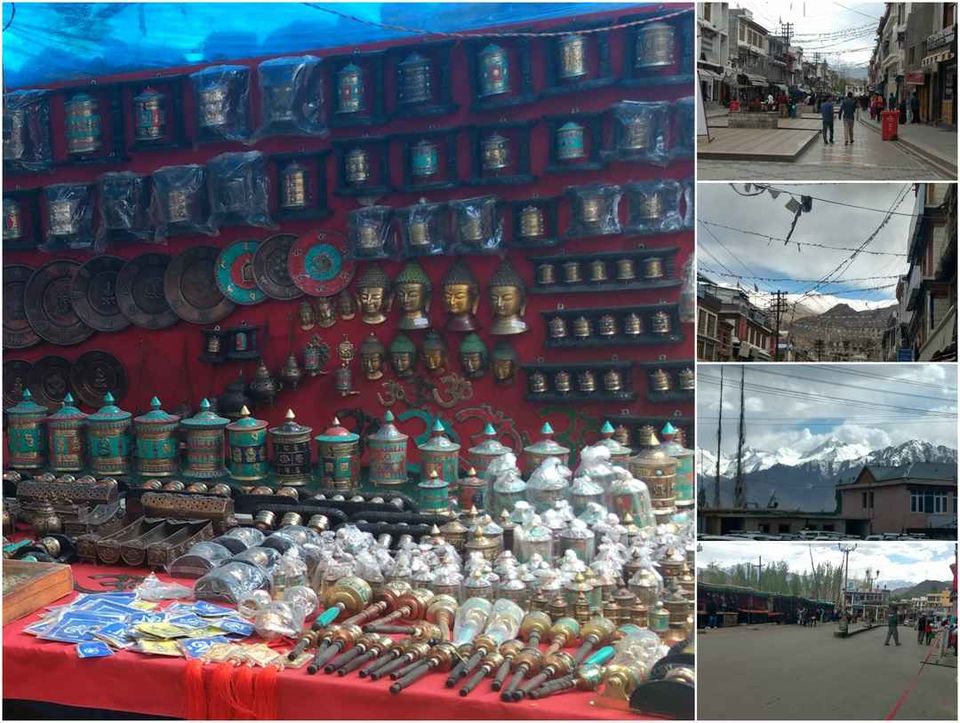 We reached hotel finally after the long day , took rest and recharged ourselves for the next day !
After crossing huge stretch of barren and secluded land we got a chance to have a look at sparkling blue lake - Pangong. The transcendent beauty of this lake would compel you to fall in love with it. It had all shades of blue.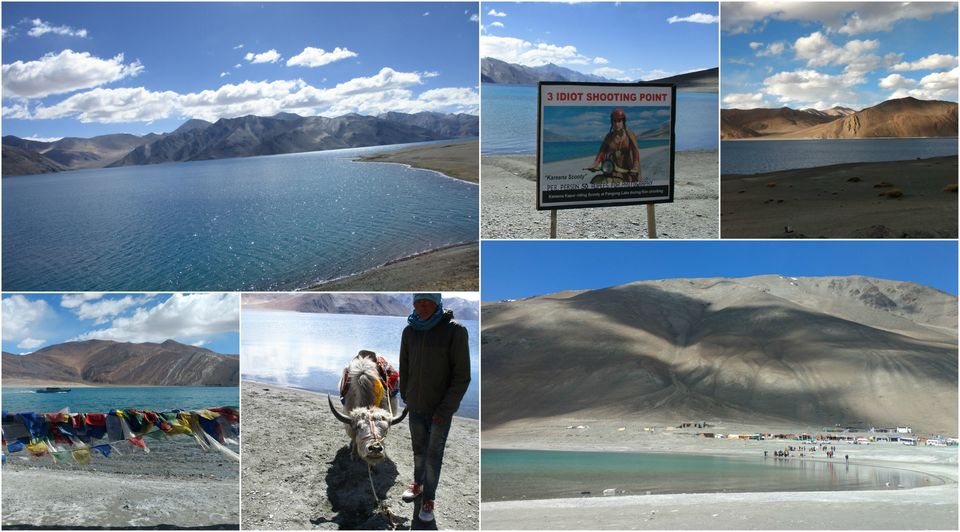 It was extremely windy and the ice cold wind was penetrating within the body in spite of wearing multiple layers of warm clothes . Standing outside during evening was next to impossible. I stayed at Camp Whispering Waves that night. Camp was at foothill of a snow covered mountain. View was stunningly beautiful. Staff and the food was good too.

On the way back to Leh we visited Druk White Lotus School better known as Rancho School which is located in Shey , Leh . School staff gave a walk through the school and the place where shooting was done exactly . There is a dedicated wall in the school depicting picture of 3 idiots . It has a cafe as well named as Rancho cafe .

Next morning I woke up early and witnessed the sunrise with a cup of hot coffee. Heat from the sun was a boon in the subzero temperature. After getting ready we started our day one. We headed towards Sham Valley which is approx 50km from Leh.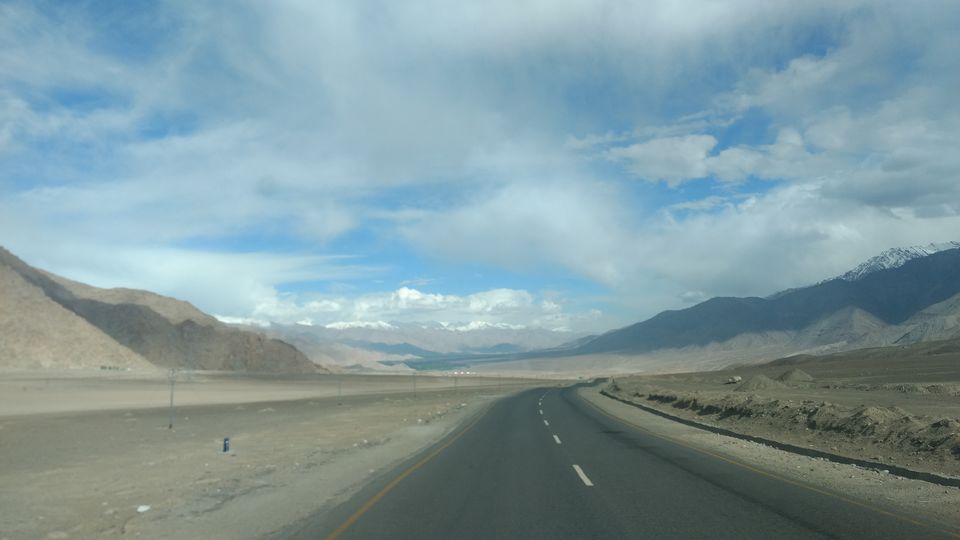 We started with Alchi Gompa which is the most celebrated Ladakh's monastery and dates back to 11th century. It is the complex of temples located within the village.Beautiful Indus river flows at the back side of this place and scene is worth capturing . On the way back to Leh we covered an array of places .

Visited Likir monastery next which dates back to 11th century and is on the hill top . After few steps took rest for sometime as low oxygen content was causing breathlessness but finally reached on the top. Sight of 25 feet gold covered Lord Buddha Statue was mind blowing. It was already very windy and chilly on the top and sudden snowfall lowered the temperate further. Multilayered woolens and jackets were helping me to survive in such a weather.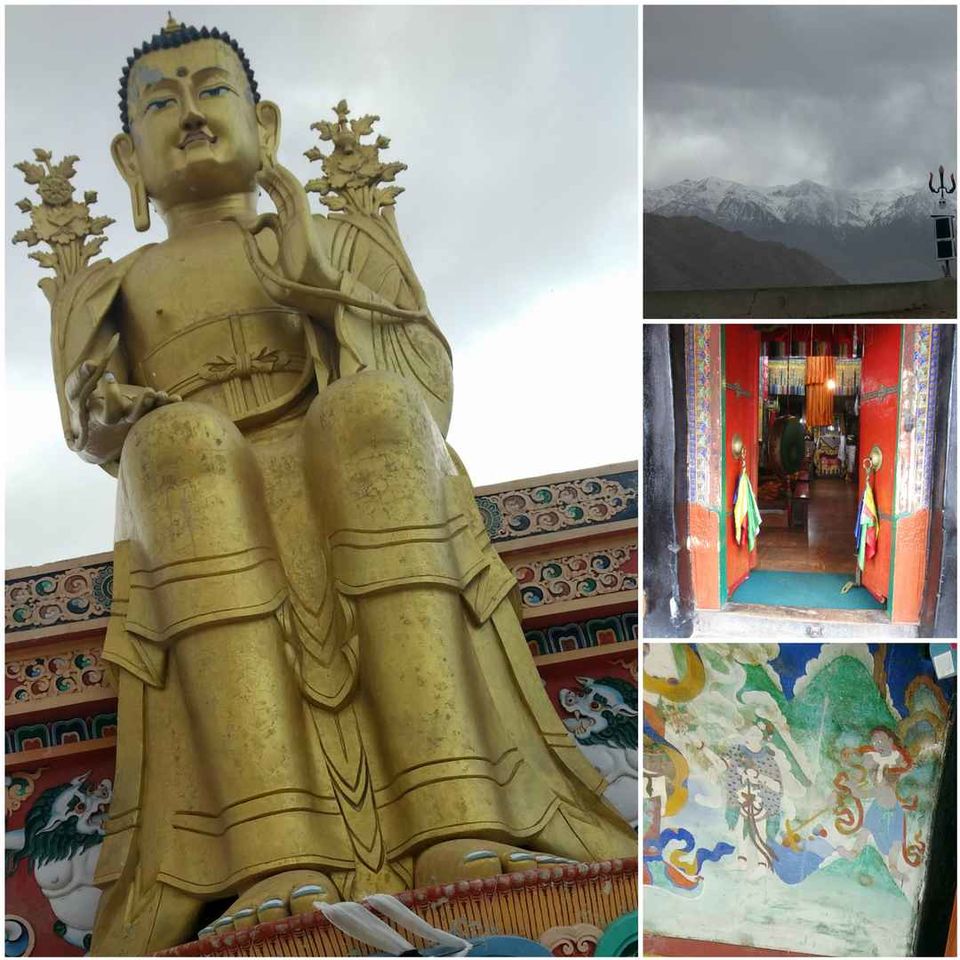 We headed forward and took a halt at Confluence of Indus & Zanskar river. It was so captivating ! Do not miss to see the stunningly beautiful sangam of two rivers - Indus - It originates from Tibet , crossing Leh flows towards Pakistan and finally meets Arabian sea and Zanskar - A tributary of Indus. White river rafting of Zanskar is famous during summers and its Chaddar trek during winters.

Then we came to the place which defies the Law of gravity - Magnetic Hill . That's true ! You can have a demo with your vehicle ;)

We visited Gurudwara Patthar sahib next. Atmosphere was very calm and serene there . Its completely taken care by the army people. Scrumptious food of the langar satisfied our hunger pangs. Do visit this holy place, you would love to know the history behind it.
Last but not the least, we visited Hall of Fame. This place brought me closer to the life of Indian Army. I was amazed to read the war stories which reflected the eternal fighter spirit soldiers have. Even the adverse climatic condition & life - threatening situation cease to bring any downturn in their valor.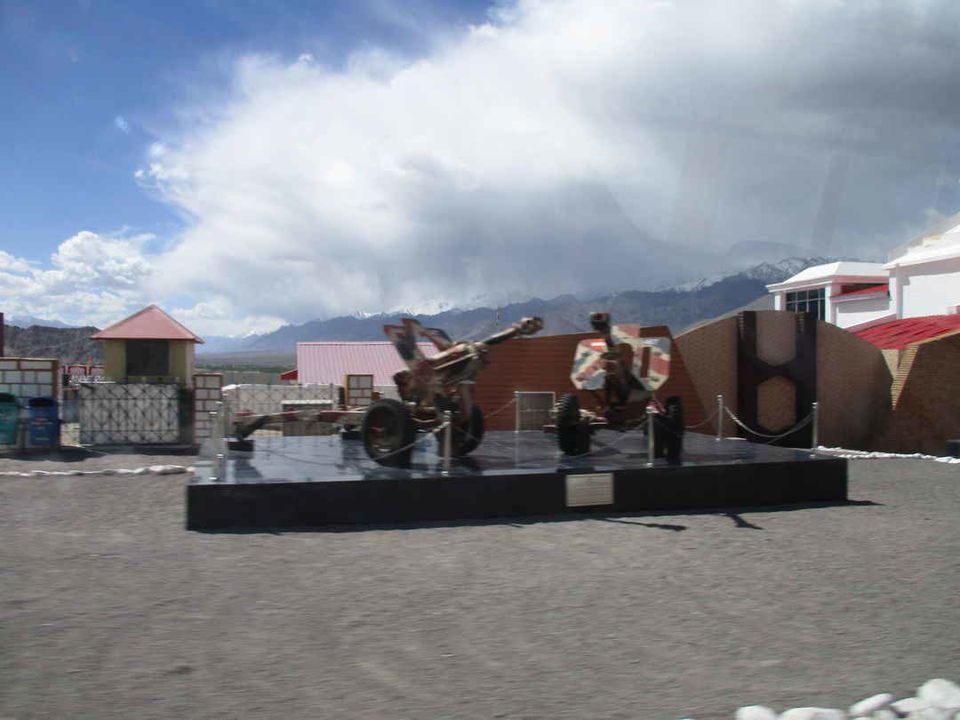 We knew that this was going to be the most adventurous day. It was the time for bike ride - which we were longing for. We packed ourselves with multiple layers of woolens and wind resistant jackets, hired a bike on rent and began the exploration. Ride to Leh Manali highway was phenomenal. Visited Hemis which was approx 50km from Leh and then back to Leh .
The wanderlust was not yet satisfied and worlds highest motor-able road severed as an iron in the fire. You guessed it right ! We drove to the Khardung la hill top - worlds highest motor-able road . Road from Leh to North pullu was good enough offering mind boggling valley view , snow capped mountains and curvy roads .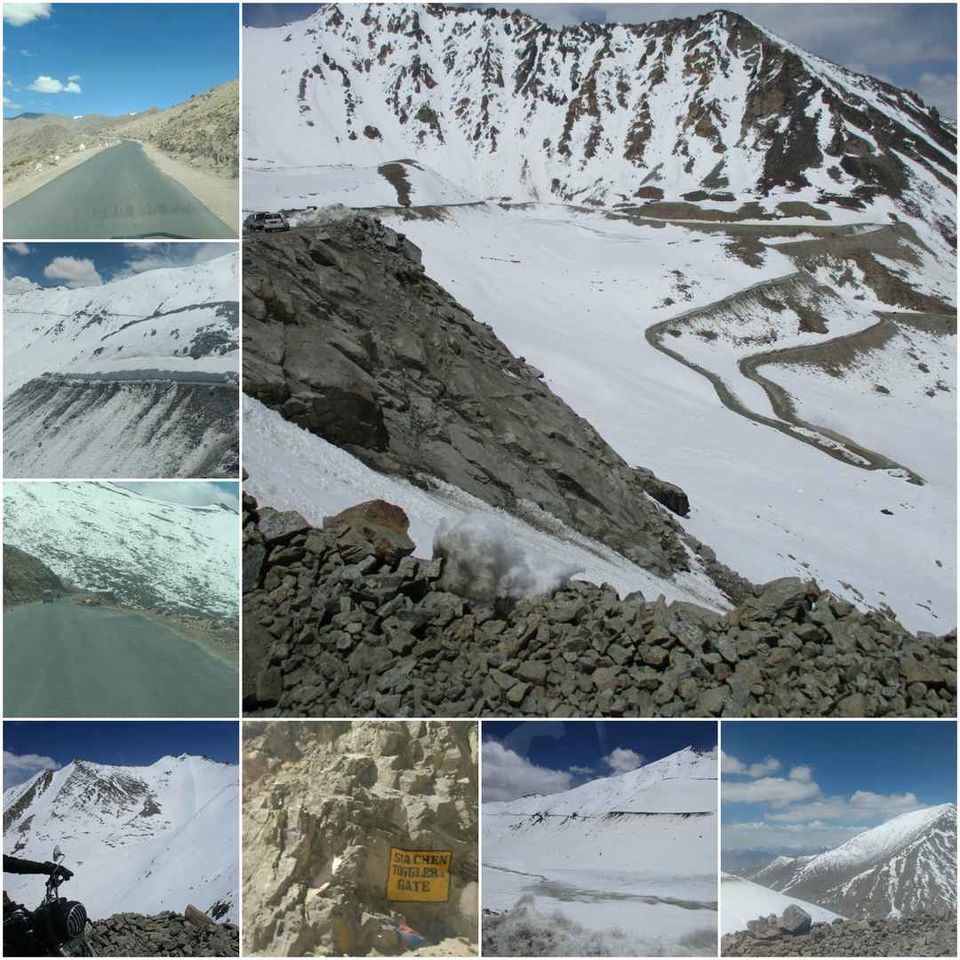 You need to have a permit to move forward from here. Heading forward to Khardung la from here raised my adrenaline level. Rocky roads, small water streams on the roads (due to constant melting snow ), chilling breeze & magnificent view - all in one. I was on cloud nine after reaching this place . There was a sense of fulfillment - an accomplishment. I was surprised to see a canteen and first aid facilities at such an high altitude where its not even advised to stay more than 15-20 min .Hats off to Indian army ! We relaxed for 10-15 min , had a cup of coffee and enjoyed the sensational view.
Next morning we headed towards Nubra valley . Nubra was approx 120 kms from Leh and took approx 4-5 hrs . Crossing Khardung la , South Pullu , Diskit we reached Nubra. Since roads were narrow and further narrowed down due to snow got stuck in traffic jam . Took that as an opportunity to step down and capture incredible beauty ;)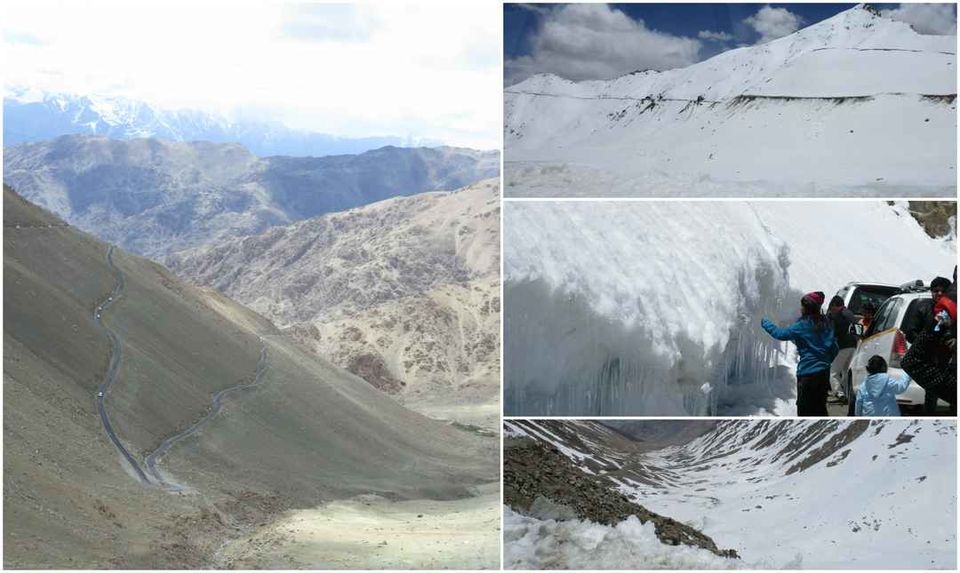 The impeccable view en route satisfied my soul . Snow hugged mountains , frozen water bodies , majestic Indus last but not the least sand dunes. Isn't it surprising to have snow and dessert together ? You cannot get a better live example of the phrase - "Opposites attract" ! That's how nature planned to design the wonderland!
We planned an overnight stay in camp at Nubra Ethnic Camp. Camp was well maintained and had all facilities. After doing the check in we headed towards sand dunes and had ride on double humped camel - major attraction of Nubra . It was a real fun. Do try !

It was pretty cold during night but camps had electric blankets which kept us warm . Born fire was organized late in the evening for guests , though it was chargeable .

On the way back we visited Diskit monastery . Diskit is famous for 515 years old Buddhist Monastery, lying magnificently situated on a hilltop, facing the entire Valley.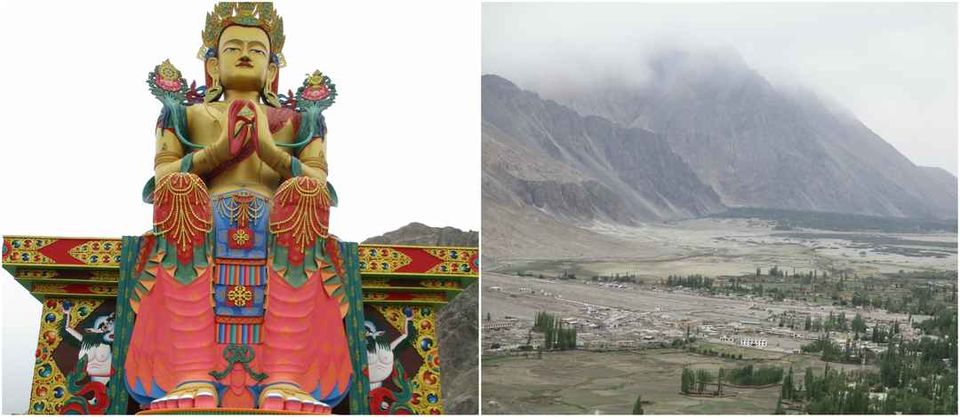 While being on the way back to Leh heavy snowfall started. We got stucked for 4hrs at south pullu since roads got closed. Nevertheless we enjoyed the super cold weather, hot maggi and enthralling view of the indus river flowing aside.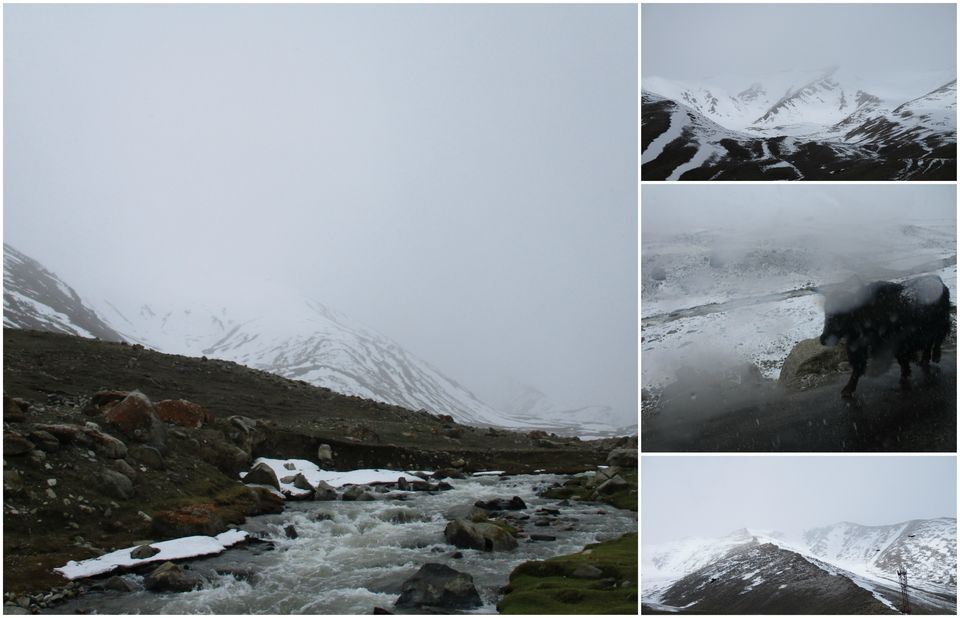 Finally came the day to visit one of the most visited place by tourists in Ladhak - the magical Pangong Lake . It gained popularity after shooting of a scene from 3 idiots movie and there after many others .
I would suggest not to stay at Pangong during May / June as temperature during night below zero and its very windy. Since electricity supply is just for 2 hrs , there is no provision of heater within the camp. If you want to have borne fire , camp guys would ask for way too high price. If at all you are planning to stay , do carry some wooden logs from Leh itself.
We crossed Chang la pas - worlds third highest motorable road to reach this place . Took a halt at chang la and got a chance to click few snaps with the real heroes - our Indian army .

Then we headed towards Shey Palace - located 15 km from Leh in the village named Shey which was once capital of ancient Ladhak. This palace was built by King of Ladhak as its summer retreat. Two seasonal festivals are held here every year .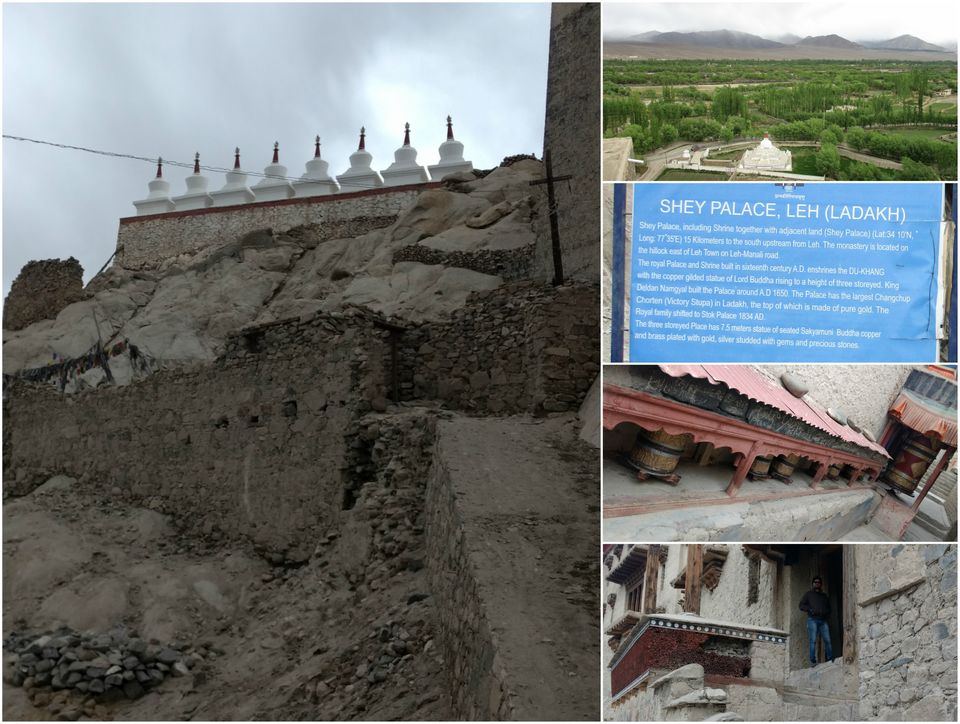 Finally trip came to an end leaving behind the everlasting memories and rejuvenated soul !
Few tips :
Since this place is at height of ~18000 ft oxygen content is very low. Please carry necessary medicines along as you might face breathlessness. Do not panic, do not over strain yourself, have water, take deep breathe and relax. Please carry camphor and keep on inhaling it as its helpful in controlling breathlessness. Do carry snow and wind resistant jackets, pack yourself well.
Climate : Weather of Leh is very unpredictable. While in sun you would feel hot, it would be chilly in shade. Its recommended to wear clothes in layers so that you can add/remove layers easily - as and when needed. Apart from July & Aug start, its pretty cold in Ladhak. If you are visiting in April/May, probability of witnessing the snowfall would be high .
Since Leh is at high altitude , you might face high altitude mountain sickness . Take rest for at least one day in Leh to get acclimatize . It's advised to take Diamox 500mg daily once after breakfast .
Things to carry : Carry clothes that you could wear in layers . Prefer little loose clothes as it would be comfortable to wear all day long . Take snow resistant jackets /wind cheaters , pullovers , woolen & cotton socks , winter caps and hats to wear during day time when its sunny . Do carry sun glasses along with a good sunscreen with SPF 50+ . If needed carry hot water bottle , some packed food items and water .
Julley !!!!