Prologue
For last few years our trips during summer vacations had been restricted to 3-4 days and we covered most of the Southern part of India. Leaves are always saved for our annual trip to home during Durga Puja. Being in IT Industry, more than one long vacation is next to impossible. But this time we were desperate, we wanted to visit North and at least for 7 days; showing Himalaya to my daughter was a long-time desire. This time we were lucky to have two more friends and their families, who were looking for same kind of holiday.
Initially we thought of going to Shimla and around. But while looking for the air tickets I found there is not much difference in airfare between Bangalore-Chandigarh and Bangalore-Kathmandu. And hotel rates also looked reasonable. With proper planning Nepal can be a nice foreign destination without burning pockets. I discussed with others and finally Nepal was locked as destination!
Planning
We planned well in advance for this trip. I have checked several tour packages form some of the prominent travel websites and received quotes. That helped to
> Create travel itinerary and identify the most popular tourist destinations in Nepal. I strongly suggest doing this specially if you have lots of grounds to cover in limited time.
> Have a tentative budget. Travelling is expensive, especially foreign travel. So for having a stress free vacation it is always better to have a tentative budget. More granular you may go better it is. Then you may pick and chose activities, accommodations and destinations based on your affordability.
Once we have a budget and itinerary next step was to define action items, which broke down to
Booking of Air Tickets: We used skyscanner.com to find out the cheapest and best options. Instead of cheapest one, which had inconvenient stopover in Delhi we chose Nepal Airlines direct flight from Bangalore. It costed us 2K more per ticket but considering the time and hassle saved clearly this was a better option. Moreover, cheaper ones were non-refundable. In country travel booking: During our trip we planned to cover Kathmandu, Pokhara and Chitwan; plus, lots of local sightseeing trips. So, we needed some vehicle and someone to take us around. I did some research and came across this agency "Kailash Journeys Pvt. Ltd. aka KJ" and talked to them for booking the travel. They had very good review in TripAdvisor, FB and Google and we decided to go for them. Later we found that was a good decision. I would explain why in a separate section. Booking Accommodations: The problem with package tours is you are pretty much restricted to whatever hotel they offer. The company may give you 2-3 options but those may not be the right ones you would like to stay. Plus, almost always their options would come with fine prints like "or similar" which legally allows them to change the hotel they promised.
On the contrary if you are booking your own hotel you have huge flexibility. In our case we decided to book our hotels in Kathmandu and Pokhara by our own and for Chitwan took all inclusive (accommodation + meals + safari) package from KJ.
Day-0
Our flight of Nepal Airlines from Bangalore was scheduled at 4.50 PM, but it started 1 hour late! Never mind, happy time; after so much of planning and waiting finally the vacation started!
Everything was going well; the flight was jam-packed, we were served good food all were getting ready for landing. In fact, we were just 40 KM away from KTM when Captain announced of not getting ATC clearance due to bad weather in Kathmandu. We kept hovering around Nepali airspace for 40 minutes before captain decided to call it off and diverted the flight to Delhi! And they could not comeback same night because KTM airport was shutdown between 10 PM to 8 am for routine maintenance work.
We were in deep soup because our Mt. Everest flight was scheduled for next morning and there was no way we could make it. First thing I did after landing at Delhi is to call Richard from KJ and explained him the situation. He helped to reschedule the mountain flight. It was a relief, specially as we paid INR 81K to book the tickets for 9 of us.
Flight attendants ensured us of arranging hotels for night stay but when we came to terminal to collect our transit boarding passes, it was a completely different story. Representatives of Nepal Airline told they could not arrange hotels as the only one in T3 had no room and we are not allowed to go outside of terminal!
There were chaos, anger and panic among all passengers! It was close to midnight, everyone was tired and hungry, plus frustrated by possibility of their holiday getting jeopardise. However, airline did arrange Holiday Inn Express Lounge for us and provided dinner and breakfast which were the least they could do.
We tried to find some sleeping pods, but everything was full that night. So, some of us slept on the floor, some by putting lounge chairs together.
Airline told us previous night that flight would start by 8 but it flew by 10. After reaching KTM and collecting luggage and all immigration formalities it was already 12. So half of the day is gone and our schedule, badly compromised.
We had a hotel booked at Kathmandu for previous night but lost our money due to no show. Luckily, we had Manoj, the driver from KJ waiting for us. Just had a quick call with Richard and he arranged a guest house room for us to freshen up (paid INR 1500). Though we wanted, there was no time for elaborate rest and shower ☹. We were running severely behind schedule and needed to reach Pokhara by the evening.
During quick lunch Richard came to meet us and briefed about our activities for next 6 days. He also handed over a Nepali mobile SIM card which is a bit difficult (but not impossible) for a foreigner to get.
Around 2.30 we started our journey to Pokhara. Our original plan was to visit Manokamana Temple enroute. More for the famous cable car ride that takes people on top of the hill, over the beautiful valley and Trishuli River. But it gets closed by 5 PM so we decided to park that activity for return leg.
As we crossed Kathmandu city and valley; hardly we could find difference with any north India city. But once we hit highway, things changed. There were beautiful rivers and hills by the side of road and scene were quite nice.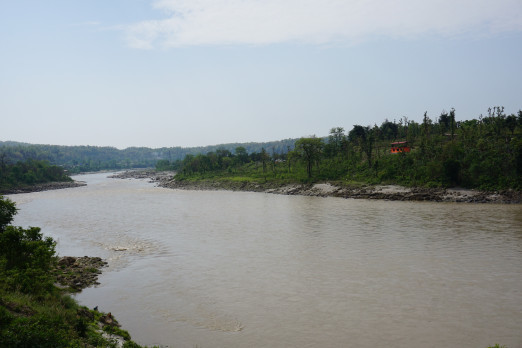 We felt refreshed after so much of mental stress, finally holiday is on!
But soon it was dark outside and started to strike conversation with Manoj. About Nepal, its people, politics etc. There is no better way to know a country or a culture than talking to locals specially the cab and bus drivers.
On our way we faced light thunderstorm and reached Pokhara around 8.30. It appeared the city has already put the night suit on! Almost all the shops were closed or getting closed. We were also craving for some nice bath, yummy food and proper bed to plunge, after what we encountered in last 24 hours. Happy we were to reach Pokhara unaware of what was waiting for us ahead.
Manoj: Which hotel I should take you?
Me: Raniban
Manoj : The one by the Lake ?
Me: No the other one, which has a very high rating in Tripadvisor and all travel websites. The one which has good view of mountains.
Manoj: What! Did you already pay for it!
Me: Yes
His jaw dropped and later we realised why!
After 6 more kilometres we started ascending on hill roads. It was peach dark with hell lotta twists and turns. But till the Peace Pagoda the road was motorable. Beyond that, real ordeal started ! There was no road but only rocks and rocks and only 4×4 vehicles can be driven on that! It was a complete off-road stuff! Manoj tried to pull our 14-seater Toyota HiACE up but it was no match for the roads! Barely after 500 meters just around a bent the engine gave up and vehicle started to roll back. He tried hard but by that time we all knew its not possible rather we are putting ourselves into too much danger.
We called hotel and asked for their help. They could not arrange for a pickup van but sent 5 persons to take our luggage. I asked one of them how far is it, he said not very far hardly 20 minutes of walk! Are you kidding me! 20 minutes of ascend on these rocks in this dark! But again, nice cosy cottage with neatly done bed was very alluring if not safety of our lives.
After 1 KM of walk with lots of huffs and puffs and mutual motivational speeches we reached the base camp (yes rightly said so).
Hotel Guy: Do you see that light Sir? (Pointing towards up) We need to go there.
Me: What I see is lots of star and isn't beyond that there is heaven? (My day has come?)
Hotel Guy: No Sir , that electric light!
Me: That on top of the hill!
Hotel Guy: Yes sir! You see those steps? Those will take us to the hotel. Just 522 steps sir.
Me: Just 522? Bring it on man! I can take you on my back and climb those narrow, rain soaked slippery stone steps like a frog.
We were so tired and frustrated it just surprised us but did not shock! Our mobile flash were only lights available and we just climbed and climbed.
Once we reached the top it was like making a Himalayan summit! Just checked in and had our dinner and crashed into our rooms!
Day-2
Despite of all the tiredness I woke up around 5.30 to see sunrise. But to disappoint me, there was cloud everywhere. Neither I could see sunrise nor mountains ☹. But I did manage to get awesome view of Pokhara and Phewa lake from the courtyard.
The day started with some disappointment and even weather forecast showed rain, which is not seasonal during this time of year. Weather in mountains can be tricky anytime.
Raniban offered very good complimentary breakfast with lots of options. We filled our tummies and started our day. This time we had to use the same steps again and then we realised what we climbed last night! They told us they do have a 4×4 road which could take us directly to the backward of the hotel. But due to heavy rains for last couple of days even AWD vehicles could not use it. If there is no rain today maybe while coming back they will arrange a jeep to bring us all the way up.
Our first hop of the day was Bindabasini Temple which is dedicated to guardian deity of Pokhara; Goddess Bhagwati. Situated on a small hillock this place is sacred for Hindu pilgrims.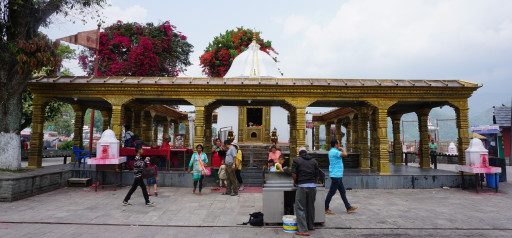 Next was International Mountaineering Museum. Visitors from SAARC countries can buy entry tickets at NPR 200 while for other foreign nationals it is 400; so do carry your passport or id if you are from one of those 8 countries.
There are tons of exhibit inside and this place is great for mountaineering enthusiasts. One can get tons of information on all the great mountains of world as well as detailed knowledge of Himalayas. They run 18 minutes movie on all the famous peaks of Nepal and some of the fascinating trekking routes. I strongly recommend to not miss this show if you are visiting the museum.
By this time, we were hungry like anything and decided to have lunch before continuing our day. Manoj took us to market area and we tried some local delicacy. And we fell in love instantly with Nepali Daal Bhaat Thali! The food is so much familiar yet much enriched in taste and flavour.
During our stay we ordered this thaali (platter ) at several places and were never disappointed. I highly recommend you try this Traditional Nepali Daat Bhat.
As we were towards end of our lunch heavy downpour started. I mean heavy! For almost an hour we were stuck in that restaurant and lost some valuable time ☹
Boating on famous Phewa lake was planned for post lunch but we found boating centre was closed due to heavy rain and bad weather. Weather betrayed us all through Pokhara stay. Not only boat ride, we missed paragliding also for same reason. These two are must and yes must do activity in Pokhara.
As boating was not possible we straight went to Davis Falls and Gupteswar Cave. A flow of water simply falls through an underground tunnel and vanishes. In 1961 a Swedish lady drowned in the fall and since then it is known as Davis fall but for common people it is still known as "Pathale Chango" or underworld waterfall.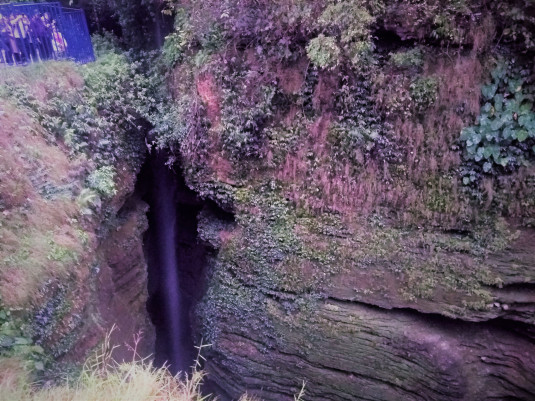 Gupteswor Mahadev cave is just a walking distance from Davis Fall and a popular pilgrimage point. It is a natural underground cave which has a temple down below; dedicated to Lord Shiva. One should continue to go further down through the narrow tunnels and caveways to find amazing stalactite formations.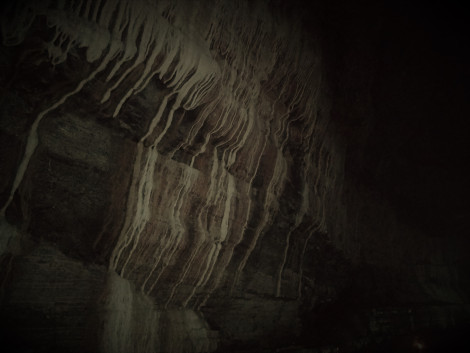 After lot of walk we came to the dead end where we could hear sound of flowing water. We followed the sound to go down by scaffolds and what infront of us was surreal! We could see stream of waters falling from very high ceiling of the cave and vanishing. It is a hidden waterfall inside this cave, the same Davis Falls!
Words of caution: There will be lots of descend and ascend here through slippery tunnels so it may be challenging for elders, kids or someone having medical conditions. One should carry a torch, if power goes off for some reason it would be absolutely nightmare.
Heavy rains several times during the day also washed our hope to reach hotel directly by car, so on our way back we had to climb stairs again! But now we did it like a pro!
After coming back to hotel we just freshened up and went to the courtyard to sit, relax and talk. From the top we got marvelous jewel box view of Pokhara , it was truly mesmerizing. Pain of climbing those 522 stairs had nicely paid us off !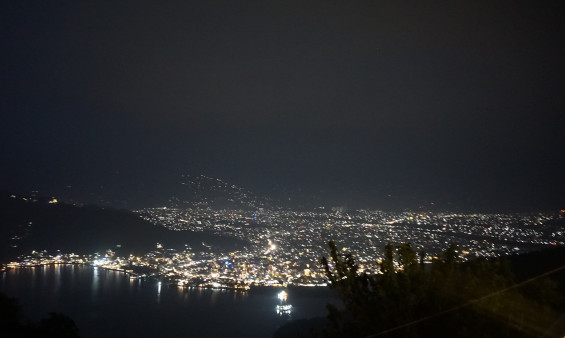 There were signs of sky getting cleared and we were hoping to have some luck for tomorrow morning.
As we went to bed I am sure many of us prayed for a clear sight of Mountains!
Day 3
===
We rose with much excitement and this time Pokhara did not disappoint us. Entire snow-capped peaks of Dhaulagiri, Fish tail, Annapurna were right in front of us. If you are staying at Raniban Retreat, Sarangkot view point can be easily ditched because you can see everything from patio of hill view rooms.
It was quite a view! During sunrise all of those peaks started glittering with orangish gold! We could not take our eyes off! I would let pictures to say it all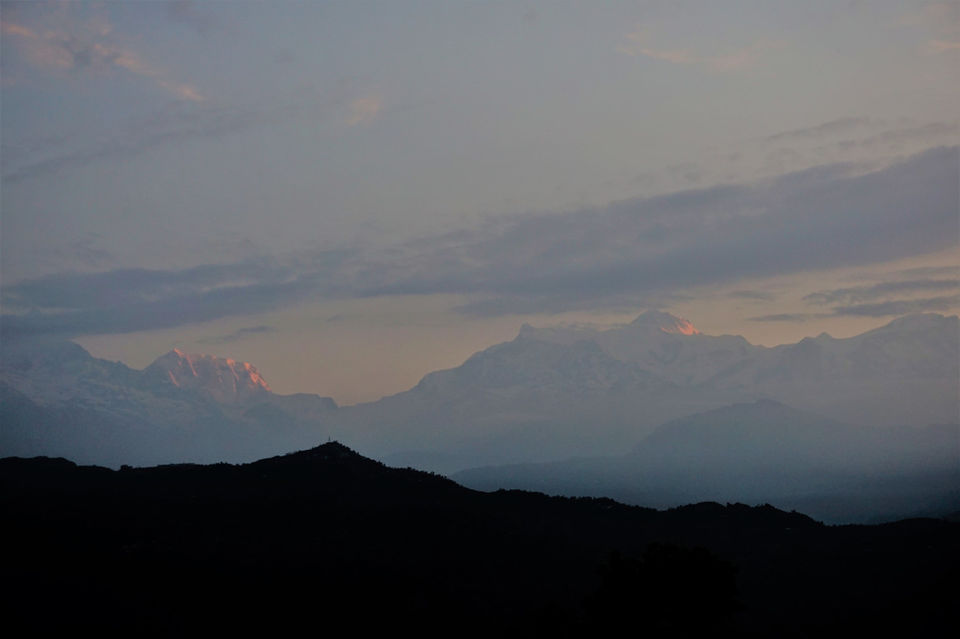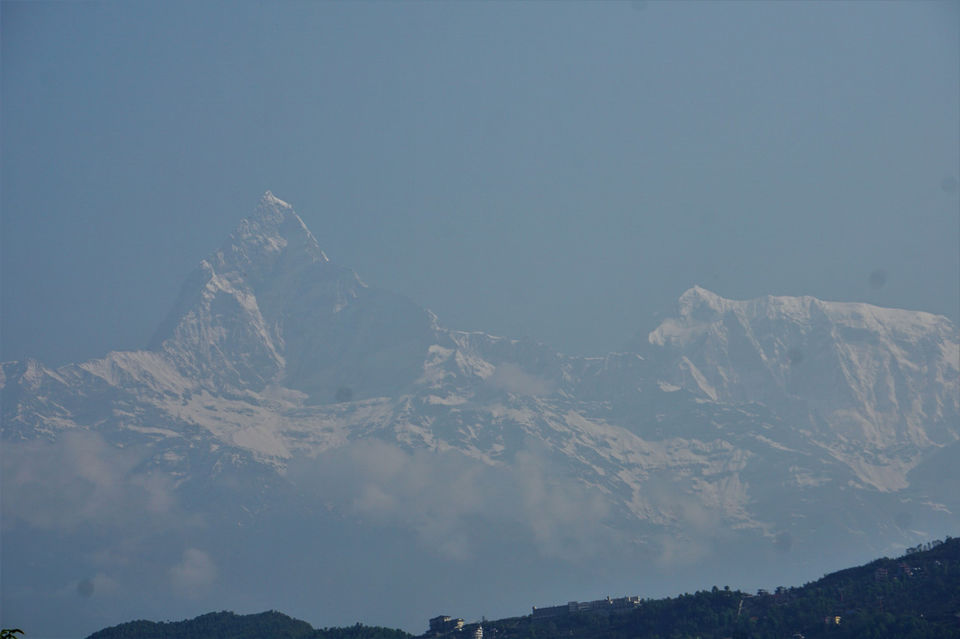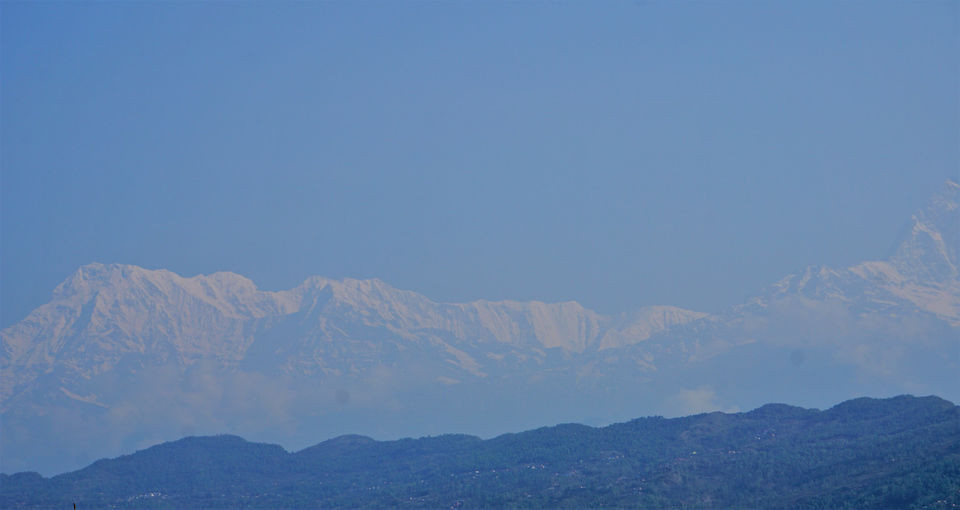 We felt extremely lucky and content and started preparing for check-out unaware of the furthur surprise.
As we finished our breakfast and came out of the dining hall , sky was completely clear and there it was; wide and open view of those ranges!
We wanted to spent some more time there but had to leave for Chitwan for next leg of our journey.
Final Verdict : Pokhara is an amazing place and it has so many things to offer to everyone! Be it adventure sports, hiking or pilgrimage It can be a perfect location for your idyllic Himalayan Vacation. We spent 2 days there , but I would say one should spent at least 3-4 days to get the real flavour.
About the Hotel: First of all, most of the people prefer to stay near Lake as that area is really happening. There are loads of hotels , restaurants , pubs and market around Phewa lake and also one can find places of open jamming sessions. But if you are not a party animal and want a quiet place with nice view ; you have to stay in some places like Raniban Retreat.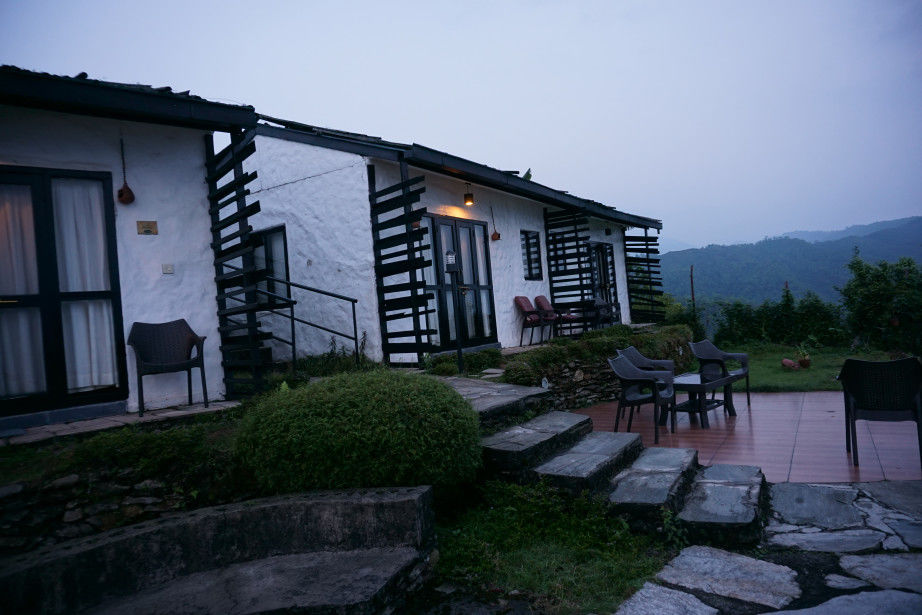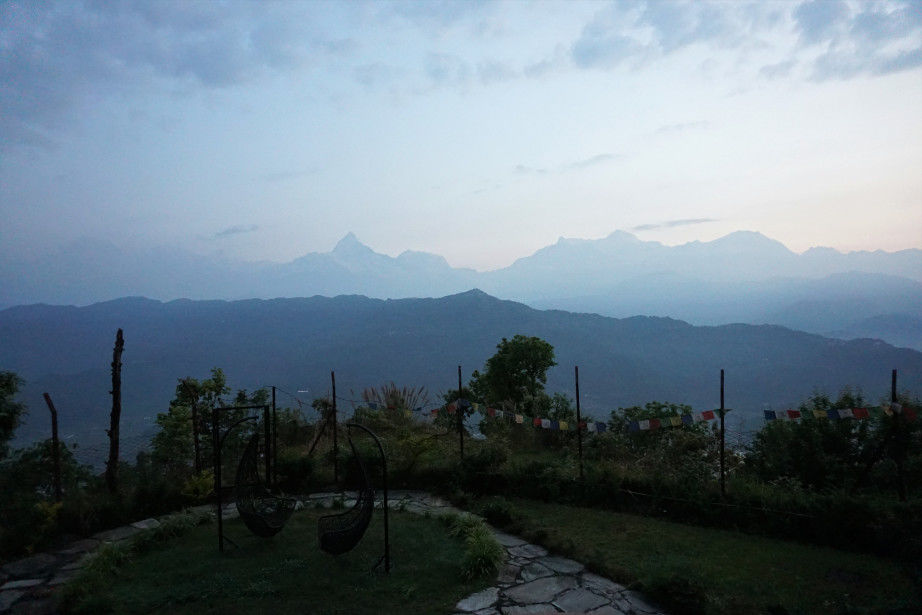 Apart from the bad road and 522 stair fiascos everything were perfect here. Good service and cordial staffs, nice and clean rooms , branded toiletries and most of all breathtaking views! As I mentioned earlier one can see snow capped mountains from the courtyards of mountain view rooms itself. No need to make early morning drive to Sarangkot.
If you want to see vlog version of this trip and rest of my Nepal travel series please check here and subscribe to my Youtube channel.
Frequent Searches Leading To This Page:-
The amazing destinations of Nepal Pokhara, places to visit in kathmandu Nepal, nepal pokhara view, romantic places in pokhara, pokhara nepal best time to visit