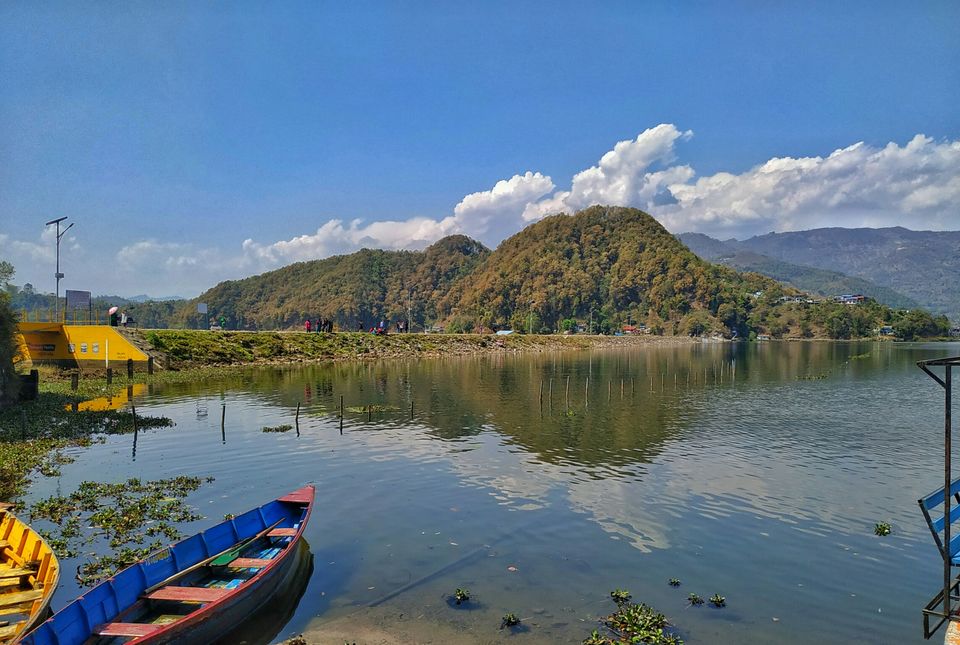 Checked in at hotel Discovery in thamel, kathmandu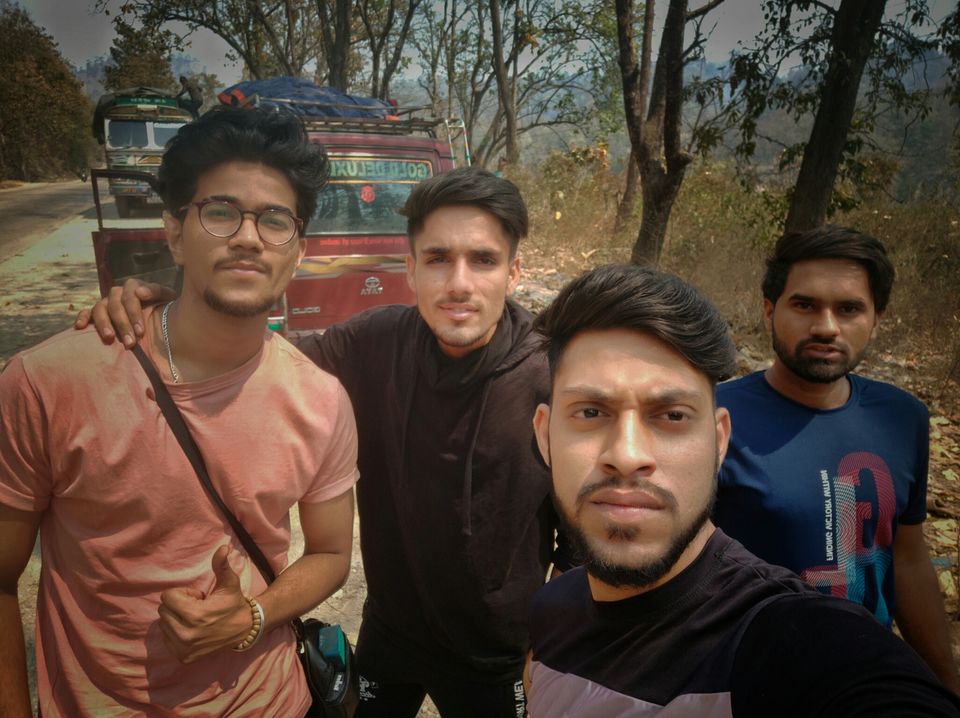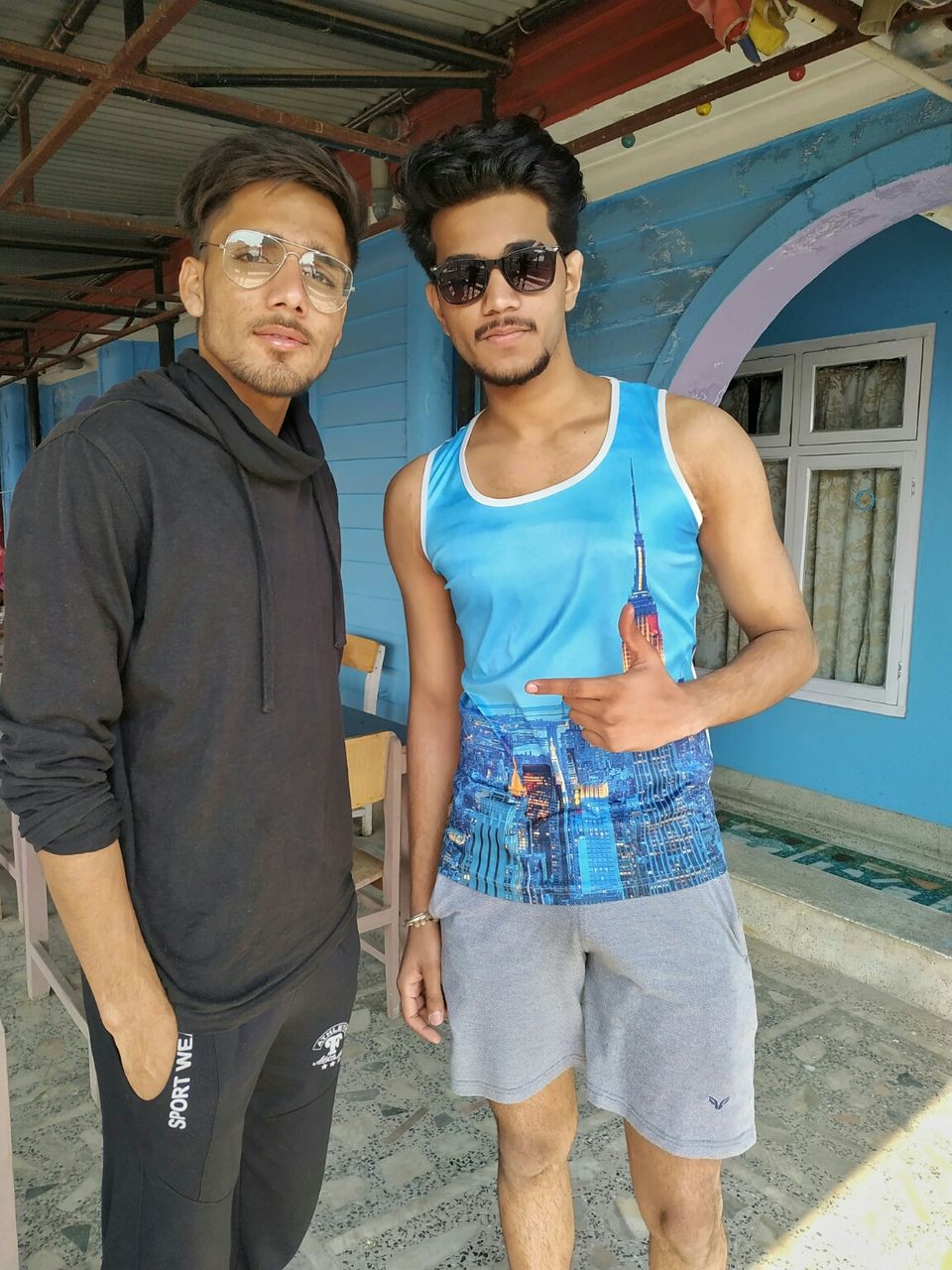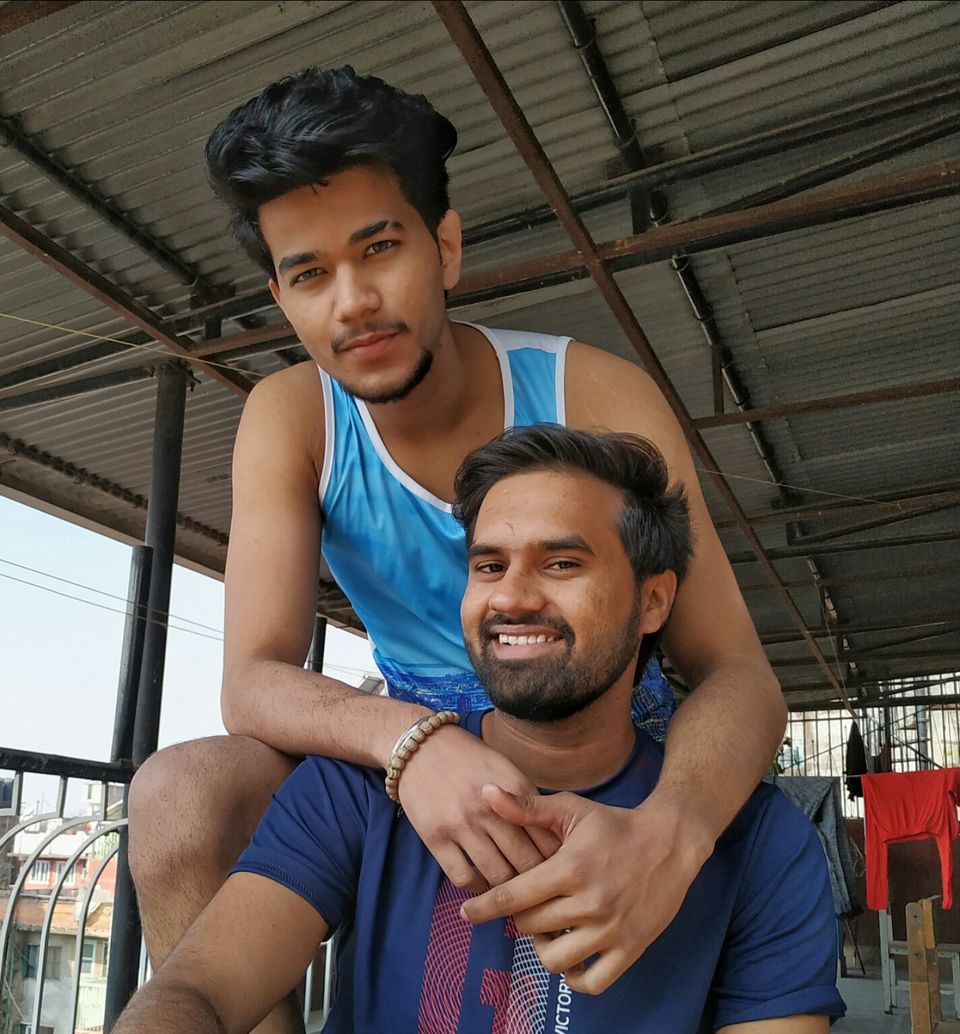 It was the eve of holi.  So,  we celebrated holi with the local people of nepal and other tourists as well. Everyone was so excited to experience the holi of nepal. In Nepal's holi is celebrated a day earlier than we do. Everybody was so frank there that you need to be aware all the time! Anyone can come out of nowhere and bomb you with colours, the children patrolling from the top of there houses will shoot you with water balloons everytime they get an opportunity. One additional tip: watch out for the girl's gang! They can get wild sometimes. Haha. One girl filled my eyes with colours. But that was offcourse unintentional.
Roam around the streets of thamel while coloring everybody and enjoying the atmosphere. In between you'll come across some spots where there's music going on,  people dancing, drinking, coloring each other.  Stop there and dance to those beats, they might occasionally play some hindi party song also. After sometime move on from there because there is a bigger party going on somewhere else.
Just let yourself soak in those beautiful colors, vibes and enjoy your holi in nepal like we did.  We started at 10 am and came back at 3pm, not because we were tired(the city played until 5pm), just because we had to also wash those colors and head out for the evening.
In the evenings you can head out to experience the local market in thamel,  do some shopping and chill in a restaurant/bar/club according to your likings.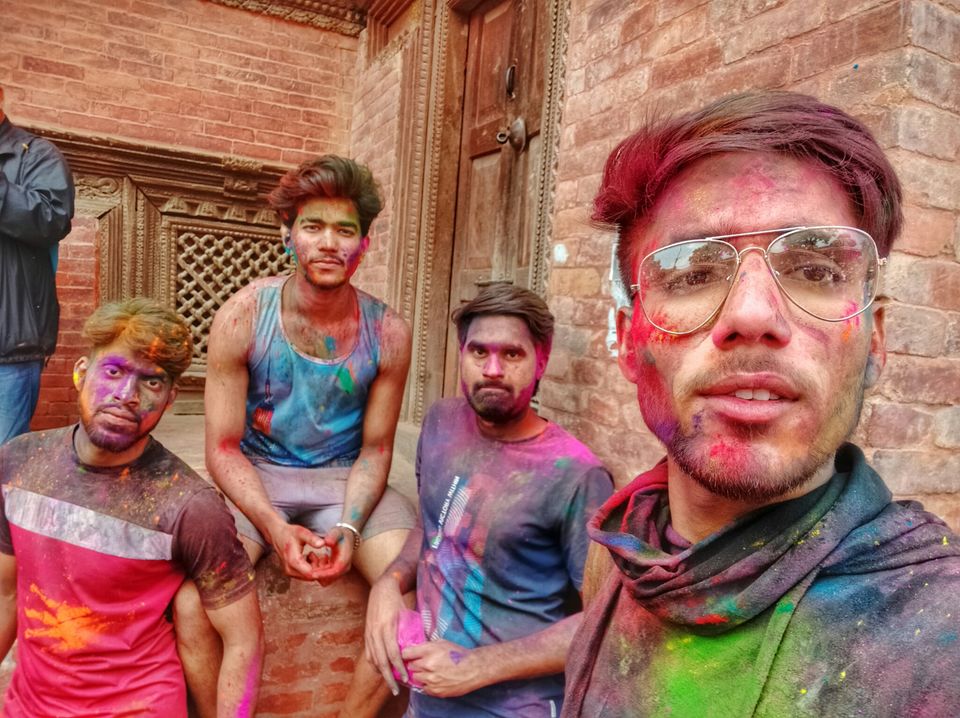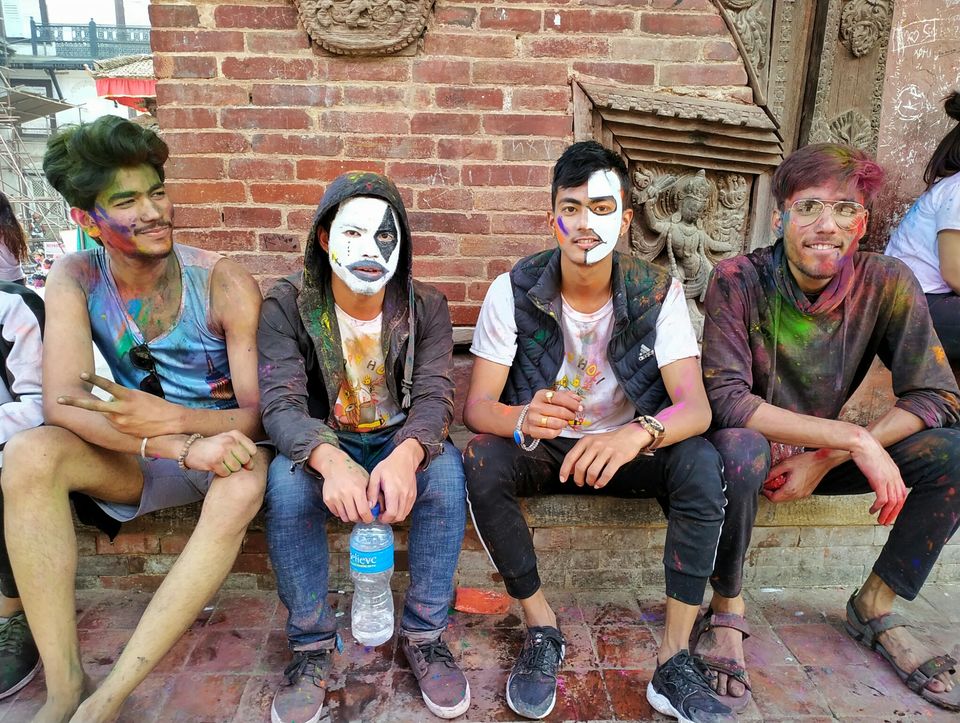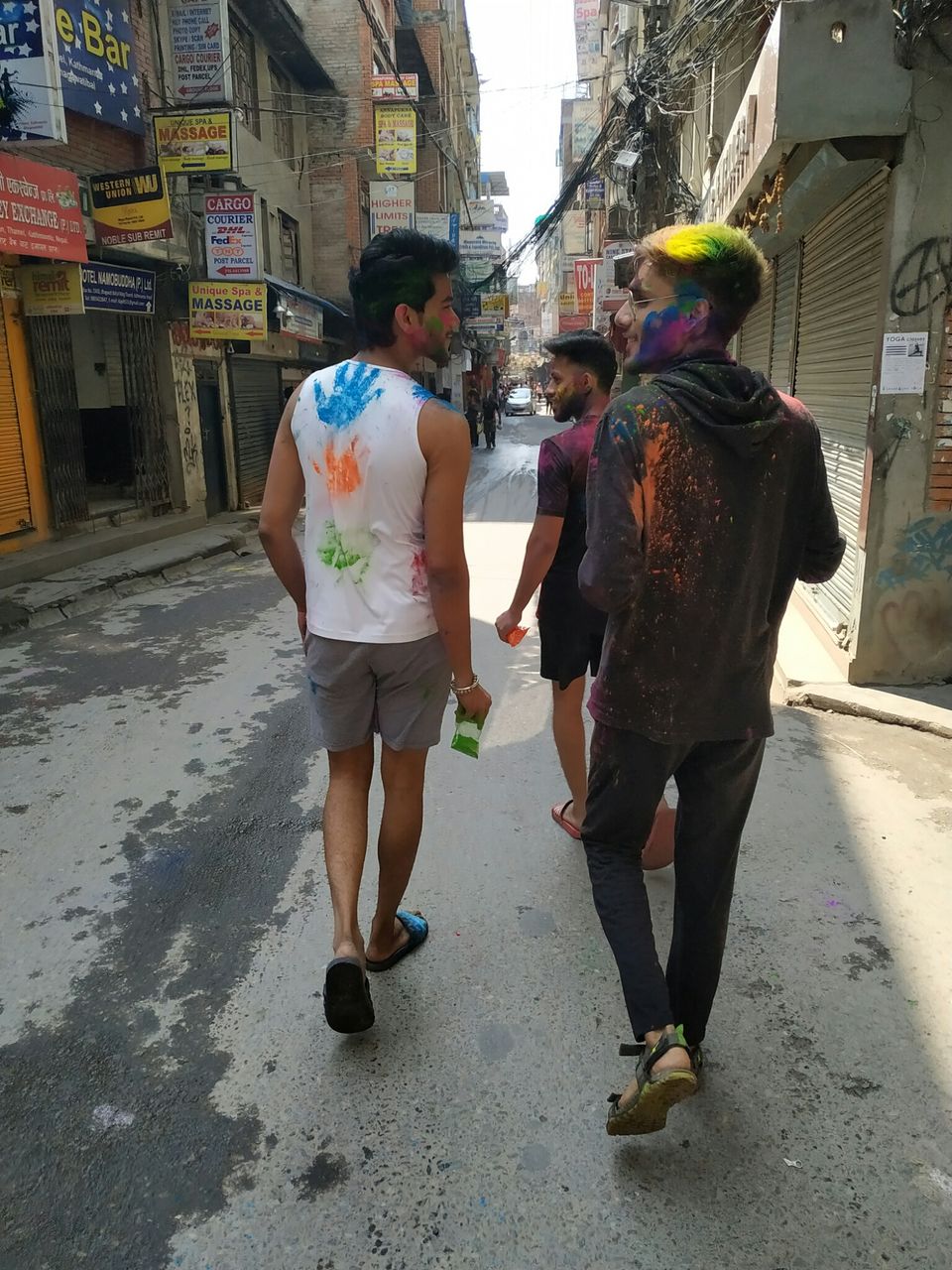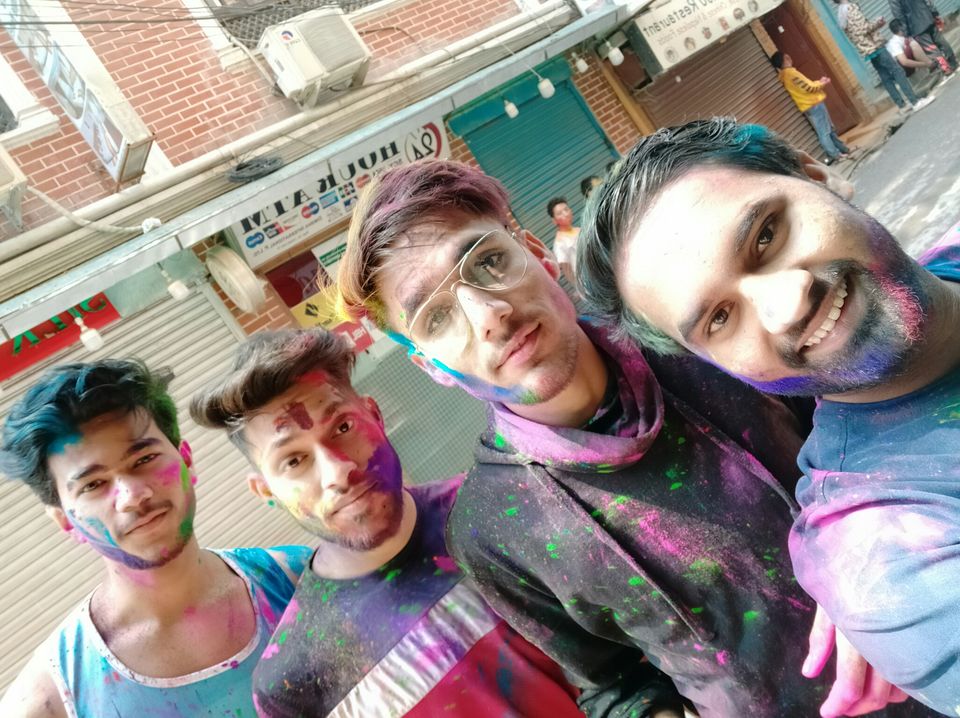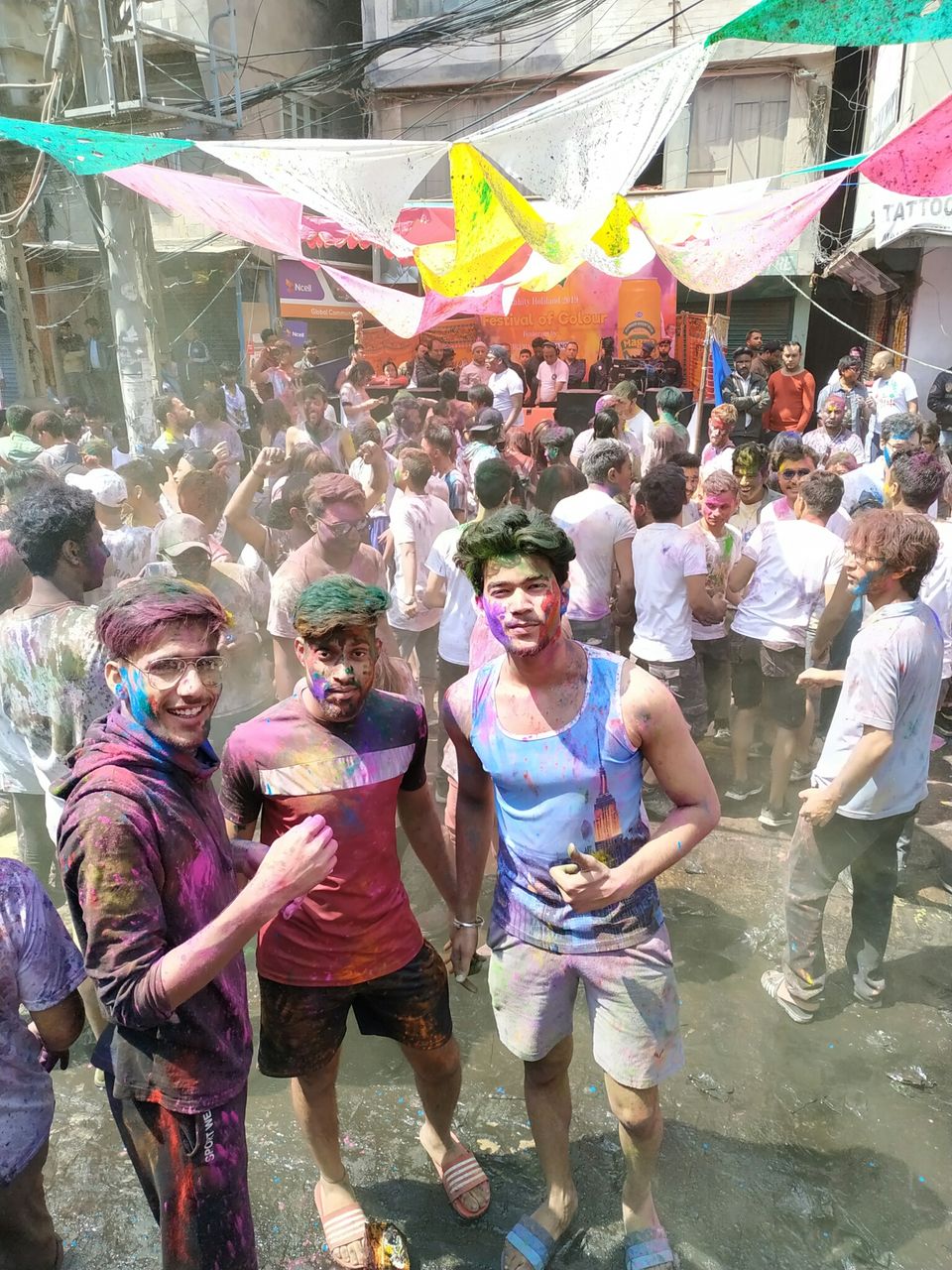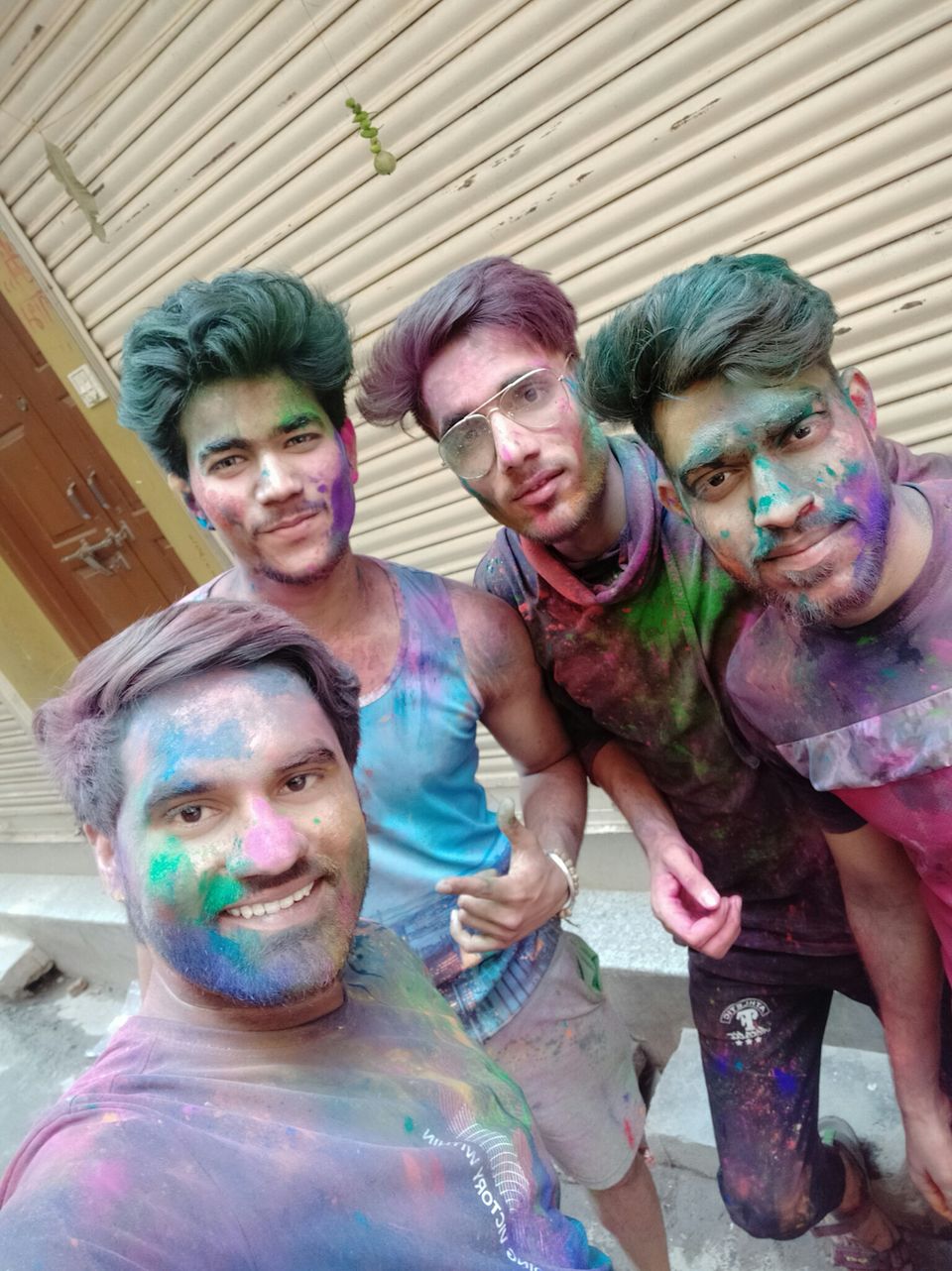 Sightseeing in kathmandu.
The tourist bus we booked came in at 10:00am to pick us from hotel.
1. We started with pashupatinath temple, which is inscribed in UNESCO World heritage sites. We booked a tourist bus for sightseeing, which consisted of around 6-7 major attractions of KTM(Kathmandu). Pashupatinath temple complex covers a huge area of 264 hectares of land and a whopping 518 temples and monuments. And the time given by your tourist bus guide won't be enough to explore it properly,  so if you're really interested in temples (some visit KTM for the sole purpose to see pashupatinath), then booking a private taxi would be a better alternative.
Additional suggestion: There are small and cute monkeys all around the temple, sliding jumping and playing around. Take there pictures if you want to but don't go too close to them to take pictures. Well,  i did. I got really close to one of them like 15cm away and he suddenly turned back and almost jumped on me! But it was fun btw. :-p
Entry ticket: Free for Indians and 1000 Npr for foreigners.
2. Boudhanath stupa
Boudhanath is one of the largest stupa's in asia. The streets around the stupa are beautiful and artistic. The shops are flooded with art collection, vintage decoration items and a lot more.
Entry fee: 100 Npr for Indians
3. Budhanilkantha Temple
Its a open air temple dedicated to lord vishnu.  A 5m tall and 13m long statue is situated at the middle of a pool. Thus place will not take more than 15 mins of yours!
Entry fee : Free
4. Swayambhunath stupa
You'll have to climb through the stairs to reach to the stupa. Its not a big climb so don't need to worry about that, And  you'll see some interesting monuments in the way as well. When you have reached the point you'll see the stupa there, which is among the oldest in nepal. From this point you'll see the entire City of KTM , which is just beautiful to watch . Avoid shopping here everything is overpriced here.
Entry fee: 50Npr for Indians.
5. Durban square:
This is also among the UNESCO World heritage sites . The monuments here are one of there kind, most the the architecture made up here is of wood. Due the earthquakes in Nepal in 2015 the main monument is under reconstruction so,  we couldn't see that.
Walk around the streets and watch these artistic monuments , interact with the locals you might hear some interesting stories and the people of nepal are generally very warm,relaxed,frank and open minded , click some pictures if you like to,and you can do some shopping here too.
Entry fee : 100Npr
In the evening we had to head to bus station of KTM to catch the bus to pokhara at 7:00pm. So, due to lack of time we could only explore this much in KTM. But if you have couple of days more you can visit manakamana,  poon hill,  nagarkot( i was told the sunrise from their is mesmerizing ) and other places in KTM like garden of dreams and a few more.
One funny incident happened with us here,
We are were a group of four friends and two of us were waiting at the bus station for bus to arrive in the meantime me and my other friend went to shop in the mall. It took around 5mins from mall to bus station . We were shopping and also keeping an eye on the time. It was 6:45pm in our watches, we were relaxed that we have 15 mins left before the bus departs and we were like ,we can reach there comfortably on time . Then i was just going through my phone and noticed that its showing 7:00pm. Ohh Fuck!!
wanna know What just happened? Actually the phone was showing the time of KTM and the watch was showing the Indian time. We knew about the time difference, it just slipped out of our mind for that moment,  so we ranned as fast as we could through the streets while people staring us like are they thieves or some criminals? we got to bus station quickly only to see that the bus has left and now our other two friends are angry with us,  they couldn't even call because indian sim cards don't work there neither we had access to internet at that spot.  We panicked because that was the last bus to pokhara tonight and we had to wait for tomorrow morning to catch the next bus. But then we talked at the ticket counter and requested the guy there to help us,   he was a good man he called the bus conductor and brought back the bus for us. Ahhh that was an adventure in itself. Hahaha.  Then we board into the bus for our next destination.  POKHARA!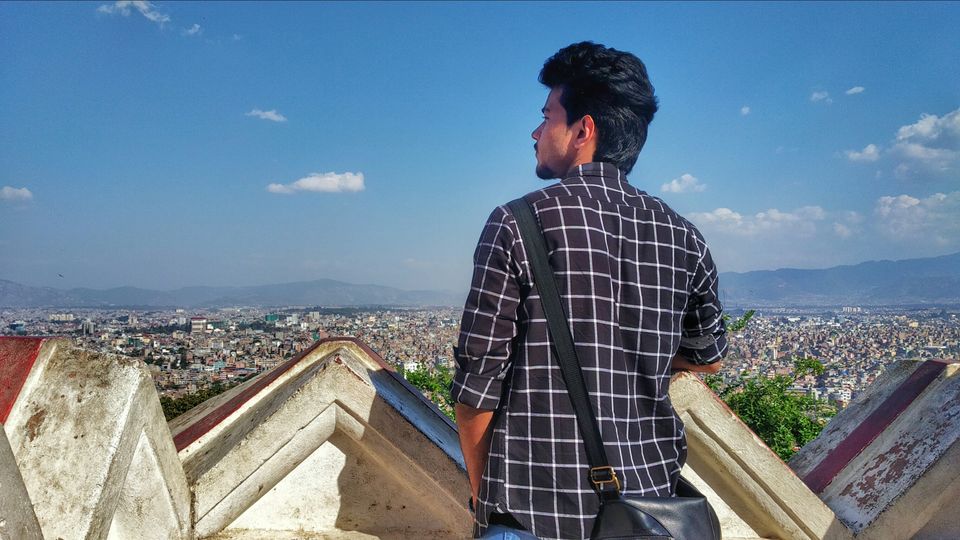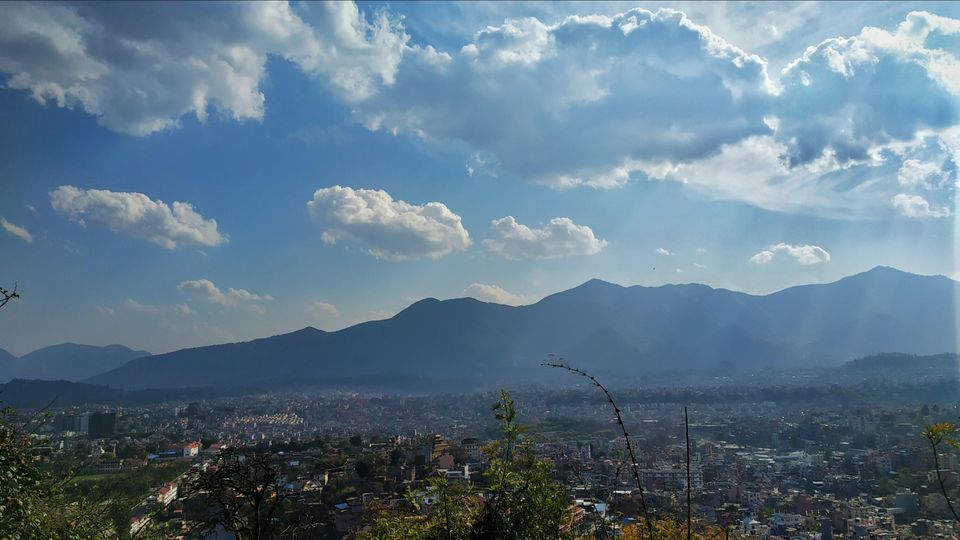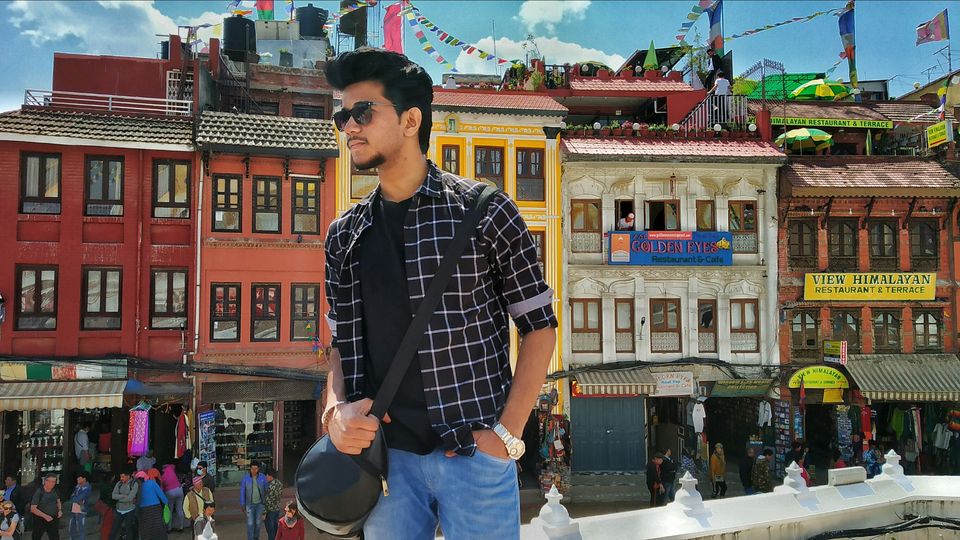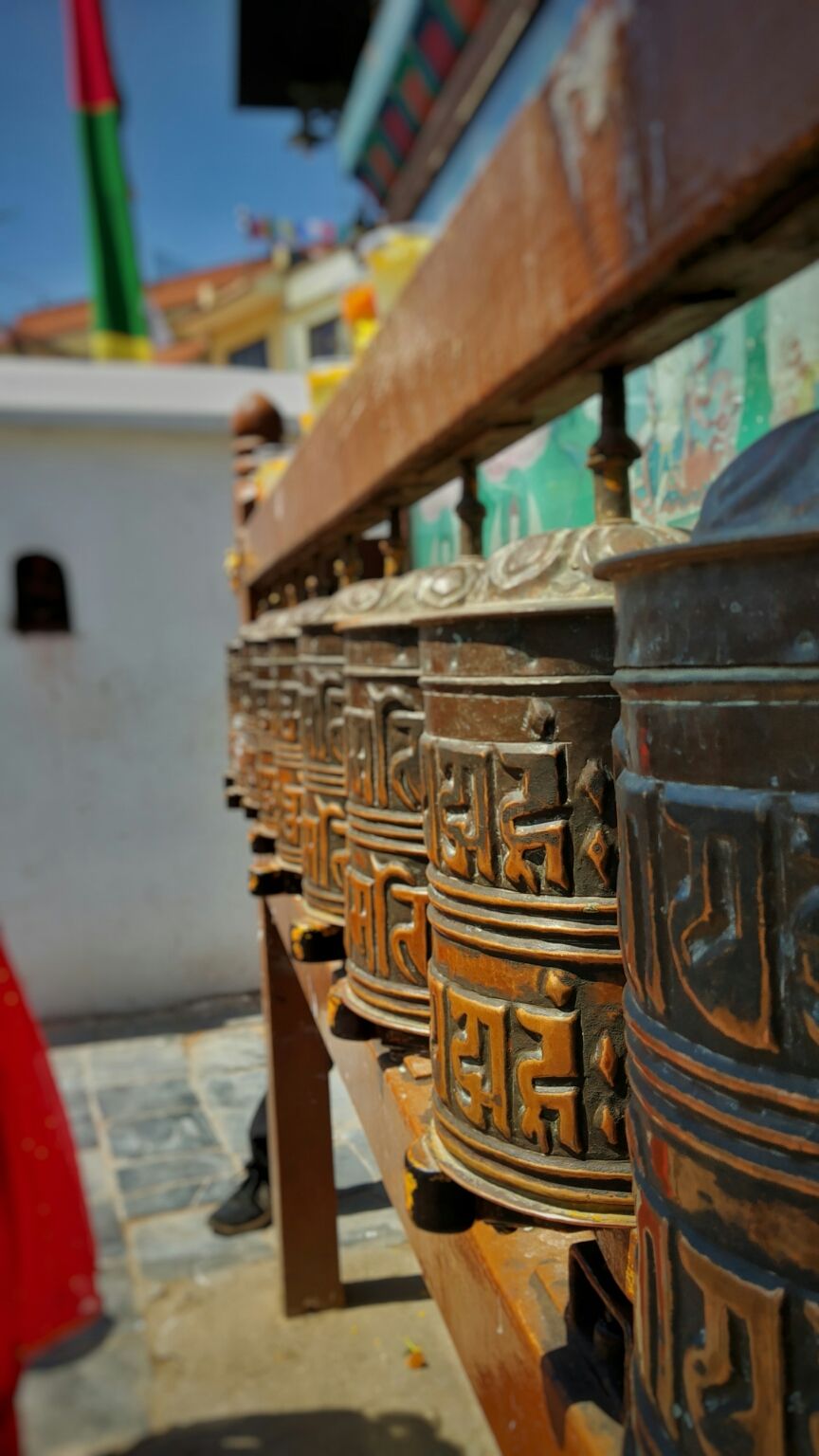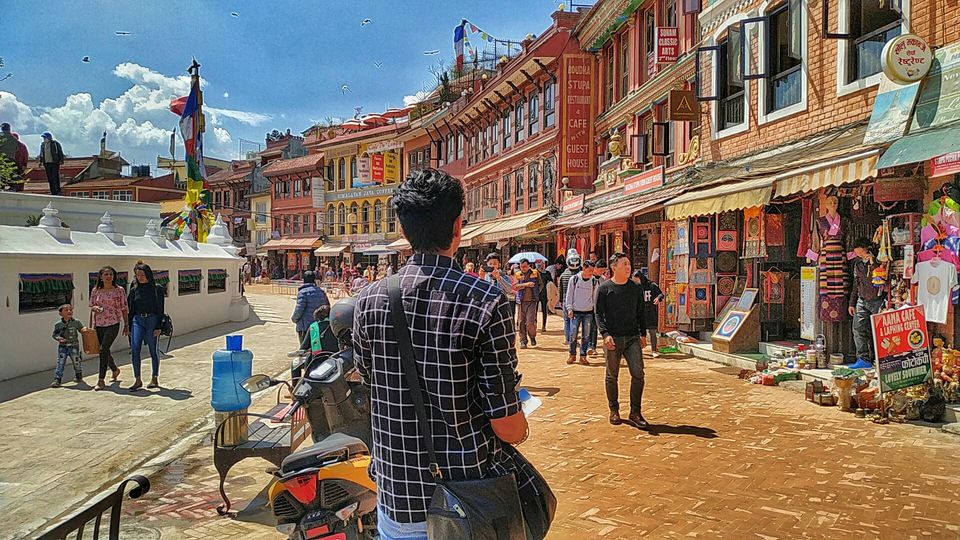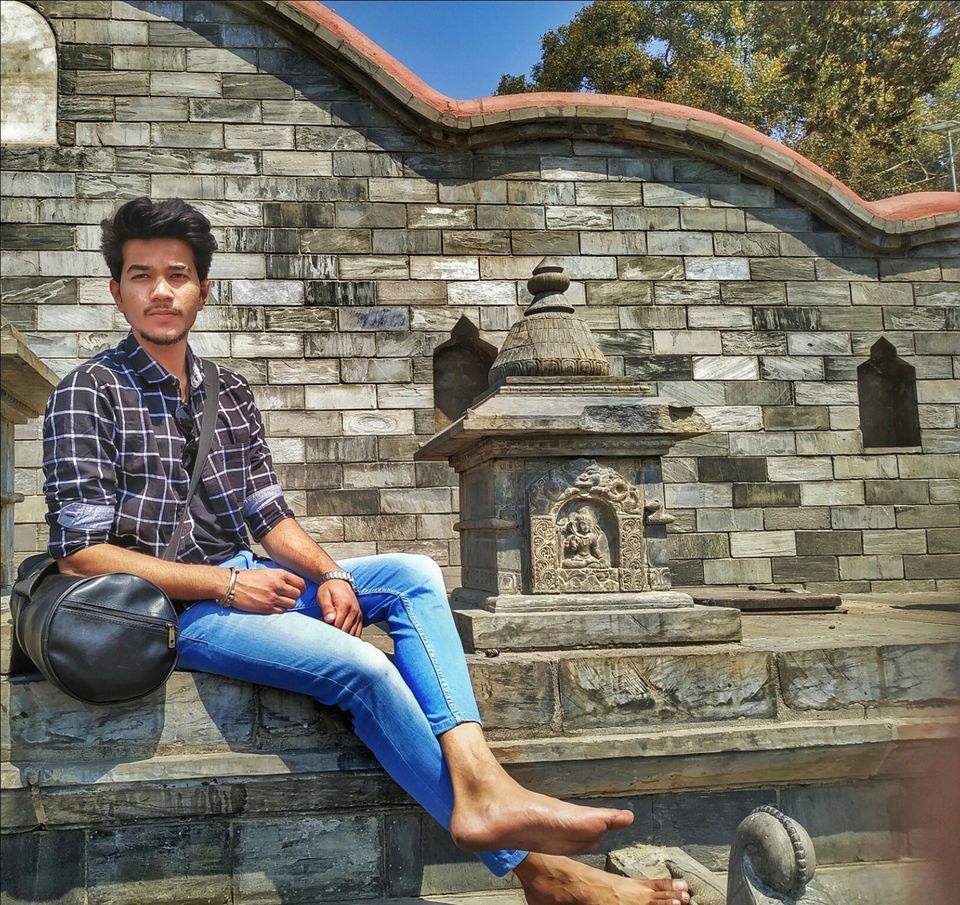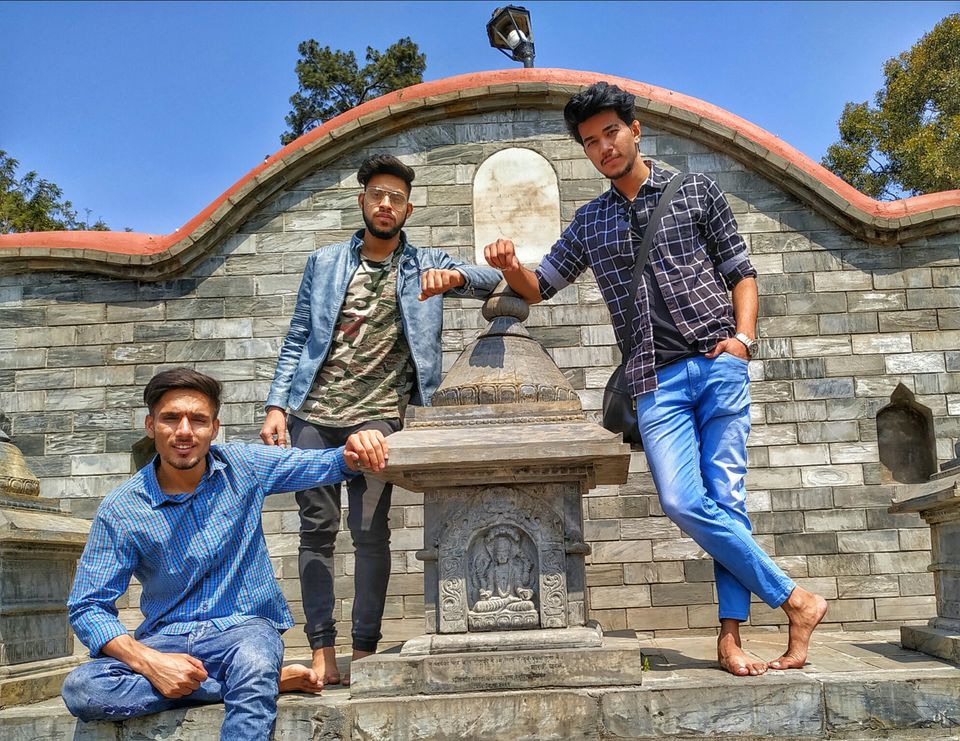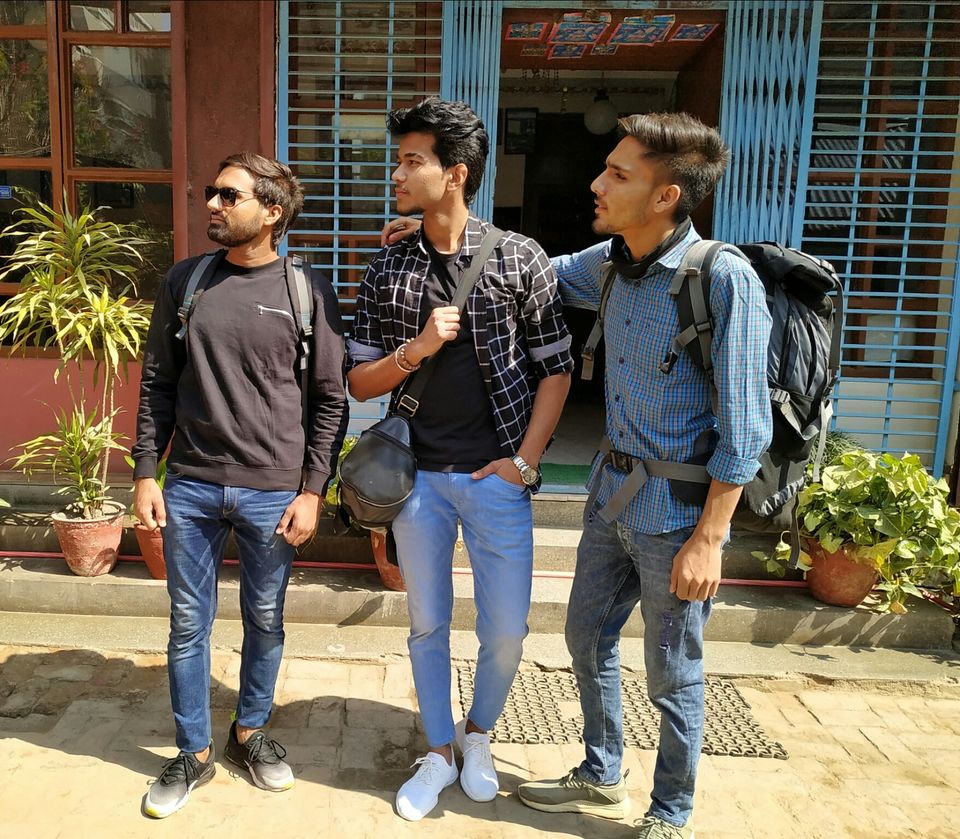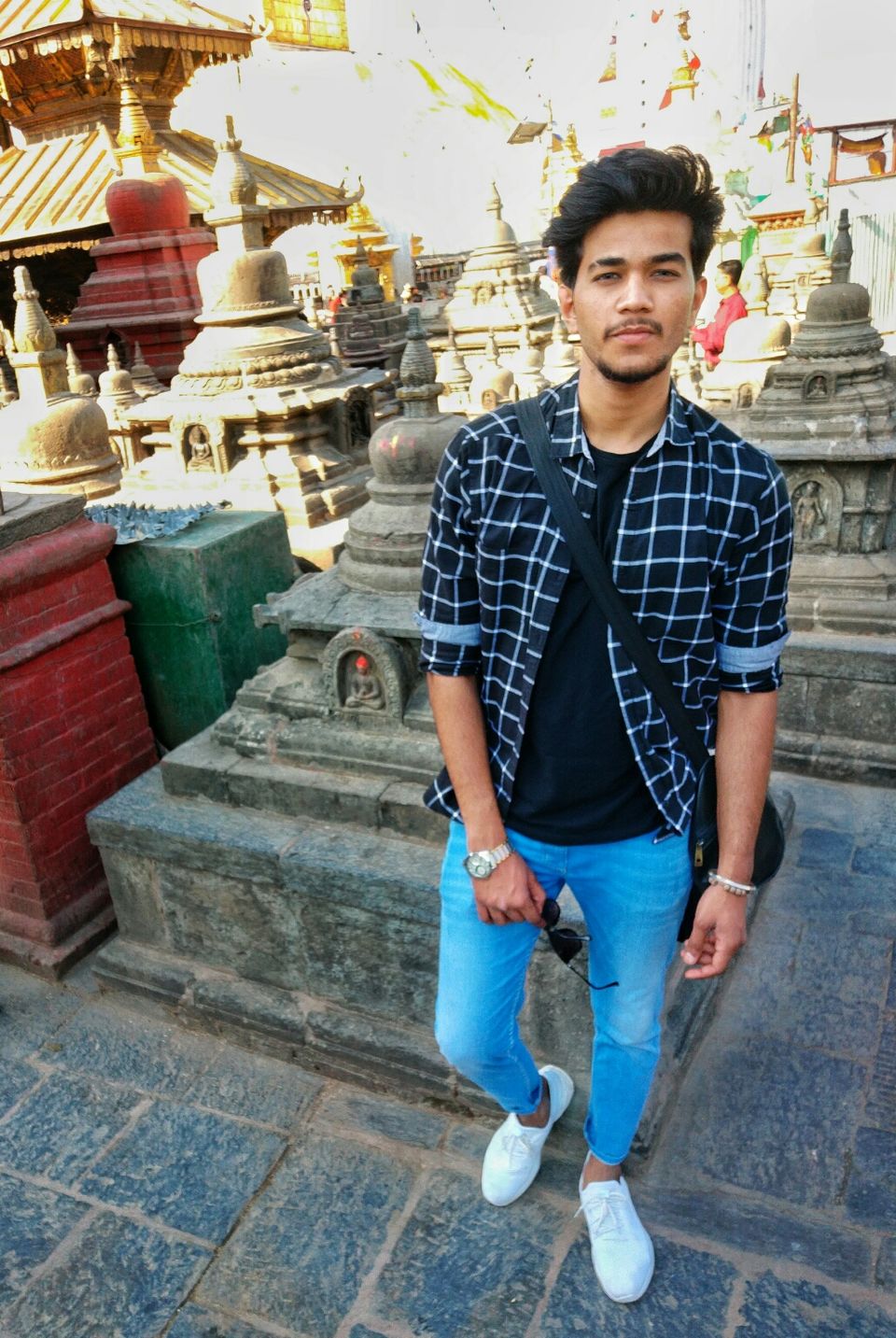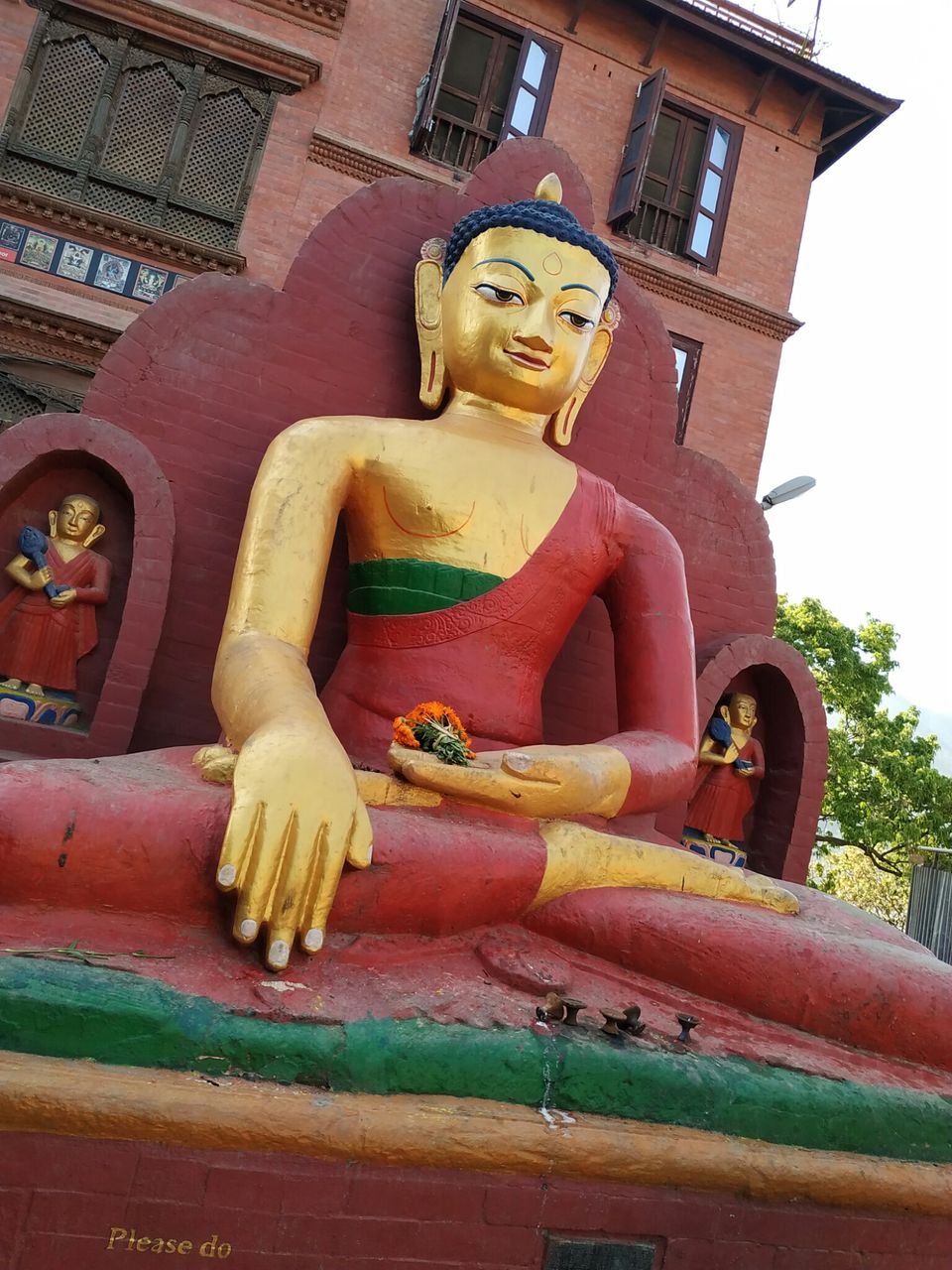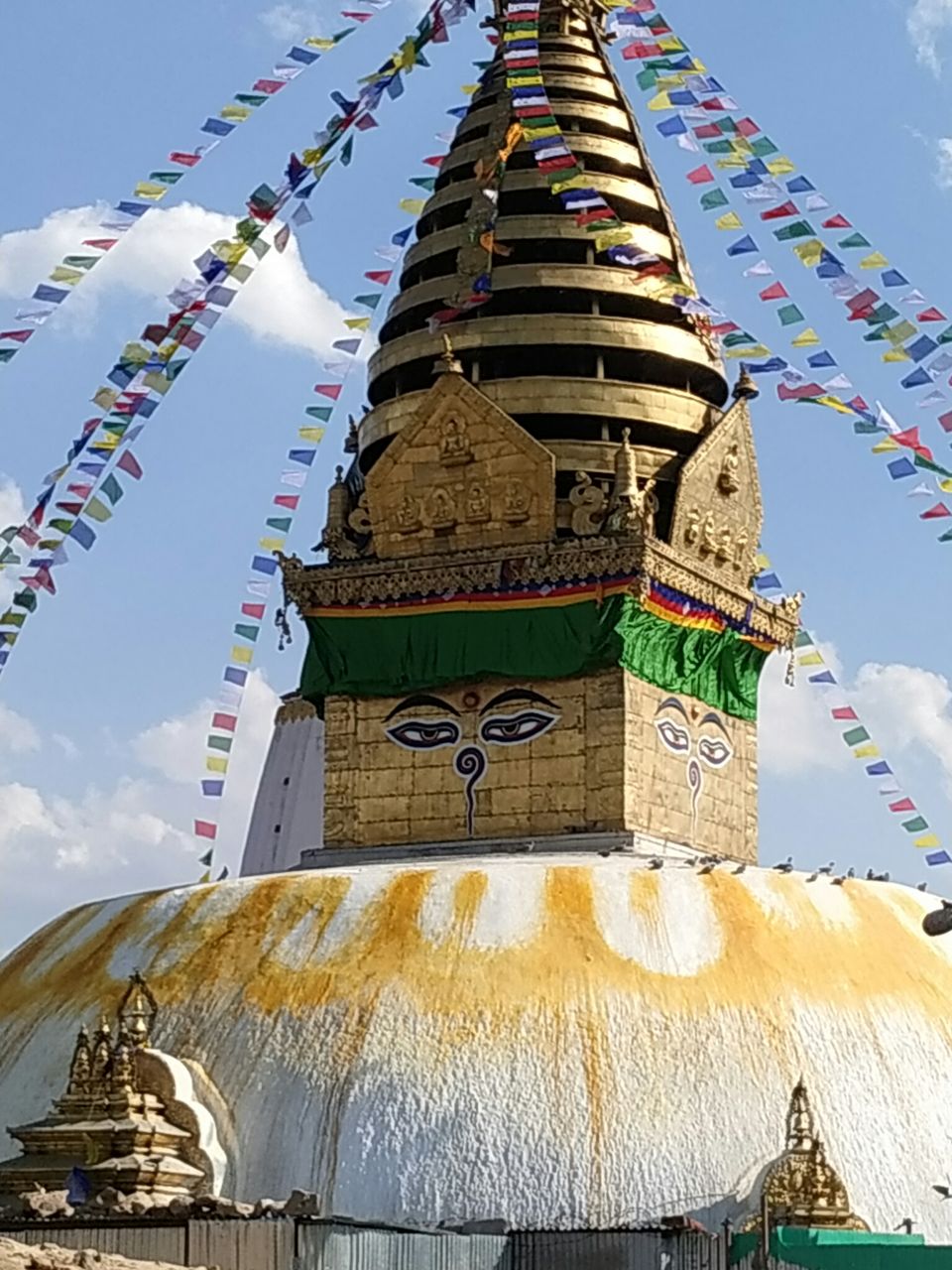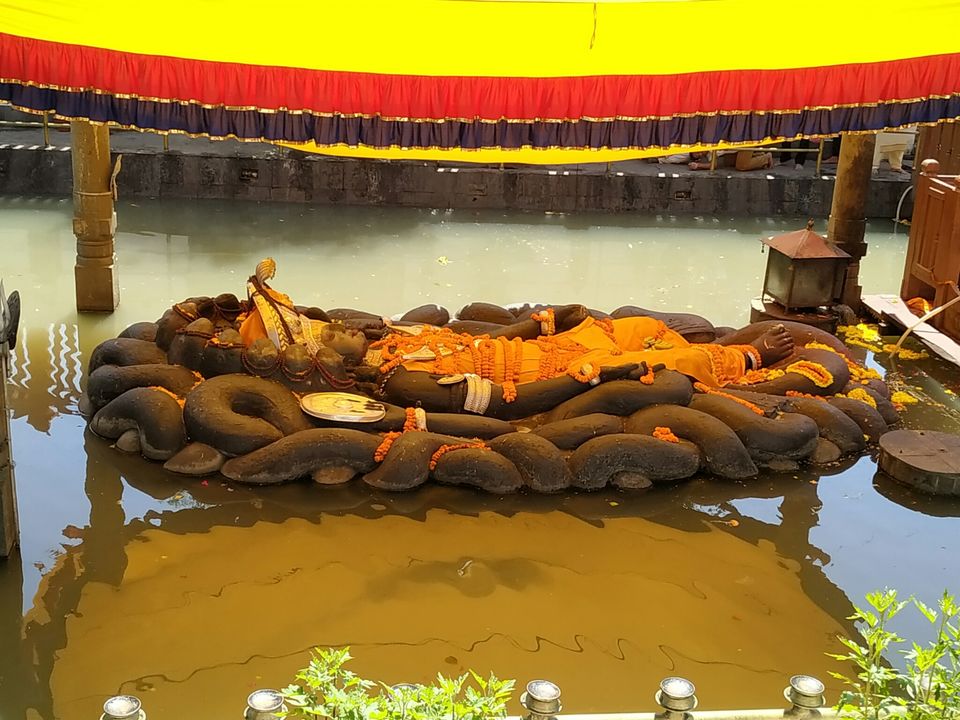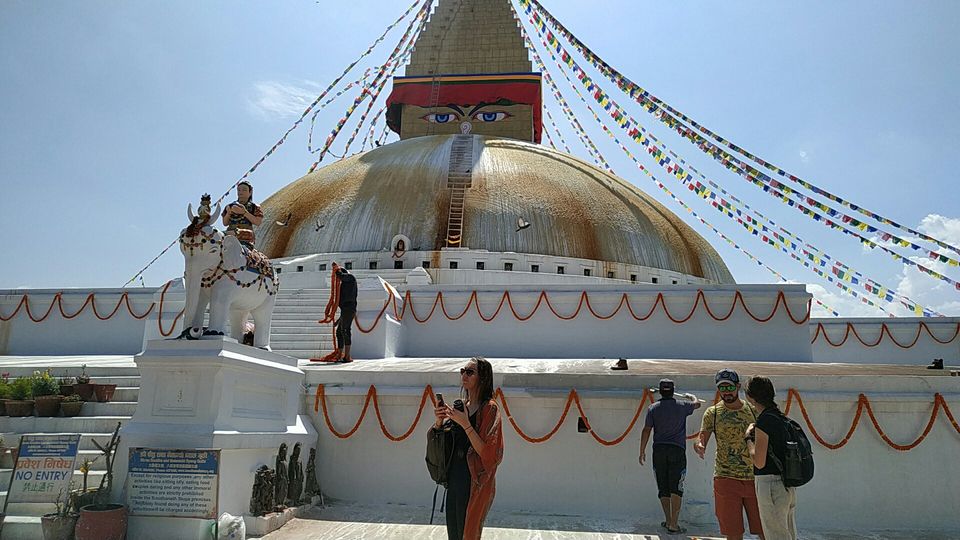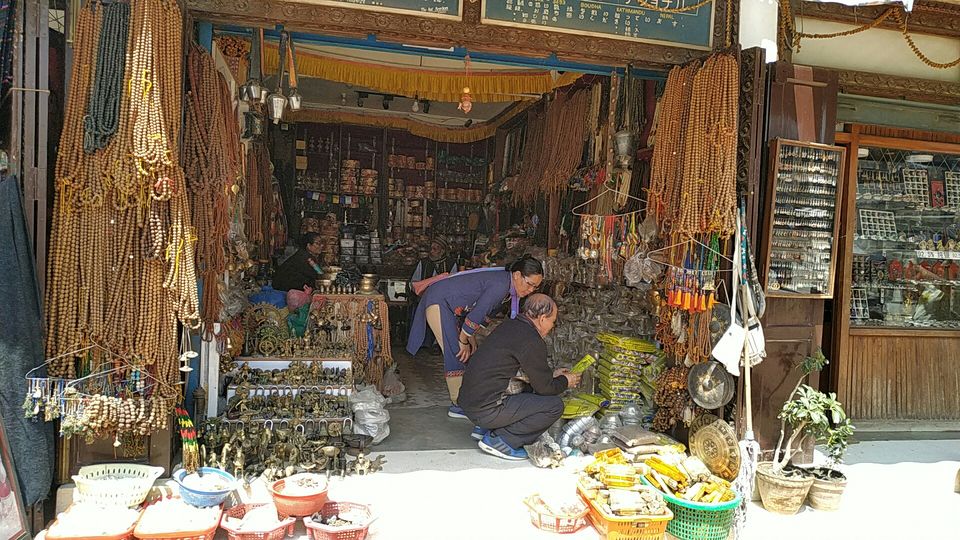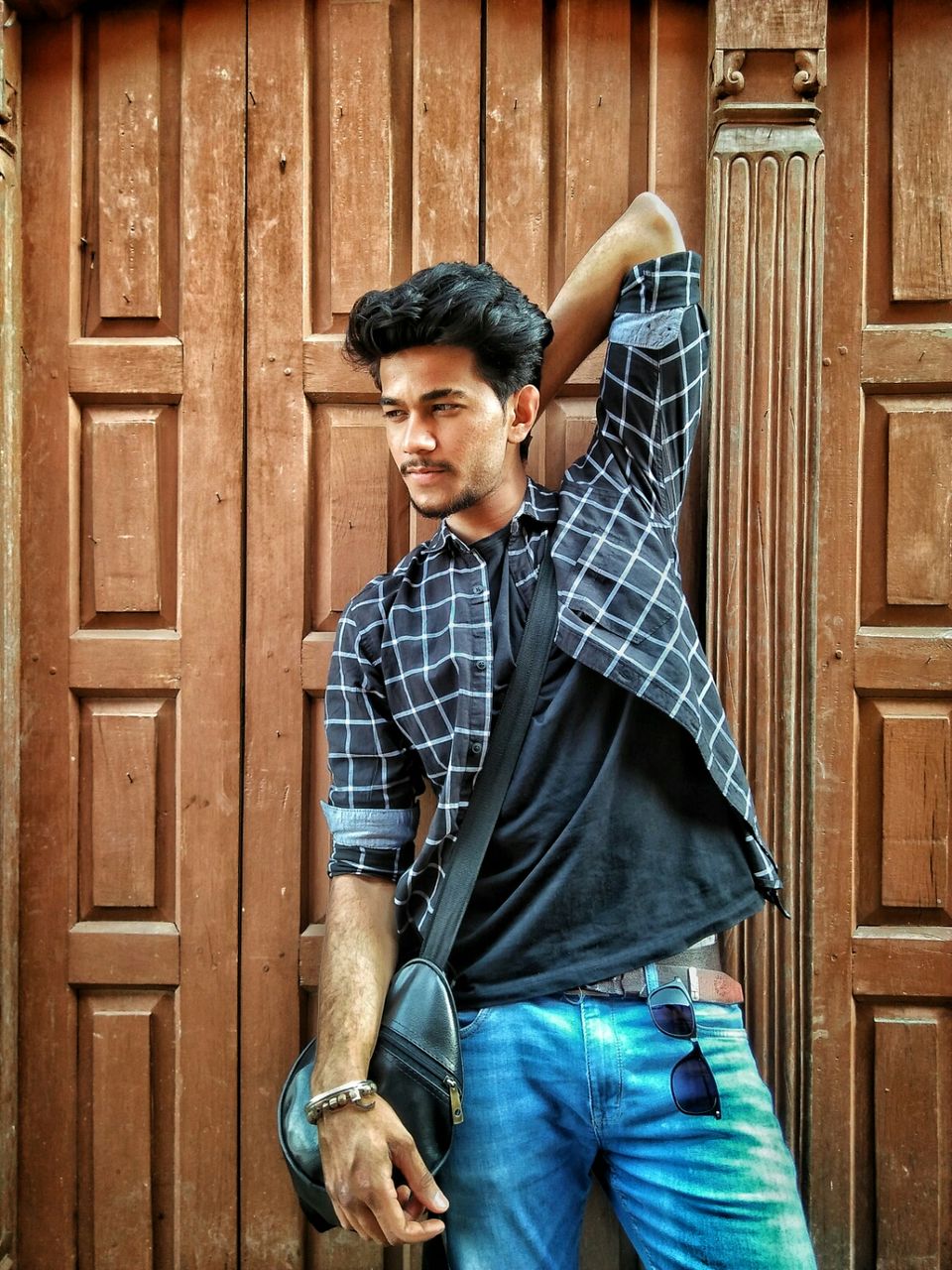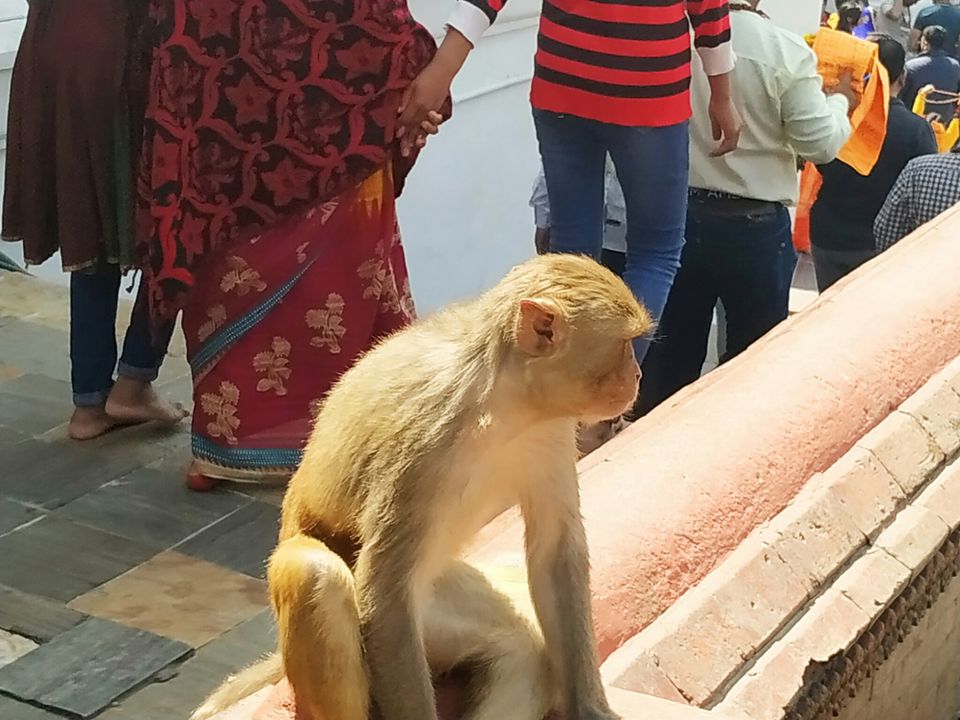 So,  here we are in Pokhara, the tourism capital of Nepal. Its a beautiful city unlike KTM its not overcrowded .It is a major tourist destination due to its panoramic views. Once we entered the vicinity of this city, we were greeted with magnificent views of the mountains. The Dhaulagiri range and Annapurna range tower majestically over the green valley. I am still nostalgic for its beautiful view and fresh air particularly.
We again booked a tourist bus from our hotel for sightseeing in pokhara. We picked the bus at 9:00am and along with us there were some nepali, Chinese and Indians in the bus. As a young group of boys who were very enthusiastic and filled with lots of energy, we set the right tempo in the bus and everybody else just joined in and we all started having fun together and got to know different people all from different countries.
Price : 700/person for bus
1)  Bindhyabasini Temple:
Its a nice to start your day with a temple which fills you with positive energy and also helps you to channelise it properly , along with the temple you'll also get a view of Pokhara city.
Entry fee : free
2) Bat cave,  Mahendra cave, Gupteswar ghupa:
Out the three the bat cave is most adventurous, if you're a batman fan you'are bound to start connecting it to the movie! Its difficult to pass the whole cave because the path is Dark , damp and slippery with water lodging in several spots and you have to climb and pass through a really really narrow opening ,most of the tourists returned back after seeing the bats only. Anyways  all of us crossed it . Young blood afterall !
Bat cave: 80Npr
Gupteswar gupha : 100 npr
Mahendra cave : 50-100 (don't remember exactly)
3) Pokhara is the city of lakes. There are several lakes in Pokhara and the prominent ones are Fewa Lake, Rupa Lake and Begnas Lake. We visited Fewa and Begnas lakes.
Among these, Fewa Lake is by far the most beautiful lake. Nestled on a little island on Fewa Lake is the Barahi Temple. Where we reached by taking a boat ride.
In the journey you'll see the sunlight reflecting on the lake and glittering and the mountains smile upon us in the reflection From here you can climb to the peace stupa situated in the mountains and enjoy the views of city and the mountain ranges surrounding Pokhara. 
Boat ride: 500 Npr (with driver)
                     1000 Npr(without driver)
4) Davis Fall, Seti River Gorge,Gurkha museum:
Honestly speaking i didn't enjoyed here and probably could have avoided it,  and utilised the time somewhere else.
These sites weren't great so we instead spent more time interacting with the locals,the shopkeepers especially. I found some of them hilarious, they were frank, open-minded, the young of there has a sense of self-dependency (even the highschool students),and have a good sense of humour. In short i was pretty impressed after knowing there lifestyle, their thought process,  values they cared about...and some other qualities too.
(you can ask me more about this in chat)
Davis fall: 100 Npr
Seti river gorge : 50Npr
Gurkha museum : 100 Npr
In the evening we went for a walk on the Lakeside enjoying the sight which is an incredible experience. The themed Restraunts and bars infront of the phewa lake with live music are a great place to just relax and chill out while feeling the cold breezes and stars over your head gives a prefect end to your day!