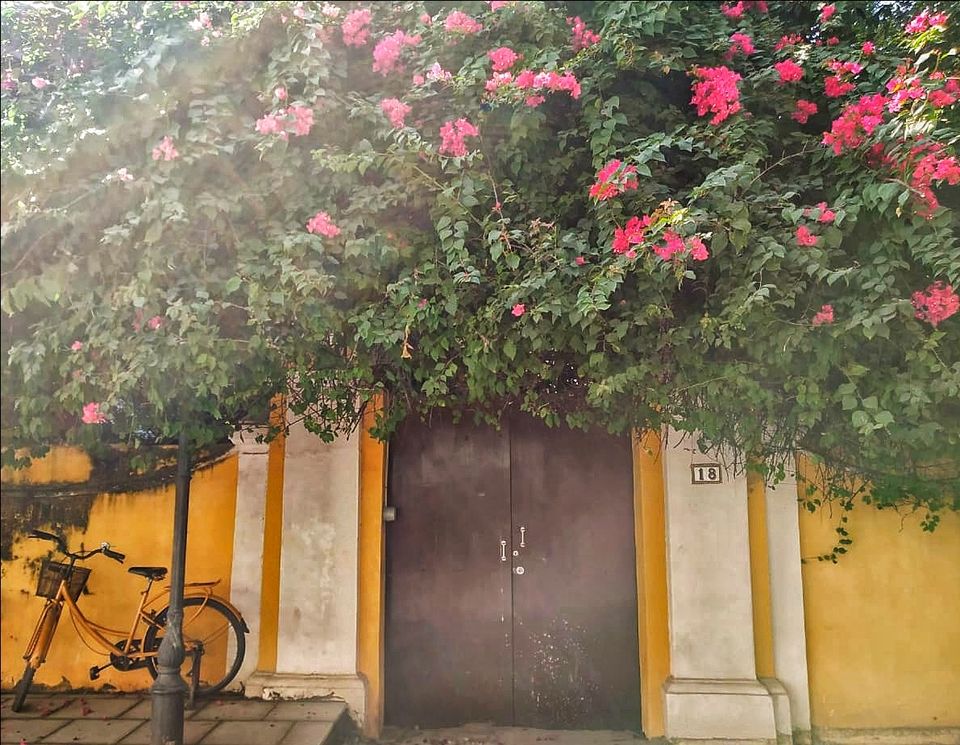 I and my friend Sankalp started our ride from Bangalore in early morning on bike. We had to cover total of 312km distance.
Our first stop was Krishnagiri(TN), 90 km from Bangalore. There is an amazing picturesque 6 lane road between Bangalore and Krishnagiri. We stopped there for having breakfast and then we headed forward to Pondicherry via Chengam- Tiruvannamalai- Tindivanam. The road condition was pathetic between Krishnagiri and Chengam. It is a 2 lane road full of potholes and dust. Although the road between Chengam and Tindivanam is somehow good and road between Tindivanam and Pondicherry is awesome.  There is an another route via Ambur- Vellore which take extra time but road is awesome. It is advisable to take the route via Vellore.
Tiruvannamalai is a pilgrimage town in the state of Tamilnadu. It will keep you amazed everytime. There are many ashrams in the town where many foreigners come for the devotion. We found many of them on road riding bicycle,moped,scooty, buying g vegetables, groceries. One thing that amazed me a lot was that they were completely drenched in Indian culture.
On our way from Tiruvannamalai and Pondicherry, we stopped over to see Gingee fort.
Finally we reached Pondicherry in afternoon and we checked in at our Hostel(Valentine's Hostel)
We then rushed to the famous Rock Beach(Promenade Beach) and the time I reached there, I fell in love with the place. The cold breeze was enough to wash away the tiredness of 6 hours long bike journey. The place was clean, had few eateries and French style buildings at other side which made it look even more beautiful.
We bought some groundnuts paying ₹25 and a cup of ginger coffee and sat at the beach side enjoying the waves hitting the rock. We didn't realised that we sat there over 2 hours.
We then headed towards another famous spot in the area, "Le cafe". It is a sea facing cafe which have lots of option to eat and drink(Non Alcoholic). We took Ice Tea(₹70) and mixed fruit lassi(₹60) and it was really worth the money spent. The ambience was so peaceful that we couldn't resist ourselves to sit there for about couple of hours and kept on refilling.
We then had a walk around the beach and had a quick visit over Gandhi statue, French War Memorial which was located around the beach itself.
We then returned to hostel and fell asleep as soon as we hit the bed.
When we woke up it was already 11 pm, but thanks to the Pondicherry markets which was still open and we got something to eat.
We asked the Hostel staff about a good place to have a quick bite and he suggested us a Shawarma outlet which was on the main road.
We grabbed the Shawarma and headed again to the Rock Beach. And undoubtedly the place looked even more peaceful and beautiful in the midnight.
The breeze was very soothing and relaxing. We had a walk around the beach while eating Shawarma and that walk was the best night walk of my life yet.
After our walk we went again to the Le Cafe and tried their famous Coffee On the Rocks.
In my opinion the "Le Cafe" is one of the best beachside cafe in the India. No doubt why it so hyped spot in the town.
At around 2:30 am we headed back to our hostel and we were off for the day, as we were suggested by the Hostel staff to visit either Serenity beach or Rock Beach to witness the beautiful sunrise.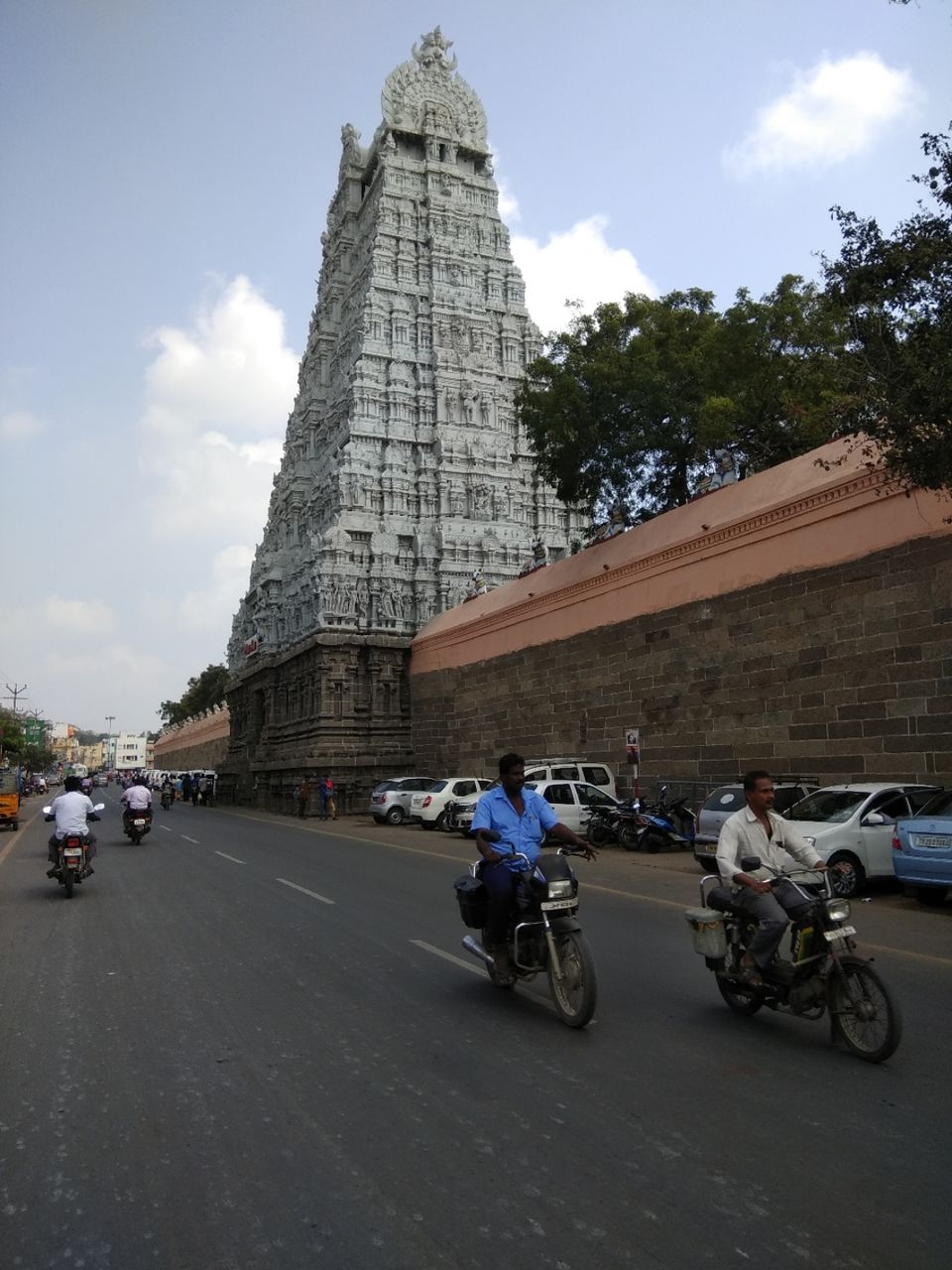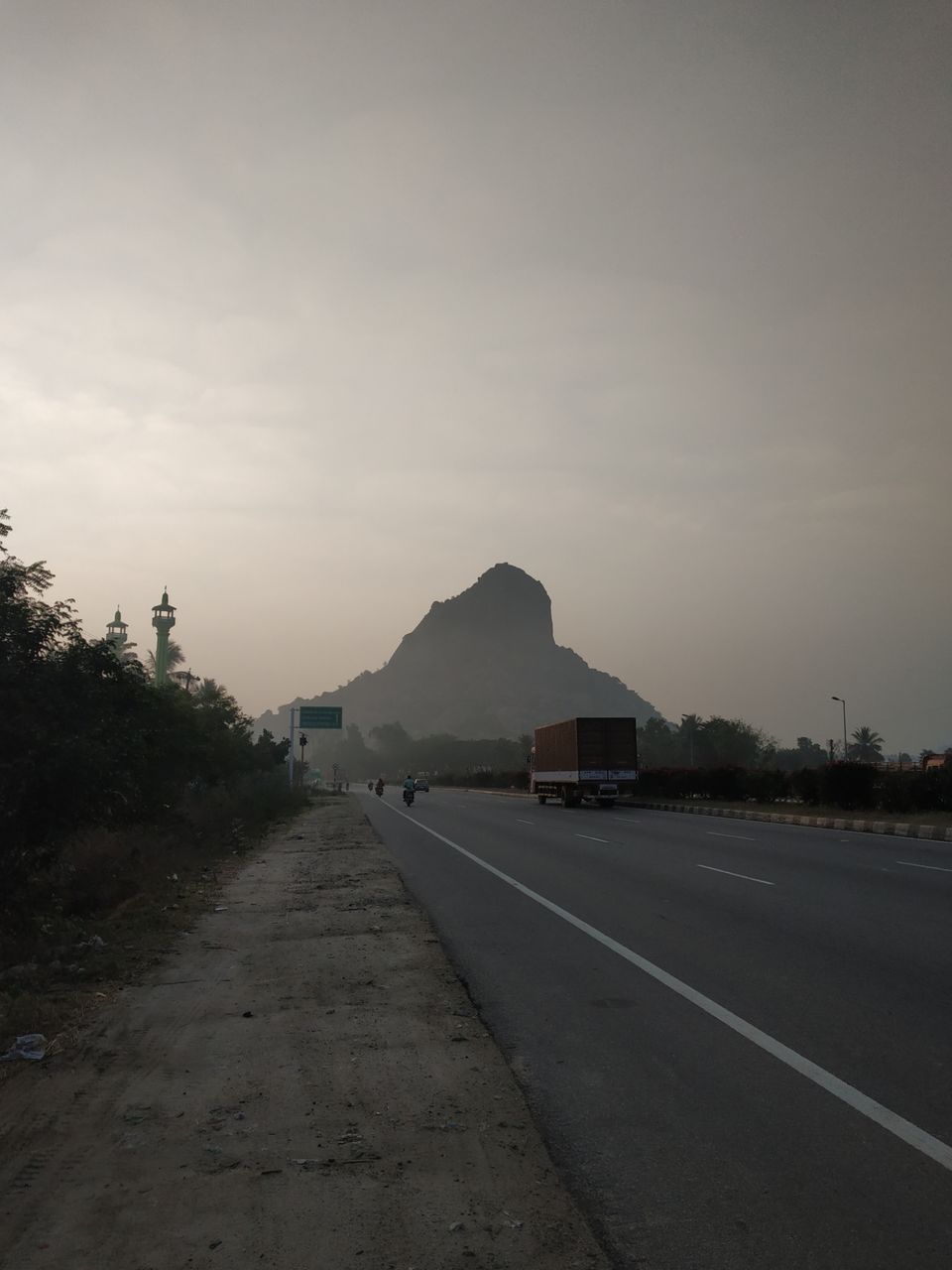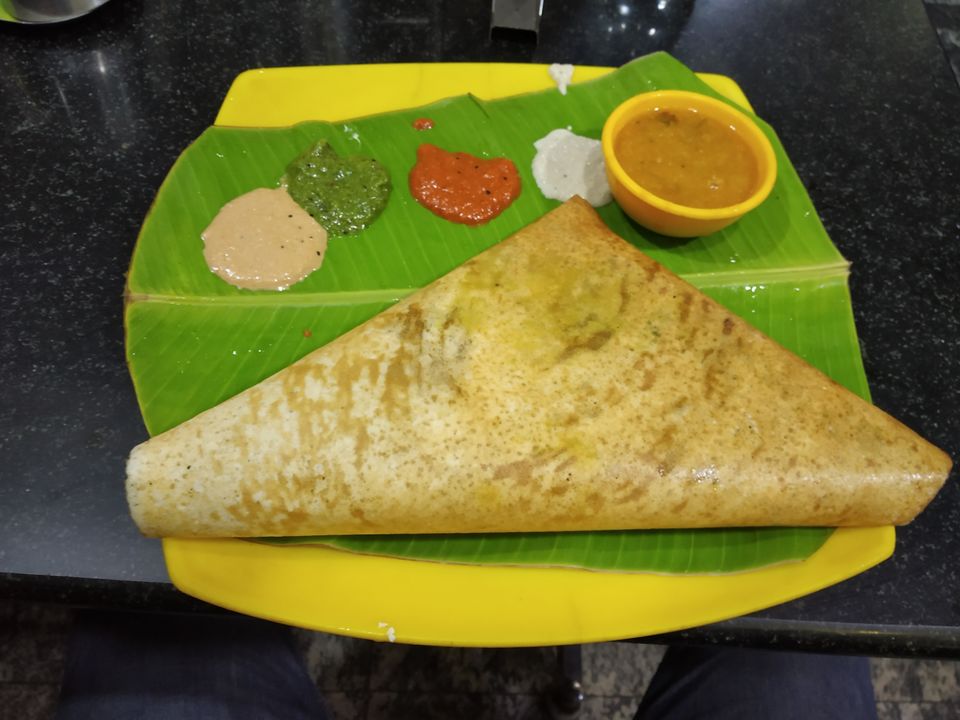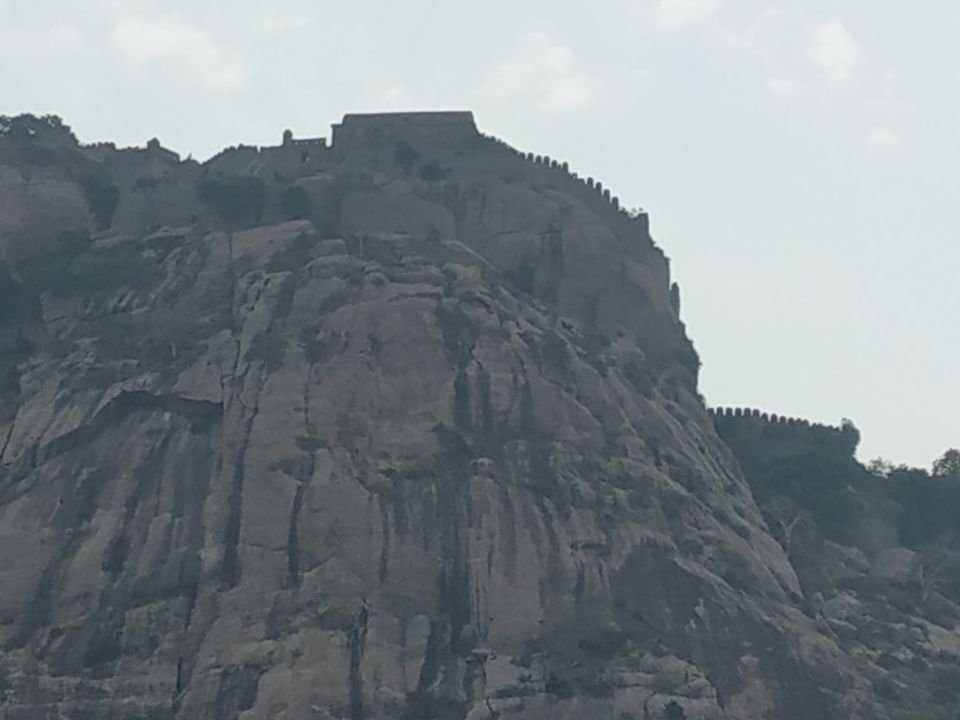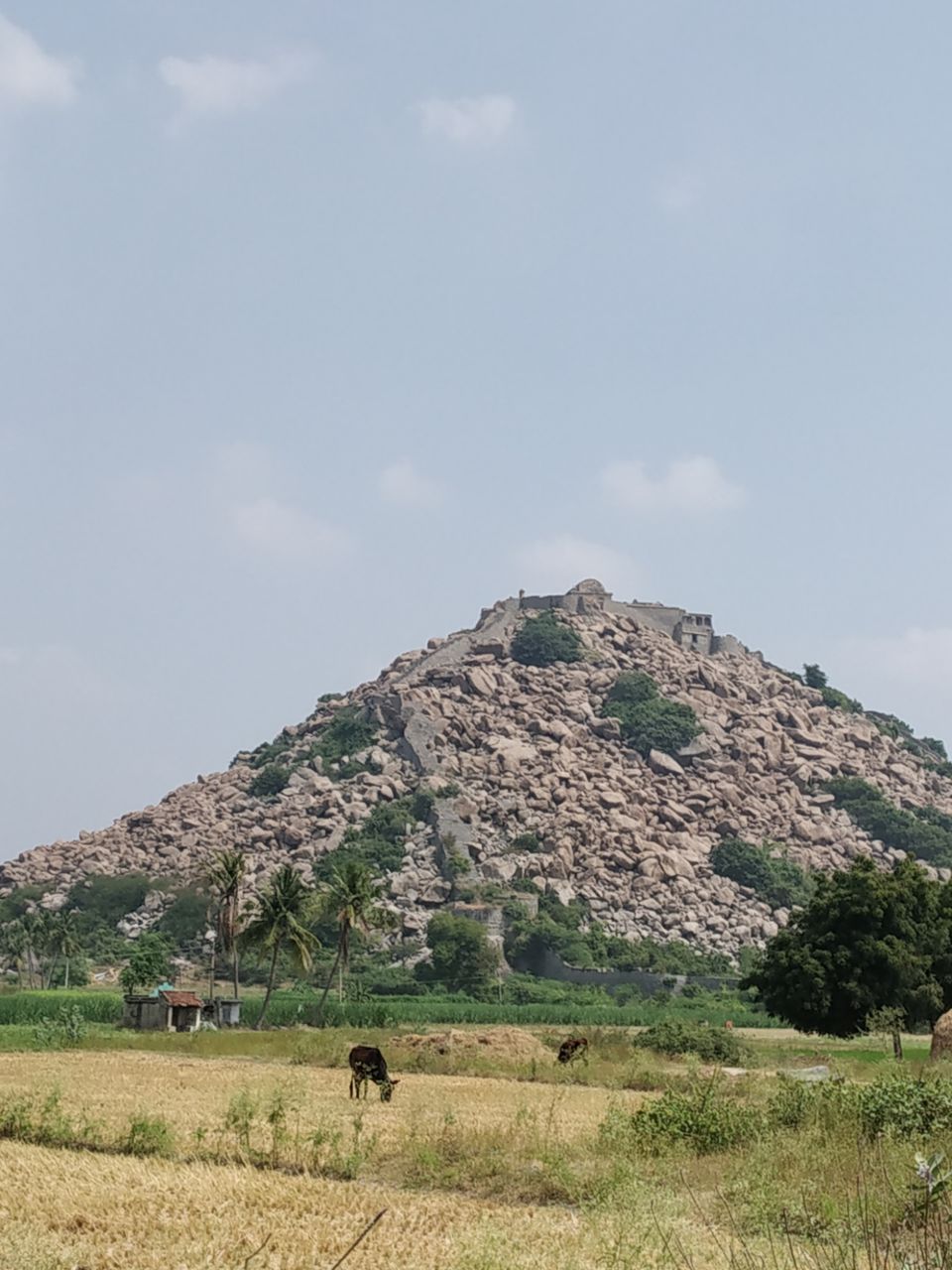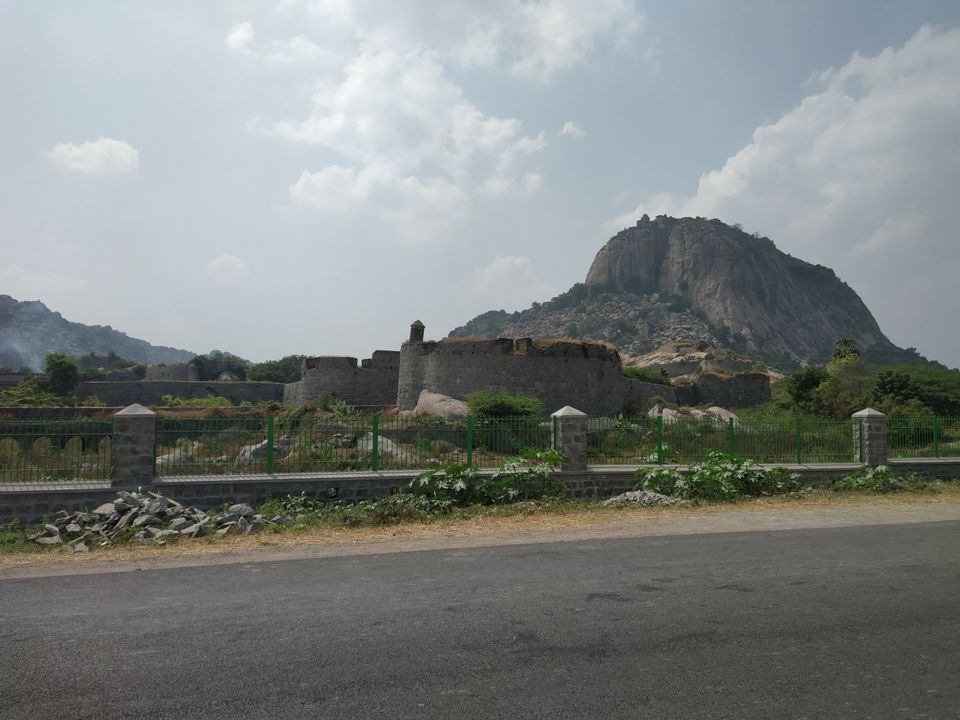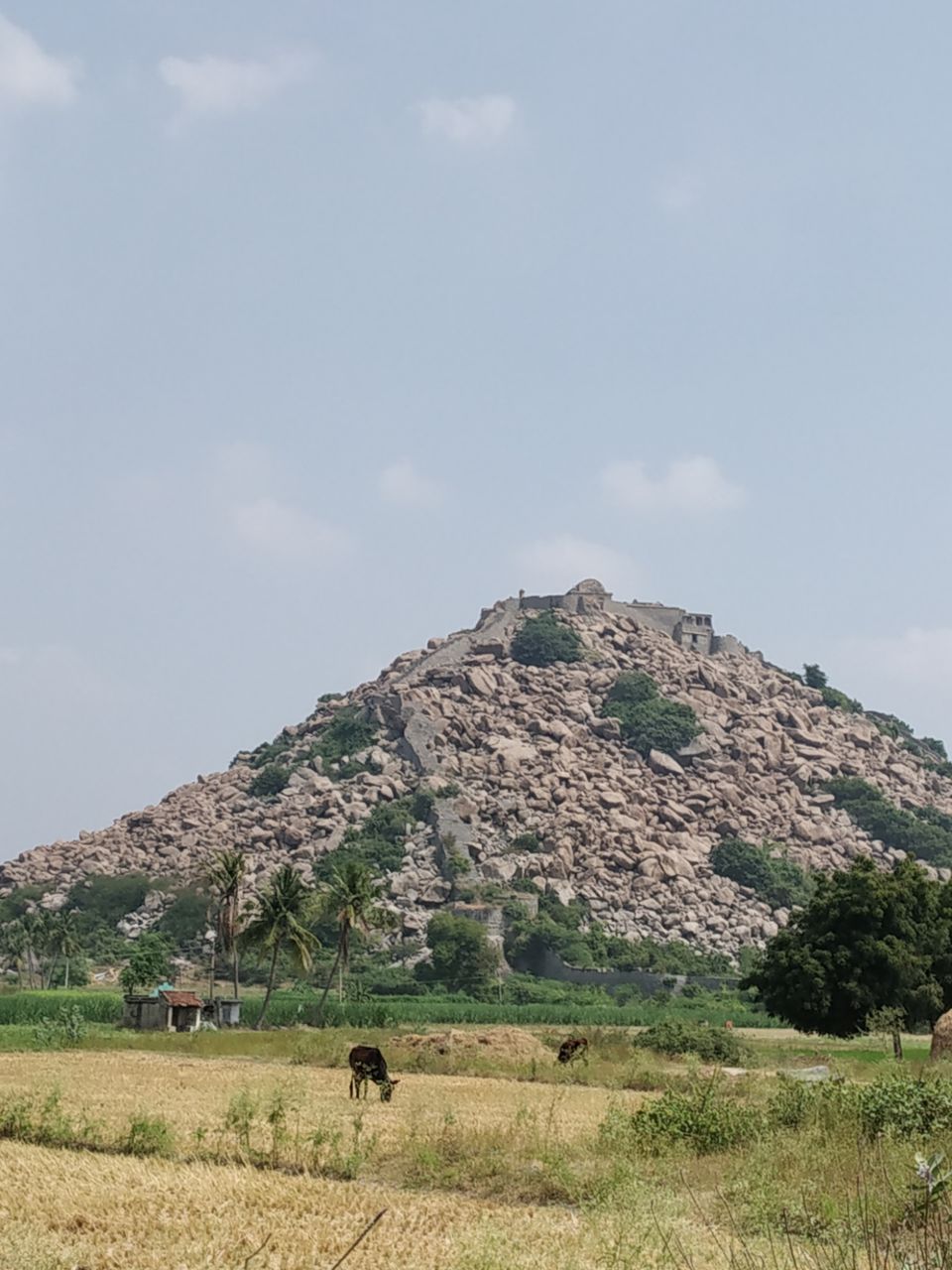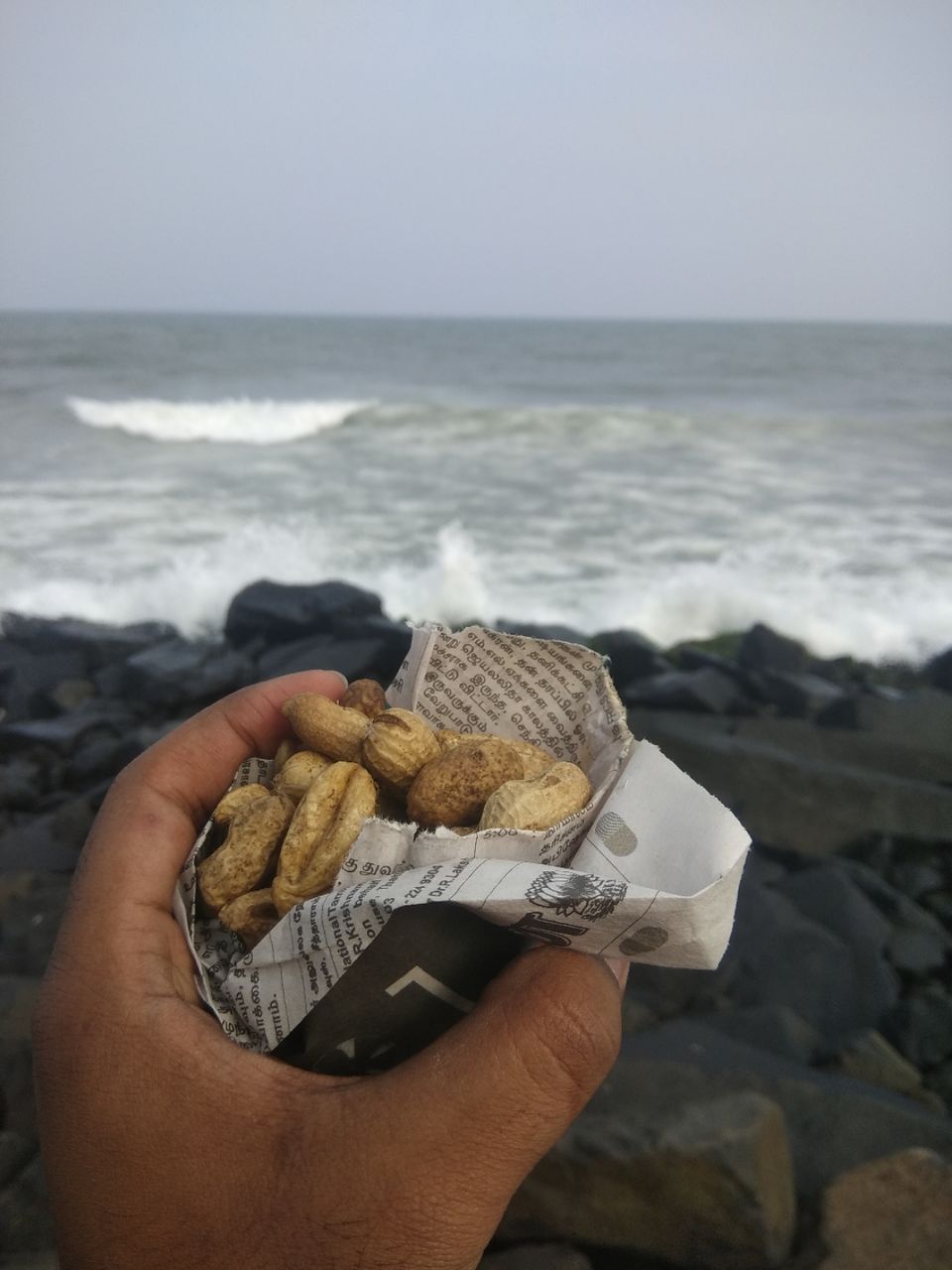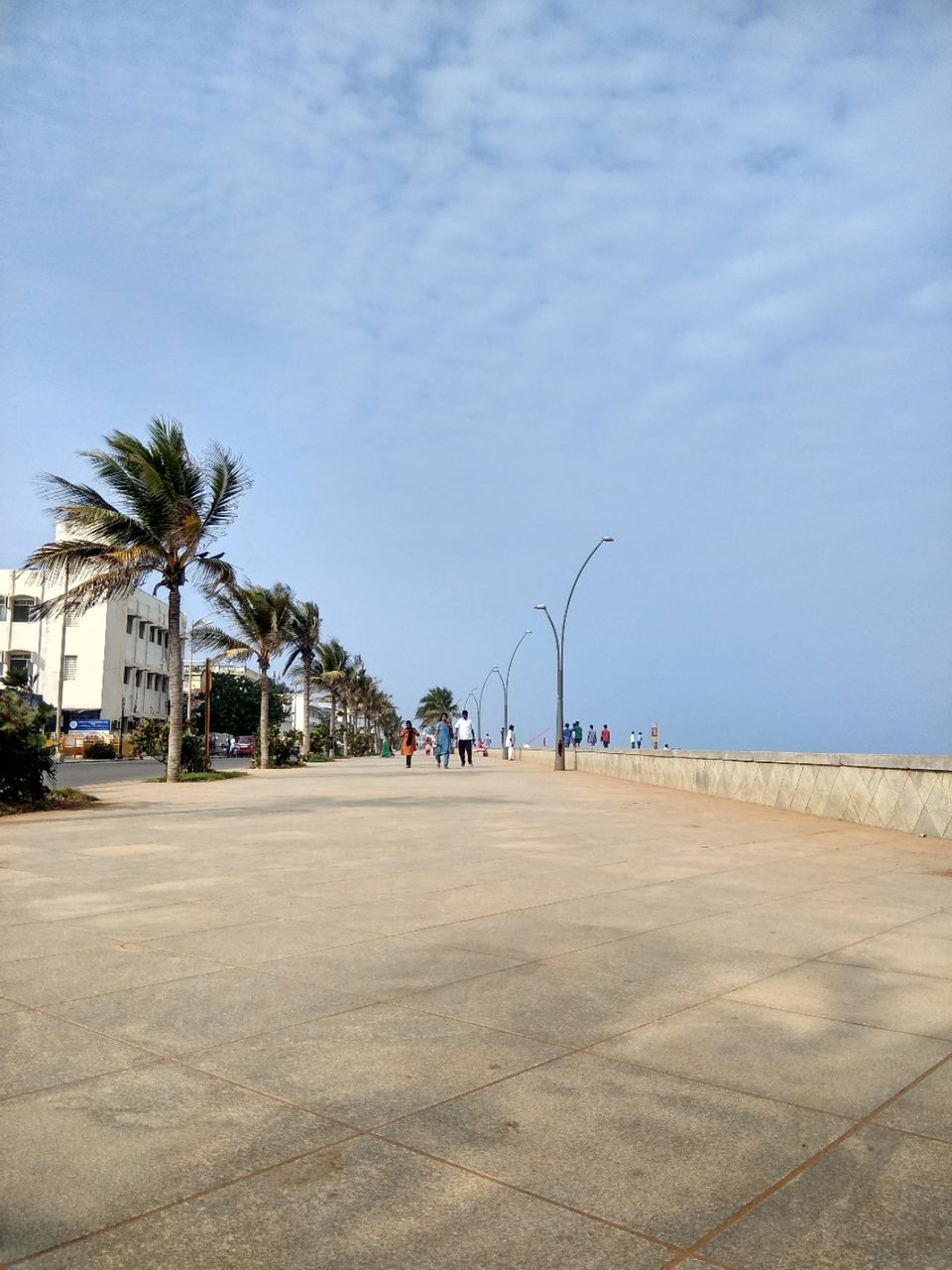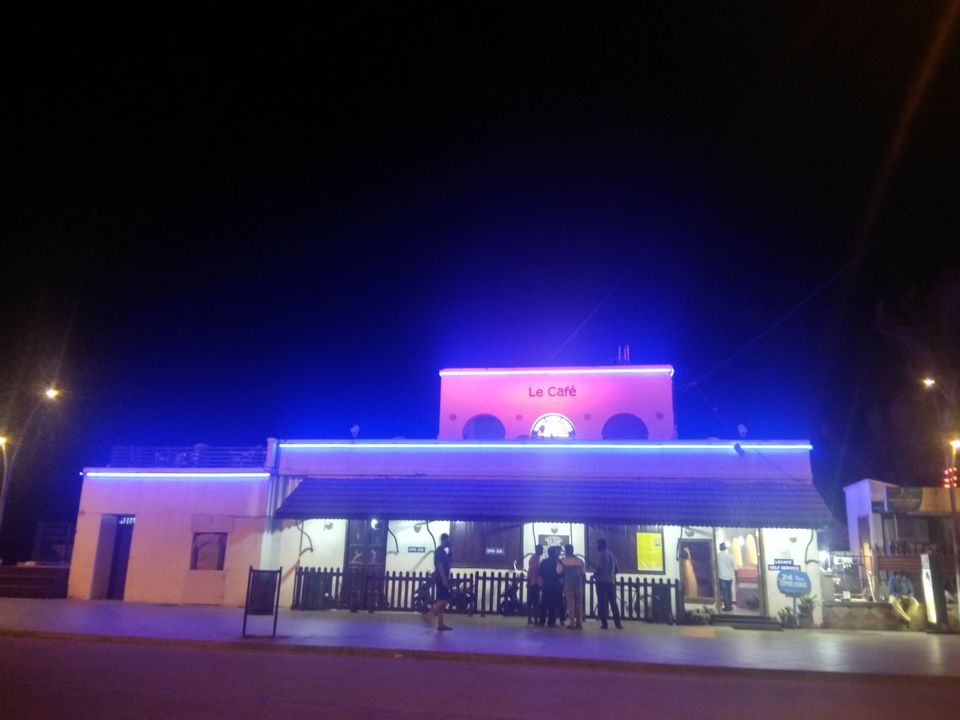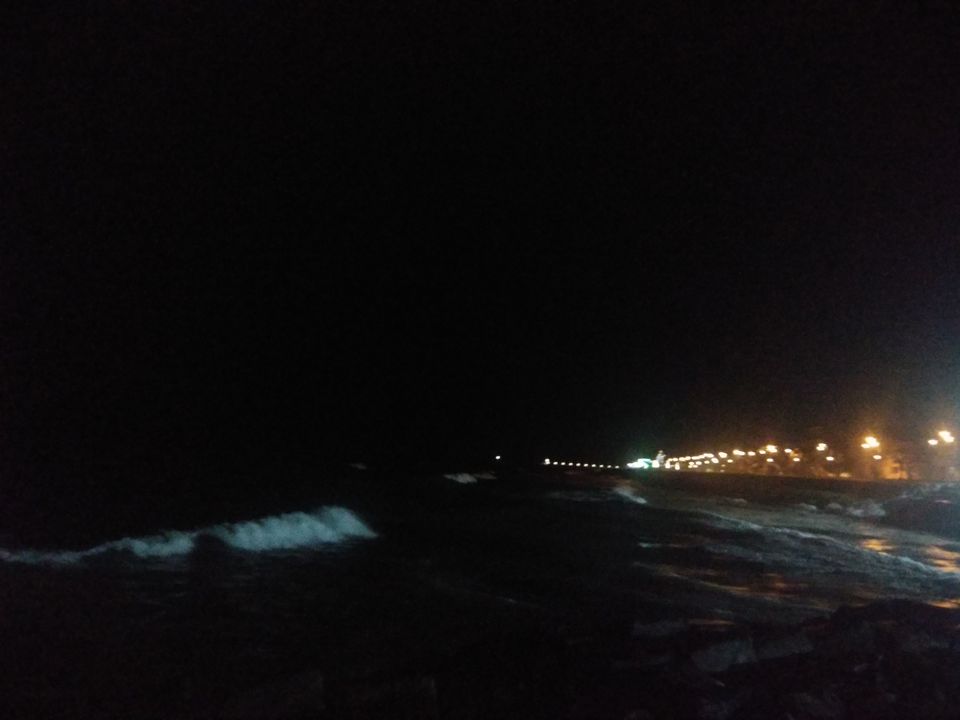 We woke up a bit late in the morning, so we decided to go Rock Beach to see the sunrise rather going to Serenity Beach,which was around 8 km from the Hostel and we could have missed the sunrise.
And it proved out to be a good decision to go Rock Beach, as we saw few VIPs walking around the beach.
We enquired few locals about the best spot to witness the sunrise and we quickly grabbed a cup of ginger coffee and sat over a rock enjoying the cool soothing breeze and sound of waves.
Later in the morning, we first decided to visit the famous Arulmigu Manakula Vinayagar Temple. It is situated in the White Town area near to the Aurobindo Ashram. This temple is dedicated to the lord Ganesha, it is a popular pilgrimage site and tourist destination in Puducherry. The temple is of considerable antiquity and predates French occupation of the territory. It is said that during the tenure of Dupleix, there were attempts to destroy the temple, but it was spared owing to strong protests from the Hindu population and the threat of British and Maratha invasion of the territory.
After staying there for an hour and eating the Prasadam we came out and spotted "Lakshmi" the elephant who had just returned from the elephant camp standing at the entrance of temple and offering her blessings to all the devotees. It was so delightful to watch her.
After the visit of temple we quickly had our breakfast in the famous "Indian Coffee House" located in JN street. This place was perfect for the breakfast because of the ambience. one could  see group of all age group sitting and indulge in a deep conversation,, laughter. It was something  we didn't get to see in our hectic life's.
Later we headed towards The Sacred Heart Basilica church. And it was an another architectural marvel. It is an oriental specimen of Gothic architecture. It contains rare stained glass panels depicting events from the life of Christ and saints of the Catholic Church.
It is situated opposite to the Pondicherry railway station.
After the visit to church we roamed in the markets of Pondicherry and then went to the Aurobindo Ashram. It is a spiritual community. The ashram grew out of a small community of disciples who had gathered around Sri Aurobindo after he retired from politics and settled in Pondicherry in 1910.
The ashram has tree-shaded courtyard, at the centre of which lies the flower-covered "Samadhi" of Sri Aurobindo and The Mother(Mira Alfassa), around which people sits and meditate. The ashram also has a Library where many books related to Aurobindo ideologies are displayed and put up for sale in different languages.
After spending some peaceful minutes in ashram we went to Pondicherry Museum which was located opposite to the Raj Bhavan in the White Town. The museum displayed artifacts of French era, weapons, coins, potteries, statues found during excavations, vehicles, would and stones of different regions etc. The museum had an small art gallery too which was really good.
By the time we came out of Museum, we had a glance at the Rajya Bhavan and  a quick walk to Bharati Park.
the heat was on its peak. We quickly had our lunch at one of the local restaurant and headed back to hostel, as the heat was unbearable.
Later in the evening we had to go for Vintage Car display, at Rock Beach. We came to know about this on a pamphlet sticked on the wall of one random shop.
We waited for the time, and then rushed to see the Display. It was indeed a good show, but the people were really irritating. The crowd grew more and more and people seemed to click picture with each and every car that was put in the display.
Apart from that it was really a good show,  we got to see many vintage cars of Ford, Mercedes, HM, Volkswagen, Jaguar etc.
It was exciting for me as it was the first time I was seeing any vintage car.
It was already 6:30 pm when the show got over and at this time except beaches all other places would have got closed. So we decided to spend few hours at Le Cafe and chill.
Everything was going perfect until we returned to our Bike and found that it got towed. We headed towards the Traffic Police Station to get our bike and found it was not there. upon enquiry we were told to find our bike of our own in that area and get back to them to pay fine. We searched for our bikes for 2.30 hours but we were not able to find. Later we asked one policeman to help us and after waiting for another hour we got our bike with the help of that Policeman.
We were completely exhausted by that time and decided to go back to hostel. We came back to hostel and grabbed few bottles of beer and relaxed for rest of the night.
P.s. Don't forget to park your bike in designated parking area.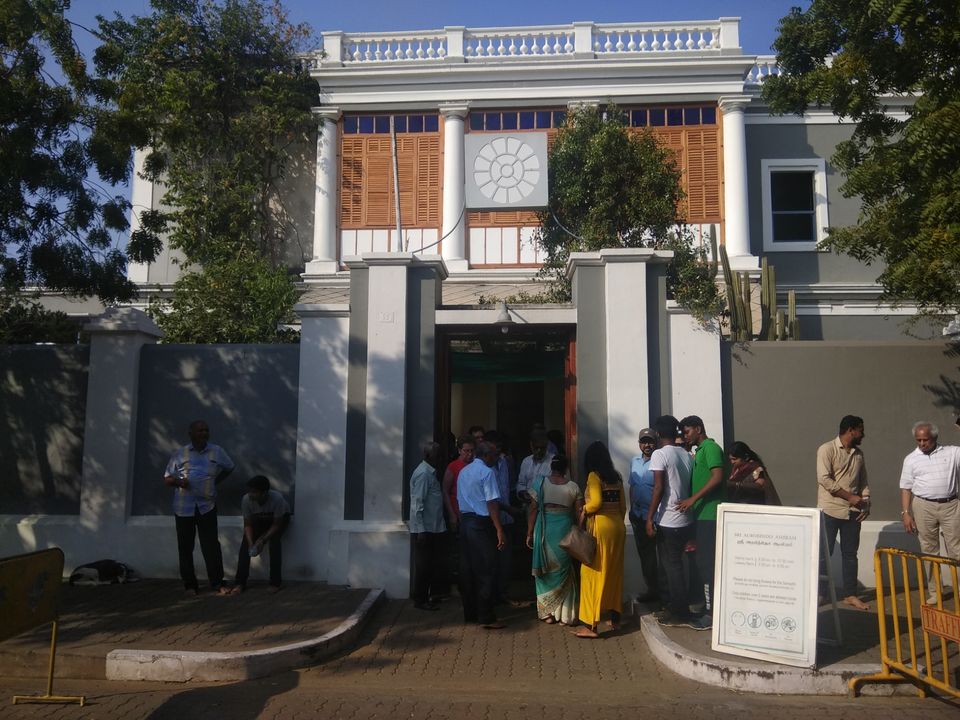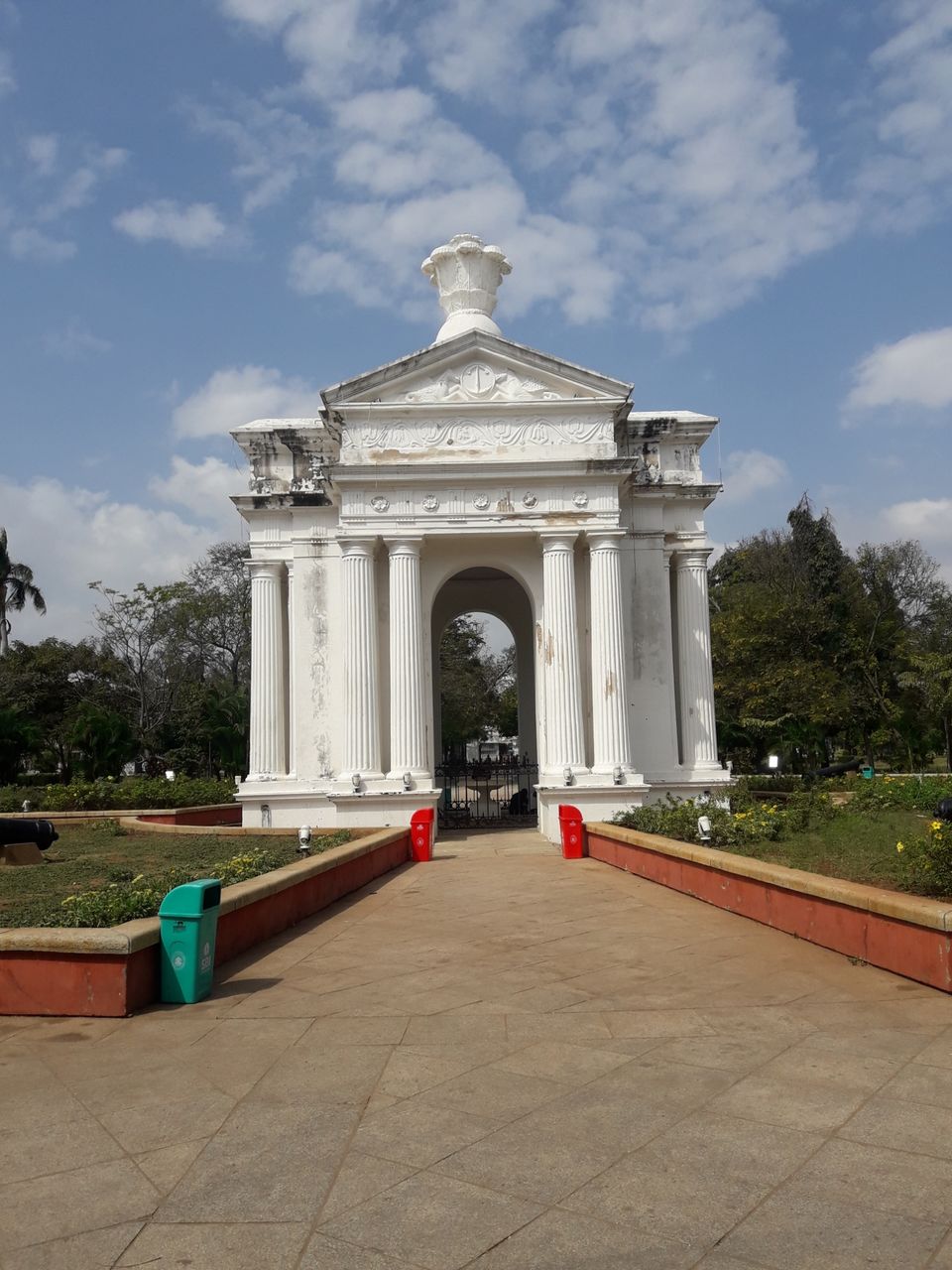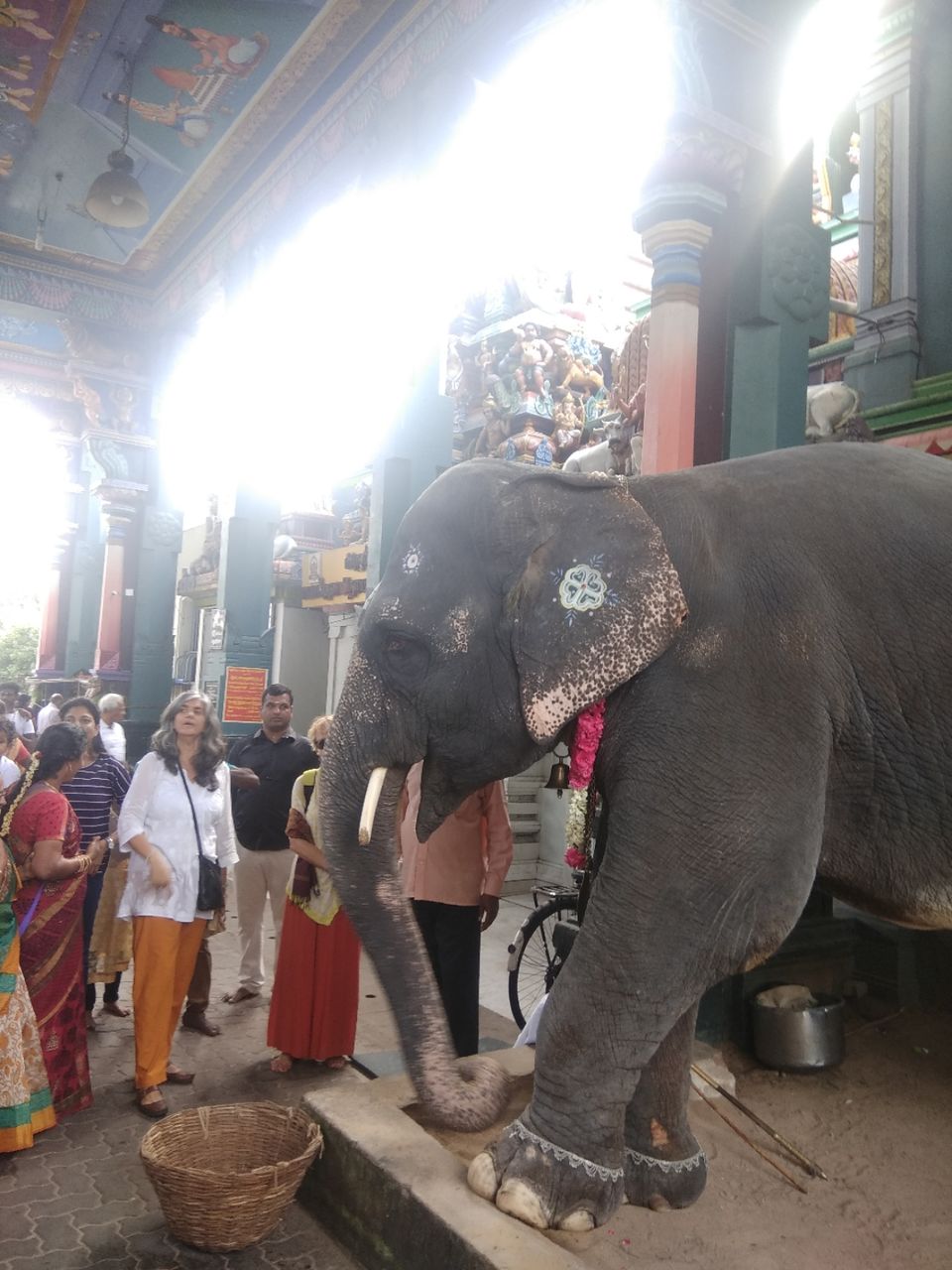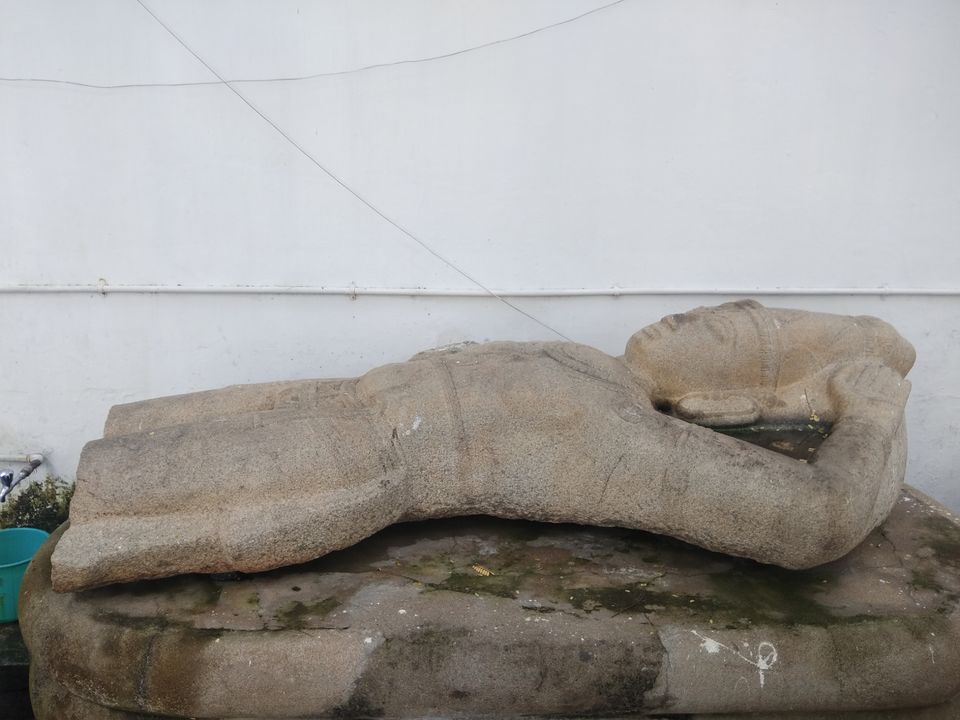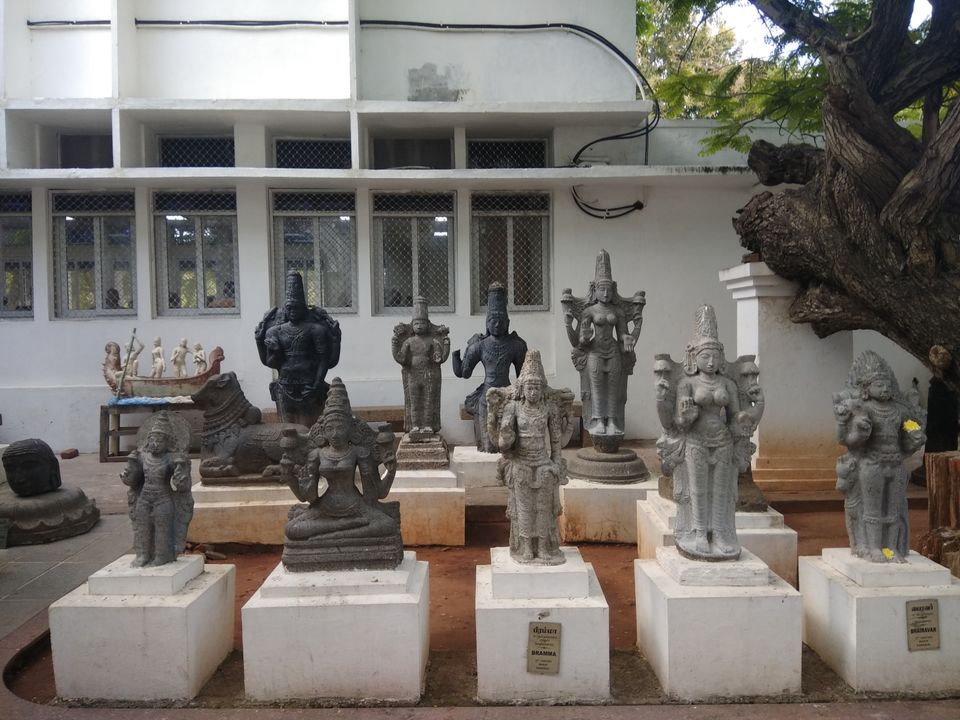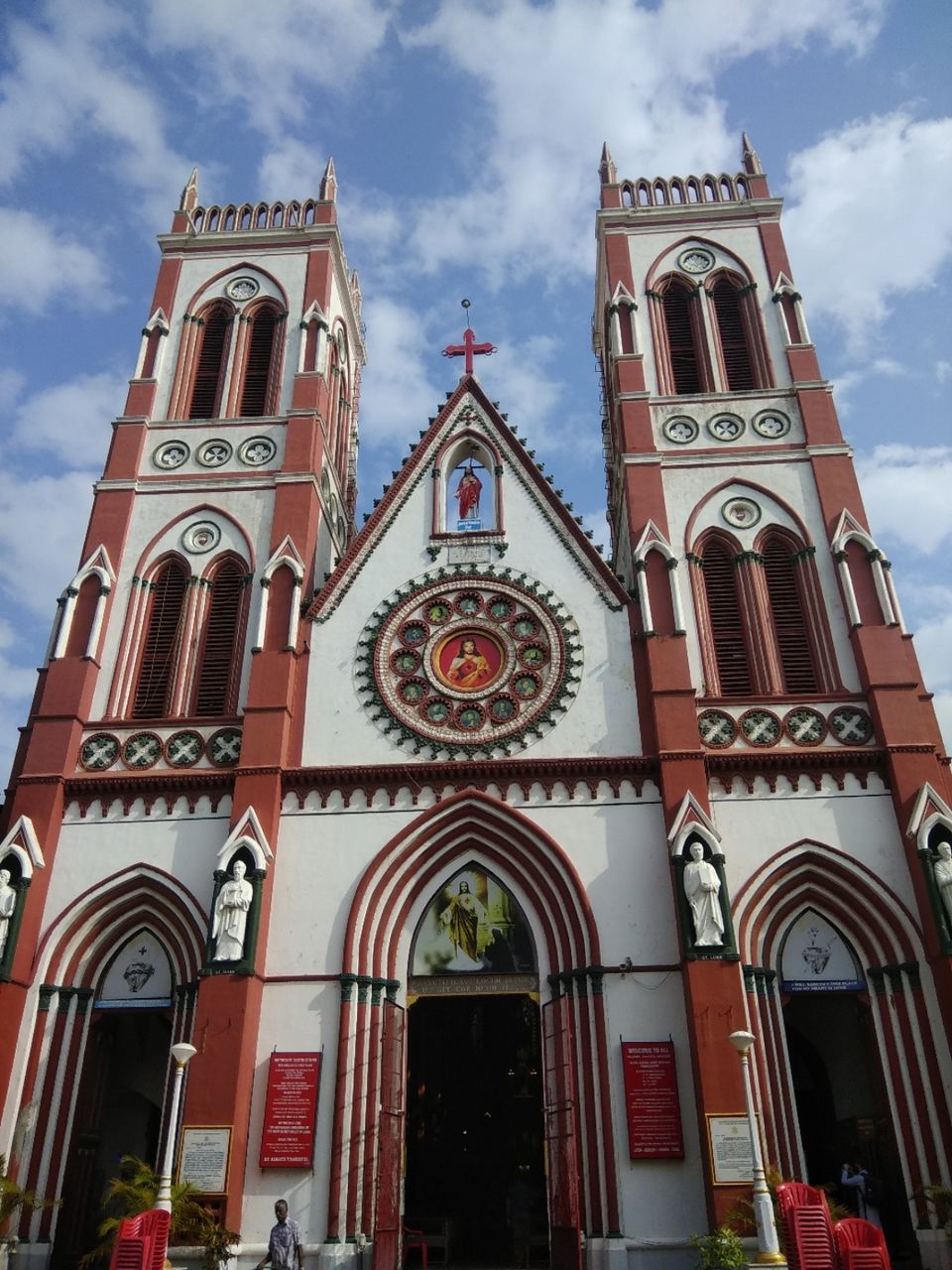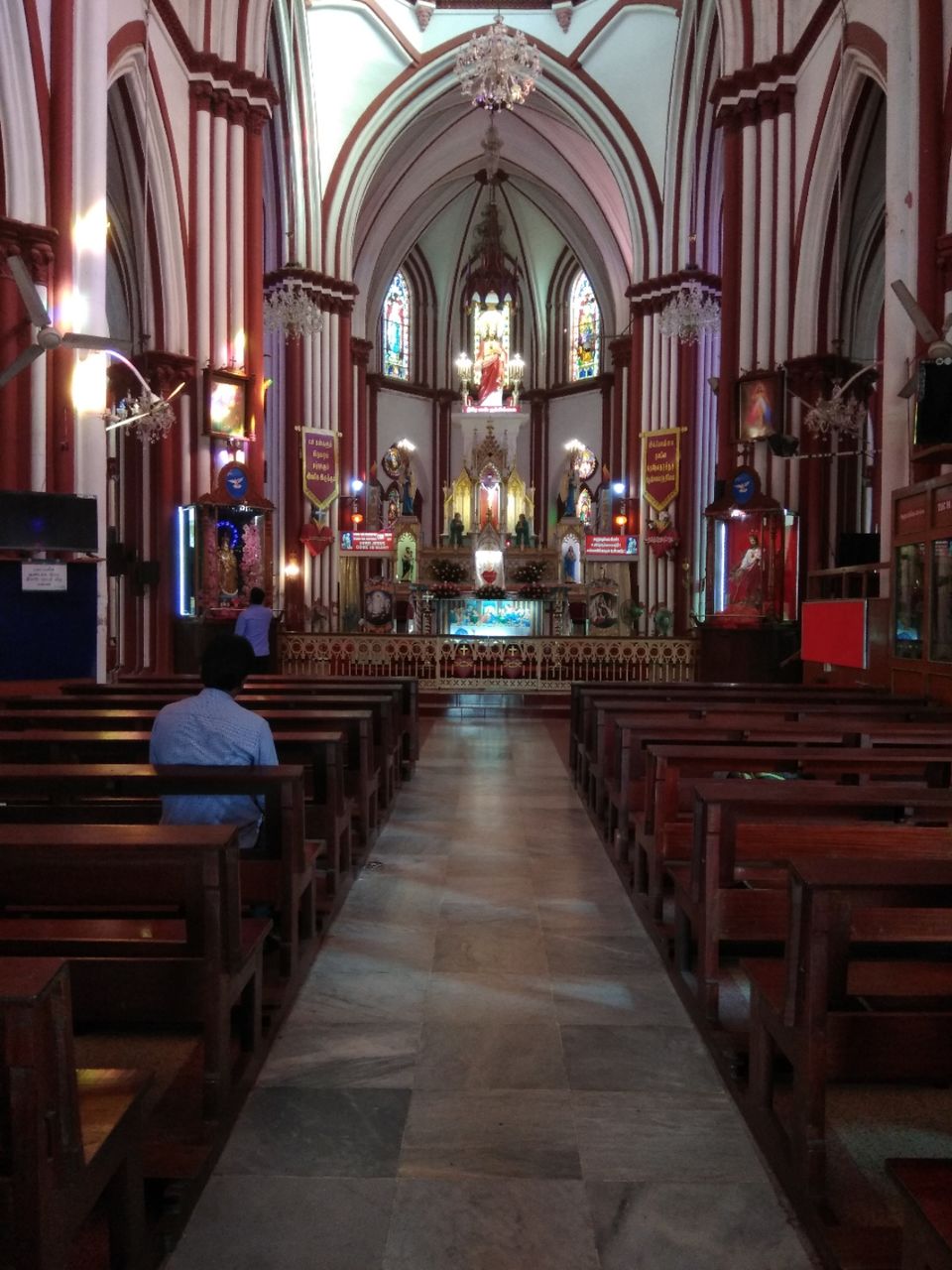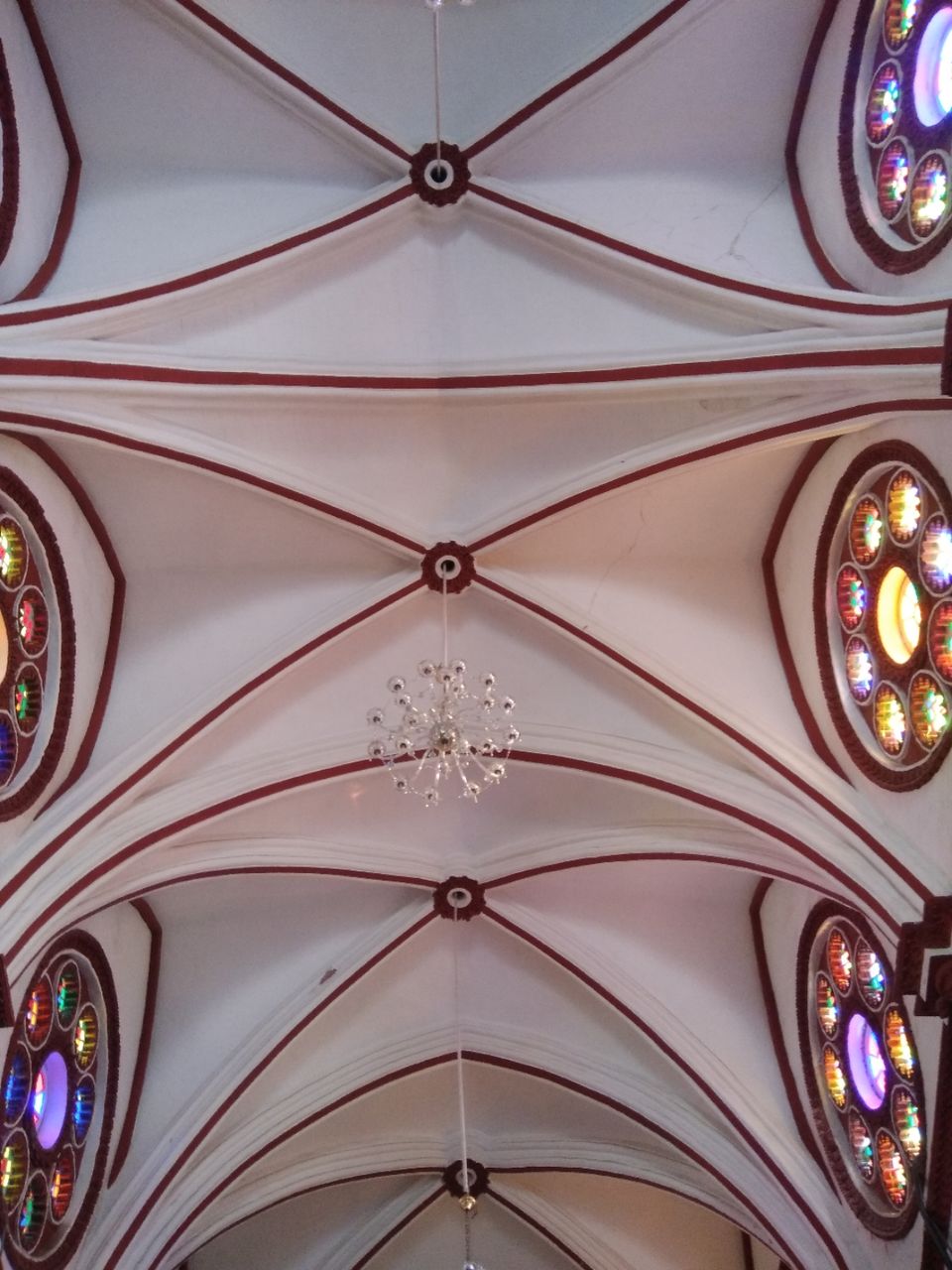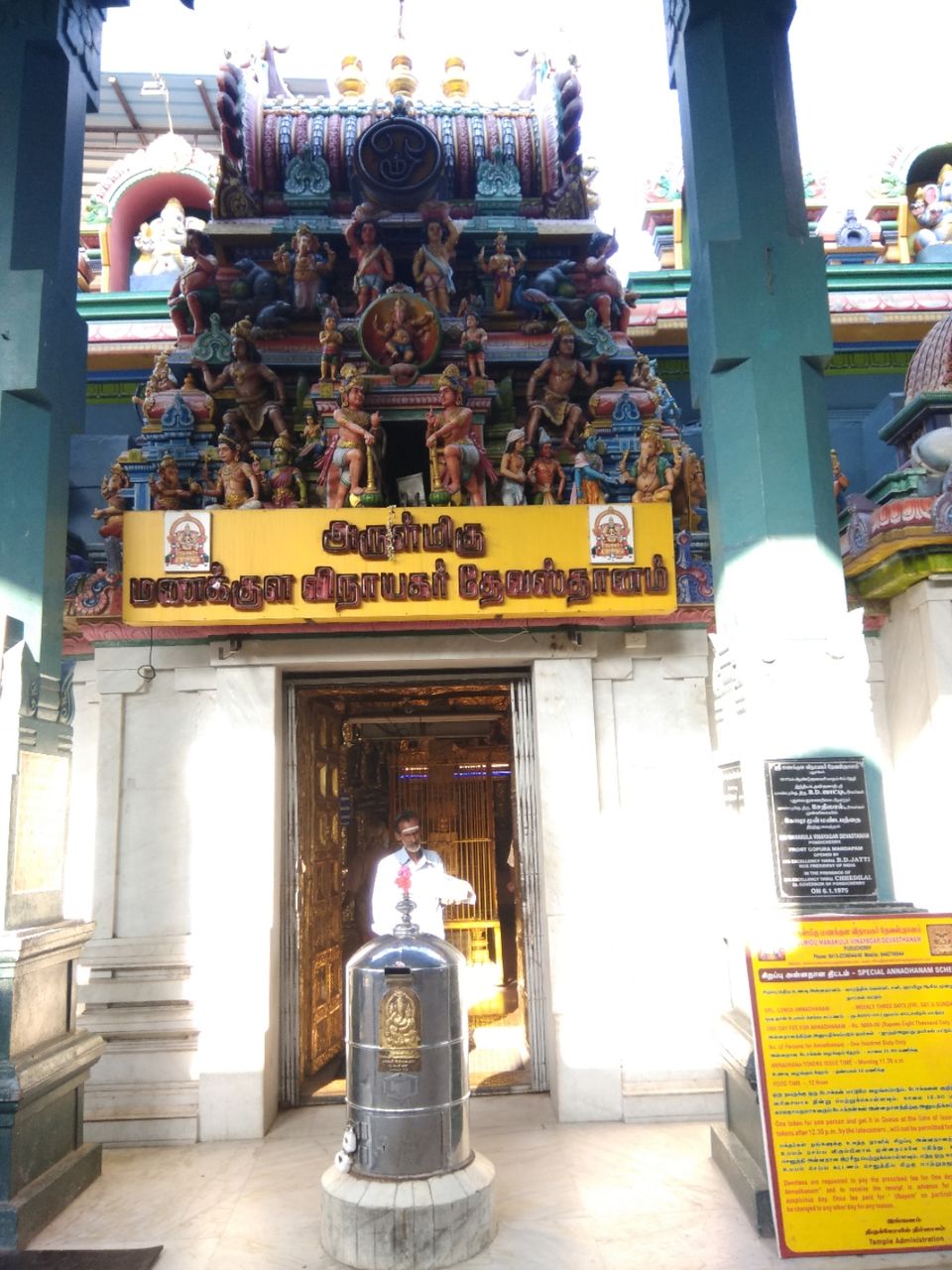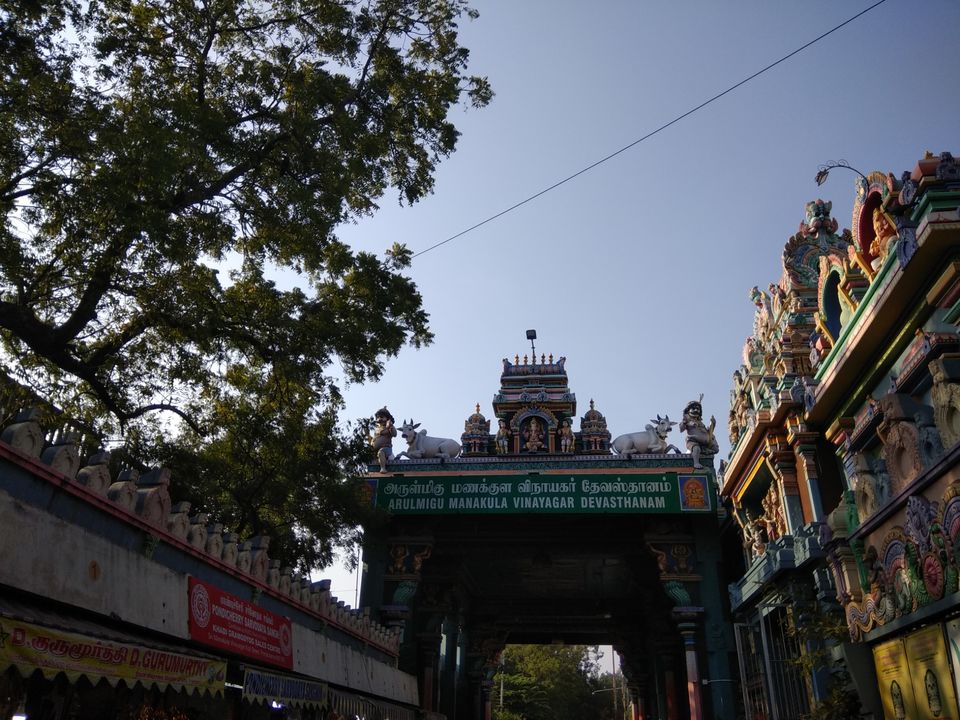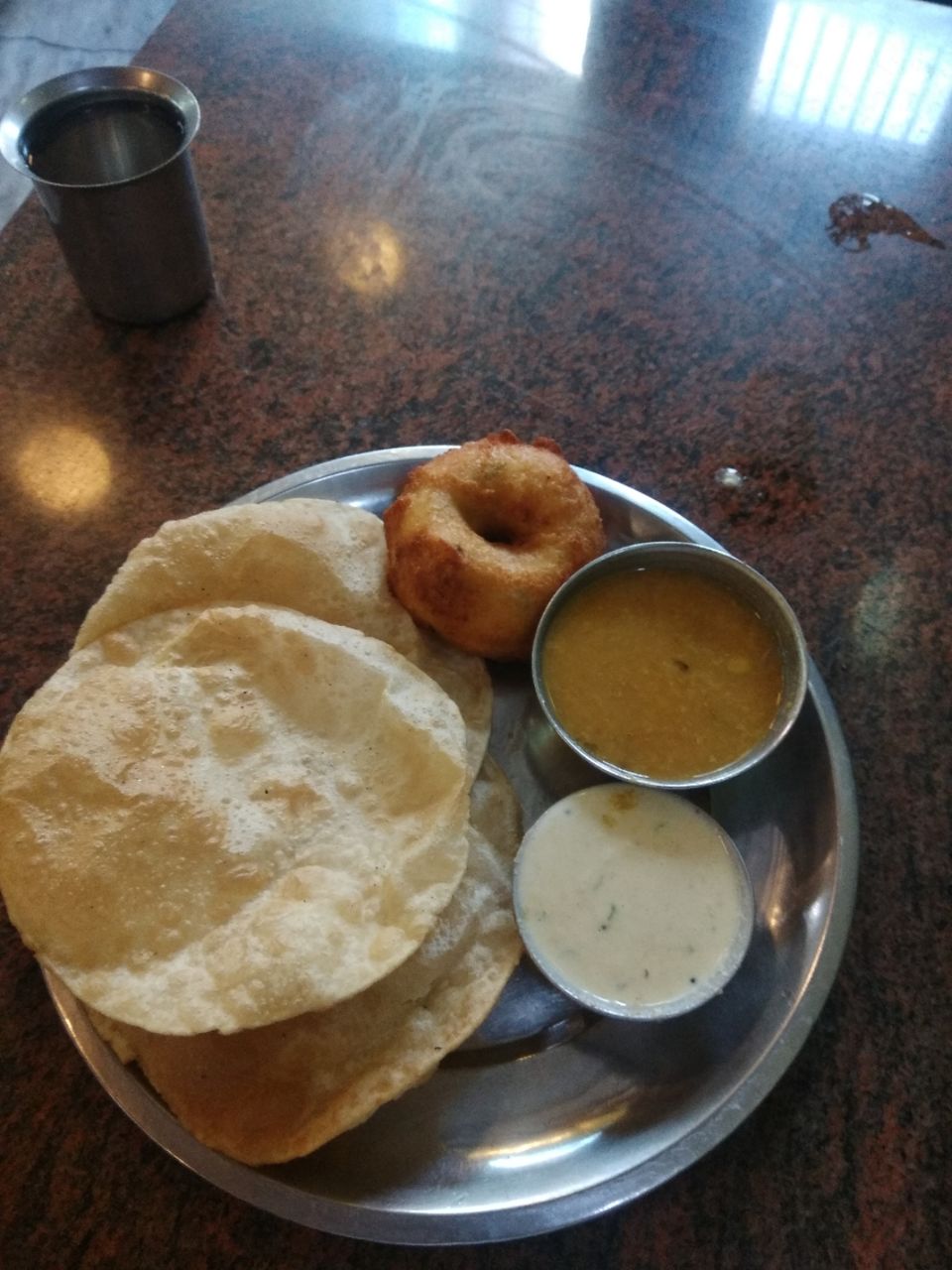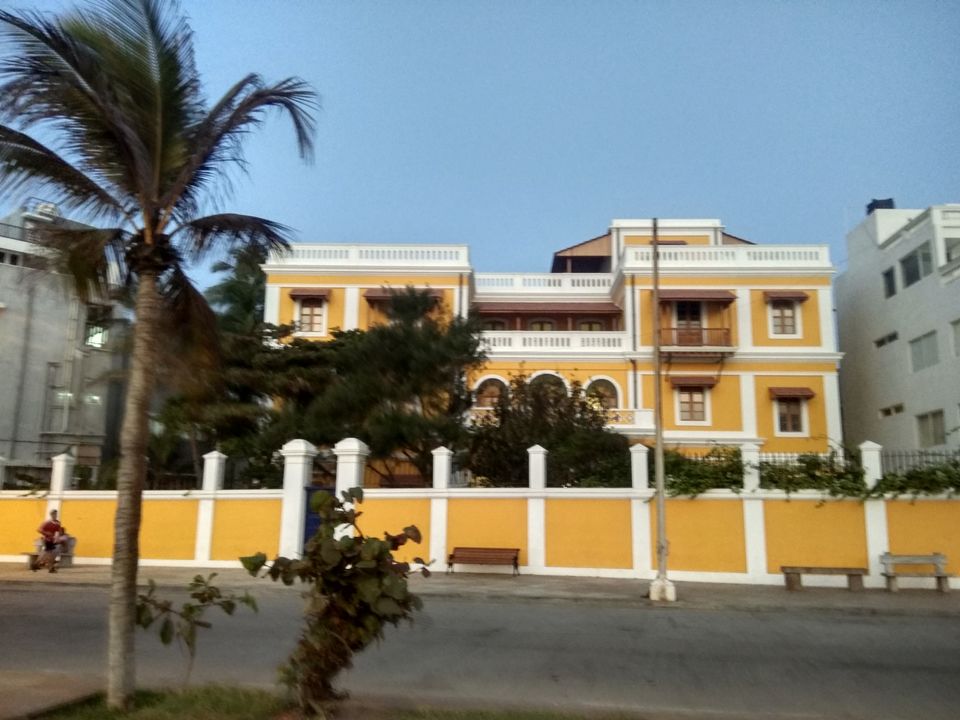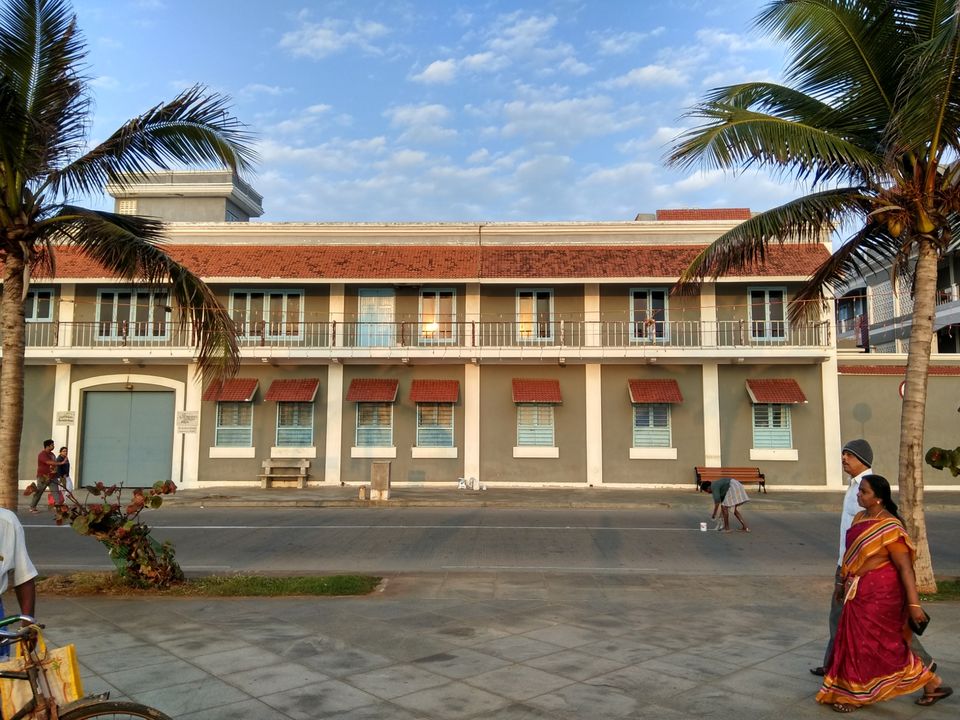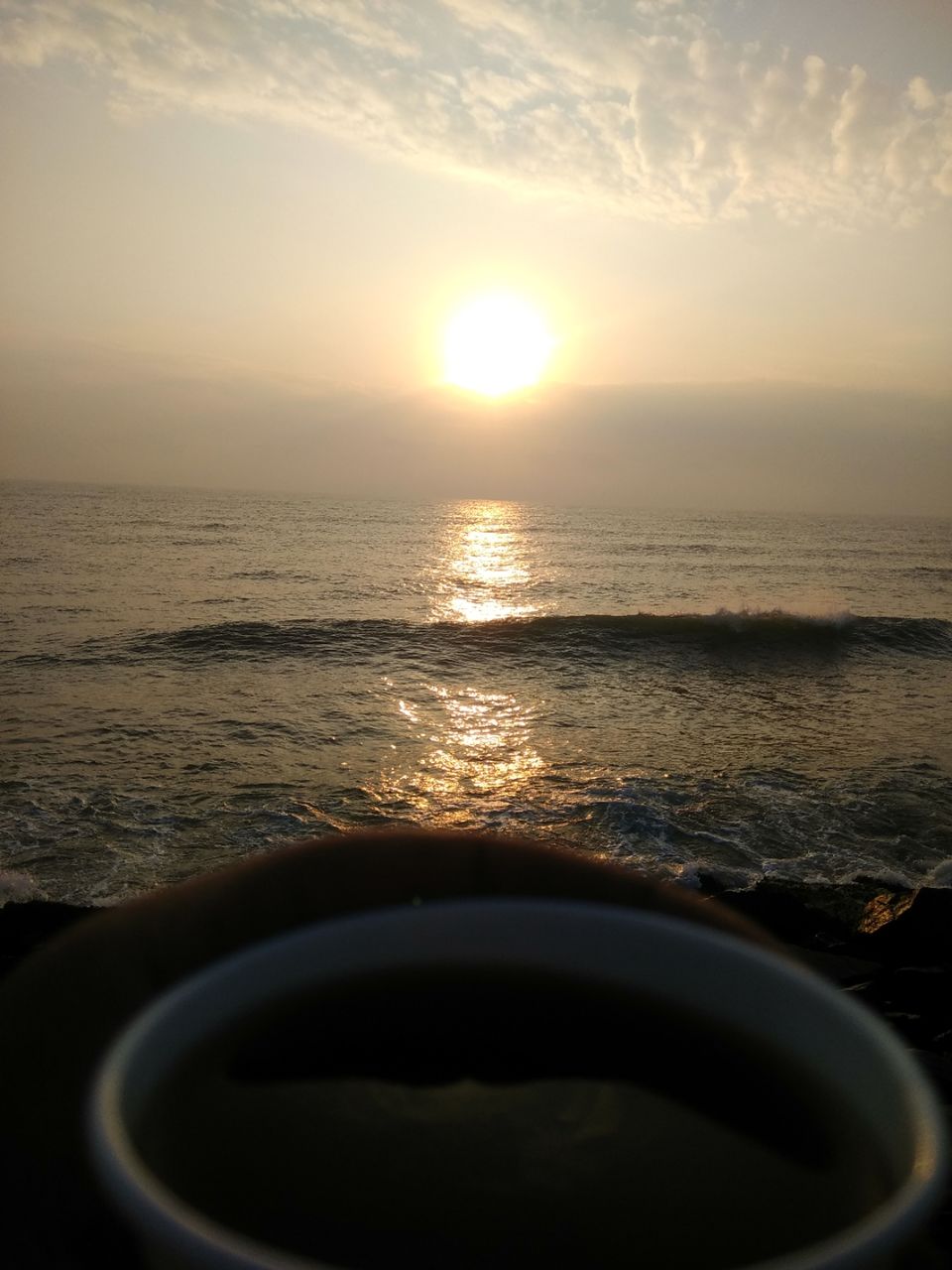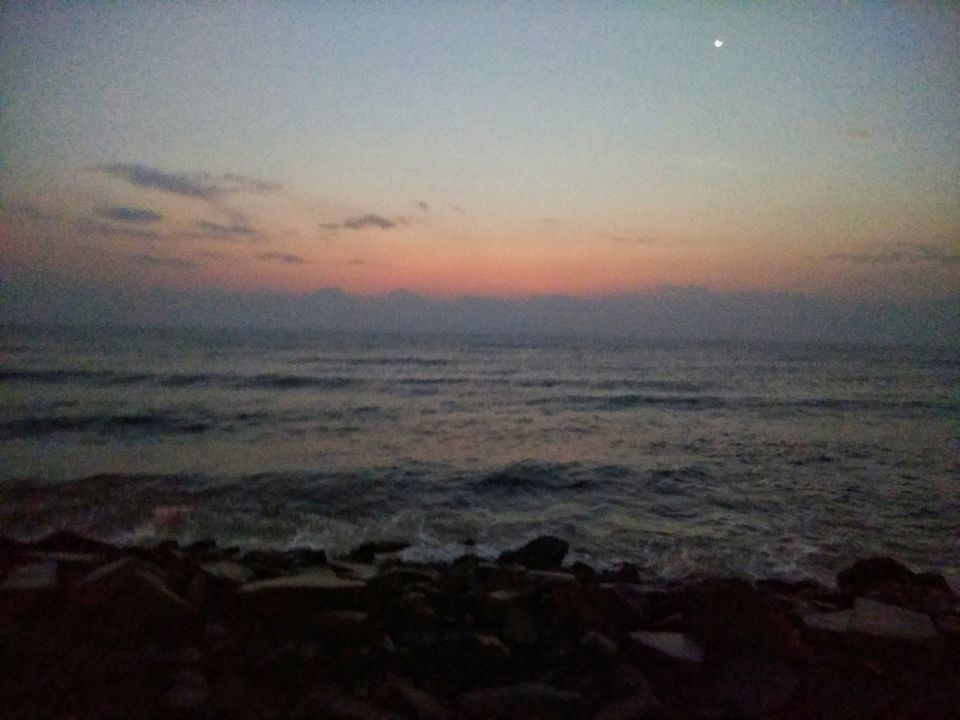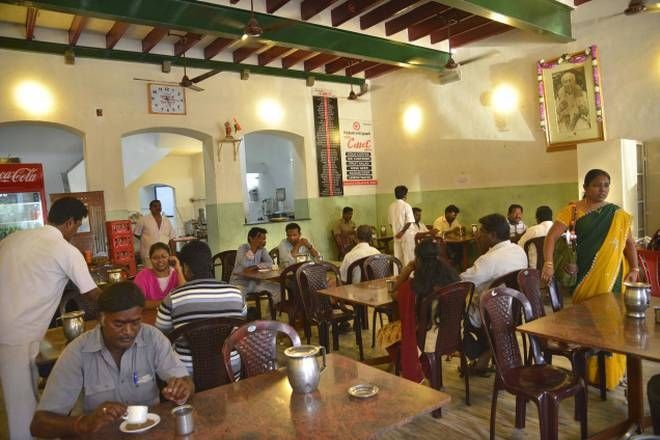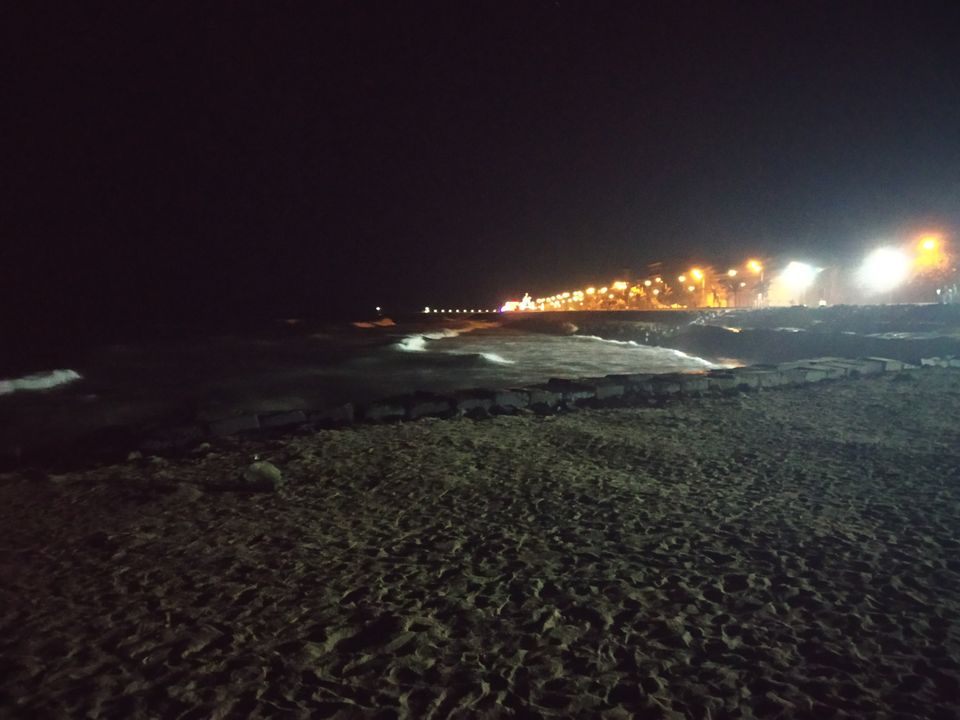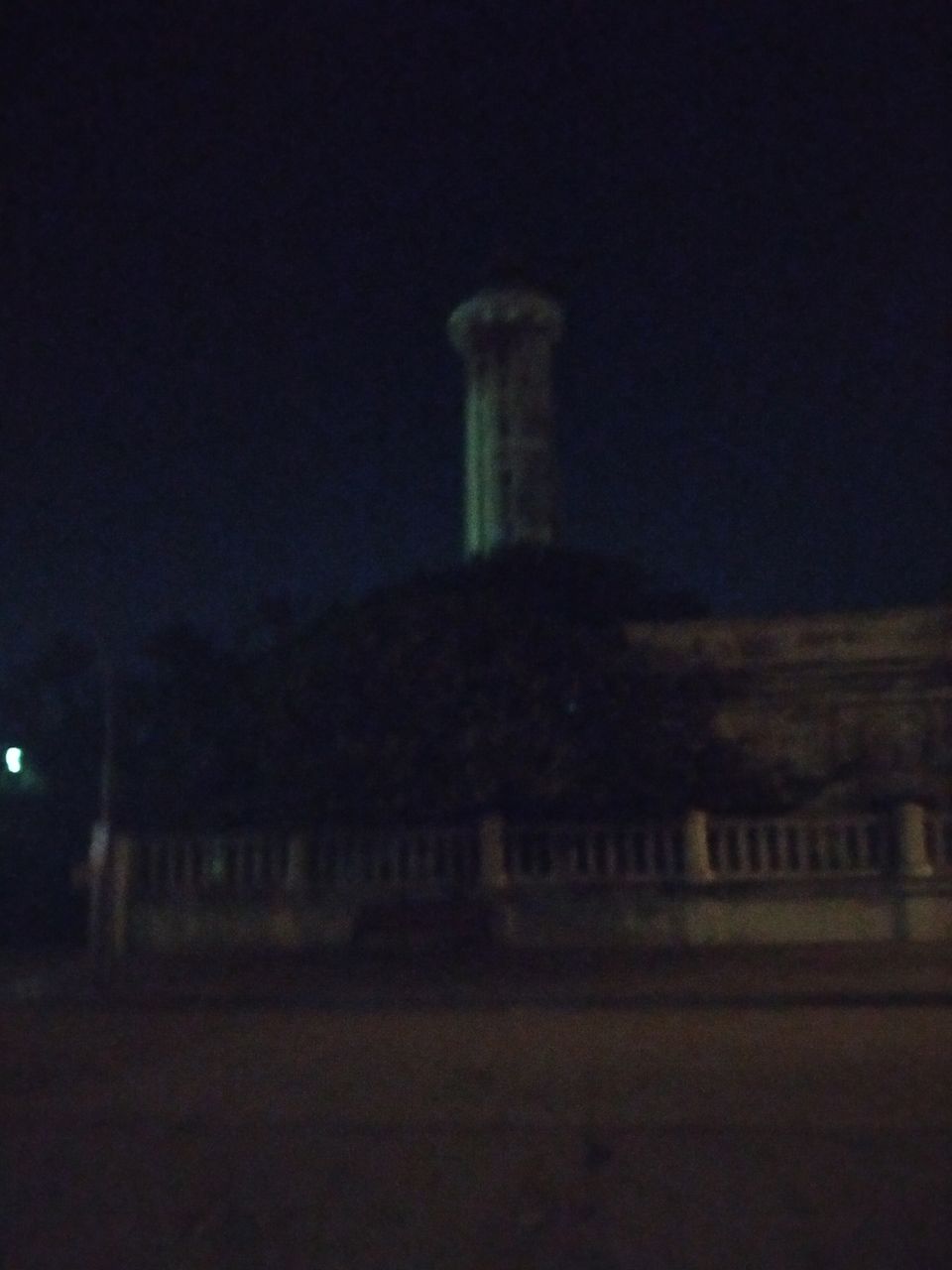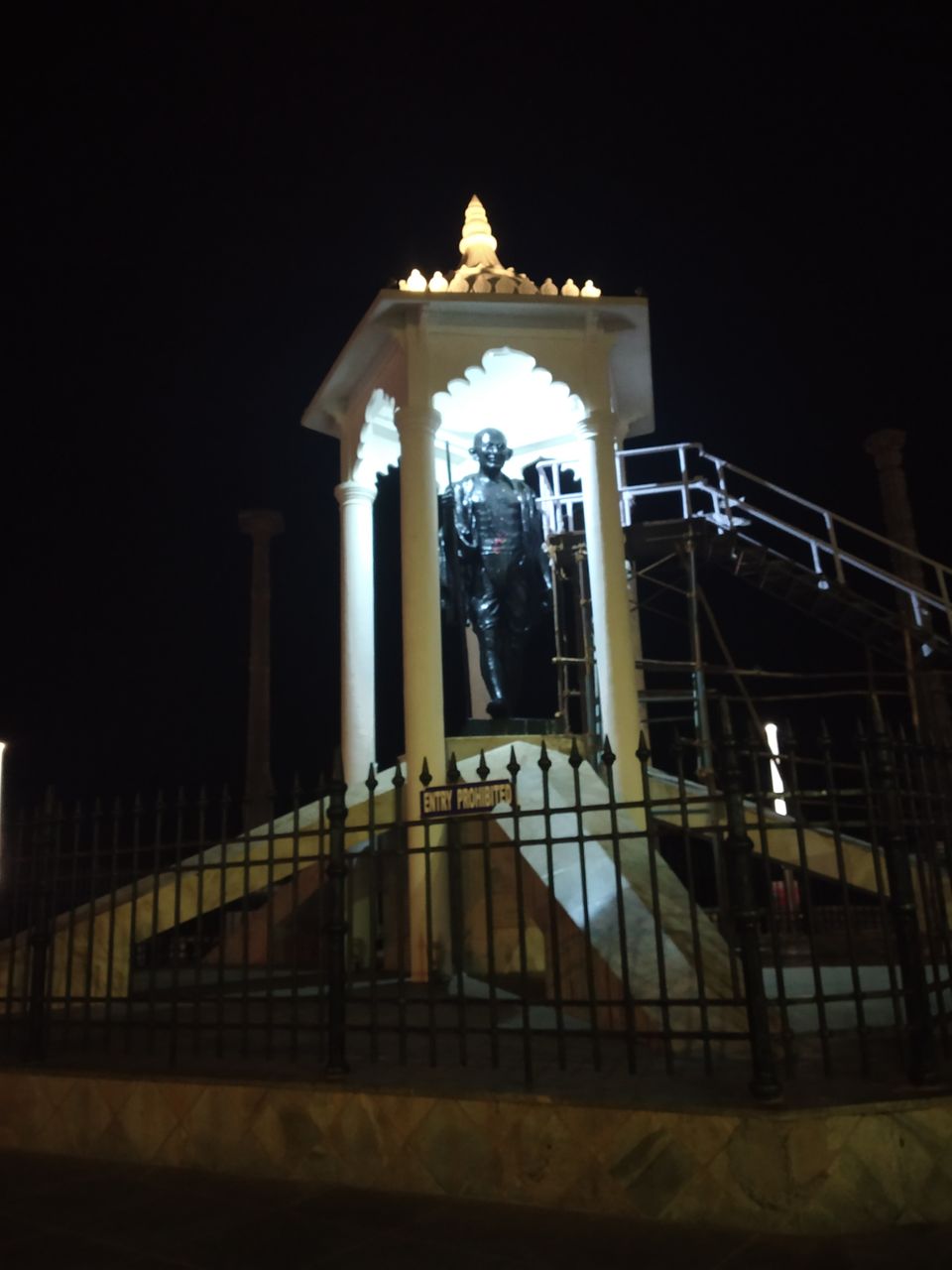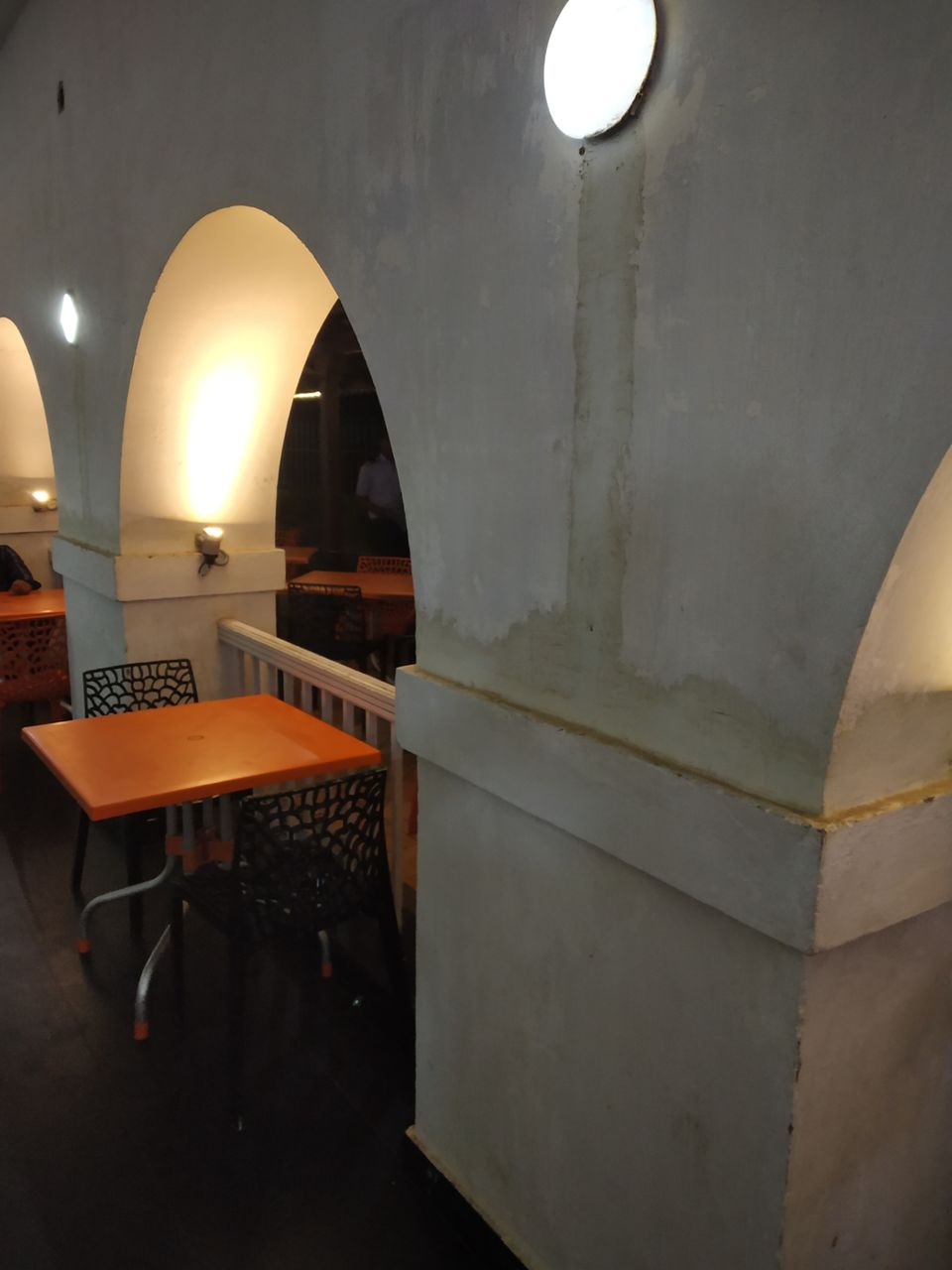 It was third and last day for us in Pondicherry.
In the morning we first went to have a breakfast over the famous Grand Bakery, in the Heritage town. The bakery had lots in the menu but it was quite expensive. The food in looked so delicious that you could not resist yourself from loosening your pocket.
We took Butter Croissant(₹90) and a French cookie(₹80) for us and it was worth the price.
After a decent breakfast we headed towards the Serenity beach. It was around 8km from the centre on the East Coast Road. Upon reaching there we found it was more like a fisherman village than a proper beach.
This beach offers many water sports activities but we could not see any such activities happening.
The fisherman was getting ready to get their boats in the sea and few were coming back to the shore. Fee tourists were seemed to be swimming and enjoying in water.
The heat was getting worsen with each passing minute, so we decided to come back from the beach and head towards Auroville. It was a 15 minutes ride from Serenity beach(6km).
Auroville is an experimental community in southern India. It was founded in 1968 by the spiritual leader Mirra Alfassa as a town where people from all over the world could live in harmony. Its focal point is the Matrimandir, a futuristic, spherical temple covered in gold discs.
We found the foreigners on bicycle and moped and understood we reached Auroville.
We parked our bike in the designated parking area and continued our walk towards the Information centre. This area has a few eateries which serves French and Indian cuisine, shops and an Information centre, describing the motto and meaning of Auroville.
For entry to the Matri Mandir viewing point we grabbed a pass from the desk on spot which was free of cost. And for the meditation centre one needs to book in advance, which we didn't book.
To reach viewing point we walked around 2km in scorching heat and as it was Sunday, it was fully crowded.
There is option to hire bicycles and avail bus service to reach there but we preferred to walk.
Although it was supposed to be maintain peace and remain quiet but tourists were seemed to laugh loudly, and shout.
But moreover it was a place worth visiting.
We left the Auroville around 2 in the afternoon and headed towards the new lighthouse.
We forgot to check the timings before going and found it closed upon reaching.(Opening Timie: 3pm-5pm)
We then decided to go to beach which was behind the lighthouse.
It was not actually a proper beach, rather it is called Harbour Pondy. We could see people coming with bikes and cars to booze, as this is the only beach where one can booze on the seaside. Although it is not allowed.
After coming back from the Harbour Pondy, we went to a restraunt in white town and had our lunch.
It is quite expensive to have lunch or dinner in White Town than having at other places in Pondicherry.
After having a good lunch we came back we had a tour of colourful White Town and then later headed back to our hostel and thought taking rest for a while, but ended up sleeping and again woke up in midnight. As it was our last day in Pondicherry and we were about leave for Bangalore in the early morning, we thought of going again  to Rock beach and Le Cafe and ending our wonderful and memorable trip of Pondicherry.
General Information:
1.How to reach:
Nearest airport: Chennai, and few filight operates to Pondicherry from Bangalore.
Railways: well connected to all major railway stations in India.
Bus: All state transport and Private operators buses operates.
Road: from Bangalore it's 310 km(Krishnagiri-Tiruvannamali-Tindivanam)
And 339 km ( Ambur- Vellore)
2.Accommodation: We stayed at Valentine's Hostel which had 8.5 ratings on Booking.com
We were charged ₹350ight pp.
There are many other good hostels                         available at cheaper rate.
3.Pocket friendly places to have food:
Indian Coffee House(opens 6am in the morning)
A2B restaurant
Rolex Hotel
Le Cafe
KFC
4.Transportation in the city:
You could hire a bike or scooty. But the city has overall connectivity through Bus and autos.
My overall amount spent on the entire trip was ₹4000(including fuel).