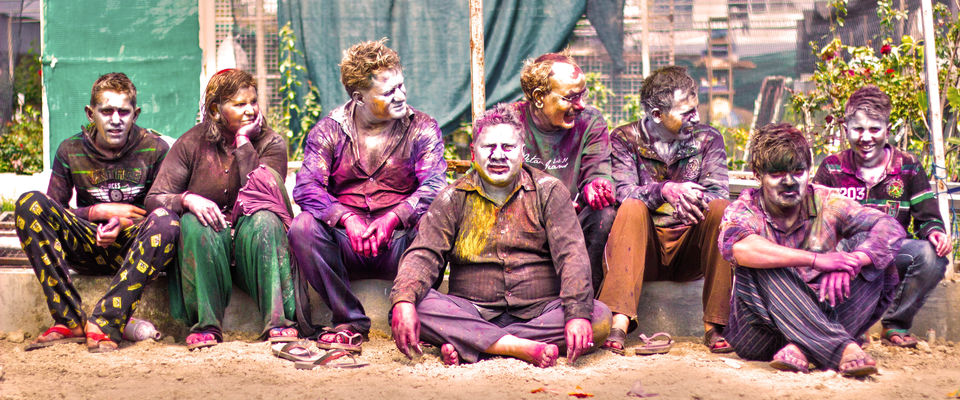 Life is all about the journey to the destination. It's the journey that knocks some sense into you; ironically at times it even knocks you out of your senses. I was always curious to explore around, try out new things, some worked while some backfired. Ever heard about the 12 year old boy who left for school in the morning, but ended up reaching New Delhi Railway Station. Well I am that elephant in the room. Did it bring a grin to your face, but it sent my parents' smile to the oblivion. Yeah surely my balls were of titanium, or probably my mum dropped me head-on when I was little or probably born. Well this is another reason why doctors suggest you on not indulging into sex during pregnancy as the strokes can alter the psyche of the unborn and could result in impromptu retard connoisseurs once 'tis born.
I have always loved travelling. If you ask me what I wanted to be when I grow up, Ian Wright from the Globe Trotter was what I wanted to be, and not the Zebra testicle munching Man vs. Wild fame Bear Grylls.
It was a fine weekday of July and as usual on previous night I had been put to bed by supplying sufficient dosage of disciplinary actions by my folks. I had around 300 – 400 bucks with me roughly, Hero Devil my ride, black with red texture. Sturdy and Cool! I had been planning to run away from long not because I couldn't handle the life of a 12 year old, all that homework, getting my ass whooped, or chasing the fireflies in search of unicorn. But it's the Hollywood famed 70 mm that intimidated me to backpack and explore. Delhi appealed to be the best sort after destination.
Big buildings, flashy cars, and Appughar! I had no idea what I would do once I am there or where would I go? I was probably thinking that being a black belt in Karate and all those Karate Camps have taught me enough for survival. LOL! I was up at the first wake-up call by my beautiful mother; I probably thought she was a descendant of Hitler. Jaat parents are fucking hardcore, nothing is mediocre about them - be their love, punishment, hard work or their witty one liners. Imagine last year when I was 25 and I broke up with my girl who loved me dearly and I treated her like shit. I was all sad and gloomy as I realised a vital organ that pumps blood missing. Heart broken I sat watching Fifty First Dates with tissues in my hand. My mother sneaks up on me, runs her fingers through my hair, and asks if she could do anything to make me smile. I expressed my desire of her telling a joke, now adhere to what I am about share, she replies, "Son the last time I made joke was 25 years ago, and I am still repenting it, so I don't make "Jokes" anymore."
I got ready quite early, and I demanded my mother to give me two apples instead of one, as I knew it would be a long journey and just one apple wont be enough for the day. Even though I have smoked herbs worth more than the weight of my body, neither my brain cells are dead nor any memory loss. I quickly packed my bag, careful enough not to miss out any books, that might hint my folks about my crooked plans, that would give them migraine. Hats off to them for handling a nightmare like me. Though this wasn't the first time I would be running away or the last time.
I had a routine bound life with a curfew time of 6 p.m. on even days as on the odd days I had my Karate classes. Iron and Wine's Upward over the Mountain's lyrics made more sense to me. Sons are like birds flying upward over the mountain. Some kids just cannot be controlled; we can be a freak show of all sorts.
Coming back to my first solo inter-state journey. As I paddled my Devil across the city en route Railway Station (obviously I ain't Lance Armstrong that I could cycle 250 km), saving my glances from familiar faces. I reached the station at around 7 am. Standing in a queue for tickets, I had a cheerful grin, it was happening. Finally the kid was escaping! I had no idea that my actions would break my mamma's heart. I enquired about any train to Delhi, and Mussoorie Express was it. One of the slowest trains in the entire Aryavrat.
What was surprising is that none of the people around doubted my intention of running or perpetually questioned themselves what a kid with school bag, dressed in uniform is doing at the Railway Station. I even got my cycle booked and boarded, even the railway personals bought my lie that I am heading home, and my parents are out getting luggage and various other stuff. Either I was a confident liar or may be a guardian angel always hovered around me. A coolie helped in getting tickets to getting my cycle booked up in the train.
It was still time to board the train. The coolie lived in a shelter next to the station and asked me to sit there until my departure. He enquired if I am running away or what? And I told him I was heading back from the hostel. Somehow everyone bought my lie. The room was damp and dark. It had a tiny television set and Suryavansham was been aired. I was thinking what am I doing, will I ever come back home or what am I going to do? I was blank, a bit sad for sure that why am I like this, why I can't ever communicate my thoughts. But the witty dialogues from the film caught my attention and I was soon engulfed in it. The clock struck 8:30 and the train was ready to be boarded.
My heart was racing, there was no fear or anxiety, till date I go through the reminisce of the journey, there isn't any regret as these incidences shaped the person I am today, good or bad I hardly care, but surely alive. There was hardly anyone in the train coach, not even the TT came to check my tickets. The train halted at every station, it was more of a passenger and I don't know why the hell was it called express. As the train entered Haridwar a sea of heads appeared, gushing, pushing one another to get into the train. A family came and sat next to me, even they seem pretty cool and sorted. They asked where am I headed to, and the same lie Delhi my home, my school got over, I stay in a hostel here. If you didn't figure it out yet, I am from Dehradun and raised to be a blue bleeding, charming and intimidatingly handsome.
The sky was clear, but suddenly it started to pour down, I was asleep with my head resting on arms that found refuge on the windowpane. As I woke up, the trance of running away was over and I started missing home already and I knew this wasn't a smart move. Bummer! Though the communication at home was always less but once I saw my parents each day my fear, anxiety, pain and anger all vanished.
I couldn't tell anyone, fearing I might get abducted. I could have hopped off the train at the next station, could have given the call home and cooked up another story. But by this time fear had already gripped my soul. I wasn't much focused on my studies and I remembered I hadn't done my homework for days now. So completing it seemed more feasible as it would help me deviate my mind of the wrong decision I took.
The lady of the family started talking to me and that is what I didn't want.
"How come your parents didn't send anyone to accompany you for the journey, how irresponsible are they?"
Tears started rolling down my eyes. She embraced me, brushed my hair with her hands, more she did, more I missed my mom. I promised myself, if I get home back I am never running back again.
Right before the sunset, the entire family started chanting hymns in a symphony. There is something about spirituality in our country; even though temples are full of chaos, but it is there one finds the answer to many unanswered questions. I won't deny I am the same Santiago from The Alchemist. By this time I had completed my mathematics and science's homework, it felt as if a heavy stone was lifted of my chest. At least now when I would go to school (if my parents accept me back) now I won't be cursed by my teachers for running away as I didn't do my homework.
I knew I had to pick my bicycle; none of my belongings were lost. The train entered Delhi station at around 8:30 PM. I had all sorts of things going on my mind. I spotted a coolie and asked him that I need to take my cycle; the poor fellow helped me out. I asked him if he could lend me a few spare changes, as I need to make a call home, so that someone could come and pick me. I dialled back home, my dad answered and I broke down exasperatedly (I think that the cry was annoying but don't judge me I was merely a decade and two years old). I could have said that I was abducted or some thing else but told him that I am in Delhi and told him that I have both my cycle and bags with me.
He enquired as to who helped me out there in obtaining my cycle. I told him a coolie who even lent me money to make the call. He asked to pass over the phone to him. He was made aware of my scenario, and he asked if I wanted to eat anything. I just wanted to be back home. My dad called his sister's son Rajiv to pick me up and now even they were made aware of the child who ran away from home with his cycle.
Everyone was worried because of me. But I was just a kid who had been too confined for long. He needed to escape to break the mundane life with no friends or any confidant by my side. If there was anyone who was close, I could have shared and may be then either dropped the plan of running away, or taken them along. Usually it takes 6-7 hours by road to reach Delhi but the train was damn slow I left the station at around 9 am and reach just 30 minutes prior to make it a 12 hour journey.
Rajiv bhaiya took another half an hour to reach. I didn't know what his reaction would be. He was scared, worried and may be disappointed in me. But who thought of all these back then. He took me home informed my parents that I was fine, and the next day my parents were there to pick me up. Refuging in Rohini, as I saw my parents I couldn't control my joy and embarrassment as I ran towards them and as usually they embraced me in their arms. This is not an blogpost to provide people necessary boost to run away, but to share my thoughts about how early can anyone be struck by wanderlust, and if that Orchid kid is not paid attention to, it can be devastating or liberating depending on what he architects his life into.
I was sure I am going to do something phenomenal in life. But trafficking arms, and drugs while managing some of the biggest Raves in the Nation, even before Sunburn or Supersonic started, surely wasn't what anyone could have ever expected.
Wait for the next blogpost........
Frequent searches leading to this page:-
places to visit in dehradun in evening, must see places in dehradun, places in dehradun to hangout, places to visit in dehradun near me, auli package from dehradun