We often travel to get away from home, but the most special travel experiences for me have been the ones where I found a home away from home. One such memorable experience was when I travelled to Dehradun over a long weekend in August. Heavy rain in Himachal had rendered my beloved mountain getaways inaccessible, so I decided to give Dehradun a chance.
I normally prefer secluded destinations for my trip, so I was fairly apprehensive about heading to someplace as mainstream as Dehradun. It was then that a friend suggested a property to me that was located 15 km from town – Vanzara, The Forest Retreat. I made my bookings and very soon my cab was cruising alongside Rispana River. I was on my way to Vanzara.
Discovering the beautiful Vanzara
Taking a detour from the main town towards Dhaulas Village, the car went through narrow alleys between villages and wide roads surrounded by lush green forests. It was an overcast afternoon and a slight drizzle welcomed me! My car continued through winding roads till we halted at the palatial gates of Vanzara. I could see a majestic villa at the heart of a 2-acre land that bloomed with tall trees, plants and flowers. I couldn't believe that something so grand yet cute could exist in the middle of nowhere.
I rushed into the house to protect myself from the rain, and was instantly overwhelmed by its stunning architecture. I had entered what seemed like a lair of immense beauty and positivity. In my heart, I just knew that this was going to be a special trip. Vanzara was bathed in white and each corner stood out beautifully with souvenirs from the family's travels around the world, artefacts from different regions and of course, books!
Coming from cramped Delhi, I was overjoyed to see that the house was spacious and as airy as it can get. Concrete walls were replaced with tall bay windows and a sky-light adorned the living area's ceiling, flooding the house with natural light. Cool and wet monsoon winds gushed through the home, leaving the wind-chimes singing, spreading the aroma of unbridled nature and nourishing my soul. The ambience of the house was extremely dreamy and romantic, and I was in love.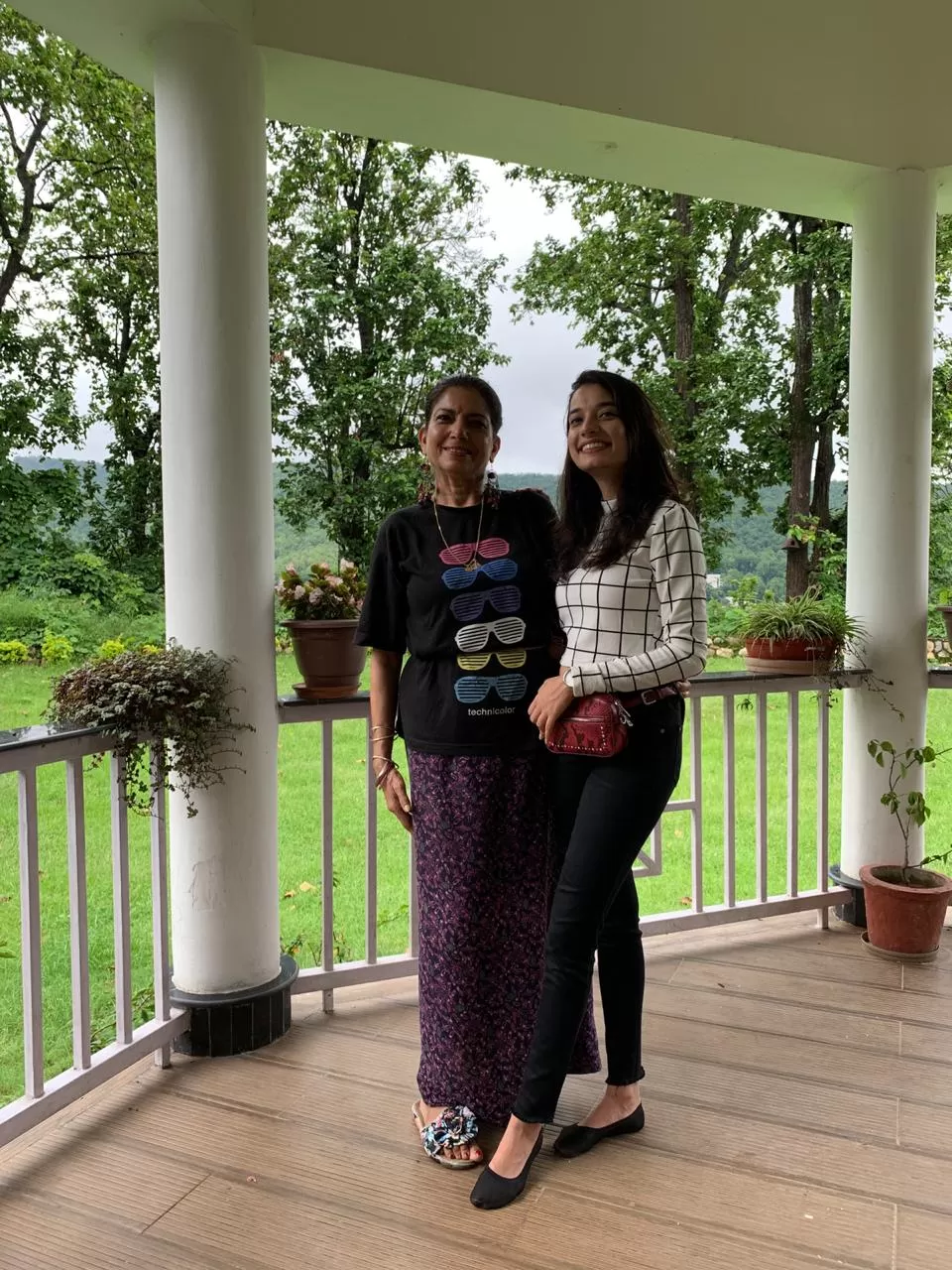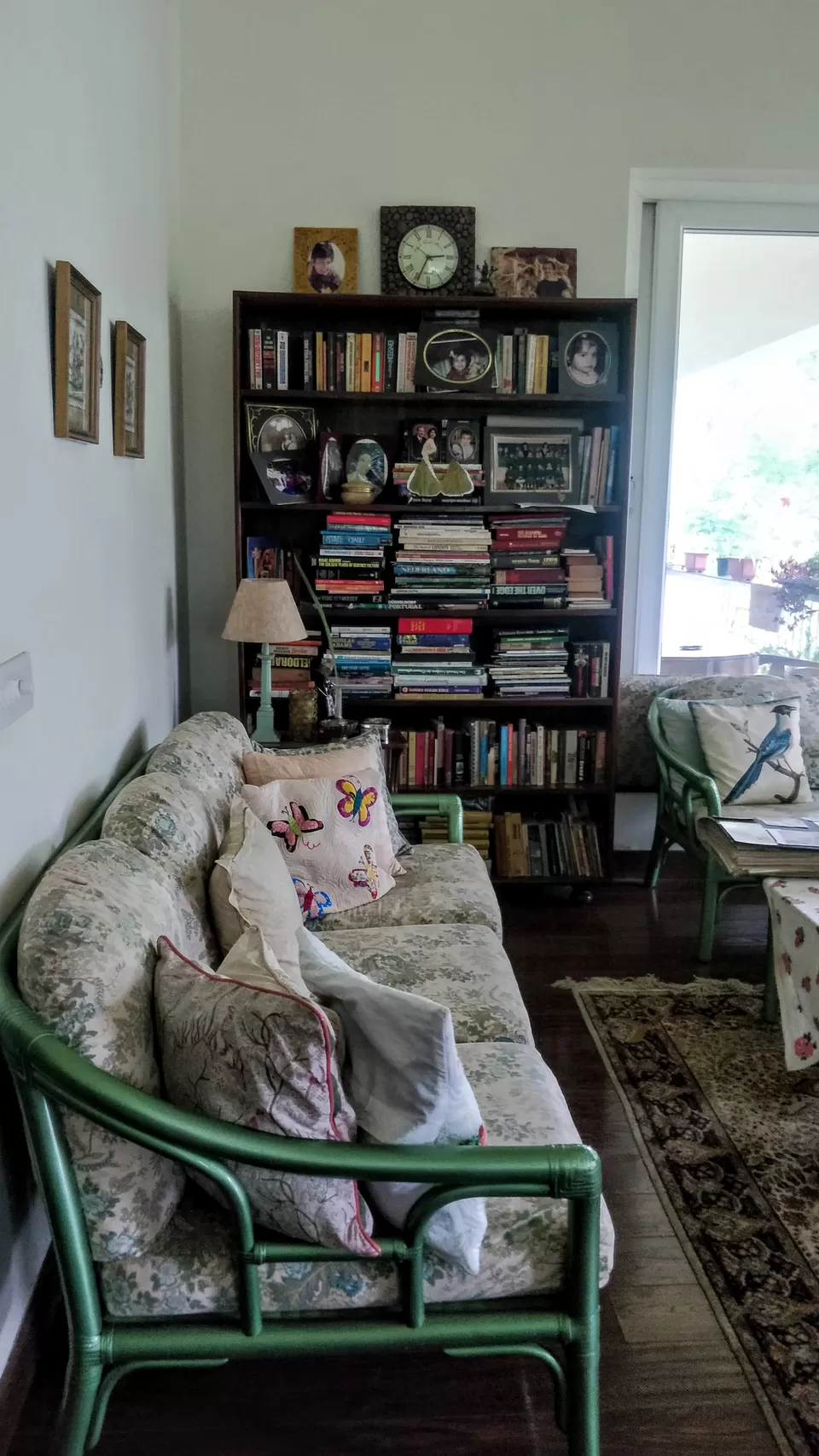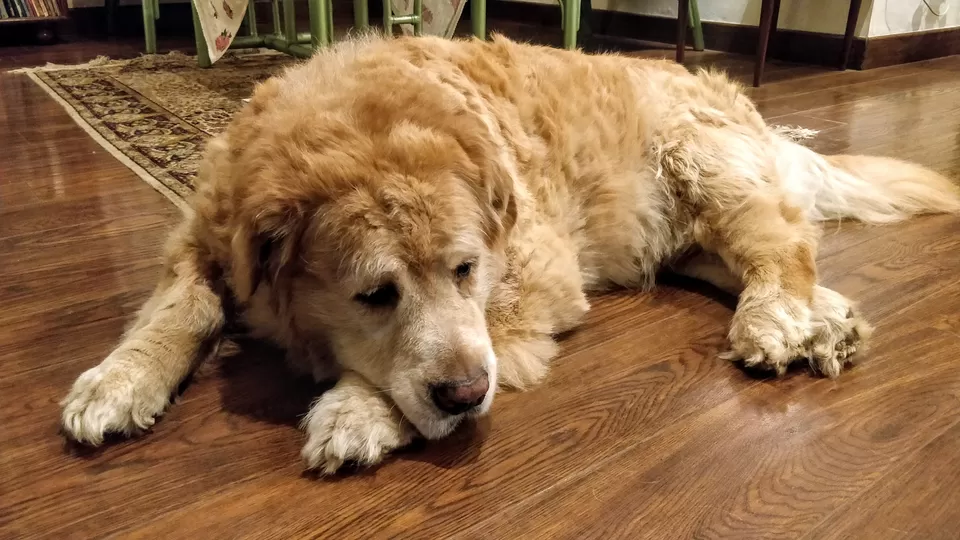 I was warmly greeted by my hosts for the weekend, Unnati Aunty and Subhash Uncle. This vivacious couple has established their retirement home in the lap of nature and Vanzara is their little sanctuary. Luckily for us, they've opened the gates of their lovely home for others to experience. I have never met anyone so gracious and loving towards strangers. Uncle and Aunty's affectionate warmth made my vacation all the more special. It was wonderful to see Aunty gracefully float about the house, talking to her plants and cuddling their Golden Retriever, Amigo. She seemed like the heart of Vanzara that nourished every element of her gorgeous home. Throughout my stay, there was never a dull moment with Aunty and her enthusiasm about the little things in life was a much needed breath of fresh air.
I am usually enthusiastic about the outdoors of whichever place I'm visiting, however, the rains and the comfort of Vanzara compelled me to stay tucked inside, and for once, I thoroughly enjoyed it! I got the chance to curl up in a blanket and read in their book corner, lounge in their gazebo, cuddle Amigo and enjoy the pitter-patter of raindrops while munching on snacks lovingly made by Shyam Bhaiya. One of the many things I loved was my room. Usually on trips, my room is the one place I use the least, but at Vanzara, I didn't mind staying in at all. I had a premium room with amenities, comfort and warmth that no upend hotel can offer, all to myself! My favourite corner was a tiny sitting area that overlooked the lawn. I'd sit on the window-sill with my legs dangling out, and gazing at the endless blue of the sky.
I had never felt so much at home in a new place before, and I wish I could stay at Vanzara forever.
Delicious home made food:
I live all by myself in Delhi and mostly survive on takeout food, so when I realised that I would get home-cooked food, you can only imagine my excitement. Shyam Bhaiya is a pro at cooking and can whip up a scrumptious spread. I had delicious north-Indian food and was surprised at how great dal and sabzi could taste. One can also request them for chicken, mutton and fish, as well as continental dishes. Since Vanzara is a home, don't forget to place your request well in time so that the ingredients can be arranged.
Exploring places around Vanzara
Lounging by the river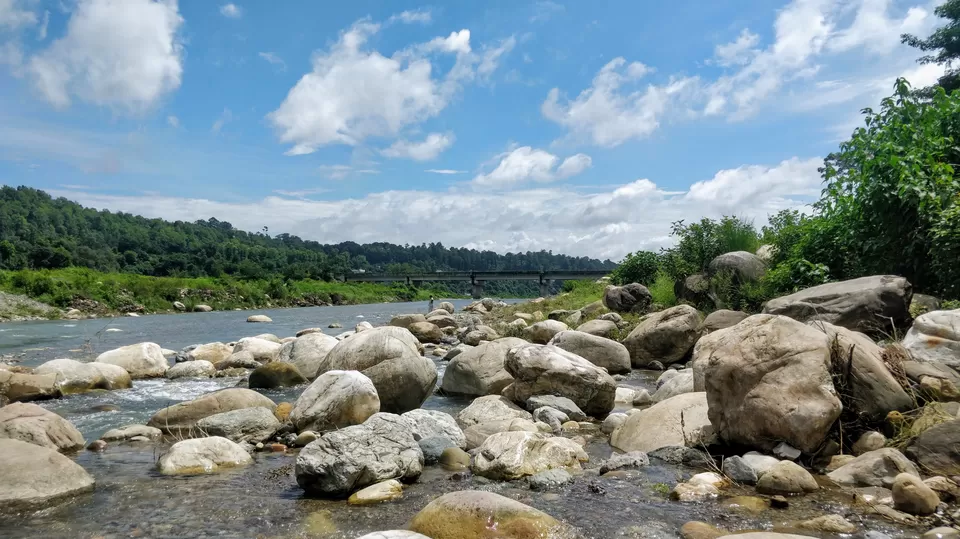 A river flows right beneath Vanzara, so you can take a walk in the forest and then descend to the river-side. You are sure to spend hours by the river side; you might even want to take a dip! The best part is that this area is comparatively unknown, so unlike touristy spots, you won't have to wade through maddening crowds.
Trek to Karni Mata Temple
The temple of a local deity is situated on the top of the hill opposite Vanzara. A half an hour's trek will bring you to the temple, from where you can enjoy stunning views of the valley.
Taking a walk through villages
There are a number of villages situated a short walk away from Vanzara that make for a wonderful stroll in the evenings. Witness village life, explore the forests and lose yourself amidst nature. I went out for a walk even though it was raining, and it was a beautiful experience to say the least.
Visit Dehradun
If you've gone all the way, it only makes sense that you also explore the city of Dehradun. Visit Robber's Cave, Shahastradhara waterfall, Mindrolling Monastery or take a day trip to the mountains of Mussoorie and Landour.
How to get there
Road:
If you're driving from Delhi, Vanzara is around 270 km away. Follow the route:
Delhi – Shahadra –Khatauli – Deoband – Nangal – Dehradun – Dhaulas – Vanzara.
Alternatively, you will also find Volvo buses running frequently from Delhi to Dehradun and back.
Train:
The most convenient way to reach Vanzara is to take a train from Delhi to Dehradun. Take the Shatabdi Express that starts at 6.00 am from Delhi and returns at 4.30 pm from Dehradun. It takes only five hours to complete this journey. From the station, Vanzara is only a short drive away.
Air:
You can also take a flight from Delhi to Dehradun. Airlines like Spicejet, Air India and Indigo offer frequent flights to and fro the two destinations. The journey is only 45 minutes to 1 hour long! From here, Vanzara is only a short drive away.
So if you're looking for a short getaway that will rejuvenate you, then visit Vanzara. Let it cocoon you in its warmth and you will soar through its magical wonderland!
Visited a place that you fell in love with? Share your story by creating a travelogue here on Tripoto.
Explore the best of travel inspiration on Tripoto Instagram!