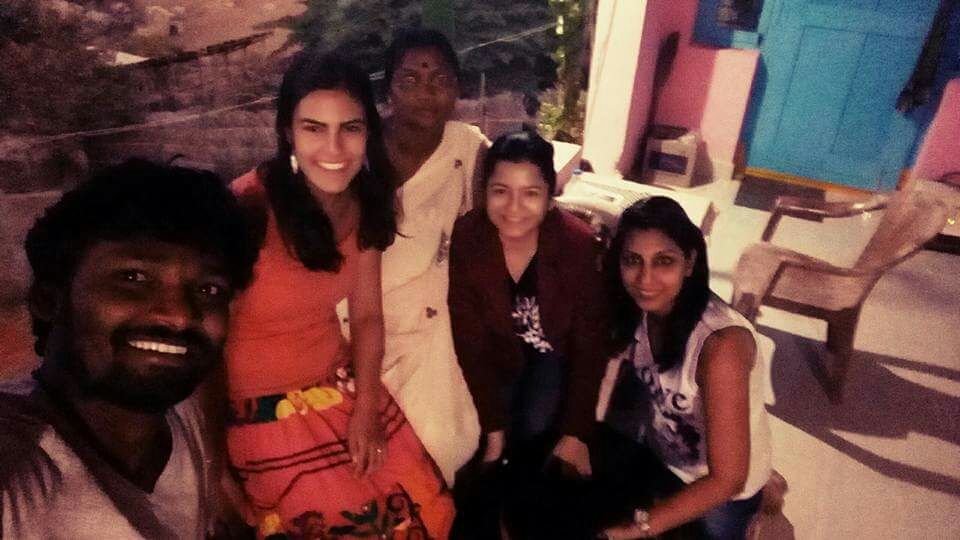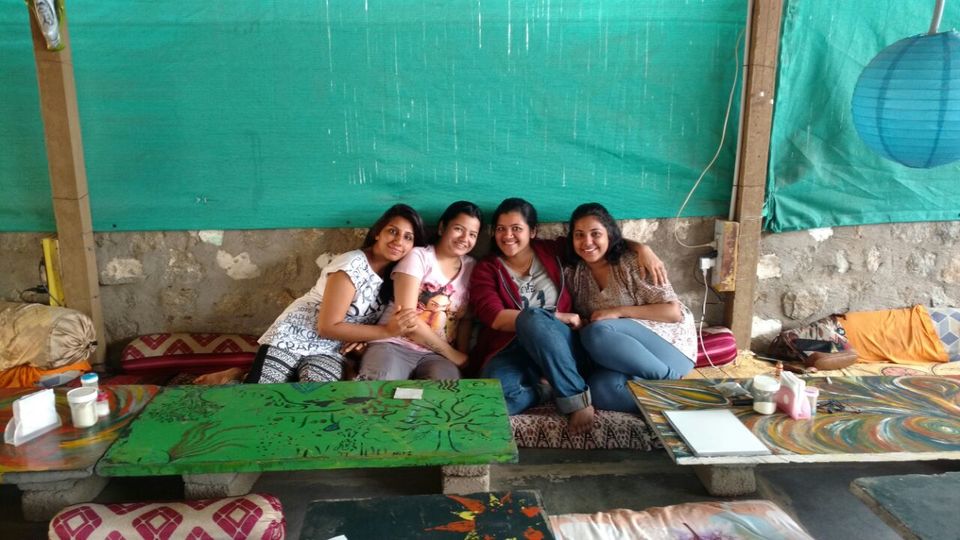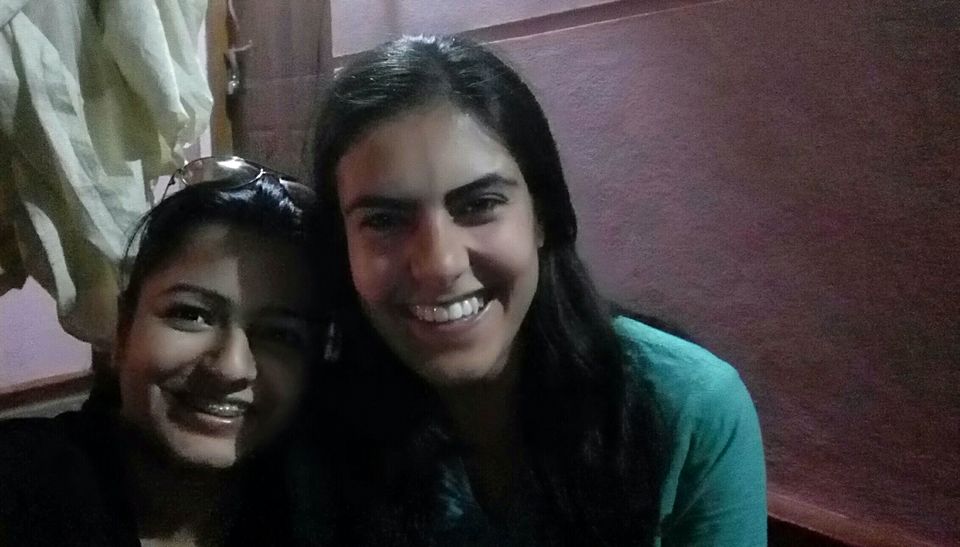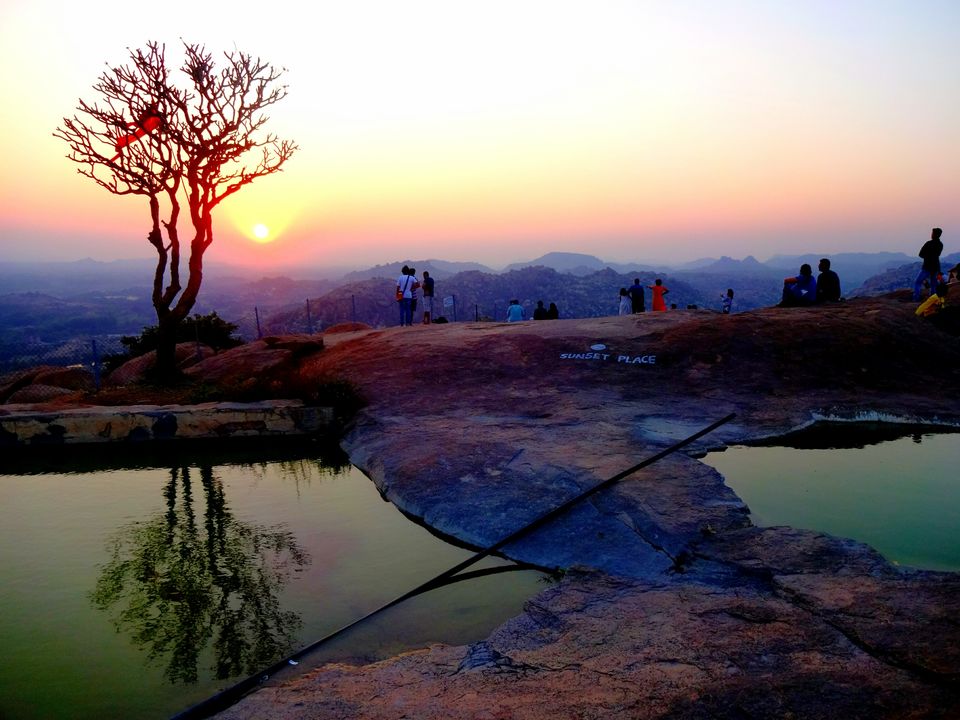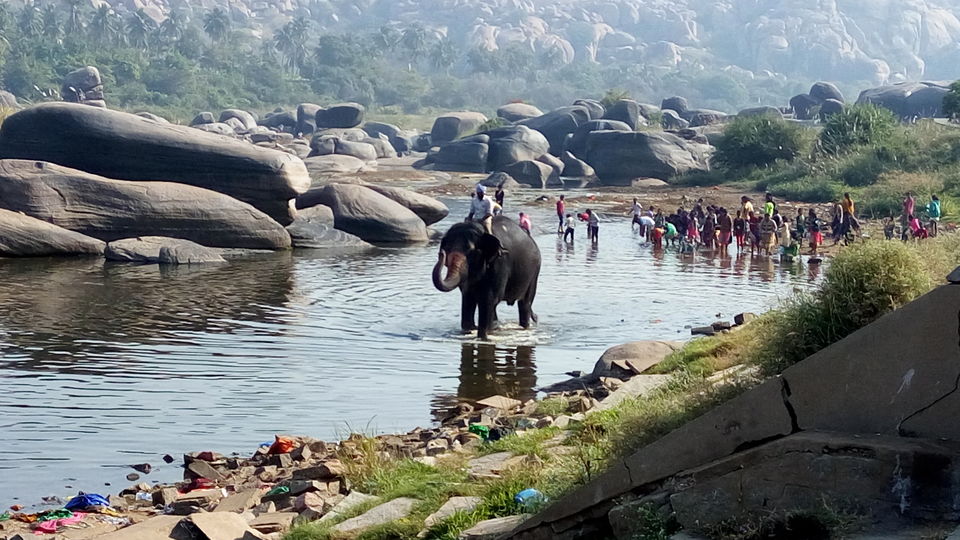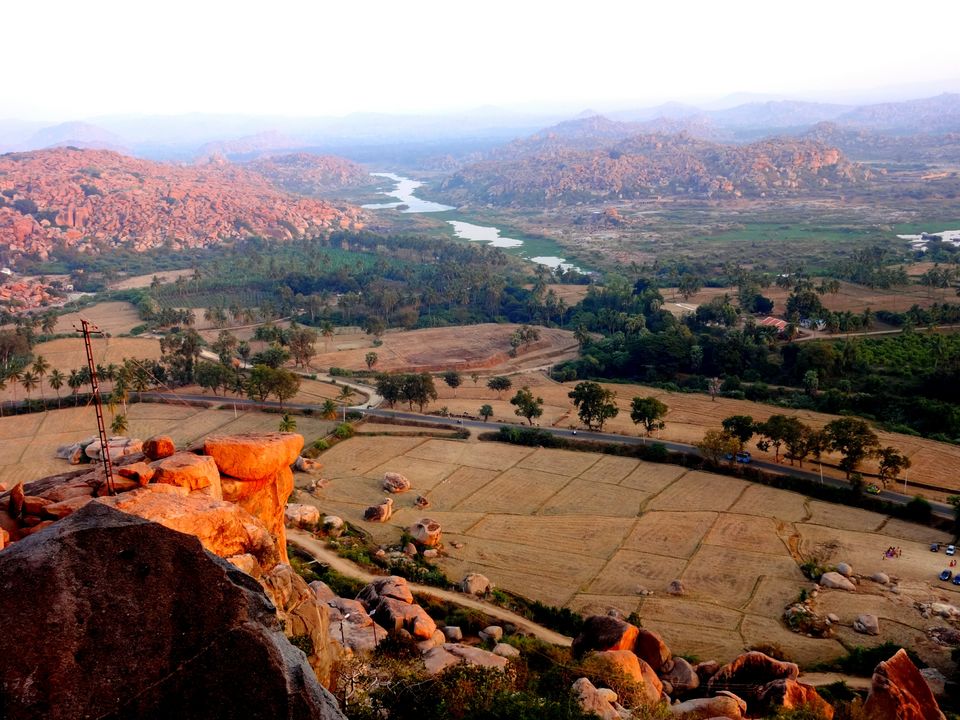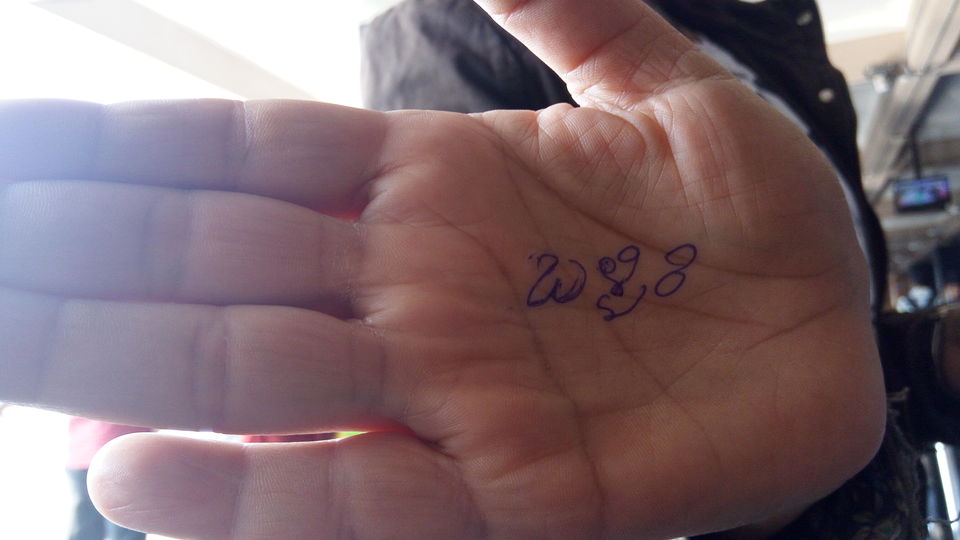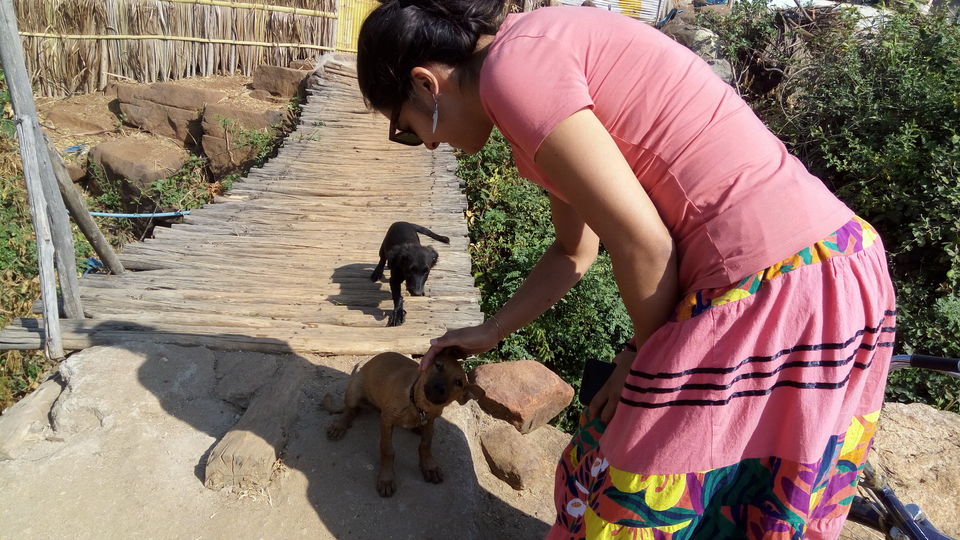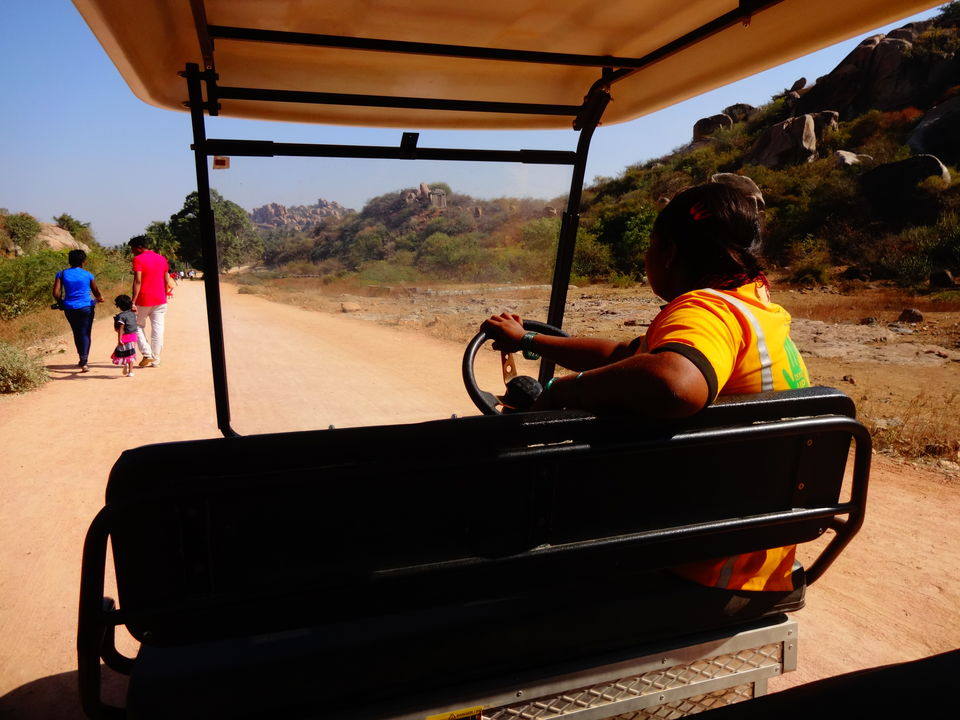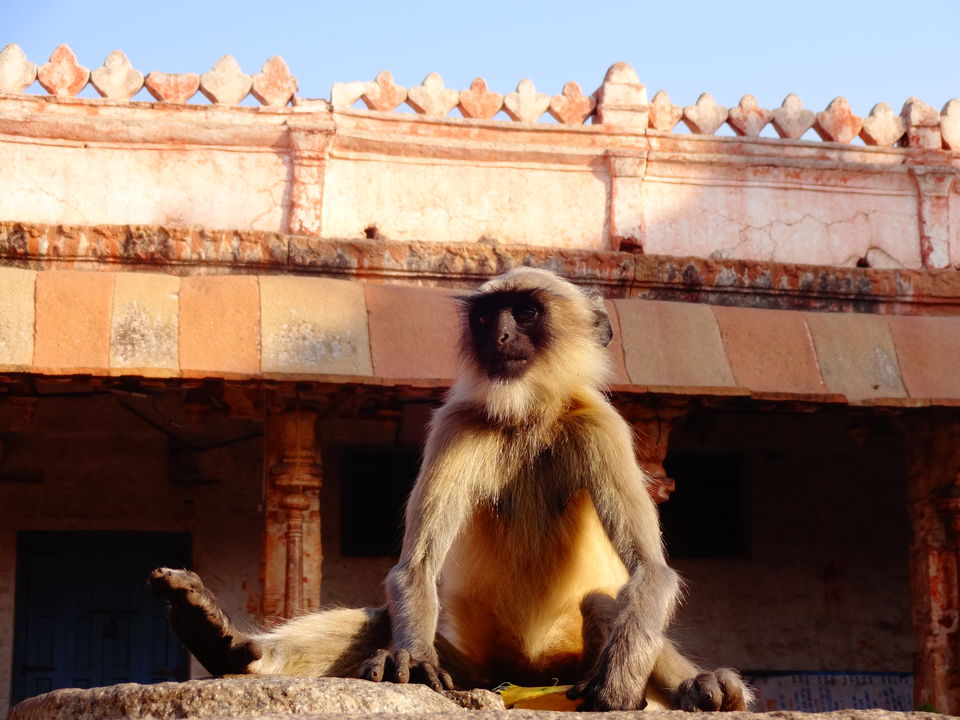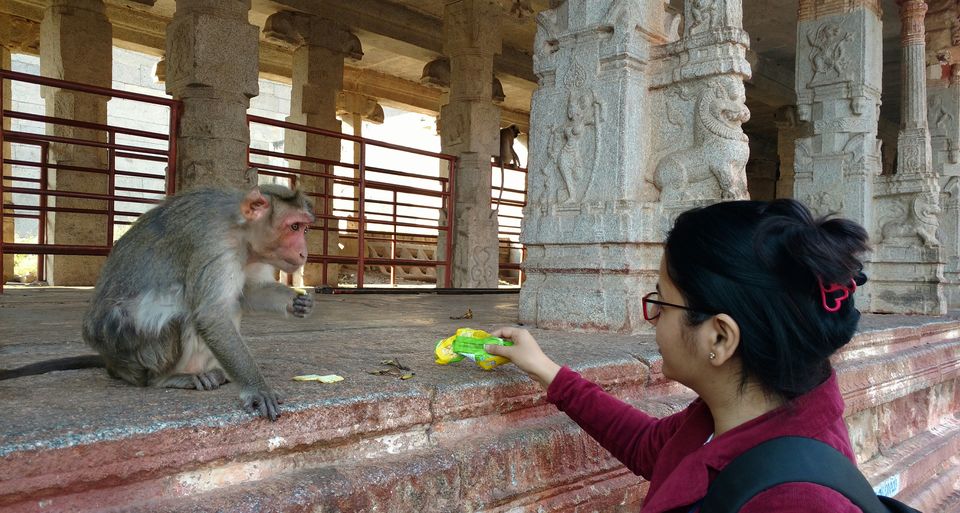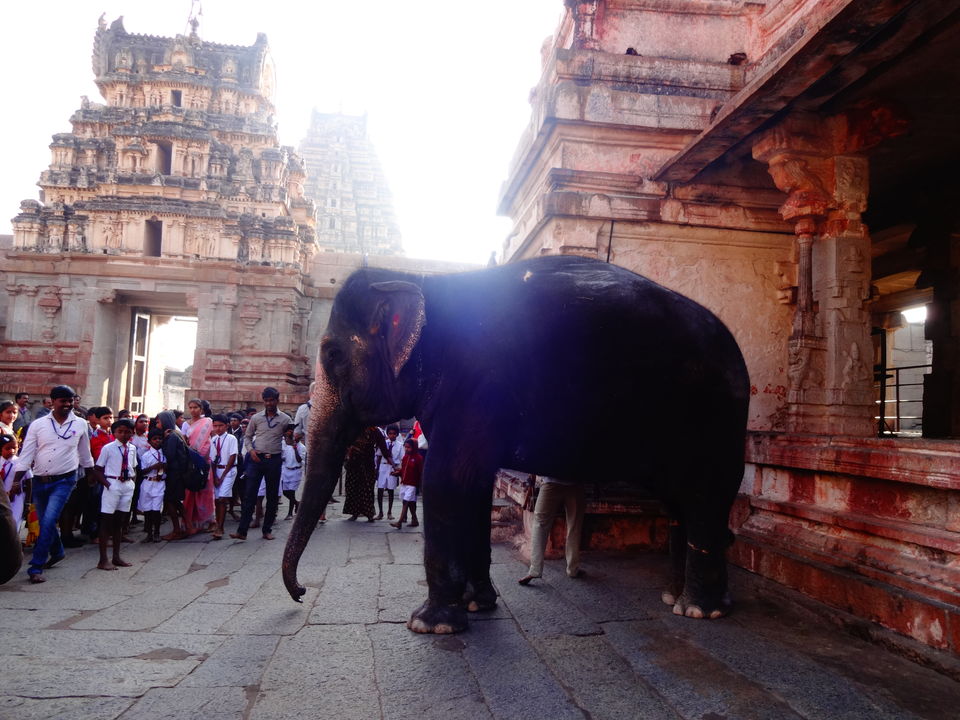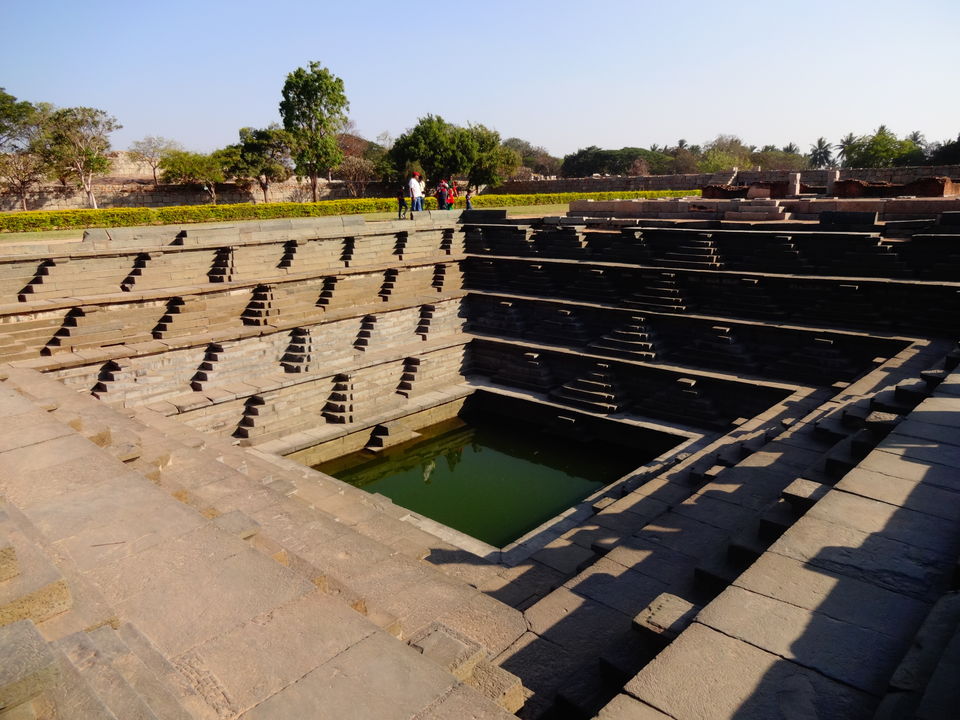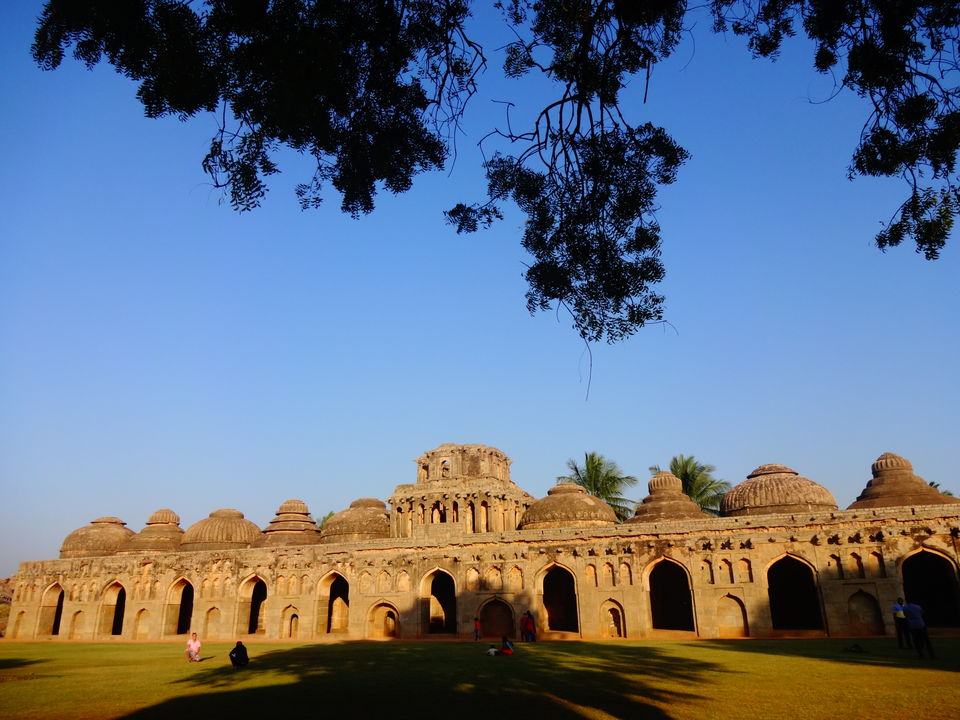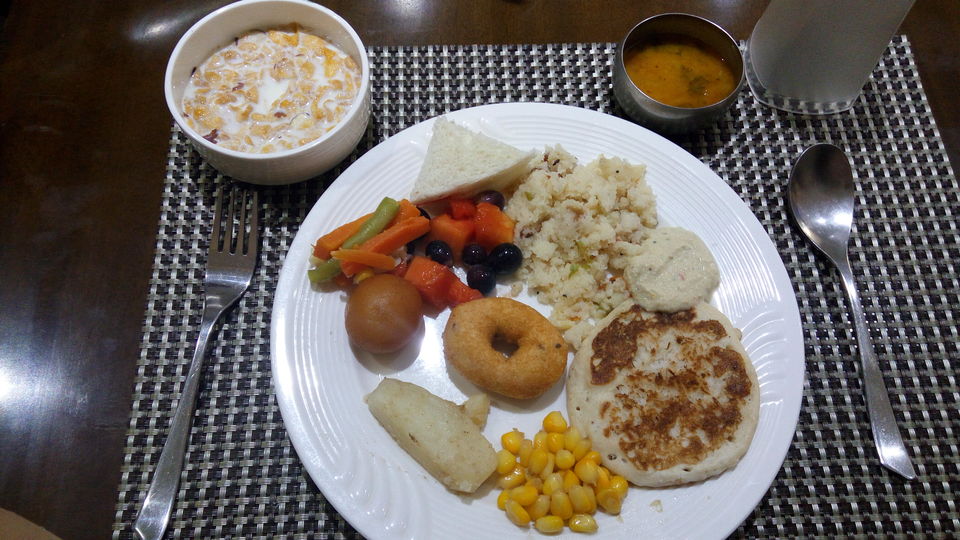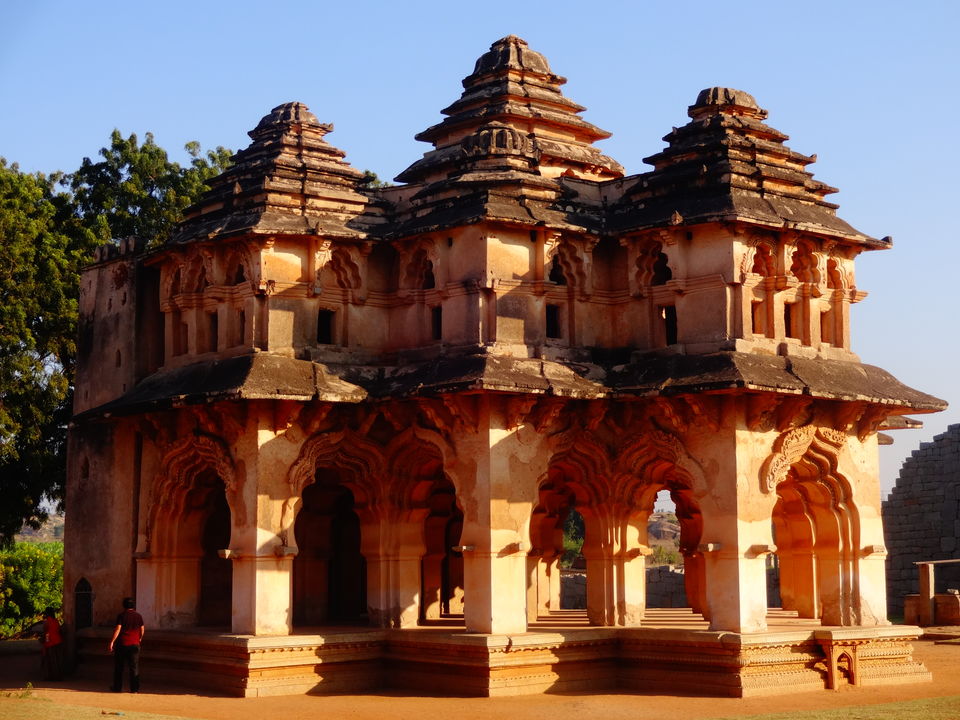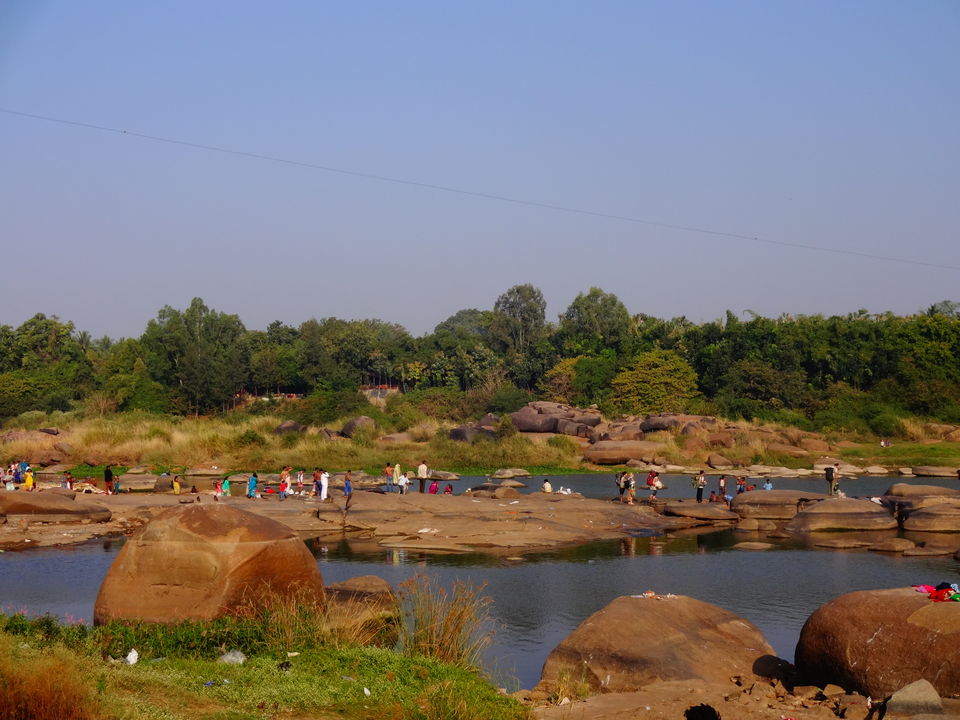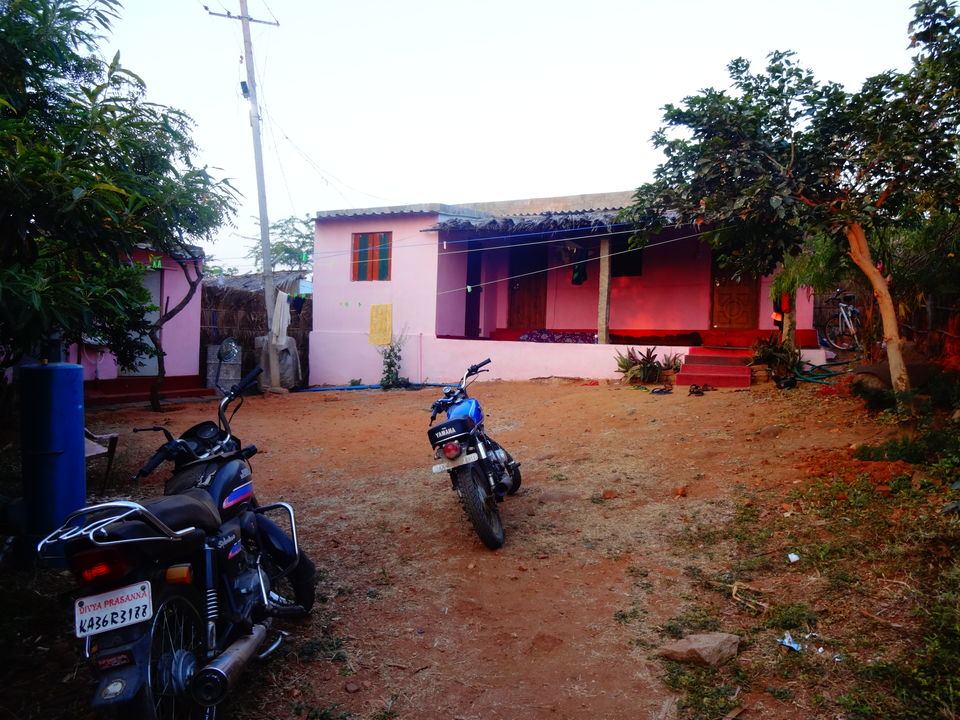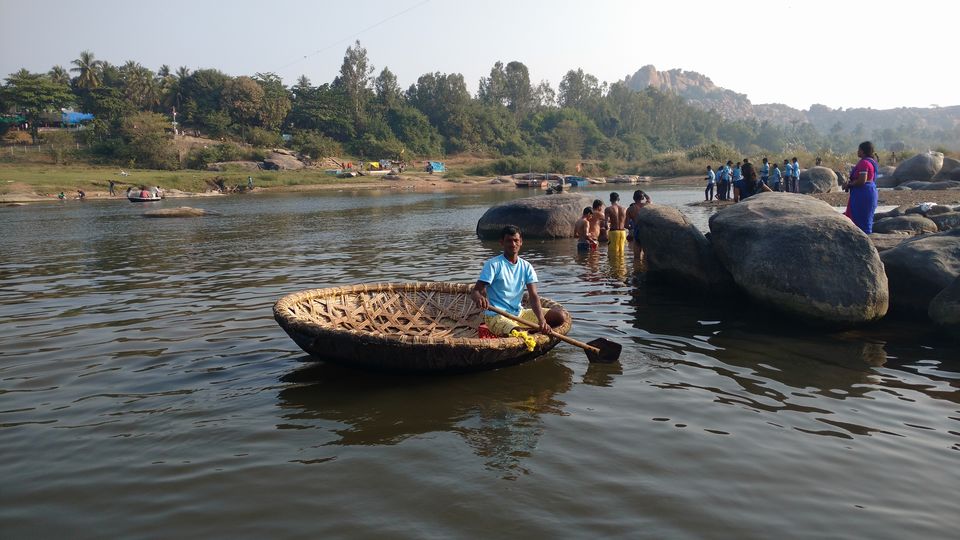 Hampi is magical! Hampi is happiness!
Happiness is making random plans to travel.
Happiness is being helped by strangers on the road who treat you so well that it is overwhelming!
Happiness is backpacking trips.
Happiness is travelling in local buses from one place to another during the entire trip.
Happiness is meeting our hosts Murali and Sha.
Happiness is eating hot maggie cooked by aunty and having long meaningful conversations with lovely people that stretch till early mornings.
Happiness is having pickle and rice for dinner and relishing every bit of it.
Happiness is meeting new people from all over the world, knowing about them a bit, opening yourself a bit to them.
Happiness is being helped by an elderly couple from Paris help you cross a river barefoot late at night.
Happiness is making plans to wake up at 5 am to watch the sunrise but not waking up to it.
Happiness is climbing 550 steps to watch the glorious sunset in the mountains.
Happiness is playing with a furry friend and getting licked by him all over.
Happiness is visiting the ruins and knowing about our history.
Happiness is conversing with an auto driver who has done innumerable random jobs before becoming a guide & driver.
Happiness is talking for hours on end to the shopkeepers and knowing a little more about their lives.
Happiness is chilling out till late night at café s with travelers from all over the world.
Happiness is feeling completely safe while trekking late at night on a deserted road to reach your homestay.
Happiness is waking up to the mountains, singing of the birds, rice fields and gurgling sounds of a river.
Happiness is watching local women sing folk songs on your way to the homestay.
Happiness is getting lost in the trail and still feel happy about it.
Happiness is celebrating a birthday in the middle of a trip.
Happiness is running around and playing with 20 chickens.
Happiness is bathing Lakshmi in the river.
Happiness is meeting innocent and helpful people who go out of their way to help you.
Happiness is gazing at the stars and looking for a shooting star all night.
Happiness is meeting a mother daughter duo who talk about their travel experiences.
Happiness is helping the young and old who are relentlessly climbing steps to visit the birth place of Hanuman ji.
Happiness is the warm hospitality of a Nepali shopkeeper.
Happiness is learning how to climb boulders.
Happiness is meeting an aged couple who have the same enthusiasm for travel as you.
Happiness is seeing a child fall asleep in Sha's lap.
Happiness is learning something from your new photographer friends.
Happiness is being relied upon and considered a safe company by a local young lady.
Happiness is having tea at a dhaba in the evening while waiting for a local bus.
Happiness is a group hug and a group picture.
Happiness is being in touch with your new friends whom you met during your trip.
Happiness is eating local food and relishing every bit of it.
Happiness is crossing a river on a coracle boat.
Happiness is going to a temple full of monkeys who follow you everywhere.
Happiness is feeling the cool breeze on your face when you travel in a bus.
Happiness is appreciating and enjoying the small things of life which really matter and being grateful for them.
I have been wanting to visit Hampi since quite some time now. Almost 2 years. It was only after my husband (whom I met through Tinder :P) motivated me to travel with friends, did I actually start planning this trip with Lipica. :) We decided to visit Belum Caves in Andhra Pradesh and Hampi in Karnataka during the Christmas holidays.
Backpack packed, tickets in hand, excitement in heart, I reached Hyderabad on 23rd December. Lipica's colleague was going to Kurnool with his wife and he offered to drop us off till the Kurnool Bus Stand. From there we had to board another bus for Belum Caves. An act of kindness! Next morning, we left early and after about 4 hours on the road, reached Kurnool Bus Stand at 11 am. The bus stands in Andhra Pradesh are well maintained with installed TVs and chairs for passengers. Lipica went to enquire about the buses leaving from Kurnool for Belum Caves.
Believe you me, the Bus Controller actually asked us to sit in his Control Room, took out a pen and paper and wrote the entire route for our journey from Kurnool till Hampi!! It's always a good feeling when a stranger helps you for no reason.
Travel surely brings back the trust in people which we seem to lose in today's world. :)
He explained the route should be Kurnool - Banganapalle - Belum Caves - Vempalle - Anantapur - Bellary - Hospet - Hampi. He even gave his contact no. and told that if we face any problem during our journey, we should contact him! His guidance was like a bonanza lottery for us! We thanked him whole-heartedly and left to board the bus for Belum Caves.
Important Info - Distance between Kurnool and Belum Caves is 106 kms. If one is coming directly by train from any metro city, they should take the train to Tadipatri and then board a bus to Belum Caves. It is just 30 kms from Tadipatri.
The bus conductors helped us in identifying the correct bus since the bus no.s and destinations were written in Telugu and sadly neither of us knew the language. We boarded the bus with our backpacks and settled for a nice window seat for our journey further.
We reached Belum Caves around 3 pm.
Time for some trivia. :)
Belum Caves is protected, developed and maintained by the Andhra Pradesh Tourism Development Corporation (APTDC). It is the Largest Tourist Cave in the Indian Subcontinent and the Longest Cave in the plains of Indian Subcontinent, known for its Stalactite and Stalagmite formations. It is a natural underground cave formed by the constant flow of underground water. The black limestone cave reaches its deepest point (150 feet from entrance level) at the point known as Pataalaganga. Today, 3.5 kms of the cave has been successfully explored, though only 1.5 kms is open to tourists. There is a giant Buddha Statue near a hillock near the Belum Caves. Belum Caves have a resort too where tourists can stay overnight.
Do visit it!
After buying the Entry tickets which cost us Rs. 50 each, we hired a guide who could show us around the caves and tell us about its history & importance. We were mesmerized by the beauty of the caves and wished the expedition never ended. But as all good things come to an end, this too ended, BUT, on a happy note of exploring an exquisitely beautiful offbeat location! We thanked our guide and gave him Rs. 200 for showing us around for more than 3 hours! He gladly accepted it with a broad smile without even once asking more for his efforts. :)
The world is still a good place to live in! :)
Thereafter, we had a sumptuous lunch at a canteen in the compound of the caves. One small incident happened here which restored our faith in humanity again. I forgot a water bottle which I had bought at the canteen. By the time we went back to collect it, the canteen had closed and all staff had left except one aged man. On informing him, he replied that the person with the keys had already left. However, he was willing to pay us Rs. 20 for the bottle! We refused to take the money and he informed us that the bus for Vempalle would leave in sometime. We stopped by the Buddha Statue on our way out and quickly clicked some pictures for our memories.
We reached the bus stand and waited at a nearby dhaba for our bus. The young boy at the dhaba served us tea, he along with the locales were kind enough to inform us about the bus timings. Since it was getting dark, we were anxious to board the bus. However, the young lad and the local people were assuring us that the bus will come soon. They were even asking all the passing buses if they would go to Vempalle. Half an hour and a few tea cups later, our bus arrived. We waved goodbye to everyone and boarded the bus.
Travel is a great teacher and it teaches us that it's always more about the people than the place. I was loving my trip! As I write this article, I can feel the same joy and happiness within!
We got seated next to a local young lady. We could sense she was a little worried. On asking her, she informed us she was travelling alone and her phone had no charge. Lipica was carrying a power-bank and she charged the lady's phone. Now comes the pleasant surprise, the lady asked us if we would accompany her till the Vempalle Bus Stand since she felt safe with us. Ironic no? We were 2 girls, outsiders, travelling there for the first time and a local lady felt safe with us. :) Nevertheless, we gladly agreed and walked together till the bus stand.
We decided to take a night halt at Anantapur and started looking for a place to stay. We asked few local people about the hotels nearby and they guided us well. So helpful! :) We finally settled for a nice hotel called Masineni Grand.
Next morning we imparted our newly acquired knowledge about Belum Caves to the hotel receptionist (who wanted to visit it too but was unaware of the route etc.) and left for our next stop, Bellary.
We boarded a bus from Anantapur bus stand. Local women with baskets of flowers, fruits, vegetables were travelling in the same bus. It was a delightful experience travelling the local way in its truest sense.
We reached Bellary around noon and the bus conductor accompanied us till the bus which would take us till Hospet. Thoughtfulness! We were humbled and grateful to the core. :) We reached Hospet and the same bus took us till Hampi. We finally reached Hampi, our much awaited destination after so many heart-warming experiences!
There are 2 sides of Hampi, one on either side of the Tungabhadra river. One is the mythological side, which also has all the homestays and café s. Other is the historical side, full of ruins, rocks and ancient history. We had pre-booked a 2 nights stay at Murali's Homestay through Air BnB. Murali's father was already waiting for us with his tuk-tuk when we reached Hampi. After a km full of paddy fields, rivers and mountains, we reached our temporary abode. It was amidst nature with a beautiful view!
We were welcomed by Murali who showed us our room and made us feel comfortable instantly. :)
I guess that's the beauty of travel. You meet different people, try to understand life from a fresh perspective. And being in the hospitality industry, Murali was doing his job very well. He surely knew how to make his guests feel homely. We chatted for some time and then left for meeting his family who lived nearby. Thereafter, we thought of visiting the Sunset Point near the Hanuman Temple which was famous for its glorious sunset.
We met Murali's mother, his girlfriend Sha, his pets Manju (dog) and 20 chickens! After the introductions got over, aunty cooked some delicious hot Maggie for us. They were so warm and friendly, it is difficult to explain in words. You need to experience it to believe it! We shared our life stories and got so engrossed in chatting, we didn't realize the sun had set and it was almost dinner time. :)
We went out for dinner and had a delicious Italian meal at a quaint little café. The shopkeeper at the German bakery adjacent to the café was a sweet Nepali guy. He asked us where we came from, and even suggested us what to eat. :)
We had a lovely dinner and decided to trek till our homestay. It was dark and there were hardly any people around but still felt so safe! We trekked for a km, lost our way, still felt happy about it. :) We asked few local women singing folk songs about Murali's homestay and reached safely after sometime.
Murali and Sha joined us soon after and we chatted till late night. It was a lovely experience to know them a little better, we felt so familiar! We even shared our love stories. :) We wanted to watch the sunrise next morning so Murali assured us he would wake us up at 5 am.
Next day, there was a soft knock on the door, it was Murali, but we were too sleepy to go and snuggled into the bed once again. :P After a few hours we woke up to the singing of birds and clucking of the chickens! We got dressed quickly and went to greet our lovely hosts.
Murali dropped us off till the river in his tuk-tuk. We then took an auto for sightseeing the whole day, since Hampi is very big and it is difficult to cover it by foot in a day.
Thus, begins our Hampi tour!
We were chatting with the auto guy, Anju, and came to know that he has done numerous jobs before becoming an auto driver cum guide. Life teaches everything! :) He promised to tell us whatever he knew about Hampi from his grandmother's stories. :)
We started our tour with the Sister's Rocks. I will not go into the details of the places we visited, instead just mention their names and you can google about them when you visit Hampi next.
This article is more about the people whom we met during our journey and how it made our journey better. :)
Next, we visited the world famous Vittala Temple with the Stone Chariot. Anju told us we need to go inside and he'll wait for us outside. We bought a Hampi guide book from an old lady selling it outside the premises. It was so touching to see her working even at this age!
We hired a guide to show us around the temple. He was very thorough in his work and kept us engaged throughout the historical tour. He even helped us to go to the King's Balance and gave us walking directions. Overwhelming!
On our way to the King's Balance, we met a mother-daughter duo, it was their 3rd trip to Hampi. They shared their travel experiences with us and we learnt that the daughter is an upcoming freelance photographer. She showed us her work in DSLR and the pictures were really cool! I even got some ideas on how to showcase my pictures on a travel platform!
We met an elderly couple and their teenage son too. While talking, aunty informed us that uncle loves to travel both in India and abroad. Their enthusiasm for travel was infectious! Their teenage son attended Art Of Living classes in Kolkata. Seriously motivating!
We then visited Pushkarani and tired of walking in the sun, waved our hands to a motor car to drop us till the main gate of the temple. The lady driver willingly took us in and informed us that the battery was down, so she'll drive slowly. She was young, around 20, and informed us she drives people from the main gate till the entrance of the temple for a living. She taught us to stay humble in life and never take anything for granted. :) We thanked her and left.
We saw Anju laughing and chatting with an old lady selling cucumber outside the temple, I tell you, these small incidents truly depict the true meaning of travel!
He then drove us till the Museum, and after satiating our hunger for history and mythology, we left for Lotus Mahal, where we saw a young tourist merrily chatting away with an old local lady.
Travel surely makes us compassionate. :)
We then visited Hajara Rama Temple, the guide here too gave us interesting insights into the ruins of Hampi. Next on the list were Pushkarani, Queen's Bath, Mahanavami Dibba, Ugra Narasimha, Badavi Linga, Kadalekalu Ganapathi and the Elephant Stable.
At the Elephant Stable, we saw a group of 5-6 elderly women merrily chatting, laughing and clicking pictures in all sorts of funny poses. In short, they were having a gala time. :D
As they say, there is no right age to travel, you should travel, as soon as you can, as frequently as you can, as far as you can and till the time you can!
It was already evening and Anju drove us back to the river. We gave him the money and an extra 100 because he very well deserved it. The million dollar smile on his face was priceless!
We wanted to cross the river but the coracle boat ride timings were over since it was late evening. So, we decided to cross it on foot! Yes, I am serious! We crossed the river on foot. :) An elderly couple from Paris helped us cross it. The gentleman was holding the torch, his wife along with Lipica and myself held hands. Gratitude!
We had a rice and pickle dinner with Murali and Sha after reaching the homestay, relishing every bit of it! :) Did some star gazing with them and thus ended our 2nd night in the magical Hampi!
We decided to spend one more day in Hampi, and our pre-booked 2 nights stay got extended to 3. :)
The highlight of the next morning was bathing Lakshmi. Who is Lakshmi? And why will we bathe her? Relax! She is the majestic female elephant in the Virupaksha Temple, 25 years old and very graceful.
We went to the Tungabhadra river early morning and waited patiently for Lakshmi to turn up. It was a daily ritual of the mahawat to bathe her in the river before going to the temple. This morning, we requested him to allow us to bathe her and he agreed. We were jumping with joy! After all, who gets a chance to bathe an elephant in their routine life? We scrubbed her, poured water on her and played with her for an hour to our heart's content! She was loving it, and we were too!
We thanked the mahawat and left for having some breakfast at a lovely French café. There we met 2 fellow traveler girls. I asked their names and one of them replied "Hi, I am Aditi and she is my friend Revati." What? Like, seriously!? Aditi meeting Aditi! Hahaha! To top it all, my roommate's name was Revati when I used to stay in Bangalore. Too many co-incidences! Right?
I guess, everything syncs up perfectly when we start trusting our instincts in life! Our interests were same too. Aditi loved traveling just like me. We chatted for a long time about our shared passion and finally it was time to go. A beautiful and interesting morning it was! :)
It was time to see the glorious sunset at the famous Sunset Point located on the Anjeyanadri Hill in the evening. It is also believed to be the birth place of Lord Hanuman, the monkey god of Hindus. You need to climb more than 550 steps before you can witness the same. The cool breeze and the mesmerizing sight of the valley & river helped us in climbing the entire thing in less than 20 mins! We visited the Hanuman Temple first and then went to the Sunset Point. The sunset was one of the most beautiful sunsets I have seen in my entire life! While ascending, we helped other elderly people by offering the water that we were carrying with us. They thanked us whole-heartedly and went ahead to visit the temple. :)
During evening, we went for some shopping in the local market. The amount of time we spent in shopping was just half of what we spent in chatting with the shopkeepers and watching them make handicrafts! :P We came to know they spend 4 months during a year in Manali, 4 in Shimla and 4 in Hampi! They shared their daily experiences, how long have they been doing this work, stories of their customers and so on. They even gave me their visiting card and told me they can supply their jewellery and stones to me if I want to sell them online! Business ideas pouring in!
Hungry as we were, we visited a hippie café for dinner. There were travelers from different parts of the world, all in one place, enjoying and having a good time. We spent around 2-3 hours there and went back to our homestay.
On reaching we came to know that it was Vijay's birthday (friend of Murali but more like a brother). There was a surprise chocolate cake waiting for him and his happiness was worth recording! Yes, we celebrated a birthday right in the middle of a trip! :D We learnt many new things while conversing with Ganesh, the professional photographer friend of Murali who joined us to celebrate Vijay's birthday. And, since photography is one of my interests too, it was a real pleasure interacting with him!
Our last day in Hampi, we bid our goodbyes to Murali, Sha, uncle, aunty and our furry friend Manju. We took a group picture and promised to return soon. :) Murali dropped us in his tuk-tuk till the river and after a group hug we crossed the river on a coracle. Not foot, this time. :)
We visited the famous Virupaksha Temple, on the other side of the river, also called the Monkey Temple. There are numerous monkeys in the temple and they roam around everywhere! Just like rats (fondly called kabas) who roam around freely in the Karni Mata Temple, Rajasthan. I fed them bananas and biscuits and after taking blessings from Lakshmi, left for our next stop, Bangalore.
Thus, ends our adventurous and fulfilling trip to Belum Caves and Hampi!
Murali and Sha are coming to Mumbai on 14th February and we have planned to celebrate Valentine's Day with them. :) Thanks to my husband and Tinder for this life changing trip! It gave me new friends for life. :)
I urge all of you to travel, as frequently as you can, as far as you can. Experience different cultures, meet different people, understand their perspective of life, taste different cuisines, enjoy local food and experience the beauty of nature! Travel makes us realize what a small place we occupy in the whole world! Travel solo, travel with partner, travel with friends, travel with family, travel with pets, but do travel!!
I TRAVEL NOT TO ESCAPE LIFE, BUT FOR LIFE NOT TO ESCAPE ME. WHAT ABOUT YOU?