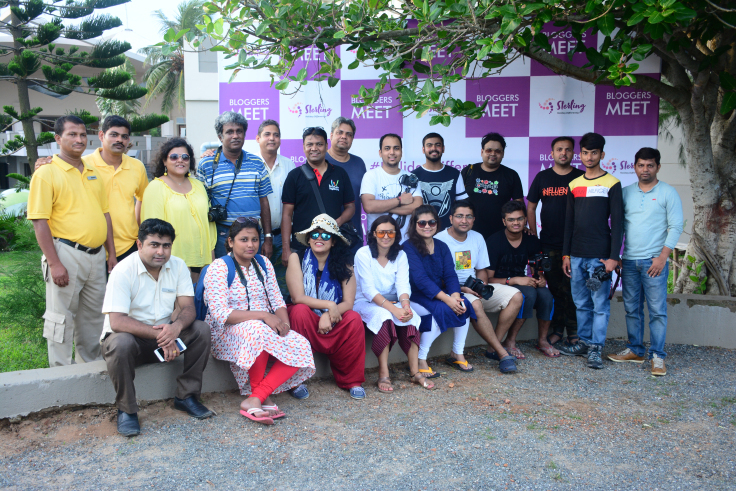 Puri is a place where almost every bong has been to in their lifetime, and personally, I've been there quite a number of times and even lost the count. Puri was always about swargadwar, jaggannath temple, khaja and chung wah for me. But this time it was completely different. I was Holidaying Differently this time.
I had a blogger's meet to attend at Sterling Resort, Puri. A gang of 14 bloggers were invited for the same and supposedly I was a part of it!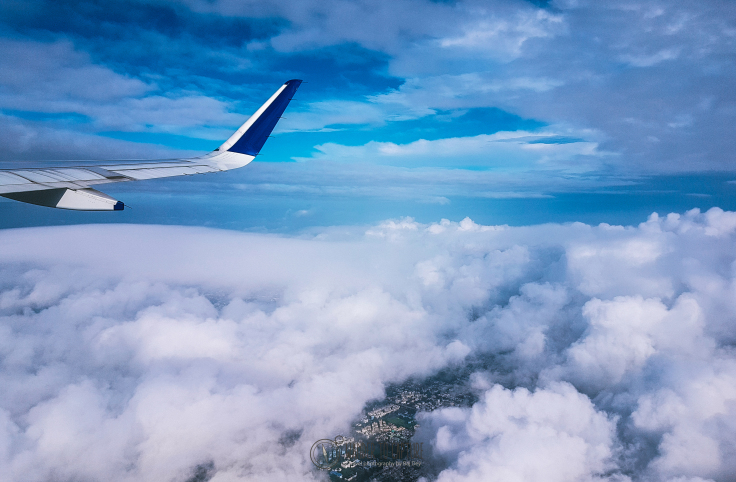 We had a morning flight from Kolkata to Bhubaneswar, and reached there around nine in the morning. Sterling Resorts welcomed us on arrival and we started our journey towards Puri, a 60 odd Kilometers journey. On the way we stopped at Pipili for refreshments, freshly made roshogollas are favorites there.
Reaching Sterling Resort, we were welcomed traditionally, with sea-shell garlands. They even offered tender coconut water as a welcome drink, this thing was genuinely required after a tiring morning. Soon after we got our room keys, and started moving ahead to our rooms.
My room was a Classic Sea View room, entry into the room pumped up my tiring mood, lush interiors, vast balcony and unending view of the mighty bay of Bengal, it just set my mood right. Apart from that, their chef had kept a written personal message on the coffee table along with some complimentary nibbles which was a very warm gesture of welcoming guests in the resort. One thing i was clear about by now is Sterling welcomes its guests with wide open hands and makes you fall in love with them.
After freshening ourselves up, we were called down to their common room for a brief meeting and interaction with Sterling's management team. They served snacks and nibbles there too. And all the bloggers interacted with each other as well as with the management.
We had a sightseeing planned in the afternoon to Raghurajpur, so we got ready to leave as soon as the interaction was over.
Raghurajpur
Raghurajpur is a small artists village situated 15 kilometers away from Puri. It has been named a heritage village because every household delves into Patachitra craft. I had been to Puri quite a number of times before but never had i been here. Reaching this village we were welcomed by the head of the village Mr. Sreedhar Maharana, who told us various mythical stories about the village. Soon after, they called us for lunch, Sterling never lets you down, they had arranged tradition odia food for us where we sat cross-legged and had our food served on banana leaf.
I've always had a thing for local traditional food, so it was definitely a delightful experience eating there, in their style. The spread included quite a number of items of which i remember just a few names. Khichuri was served with a mixed veg curry, dalma (traditional lentil preparation), doi (curd) begun (aubergine) some more curries and papad, for desserts they had chura kadma with chenna (cheese curd), which is said to be a locally restricted food found only within ten kilometeres of the village, and payesh (rice pudding). It was not at all a flashy meal but i could taste the amount of love went into the making of it! You can experience this lunch at a cost of Rs. 650/- per head.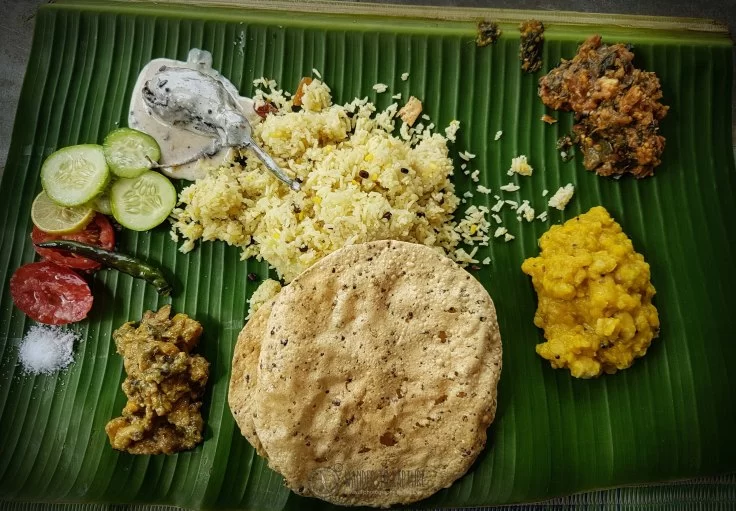 Soon after the lunch we went through the household of artists who were busy making patachitra's in different mediums. Some painted on palm leaves, some on cloths, some on coconuts and even on walls. Patachitra's resemble old murals of Odisha.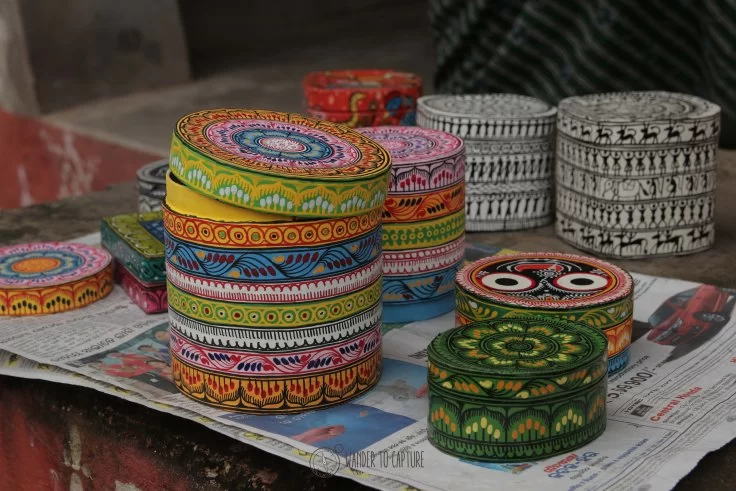 Patachitra's have mythological depictions majorly. Dashavtar is one of the most famous design for patachitra. Patachitra is also famous because at the time of Snan Jatra before Rath Yatra, no one is allowed to worship the idol of Lord Jagannath, as it's believed he suffers from fever then, as a result, at that time, a patachitra of the three god's, Lord Jagganath, Lord Balabhadra and Goddess Subhadra, is made and worshiped in the temple for fifteen days.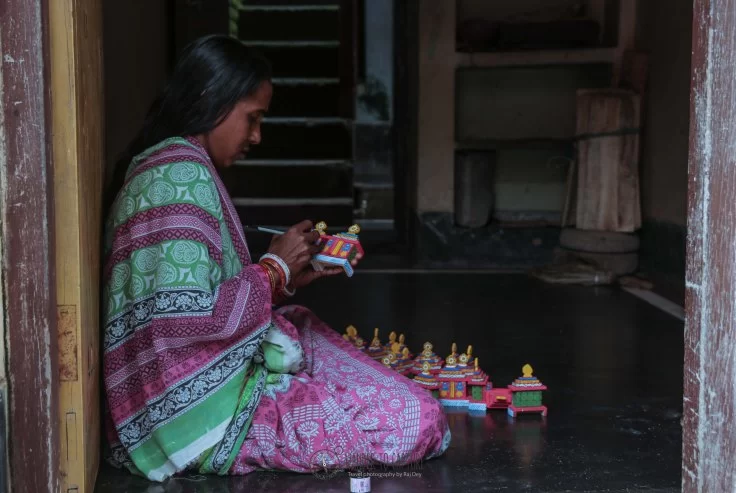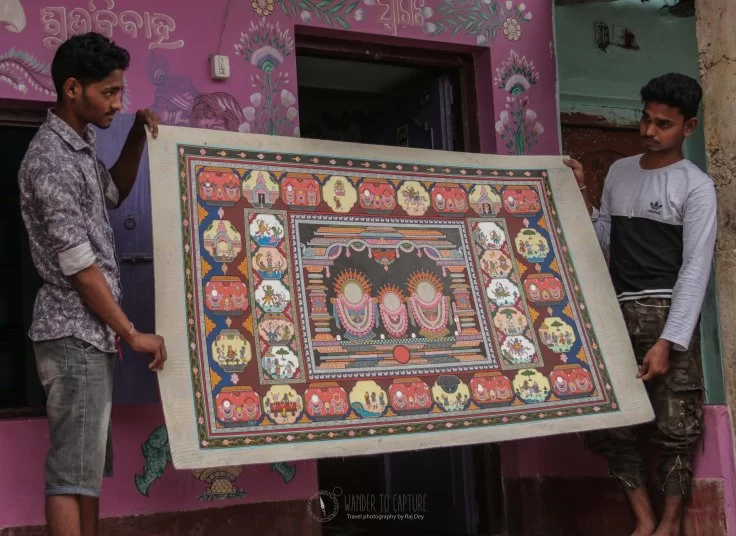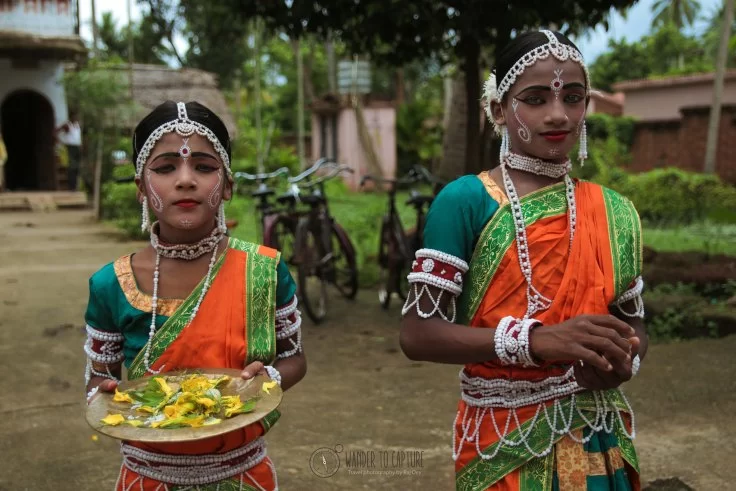 After that we went on to see the practice session of Gotipua, Raghurajpur is also famous for the establishment of this dance form. Not many know about Gotipua and I certainly didn't have any rough idea about it.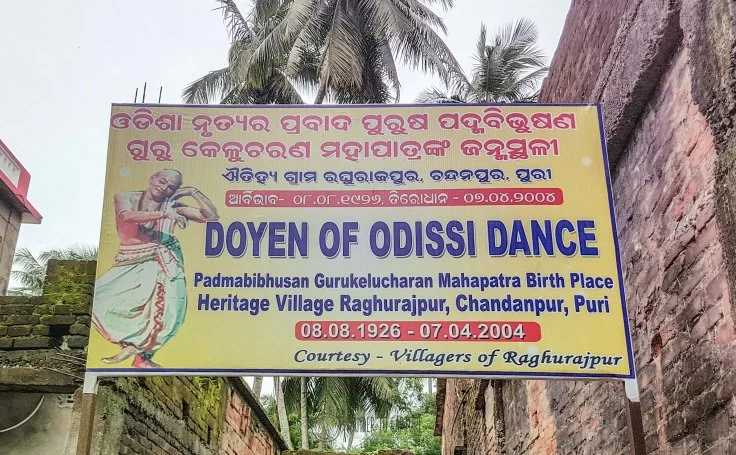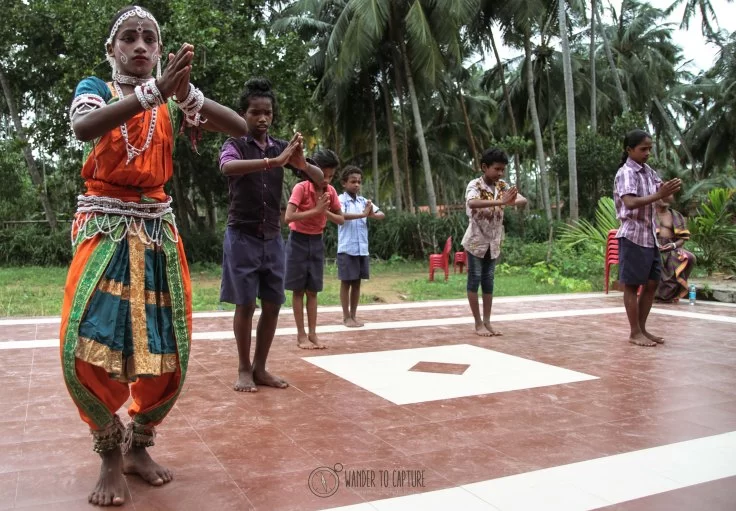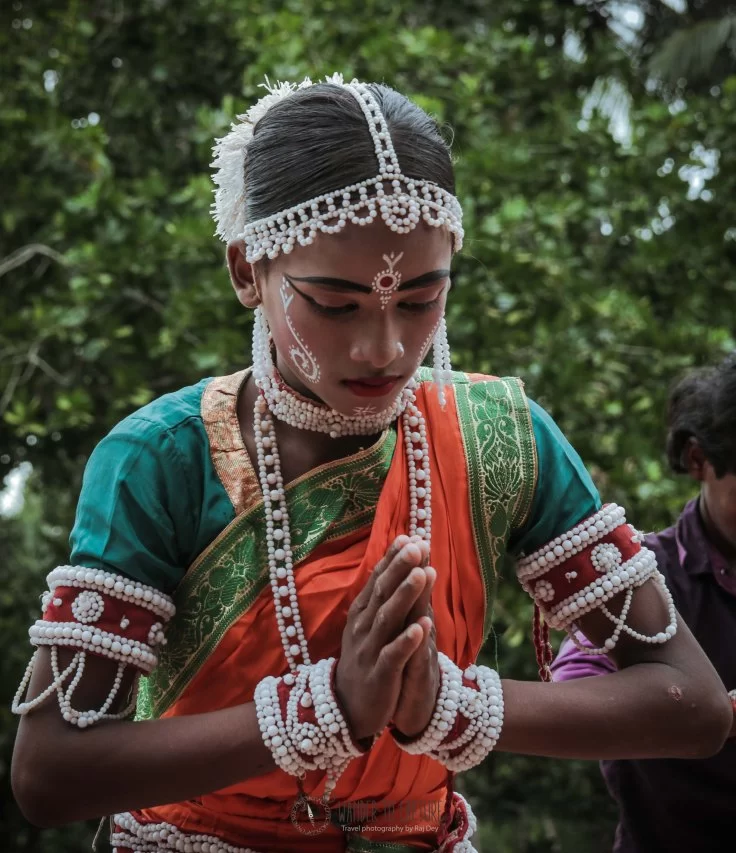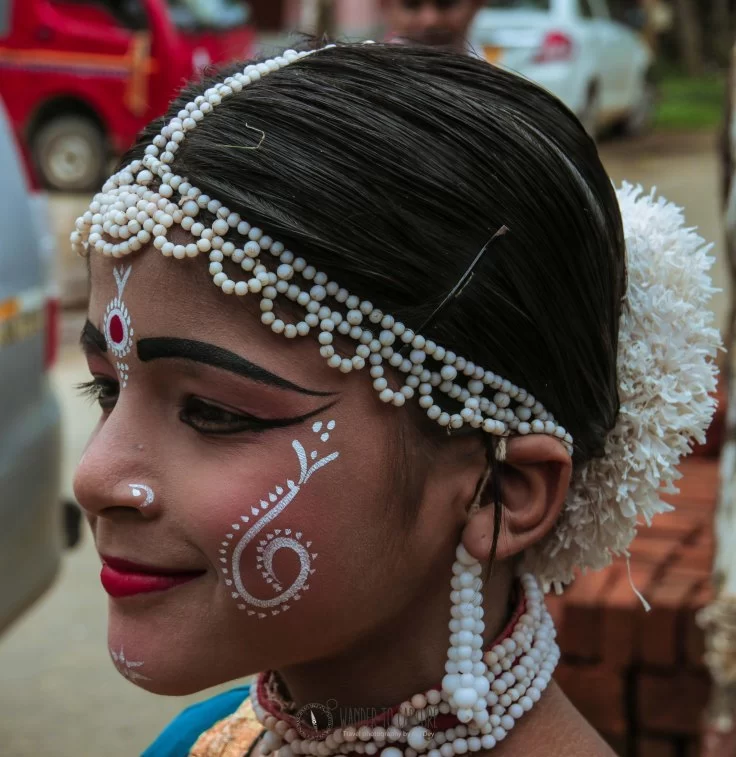 Gotipua is an age-old traditional dance form and is the predecessor to Odissi. Young males dress as females, they make up their faces with white powder, kajal, bindi. Paintings are made on their face, each troupe has a different set of face paintings. This form of dance consists mainly of acrobatics, the dancers form different postures, all of them are trained from a very early age. To master Gotipua, it almost takes twenty years said Sreedhar Maharana. Guru Kelucharan Mahapatra has developed this form in the modern era by organizing Gotipua Festivals. Historically, Gotipua came into existence in the 16th century with the decline of Mahari dance where female dancers known as Devdasis devoted themselves to Lord Jagannath. Gotipua has a big influence on Odissi even though the forms differ a lot, it is because most of the masters of Odissi were Gotipua dancers in their youth. Raghurajpur is known for these gotipua troupes apart from Patachitra.
The practice session of Gotipua had just given us the trailer to the real movie which Sterling Resorts had planned for us in the evening.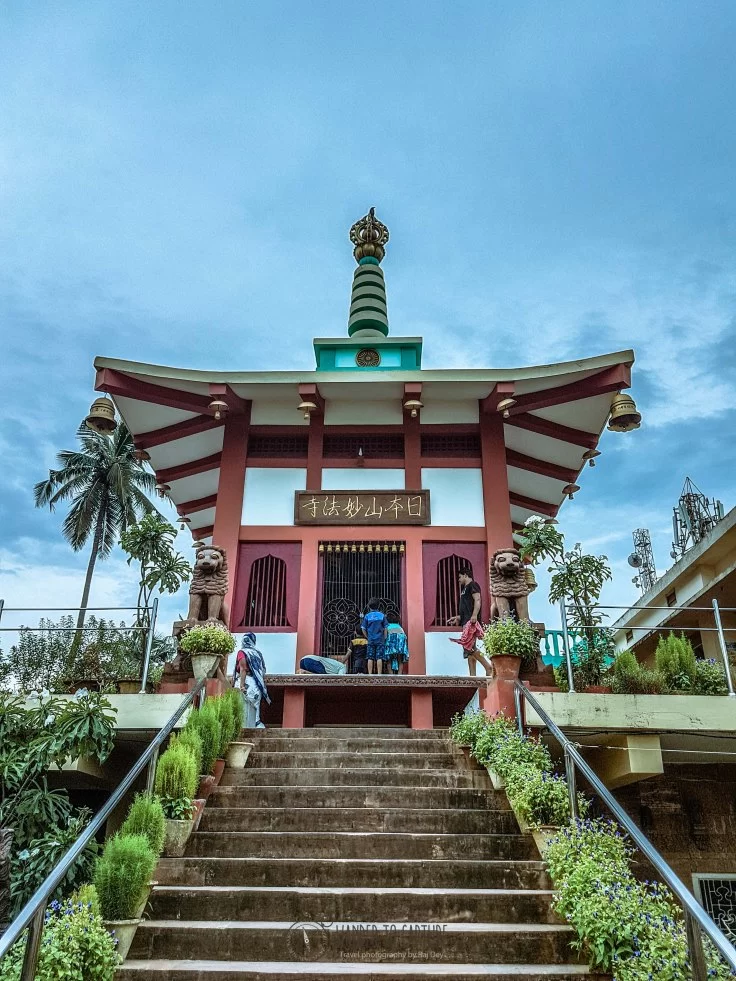 We left Raghurajpur early evening and started our journey towards Sudarshan Crafts Museum, it's a place where stone, wood sculptures are made, displayed and sold. We took a tour of the making of stone sculptures and were astounded hearing what Mr. Sahoo said, it took almost 30 months to complete a full size sculpture depending on the details of the design. This place also had a Japanese style buddhist temple for which it attracted a lot of local tourists.
By now, we all were pretty tired and as a result, headed back to our resort. And, what's better than taking a dip in the pool after a hectic day, we had around an hour's session in the swimming pool of Sterling Resort, and i have to say it's one of the best maintained pools that i have had seen.
Later in the evening, Sterling organised Gotipua, Odissi and Sambalpuri performances alongside some lip smacking savouries at their mini amphitheater. The performances blew us off our seats, teen-aged boys performing mind-boggling acrobatics, it's definitely not for the faint hearted, even Odissi and Sambalpuri performances lighted up the evening with the engrossing beats of Rangabati.
Chilika Lake
Our first day in Sterling Resort already felt special and the dinner added to it, Daab (tender coconut) chingri (prawn) made with fresh prawns along with many other sumptuous dishes just provided the best end to the day.
After a goodnight's sleep we woke up around six in the morning and had breakfast and left for Chilika Lake. It's around 40 kilometres from Puri and as a result we had to start early. It took us around one and a half hour to reach Satapada.
Chilika lake is a lagoon, mixture of fresh water and salt water, it's India's largest coastal lagoon and second largest in the world. It's also famous for migratory birds, they migrate from Caspian sea, Aral sea and more distant places, these birds can possibly migrate 12,000 kilometres to come here. This lake covers more than 1000 kilometer square. Chilika is a major source of revenue for local fishermen's and also for the tourism department as a lot of tourists are attracted to it due to the presence of Irrawaddy Dolphins.
We boarded a boat from satapada and went on to see dolphins first, we did spot a couple of them but was pretty hard to get a picture of it. After that we went to sea mouth, it's an hour's boat ride from Satapada. Chilika Sea Mouth is an island where one side of the island is the lake and the other side is the sea. I had never been here before in my previous visits to Puri, Sterling made sure i didn't miss this beauty. If virgin beach exists in India, this one had to be one of the top ones in the list. Clean, pristine beach, golden sands, no pollution, no crowd, it's simply what a traveler wants. I could never imagine such a beach in Puri, i grew up seeing the beaches of Swargadwar, which are always crowded and buzzing with tourists, so had no rough idea of such clear pristine beaches in Puri. Chilika Sea Mouth should be in every traveler's list if you're visiting Odisha, it's actually a virgin beach, go there before it's commercialized.
We spent almost two hours in the island, exploring the place and also gulping down fresh seafood, there are shacks which catch fresh seafood and cook it in front of your eyes in their wood fired oven and serve you the freshly made delicacy there itself. You can enjoy it with a tender coconut or if you want a beer, yes they have it available there. ????
We left the island around two in the afternoon and reached Satapada from where we boarded our cars and left for the resort again. We didn't have anything major planned for the evening, so after a filling and lavish lunch at the resort we were taken for a resort tour.
Sterling Resort is spread over a large area, it's situated at a place away from the buzz so you can relax in the lap of casuarina trees and the pristine beaches. Another fascinating thing about the resort is that Bhargavi river and the sea meets just beside it and proves to be a great view at the time of sunset. Sterling has three category of rooms for their guests, Sea View Privilege Suit, Premium Rooms and the rooms in which we stayed Sea View Classic Rooms. Sterling also features an amazing spa called the Subuthi Spa, where you can calm your body after a hectic day of travel or rejuvenate yourself from the daily tiring life. Their multi cuisine restaurant Utkala serves exquisite delicacies from around the world, they also present a fresh catch of the day to its guests so that they can enjoy the freshest sea food. Sterling also has an indoor banquet for events spread over 5000 square feet, it also has separate outdoor space for wedding rituals, redefined with luxury. The gymnasium is fitness freak's delight and lastly their swimming pool as i said earlier is one of the most well maintained ones.
It took us almost an hour to cover the whole resort, and after that we again in order to calm ourselves down dipped into the pool and rejuvenated ourselves. At night we had a casual interaction planned with the team of Sterling and along with it mouth watering starters and then finally a star dust, where we dined under the stars. We had to go to bed pretty early because we had our flights next day at 5:30 in the morning.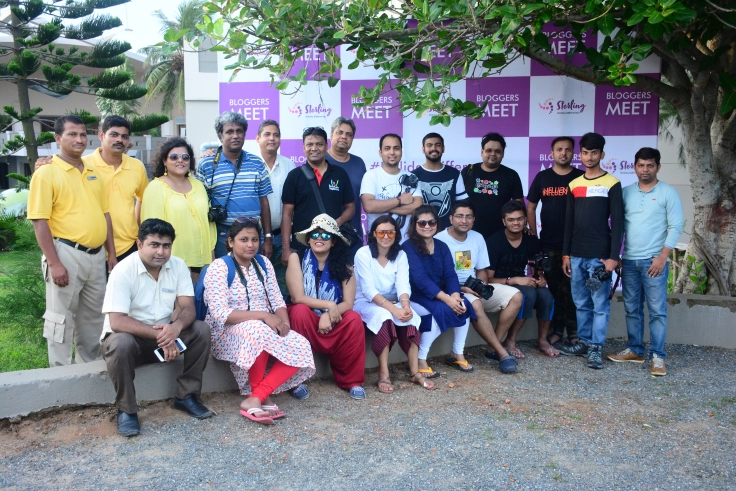 This trip to Puri was wholly different for me, it was beyond the Jagannath Temple, it was beyond the cramped beaches of Swargadwar, it was beyond the chinese lunch at Chung Wah. This trip was about holidaying differently with Sterling Resorts, Puri.
Find this vlog on YouTube :
You can follow me on my journey through my vlogs. Subscribe to my channel : https://www.youtube.com/channel/UCjlwPhh4DGcx3IqRuW9Pygg?view_as=subscriber
Frequent Searches Leading To This Page:-
Puri holiday packages, cost for puri holiday package, tour operator at Orissa, amazing tour packages in odisha, Customize odisha holiday package