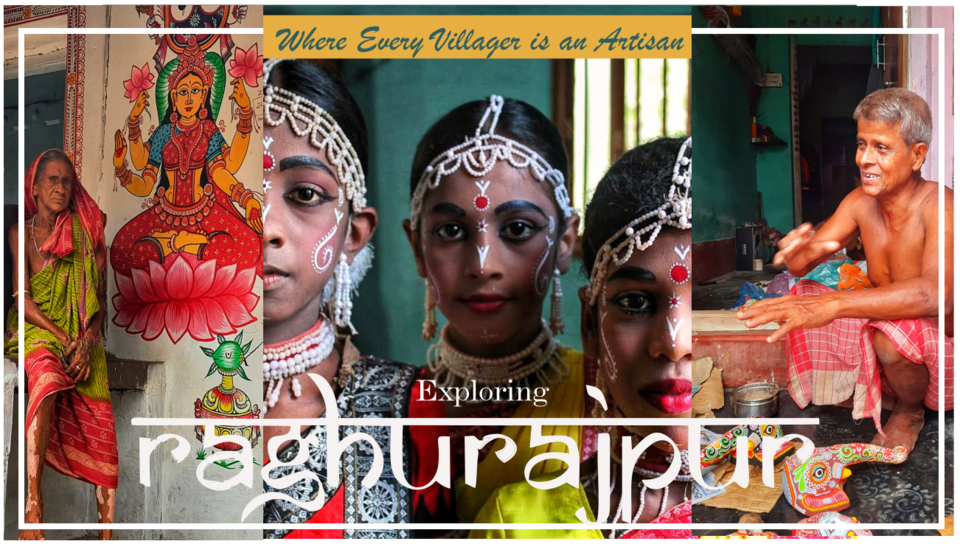 12 kilometres away from the pilgrim town of Puri (Odisha), lays an impeccably beautiful village – Raghurajpur!
A treat for every art fanatic and a hidden gem for off-beat travellers - Raghurajpur Crafts Heritage Village boasts to be Odisha's first & finest crafts village. Even though it's now been promoted by the state tourism board, you'll hardly notice a handful of tourists visiting the area. The village in total houses 150 artisans who are still keeping the heritage passed down through generations, alive. Also, on entering the village, you'd be awestruck by its aura and colourfully painted murals on the walls of each house.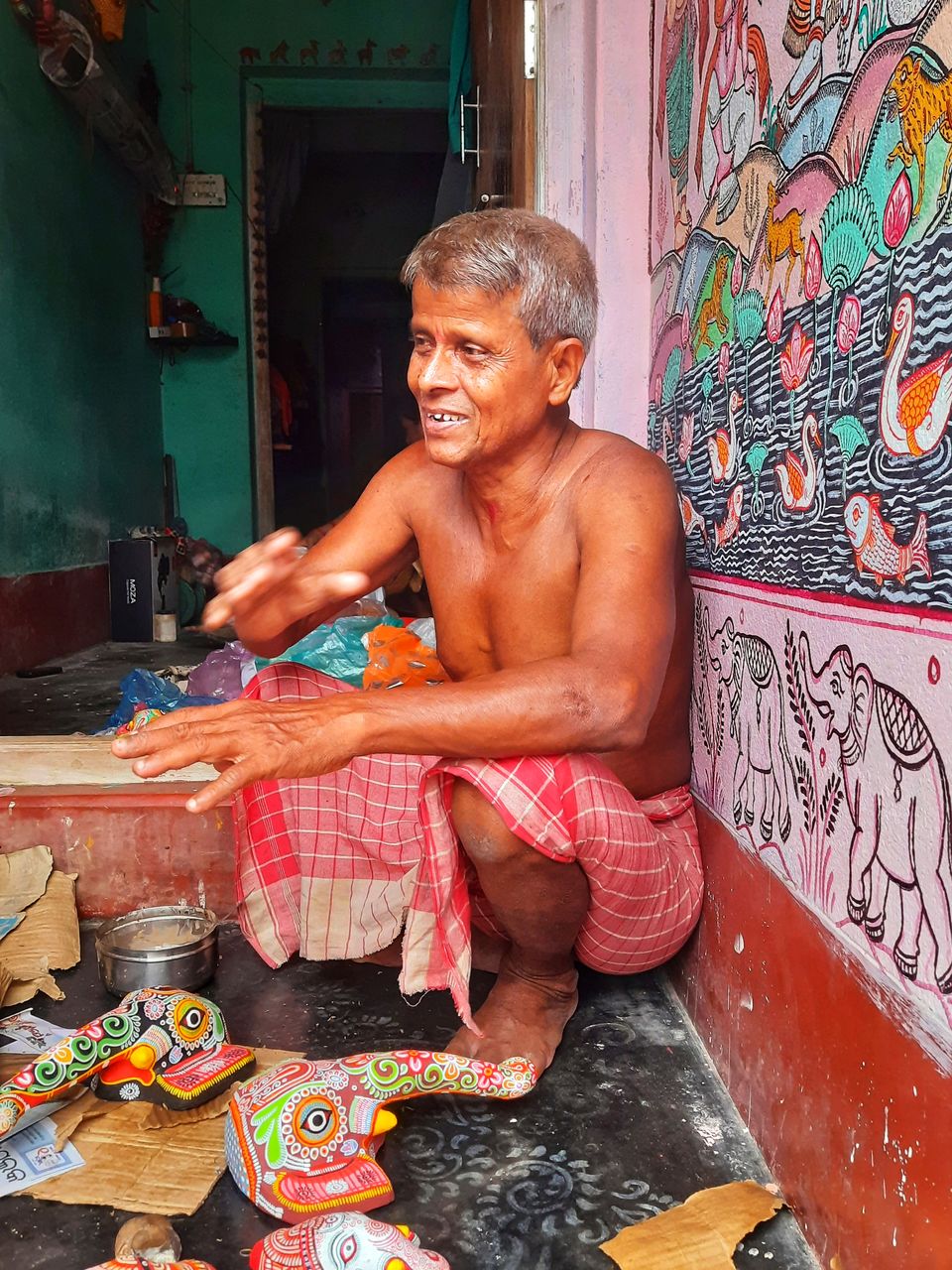 While lingering around the village, you will find a plethora of crafts on display like Pattachitra (palm leaf engraving), stone carvings, wood carving, paper Mache, etc.
Among all, the art of 'Pattachitra' holds a major significance – dating back to the 5th century, this art form revolves around the narratives of the Hindu Mythological theme 'Krishna Raas Leela.' Though one can visit this village all year round, but the best time to visit Raghurajpur heritage village is during its Basant Utsav.
In August, this year, we travelled to Raghurajpur. During our travel, we spoke to the locals, explored their lifestyles and tried to learn about the arts & crafts as much as possible.
But, little did we know before visiting the village that it's also home to the renowned Gotipua dance troupe. We were quite lucky to meet Guru Gangadhar Nayak, a famous award-winning Gotipua dancer, as soon as we arrived. He was quite humble and invited us to visit his home with folded hands.
The simplicity & politeness of his family intrigued us and ignited the spark of curiosity to know more about the crafts they practice. Later on, he insisted us to pay a visit to his GURUKUL (Dance Academy), where his students performed a series of hypnotically beautiful classical Gotipua dance, just for the two of us.
We had quite a long and chatty session with his son Jitendra Nayak, who then explained to us the essence of Gotipua dance and from where it all began. Gotipua dance originated from the age-old traditions of Devadasi & Mahari in the 16th century. The Devadasi tradition witnessed a gradual decline with time, giving rise to the art of 'Gotipua.'
Goti refers to "single" and Pua refers to "Boy," clubbing which translates to – a boy gracefully dancing being all dolled-up in female attire. Gotipua dancers consider themselves as god's own child and take pride in carrying forward the age-old traditions and legacy.
Jitendra Nayak and a few of his troupe members have also showcased their talents around the globe including in countries like - South Africa & Russia.
But despite gaining all the name & status, they struggle to fulfil their daily needs, at times. And, this is pretty much the case of every other artisan in Raghurajpur.
So, as responsible travellers, let us do our bit to help keep the heritage alive and encourage the local communities and artisans to carry forward their legacies.
How to Get There:
The best & the most cost-effective way to explore Raghurajpur is to rent a bike. In case, you're looking out for a more convenient way to travel - You can book a self-drive car or a cab for a short day-trip to Raghurajpur Heritage Village. 😊
Things to Keep in Mind:
1) Dress modestly so that you don't hurt the sentiments of the locals.
2) Although, the artisans are quite humble & welcoming but asking for their permission before clicking any object doesn't hurt.
3) Want to buy local handicrafts from the artisans? Great! Though it's allowed to negotiate a little, always remember that genuinely hand-crafted products have their own value & heritage attached to them.
Our Recommendations:
Must visit the 'Swastishree Gotipua & Odissi Nrutya Parishad,' Pattachitra & Stone Carving workshops by the local artisans.
Please share this article with all your friends & family and encourage them to unravel India's best kept secret.
Happy Exploring!
Show us some love on social media - Youtube, and Instagram.

Think we missed out on something? Tell us about it in the comments below. Or write about it here on Tripoto and earn Tripoto Credits!