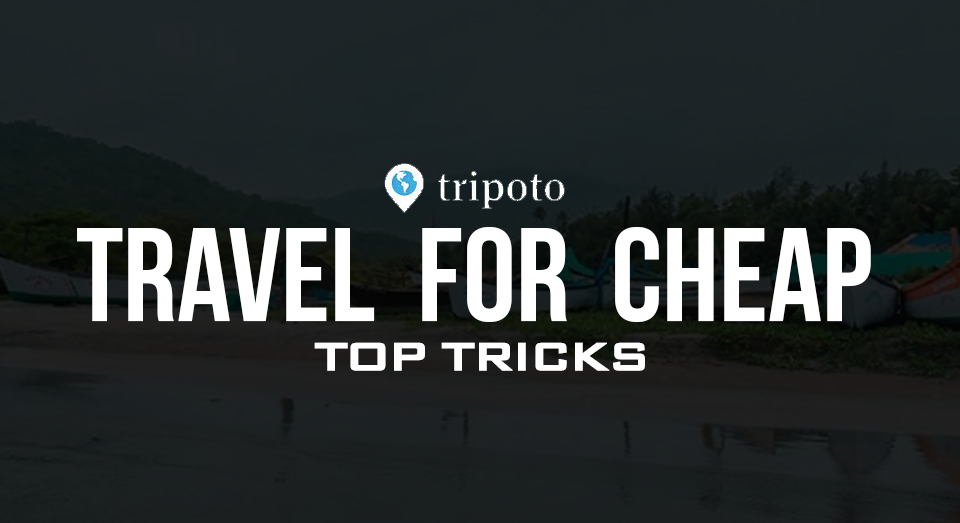 Everyone wants to travel a lot but travelling is not so cheap until and unless we apply some tricks. So today i will be publishing some of my top tricks for everyone on how to start travelling at cheap.
1. HOSTELS & COUCH SURFING
I personally prefer hostel over hostels. I have already published i article on it which can be found on my Tripoto profile. Hostels are damn cheap and also provides you with excellent travel experience. Also you can try Couch Surfing if possible. Those you don't knows its like staying in someones room as a guest. Many travelers do this and its quite common in traveler's community.
2. MONTHLY SAVING
Keep a small amount side as a saving for travel quota every month. Rs.1000, 2000 or 3000 whatever your earning allows is good.
3. DOMESTIC TRIPS
If you are beginner start out with local domestic trips. Search for good nearby places which will not require Flight bookings and make take 1-2 days. I am sure this will be a super cheap tour. Once you are done will most of nearby places start out with popular travel destinations of India like Shimla, Nanital, Shillong, Kerala, Goa etc depending on your city. Try if you can travel by train or road to cut down on budget. I think it will take 1-2 year to cover all good travel places in India. Then when you feel experienced you can try with your first International trip.
4. HOTEL/FLIGHT
Most of the money get chopped in booking of hotel and flights. As already suggested choose hostels over hotel. But if you want to book hotel you can choose site like Trivago to get best deals. Do travel by train if possible and if you are travelling by flight book your tickets 3-4 months in advance. That's the best time to get cheapest tickets. For both hotel and flight i will suggest you to check many compare sites where you can get best deals. You try out for any discount coupons.
5. FOOD, TRANSPORT & SHOPPING
Try out foods at local shops. That's were you will get the real taste of local food. Avoid fancy restaurants and hotels to cut down on expenses. Travel as much as possible by public transport and shared vehicles. Cabs and auto costly very expensive in tourist places. Also i will suggest to avoid unnecessary shopping as stalls and shops in tourist places will be expensive and you can get same product cheaper in your own city or online.
6. INTERNATIONAL TRIP
Once you are done will lots of domestic trips and feel confident and experienced enough you can start your first International trip. As told earlier book flights in advance, choose hostels, travel by public transport, eat at local restaurants. Apart from this choosing the country also matters a lot. The fee of VISA also varies country by country. Do check VISA fee and procedure before deciding. Also i will suggest to explore Asian countries first as they are cheaper and don't require much travel experience. Some countries on my list are Thailand, Indonesia, Singapore, Vietnam .
7. TRIPOTO
And finally the best way to travel cheap and even for Free is Tripoto. Post tours, photos, videos, invite friends, post in forums to earn free credits and redeem it for a free travel package. Also checkout Tripoto contest were you can earn big credits. And do follow them on Instagram where they regularly post contests where you can get free travel and more. If you are not registered on Tripoto Click Here .
Hope you liked my article. If you want Photo & Video content based on travel just click here on Instagram Or Youtube . Thanks