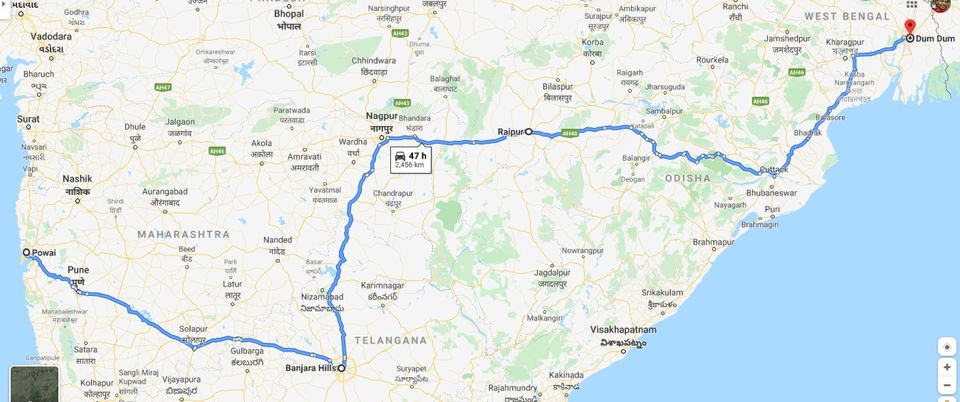 2-May - Mumbai to Hyderabad
I started my drive from Mumbai at about 3.15am. I intended to cross Lonavla by sunrise but i managed to reach the outskirts of Pune in by early morning. The roads were a breeze as expected. 80-100 km of bad roads after Solapur the rest is very good roads. Reached Hyderabad at 1.30 pm.
As per Google maps it should have taken 13 hrs. I reached faster as I left at very good time when the traffic at it's lowest. I usually do not take any food breaks as I carry food in the car.
Mum-Hyd
3-May - Hyderbad to Raipur, Chhattisgarh
This leg of the journey is also the Detour. After reaching I called up the hotel I had booked in Visakhapatnam for my next hault. They informed me that the conditon is really severe due to Cyclone Fani and advised me not to come to Vizag. I called MMT and cancelled the hotel booking for a full refund and rerouted my journey. I decided to stay away from the coastal regions and head to Raipur instead. Road conditions were fabulous. All expressways throughout.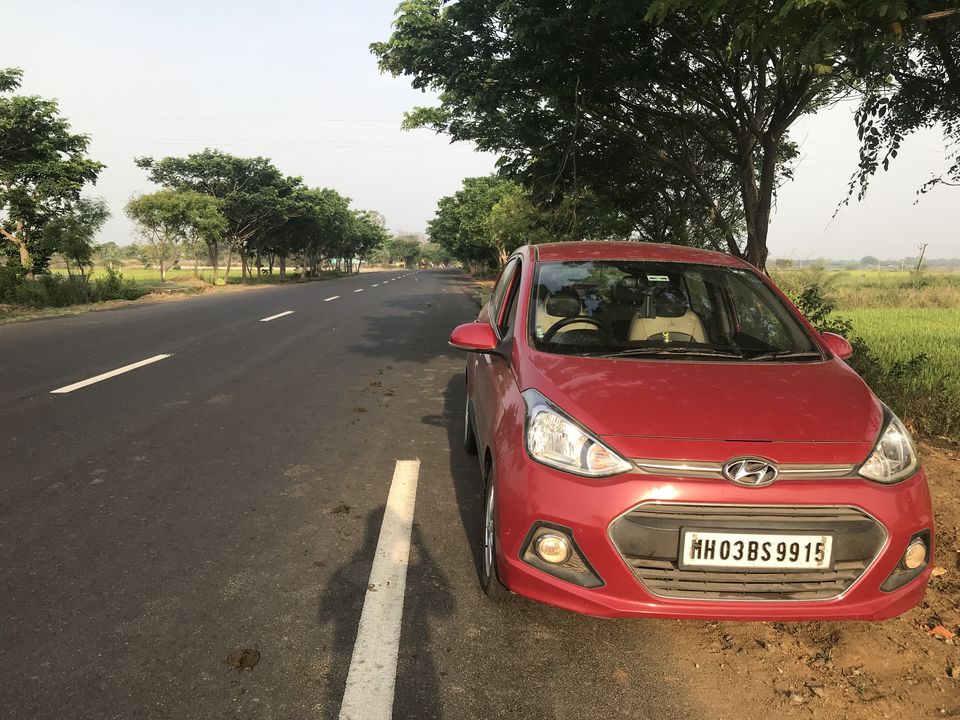 4-May - Raipur to Kolkata
I once again started the day at about 3.00am from Raipur and started to make my way to Bhubneshwar. I was planning stay a night in Bhubneshwar. As I started getting closer to Bhubneshwar I started seeing the aftermath of the cyclone. I had no network, (Thanks to offline maps I survived). There was citywide black out. Drinking water was an issue as well. I had a few friends and family here but couldn't reach anyone. I reached Bhubneshwar by 11.00am, Running low on fuel. I quickily decided to skip my stay here and head directly to Kolkata as it was only 11.30 am. By my estimate I had about 10L of fuel, so decided to cross the cyclone affected area in this fuel as the fuel stations were very crowded in the city. I refueled on the way and carried on and stretched myself to the finish line. Thankfully I did have and issues and the road conditions exceeded my expectaions so I covered a total of 1000km from Raipur in 15hrs and 40mins.
I covered about 2500Km in 3 days & this was 300Km more than what I had anticipated when I started from Mumbai. Another reason why I prefer to leave at 3.00am each day is because I was working on all the first 2 days. So I reached my destination by late afternoon then work and plan for the next day which included booking hotel for the next place.
Stay tuned for my next Adventure that is starting on 21-Nov-2019. Round trip from Kolkata to Mumbai via Kanyakumari. It's the longest drive I have ever attempted with an estimated 7000+ Km stretching over a month.
#rtcmumbai #rtckolkata #travel #roadtrip #roadtripindia #roadtrippers #keepdriving #driving #drivesolo #drive #tripmantu #tripmantucommunity #aageseright #xcent #roamtheplanet #livetheadventure #stayandwander #india