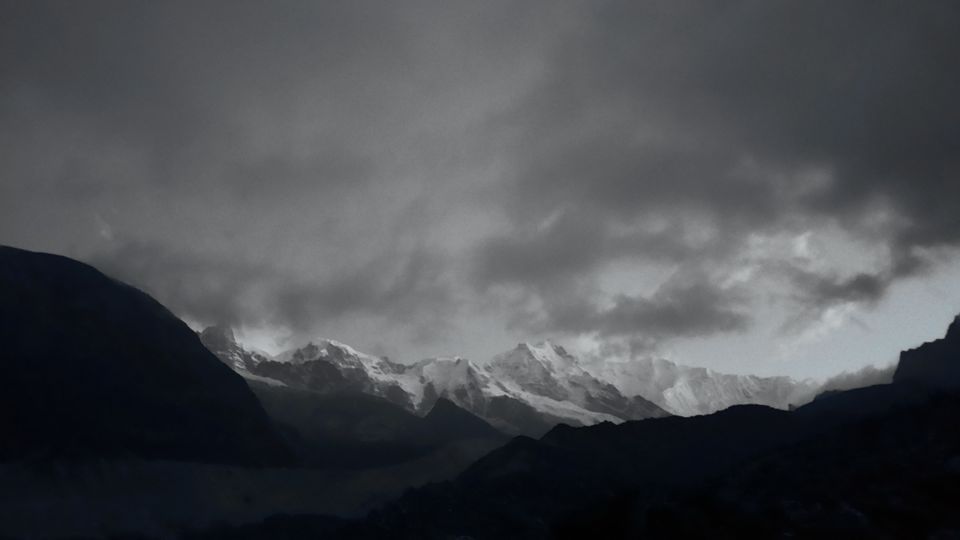 Goecha La: Heart filled with everlasting memories- A gigantic thrilling experience. We are all travelers, we look, search and go for what we love for and do up to in achieving them. Searching for what makes you happy/feels great, in so doing, those gives you motivation and inspiration too far to drive them. Once we are there in perceiving the dream ahead giving us more excitement, enchantment with a jubilant heart. It is just simply like pumping adrenaline all over your body with more energy and enthusiasm. This is what I felt guys when I saw this place -heaven on earth. Keeping yourself motivated and happy, throws a lot of courage at you to achieve more in life what you looking for. Olaaa.. here I go to share more glimpses of our enthralling trip to Goecha La.
kanchanjunga
Visiting Himalayan range is one my wish lists - take the pleasure of enjoying the nature; walking through fields, trekking to high altitudes covered with snow, floating clouds, and abrupt weather changes gives you a fascinating and unbelievable experience. I can say that, have no words to explain the beauty of Himalayan range- Crown to India. When our organizer Siva swaroop, came up with this trip idea, I just said yes. From there it got planned and formed a group of 12 members: Aishu, Prasanna, Binny, Sravan, Appu, Adarsh, Chitrakavi, Gangi, Ranjith, Siva swaroop, Subbu, Rafi and me. Generally it's a 9 day trek, but we had no time so we scheduled it for 7 days.
Day 1: 16th April 2016: Hyderabad to Yuksom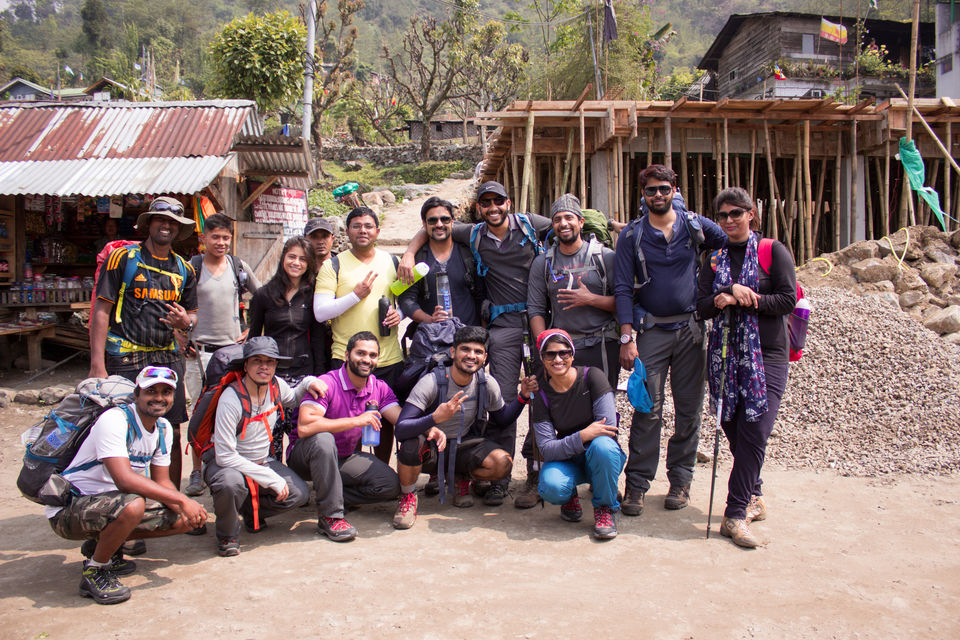 The trip/adventure, which we were kept dreaming is here now. It started from Hyderabad in early morning with our group. Flight from Hyderabad to Kolkata from there to Bagdogra. After reaching Bagdogra, we hired a vehicle to reach Yuksom, which was an adventurous way, we grabbed an appetizing lunch on the way. It's a fascinating trail, it took 8hrs to reach Yuskom and we finally reached there by 8 PM. Its time for rest to start a fresh day with many more to explore.
Its busy schedule with work, so we had to take flights to reach Bagdogra. flight journey was boring, everyone was sleeping except me and swaroop, we both started listening to songs and doing dance, some people staring at us but we didn't mind we enjoyed. Kolkatha airport is well at all requirements, had some nice food and If you are non-vegetarian you must try fish Momos at airport, those are yummy.
Train journey Info:
Secunderabad to Howrah (28hrs: If the train is running on schedule), at Howrah no frequent trains to Jalpaiguri, so you have to go to Sealdah (7Km), by bus it costs 10 ₹ and taxi costs around 150 - 200 ₹ from Howrah. Sealdah to New Japaiguri. From Jalpaiguri station to Siliguri by roadway (10 ₹). From Siliguri you will find many taxies and buses to reach Yuksom. Sikkim has only road transport.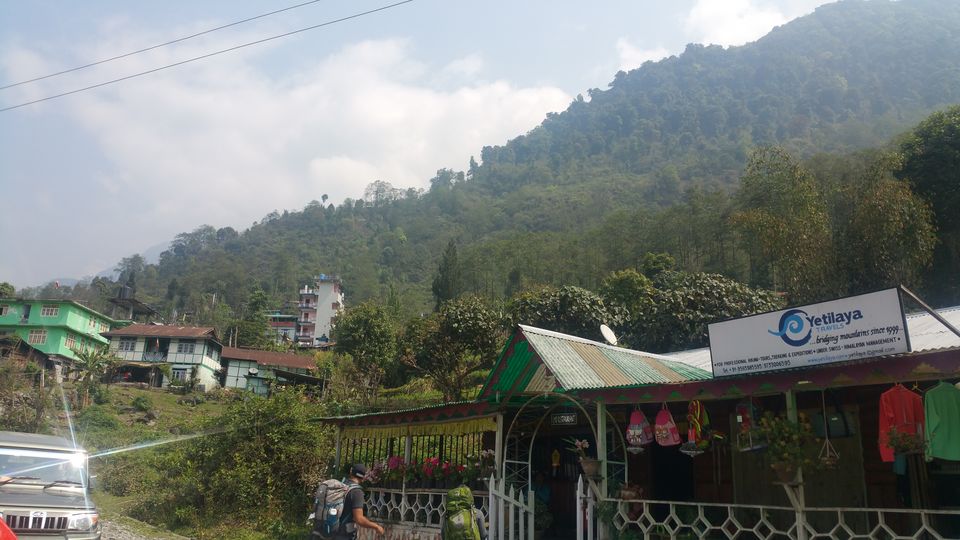 Yuksom is a large village, historical town in west Sikkim. It was the first capital for Sikkim almost 330 years ago(1642 AD). It has a number of famous Buddhist monasteries and historical monuments. Being at the head of the Khangchendzonga National Park and as the base camp for trekking to Mt. Khangchendzonga. Yuksom is thus considered as a model village for Eco-tourism. Other highlight in Yuksom is Rathong Chu Valley. The main work they do for living is cultivation/agriculture. Climate in Yuksom (since located at moderate altitude) is pleasant from March to June and September to November, while in the winter season the coldest months are December and February.
Day 2: 17th April 2016: Yuksom to Tshoka: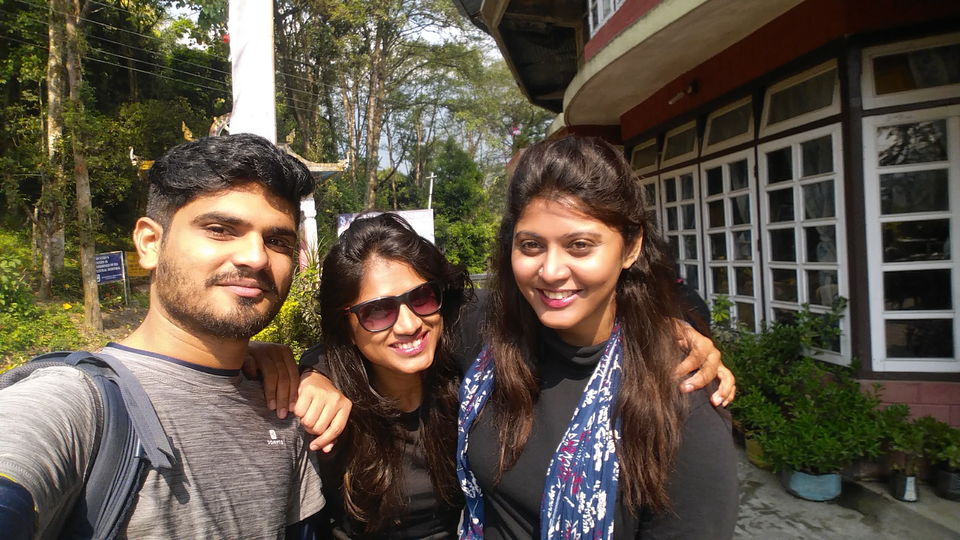 My day started with a cup of hot black tea, pleasant view of lovely flowers with birds humming around. Wearing warm clothes is necessary, Yuksom is cold, lovely place. I just fell in love with this place. Its time for our journey to start ;), at 8 AM we had breakfast, packed our lunch and got ready with our backpacks. ( while trekking we have option to give our language to yaks to be carried, one yak carries language of 3 persons costing 500 per day) Aishu and me gave our backpacks to yaks, because we want to be as light as the snow when we are in the natures lap, of course our backpacks were heavy too. We carried small backpack with dry fruits, water and some emergency needs.
Yuksom to Tshoka, is 17km 9650 ft from sea level. Lunch at SACHEN (7200 ft) who planned for 9 days of trek they will stay in SACHEN to explore further in this place. Its one of the hill stations and presence of dense forest - gives you a glimpse of perfect wild life. This place is not that much developed and limited tourist accommodation too. After 30 min of rest we started to Tshoka. I can say that, it was nice experience, crossing various water falls, streams and hanging bridges with exposure to jungle and cold, cloudy weather gave us an amazing and crazy experience.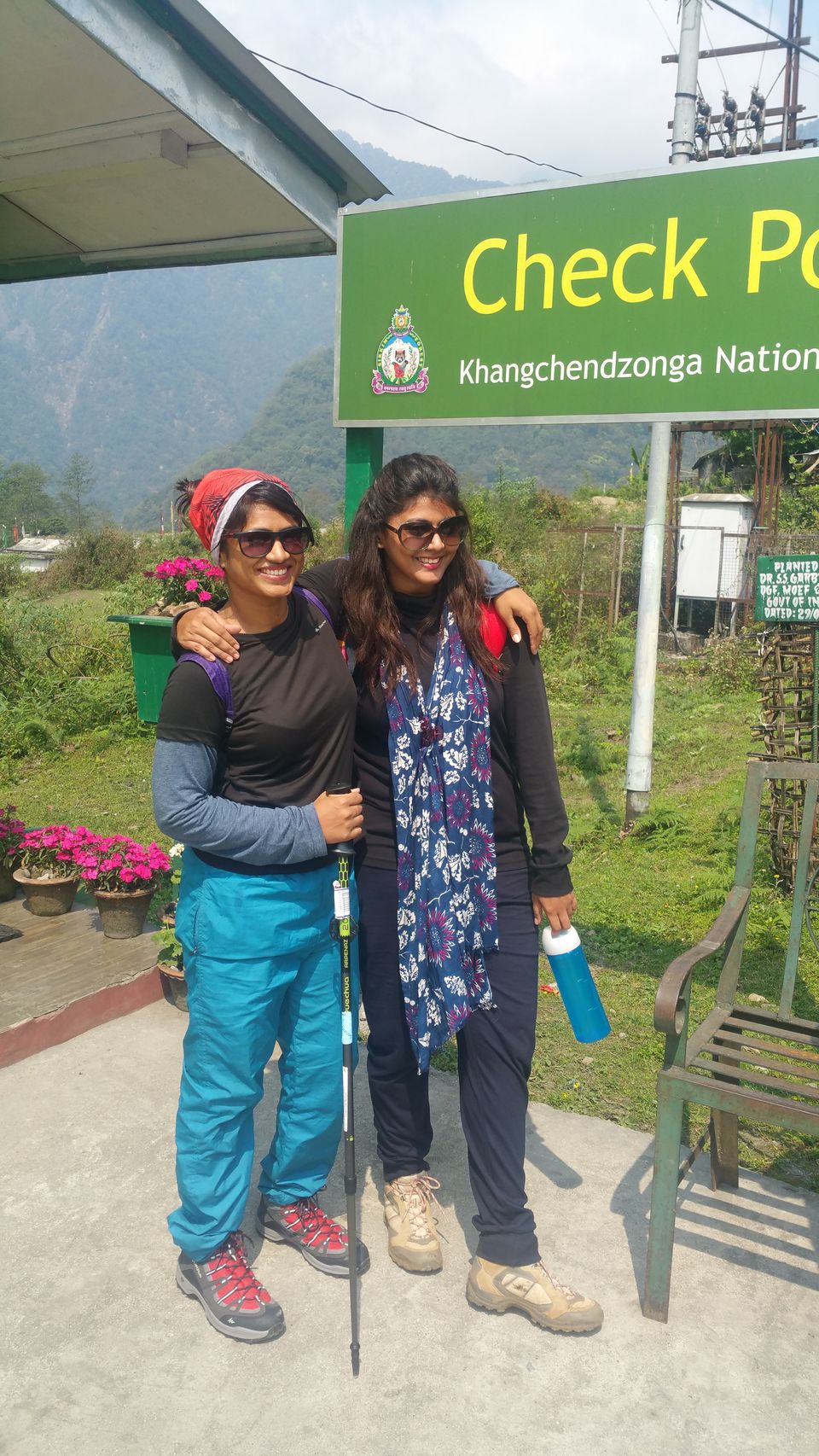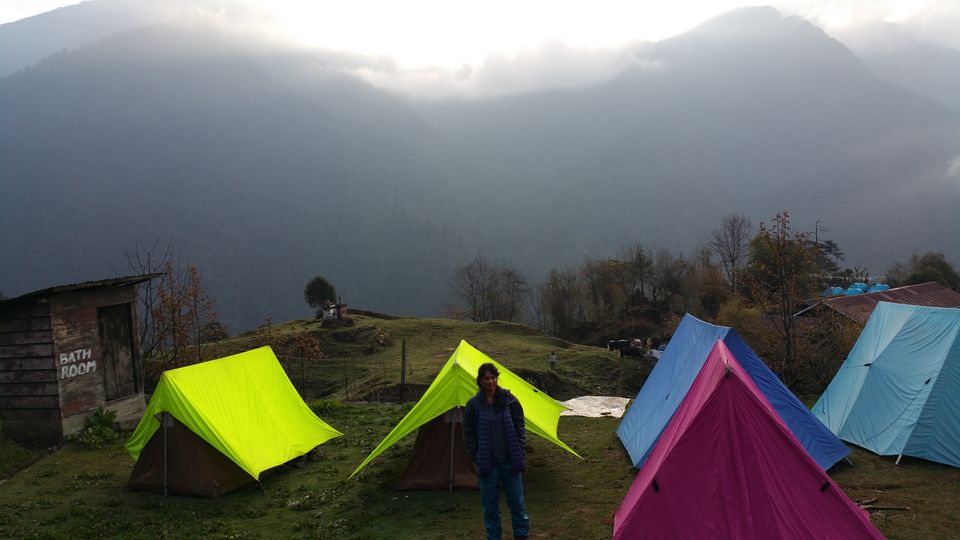 TSHOKA- Tshoka is a small village, surrounded by valleys with a great panoramic view. We reached Tshoka by 4 pm, we had some snacks and tea prepared by our cook, it feels fresh and relax to have a hot tea in such a climate. We explored surroundings before it gets dark and had dinner at 8 PM. They allotted one wooden house and 3 tents, me and my bestie Aishu shared 1 tent. It was cold in the night but sleeping bags provided were enough to have a good sleep.
Day 3: 18th April 2016: Tshoka to Dzongri - 9650ft to 12980 ft:
DZONGRI - highlights are Dzongri top and view of KhangchendzongaWe got up at 7 AM, freshen up and had break fast, packed our bags with all required things and started around 9 AM. It was 12km from Tshoka to Dzongry but full steepy, its of wooden path and rocks surrounded by long trees and deep valleys, it was amazing and we reached Phedang by 1 PM. All of sudden the weather changed, blocked with fog, clouds, and it was cold unfortunately we didn't carry our jackets (they were with the yaks). We grabbed our lunch over there with boiled potato and and boiled eggs :) took 1 hr rest until my late sweepers arrived and then we started to Dzongri.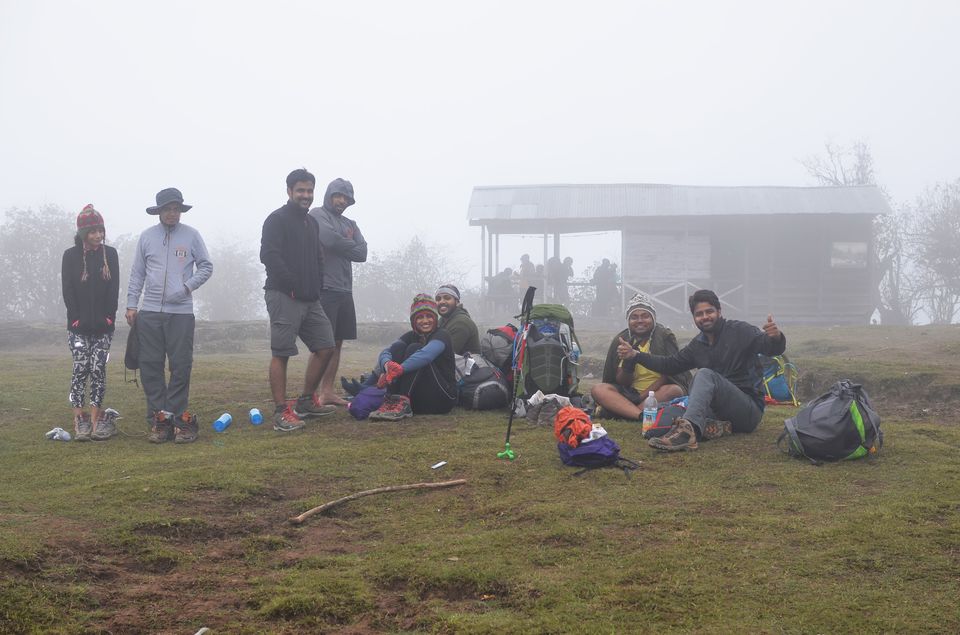 Foggy, Foggy cold weather in the morning time..Ahh.. So..thrilling
From Phedang to Dzongri path was covered with stones and wooden steps. Loved the path and encountered snow for 1st time. It was too thick and strong- It was little play time with snow ;), freezing but it was fun. Clouds were gathering (like for a festival ;) ) and about to rain. It was really amazing to feel that kind of weather: the presence of snow, clouds and raining, wow have to experience it live. Around 4 PM we reached Dzongri. Before was drizzling when reached our camp started raining heavily with hail storm: A complete new experience for 1st time. Captures those moments and enjoyed the time :)
sunriseMorning view @Dzongri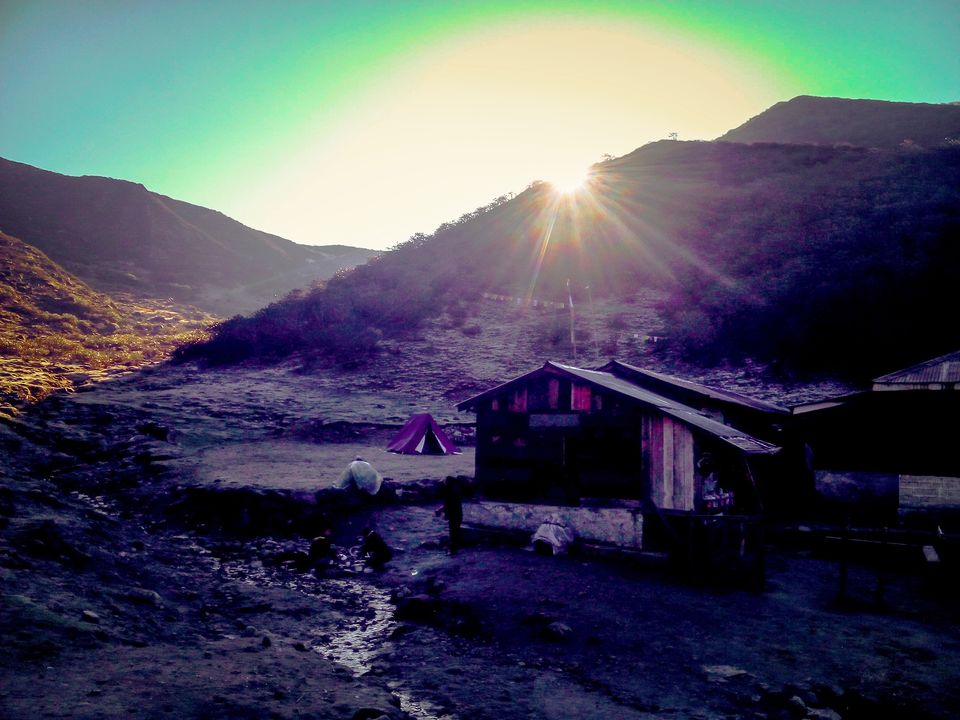 Dzongri is a valley surrounded by mountains and water streams. We got up at 4 AM to reach Dzongri's view point to capture beautiful sunrise with fresh air. Sun coming trough the mountains and the atmosphere around was pretty fascinating. We continued our day in exploring more and by the evening we were tired and more cold, we had some hot soup. Dinner was served by 7.30 PM and been to sleep by just thinking about the next day adventure.
Night was raining with full of thunders and lightening, some of the tents were fallen and our kitchen too, It was a bit disturbed sleep, because of the storm and cold. When got up in the morning, was wondered our tents were surrounded by little snow ;) i felt to take a small walk around the valley, to enjoy that lovely weather, to play with snow :)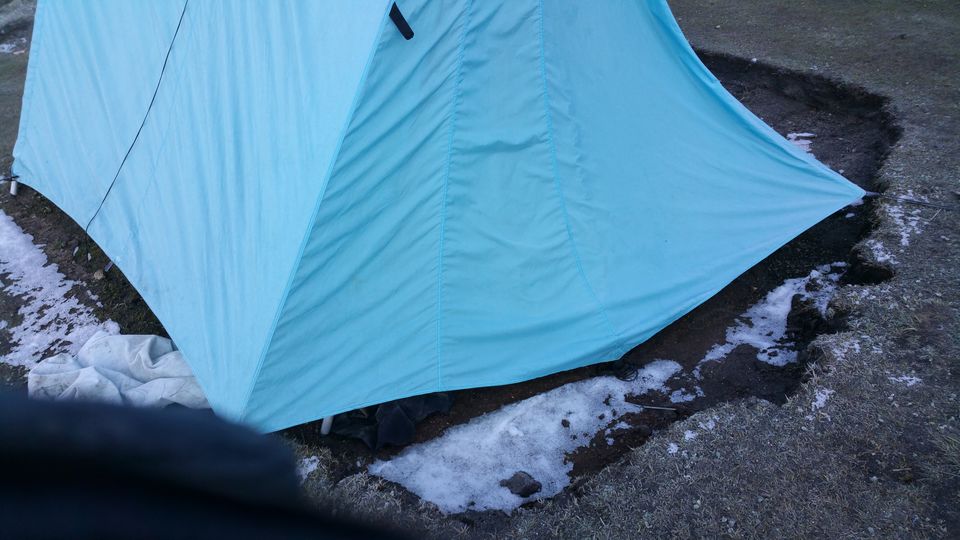 Snow Around the Tent
Day 4 : 19th April 2016, -- Dzongri to Thansing 12894 feet,
Morning was too pleasant and very cold. The valley filled with snow, ice, greenery and foggy. Experiencing these things and that freshness of nature was un-explainable. Having hot drink was perfect in this weather. I have been to kitchen to get some hot tea, by the time i got my tea, my team has gathered to discuss trek for the day, had breakfast with aloo poori with coffee. We packed our bags and started at 9 AM. From Dzongri to Thansing is a down way. Dzongri is the place where people can face altitude problem or mountain sickness called AMS.
The complete down way made me little curious and here I go, reached Kockchurang in 40 min, and sat next to the river and listening to the sound of water waves, it made me feel very relaxed. All other guys got worried about me and finally they joined me at the river. We had some dry fruits and filled our bottles with water and started again. It took 7 hours for us to reach Thansing. we reached Thansing by 3PM, noodle soup and hot tea served by my kitchen kings, was too tasty. Other group members had their time with playing around like cricket and cracking jokes. Grabbed our dinner just by chitchatting each other by re-calling the day memories. Aishu and me had been to river side to enjoy the sites.
Day 5: 20th April 2016 : Resting and refreshing day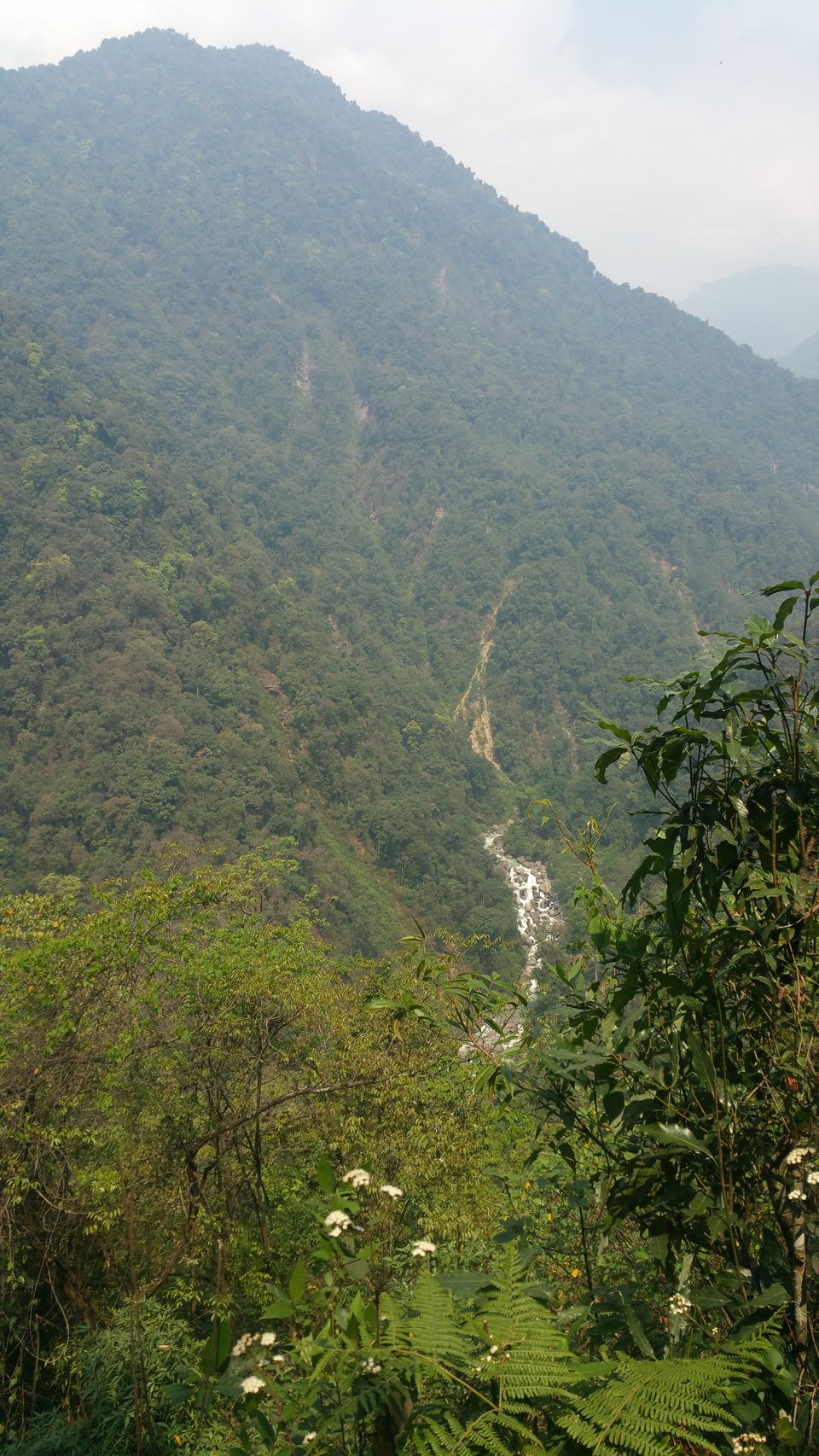 Thansing is a valley with a view of beautiful mountains with snow and water streams.Wandered around to get used to altitudes. we had fun by playing various funny games. we cheered up by Anthyaskhari. We had a great day, fun and cherrished moments, saved them for future. The next day is the big day, so we had dinner at 5 PM and gone to bed early. This place was too cold and realized that, sleep bags provided by my guide were not enough to sustain the night, if u are heading to Gochela carry your sleeping bag. we have to get up around 12.30 AM to reach Goechela,
Day 6: 21st April 2016: from Thansing to Goecha LA: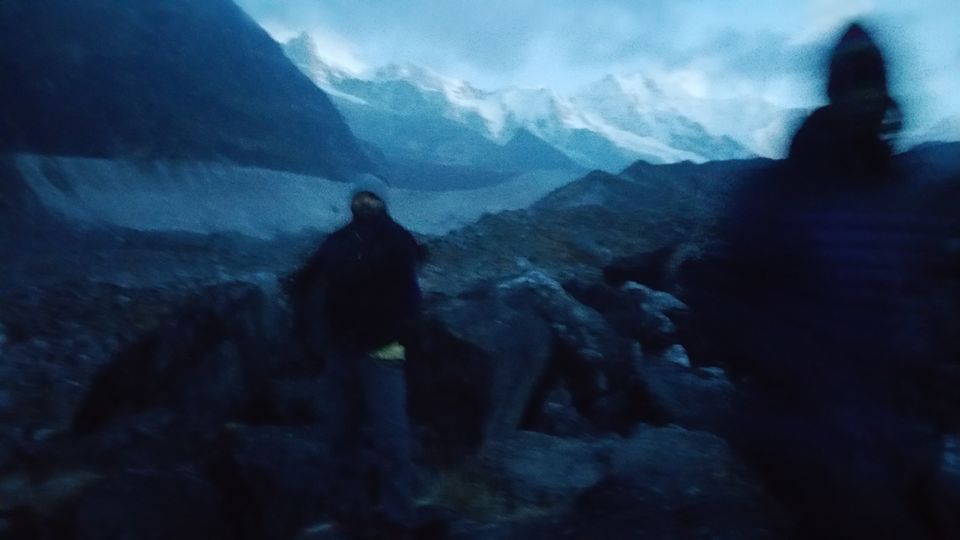 The long waited day has come, we were heading to the view point 1, so excited. We started our trek at 1 am with all the things we needed for that day. It was a full Moon day - light scattered by moon guided us, walking in the Moon light in a valley surrounded by mountains covered with snow and that natural reflection, makes you feel like you are in heaven - I may say or call white mountains gathered with clouds and looking at them from far was an amazing experience. The beauty of nature is always a mystery like beneath a Sea. You will never know or realize how spectacular, fascinating it is. Makes you an addict to the beauty of unexplored things in the nature. Explore and live for more adventures and achieve them ....
We reached lamuney by 3.30 AM, 13, 643 ft, its base camp for Gochela trekkers, temperature minus (-) to 8 degree Celsius. Lamuney is in the base of Pendim peak. Camping is not allowed after this place, before there is a camping site in Samithi lake, people are leaving trash over there and its polluting the holy river, why i have mentioned holy river is, the view of the Kanchenjunga, which is known as the sleeping Buddha or the sleeping Shiva (lord Shiva), people believe that melted water of Khangchendzonga comes to Samithi lake, so people take this water to home.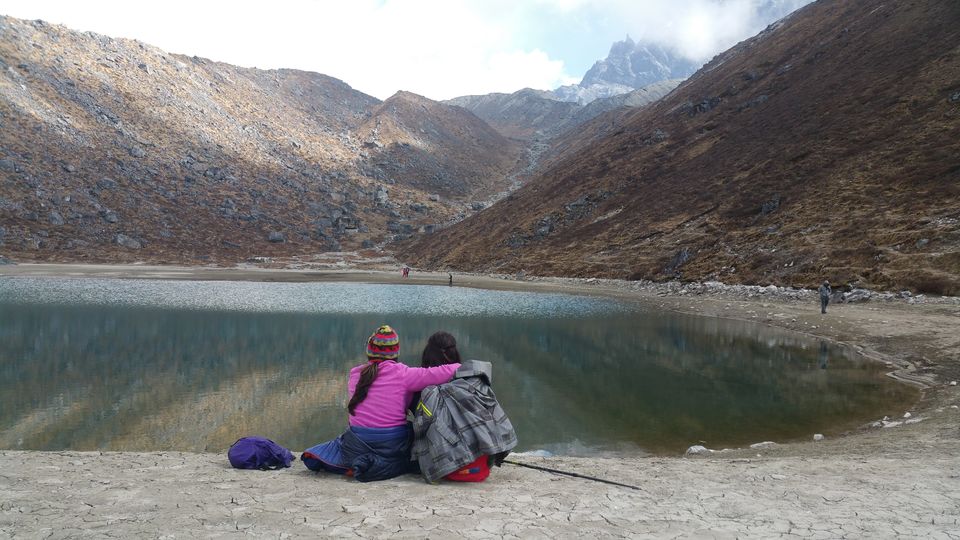 Lake in middle surrounded by Mountains.. An amazing Panoramic view..
If you hike/walk in a decent way with some energy, you will reach view point 1 in 30 min from Samithi lake. Everyone was little tired, can't walk fast, and better to walk slow. When you are at high altitudes, else you will fall sick or may face dizziness and headache, because of the weather conditions present at that time. We captured awesome scenario around and enjoyed the view of the nature. We encountered some birds, which can be seen in Himalayas and finally reached view point 1. It was an amazing feeling after a long walk, you are at top of the mountains, surrounding by valleys, waterfalls, snow and most wonderful thing is Khangchendzonga view, it was an amazing feel con't explain in words. It's really marvelous, the environs there made me forget everything at that instance. Also, you never felt the pain or tiredness after reaching there: That is the power of nature.
When hiking from Samithi lake to Kanchenjunga, we met group of 4 people, they are frequent hikers to Himalayas, and they shared many stories with us, felt happy, we have tasted millet beer its called TONGBA and some local food with them. friendly words and time spent with friends is really countless, just gives an amazing feeling of wonder.
we reached Kockchurang at 6 in the evening and our stay was here for that day, nice food was served for us and mean while our new friends has made millet beer we tasted and I made Aloo paratha for them and we enjoyed night stay.
Day7 to Tshoka: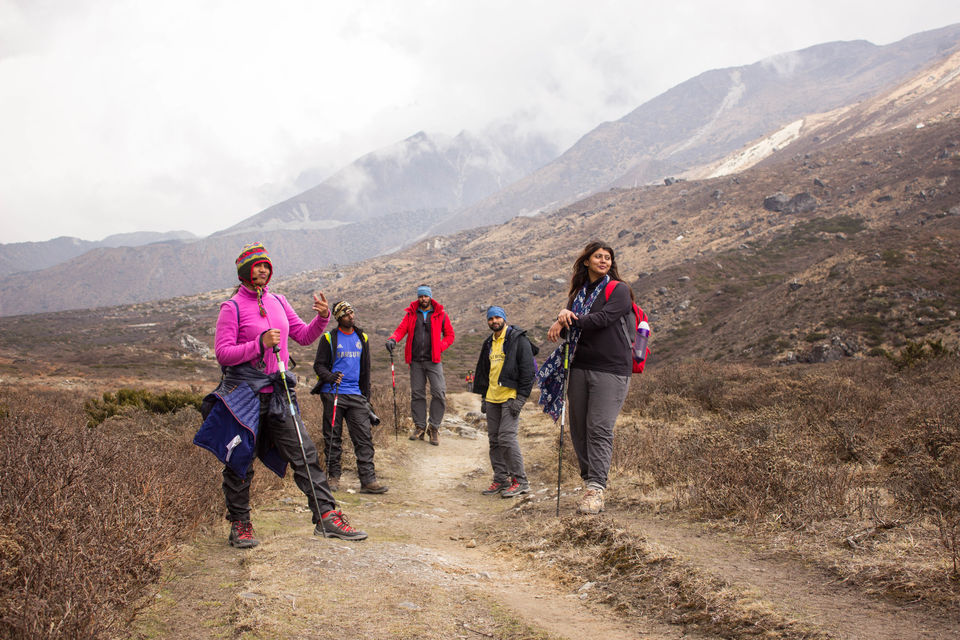 We got up and had nice coffee or tea of choice and had aloo puri for breakfast, packed our luggage and started our way down, that path was with full of flowers and trees. Sometimes it will be foggy and some times it it is normal over all we enjoyed that weather and view, by evening 4 we reached Tshoka. I felt little bad our trip ends here, I love that place and entire journey and brought and taught many things. It was a fabulous experience: The mountains, snow, water, people, culture, food and the entire nature, the place with no air pollution is unforgettable and is completely different from the life we see and where we live, run everyday in the society of no concerns. It's a halt for us in Tshoka to prepare for the next to leave and that night is of dreams with wonderful memories of all the trip we had.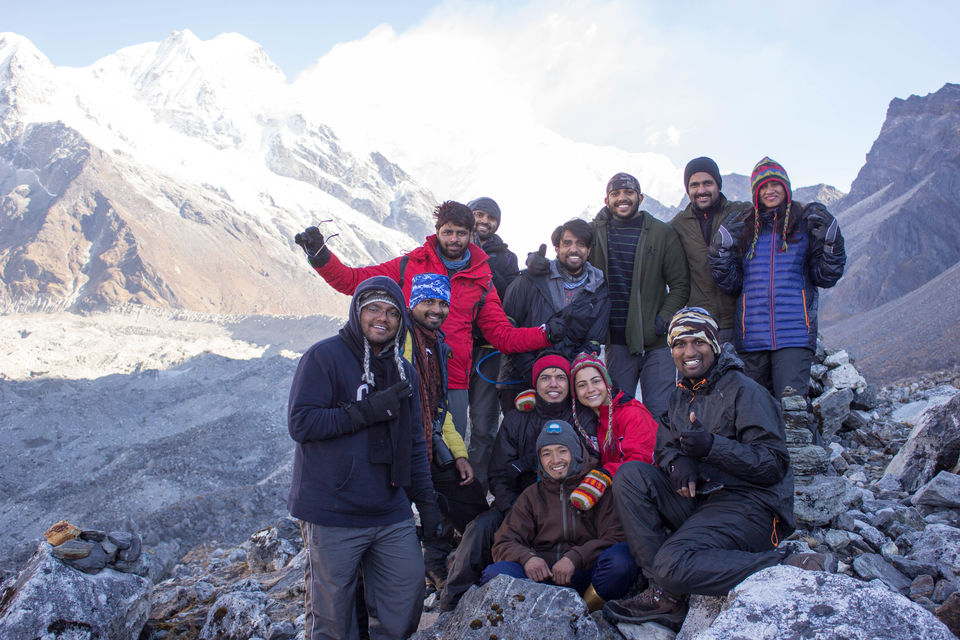 Day 8 back to Home:
In Morning we had breakfast and started to Yuksom with lot of memories. In life time visiting this place is simply fantastic. Entire journey gave a lot thoughts and a lot more moments, which will never fade in life and finally came home with lot of unforgettable memories.
Precautions:
There, some precautions have to be taken before going for Himalayan treks or any high altitude treks. Sharing you all some precautions (experieces) that you might have to take, when you plan the treks and hope these may find useful to all.
Altitude sickness, also known as AMS (Acute Mountain Sickness), is a pathological effect of high altitude on humans, caused by acute exposure to low partial pressure of oxygen at high altitudes.
Although minor symptoms such as breathlessness may occur at altitudes of 1,500 meters (5,000 ft), AMS commonly occurs above 2,400 meters (8,000 ft). It presents as a collection of non specific symptoms, acquired at high altitude or in low air pressure, resembling a case of "flu, carbon monoxide poisoning, or a hangover". It is hard to determine who will be affected by altitude sickness, as there are no specific factors that correlate with a susceptibility to altitude sickness. However, most people can ascend to 2,400 meters (8,000 ft) without difficulty.
few steps to take:
Go for walk and running before 1 month of trek
Try yoga, especially concentrate on breath exercise (Pranayama)
Walk slow, when you are in trek, it will help you to stabilize your breath.
Preserve the nature, Please do not throw garbage or don't pollute water, this is the place where we feel the life with peace and healthy. Keep your surrounds CLEAN and GREEN
Care for Nature, and you will be rewarded excellently by Nature:
Protect Air and water, they will protect you for life...
Give and Take from Nature