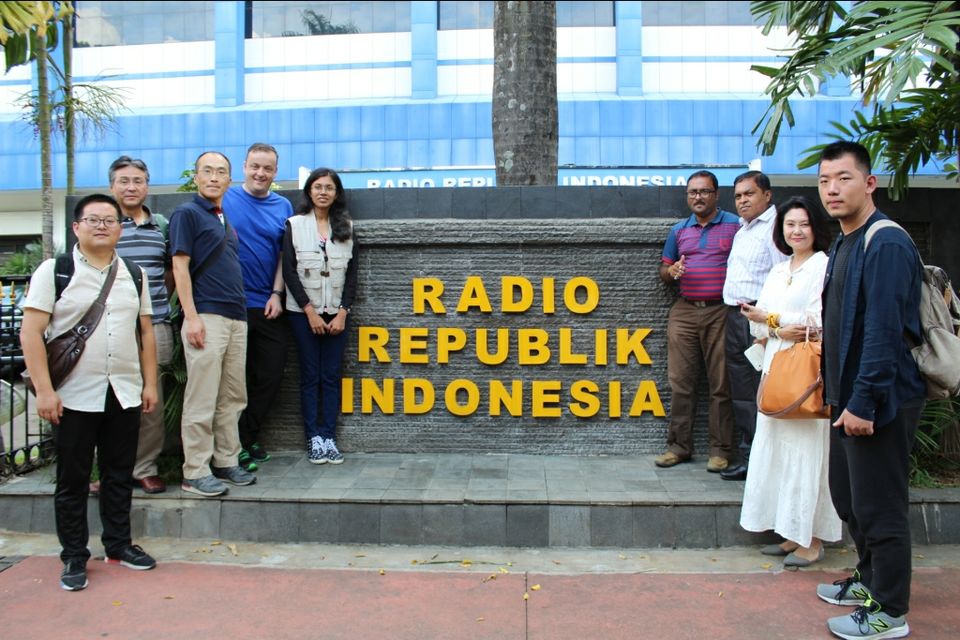 The winners at Radio Republik Indonesia. From left : Yang Tietong, Takashi Kawai, Akio Uemura, Michael Cunningham, Adita Prithika, Prithwiraj Purkayastha, Pradip Kundu, Yao Zhanping, Gong Lei.
Barring a few minor ups and downs, my life had been relatively uneventful so far. And then one day the news came and changed my life upside down – in a very glamorous way. In the seven years of my DXing life, never once did I think that I would hit the jackpot. An opportunity of a lifetime – better than all the precious things in the world combined! It took me a few days to even wrap my head around the fact that this is happening to me; that I am one of the fortunate few who gets to visit the radio station and the host country that have brought Voice of Indonesia to the world wide audience for decades.
A year's time has elapsed since those magical five days in this beautiful country. Even after all this time, my mind is struggling to take in the enormity of the event. The memories are still fresh, but surreal – kind of cocooned in a hazy film. And if you asked me now, I would be ready to forsake everything just for an opportunity to relive those precious moments.
I had always looked up at the winners of the Wonderful Indonesia Initiative in awe every single year and believed that my turn would come someday, no matter how far-fetched that sounded. Last year was not any different. I had, with so much hope stashed inside my novice-heart, written to the radio station in detail about why I want to win this competition, in nothing short of a googly-eyed pleading and did a sincere exposition answering all their questions and an earnest attempt at fulfilling all the requisite criteria.
But, convinced that I don't stand a chance against all the eminent DXer participants from various countries, I had forgotten about it completely, as a way of saving myself from imminent heartbreak, which had become the norm. A week later, I got that one email – which then made my life topsy-turvy in a trice. I almost fainted after reading the email which said I had been shortlisted and also went on to ask me that if I was selected, would I be able to come all the way over to meet the people that I have grown up listening to. I told them that I would stop the world if that's what was holding me back from saying yes a thousand times over.
It was a painfully long week and one interminable wait later, I finally received another email telling me that I was, after all, going. I hugged my phone and went down on my knees crying. For someone who had had 23 long mundane years, this news was an avalanche of intoxicating feelings. I was drowning in the flood of feel good emotions. It took a long while for this news to sink in, but once it did, I got to my feet and started preparing for this biggest adventure of my life with so much zest and enthusiasm. I did nothing to hold back the happiness, and I announced it to the whole world with fanfare. With all things ready and bags packed, the only thing left to do was count the seconds until the big day.
It finally dawned on the 26th of May. I was super hyped and couldn't stop my legs from dancing of their own accord. The whole family drove me to the airport, and I had to steady myself for the long-haul flight. Even though the itinerary (which was kept under wraps until we reached there) included Medan City in the island of Sumatra, for the most part, I had unwittingly agreed to the long-way around flight plan and as a trigger-happy flier, I couldn't have asked for better travel arrangements. The problem was, as it turned out, that I was totally unprepared for the long-haul journey as a first-time flier.
I was completely exhausted by the time I had had three connecting flights, picked up my fellow travellers (Uncle Pradip Kundu and Prithwiraj Purkayastha da, both of whom are very experienced DXers from Tripura and Assam respectively) and arrived at Soekarno Hatta International Airport in Jakarta the next day. I was thoroughly exhausted, but my excitement hadn't dimmed one bit. We were given a grand welcome by the welcome party which constituted the ever-smiling and vivacious Shella, who was the trip co-ordinator from the Ministry of Tourism, and the cheerful but coy Rudi, who was going to lug the camera around and capture us in our finest moments for the next couple of days. We were informed of our immediate itinerary, which was flying straight to Medan city in Sumatra. The two hour pit-stop before the flight helped us get acquainted well to everyone in the welcome committee and we met another of the winners, Mr. Michael Cunningham, who had come all the way from Australia.
We were also treated to a sumptuous brunch at the Garuda Executive Terminal where I was introduced to one of my favourite Indonesian dishes for probably the entire length of my life – Nasi Goreng – which I sought out like crazy everywhere I went for the next few days. Nasi Goreng is essentially flavoured risotto-type rice dish that is cooked with meat – chicken, lamb and beef – and although I was a little squeamish about beef and pork, I didn't mind. I was so immersed in the spicy goodness of Nasi Goreng that I was even ready to skip the cultural prejudices that I have been brought up with.
It was just after two in the afternoon when we checked out of the KNO Airport in the city of Medan, Sumatra, and what appeared to be a fine weather paved way for dark monstrous rain clouds and it started pouring soon after as the afternoon wore on. We were introduced to our tour guide Mr. Bambang and he regaled us with the rich legacy of the city on our way to the hotel. We reached the hotel after about an hour's travel by road and although the outside was slick and wet from the rain, we were stunned by the grandeur of Grand Aston Medan and the equally elegant welcome party which was waiting for us at the entrance with bouquets of flowers and unmistakable glee plastered on everyone's face, which I thought was very reflective of how we felt too, at that moment.
Six of the ten winners had already arrived in the morning and had already done a bit of sightseeing, visiting The Maimun Palace and Grand Mosque and had a relaxing massage at Heritage Spa, all of which we missed out because of our flight schedule. Everyone exchanged our hellos and ni haos and namastes and konnichiwas and went up to our rooms to rest up for a while before the actual fun began. Even though my body was begging to lie down for a while and beat the weariness out of my system, my mind was super elated and alert, stopping me from getting at least a few minutes' worth of shut-eye. I got ready soon and went down to sit with the people who have already gathered in the lobby. By this time, we had already moved past our initial reservations and we were getting to know each other bit by bit.
We were taken to The Edge Restaurant Swiss Belhotel Medan where we had our dinner on the 27th floor and caught a glimpse of the sparkling city lights and the ethereal glow of the night-time Medan. We were served dessert at the end of a delightful dinner and then taken to the specialty Durian place called Ucok Durian. I'd have to agree that that was one of the unpleasant experiences personally, because I am a picky eater and I couldn't enjoy the strong musky odour that is the signature style of Durian. Although everyone had a great time living the Durian experience, I had to be content with observing everyone else's happy expressions from a distance. Gong Lei, the boisterous Chinese couldn't get enough of it, and he handled the whole 'situation' with such ease and finesse. With that amazing Durian time, our long first day came to a wrap and we headed back to the hotel to let our tired bodies catch some refreshing hours of sleep.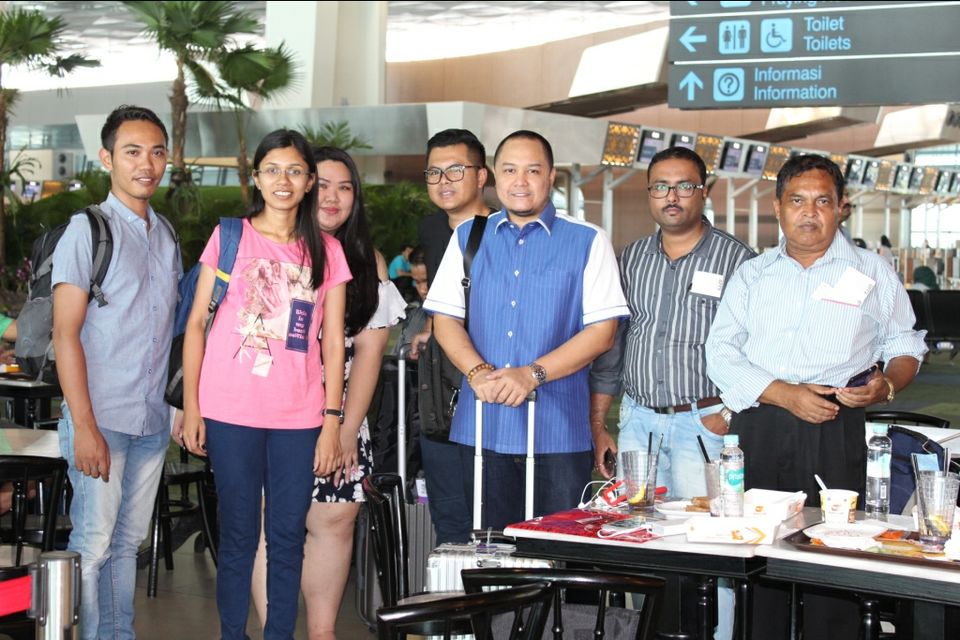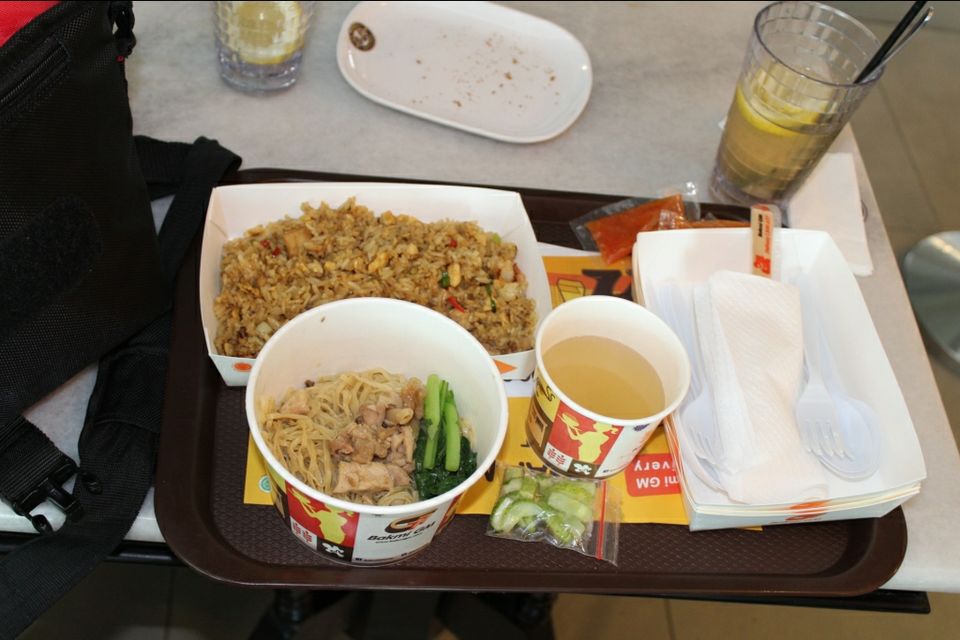 The second day began in a laid-back manner as we had a relaxed buffet breakfast at Grand Aston and started on a day long road trip through Berastagi up to Parapat. We made a few stops on the way to explore the local landmarks. We stopped by Pagoda Taman Lumbini first, reminiscent of the grand Pagodas of Thailand. The entire façade and the dome were covered in golden yellow, giving it a heavenly glow even during the day as the sun glinted off its surface. Unfortunately, the pagoda was closed for the visitors during that time of the day, and we had to make peace with the fact that we got to take a few cool pictures of the façade.
After a few hours' drive, we reached Berastagi where we got to sample the local produce and take some of the exotic fruits and a few familiar ones back with us to keep our hunger at bay through the rest of the journey. There were fruits and vegetables and horses and other amazing stuff in all colours and shapes, and we had bought bags full of them by the time we were almost dragged by our imaginary shirt collars to get back on the bus.
By late afternoon, we had reached the majestic Sipisopiso and had spent a good half hour trying to climb down to the base of the waterfall, a task most of the crew had given up on, except Michael and Gong, who persevered to go on till the end. When they finally emerged, they were drenched thoroughly from being in the proximity of the mist from the waterfall, the spectacle that we never got to witness. Dora and Dina, our co-ordinators rallied us behind a banner to get our pictures taken, and with a light heart and a setting sun in the background, we got on the bus to travel all through the evening with Lake Toba as a backdrop for the most part of the journey. We arrived at Parapat shortly after nightfall and checked into Hotel Niagara where an al-fresco dinner was waiting for us.
By the end of the second day, I could already tell who was who and strike up conversations with them like they weren't people that I had met just a day ago. It was a short night, but a cosy one at that.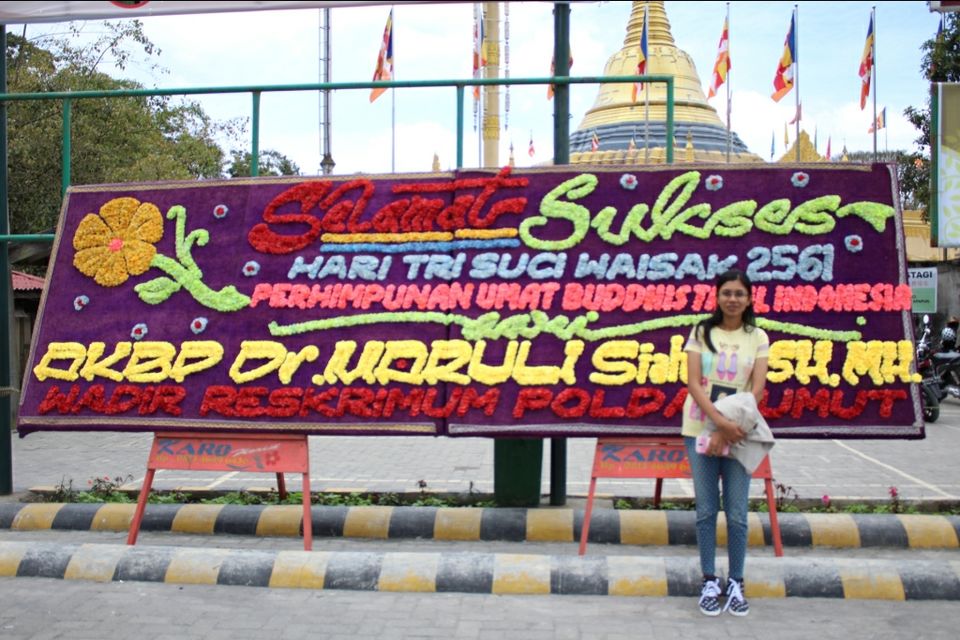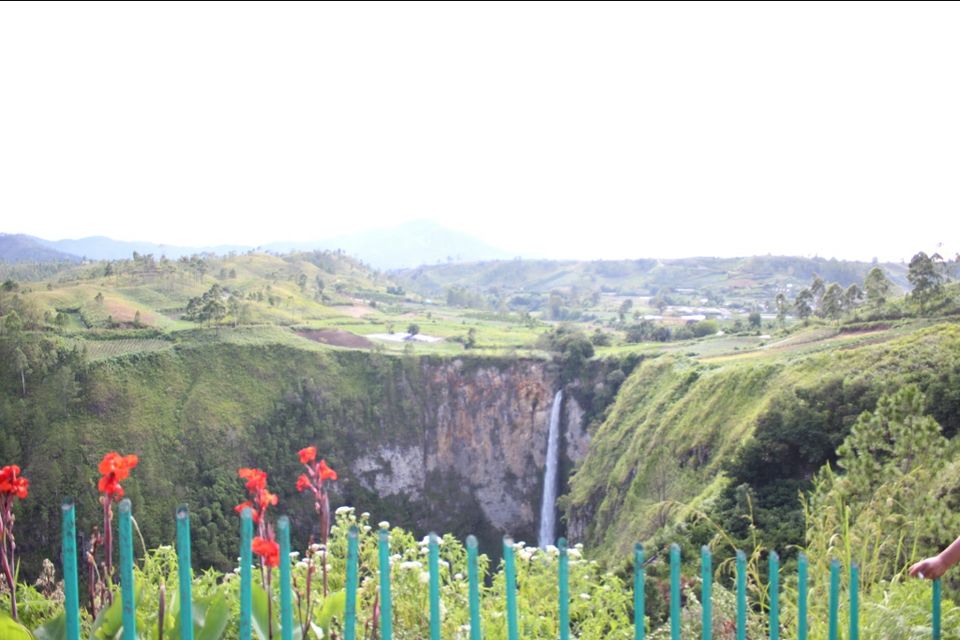 Even though we left early for an exclusive tour of the magnificent lake Toba after a hurried breakfast, we missed the ferry that was supposed to take us to the island of Samosir located in the heart of the lake. With some luck, we were able to snag a double decker boat to take us across the great expanse of Toba's pristine waters. As soon as we alighted, we visited the Ambarita village where we got to see the legendary stone chairs at Huta Siallagan, the hot seat of Batak King Siallagan's reign. Some of the reportedly popular customs and rituals of beheading the criminals were enacted for our viewing pleasure.
The best part of the day came afterwards where we got to experience the exquisite feeling of doing the ritualistic Tor-Tor dance in front of the traditional Batak houses in the Simanindo Village. Although I was very clumsy on my feet, it personally gave me much satisfaction than being a part of a well-choreographed ball room dance.
We hung around the local shops to do some shopping, and collected some souvenirs to take home. We had a posh lunch at the lakeside restaurant and did some DXing, which was the cherry on the top. Afterwards we headed towards the Tomok village where we visited the tomb of a very significant ruler in the local history, King Sidabutar. The tombs of his successors are also located in the vicinity and just being there and listening to the history being narrated so beautifully by our guide took us back in time to the era of fair and just reign.
We wound up early and then checked into Hotel JTS, a quaint little accommodation on the white sand beach of Lake Toba. It was early in the evening and we decided to go swimming in the lake, not knowing what else to do with the leisurely hours we had at our disposal. We got ready for a welcome party by the Sumatran Tourism Board, followed by an appetizing dinner, after which we retired to our rooms for the night.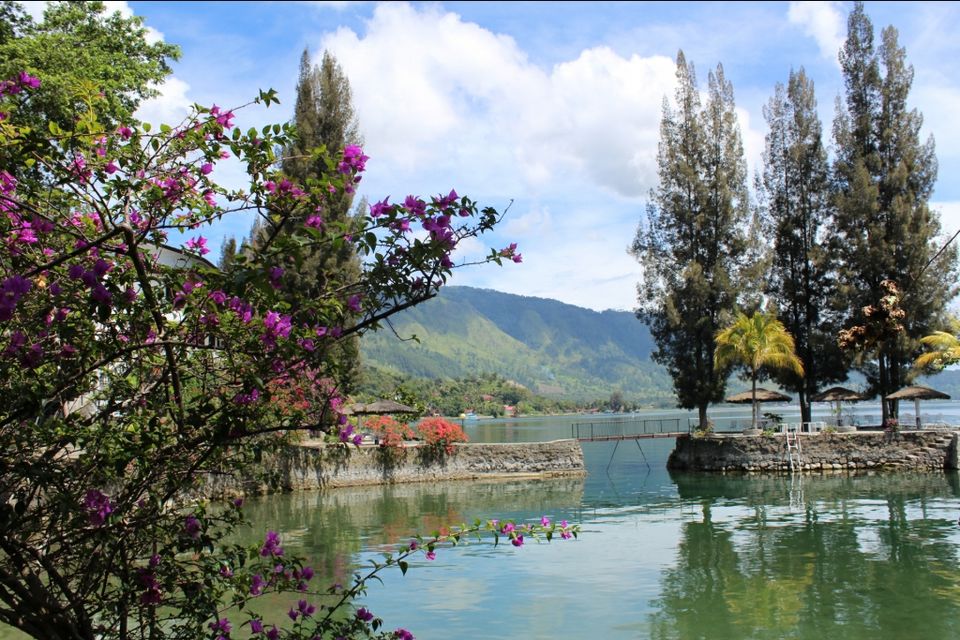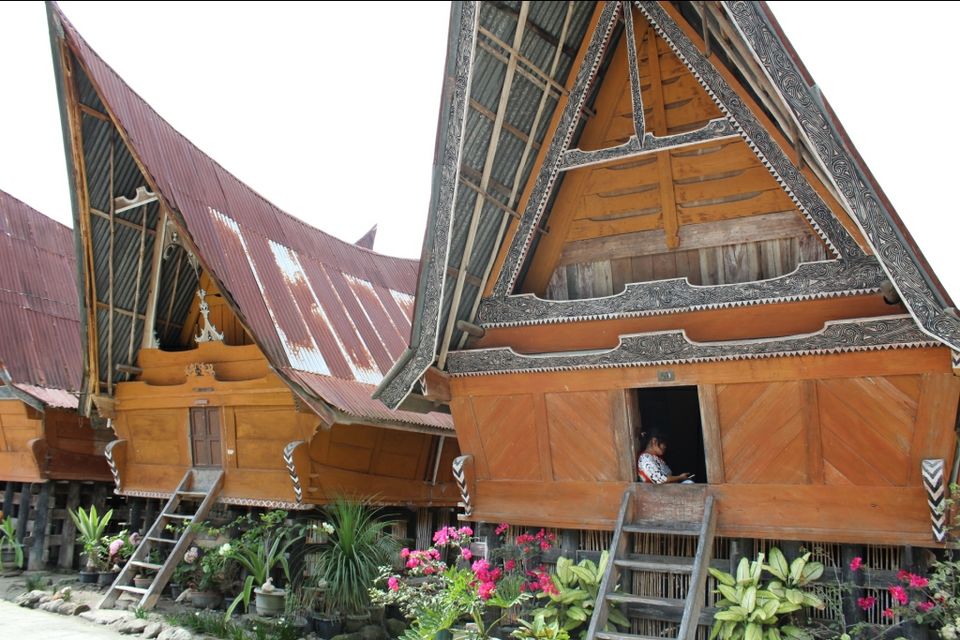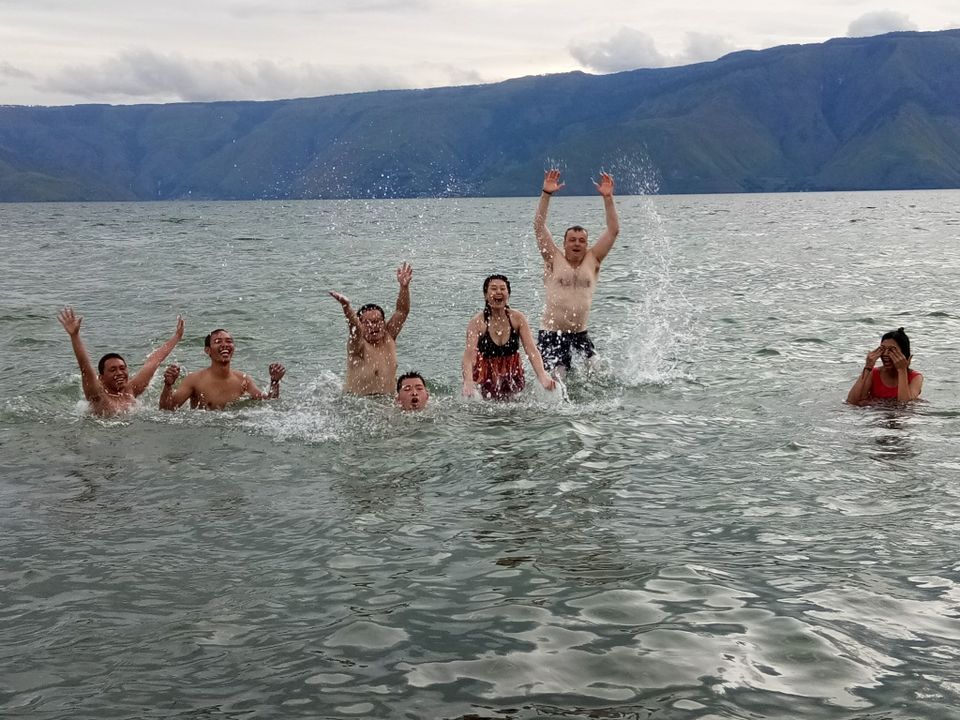 We started very early on day four, even before sunrise, and it was time for us to leave Sumatra. Our breakfast arrived in a box and there couldn't have been a better wrap to the Sumatran cuisine — with a Nasi Goreng punch and shrimp chips. We drove straight to the Silangit airport and we stopped only once in the middle of the long stretch of road to the airport, at Menara – to bask in the panoramic view of the whole valley.
While waiting for our flight at Silangit, we befriended a shop owner who owned a novelty shop inside the airport and learned that she is a big fan of Indian cinema. We bought plenty of souvenirs and sweets and flew back to Jakarta. Even though we had originally arrived at Jakarta on the first day, we never ventured out. This time it was different. I was awestruck as we were taken around on a city tour, and just like any capital city, it was bustling with people and traffic. But there was also a relaxed and tranquil undercurrent beneath all the surface hustle. The city was a contradiction of sorts. Besides, we lucked out as the weather was the perfect combination of sunshine and cool breeze. As our schedule got a bit tighter, we decided to drop certain items from the itinerary, in order to accommodate the most important part of this entire journey – our RRI/VOI visit.
It was the most momentous and joyful occasion of our lives, when we stepped out of our bus to behold the mighty RRI building – the façade painted in blue and white, but elegant all the same. It was like the picture you had often seen only in your dreams came very tangibly true in your real life. For me personally, this moment had that dreamlike quality, only – it didn't disappear this time when I blinked my eyes. After nearly fifteen minutes of internally screaming, frolicking, panicking and crying in sheer joy and clicking umpteen photos in front the building, we decided we have had enough and that we should go in and meet the people we have come this far to meet. The people whose voices we have heard for years. The people whose voices we will be able to recognize anywhere in a crowd of a thousand people.
The smiles on the faces of Nouva (Diba, as she is fondly called), Ani, Enny, Unun and Rita were as dazzling as a thousand watt bulb. We exchanged pleasantries and hugs, but my nerves wouldn't settle for a long time to come. I had never been so excited to see any group of people in my life. All these years, they had been as close as family – only we'd never met them. To realize that they were the same people I had known them as radio personalities in real life too was almost as good as a surprise.
Afterwards, I was able to calm down and enjoy the studio tour. Michael and Prithwiraj da even recorded a program for subsequent broadcast and we were shown to both the old and new studios. We had another big welcome party and I felt so puny and insignificant in the presence of all the great people including the director of RRI World Service Voice of Indonesia, Drs. H. Anhar Achmad, who accorded us a grand welcome. We were presented with bags full of memorabilia and certificates as the crowd cheered us on. We were the celebrities at the Iftar party, the stars among the amazing people and top level officials from the Tourism and Communications Ministry of the Indonesian government.
By the time we left the RRI building, our hearts and stomach were filled to the brim with the Iftar treats. As it was only early in the evening and there was still some time left, we decided to do some landmark hopping. We stopped at Kota Tua, as the city centre is known as, and I was taken aback to see most of the city's population strolling leisurely around and dancing and singing, or sometimes even just letting the hair down by taking in the rambunctious socializing going on around them. There was a lingering colonial feel to these buildings and we marvelled at the confluence of different eras and people at this very place. We decided to call it an early night and checked into Hotel Borobudur, which was a world of its own. The walls of the corridor were adorned with Indian murals, giving us a semblance of home. I stood there mesmerized by the stunningly intricate detail of the art deco style of the hotel.
Somehow, I couldn't bring myself to sleeping that night. We'd be gone the next day and there was still so much to see of the bustling night life of Jakarta and the night was young and I couldn't afford to waste it on something as trivial as sleep. So I sneaked out of my room, gathered my band of co-conspirators – Dina, Shella, Rudi, Ihsan, Prithwi da and set out to explore. We went as far as our tired legs would take us and we even got to witness the spirit of a secular nation in the heart of the city – The Grand Mosque(Masjid Istiqlal) and the Grand Cathedral located just across the road from one another. We weren't fortunate enough to see the inside of the mosque, but we could derive satisfaction from the fact that we had successfully conducted ourselves through a self-guided walking tour around the perimeter of the marvellously lit-up mosque. After a bit of strolling on the streets of Jakarta, we returned to our room and the exhaustion lulled me into a peaceful slumber as soon as I hit the bed.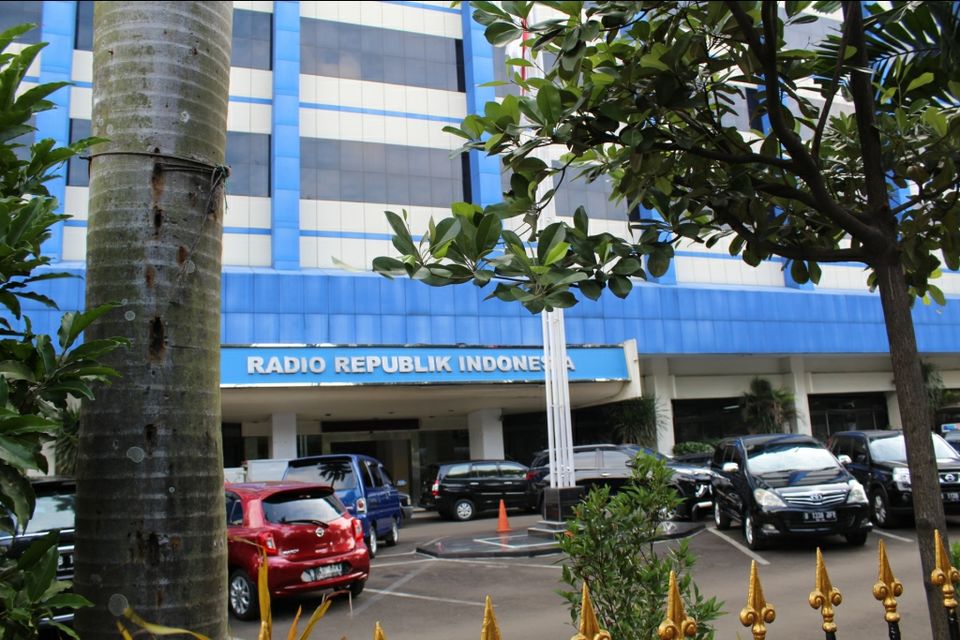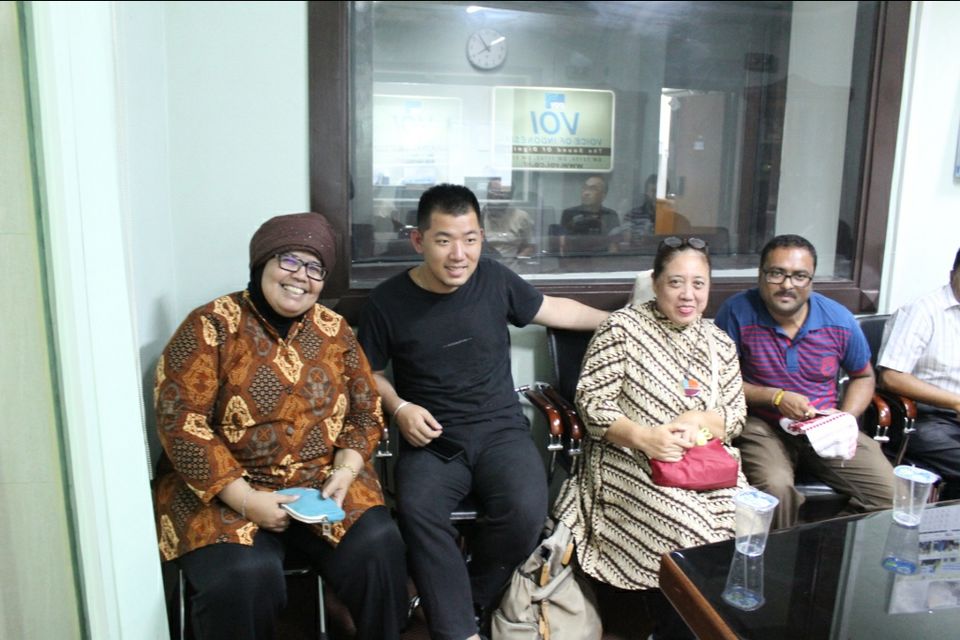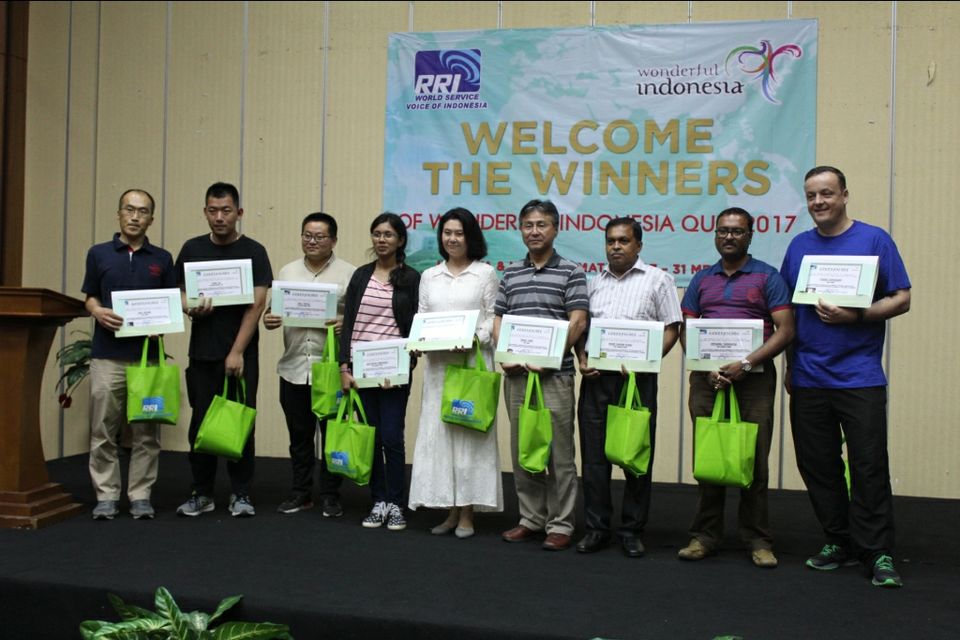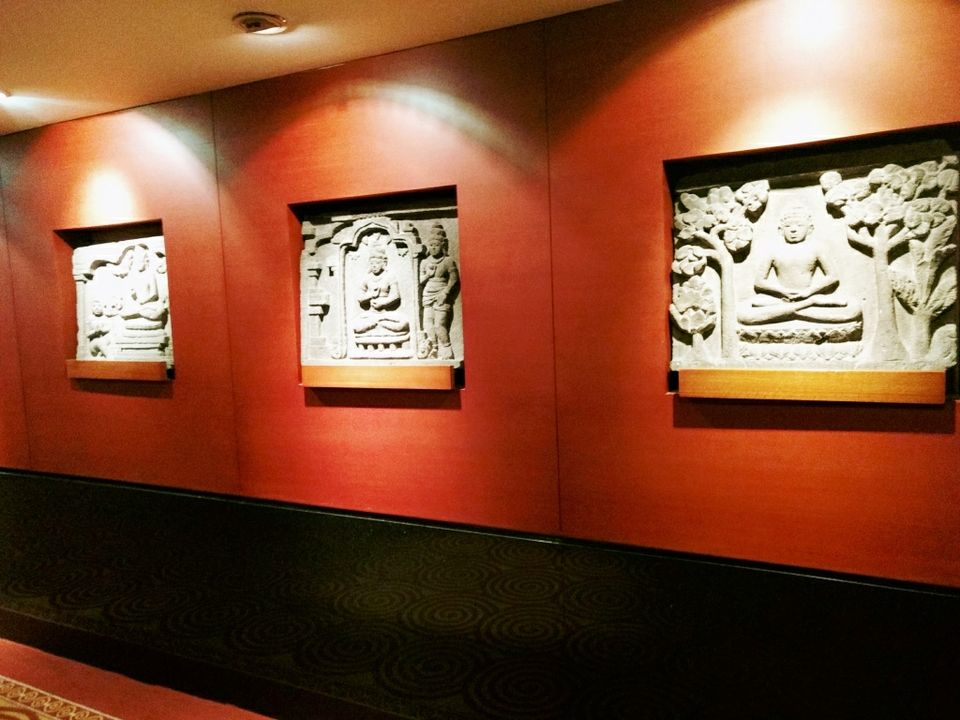 I woke up the next morning with a heavy feeling in my chest. Of course, it's a given, since the beautiful sojourn was coming to an end. The day was drastically short because we had our flight back home sometime in the afternoon and we had to pack our stuff. But we had one last and the most important leg of the journey to take care of, before we left. After another of these sumptuous breakfasts at the hotel, where I bid my first adieu of the day – and a tearful one at that – to the most delicious Nasi Goreng, we were taken to the RRI transmitter site.
For almost five days, we had been waiting with bated breath for this very moment – to go visit the real technical monolith that hoists all the produced content into the airwaves. I consider myself one of the luckiest few among the generations of ardent DXers, to have been to this very place. The directors and the staff gave us a thorough enlightening tour of the transmitter site, and I realized that everything I had so far thought I knew about radio constituted a paltry bit of the vast ocean of miscellaneous faculties present within the radio world. I marvelled at the array of antennas and I must admit that it was almost spiritual and cathartic for me. Although the guide explained to us what ails the short wave radio broadcasts and how the hardware used in the technology is outdated and hard to come by, because they don't manufacture the redundant components anymore, I was in awe of the technology that is a century old and still stands in the face of adversity, thanks to the die-hard fans of SW radio who will go to any extent to preserve the last few standing of the once flourishing media, cherished by people world-over.
After clicking a few photos for keepsakes and one last delicious Indonesian lunch, it was time for us to say goodbye to each other. The mood was cheerful as against the sombre ones that usually prevail during farewells, but there was an ache deep within, at the thought of leaving everyone I have come to know like family in the past few days. While I was busy trying to capture every last minute through the lens of my camera, Zhao tucked a stray strand of my hair and pinned it with a beautiful butterfly clip that I hold dear to this day. Afterwards we drove to the airport and on the way made a last minute friend of a prominent host from the English-Bahasa section, who I failed to recognize in the first place. He laughed about it afterwards and regaled us with exciting VOI insider stories that kept us on the edge of our seats the whole time.
Shortly afterwards, we reached the airport and with heavy heart and hope of someday coming back to see all the amazing VOI people and the new friends we made, we had to prise ourselves away from the not-so-unfamiliar-anymore terrain to fly back to the familiar land with bag full of souvenirs, heart full of pride and joy and mind fresh with amazing experiences to share with our fellow DXers back home.
P.S You are being terribly missed Zhao, Gong, Yang, Mitsuaki San, Akio San, Takashi San, Michael, Uncle Pradip, Prithwiraj da, Dora, Rudi, Ihsan, Shella, Dina, Steve, Enni, Ani, Rita, Diba and Unun. Until next time, then!