This tourist attraction with a beautiful under the sea scenery has been one of the most favorite underwater places to visit in the world. Raja Ampat (four kings) is a destination that consists of four beautiful and exotic main islands. The four islands are Waigeo, Salawati, Batanta and Misool which is home to ancient rock paintings. There are also a lot of other islands that is not less beautiful than the main islands.
According to "The Nature Conservancy and Conservation International", about 75% of world marine species live in these exotic islands. Raja Ampat region is very large with areas of land and oceans to reach 4.6 million hectares. There are various flora and fauna species, such as 540 types of coral, 1.511 species of fish, 700 types of Mollusca and other undiscovered species. This plentiful biota caused Raja Ampat as the center and most complete of coral reefs and marine biota. All of this beautiful nature in Raja Ampat was protected by Indonesian legal entities. The tourist that visit Raja Ampat was also encouraged to take part in protecting it. It is important to prevent the destruction of the marine ecosystem where some people only care about business profit.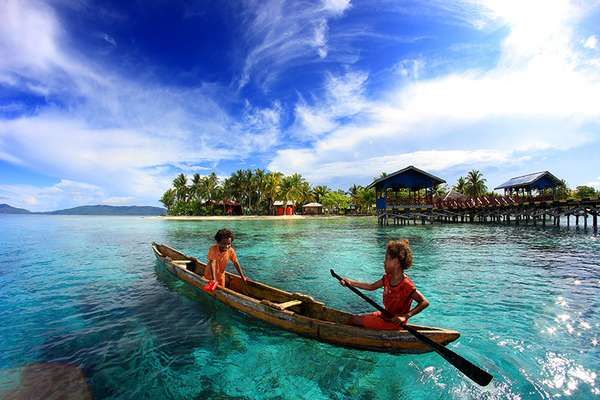 advontur.com
Raja Ampat beauty has been documented in a documentary film "Edis Paradise 3" where it was premiered in Swiss. The documentary was made by Avant Premire and it showed the underwater beauty of Raja Ampat. As a result, it is dubbed as Amazon World Ocean. The nickname was given because Raja Ampat is located in the center of The Coral Triangle. Raja Ampat is located in the territory of West Papua and consists of 610 island where only 35 of them was inhabited.
A renowned underwater photographer, Michael Aw, stated "I was like a 5-years-old kid who was for the first time saw coral reefs and was fascinated by its beauty. With all the available resources, we have to preserve the beauty of Raja Ampat."
The beauty of Raja Ampat will make you feel like you are in a fantasy island that will dazzle either the new visitor or tourist who has come several times. The most favorite activities that do by the tourists in Raja Ampat are diving and snorkeling. If you jump into the clear and transparent ocean, you will see the pretty animals and coral down there. You can watch some scarce fish or even touch them. Manta ray and wobbegong will appear in your view, aside from tuna, giant trevallies, snapper, and barracuda. While enjoying the sight of them, some dugong will accompany you swimming. Time seemed to pass so quickly when you are in the ocean of Raja Ampat.
How to Get There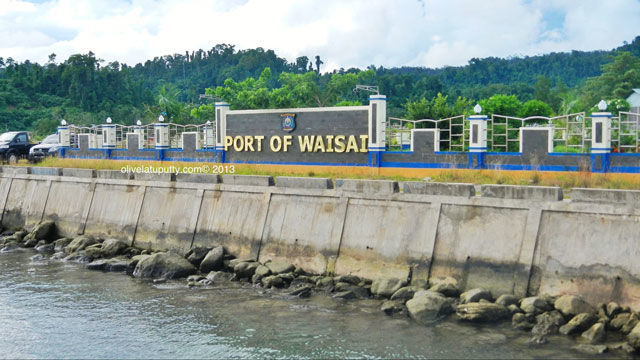 photo:www.olivelatuputty.com
If you plan to visit Raja Ampat from Jakarta, Bali or from wherever you are, please book flight tickets with Sorong city as the destination. Sorong is the way to enter to Raja Ampat. The flight will take about six hours (from Jakarta) and usually will transit to Makassar or Manado before arriving at Domine Eduard Sorong airport. Then, you can continue the trip to Sorong harbor by public transportation at a low cost. After that, you have to buy a ticket toWaisai city.Waisai is the capital city of Raja Ampat which is located on Waigeo Island. Waigeo Island is one of the four main islands of Raja Ampat. The trip from Sorong to Raja Ampat can be reached approximately in two hours.

Where To Stay
After arriving in Waisai, (capital city of Raja Ampat), you can find hotels, resort and lodges with varying prices. If you have to stop at Sorong city because the flight tickets to Waisai already sold out, you can stay there for a night before continuing the trip the next day. In Waisai, you can find some affordable hotels starting from IDR 300.000 or approximately 25 in USD.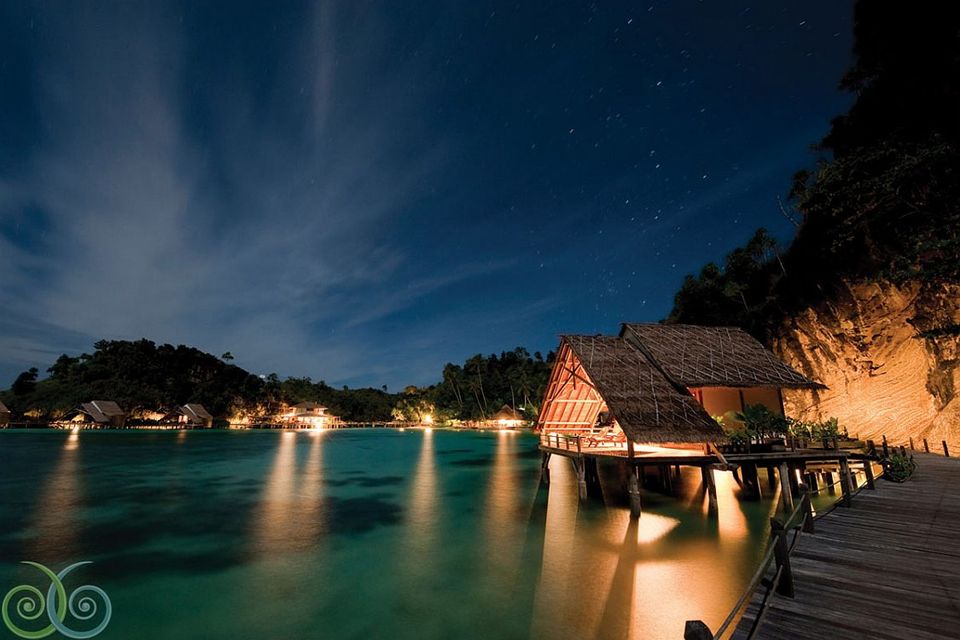 photo:www.misoolecoresort.com
You can also stay in Saonek Monde. Saonek Mande has many resorts; such as Sorido Bay Resort which is famous for its coral reefs, Kri Eco Resort which was built over water with its traditional environment, etc. There are also hotels or rental houses in Saonek, Mansuar and Yenwaupnor Island that you can choose as your place to stay.
What To Eat
You don't have to worry to be starved here as Raja Ampat also serve an international menu for international tourists, in addition to local and traditional menu. The dishes usually were already provided by diving organizers and you can just choose your desired menu. The food was made by local people from the ocean. One dish that you have to try is yellow fish soup, which is a special menu from Raja Ampat.
Shopping and Souvenirs
Most of the divers who came to Raja Ampat said that the best souvenirs to get from there are experiences and photos and videos that they took during the trip. But, for you who loves to shopping, there are many souvenir and gift shops in Raja Ampat. You can buy Asmat statue, traditional fabrics, traditional musical instruments, and Tambur (Papua traditional drum). If you come to visit Arborek village, don't forget to buy traditional webbing there.
Local Culture
Due to the location of Raja Ampat which is located in the westernmost island of the big archipelago, that is New Guinea, making Raja Ampat anthropologically and linguistically was called diversity (an area of diversity). This nickname itself portrays the culture and language situation that is blending the native Raja Ampat culture and other culture that was brought by people from outside Papua. Just like in a song "Aku Papua" by the late Frankie Sahilatua, the special characteristic of Papua and Raja Ampat people are their dark skin and curly hair.
Raja Ampat residents usually speak in two language, Biak language, and Melayu Papua language. Biak language is mostly used on the coast and islands, whereas Melayu language is used in daily activities. The deployment of tribes based on the islands are : Waigeo Island (Wawiyai (Wauyai) Tribe, Kawe Tribe, Laganyan Tribe, Ambel (Waren) Tribe, Biak Tribe); Batanta Island (Batanta Tribe and Biak Tribe); Salawati Island (Tepin Tribe, Moi (Moi-Maya) Tribe, Fiat Tribe, Domu Tribe, Waili Tribe, and Butlih Tribe); Misool Island ( Matbat Tribe, Misool Tribe, Biga Tribe, Biak Tribe); and Kofiau Island (Biak Tribe, Biak Beteu/Beser Tribe).
Best Things to Do & See in Raja Ampat
The most visited island by tourists is Wayang Island, Waiwo Island, Karang Island, Gam Island and Arborek Island. Diving and snorkeling are the most favorite things to do in Raja Ampat. South Waigeo becomes a favorite destination for divers.
Do not miss the beautiful scenery of karst island in Kabui Bay, a cave of skulls and historical sites in Kali Raja, Raja Ampat. You can also see various types of bird in Yenwaupnor and Sawinggrai villages, the Salay dance in Sanoek, and some beautifully woven handicrafts in Arborek. You can diving and seeing a group of stingrays swimming in Arborek as well. In Sawandarek, there is a white sandy beach with sea ducks ad pretty corals. Besides that, there is a traditional village where you can take a stroll and enjoy the unforgettable atmosphere around.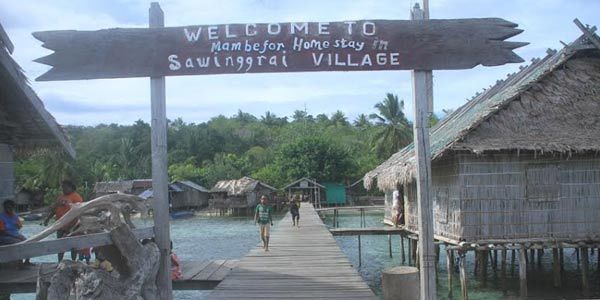 photo:http://inilah.com
Aside from them, the most attractive thing in Papua is that it has dense forest, colorful clusters of limestone, various species of scarce plants and turtle nest at the seashore. There are 540 species of coral and 1.511 species of fish in Raja Ampat. Around 75% of world's coral species are in Raja Ampat, making it equals to 10 times the number of coral species that was found throughout the Caribbean. There are five species of endangered turtle, 13 species of marine mammals, 57 species of mantis shrimp and 27 species of fish that can only be found in Raja Ampat.
Most of tourists that come will be surfing in Raja Ampat because it has fairly high sea waves. In Gam Island, there is a unique fauna of Papua called cendrawasih which means bird-of-paradise. It has some types, such as red cendrawasih, big cendrawasih, small cendrawasih and magnificent cendrawasih. For hikers, you can go to Karang Island. You can climb a cliff where the slope reaches 90 degrees there, but after you reach the peak, the panoramic beauty of Raja Ampat will make you forget the tiredness and fatigue through the hiking. You can see the whole green islands and blue ocean scenery.
If you come at the right time to eastern Waigeo, around Urbinasopen village and Yesner, there is an interesting phenomenon that only occurs at the end of the year. There is a light that comes from the under the sea and goes around the ocean surface for 10-18 minutes. The local people called the phenomenon as "ocean ghost".
There is a performance of traditional bamboo flutes or also called as tambur that you can enjoy in north and west Waigeo. The traditional performance only held in Indonesia Independence Day, spiritual festival and when officials or governors visit. In the north Waigeo, you may learn some history as you can come to see a cave from World War II where Netherlands and Japanese Army built their bunker. Sometimes there is also a war dance performed by local people.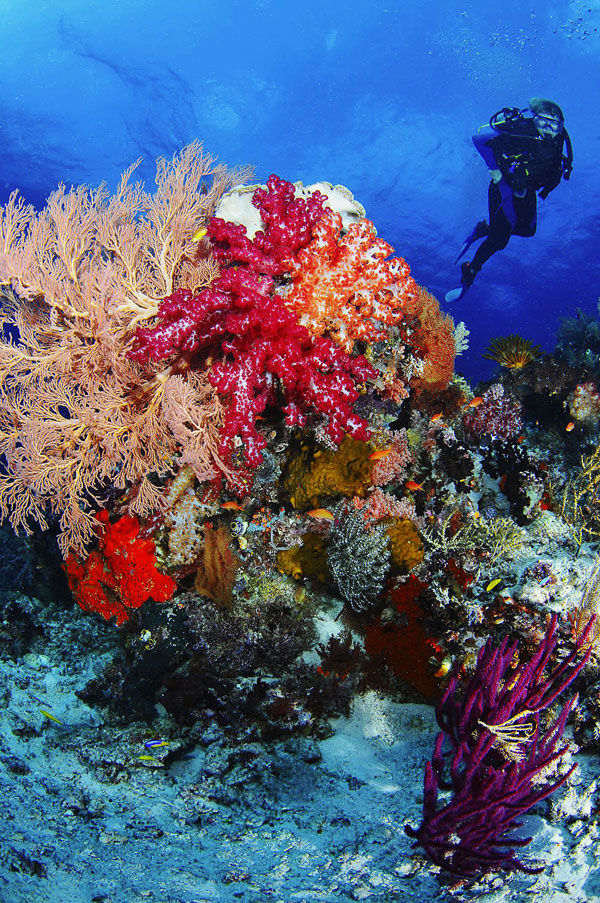 photo:www.4wlp.com
Moreover, you can see big paintings of human and animals palms in a cave in Timolol. The paintings were painted by the prehistoric caveman. There is also a waterfall that keeps on flowing in Salawati.
Next, you can go to Ayau Island which consists of some small islands. Ayau Island is so beautiful with its white sand and all the islands are connected to each other. There is also an island with white sand that the local people called zandplaat, which is a unique habitat for local vegetation. You can see some mothers and children of local tribes catch sea worms (insonem) there.
As for other activities that you can do are feeding some cuscuses, kayaking, exploring the island by a boat, exploring Batcave, doing traditional fishing of Papua, trekking to waterfalls and also making some wood sculptures guided by Asmat craftsmen. Be sure to document all your activities.
Travelling Around
To traveling around Raja Ampat, you can contact some travel agencies that can be found in Sorong. Some travel agencies also offer some tour package such as tour around the islands and diving tours in Raja Ampat.
From Sorong, there are two transportation that you can take: A speed boat or long boat. You can also rent a small boat to go around the beautiful Raja Ampat.
Photo Gallery of Raja Ampat Islands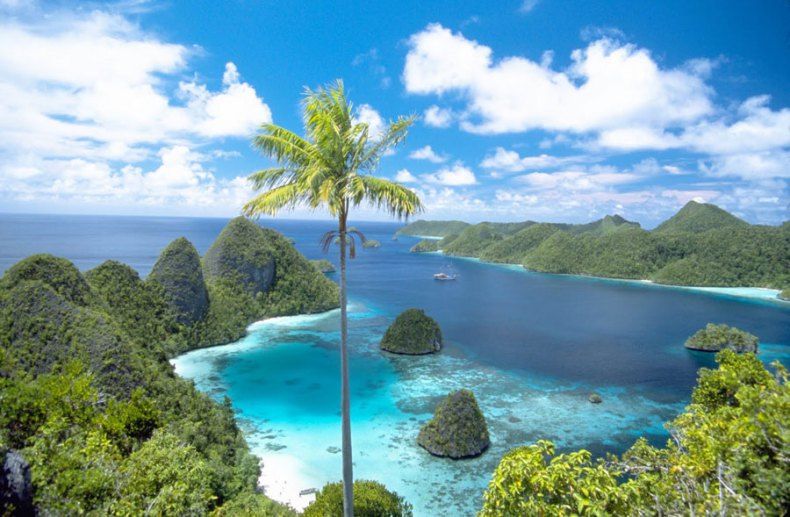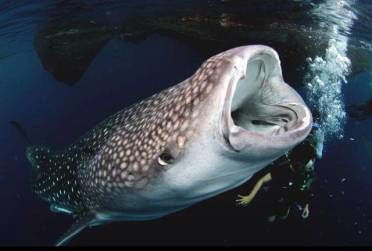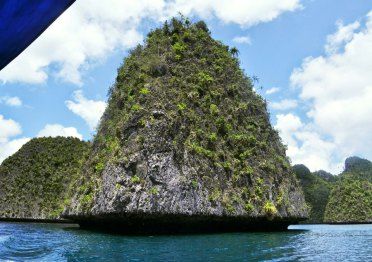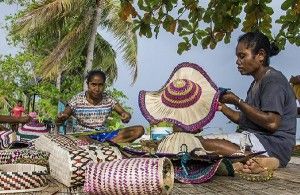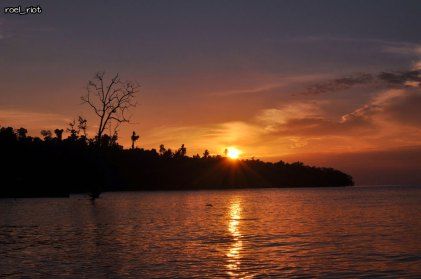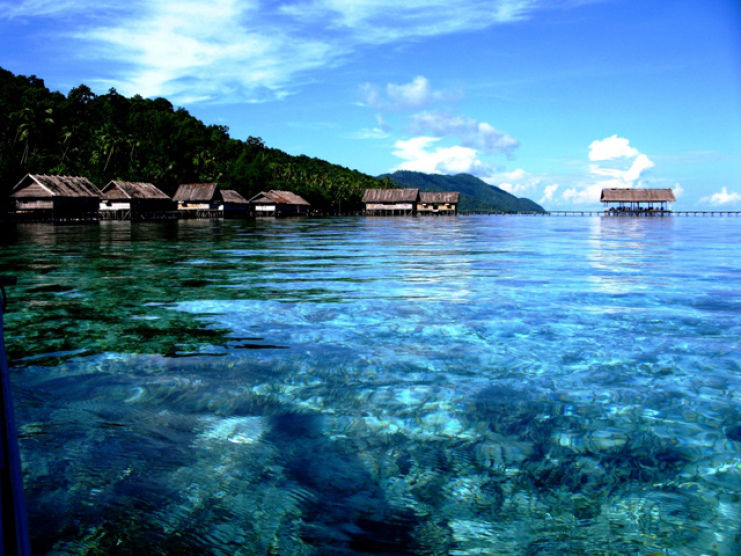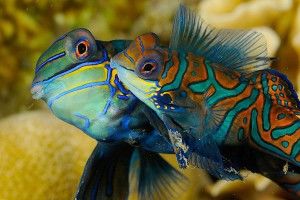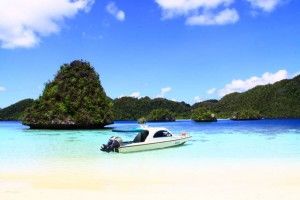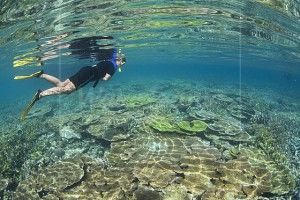 Tips
Choose the right time to visit Raja Ampat because climate change is uncertain.
Don't forget to bring the video camera and underwater camera to documented your trip.
Don't forget to bring sunblock and your favorite hats as the sunray is quite strong.
Prepare some medicines such anti-malarial drugs, insects repellent and some aid kit to cure wounds