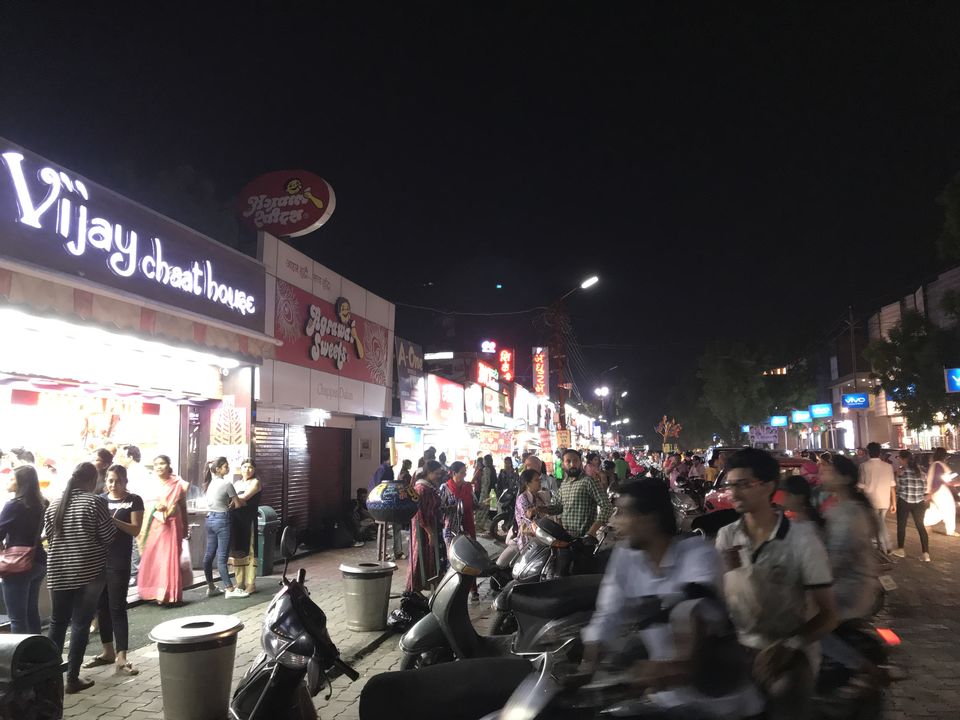 Indore, the commercial capital of Madhya Pradesh, is also known as the street food capital of India. The street food of Indore attracts food lovers from all over India. The Sarafa Bazaar during the night and the Chappan Dukaan (56 shops) give you the experience of Indori Mehamannawazi like never before.
Even though the markets in Indore do not start their business till 11 am, the Chappan Dukaan and the street food vendors start serving in the early morning hours. On the contrary, the Sarafa Bazaar comes to life after 8 pm and serves till 2 am late night. Every street food item in Indore is equally delightful and satisfying. Here are 7 street food delicacies in Indore under Rs. 100/- that will leave an unforgettable taste on your palette.
#1 DAHI BADA

Where: Joshi Dahi Bada House, Sarafa Bazaar
Cost: 40 INR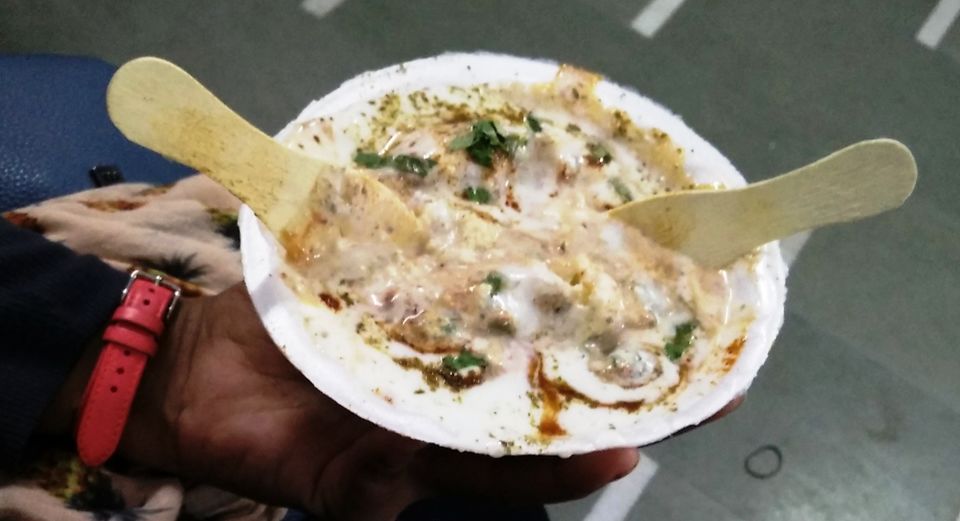 Dahi is sweet-sour tasting curd while Bada or Vada is a deep fried lentil ball. The Dahi Bada at Joshi Dahi Bada House is equivalent to none other. Ram Chandra Joshi and his family has been running this since 1977 and satisfying the taste buds of the foodies in Indore and the world alike.

Mr. Joshi prepares the dish in style as he flings the Badas in the air and catches them in a bowl full of Dahi. He then picks up different spices in a pinch and elegantly sprinkles them on the Dahi Bada. Watching him prepare his trademark course is truly a visual delight.
#2 BHUTTE KA KEES
Where: Joshi Dahi Bada House, Sawariya Chaat House, Sarafa Bazaar
Cost: 40 INR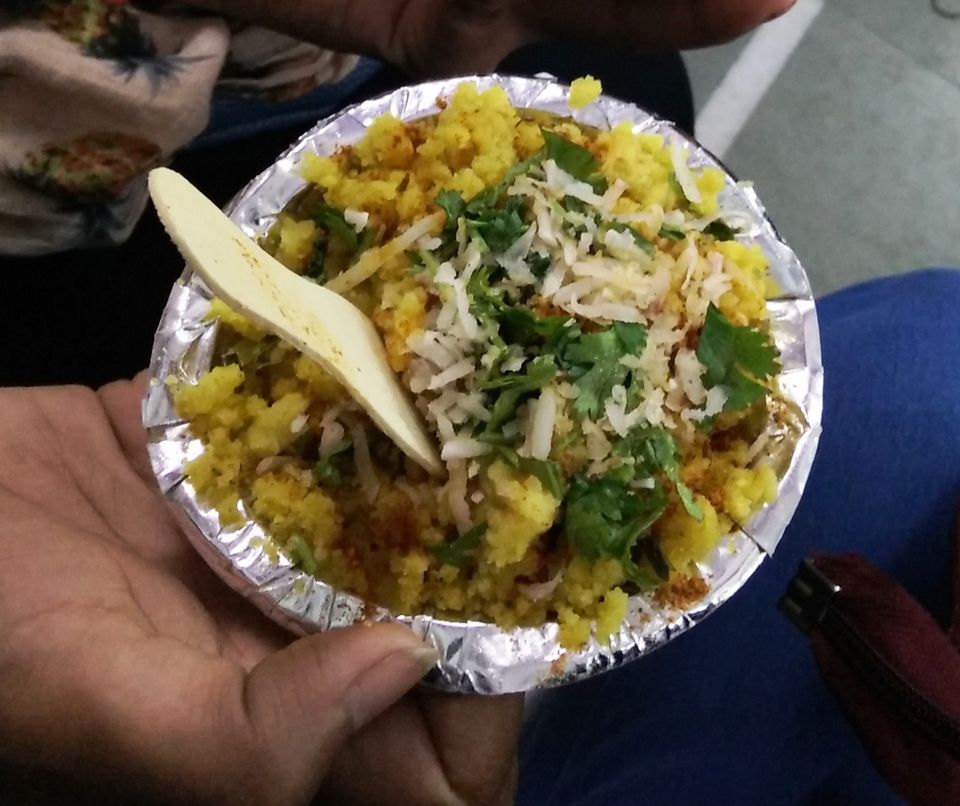 Another specialty of Indore, Bhutte ka Kees is prepared from boiled mashed corn fried in clarified butter or ghee. This, when mixed with gram flour, asafoetida, coriander, cumin seeds, lime juice and their unique blend of spices makes a mouth watering combination.
#3 KHOPRA PATTIES
Where: Vijay Chaat House, Sarafa Bazaar and Chappan Dukaan
Cost: 15 INR Each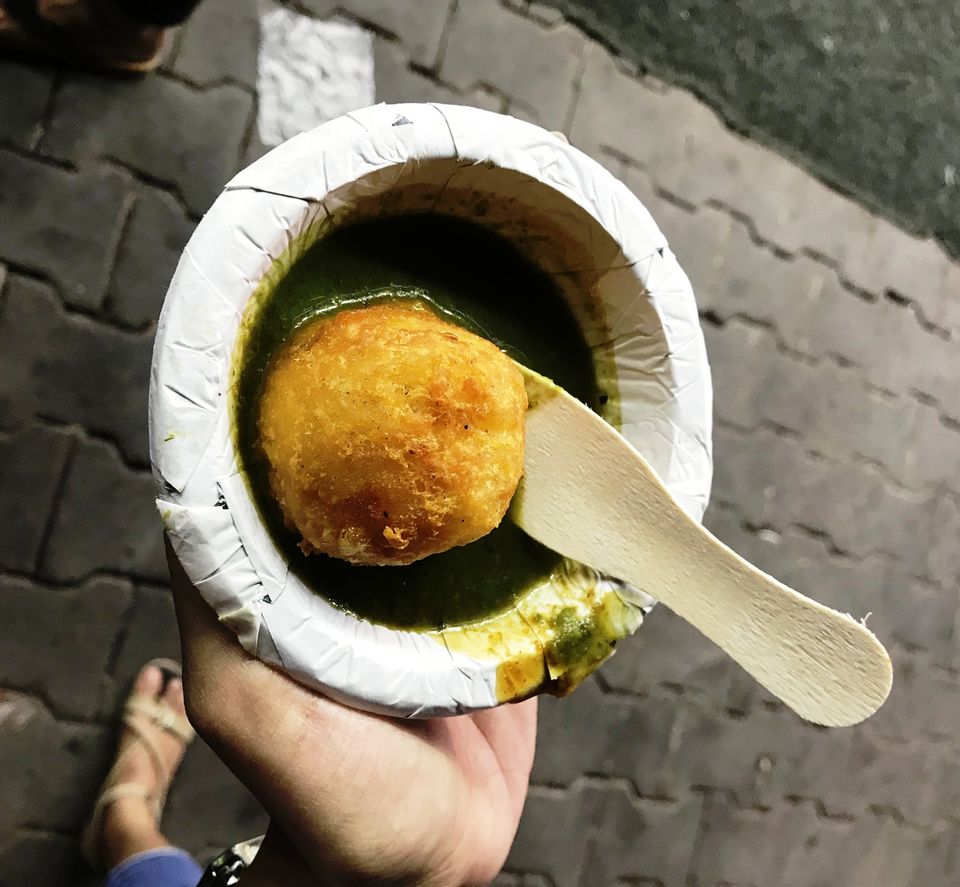 The appearance of Khopra Patties might make you think what's so different about it. But, take my word; this is not the usual Potato Patties (Aloo Tikki). It is an exclusive Aloo Tikki stuffed with grated coconut and then deep fried. The tangy green chutney enhances its taste further.
#4 GARADU
Where: Roadside Outlets, Sarafa Bazaar
Cost: 25 INR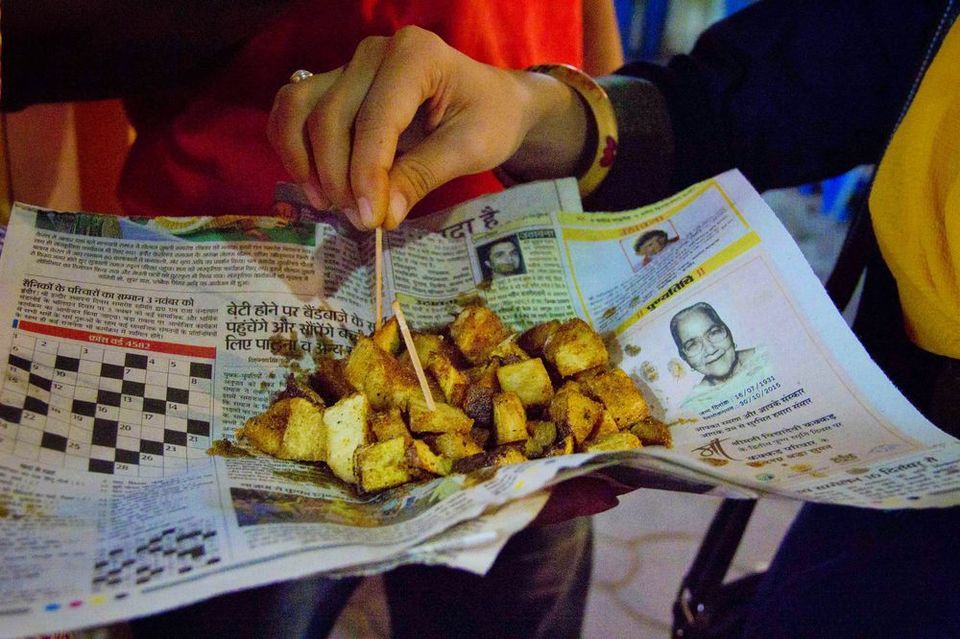 Its winter time and your best opportunity to taste Garadu sold extensively at all the local street food stalls in Indore. Its basically a variety of Yam, fried twice and tossed in spices and lime juice. Crisp Garadu can give a tough fight to everyone's favorite - French fries.
#5 POHA JALEBI
Where: Young Tarang, Chappan Dukaan
Cost: 45 INR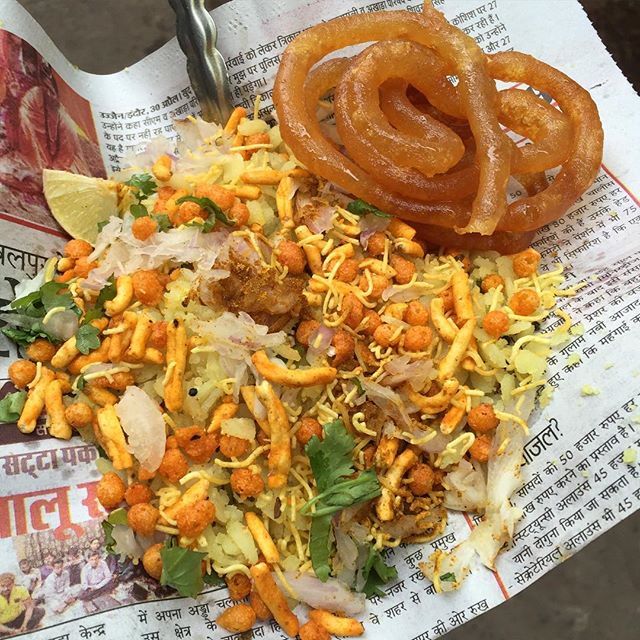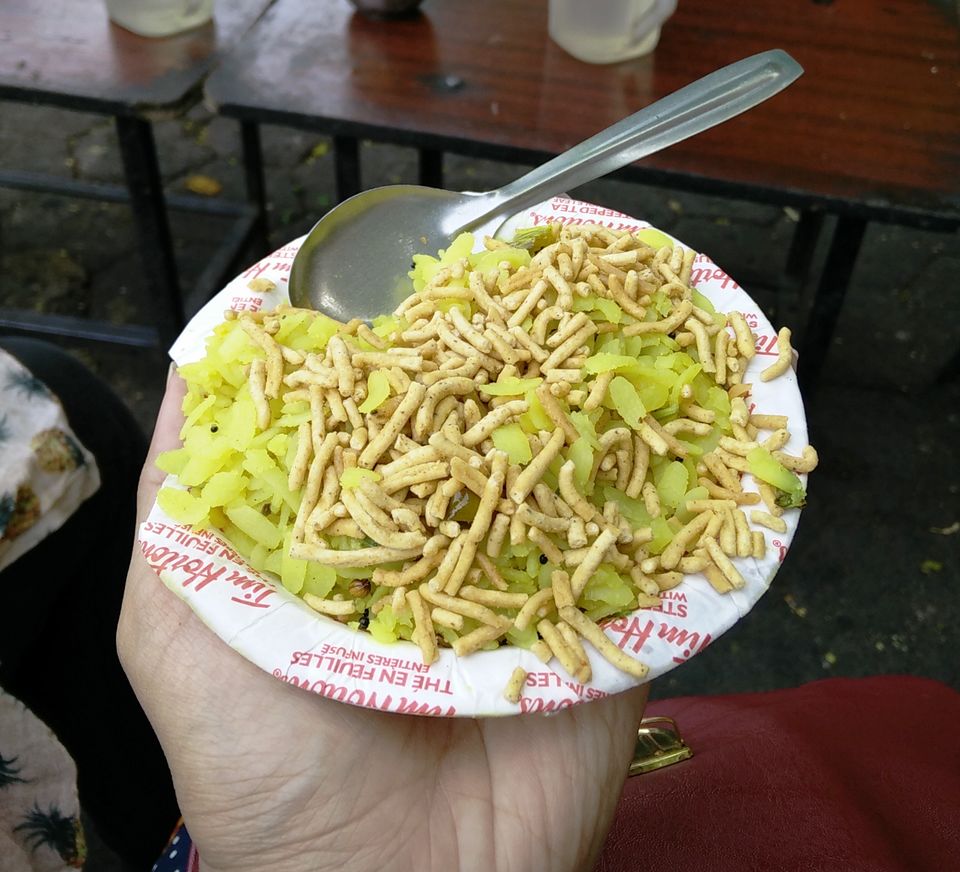 Indori breakfast is synonymous to Poha Jalebi. Poha, made of flattened rice and Jalebi – a sweet made of Gram flour crisply fried and dipped in sugar syrup will definitely make your day.
You can top up the Poha with special Indori Clove Sev to experience the true spirit of Indore.
#6 SHIKANJI
Where: Nagori Mishtaan Bhandar, Sarafa Bazaar
Cost: 55 INR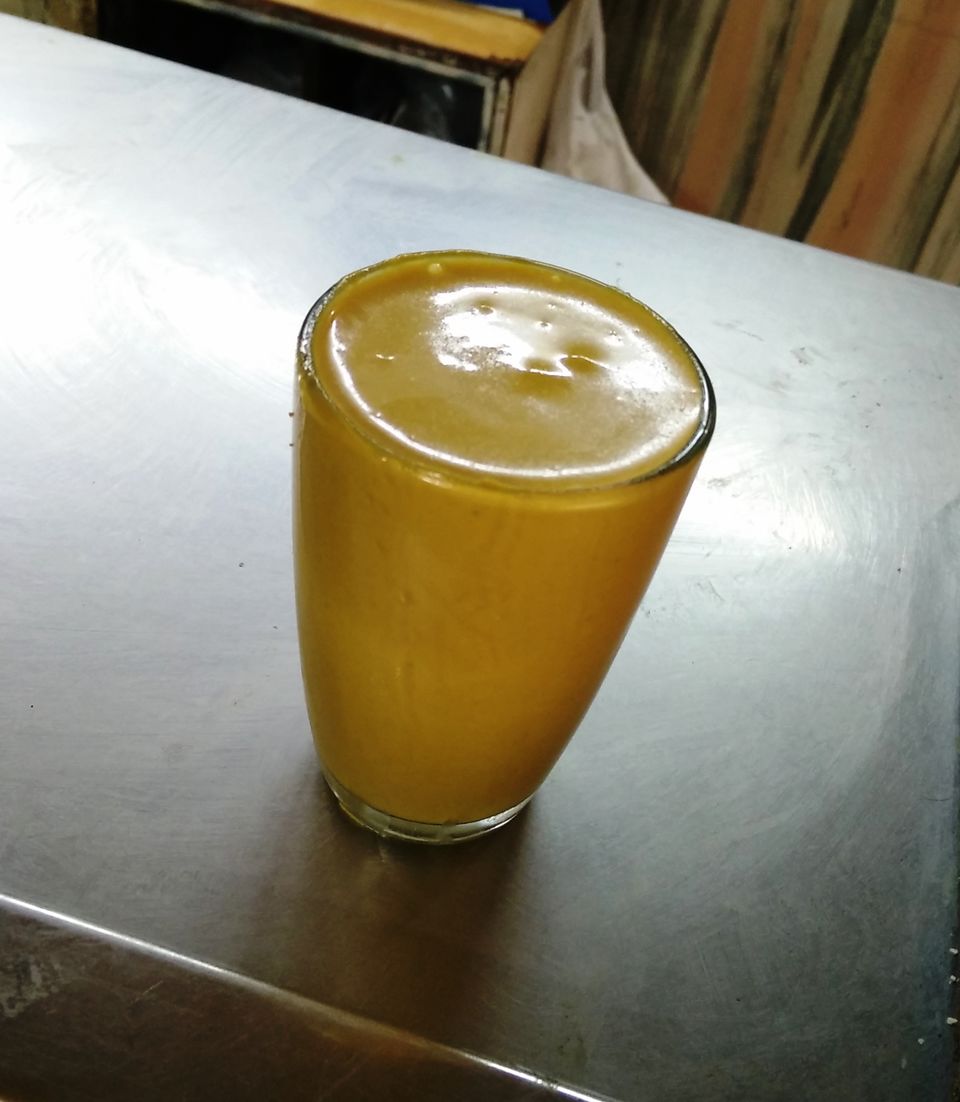 One will associate Shikanji to the usual Lime water. Ask for Shikanji in Indore and you would be served a glass full of a fusion of Milk, saffron, dry fruits and a bit of tanginess from the Mattha (buttermilk). It tastes more like a glass of Lassi and yet again is a standout Indori street food.
#7 MALPUA – RABDI
Where: Streets of Sarafa Bazaar
Cost: 50 INR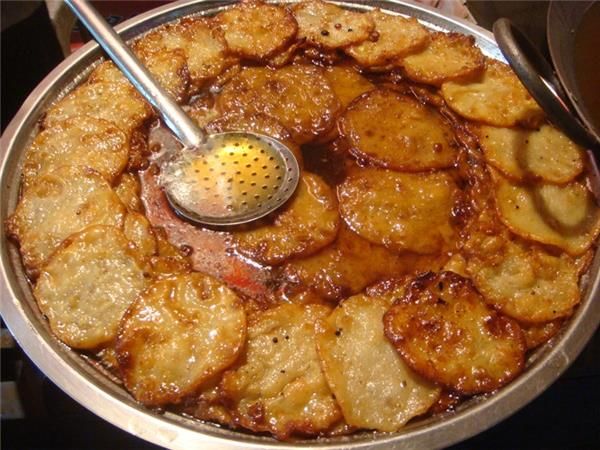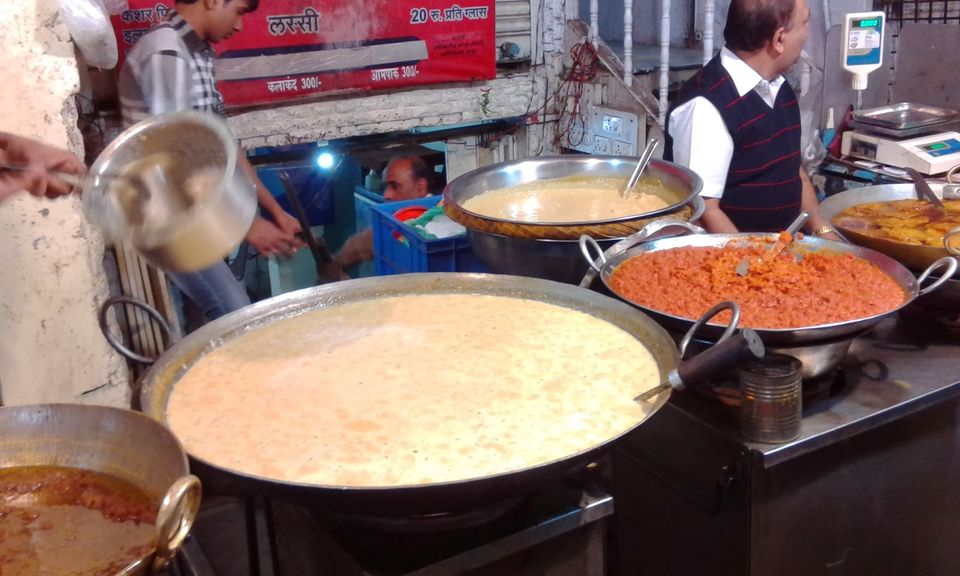 Malpua, again a winter specialty of Indore is a pancake prepared from milk and Mawa and deep fried. These are then soaked in sugar syrup. Garnished with rich dry fruits and served with hot Rabdi, Malpuas are one of the lip smacking deserts you will find in Indore.
What you see here is just a trailer of what Indore has to offer the foodies and the ones with a sweet tooth. The Night market at Sarafa Bazaar is something you should not miss. So, prepare yourself to indulge in this food extravaganza in the Food Lover's Paradise - Indore!