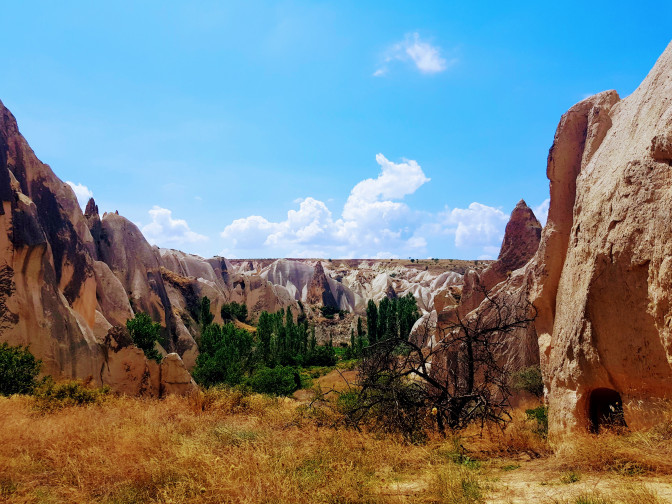 Most of us horde souvenirs while traveling as a reminder of the good times we had during our travels. While I am no exception (since I do horde travel pins), I have been trying to capture my experiences as a souvenir by writing it down and materializing it. But is my experience just a travel itinerary or is it more? I have been fighting this conflicting view throughout my blog and I had made conscious efforts to not make it a travel itinerary since there are plenty of itineraries out there but there can never be enough stories. Even so, I am convinced that this post ought to be a bit of itinerary and a bit of a storytelling so that readers can maybe use this itinerary as a reference.
1. Prologue
It was my fourth time transiting through Istanbul and I was convinced that the pilots of Turkish Airlines did specific maneuvers just before landing into Istanbul to show off their city from high above. In all these cases, the window seat view was of the Bosphorus snaking through the middle of the city before disappearing into the horizon and a skyline filled with minarets and domes. The bird's eye view of Istanbul was nothing short of a page from a colorful fairy tale illustration.
2. Muezzin's wake up call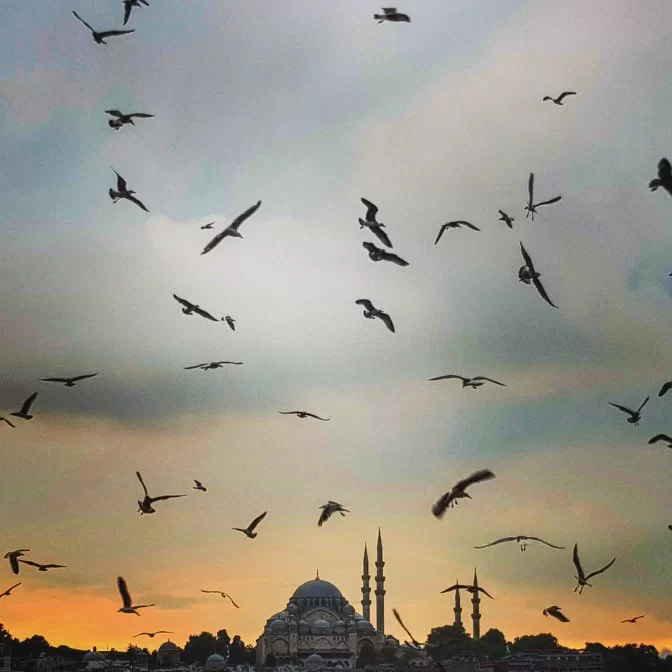 It was 5 am in Istanbul, the voice of muezzins from the nearby Aya Sophia and Blue Mosque wafted in through our open windows. I had insisted on staying in an area called Sultanahmet just for this wake-up call. As a nerdy teenager, I had woken up to the muezzin's call for the most part of my high school life. While I did wake up to do fun things like revising my lessons before school, those wake up calls were some my happier 5 am memories I had until now. Listening to the call of prayer, I set out to plan my first day in Istanbul.
Sultanahmet is on the European side of Istanbul and it is what most European cities would call the "Old Town". Without fail it is the best place to begin a trip to Istanbul. Due to the high density of historical landmarks in this area, I wanted to explore Sultanahmet on foot and so, equipped with a colorful map of Sultanahmet, we signed up for a free walking tour. While aimlessly walking around an old town has its own charm, walking around with someone narrating stories from a bygone era tends to make me feel slightly wiser about the place. It was somewhere along this guided walking tour that we discovered that before the reign of Ottomans, which is what most people associate Istanbul with, it also served as a capital for the Eastern Roman Empire. While the old town is littered with alternating examples from both these dominant eras, Aya Sophia is the epitome of the amalgamation of the two cultures. Though it was a church in its previous avatar, the only remaining evidence of this now lies in the mosaics that were discovered under the plastered walls. But irrespective of which era it belonged to, Aya Sophia had my heart the minute I stepped into it. With its low hanging chandeliers outlined with yellow lights and an atmosphere of serenity, this one stood out for me among the many attractions in the old town. I could probably go on and on about Aya Sophia, but due to paucity of reading bandwidth, I am going to move on. After Aya Sophia, our walk then took us to the Blue mosque (which I haven't yet figured out why it is called blue since its insides barely have any hint of blue), Topkapi Palace and gardens (a massive place which served as the not so humble abode of the early Ottomans), Basilica Cistern (an underground water reserve from the Roman era), Grand Bazaar and Spice Bazaar (a labyrinth of shops where I got lost, literally), Old book bazaar (which had exactly two shops with English books but still worth a visit just to smell the scent of old books) and lastly the Suleyman mosque (which is what appears on most postcards from Istanbul and had a fantastic view of the city).
While on the map it looked like the walk wouldn't take too long, the sheer amount of stories narrated along the way and the walk across the hilly terrains resulted in it taking up the whole day. Calling it a day and also for rewarding ourselves for the day's hard work, we convinced each other that we deserved to end the day on a sweet note at Hafiz Mustafa. A baklava and desserts heaven which can found quite frequently in the old town area, Hafiz Mustafa spoilt me with too many choices throughout my stay in Istanbul and was single-handedly responsible for half of the excess weight I had to lug around in our days to follow.
3. Tram-ing my way into the new city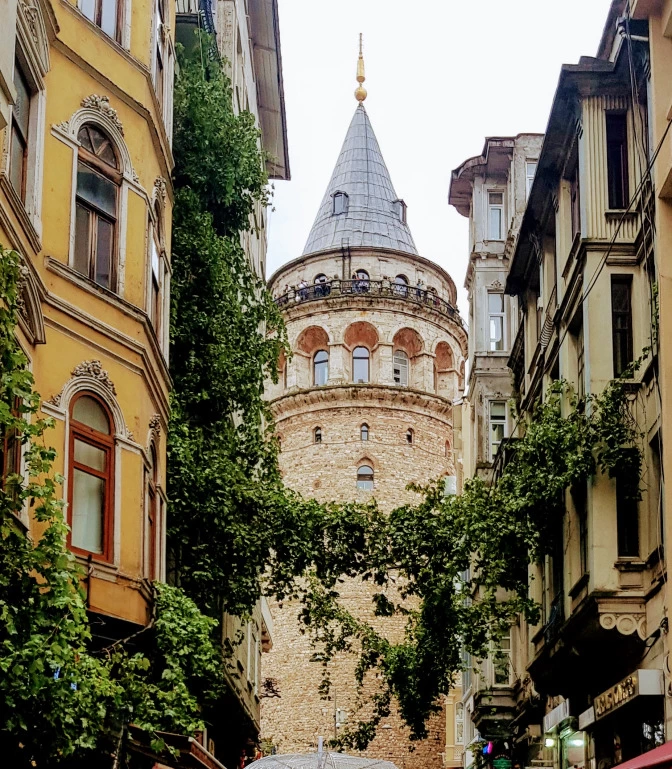 I again woke up to the muezzin's call but this time I woke up disoriented. Along with the muezzin's call, my phone was buzzing with a work call. As I picked it up to discuss work, I took a couple of minutes to realize that I had woken up in Istanbul. Taking advantage of the fact that I had woken up early, I decided to map out the plan for my day 2 in Istanbul.
This time we were set to explore an area what the locals called the "New Town". After the information overload of day 1, we decided to explore the rest of the city by aimlessly walking around and so with no real agenda in mind, we set out to the new town. To get to this part of the city, we crossed the Golden Horn on tram and landed up at Karakoy. From here originated the historic tunnel tram which was said to be the world's second subway system. The tunnel tram took us to the base of the Galata tower from where we walked up the Istiklal street to get to Taksim square. Crowded with shop fronts and shoppers, this was a rather busy street and a definite destination for shoppers. Since I am not a big fan of shopping and since my husband is a big fan of eating, we walked around a bit to build an appetite and then headed to Ladees menemen restaurant to have our second breakfast. Menemen is essentially just a bowl of scrambled eggs with tomatoes which the locals generally have with pastrami. After having our share of menemen, we followed it up with a dish called kaymak. If there is any dish that I need to recommend as a must-eat in Turkey then it is this one. The dish looked simple, a slab of thick clotted cream served in a bath of fresh viscous honey. But don't judge the dish by its looks as it is to die for and probably a lot of it can actually kill a diabetic. Just as we were finishing up our second breakfast, the rain gods came crashing down over Istanbul. Perhaps it was a sign from God that we were not to leave the restaurant without trying out their other delicacies. After 2 hours and what felt like infinite cups of tea later, we finally managed to get out onto the streets and made our way back onto the Taksim square. With the clouds looming over our heads, we rushed to make our way up to the Galata tower before the next bout of rain decides to flood us. With its narrow spiraling staircase, the Galata tower made me feel a bit like Rapunzel but I bet she didn't have such a glorious view of Istanbul with watercourses crisscrossing through the city.
After walking up and down the Istiklal street a couple of times, we made our way back to the old town by crossing over the Galata bridge. Thankfully by then, the rain had decided to call it a day and the sun was just about to call it a day too. On the bridge, we were treated to magnificent views of both the old as well as the new town which was only enhanced by the fluttering wings of the crazy seagulls. Under the Galata bridge, we, rather my husband, tried the freshly caught and fried mackerel sandwich and I tried the pickle juice that goes with it. While the pickle juice was like pickle juice, we chanced upon a best selling Lokma vendor that made our seaside fish smelling stroll worth the effort. It was just day 2 in Istanbul and I was already feeling at home in this massive city.
4. The crossover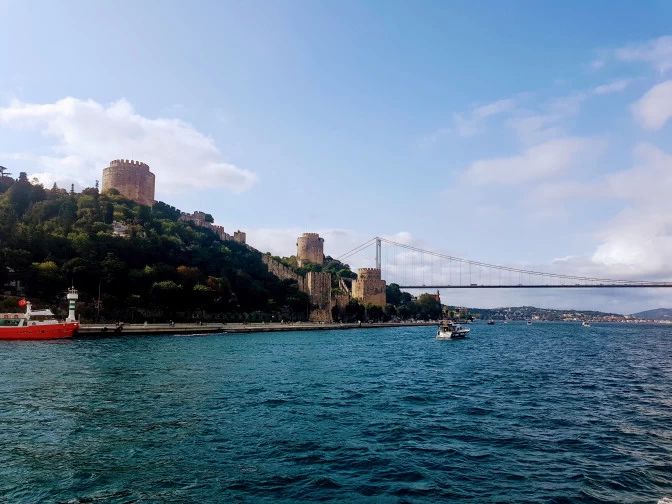 Day 3 in Istanbul was also our last day there and I wanted to explore the Asian side as well as the Bosphorous. Among the many things to do in Istanbul, a Bosphorus cruise was said to be a must-do. It was the most relaxed way to get a sense of the enormity of Istanbul and after two days of walking around, we decided it was anyway time for an upgrade to our mode of transport. After a sumptuous meal at a place called Balkan Lokantasi, a buffet/self serve format restaurant that can be found across Turkey, we made our way to Eminonu to find a Bosphorus cruise. We hadn't pre-booked one and we weren't entirely sure how to go about it either. But just as we were strolling along the promenade, we heard a ferry captain calling out and inviting passengers for a cruise. Skeptically, but still proud of the economic cruise that we chanced upon, we boarded the cruise and took our place on the top deck where we would remain for the next 90 mins.
While the starting point for these cruises aren't as pretty as one would expect, it was also a terminal for the public ferries and hence it had an undeniably local vibe complemented with the smell of fish and the salty sea with a tinge of kerosene. Soon the ferry undocked itself and we began our journey into the Bosphorus, cruising along with the seagulls, as they made unsuccessful attempts at catching the bread crumbs that the passengers of the cruise were trying to lure them with. As we exited the golden horn, the first Bosphorus Bridge, now called the 15th July Martyr's Bridge, made its first close up appearance. Built-in 1973, this engineering marvel looks like a thread that connects Asia and Europe, a thread that is 1.5km long and costed USD 21 million. It obviously was not the first time I was seeing this bridge since it is usually visible from quite a few places in Istanbul as well as while flying over Istanbul, but seeing it up close is the only way to truly get a sense of the sheer size of this spectacle. The cruise then took us to the second Bosphorus bridge which was repetition after seeing the first, but by this point in the cruise, I was beginning to get a sense of the how expansive Istanbul really was. While the European side was densely populated with slightly shabby looking apartment buildings, the Asian side seemed sparsely populated and posh with its fancy condos overlooking the Bosphorus. On our way back we crossed the Maiden's tower, a cute lighthouse on a small island at the junction of the Bosphorous and the Marmara sea, before we docked back next to the Galata bridge. With just a couple of more hours left in Istanbul, we decided to crossover to the Asian side for a quick bite before we boarded the bus to Sabiha Gokcen airport which was also on the Asian side. Since we had already covered tram and ferry as a mode of transport, this time we decided to crossover using their Marmara underground trains. A couple of long zig-zagging escalators later, we boarded the train to switch between the continents. Getting out of the train station and onto the Kadikoy pier on the Asian side left me a sudden sense of detachment from the Istanbul that I had known for the last two days. With its spiraling minarets and cascading domes, the old town was now just a distant skyline and soon Istanbul would become just a distant memory.
Kadikoy center turned out to a very bustling commercial hub where locals went for shopping, window shopping or eating. After quickly grabbing a couple of bureks to eat, a puff pastry with stuffings, we decided to walk down to the Moda park which was the southernmost tip of the Asian side of Istanbul. The walk from Kadikoy to Moda would have been fairly easy if we didn't have to drag our luggage along, but it was a good sunny day to be out in the Moda park. As we rested on the freshly cut grass of park lawn to soak in what would turn out to be our last glimpses of Istanbul skyline, a few teenagers added to our melancholy mood by playing what I assumed would have been Turkish love songs. As our departure time neared, we took a "nostalgic" tram ride back to Kadikoy pier to catch our bus to the airport.
5. Fly high he said, so I did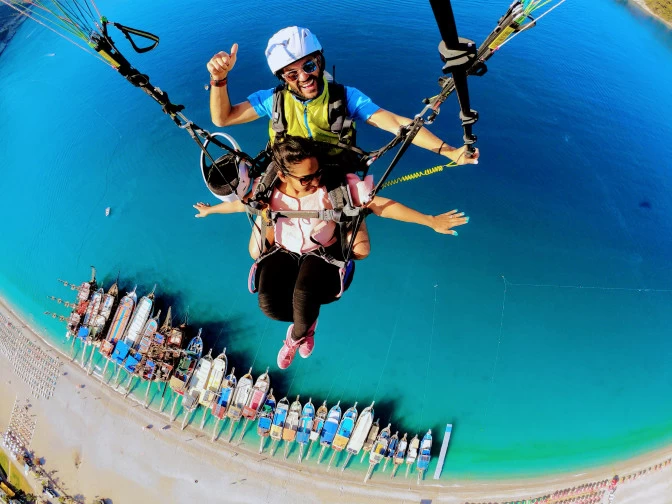 We landed late in Fethiye and just about managed to sleep when the alarm started blaring, reminding us that we had to wake up early for paragliding. Having had come in late in the night, we had tumbled into our hotel bed unaware of our surroundings and it was a welcoming surprise to see that the view from our balcony when we woke up all groggy, was a panoramic view of the Fethiye pier and the Mediterranean. Having only an hour to enjoy the view, I parked myself in the balcony, planning my day ahead and forcing myself to forget about the impending paragliding feat that we had decided to take on. We were paragliding in Oludeniz,a little beach town which was 15 km from Fethiye, mainly known for its sandy shoreline that is littered with beachside cafes and bars, and of course paragliding over the Turkish Riveria. Given that the Riveria had no dearth of beaches and clear turquoise blue waters, we had decided to get done with paragliding and move on to a more secluded beach on the Riveria somewhere along the Lycian trail.
Since we had picked the 8 am slot (something my husband will probably never forgive me for and I shall tell why later), the operator we were gliding with had offered us a free pick up from our hotel. The road from Fethiye to Oludeniz was windy, through hills and along the cliffs hanging over the Mediterranean. If the ride with such breathtaking views was supposed to ease my discomfort about paragliding, it definitely did not help that high in the mountains, we could already see people jumping off into thin air. Soon we reached the office of our tour operator and got acquainted with our fellow adventure seekers. Most of these folks were smoking like a chimney, which was a very common sight all across Turkey, but the fact that they were doing this to calm their nerves didn't really help instill confidence in my ability to jump off a cliff. Without further delay, we started our ride up to the mountain along with the tandem jumpers who were assigned to us. The journey up there was an unusually silent one, I guess each of us were lost in our own thoughts and some of us were just not used to being awake at that time of the day, either way, the pin-drop silence in the bus as we gained altitude was eerie and the butterflies in my stomach were increasing their fluttering rate. After having experienced scuba, I assumed that our tandem jumpers would give us a little more in the name of instructions before jumping off. But all my pilot told me was to run when he runs and smile for the camera. This somehow had a calming effect on me as it was clear that he did not have many expectations from me during the flight. And just like that he suited me up and made me stand at the edge of a cliff where all I could see was the abyss. My legs were shivering and I could not control its frequency especially around my calves. People were running off the cliff on either side of me and it looked fairly simple. The only thing that was still looming around my head was the fact that when I had done my research on paragliding in Turkey, I had come across an article about death due to a failed take-off and this thought made the otherwise instagrammable view a little less enjoyable.
Run and fly he said and so I did. I ran into the abyss and in a matter of seconds, the chute caught the wind and lifted us off the edge of the cliff. It was a confusing lift-off but albeit a smooth one. We went soaring into the sky and since it was a clear day, the horizon appeared as a perfectly drawn line far far away. My pilot showed me Rhodes island and a couple of towns on the Riviera but all I was fixated on was the turquoise blue waters of the sea. Interesting yet unrelated fact is turquoise essentially translates to "Turkey" + "stone" since it was discovered in the mountains of Turkey. During the first couple of minutes of the flight, we were rising up and gaining altitude, but once we had stabilized, my pilot removed my helmet so that I could feel the wind in my hair. While initially, I thought that this was his plot to kill me, soon I realized that letting the wind through my hair at 2000 meters was a pretty cool feeling. I wasn't scared anymore, rather I felt a child in a cradle that was suspended in the middle of the sky with the wind gently rocking me. The pilot then steered the chute into the mountains for a while before he steered it back into the sea and towards Oludeniz. Since it was a slow ride, there was sufficient time to look around, take in the sights, get motion sickness and click photos. It was around 15 mins into the ride that my pilot suggested acrobatics for which I immediately replied "No Thank You", but turns out this was the highlight of the whole experience for people like my husband. He also got to know that acrobatics is best done in the afternoon slot since by then the air heats and raises up and helps add on to the ruckus, making the acrobatics experience more adrenaline-pumping than it normally is. This was a fact I was already aware of since I had done my research and I had slyly picked the 8 am slot. The fact that my husband didn't do enough research on this matter and was denied the request to go paragliding again in the 12 pm slot ensured that he learned the importance of maintaining equality in travel planning activities.
Saying no to acrobatics didn't dishearten my pilot and he took me for a long ride along the coastline and ensured I got to see the view from all possible angles. As we slowly started our descent, I began worrying again about possible crash landing scenarios and thankfully my pilot handed me back the helmet. Just like takeoff, the landing was uneventful yet smooth. While approaching the landing strip I felt we were uncontrollably fast, but soon as my feet hit the ground, we managed to decelerate on time to avoid crashing into a beach cafe.
After procuring the photos from paragliding at the office, we decided to treat ourselves to a Turkish breakfast by the beach. With its variety of cheeses, olives, and eggs, I was getting increasingly getting used to the Turkish way of eating breakfast. Sipping my freshly squeezed orange juice in a beach cafe with the view of the Mediterranean I was feeling quite accomplished and happy with myself right about then.
6. No shortcuts to infinity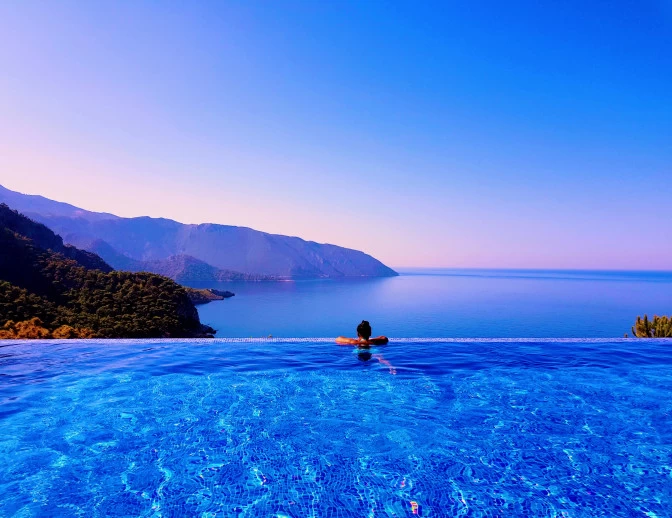 Right after paragliding, we left for our resort located on Kabak beach. Kabak is one of the first stops on the Lycian trail which is a 500+ km long trail that starts from Oludeniz and ends close to Antalya. The trail hugs the Mediterranean for the most part and has all the features of a hilly terrain hike. Due to the limited number of days we had on hand, we decided to stay in Kabak and do a small hike from our hotel. But first, it was pool time!
We stayed at a property called Avalon Kabak which had an infinity pool overlooking the Mediterranean. I dropped my bags at our sea-facing cabin along with the clothes I was wearing and slipped into a bikini. This was our only "vacation" day during my vacation and I had all intentions of utilizing it to the fullest. Luckily, the resort was a small one and the others there didn't believe in staying in the pool for long, so I had the pool to myself. It was a good sunny day to be in the pool and stare at the sea, the water temperature was perfect, sun's warmth was perfect and my body temperature was well regulated with my free glass of chilled white wine. Such extended periods of joblessness in the pool would have otherwise bored me, but the couple hanging around next to the pool had decided to entertain me by playing their music on speakers. With music, laughter, and dancing, my time in the pool flew by and before I knew it, the sun was setting and it was time to get ready for dinner. Sunsets at 7 30 pm are nice like that since it gives me extended pool time and also an intense tan. Buzzed and pool happy, I was relaxed and ready for the next half of my vacation.
Dinner was a candlelight affair and I gobbled up whatever was given to me. It was also a very starry affair as the night sky lit up with a million stars and we were treated to the impression left behind by the milky way. The evening was turning out to be a romantic one until the infamous Turkish cats showed up. I guess this would be an appropriate time as any to talk about Turkey and their obsession with cats. I could go on about it in my records of each day, but lets just quickly touch upon how shamelessly demanding these cats can get. Almost every meal we had out in the open in Turkey, had cats jumping onto our laps or staring at us like it was a crime to eat without sharing. While this could explain how healthy they all looked, I couldn't understand how these cats felt entitled to our share of food. I guess Turks are generous with their stray animals. After a long day in the pool and a wholesome meal later, I tucked myself into bed, a bed which had the view of the Mediterranean, along with my newly possessed book that was authored by Ahmet Umit and before long I was fast asleep.
I woke up in time to see the various shades of sunrise from the bed and I made plans for the day ahead. I wanted to do a bit of the Lycian trail and hence we decided to hike down to the Kabak beach and spend some time at the beach and on the trails around there. So after enjoying the sunrise in bed, we started our descent into the Kabak beach. The initial stretch of the trail was quite dusty which helped explain why all the cars parked at our hotel were sandy in color. But soon the trail entered into pine forests with glimpses of Mediterranean at every turn. Being a huge fan of coastal walks, I was enjoying this one considerably up until my husband suggested we go off-trail and take a short cut to the beach. While this looked doable at first, we were soon faced with cliff hangers and slippery rocks that I had begun to question the existence of short cuts in life. I do not believe in short cuts, I am a work-hard-person all the way through and hence I vowed that on our way back we would take the longer route. Thankfully we had two French men who had the same idea as us and together we all managed to somehow ski down into the Kabak beach. After this whole fiasco, I was more than happy to strip down to my bikini and enjoy the perfect temperature turquoise blue waters of the Mediterranean. Floating and swimming in the clear blue waters and feeling the salt in all my recently scathed skin, I could have stayed there forever if I had a choice. Kabak was a rather secluded beach and there weren't many people on it. We did meet a couple of campers who had set up their tents on the beach and were just waking up to the sound of waves and possibly our laughter. After soaking in copious amounts of the early morning sun and the salty seawater, we decided to go back so that we would get there before the final call for breakfast. The climb back up was definitely smoother than the way down but it ensured I earned my rights to extra slabs of cheese for breakfast. After cooling off with a couple of extra laps in the hotel's infinity pool, I was ready for my brunch with a view and the journey ahead.
7. German beer and Turkish men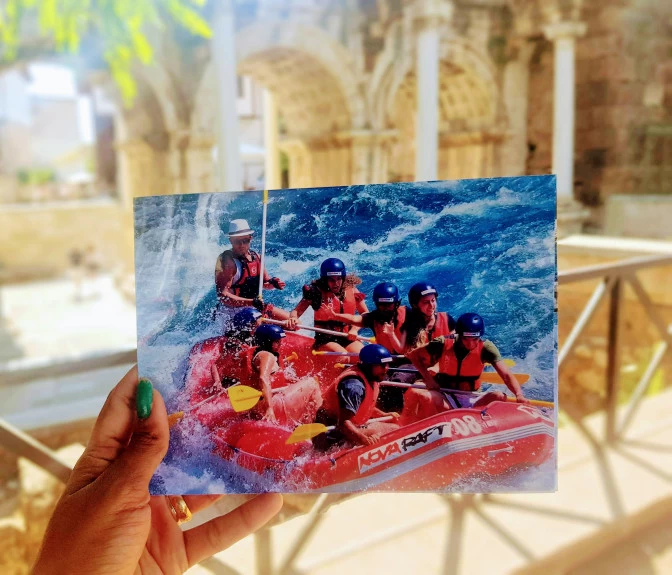 The best way to get from Kabak to Antalya was a bus from Fethiye and surprisingly we managed to get one within 15 mins of arriving at the bus station. Soon we found ourselves comfortably seated for a 4-hour journey ahead. Countryside views were disappointing but the roads were good and we managed to get some shut-eye before we had to get off and explore Antalya. We had not really planned to spend much time in Antalya and we only went there to go rafting in the Koprulu Canyon. But since we had half a day to explore Antalya we set out to make the best of it. We stayed in a pension in old town Antalya which apparently was one of the things to do in the whole of Antalya. The old town reminded me of other European city's old towns. It was walled on all sides by an old crumbling fortress, had vehicle-free cobbled streets and narrow alleys, single-storied antique houses with courtyards that were now converted to shops or hotels and plethora of German pubs. This was the first time on the whole trip where I was exposed to an area with such a high density of pubs serving a large variety of drinks. While alcohol does flow freely in Turkey, pub culture wasn't something that had stood out till now. Excited to find this gold mine, my exploration of old town soon turned into an exploration of Bavarian beer and naturally I fell in love with the old town. I have been told that my level of affection is highly correlated to my level of intoxication and hence it isn't probably fair to rest of Turkey that I fell in love with the old town of Antalya.
Koprulu Canyon is a couple of hours from Antalya and is mainly known for river rafting. It was a bright and sunny day to be out on the river even though the water in the river was freezing cold and it completely negated the sun's heat. Our raft had 5 others who were all Egyptians and our raft captain took a keen interest in the 17-year-old girl who was sitting right behind me. I think I should pause here to explain how I found quite a few Turkish men to be playful and flirtatious by nature. My first day in Istanbul, the Turkish ice cream man managed to creep me out by treating me like a cat chasing a bird's feather, but slowly I was getting accustomed to their men. So when our captain took unwarranted interest in that girl, I was not entirely surprised but I was slightly worried about his ability to focus on anything else. The river flowed through the canyon and there were areas where the river was tightly sandwiched between the cliffs. For the most part of the 14 km stretch, we had the view of the Taurus range and the captain kept waking me up from my reverie by dropping ice-cold water droplets down my spine. There weren't many rapids along the way but we enjoyed the ones that we came across and for rest of the journey we enjoyed the view, water fights with other rafts and stealthy attacks that ended up with many of us splashing into the ice-cold river and me trying to swim in these waters to defrost myself. After 4 hours on the river, we were more refreshed than tired and I was ready to get back to my mugs of Bavarian beer and free popcorn that came with it. Much of what Antalya had to offer was drowned in mugs of beer and before we knew it our time there was over and it was time to move again.
8. Houston, it seems we have landed on Mars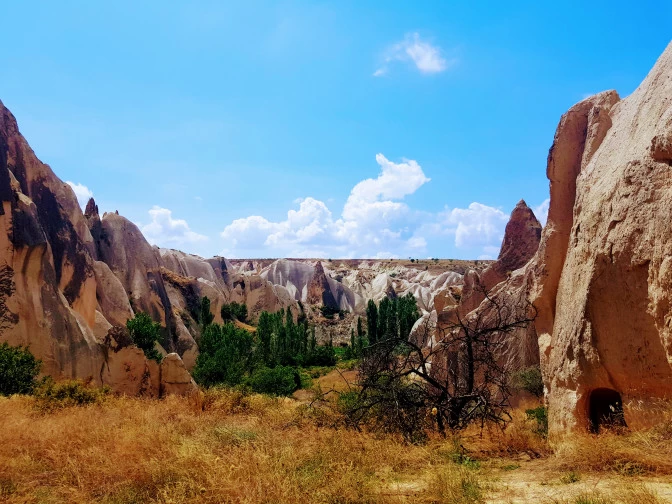 If I thought waking up in a new city was disorienting, waking up in the middle of pointy rock formations was something else. We had flown into Cappadocia the previous night into what had felt like a sleepy town. Little did we know that when we woke up we were in for a treat. Goreme was bang in the middle of what everyone imagines Cappadocia to be. But the lesser-known fact is that Cappadocia is a fairly large region in Central Anatolia which comprises of several provinces and various landscapes. Nevertheless, Goreme is definitely the place to be in Cappadocia with its fairy chimneys and hot air balloons, it was nothing like what I had ever seen before. Travel fatigue is something I got often, especially on longer holidays like this one and I define travel fatigue as not being able to feel surprised or excited about the new places that I visit because it all starts to look the same. But thanks to Goreme, I never got a chance to be fatigued during my stay in Turkey. As usual, breakfast was an elaborate rooftop affair with the view of the town and the fairy chimneys. Now and then a hot air balloon would leave a shadow on us as we chowed our way through the breakfast spread. By this point, I definitely had cheese fatigue and the chef who proclaimed to make the best omelet in Turkey came to my rescue.
Planning what to do in Goreme was one of the easiest things I did in Turkey. With time and travel tested routes, it was easy to be just a follower. But after such a heavy breakfast, we felt it was time to work towards losing all that extra cheese weight we had gained so far and to help us with this, the host from our hotel armed us with a map and dropped us off at the Goreme open-air museum. After wandering around aimlessly around the museum for a while, we decided to do the Red and Rose valley trail which was conveniently placed one after the other. The trail started further uphill from the museum and we were treated to quite a fantastic landscape as we started scaling up to the start of the trail. The walk began with an easy downhill dirt path and soon took us through long rock tunnels, fruit orchards, vineyards, cave dwellings, and open pastures. While during the first bit of the trail we were baked under the Anatolian sun, for the most part of the trail, we were well shaded by fruit trees, sand-colored rocks, and an occasional cloud. The walk was easy and we may or may not have stolen grapes from the vineyards and plums from the orchards that we passed through. I would also like to clarify that I was most definitely not the Eve in the Eden in this case. I was willing to walk away from the tempting juicy and fat black and green grapes that we encountered over and over again, but the snake on my husband's shoulder ensured that he couldn't stop himself. So there we were, walking through someone else's garden, eating whatever we wanted, sitting wherever we wanted and climbing whichever rock we wanted. We were quite surprised at how the landscape had changed from a blinding rock desert to a fairly green and flourishing sort of landscape as we went through our walk. Though I must say that the trail markers were confusing and the map that the host had given us was even more confusing and only Google maps really helped us. We were targetting the sunset point of the Red valley much before the sunset and soon the climb began. All views generally involve hard work and so we rose above the vineyards to be treated to the stunning views of red rock formations. So then what really is the story of the phallic structures that made this landscape so surreal. Turns out that many many million years ago, Cappadocia used to house three major active volcanos which covered the whole area in thick ash. Over time some of it solidified while some of the softer particles got carried away by the elements of nature and left behind what is now seen in Cappadocia. Despite its unique structures, the name Cappadocia means something as random as "Land of Good Horses" which is hard to understand since there are very few of them remaining on this land anymore.
After enjoying the views from the sunset point of the Red valley, we made our way to the Rose valley. The sun was showing signs of exhaustion and so were we and we quickly made our way to the nearby old greek village called Cavusin. While Goreme does have a flavor of cave dwellings, it is in Cavusin where we could really picture a whole city living in caves. They had churches and houses built in rock caves that looked like a multi-storied complex which could have very well been designed by Mr. Gaudi. Thankfully from here, our host picked us up for free and dropped us off in a restaurant in Goreme market. After having Testi Kebab at the restaurant, which was chicken cooked in a clay pot with a whole lot of tomatoes and spices, we made our way back to our hotel to call it a day since we had a very very early start the next day.
9. Up in the air and down under the ground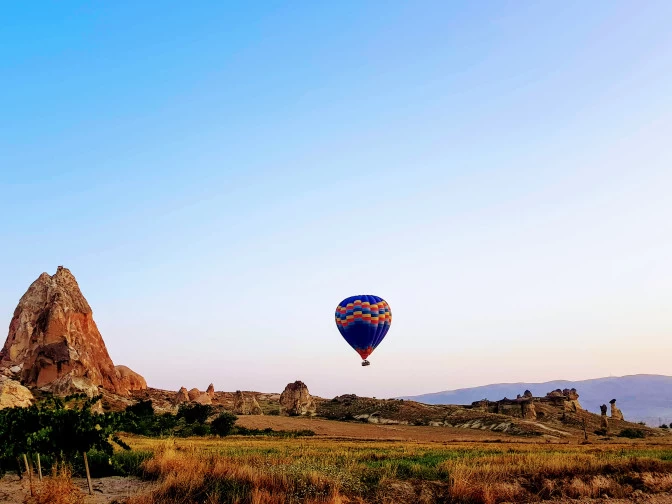 4 am and 45 mins to pick up. I was extremely excited to go on a hot air balloon. Though I wouldn't call it a life long dream, I was hoping to go on one, at least once in my lifetime. Needless to say, I felt like a child at a carnival as I stepped out into the chilly streets of Goreme to board our bus to the balloon take-off point. Half-awake people shuffling out into the open fields of Goreme and tightening our shawls and jackets around ourselves as we all waited to see what the UNESCO ranked as the second-best view in the world. It had an eerie feeling to it. The dawn was yet to be broken and here we were in the middle of nowhere on an unusually cold morning surrounded by many massive balloons being filled up at different parts of the field. Since they use a bit of fire to help with this process, we could see short bursts of fire here and there and soon enough, one by one the balloons began to take off from the ground and soar high. We watched with wonder as the balloons started fading into the twilight sky. After a while, we realized that we were still on the ground instead of being up there in the sky. Turns out there was a tear in our balloon and we had to wait a while till we could get up into the sky. So again like a child at a carnival but this time a one that was denied the promised ice cream, I stood on that field watching the other balloons turning into dots and then fading away into nothingness.
After an hour, our balloon managed to achieve lift-off and off we went, waving at the tiny humans whom we had left behind on the ground and soon we were high enough to see all of what Goreme could offer. First, we flew over the Love valley which is known for phallic-shaped structures of all sizes and shapes and then over the Rose valley, Red valley, Goreme open-air theatre and soon we were flying over nameless lands that were dotted with fairy chimneys. Feeling partially responsible for the delay, our pilot decided to keep us in the air longer and I must admit that after 20/25 mins in the air, I was getting tired of the scenery despite it being unlike anything I had seen before.
On landing, we were treated to champagne which was apparently a tradition after a successful hot air balloon ride. Why champagne you may ask and so the story goes like this: In the 1780s, when the very first flyers of the hot air balloon landed in the outskirts of France, the farmers there looked at them like aliens and maybe even pointed their pitchforks at them since they were French aristocrats, who the farmers were probably not a fan off. So to break the ice and possibly save themselves from an attack, the aristocrats decided to share their champagne with the farmers. Honoring this tradition, at 8 am in the morning, with not a morsel of food in my stomach, I drank a glass of champagne and needlessly to say, soon enough I was giggling like a baby as we journeyed back to our hotel.
For the rest of the day, we had signed up for the Green tour that would take us away from Goreme and it could not have been planned at a better time since I was ready for a change in scenery by then. Our first significant stop on the Green tour was the underground city of Derinkuyu. While there isn't much to see above the ground, it was only when we entered into the underground city we realized how massive it was down there. An 18- storied complex that was built 60 meters into the ground, it was said to house 8000 people when it was fully in use during the Byzantine era. People used to live here for up to 6 months straight to hide from the Muslim Arabs invaders who used to roam around in these territories. Each floor had a bunch of small rooms that looked extremely uncomfortable to live in and also had a few bigger rooms that were used by the whole community. These were mostly rooms like the kitchen, grain storage room, etc, but the most fascinating of them all was the winery. Our guide told us that winery was the only common room that existed on every floor since wine was considered medicinal back then. Mandatorily administered to everyone, it was hypothesized that it was to keep these folks at bay from the stress of living with 8000 people under the ground with no access to sunlight and in a complex with no sewage system. They did not have a place to relieve themselves but hey they had wineries instead.
Our next stop was the Selime monastery which was again inside a large rock cave but this time it was well above the surface. While we could see what could have possibly been an altar and a church, the real rock cave churches can be seen inside the caves of the Ihlara valley. Cappadocia was known to have a significant Christian population and this was evident in these caves which had murals depicting episodes from the Bible. The invaders had blanked out the eyes of the people on these murals, which combined with the dinghy-ness of the caves, gave a sinister feel to the place. Other than the 50 odd churches that were housed inside the cliffs that overlooked the river, Ihlara also had a very pleasant riverside trail along the river that flows between the cliffs. There were also a few cafes that were set up on the river where people could sit in gazebos that were literally on the river and dip their feet into the cold waters while sipping their tea and smoking their cigarettes. After seeing quite an elaborate variety of sights around Cappadocia, we ended our day with the sun setting over the Pigeon Valley. Quick fact about the pigeons of Cappadocia: the rock caves in this region are no longer used as human dwellings and these have now been repurposed as pigeon dwellings. The owners of these dwellings are said to make quite a bit of money selling pigeon shit since it is considered to be a good fertilizer.
10. The cooldown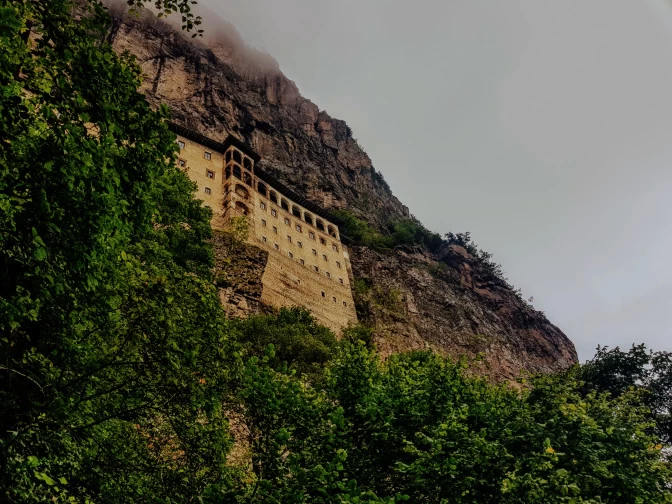 Our last stop in Turkey was Trabzon, an insignificant city on the Black Sea coast which is mostly just known for its hazelnut production and its gateway into the highlands of Turkey. While Trabzon itself had temperatures comparable to Istanbul, we initially planned on going to Ayder plateau from Trabzon. to enjoy significantly lower temperatures. With all the traveling we had done over the last 9 days, we ended up oversleeping and in the end, had to settle for a tour to Sumela Monastery. 5 mins into the tour and we realized that our tour guide did not know a word of English. Our fellow passengers were all Arabs and it looked like they mostly get only Arabs as tourists since our guide also knew only Arabic. After a monstrous effort from his side to communicate with us in English, he was able to convey that he is a huge fan of Bollywood movies and that Shahrukh Khan was his favorite actor. Though I lost respect for him after he said he enjoyed Dilwale, I gave him points for trying. The highlight of the tour was the journey itself that took us through valleys and mountains and soon we found ourselves in the middle of clouds. Our first stop was a cave, high up in the mountains with stalagmites and stalactites. It reminded me of the first time I had encountered such a cave somewhere in Salzburg. Back then I was a broke MBA student and I remember going into that cave completely unprepared in my sandals and had people staring at my feet. For some reason, standing in that cave, I had a sense of nostalgia about all my different travel companions. While I had gone with a few MBA colleagues to that cave in Salzburg, the next time I was in one such cave, I was with my close group of friends from my undergrad days and we were somewhere in Vietnam. I had come a long way not jus concerning travel but with respect to my relationships and there was I was, somewhere in one corner of Turkey completely lost in my thoughts holding my husband's hand as he navigates through his first cave experience.
Our next stop was a lunch date with the clouds and as we sat there waiting for our hot lentil soup and Turkish tea, the clouds brushed up against our faces leaving behind the impression of its wet kiss on our cheeks. Soon after this encounter, the clouds decided to shed their excess load by raining down on us. Left with not many options, we sat there sipping infinite cups teas, completely at the mercy of the rains and treating our ears to the sound of the droplets falling on the roof and treating our eyes to the alpine views through misty filters, as the host of the restaurant decided to start a fire to keep us nice and warn. After lunch, we headed to the Sumela Monastery, a monastery built into a rocky mountain. By this point, I was getting used to idly daydreaming and enjoying the changing landscapes from my window seat. I wouldn't say that it was with great pleasure I accepted to climb up to the monastery. It was going to be 45 mins of only climbing after not moving my legs much the whole day. But with the weather still very cloudy and cozy, we decided it would be nice way to enjoy a bit of the mountain air. And so we began our ascent to the monastery, with thick forests surrounding us and after 30 mins or so, the trees cleared out and we could see the cloudy sky before us and we were treated to a close-up view of the monastery, hugging the mountains and yet elegantly showing off its dominance. The monastery itself was not fully open to visitors and so we walked around its surroundings and managed to get a 180-degree view of the monastery as a couple of Highlanders played their folk music in the background. The drizzle was beginning to intensify as we made our way down to the base of the mountain and back to Trabzon. The gloomy weather added on to my end-of-vacation woes which were negated only by my discovery of a dessert called "Sutlac" as we were strolling through the markets of Trabzon. "Sutlac" was a rice pudding made of milk, brule-ed on the surface and topped with crushed hazelnuts. The dish resembled what the Indians call "Kheer" in North India and "Payasam" in the South. I guess when you start comparing Turkish dishes to Indian ones, it indicates a certain level of homesickness and I was ready to go back home. So with a heavy heart and a heavy stomach, caused by a very elaborate Turkish breakfast, the next day we said our final goodbyes to Turkey and Cheese.
So long, Turkey. Until next time.
Frequent Searches Leading To This Page:-
all inclusive holidays to turkey cheap, cheap holiday package deals to turkey, cheapest turkey tour packages from India, turkey tour packages from India 2020, turkey Greece tour packages from India, top turkey tour packages with price