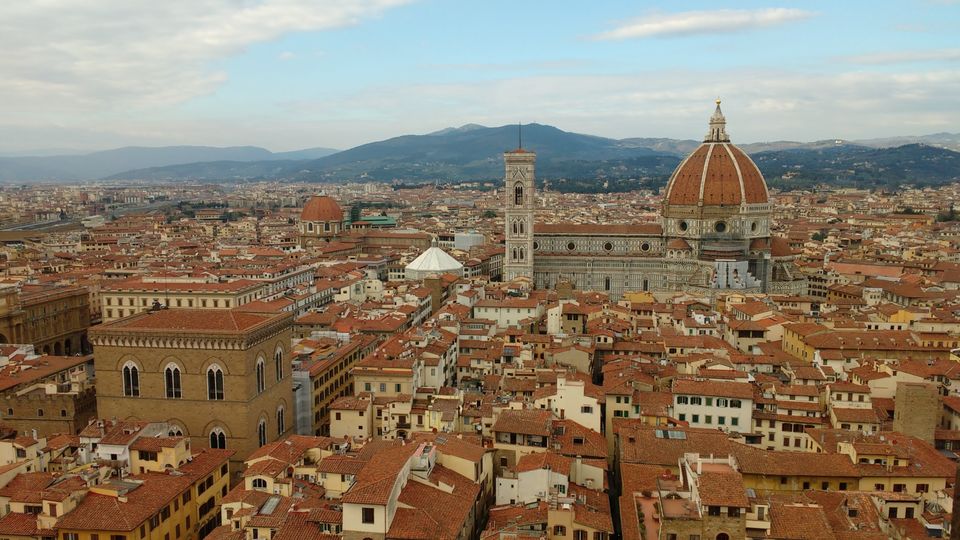 So, we watched this dramatic thriller series - 'Medici : Masters of Florence' on Netflix. At the time, we were impressed by this period drama, done tastefully and artfully. Little did we know, that in few months we would be in the lands of Medici.
We planned this trip, and we were thinking of Italy as very strong contender, in the list of countries. With the charm of Rome and mysticism of Pompeii and romantic background of Venice, we finalised Italy. And then suddenly.... Oh... Oh oh... We realized Florence is on the cards too.
We went to Florence, (and even to Doge's palace in Venice) reminding ourselves of enticing and bloody and long legacy of Medici. It changed our perspectives, and we looked at Florence in a different light. How different? For one, we could actually visualize the Duomo as blood and sweat of generations of workers who survived plague, wicked politicians, and the troubling complexities of then evolving religion. Secondly, we did appreciate the overwhelming expanse of the architecture with more relatable historic events - all thanks to Netflix series on Medici.
Other interesting thing which happened during Florence stay was, we met Jacob. Jacob is an American student studying in Florence, who did a free guided tour for us of Duomo, and gave us excellent suggestions about how to best manage our time in this beautiful looking city. (We being slightly shy camera people, couldn't/didn't ask Jacob for a selfie. In retrospect, not getting a photo together was not the smartest thing to do. We loved your enthusiasm, Jacob.)
Florence has a lot to offer. We already have plans to visit the city again. It is an overwhelming experience.
So here are our ten recommendations while planning a trip to Florence -
1. Watch Netflix series Mexico before or during your trip.
2. Firenze plus card works extremely well if you are going to spend 2 and half days or more.
http://www.firenzecard.it/?lan
3. Do all climbing tours - dome of the Duomo, Palazzo Vecchio, bell tower, and many more.
4. Have a really good pair of walking shoes and Be ready for a lot of walking.
5. DO NOT MISS Bargello. On occasions, Museum closes at 1.00 pm, plan accordingly.
5. Rick Steve's audio guide for Bargello is a must. Especially his commentary on 3 Davids and great original works of Michelangelo and Donatello.
https://www.ricksteves.com/europe/italy/florenc
6. If you are an art nerd, one day for Uffizi is an underestimation.
7. In a stay, over two nights, it is possible to walk almost the whole town. Do it, if possible.
8. Real David is not outdoors, visit Galleria dell'Accademia. (Especially for Indian tourists, who go with tour packages).
9. There are a few good bookshops around. The one called, paperback exchange, is an interesting place to visit. Used books in very good condition, are bought and sold. You can get popular, classic title for and under €1.
10. A lot is interesting and popular (not necessarily good ;)) movies are set in Florence. e.g. A room with a view, inferno, and so on. Watching them gives a very special feeling. For movie buffs, it might add some more fun to this already rewarding city.