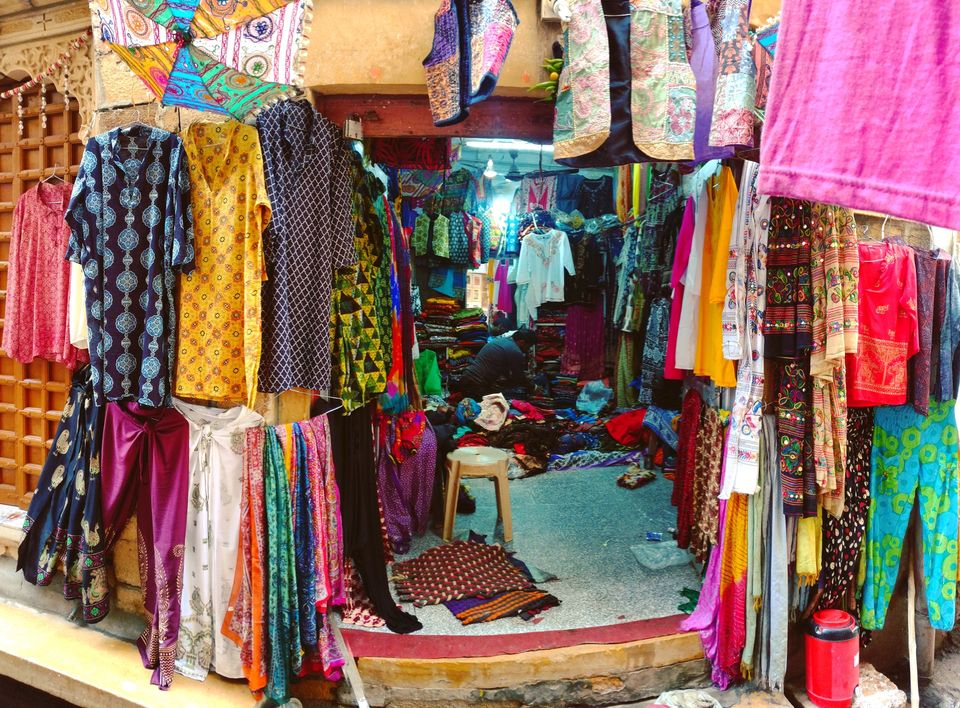 Collecting souvenirs and shopping excites me as much as exploring a new town and travelling does. So naturally, after touring Jodhpur when I headed for Jaisalmer, shopping was definitely on my list. As we set out for the day to look around some shops we came across this tiny textile store in the Jaisalmer fort, it was situated in such a place that we didn't even look up to see its name. A foreign tourist interrupted my thoughts and I realised I had slowed down while looking at the clothes which were displayed. "This is the best shop all around Jaisalmer, trust me. I've looked all around the fort but this is where you'll get everything at the best price" the tourist said.
A little surprised, I thanked him and went inside. It was amazing to see the kind of soft skills the shop owner had to be dealing with a group of tourists who didn't speak English. Yet he was explaining and showing them all kinds of clothes and being fair with them with the prices! He made the maximum efforts to make them understand. It was a rare sight as usually foreign tourists are charged a bit higher in stores as well as for monuments' entry fees. He attended to a customer at a time and showed equal importance in what each wanted to buy. We all were offered chai(tea) by him as he went on showing his textiles collection.
The prices were genuine. Kurtis and Scarves starting from INR 250 were sold at his store!
I ended up buying a lot more than I had planned and thanked him for taking all those efforts to see wether we really liked what we were buying. As we were leaving, he ran up to us and handed us his business card! I planned to write a store review, but this experience was something more than just good customer service. There was so much to learn from that guy! His management and communication skills were really good. If you ever visit Jaisalmer surely visit this place called Arjun Textiles; even if you don't want to shop, the way he converses with the tourists is worth listening!