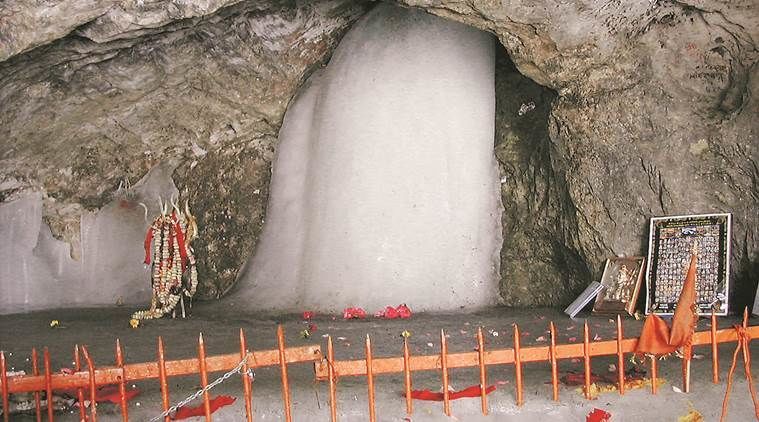 1. The journey, though full of magnificent views of Kashmir is very tiring, due to its meandering curves. It took us 26 hours to go by road, from Panchkula to Baltal. Such long journeys can be very exhausting and can hurt your back , thus rendering you unfit to make the climb. A better alternate would be to take a flight till Srinagar, and a bus/taxi from there. It would take about 3-4 hours by road, that way. Stightly costly, but worthwhile
2. You vehicle might be stopped at Jawahar Tunnel by the armed forces. This is because most vehicles go in a convoy guarded by the Army, from Jawahar Tunnel to Baltal. It is very important to stay safely within the convoy. There have been cases of terrorist attacks on vehicles carrying devotees out of the convoy.
3. Temperature at the Baltal base camp drops to near zero at night. Get warm clothes with you and keep yourself warm. The area faces extreme weather. When we went to the place, it rained for 3 days straight. Hence, plan for situations when you might have to stay an extra day or two at the camp.
4. Accommodation & food is available for free at various langars at Baltal as well as, on the way to Baltal ( near Jawahar Tunnel).
5. Have a proper ID proof, registration card, medical certificate before going there. Register at least a month before your journey date, as the slots get filled up quickly.
6. Be very careful before trusting the local Kashmiris. It's a pilgrimage for you, and a business for them. They will never lose an opportunity to cheat you. Being as short-tempered as they are, it's best not to get into arguments with them.
7. If you're taking a pony, DO NOT FORGET to take your ponywalla's ID card with you while passing through the gate. If you fail to take his ID card, after crossing the gate, he'll take some other devotee with him, who's offering him a better price. He will try to convince you otherwise, but DO NOT listen to him. Keep the card with you and only return once you're at the top. Don't make the same mistake as me.
8. If you're planning to take a helicopter, you'll need to book it as soon as the booking is opened, due to the huge demand of the service.