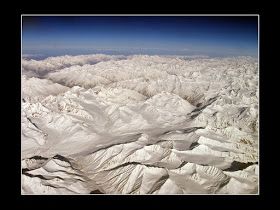 Summer of 2011 has been special for many reasons. Our maiden visit to the holy shrine of Ma Vaishno Devi by foot is one of them. An hour's flight to Leh from Delhi,over the spectacular snow capped mountains, taking pictures of them turning golden yellow,as the sun rose,landing at one of the world's highest airports (at 10,682 feet above sea level),each one of them was truly a unique experience! As we stepped out of Kushok Bakula Rimpoche airport,the first glimpse of this wonderful town and the first whiff that carried the Himalayan chill set off the tone for the coming days and filled us with great excitement!
After a traditional welcome, quick breakfast and tea at the hotel(Laser Mo), we rested our tired feet from previous day's walk up and down Trikuta hills in Katra. It also helped us acclimatise ourselves to the high altitude. We visited the Shanti Stupa and the town of Leh looked ever so beautiful from here at sunset!
QUARTERED IN SNOW,SILENT TO REMAIN.WHEN THE BUGLE CALLS,THEY SHALL RISE AND MARCH AGAIN.
-The scroll of honor at the Siachen camp.
The next morning we visited the ' Hall of fame' which has a museum of Kargil memorabilia. It was set up by the Indian Army XIV corps as a memorial to the war heroes.One can see the biographies of eminent defense personalities & war heroes and weapons used during Kargil war. Another section is dedicated to Siachen and its heroes. We were told about the hardships our soldiers go through at -50 degrees C .It was heart-rending to know that the life span of any soldier who returns after a three month posting at Siachen is reduced by at least 5 years and many of them lose their fingers/toes to frost bite and their lung capacity is reduced by at least 5 years due to exposure to extreme climate. One of the display boards read that 97% of soldiers that the Indian Army lost at Siachen was due to extreme cold conditions and treacherous terrain of the glacier.We left the Hall of fame saluting the brave sons of India,with a very heavy heart,some souvenirs and a renewed sense of patriotism.
We spent some time at the Magnetic hill where we noticed that our vehicle parked on a neutral gear ,slid up defying the law of gravity and Gurdwara Pathar Sahib that was close by. We learnt that Shri Guru Nanak Dev Ji sanctified this place in 1517 while on His second missionary tour .We were kindly offered lunch at the Langar. We had lunch,paid our obeisance and left for Nimmu village to witness the confluence of Zanskar and Indus rivers. It was a magnificent view to watch two rivers with distinctly different colors,merging into one!
No words can justly describe the beauty of Leh-Ladakh,surrounded by two of the world's highest mountain ranges ,the Himalayas and the Karakoram Range !Our next destination ,Nubra valley was a 120 km drive ,crossing over Khardung-La, famously called the highest motorable road in the world,at 18,300 ft above sea level. Khardung-La truly gives you the feeling of being on the top of the world!! We then descended to Nubra valley,stopping in between to try "Rota" and "Anbinden" with ice and snow swords,the ninja style!!
Nubra valley is a fascinating collection of starkly opposite geographic elements . It is one of the rarest places on earth where one can see azural rivers, shingles, shining sand dunes, snow capped mountains and beautiful apricot & vegetable farms that make the place self sufficient, all in one gaze.It is the only place in India where you can see and go on a safari of very rare double humped bactrian camels . The list of amazing facts about Nubra valley is indeed a long one! On our way back to Leh,we stopped by a gigantic statue of Maitreya Buddha and started back after tete-a-tete and tea with a very kind Buddhist monk who is the caretaker of the temple here.
Nubra valley is definitely one of the high points of our Leh-Ladakh tour,next only to Pangong lake. As much as we prepared ourselves not to be overwhelmed by the beauty of Pangong lake, we were still left speechless at the very first glance! This enchanted lake is a photographer's paradise with mesmerising hues that change dramatically from greens to the shades of blues. Reflections of snow clad mountains and flocks of sea gulls add to it's breath taking beauty. We crossed Chang-La and Hemis high altitude national park on our way back to Leh.
We explored the ancient monasteries of Leh-Ladakh in the next few days. The history of these monasteries is so ancient, their architecture distinct and the colors so vibrant. Even an atheist would discover a sense of inner calm ,listening to the chants and rhythms of Buddhists monks here.
With all it's grandeur, unique landscapes, discrete architecture and heritage, a trip to Leh-Ladakh undoubtedly enriches and compels you to come back soon. Even an exhaustive traveller will rarely come across a land such as this!