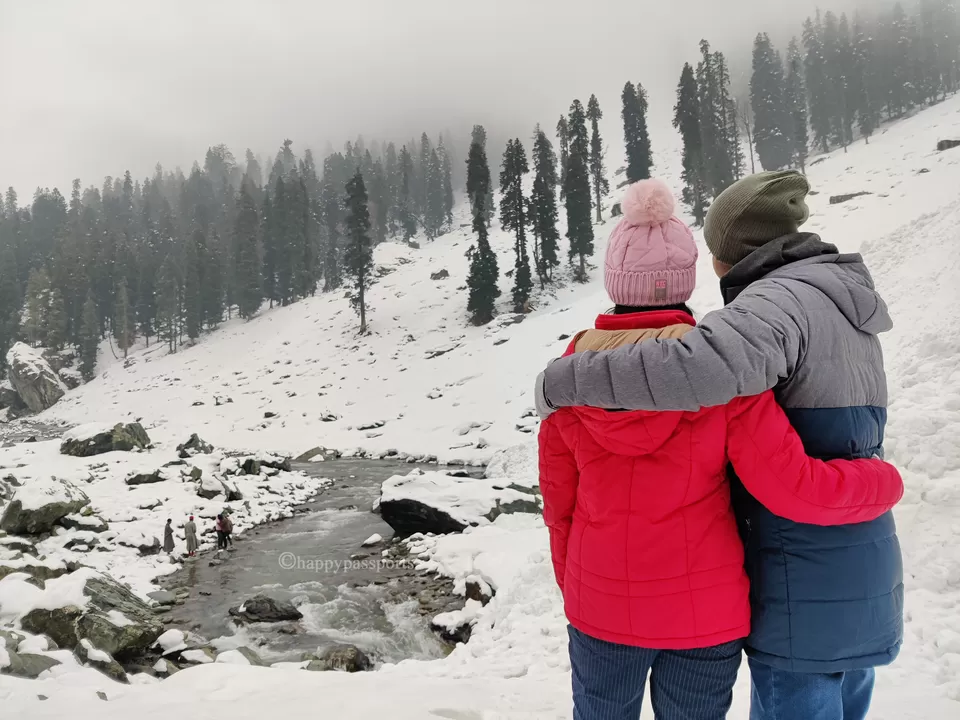 Kashmir is the northern most tip of the country and beholds beauty that cannot be expressed, has to be only experienced. Since it has been in a state of political unrest since forever, visiting Kashmir is often not considered easy. However, after visiting this beautiful 'Jannat' we have different things to say. We are sharing here our well planned 5 day winter itinerary (Jan – March).
THINGS TO KEEP IN MIND-
1. Winters in this region of India can get really extreme and harsh, so pack well if you are planning a winter trip.
2. A lot of locations may face closure due to weather, so expect random cancellations of plans or the fact that you may get stuck in a certain location till the snow gets cleared.
3. Only postpaid telecom services provided by BSNL/JIO/AIRTEL work in Kashmir.
4. RTPCR is compulsory on arrival, irrespective of your vaccination status/RTPCR done at departure.
Day 1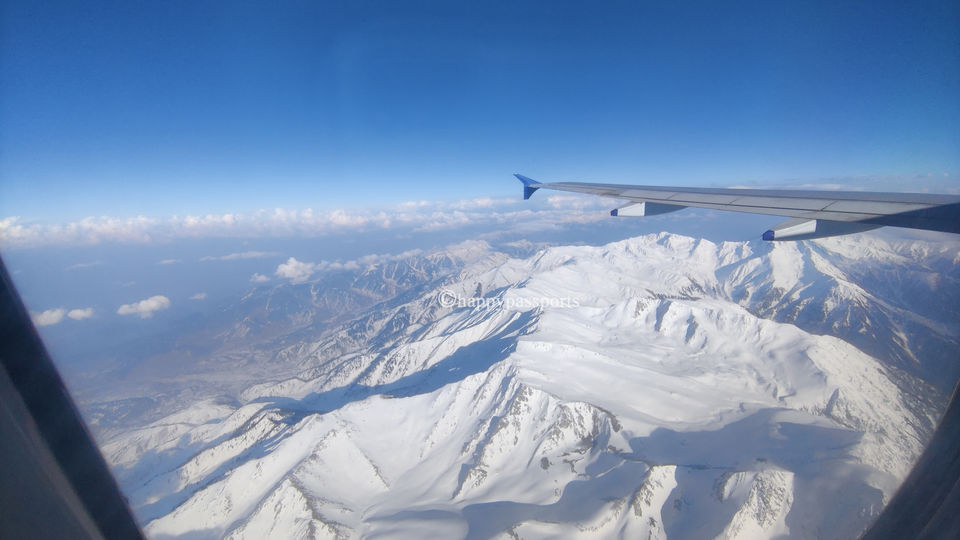 The flight to Kashmir is a treat to the eyes. Make sure you book a morning flight, to enjoy the views and also to make sure you reach the final destination while its still sunny outside, as during winter, roads tend to get blocked and closed due to heavy snow fall. We landed in Srinagar at noon, and had our cab booked in advance. After soaking in the beauty and a few quick clicks, we left for Gulmarg. It is a 2 hour drive, but usually takes longer due to snowfall and slippery roads. Though you want to get to the top at the earliest, do not miss the famous Kahwa, at the Gulmarg market. Make sure you bargain, but also give them a fair price. You can rent snow gear like boots, jackets, gloves etc. at this point. The rental starts at Rs 80 per day, and you may get a better price if you are a bigger group.
Reach your hotel and rest, as you have an activity packed plan for the next day. We stayed at the Grand Mumtaaz Hotel. It was a good budget hotel with amazing views, and at a walking distance from the Cable Car (Gandola) point.
Day 2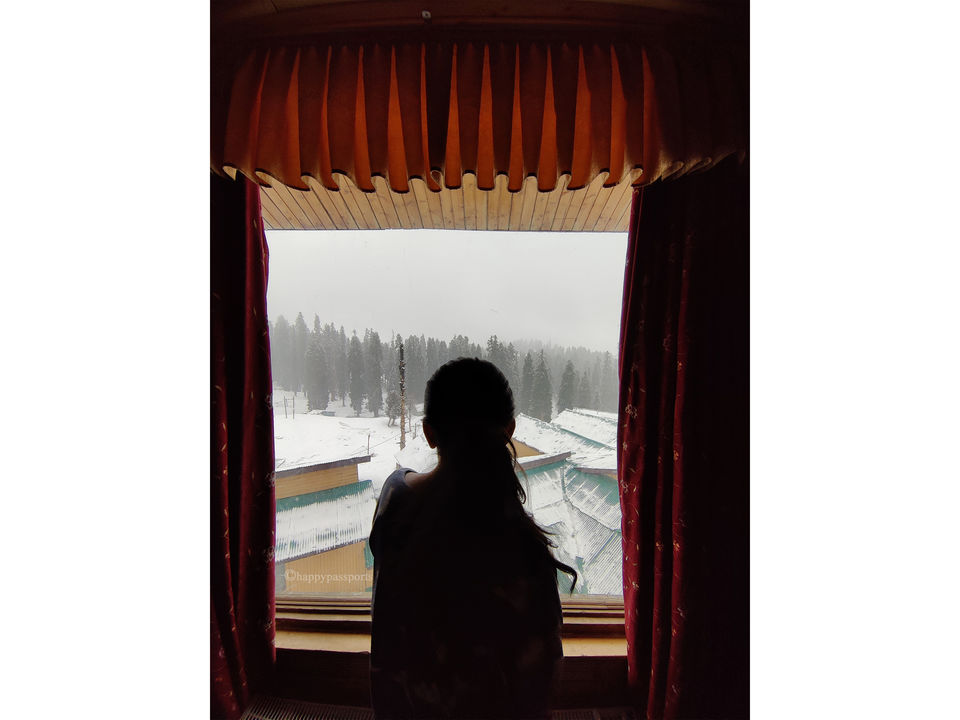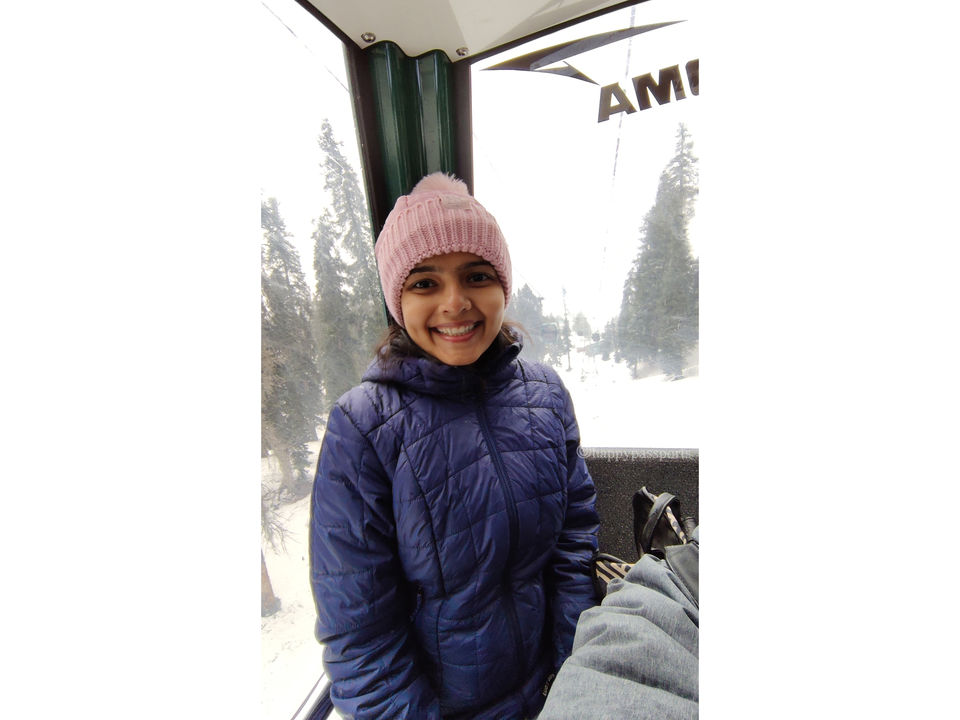 If like us, you love nature, wake up early to enjoy the mesmerising views. The whitescapes are no less than a Winter Wonderland. Have a fuller breakfast, and gear up. Make sure you are layered up, as it tends to get chilly and windy at the top. Reach the Gandola ride center, the first gandola ride begins at 10am. You may encounter a long que of ski groups, but should not have to wait for more than 15-20 mins. The ride to Phase I is beautiful and make sure you enjoy it more than just clicking pictures like most tourists end up doing. It would cost you Rs 740/per person to reach Phase I.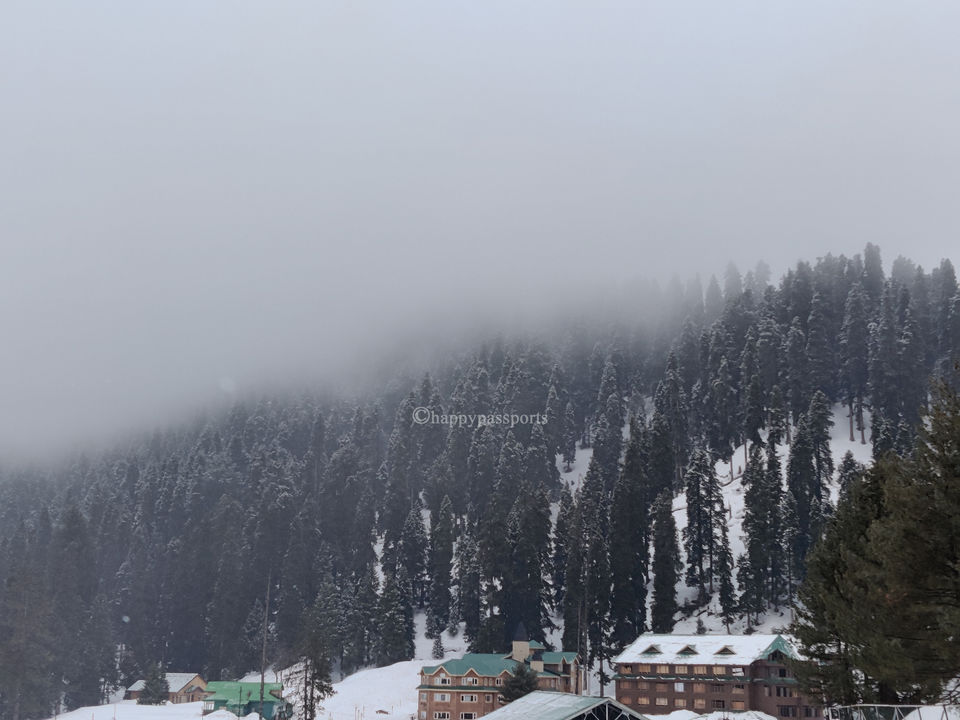 As soon as you reach up there, you will be surrounded by a group of desperate sellers, trying to get you to book different activities. Can't blame them, it is their only source of livelihood. Take your time and decide which activities you would like to do.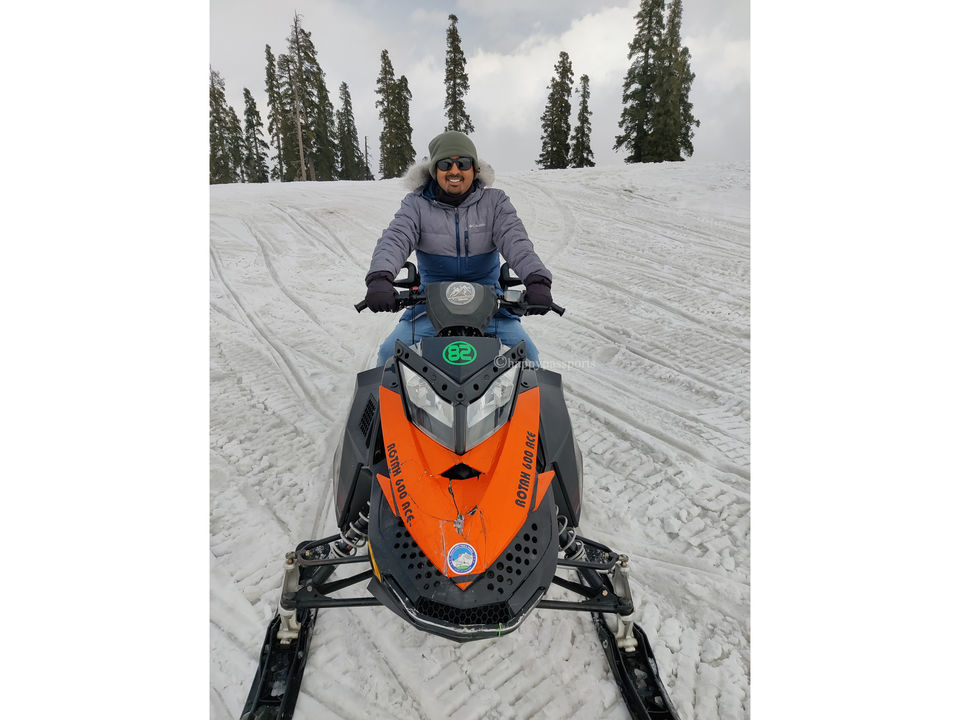 We first took up the Snow Mobile. It is a fun activity, however quite overpriced, given the fact that the duration is barely 20 minutes. If you do go for it, make sure you make it clear that you would like to ride the bike on your own. The people there are sometimes stubborn and you have to be strong enough to make sure you get things your way. Priced at about Rs. 2000 (after hard negotiation), you are taken to 3 points on the mobile. They may hurry you up, but do not haste. Enjoy the views and click pictures. Some of the helpful snow mobile operators may offer you to click pictures and I must say, they click good pictures!
You can have lunch at one of the many shacks there. The shacks are the only available options for food, and you can try out the local dishes there. Jain food is also available, however, fewer options to choose from.
Next we went on for sledging. It's a 7km sledge ride and is an amazing experience to slide down the slopes on the wooden sledge. Its not a very physically comfortable ride though. So we would recommend people with back pains or leg pains to not try it. Also, not very safe for kids either. You can opt out and rather take a gandola to the base point (return journey is free). The sledge ride would cost about Rs. 1200/person and personally we felt that was under priced, given the physical hard work by the operator that went into pulling the sledge in some portions of the slopes. Also, that is one of the reasons that we would not recommend heavy body people to take this activity up. Apart from being a little unsafe for yourself, it also becomes strenuous for the operator. This ride was the highlight of the day, and the operators are sweet enough to take breaks for kahwa or photos whenever you wish.
Skiing is also an option, however, we skipped that, as it did not seem very promising as a 2 hour activity, or even a day's activity. By the time you get the hang of it, either your time is up or you are tired of falling and getting up in the heavy gear. A separate skiing trip would make more sense.
By now you would be tired and exhausted from an amazing active day. You can head back and rest at the hotel.
DAY 3
While we planned to leave for Srinagar early in the morning, nature had different plans. It tends to snow heavily in Gulmarg during the winter months and so we left for Srinagar a little later than planned. The journey is a scenic 2 hour drive. There is a high chance of traffic on account of an army convoy passing by. Make sure you plan your day with some buffer, so that things do not get disrupted in case you are stuck in traffic.
You can check out the local Srinagar market, for shawls and winter wear, carpets, wooden items, artefacts etc. You will definitely get it cheaper in Srinagar than in other cities. Also, the shopkeepers try really hard to sell their stuff and are most of the times in an understanding with your tour guide. So make sure you know what you are looking for and also an approximate of the pricing.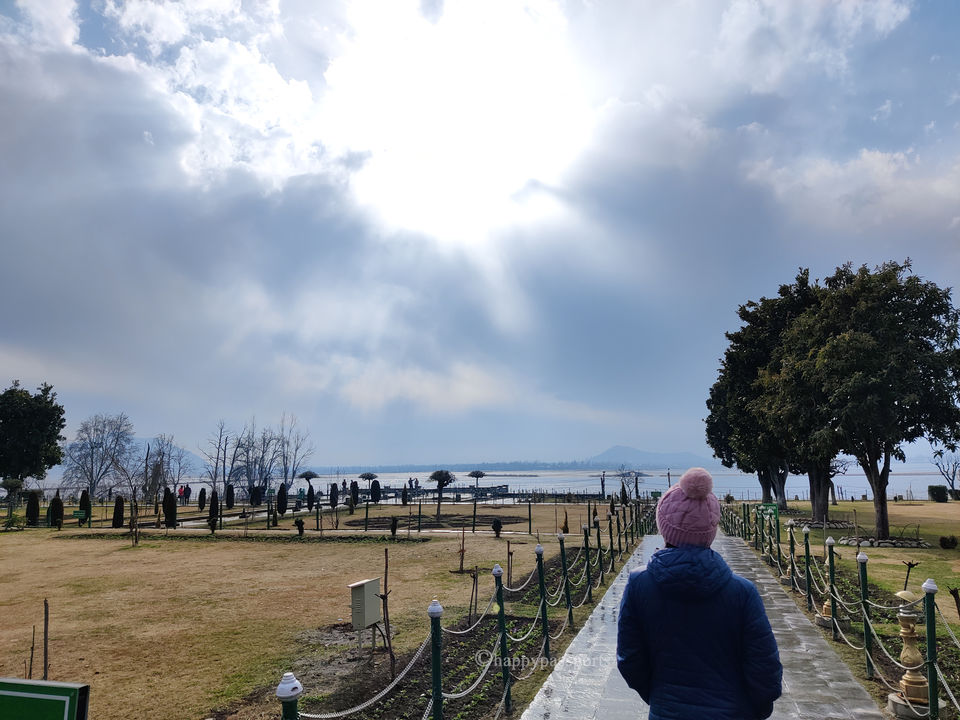 Next we headed to the Nishrat garden. There are many Mughal gardens, however, since we visited during the peak winter, it made no sense visiting them all, as it was not the flowering season. It's a good place to get some beautiful shots and would have been way more beautiful during the flowering season.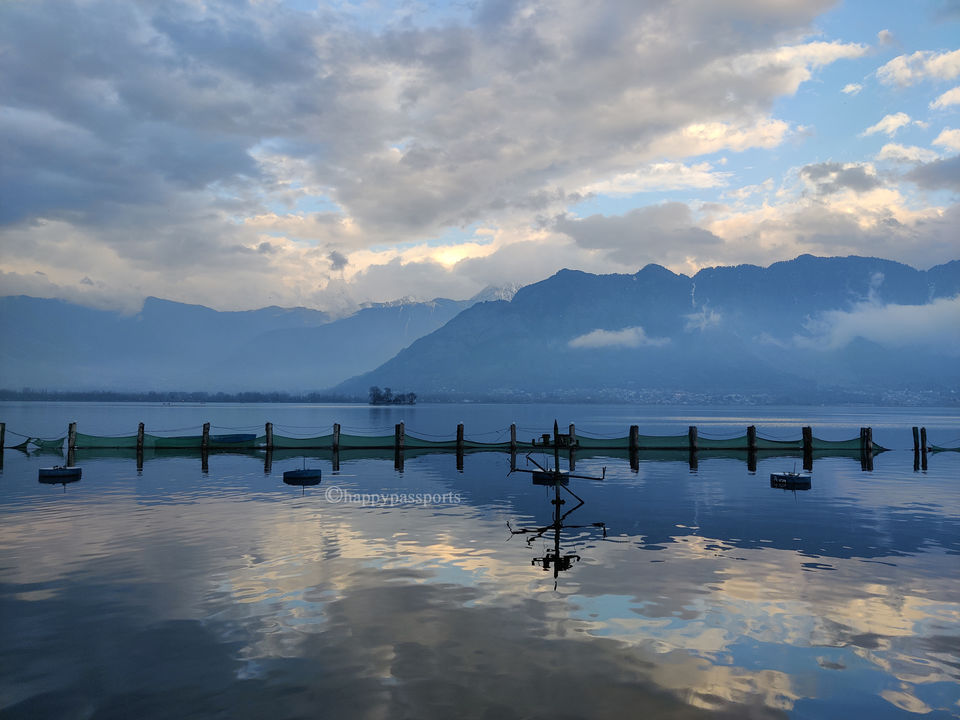 We headed to the Hazratbal Mosque around sunset time. And as told, the place offered mesmerising views of the mountains and the sky, reflecting on the pretty lake waters. A beautiful location to enjoy an evening of calm and natural beauty.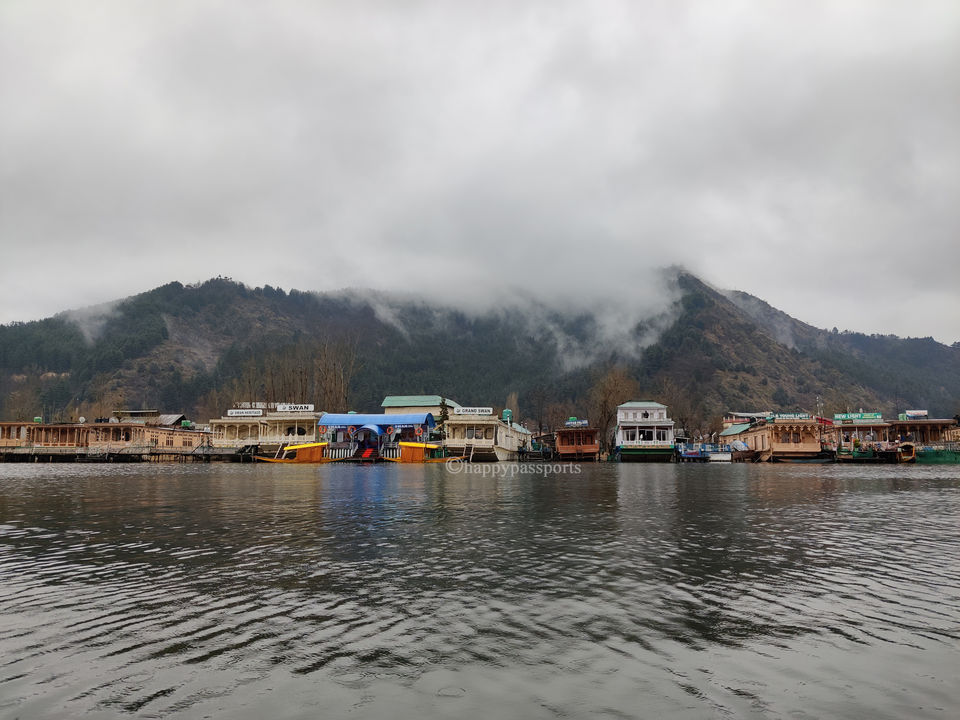 We took the sunset shikara to our house boat. It was a completely furnished boat, with about 4 rooms, a dining space and a small living room. Not exactly floating on water, more so anchored along the coast. It was a pretty good first-time experience, nothing that we would do again. At times, the lake freezes during the winter, and so there is a possibility for your house boat stay to be cancelled. Make sure you confirm in advance and also check on the weather conditions before heading there.
DAY 4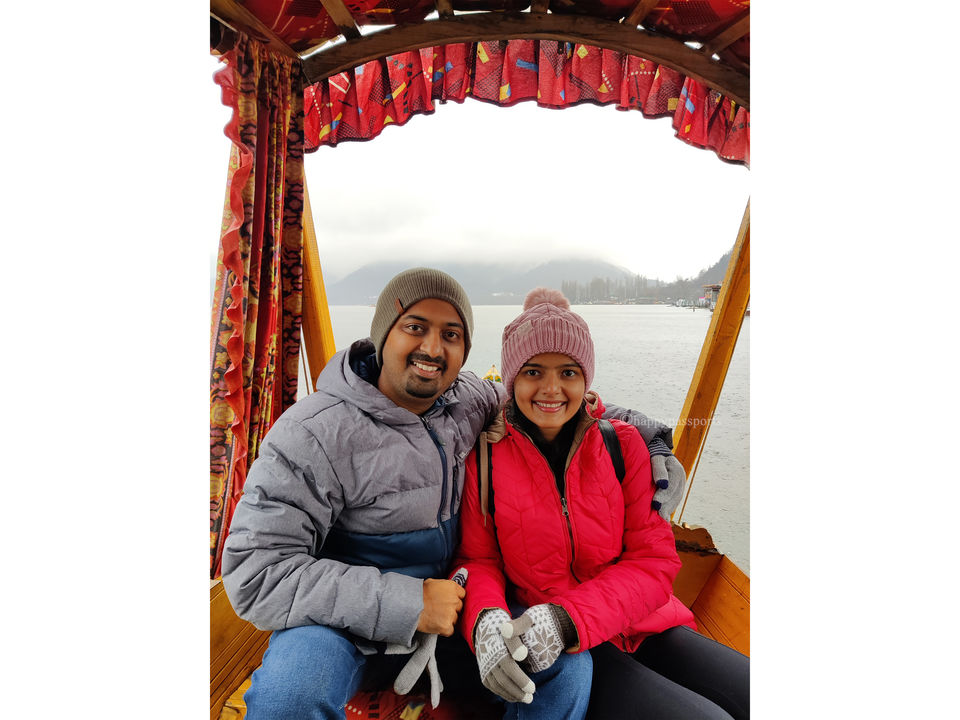 We took the early morning shikara ride across the Dal lake. It was beautiful. The slight drizzle made it very chilly and so layering up is a must. While you are enjoying your time rowing scross the beautiful landscapes, you will definitely be flocked by other shikaras trying to sell different stuff, ranging from saffron to gemstones. Be firm enough to tell your shikara man to take you directly to the main lake and to not take the floating market route. Do not expect much out of the ride, as the water isn't as clean and beautiful as it seems in pictures. But the views of the mountains make up for that.
The Shankar Acharya temple was not at such priority on our list. But we are so glad to have been there. It's a temple on a little hill and your bus or big vehicle would not take you up there. There are cabs that you can take for reaching the top. As it is maintained by the army, taking mobiles or any other gadgets is prohibited and you will be thoroughly frisked at the entrance. They do have lockers for you to keep your belongings. It is a climb of 200 steps and so definitely not recommended for senior citizens and toddlers.
The temple at the top offers outstanding views that we have captured in our memories. And fortunately for us, as we reached up, it started snowing heavily and the whole place turned into an unreal wonderland within minutes. What a view and what a memory!
We discovered two amazing restaurants in Srinagar and they are both a must must try. Winterfell and Fat Panda. You can check them out on Zomato and also call them to know about their timings.
And we left for Pehlgam in the evening after an eventful day.
DAY 5
We reached our hotel in Pehlgam after a 3-hour drive later in the evening and called it a day.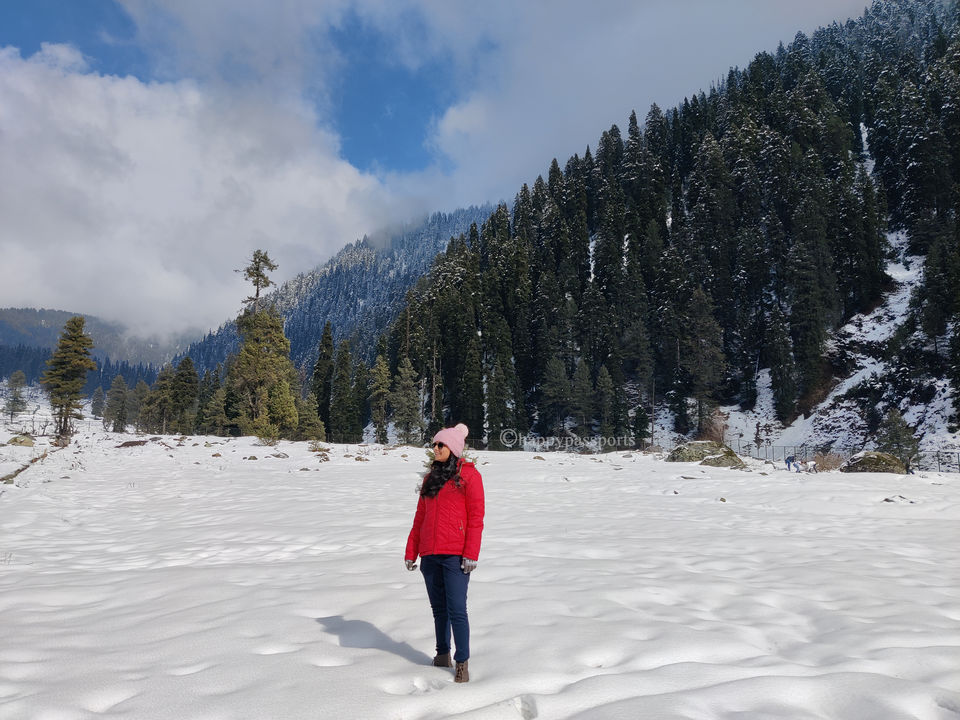 The next day started early and we left to check out Mini Switzerland after breakfast. You can reach the parking lot by your car. But the main point can be accessed only by pony rides. They cost about Rs 4200 for 2.5 hours and cover 3 main points. Make sure you tell the pony handler that you would want to stop at each point and enjoy it.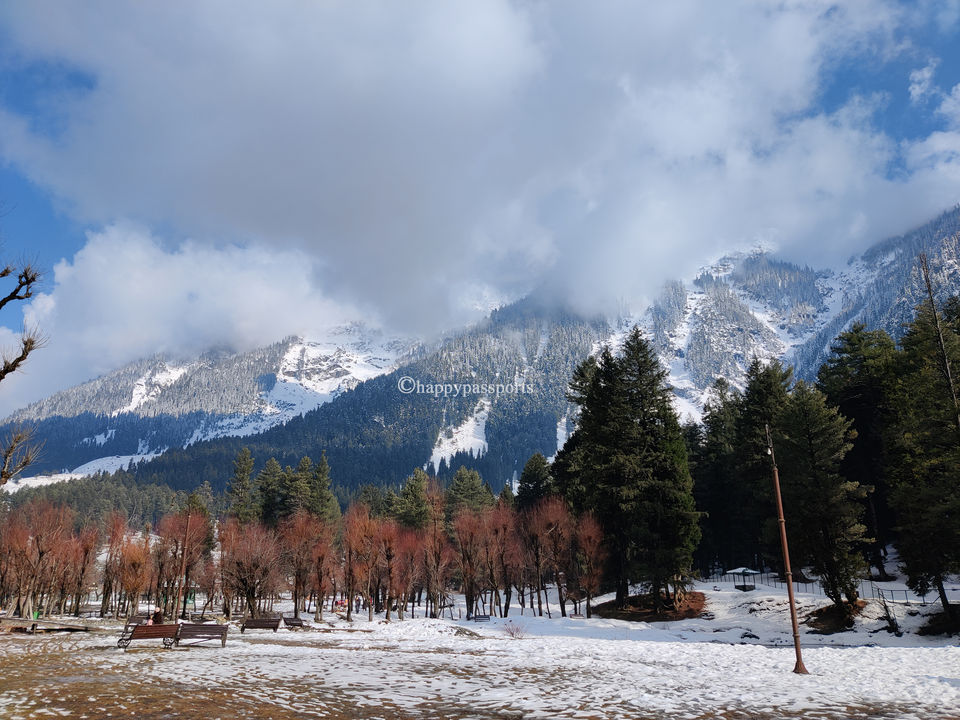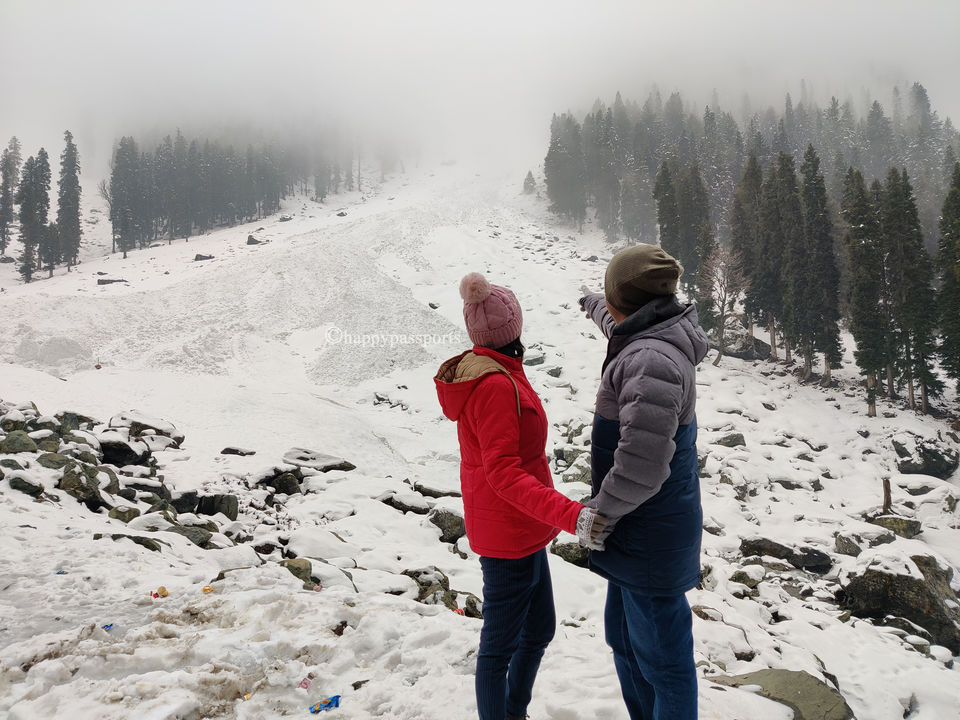 There aren't many restaurant options there and we decided to have some maggi for lunch on the go. We rented 4 by 4 cars there to check out the Aaru Valley, Betaab valley and Chandanwari valley. All three are unmissable and definitely a must visit. The drive was scenic and the drivers were kind enough to halt at every second spot to click pictures. All the three valleys offered views that we had not seen before and some out of the world beauty.
We stayed at The Wild Flower Hotel. It was a pretty good hotel, but you may get a better hotel at a little extra price.
WHAT TO PACK
Visiting Kashmir in winter means you have to be prepared for extreme temperatures and weather conditions. Because there is nothing as bad weather, it is usually bad clothing gear.
When visiting winter destinations at the peak of winter and in snowy weather, we usually follow the 4 layer rule - Warm 100% woolen thermals; a thick t shirt/sweat shirt/pullover; woolen fleece and a padded jacket meant for sub zero temperatures. Additional gear such as beanie, woolen socks, mittens, scarf, and snow gloves would be useful to stay warm.
Snow boots are not a must, as you get them on rent in most of the snowy places. And if you do not want to invest in snow/waterproof shoes, you can purchase silicon shoe covers. They are way more economical and easier to carry and travel with.
Incase you are someone who feels cold very easily, you may want to carry warmers that you can insert in your jacket, mittens and socks. It is easily available in any branch of Woolmart or Decathlon.
THINGS TO SHOP
Kashmir thrives to a great extent on tourism. So there are going to be times when you will be mobbed by vendors trying to sell different things ranging from saffron to wooden items to gem stones.
But make sure you don't get on a shopping spree at the wrong locations. Tourist points and stalls outside tourist spots are usually pricier than the local markets.
The Dal lake market is tempting and also very promoted locally as the famous floating market. However, we found it to be expensive and at times not even genuine in terms of quality.
Shop in the local markets for good quality stuff at good price. It is mostly famous for the woolen garments like sweaters and shawls and of course the pashmina. But it is recommended to take someone's recommendation if you wish to buy a pashmina as it is difficult to check of it is genuine.
And that's your 5 days in what is rightly called 'JANNAT'!