Coaxing and convincing parents of 3 young, single, beautiful girls was an uphill task to get permission to travel to Leh & Ladakh in the summer of 2015. Amongst unending discussion of people fainting, panting for oxygen, bleeding noses and eventually dying in Leh, three of us finally convinced our parents that we are taking an all-girls trip to the toughest terrain in the country. Fortunately, we were all from the army background and our fathers found some contact for us in the Leh Cantonment for our accommodation and internal travel.
I took an overnight Volvo to Kangra where I was to meet my friends Anu and Akansha. Anu stayed in Kangra with her father, who is a surgeon and Akanksha was then studying medicine in Nepal. We had medical help tooJ. After a heavy breakfast, we headed in a jeep to Jammu from where we had an early morning flight the next day to Leh. We reached Jammu, stayed over at an army mess, met some local friends there as I had done my schooling in Jammu many years back. Next morning, we had an army jeep to pick us up to take us to the Jammu airport; the shabbiest and the most inefficient airports that I have ever seen till date.
Nonetheless with all our luggage (as if we were going and settling there) we final took off in our Air India plane. We had to pop a Diamox before we landed to counter high altitude sickness. Did I mention we also carried oxygen cylinders with us? The pilot seemed adventurous; he kept on tilting the plane to show us the tourist attractions of Jammu – Mata Vaishno Devi and the glaciar.
We landed in Leh and Ladakh.
The first step on the terrain, I felt nauseautic or maybe I was hallucinating. There was a sudden change in the temperature so we quickly tucked ourselves in our wind cheaters. There was a vehicle waiting to pick us up and we had to be taken to Kharu , which was 71 kms from the airport. On the way we chit chatted with the driver and the co-driver about the weather and the places to see. We saw some monasteries on the way, took a nap in between and finally reached our accommodation in the army mess.
Day 1- Acclimatization -We were strictly told that day one was only meant for acclimatization – which essentially means getting accustomed to the weather due to the change in the altitude. So after having a heavy lunch we all dozed off and then in the evening we went to take a stroll within the campus (we were actually getting bored). Then, Akanksha played some music and we felt better. We played cards and were honestly dying for the day to end so that we could start our most awaited trip!
Day 2 Thiksey Monastery & the 3 idiots school – Our cab driver, Rinchin who was a local Ladakhi guy, assigned to be our chaperone for the next one week, had arrived. He was cute looking, short heighted with a smiling face. He greeted us – Good morning! We exchanged pleasantries and sat in the car and the ice broke with him when he put loud music for us on the woofers which he had in the boot of his Innova. We knew life
was sorted!We took all the info from him. I being a "Punjabi tourist" don't like to leave out anything on the travel list, so i checked with him if the itinerary which I had planned would cover everything. For who knows when will we ever come to Leh again. He was super impressed with the plan and said whoever has helped you plan it has done it very intelligently. Luckily, my uncle was posted in Leh that time, so, before coming I had done my research, planned the itinerary and bounced it off with him. He made some changes keeping in mind the routes and the altitudes and making sure we got good enough rest in between the tough travel.
So, we headed to Thiksey Monastery, one of the oldest monastery and it had a museum too. I wouldn't get too much into details here, as I felt after visiting different monasteries in different cities that they all are the sameJ. With Leh and Ladakh it's more to do with the journey from point A to point B. I understood the true meaning of the clichéd quote – The journey is better than the destination. Not saying that Thiksey wasn't great, but the journey to and fro was serene, scenic and full of pure air.
Our new friend Rinchin also became our photographer; I haven't met a more patient person than him who could take unending clicks of the same pose for us. We really troubled him a lot; I bet he was enjoying our company too.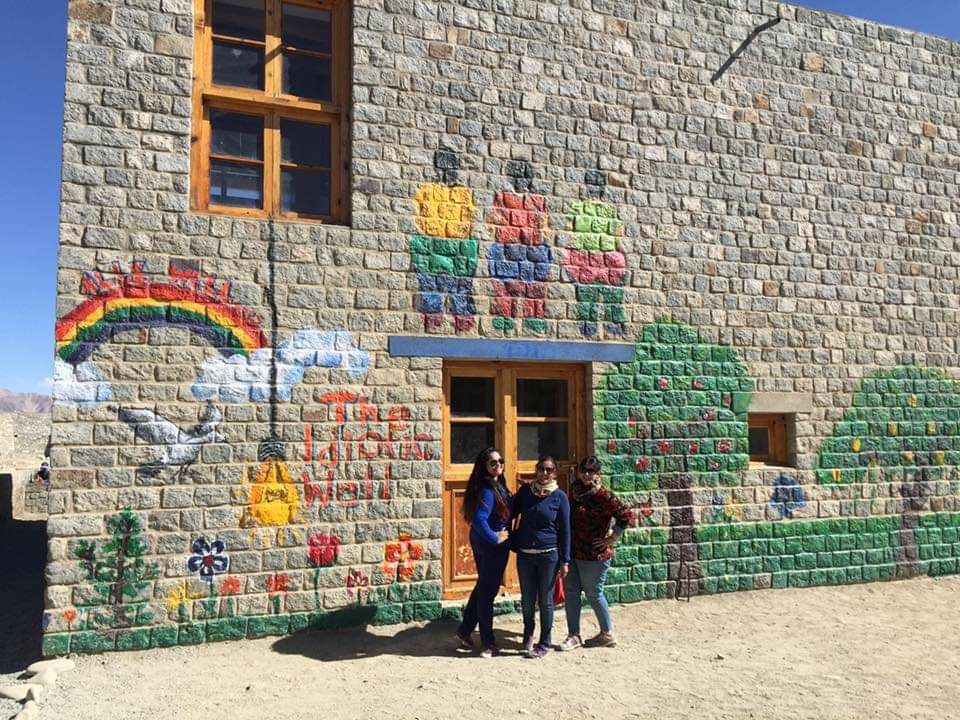 The next day (Day 3) –Magnetic Hill: The very fact that we were going to experience something out of the world gave us a different high that day. The Magnetic Hill is nothing but a Cyclops Hill where objects and cars on the hill road may appear to roll uphill in defiance of gravity when they are, in fact, rolling downhill. Rinchin did click one the best pictures of the 3 of us! We visited the famous Gurudwara Pathar Sahib on our way back.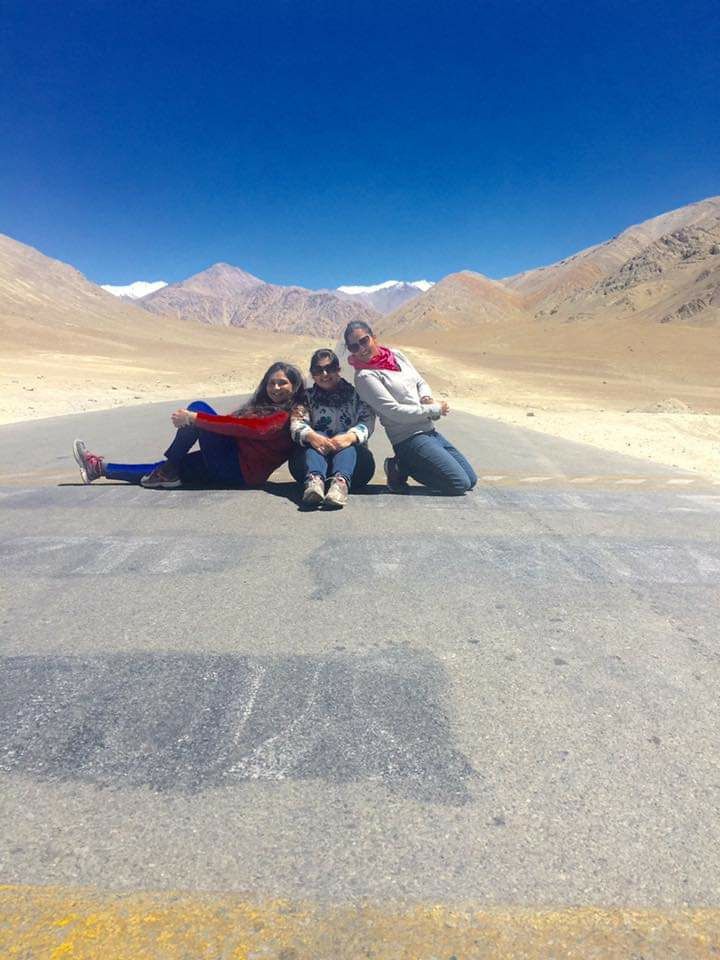 Day 4- Khardungla Pass- Khardungla Pass is the world's highest motorable road in the world. We got ready early morning and were half asleep. The distance from Kharu (our base) to Khardungla was around 40 kms which took us around 2 hours of travel on roads with hairpin bends. The terrain was beautiful, it changed every kilometer. When we were about to reach Khardungla, Rinchin told us that he will stop exactly for 10 minutes there as the oxygen levels are quite low so we might feel nauseatic. It had just snowed the previous day. When I stepped out of the car, I did feel a little nauseatic but a picture was mustJ. The 3 of us got our pictures clicked and then we stopped 3 kilometres from the pass to get some more clicks and there the oxygen levels were better J. Our next destination was Nubra Valley.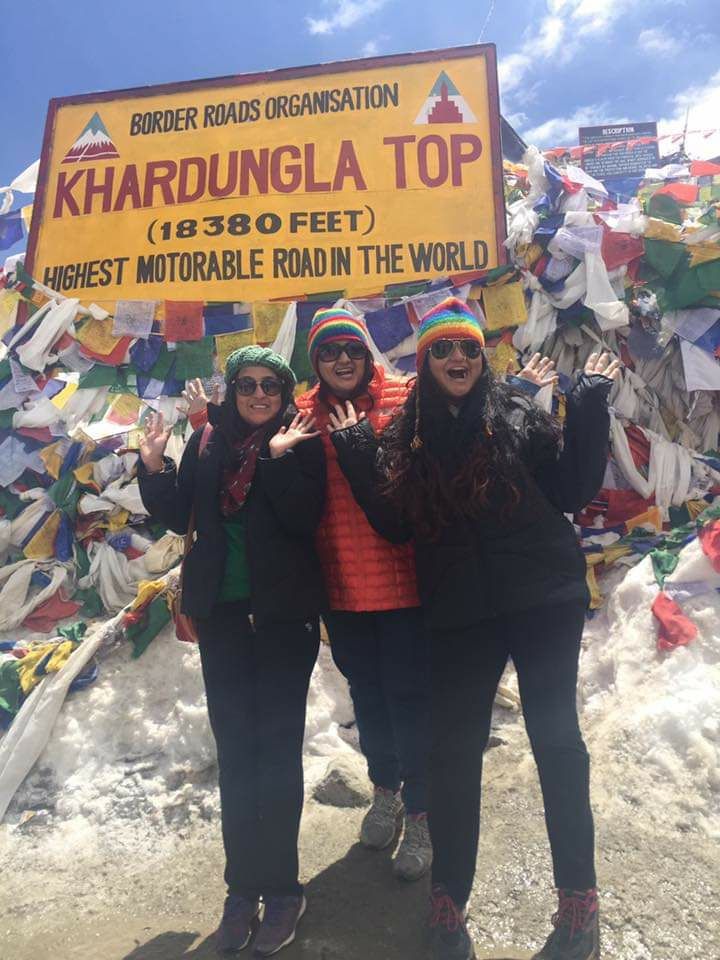 Day 5- Nubra Valley – Nubra Valley had then become a must visit as Farhan Akhtar trained there for his movie Bhaag Milkha Bhaag. We crossed the exact location where he shot. There was an ATV ride which we took and we did get Rinchin to click a 'Bhaag Milkha Bhaag' moment for usJ. We stayed in a homestay at Nubra, which was a very humble experience. I highly recommend Hunder Homestays in Nubra. The night at the homestay was absolutely amazing with a bunch of fellow tourists sharing the same space. They served authentic Ladakhi breakfast the next day. Dinner was on our own. We ate Maggi made in cold water J.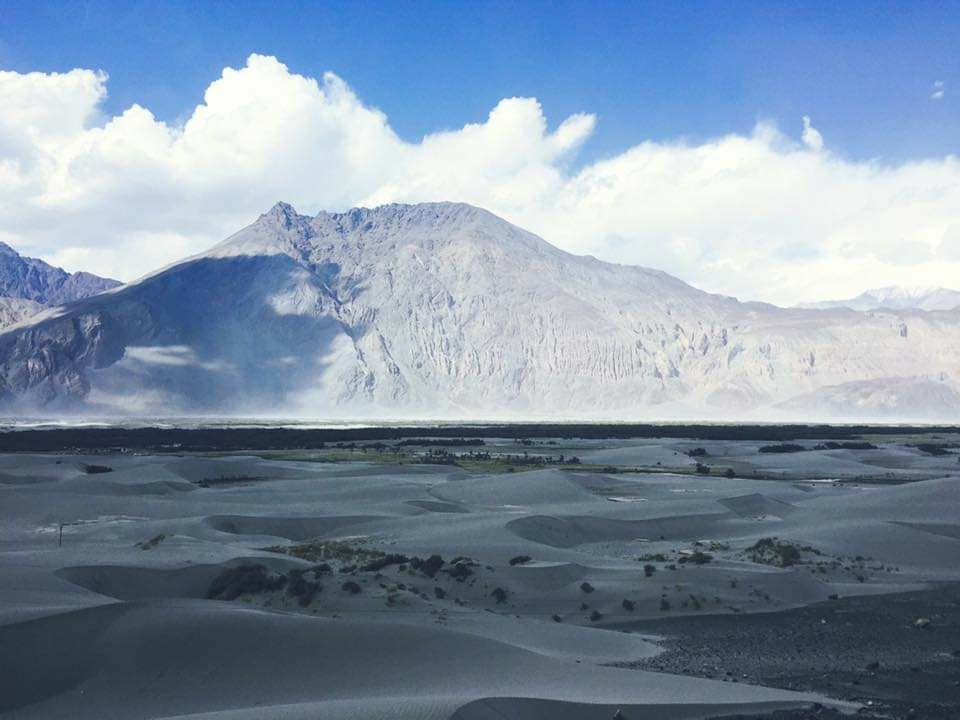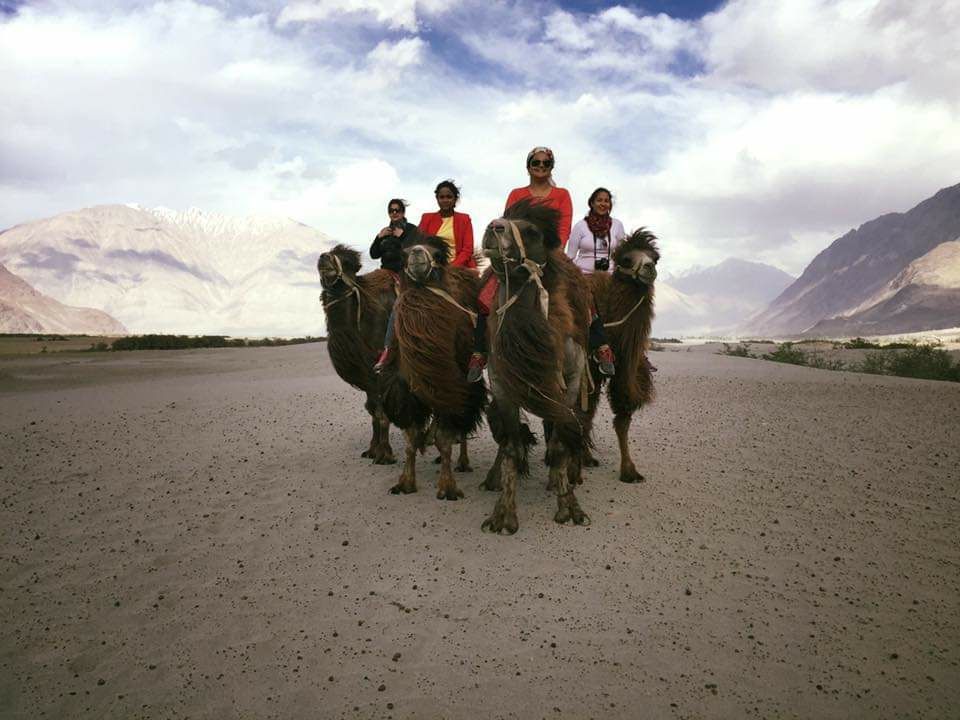 Day 6 – Pangong Tso Lake – Pangong Tso was the most memorable experience for me personally. We did not plan to stay over there but we fell in love with the place and decided to do a recce for another homestay. We managed a great deal in a wooden cottage overlooking the lake only to realize at night that the temperature dipped to -6 degrees. I barely slept as I wasn't carrying enough warm clothes. We had to hunt for some alternatives to keep us warm which we eventually did. That's how we stayed warm and slept for barely a few hours. Next morning we woke up and had a heavy breakfast and left for our next stop – Changla Pass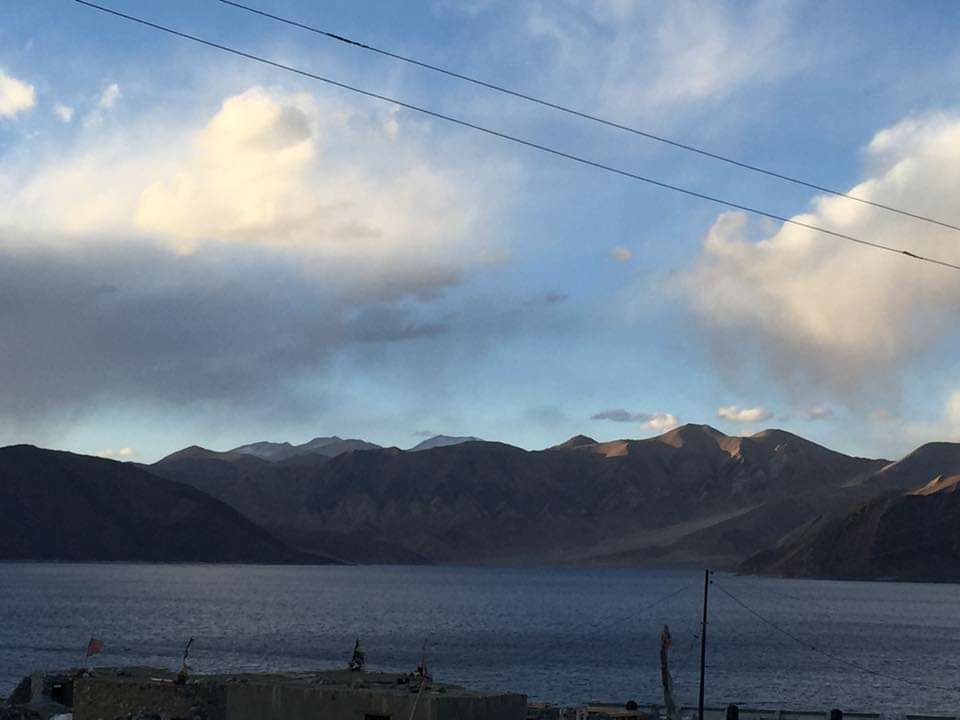 Day 7 – Changla Pass – Changla Pass was a similar halt like Khardungla. It's the second highest motorable road in the world.
Day 8 – Back to base (Kharu)- Back to base we were totally exhausted after the week's long journey and we decided to relax in our guest room. We had one extra day so we explored the local market at Leh and did what we are best at - Shopping ! Also went to a nice café and had amazing pizzas and felt that we were back to city life again. We bid a teary goodbye to our new friend Rinchin and we could sense that he would miss us tooJ
Day 9 – Leh Airport to Jammu Airport – With a heavy heart and repeated promises of coming back to Leh Ladakh, we bid the city goodbye and flew to back to Jammu and then back to Delhi
I will definitely go on a road trip to Leh Can't wait to take that road again!