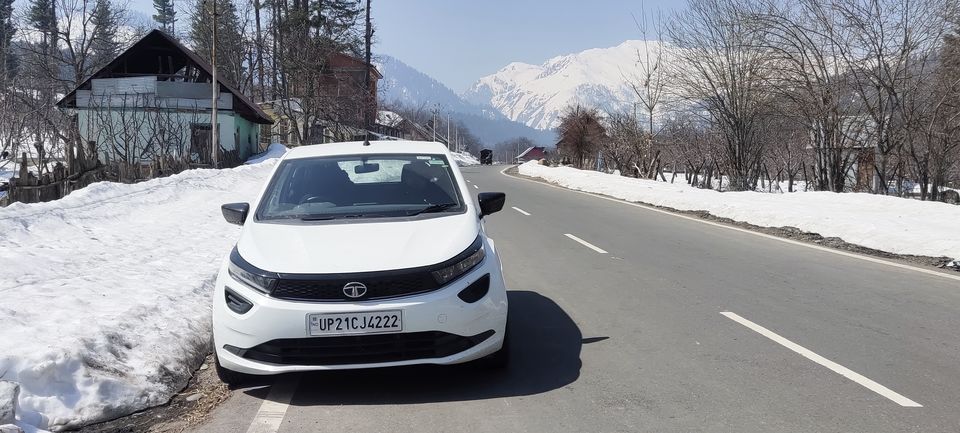 Kashmir beauty is unmatched, be any part divided among the 3 nations and being an Indian I was blessed to explore the heart of it.
Majority of people take it as a good tourist destination forgetting it is a complete state to explore and would take some 2 months to visit major places in all directions and all that in a rush with one more beautiful place than another.
Such is one place/route called Mughal Road.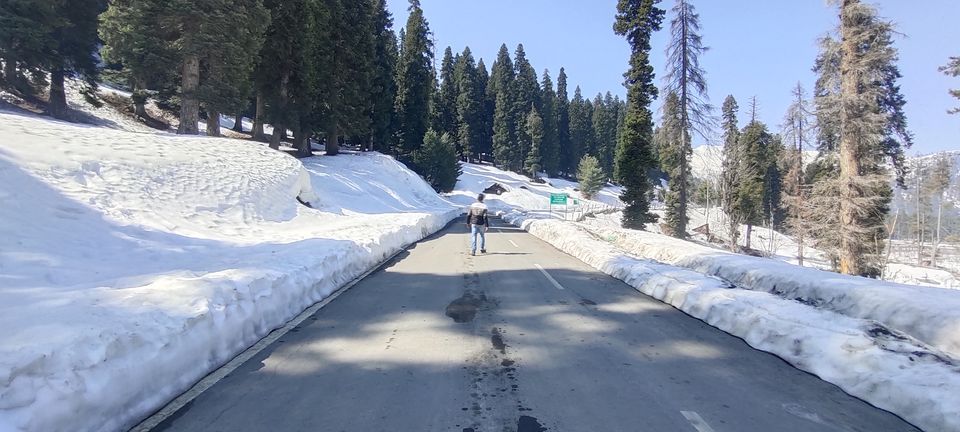 The forgotten old route which was used to travel into the heart of Kashmir from Jammu because of its unmatchable beauty, it was taken as a leisure route by Mughals.
Me and my friend who did this trip planned 5 hours before we hit the road at 1 A.M. didn't though of taking this route for the obvious reason of not remembering it and while returning from Srinagar of having being fed up of each other in 3 days of extreme craziness and cutting it short parked our vehicle on the exit highway of Kashmir. Checking out places online we could visit on our way to Jammu and this is when I remember my cousin who did Mughal Road solo and told me of its beauty and danger. Within some seconds I called him and inquired about the possibility. There was a straight no from him. Being March he said there would be all snow and it won't be cleared till early May and the route is very isolated and if I wish to take this route and by any chance it was open I should carry water and food and be ready of snow shower and get stuck on high passes. His wife who happen to be a Kashmir said that the chances of the road to be open are high as he forwarded her statement on call.
But luck was on our side and we started for Mughal road with full enthusiasm passing a sophisticated route via Pulwama and Sophian, we gave lifts to many people all the way along, as the isolation of vehicles started to increase every 20 kms. Later I was being told by Kashmiri friend that giving lifts in Sophian is dangerous as it is all a very active place to T*, though no one is there to harm you but on getting checked at a check post with the people you are giving the lift thinking they need you and if they by an any chance have those heavy things under their big fareens, you will be in a big trouble.
No worries now we were on the Mughal road itself which is a very long going road via Pir Panjal pass.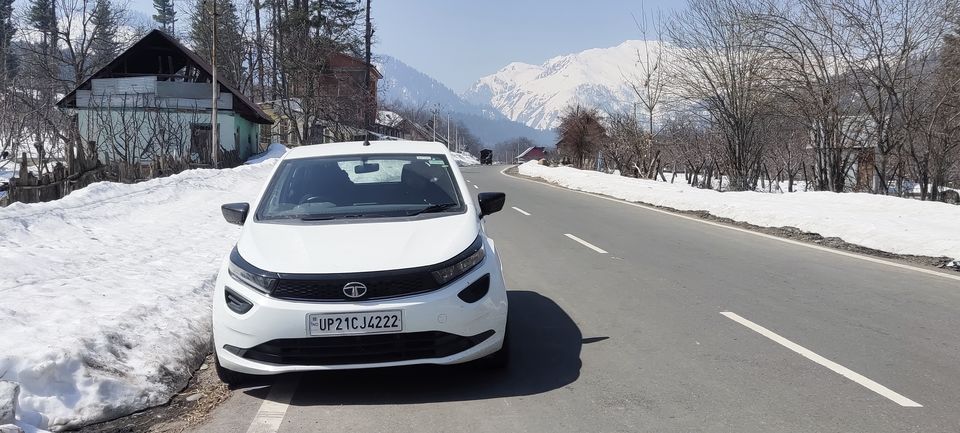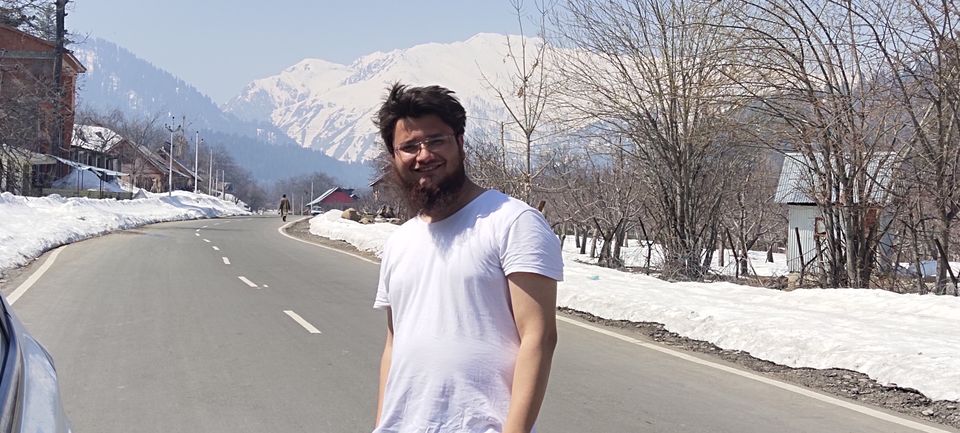 Here we could see the snow capped mountains from head to toe, now I was suspicious and thought the route would go via a valley between the foothills of two mountains. Being told by almost everyone we gave lift to that it will be closed and if we still wish than we need to go close and check it out by ourselves.
This we did and to our sorrow we found it closed from the very foothill at the very end of a small village probably the last gathered village.
A check post which prohibits any movement further.
The houses under shade of trees and hill, still had some 70% of house surrounded by 6-10 feet snow, nothing as such we saw anywhere in the other place of Kashmir on this warm month of March.
Asking the policemen if we could walk up, we took the road on foot.
Here the road narrowed and narrowed with snow taking its place.
We get some photos clicked and had to return after 2 hours of fun and it being a forest area, was not advised to stay long as bear encounters are often told by the locals.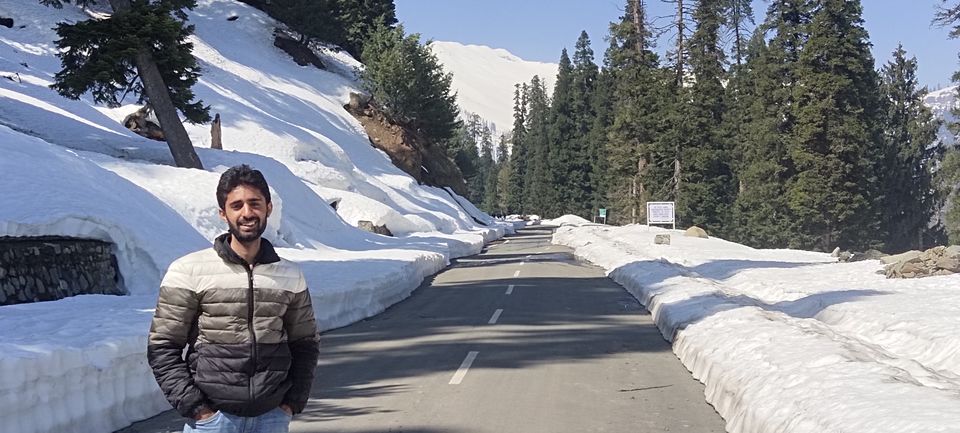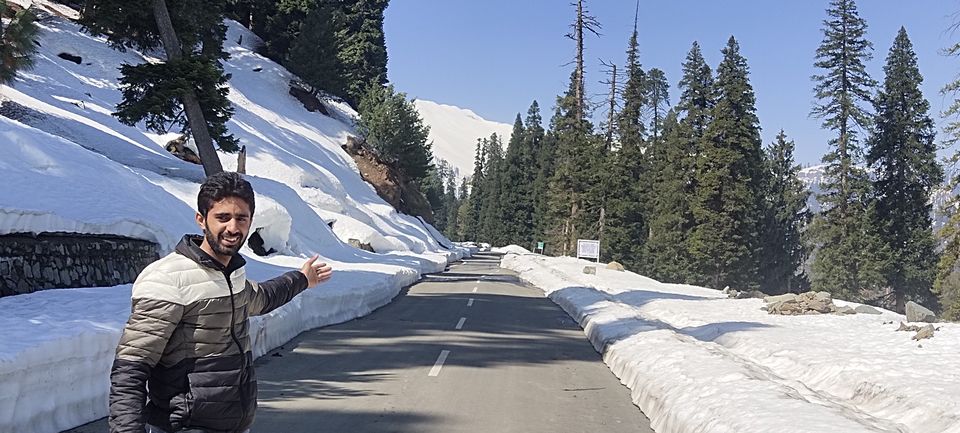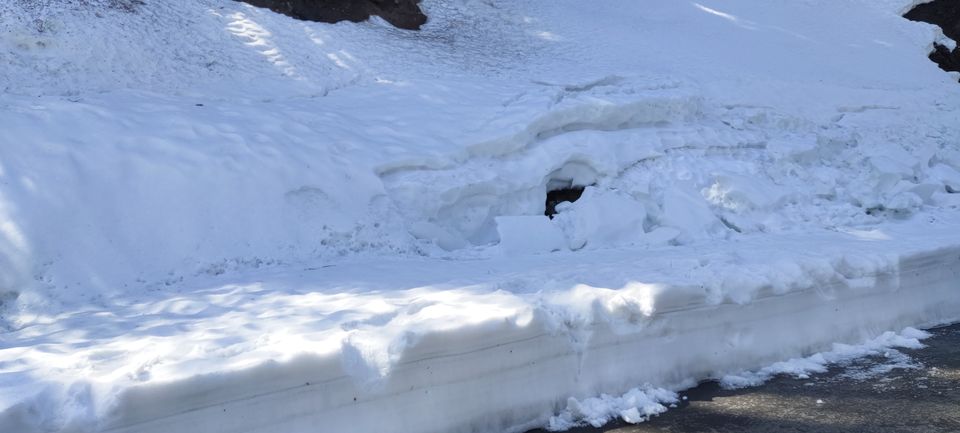 Looking at the beauty standing at the foothill which would climb some 50 more kms to reach Pir Panjal pass I could imagine how dreadful, adventurous and beautiful it would look just after the road is cleared and with those might 10-30 feet snow walls around the road, like passing any high Ladakh pass in early May.
We missed it that day. Returning back to the check post we had a 15 min talk with the policemen who after knowing that we were from UP wanted to know what happened at the ground level in elections, like every other person or policemen we meet in Kashmir. To our surprise all Kashmiri knew the total no. of seats and which party won what number.
With now open to each other and exchanging our numbers for they said they would let us know if we visit next time. Also did they say if their high officer was not present here in the office, they would have let us take the car but also told taking far off the route with snow closing in every 10 meter, making a U turn is impossible, rescue than becomes mandate.
Though I am very good in taking a car reverse at (towed an i20 in reverse at a water crossing with water everywhere at mid nigh in Ladakh with no reverse camera and with no moon to show a glimse of what lies behind, a big road ? or a deep fall? just figuring it out by the brake light which I would apply to get a possible view ) But be it any place I never under estimate a statement made by local.
With now in a reverse mode to the route we had take back, we got a reply on insta which we expected to come 3 days on out start of trip, from one of my Kashmiri social media friend whom I never met in person. That day we hapen to meet along the highway as we was returning back the road we were no heading on. We identified the vehicles along the way. They made us stay another day exploring what people would do in 4 days. It need another Blog, will post soon.