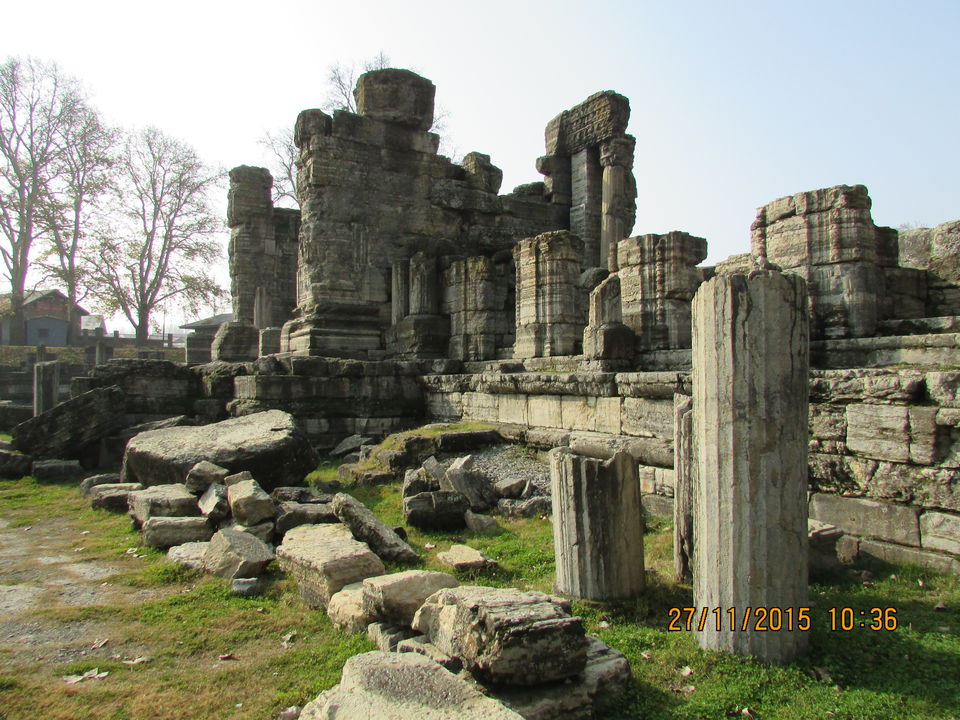 That morning of 27th November 2015 was indeed a special one. I was on my way to Pehelgham from Srinagar in the company of my guide cum driver Mr. Ashraf. We had started the journey with an interesting discussion about the Pre-Islamic history of Kashmir. Mr Ashraf was simply more than a guide cum driver. He had incredible knowledge about the Buddhist and Hindu history of Kashmir. That discussion set the tone for the journey ahead.
After moving around 28kms away from Srinagar he stopped the car at Avantipore. Avantipore is a part of Anantnag district (aka Islamabad), which houses one of the many ancient and architecturally brilliant Hindu temples. I was fortunate enough to pay an unforgettable visit to one such temple ruins, the Avantiswami temple ruins.
As a stepped out of the car I could see heavy army presence all over. The area was tense for some reason that morning. I very intelligently curbed my curiosity to quiz Mr Ashraf on the same. Mr Ashraf advised me to wrap up my visit within an hour to ensure there are no security related complications.
On the other side of the road stood the marvellous Avantiswami temple ruins! My jaws dropped seeing the splendour of the Avantiswami temples. It was a larger-than-life moment as I realized I stood amidst the ruins of temples that were erected sometime between AD 855-AD883 AD by the Utpala dynasty ruler, Avantivarman.
The temples were dedicated to Lord Vishnu called Avantisvamin and the other to Lord Siva called Avantisvara. That sense of ancientness was grossly overwhelming. I was disconnected from the world. While photographing the ruins I felt as if every stone was eagerly expressing the story of its glorious erection and the poignant devastation of the dazzling edifice of the rich Hindu heritage in the Pre-Islamic Kashmir.
The ruins seemed to have freed me from the rule of time. As I walked from stone to stone touching and feeling their ancientness I forgot about my trip to Pehelgham. It was already over an hour and the army personnel outside started quizzing Mr Ashraf on my whereabouts. There was a loud call from Mr Ashraf from the entrance of the ruined temples that eventually transported me back into Circa 2015 from AD 855 J
As I got back into the car it took a while for me to gather myself. The ruins had a tellingly phenomenal impact on me.
Frequent searches leading to this page:-
srinagar holiday trips and travel guide, kashmir travel package from ahmedabad, top resorts and hotels in Kashmir, places to visit near jammu, best time to travel kashmir, most visited places in jammu and kashmir, srinagar package for family, solo trip kashmir package from delhi, family trip package to gulmarg, srinagar honeymoon luxury package, kashmir group trek package, top activities in kashmir, best local site seeing in kashmir