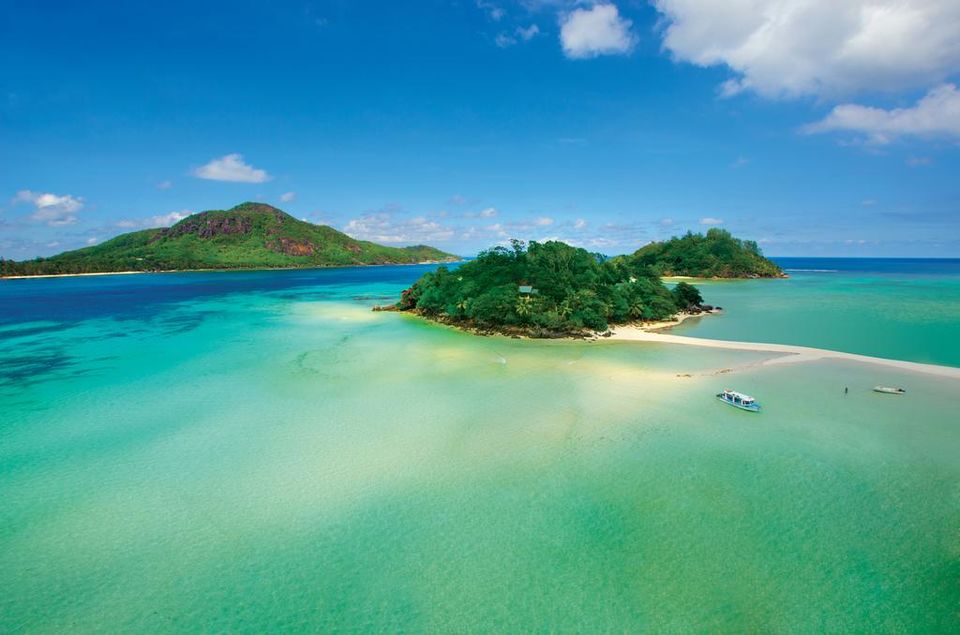 Ask anyone who has ever been to Seychelles about Seychelles and their reply will be something like this, "Oh, it's heaven!". Located in the Indian Ocean and barely five hours from India, Seychelles is one of the favourite beach escapes for Indians. So, if everyone is going there then how can you make your visit to Seychelles unique?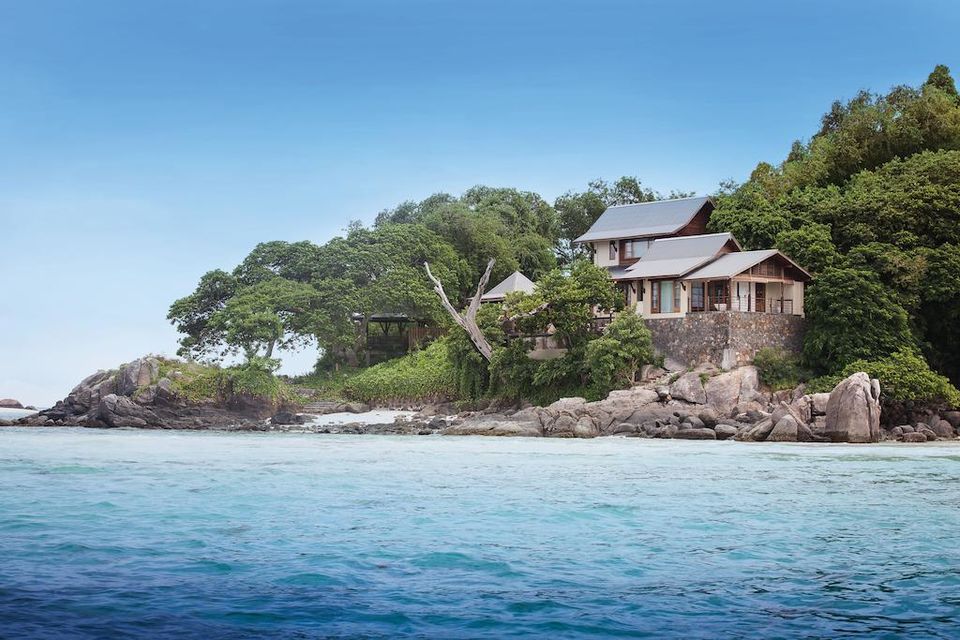 Enter Sunil Shah, a Gujarati businessman with a creative heart. He purchased an entire island known as Round Island and turned it into a resort that focuses on providing unique experiences. The painstakingly-built Creole-style resort is your the Seychelles getaway you have always been waiting for.
Ideal for
Individuals, couples or families who seek an eco-friendly private piece of paradise.
About the property
The resort is built in 1930s Creole style by Indian architect Tony Joseph. Its 10 villas are equipped with private infinity pool, outdoor shower, dedicated butler, an LED satellite TV and complimentary wifi access. And, the private beach is directly accessible from the villas. The resort has two restaurants serving traditional delicacies using local produce.
The resort focuses on rustic feel with charms of Creole architecture. Naturally wood is the element found throughout the resort. Centuries-old antique furniture and artefacts transport you back to Seychelles of the Pirates' Era.
Atop a hill and hidden amidst green canopy is the Spa & Wellness Centre where you can find your inner peace with age-old healing rituals. 90-minute Marma Body, Mind & Spirit Massage, Soothing Cucumber Wrap and Honey-Cucumber Facial are some of the signature offerings. Next to the Spa is a fully-equipped gymnasium and Pavilion Bwa Zoli Ker (Yoga pavilion) with latest cardiovascular machines, weights and an in-house yoga instructor.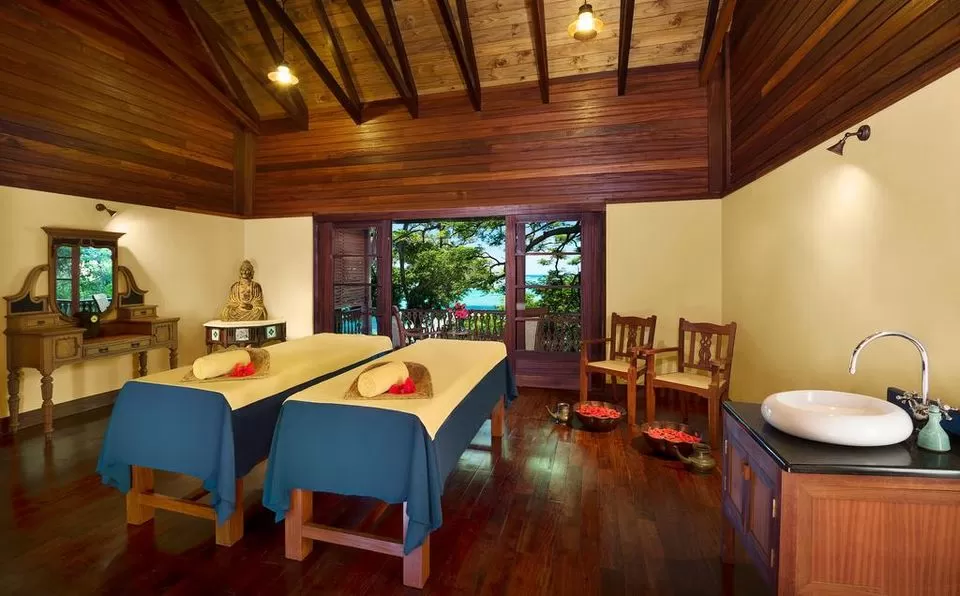 Round Island is part of the Sainte Anne National Marine Park and Sunil Shah ensured that the resort was built in harmony with nature. In fact, he planted 20,000 plants and trees of over 200 local species on the island. And, a well-marked trail introduces visitors to different native plants and trees of Seychelles.
The resort also offers a whole host of water activities in the Sainte Anne Marine Park. Snorkelling tours with private instructors cover sites with colourful corals and tropical fishes. Snorkelling, diving and kayaking equipment are also available for hire. The surreal beauty of the Marine Reserve can be witnessed on a sunset boat cruise from the resort.
Food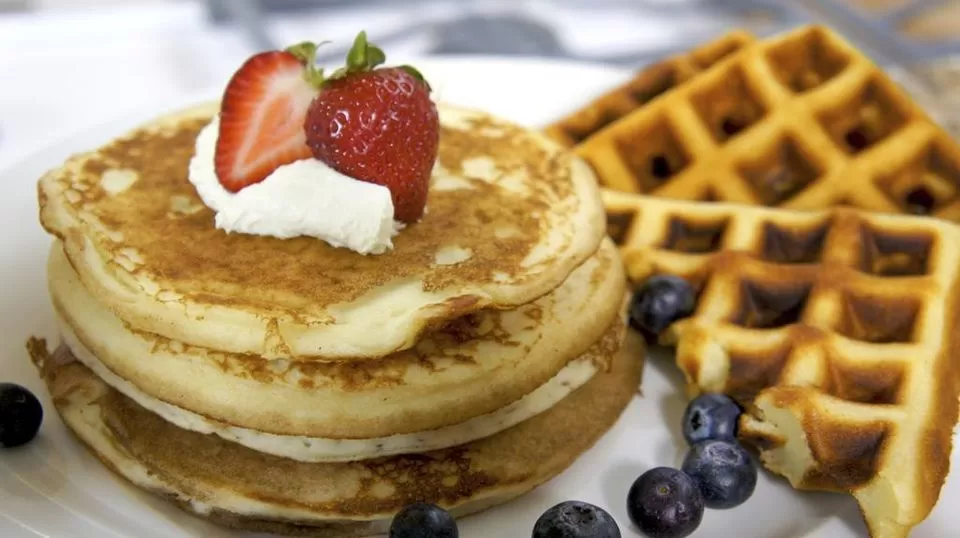 There are two restaurants - Bounty and Castaway - in the resort. Bounty serves authentic Creole-Seychellois dishes prepared using traditional cooking methods and local produce. Contemporary international delicacies from around the globe are also served along with a wide assortment of starters and desserts. Castaway is the cocktail bar you always dreamt of. Exotic cocktails, colours of the setting sun and the heavenly blue of the Indian Ocean.
Cost
Private Pool Villas at JA Enchanted Island Resort cost around ₹54,876 and can be booked here.
Best time to go
The best months to visit Seychelles are April to May and October to November, when the temperatures are cool and dry. These periods are usually perfect for swimming, snorkelling and other such activities, with the temperature only going as high as 29ºC.
What to do in and around the property
Moyenne Island, the smallest national park in Seychelles is a popular destination for giant tortoises. There are some good nature walks on the island along with two postcard-perfect beaches. The island has a decent museum that showcases the history of the island. Moyenne Island is short boat ride from the resort. It can also be reached by kayak.
Praslin is probably Seychelles most popular island due to what many believe to be the prettiest beach in the world - Anse Lazio. It is also home to UNESCO-listed Vallée de Mai where you can see the rare coco de mer palm trees. There are a whole host of beach restaurants and cute cafes in Praslin that make it an ideal day trip destination from the resort.
Mahe is the island to understand and experience local culture. It is the biggest and most populated island in Seychelles. The island has waterfalls, jungles, hiking trails, panoramic viewpoints and of course palm-fringed beaches. Adventure activities like rock climbing to sea kayaking and scuba diving can also be done here. It is a good mix of taking it easy and adrenalin pumping.
For travel ideas and Seychelles itineraries, check out Tripoto's Seychelles travel guide page.
Getting there
By air: Round-trip flights from Mumbai to Mahe cost around ₹19,656. JA Enchanted Island Resort is a 10-minute ferry ride from Mahe.
Know of a hotel, homestay or resort that made you fall in love with the destination? Write about it on Tripoto and help the traveller community discover something new. And subscribe to Tripoto Youtube Channel for stunning videos.